This Keto Beef Stew is one of the heartiest keto dinner ideas you can make. The meat is incredibly flavorful and tender, and the veggies melt in your mouth! And you can make this low carb beef stew in your crockpot slow cooker, or in a big pot on your stove, and end up with delicious results. Literally, it's the best keto beef stew recipe you can make. Let's dive in!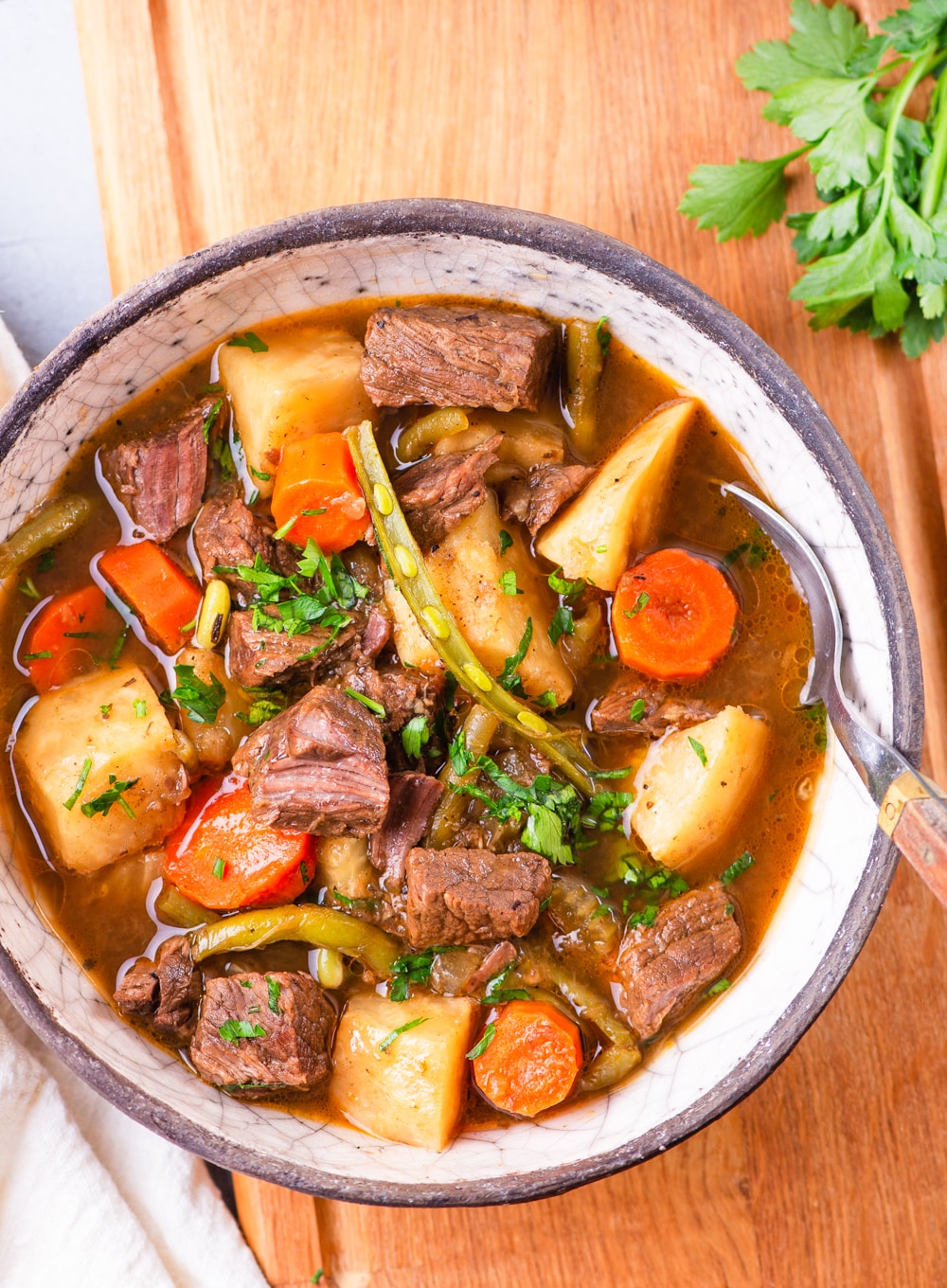 Keto Beef Stew to Die For!
As I just mentioned, this is one of the best beef stew recipes, and it won't take too long to make either.
The hardest part about making this stew is the prep work, and that should only take you about 15 minutes.
Then it's really just a waiting game.
Great beef stews take a little time to cook - it's a labor of love - and this beef stew is no different.
And, really, I think that's the appeal of making stew....you just throw everything in a pot or slow cooker, and a few hours later dinner is done!
Anyways, let's break down the steps to make this keto beef stew one by one.

Easy Low Carb Beef Stew In a Pot
To begin, heat up a heaping tablespoon of macadamia nut oil in a large pot.
Why not a pan?
The beef stew is going to take up lots of space in the cooking dish once you at all the ingredients, especially the liquid elements like broth. So you need lots of spare room if you're going to crowd everything in properly.
If need be, you can use a cooking pan up until you need to add the broth, and then transfer things to the pot at that point in time.
However, you'll miss out on a bit of the juice and flavorings that you get to savor by preparing the food in the same dish.
Anyway, the key here is to set the heat to medium-high, so you don't boil the oil away while still accelerating the heating process.
Once the oil is adequately heated (i.e. beginning to pop), you can start to toss in some of the stew meat.
You'll want to brown all the meat in several batches by spending about five minutes on each batch.
It's a good idea to have a separate bowl ready to hold all the browned meat beforehand, so you don't need to prepare it in the middle of cooking.
And you need to cook the meat in batches because beef that's too crowded will burn rather than brown.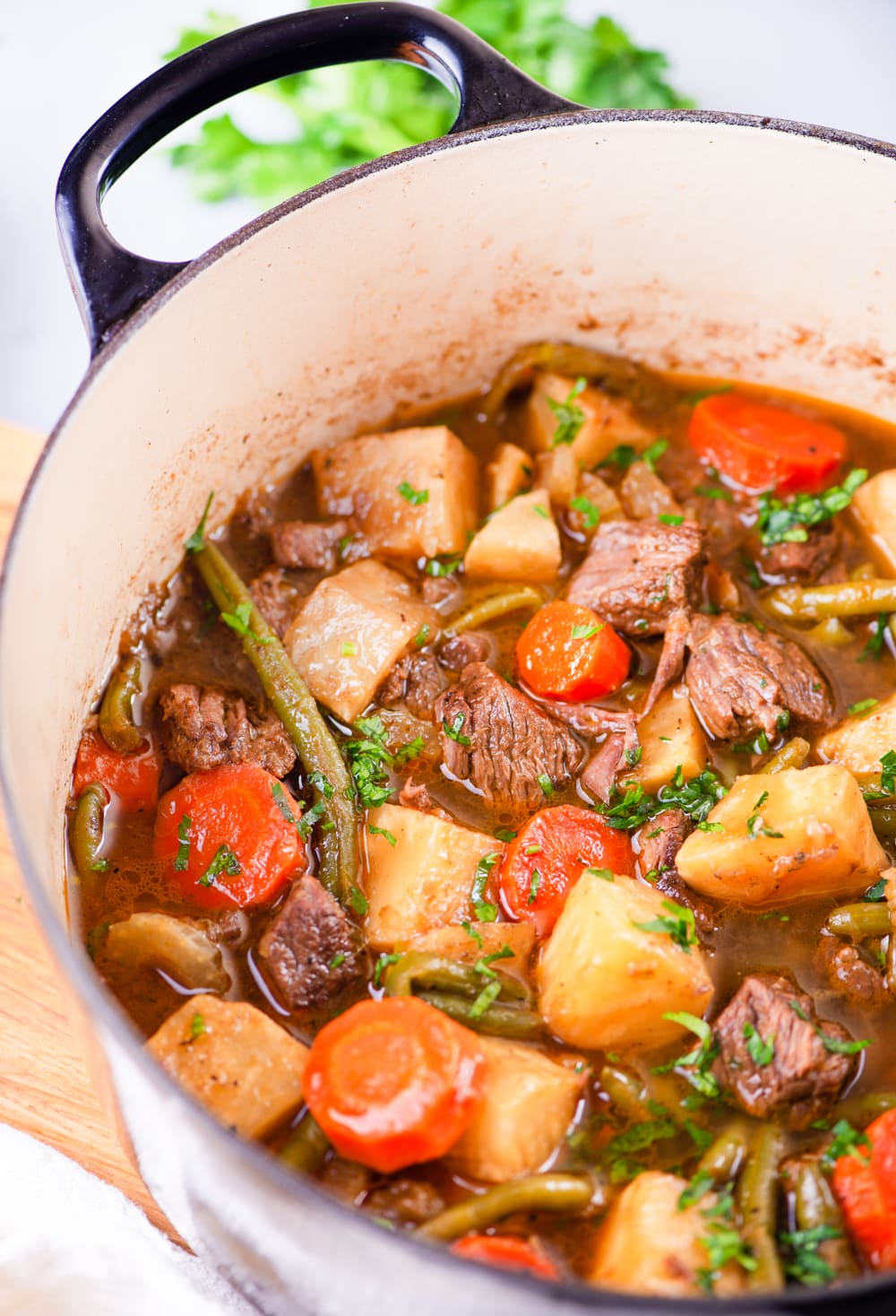 Onion and Garlic
Once you prepare the meat, set it aside, add the onions, Italian seasoning, and garlic to the pot.
Now take a spoon and stir everything around while you cook this mixture for about two minutes; the onions don't need to become fully translucent since they're going to cook a great deal once you add them to the main stew. You're essentially just tenderizing the onions before throwing them in.
Once the onion and garlic mixture has cooked for about two minutes, add the brown the beef back into the pot and get ready to fill things up. This is why you need a big pot at some point in the process.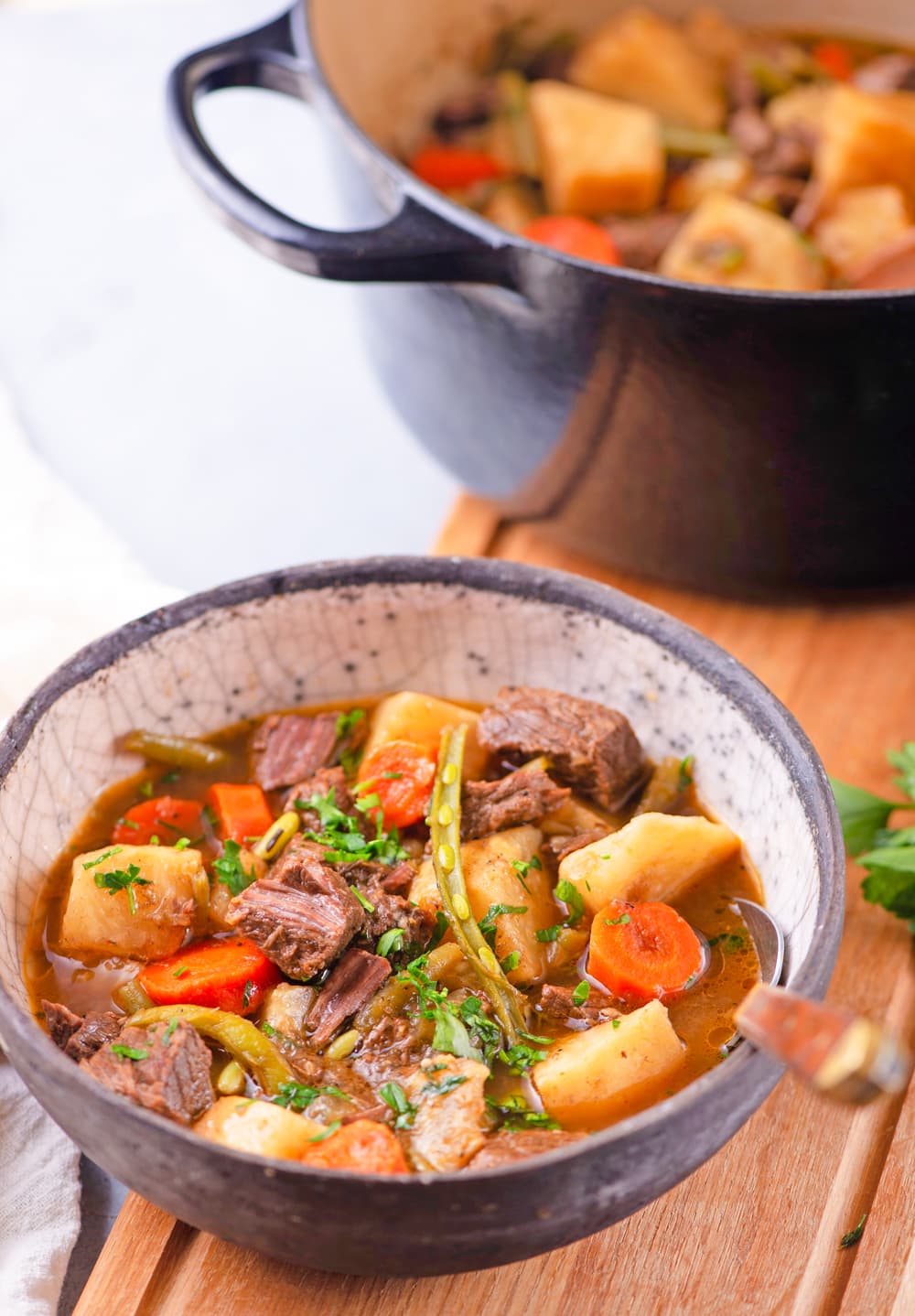 Broth and Simmering
The broth, vinegar, and bay leaves should bring the whole mixture up to a much higher volume.
Stir everything around while adding one teaspoon of salt and bring the entire stew to a boil.
As soon as the stew begins boiling, cover the pot with a lid that is sized appropriately and let it simmer for about two hours, turning the heat down as needed.
Don't try to turn the heat up to make this to cook more quickly; this won't work and it'll just change the flavors of the stew for the worse.
Plus, your beef stew will just end up turning out tough if you try to rush things.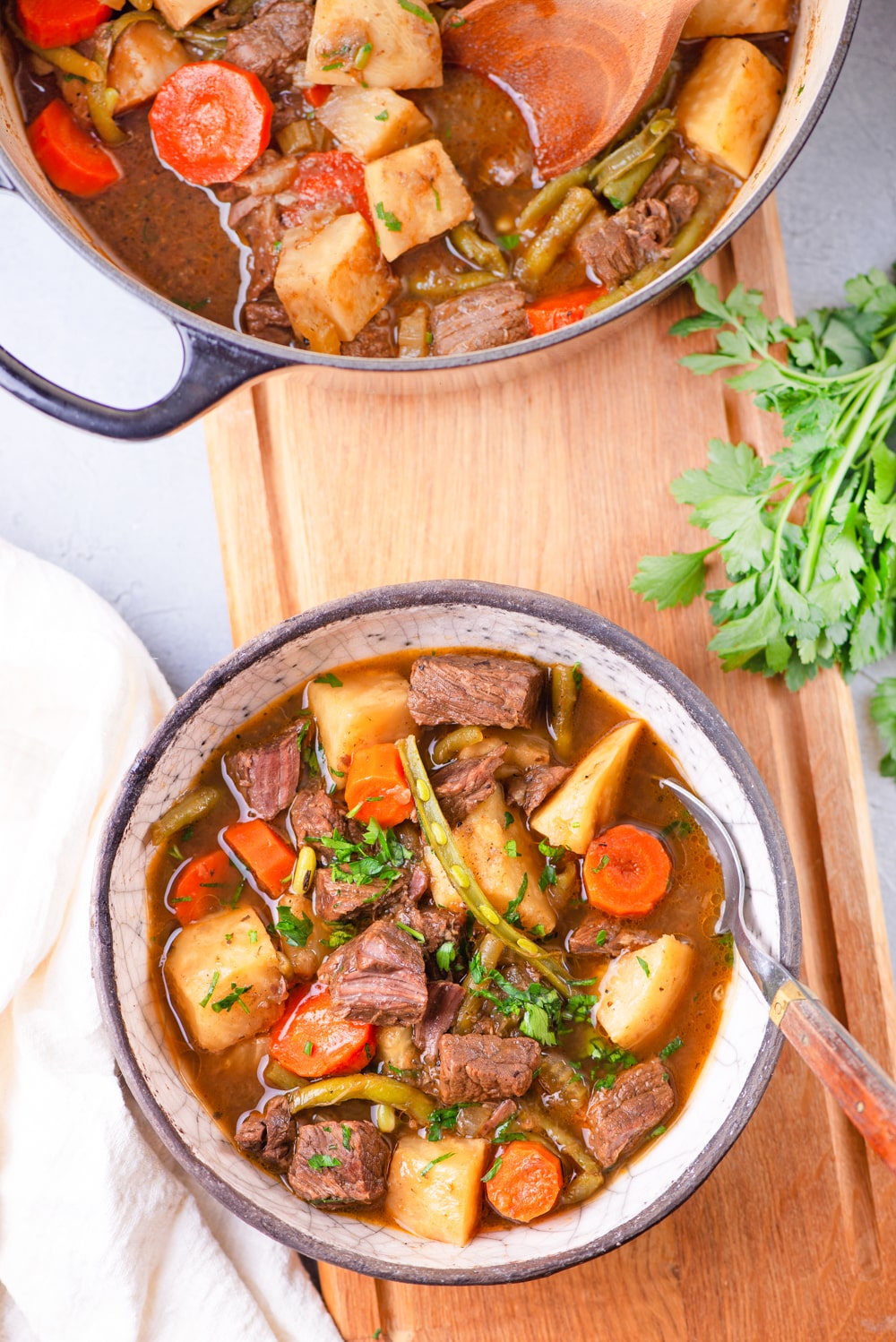 Tender Timing
After two hours, check the meat and make sure that its tender by sticking a knife or fork into one of the pieces.
Tender, in this case, means that the meat should fall apart relatively easily rather than requiring strength.
One other thing to check for is the onions; if they've cooked properly, they should come apart as well, almost dissolving into the stew. This will have the added benefit of thickening the sauce and making it a bit more substantial than a "soup".
If the meat and onions haven't fully cooked, give it another 15 minutes to a half-hour and check periodically.
Once everything is ready, add in the vegetables and another teaspoon of salt or to taste.
Cook the stew for another 30 minutes – heat on medium-high or so should be okay – or until the vegetables are totally tender.
By the end of the process, the stew should look and feel excellent. What you're going for are ingredients that seem to melt or come apart in your mouth.
Thankfully, it's easy enough to modify this recipe to cook things for a little longer if you need to make the beef slightly more tender.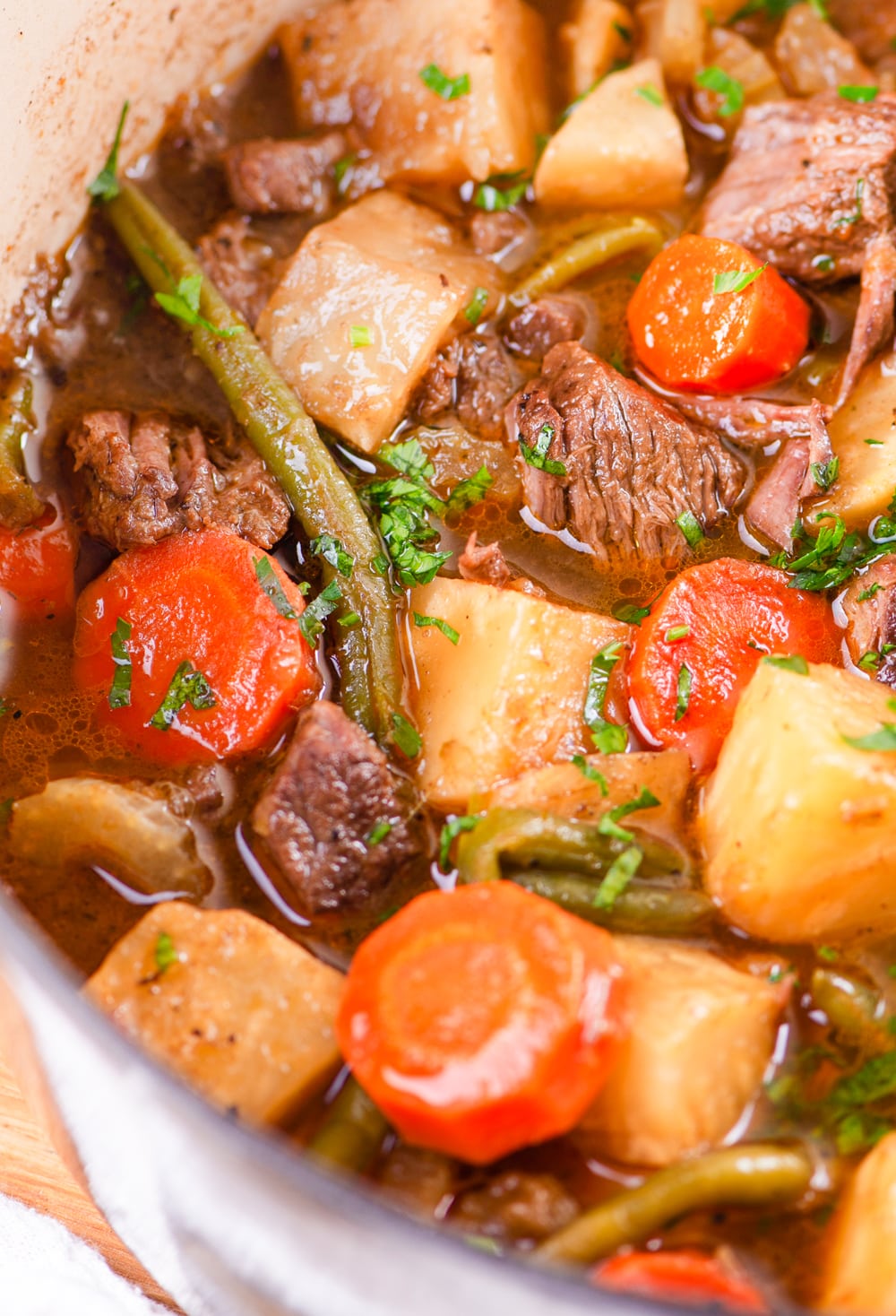 Cooking Beef Stew for Keto In a Crockpot
Keto crockpot recipes are hard to come by, but making this easy keto beef stew recipe in a crockpot is no trouble at all!
You should still prepare the onions, meat, garlic, and Italian seasonings as you did before, but you can more reliably use a pan since you won't be adding the broth or other elements to the pan for cooking.
Transfer everything into a crockpot once the meat has been browned and the onions are prepared.
The only significant difference between cooking in a pot versus a crockpot is time: cooking this keto beef stew in a crockpot will take about seven or eight hours if you cook on low heat or 3 to 4 hours if you cook on high heat.
It's up to you which method will work best for your needs.
If you have time to prepare the stew in the morning, you can set it to locate and have your dinner ready when you come home from work.
Alternatively, you could make the stew after lunch and cook it on high heat, so the stew is prepared around dinnertime. The flavor should be about the same either way.
Other Keto Dinner Recipes You Might Enjoy
If you loved today's keto beef stew recipe there are plenty of other really tasty dinner recipes on the blog as well.
Some of my favorites are...
Print
Keto Beef Stew | The BEST, Easy, Low Carb Beef Stew Recipe For Keto
This Keto Beef Stew is one of the heartiest keto dinner ideas you can make. The meat is incredibly flavorful and tender, and the veggies melt in your mouth! And you can make this low carb beef stew in your crockpot slow cooker, or in a big pot on your stove, and end up with delicious results. Literally, it's the best keto beef stew recipe you can make!
Author:
Prep Time:

15 Minutes

Cook Time:

3 Hours

Total Time:

3 hours 15 minutes

Yield:

6

Servings

1

x
Category:

Dinner

Method:

Crockpot / Slow Cooker / Stovetop

Cuisine:

Keto / Low Carb
1 Heaping tablespoon (18g) macadamia nut oil
2 Pounds beef (908g), trimmed and cut into inch cubes - Chuck or Round cuts of beef work nicely
2 Teaspoons Italian seasoning
2 Cloves of garlic minced
1 Medium onion (100g), peeled and cut into 8 wedges
2 Tablespoons (30g) red wine vinegar
4 Cups (945mL) beef broth or bone broth
¼ Teaspoon freshly ground pepper
2 Bay leaves
1 Medium carrot (60g), peeled and cut into ¼-inch rounds
3 Bulbs of kohlrabi (340), peeled and cut into cubes
1 Celery stalk (37g) chopped
1 Cup (125g) green beans
2 Teaspoons (8g) salt
Instructions
Stovetop Cooking Instructions:
Heat the oil in a large pot.

Brown the meat in batches, about 5 minutes per batch.

It's important not to crowd the pot, otherwise the meat will burn instead of brown.

Remove the meat and add the onions, garlic and Italian seasoning to the pan.

Cook for about 2 minutes.

Add the beef back into the pot along with broth, vinegar and bay leaves, 1 teaspoon salt.

Bring to a boil, then cover and simmer for 2 hours.

At this point the meat will be tender, the onions will almost "dissolve" and thicken the sauce. 

After 2 hours, add the vegetables and 1 teaspoon salt. Continue cooking for about 30 minutes more, or until vegetables are tender.
Crockpot Slowcooker Instructions:
Add the oil to a large pan, and heat it over medium-high heat.
Once the oil is hot, add the cubed beef in batches to the pan.
When the beef has been adequately browned transfer it to the crockpot (don't turn the pot on just yet though).
Now in the same pan you cooked the beef in, add the onion, garlic, a teaspoon of salt, and Italian seasoning to the pan.
Cook for about 2 minutes - just enough time to soften up the onion - and then add the mixture to your crockpot slow cooker.
Add the remaining ingredients.
Close the crockpot and cook for 3-4 hours on high, or 7-8 hours on low.
Once the meat is sufficiently tender, remove the beef stew from the pot, and serve hot.
Nutrition
Serving Size:

2 Cups

Calories:

200

Fat:

8

Carbohydrates:

5.5

Fiber:

2.5

Protein:

25
Keywords: keto beef stew, beef stew keto, beef stew, beef stew recipe, keto beef stew recipe, best keto beef stew, easy keto beef stew