These keto biscuits are soft, buttery, cheesy, and come together in just 20 minutes with only 6 simple ingredients. And the best part is that each one of these biscuits has LESS THAN 2 NET CARBS! Quick, easy, filling, AND low carb – this is definitely the best keto biscuit recipe you can make!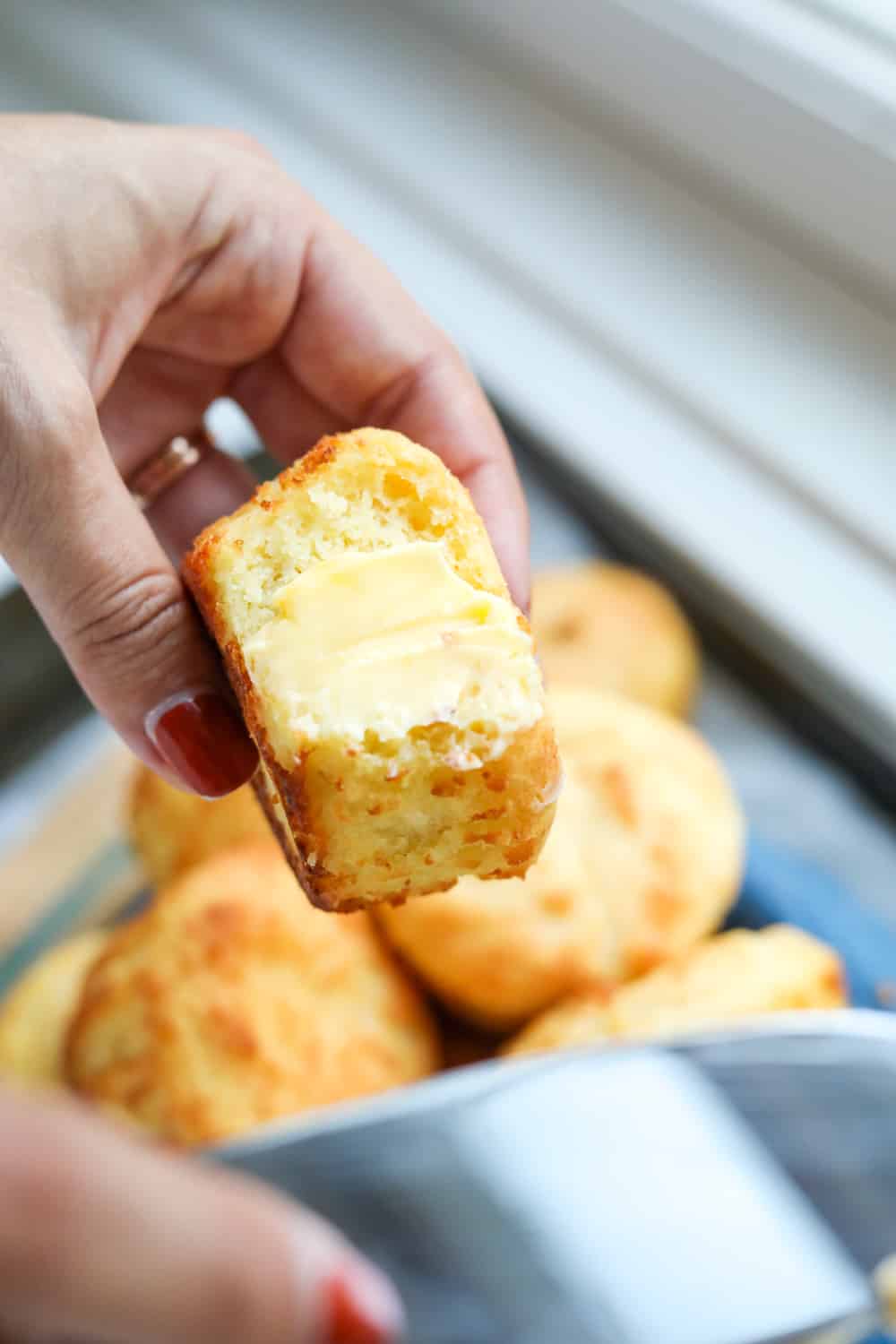 The Best Keto Biscuits
Is there anything better than warm biscuits fresh from the oven?
Well, I don't know about you guys, but I think practically any meal can be improved with a side of warm, freshly baked biscuits.
And let me tell you, these keto almond flour biscuits are everything. They're savory, buttery, cheesy, fluffy… the list goes on and on!
Not to mention, they're also super low carb. As I already mentioned, each one of these bad boys has just over 1 NET CARB – but honestly, you'd never be able to guess it from how filling they are.
Also, they don't cost a lot of time, money, or effort to make either. A whole tray of keto biscuits comes together in about 20 minutes with literally just 6 ingredients.
Plus, they're endlessly customizable and can be used in a ton of different ways.
I'll get into that in a bit.
But first, let's dive into the recipe!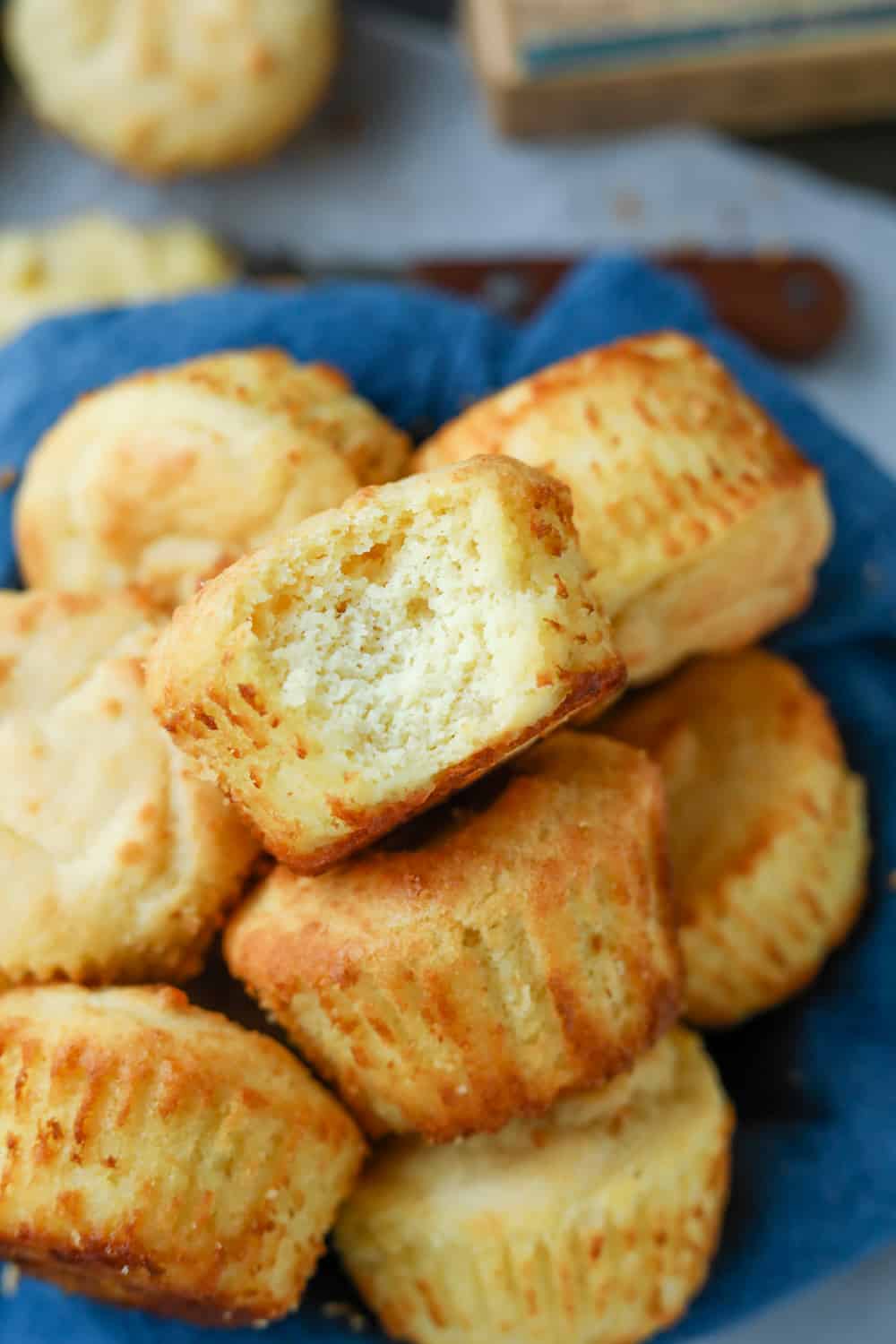 The Ingredients
So, to make the homemade keto biscuits, you'll need:
Full-Fat Mozzarella Cheese

2 Large Eggs

Sour Cream

Unsalted Butter (if you use salted the biscuits will be salty)
Pretty simple stuff, right?!
You might be surprised by how crazy good these low carb biscuits turn out with just a few basic ingredients.
Trust me; they are seriously fantastic.
The butter, mozzarella cheese, and sour cream add a ton of richness, savoriness, and just the right amount of tanginess to balance out all those flavors.
Meanwhile, the almond flour, eggs, and baking powder give you that perfect biscuit texture that's oh so satisfying to bite into.
Seriously, what more could you ask for?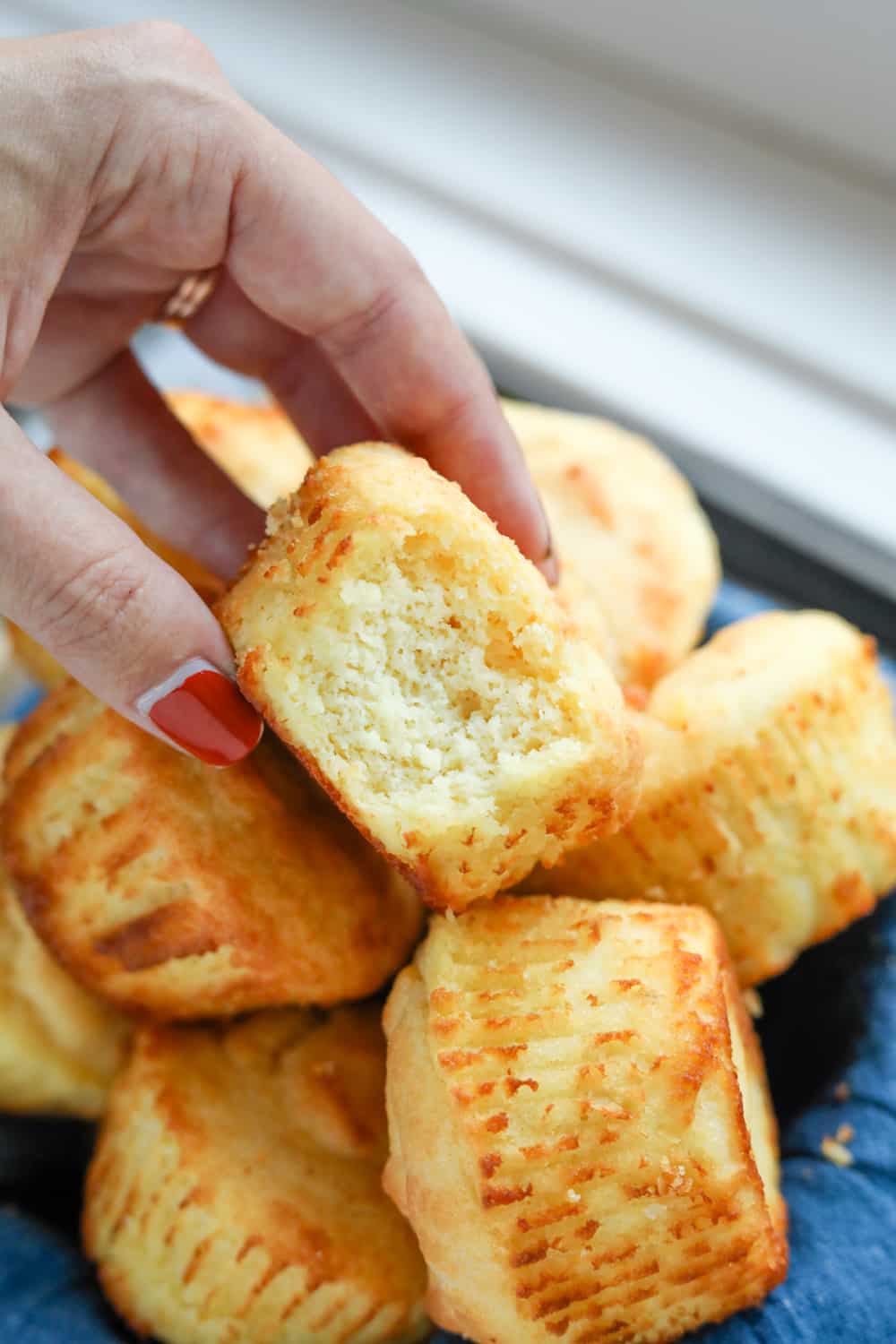 Low Carb Flours for the Keto Biscuit
So as the recipe name states, these low carb biscuits are made using blanched almond flour. And, honestly, this is one of the best keto almond flour recipes there is.
Now, if you don't already have almond flour in your pantry, you'll want to pick up a bag ASAP. It's a quintessential keto pantry staple and the foundation of a lot of my favorite keto recipes!
That being said, if you don't have any blanched almond flour available, the best low carb substitutes are sunflower seed flour and walnut flour. You can sub them in at 1:1 ratio, no problem.
What you don't want to use, though, is coconut flour. I've said it time and time again, but it's a pro tip that bears repeating – especially if you're just starting to make keto recipes. Coconut flour is extremely absorbent and will yield some totally unsatisfying, dry, and powdery results if you use it as a substitute.
That is, if anything even turns out at all – you might just end up with a pile of crumbled dough.
So to sum up:
Almond flour, walnut flour, sunflower seed flour = it's a go!
Coconut flour = it's a no.
How to Make the Best Keto Biscuits
Like I've said, these keto biscuits are ready in under half an hour.
You can throw them together on a lazy Sunday morning and have delicious keto biscuits on hand for the rest of the week.
Incredibly easy, time-saving, and satisfying – is there anything these almond flour biscuits can't do?!
Step 1: Mixing The Ingredients
As I've mentioned before, this whole low carb recipe is pretty straightforward.
You'll want to start by preheating your oven to 450° F (232°C), so it's ready once we finish the batter.
Oh, and by the way, if you only have a microwave, you can still make keto biscuits! I have a fantastic 3-minute low carb biscuit recipe on my blog.
Or, you can even try making both of my keto biscuit recipes and see which one you like best!
Anyway, the next thing you want to do is pulse your almond flour, baking powder, and mozzarella in a food processor. What you're looking for is a fine flour-like consistency. Once you've achieved that, you can set it aside.
Next, mix the wet ingredients in a medium-sized bowl until well-combined. Then, pour the dry ingredients in and mix until a thick batter forms.
Step 2: Baking The Biscuits
Now, unlike the "regular" kind of biscuits, these low carb biscuits start as a liquid batter instead of a dry dough, so we'll be baking our biscuits in a muffin tray instead of on a baking sheet.
To do that, spray a non-stick baking spray into the slots of your muffin tray then spoon the batter into each slot, filling each one three-quarters of the way full.
The pro-tip here is to spray and fill the slots one at a time just before adding the batter to prevent everything from sticking to the slots/liners.
Then, once you've sufficiently added the batter, you'll then want to bake them for 10 minutes – yup, literally just 10 minutes – and set them aside to cool down to room temperature.
Step 3: Serving These Keto Biscuits
To remove them from the tray, take a thin knife, and run it around the edges of each slot to loosen the biscuit and slide it out. However, if you're using paper liners you won't have to worry about doing this.
And there you have it – warm, fluffy, savory cheese & butter almond flour biscuits, that are low carb and ready in 20 minutes!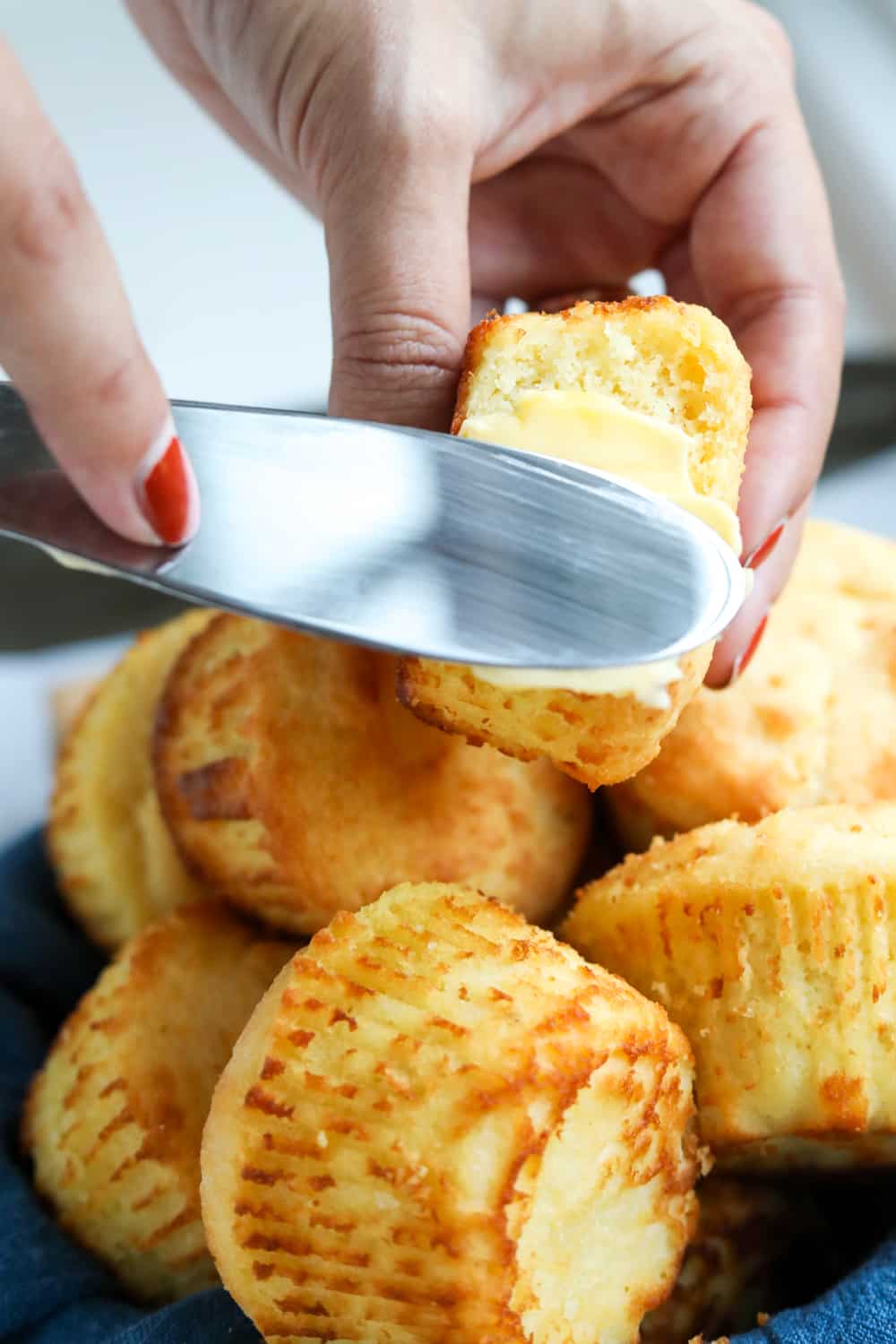 Customizing These Keto Biscuits
So once you've got this recipe down pat, you can jazz it up any way you want.
Incorporate a mix of different cheeses, add some of your favorite herbs, or dress it up after baking with a drizzle of olive oil and a dash of flaky sea salt. Yum yum yum!
You can even make some cheesy keto biscuits à la Red Lobster by adding some cheddar, garlic powder, and Italian seasoning to the batter.
The possibilities are endless – and endlessly delicious!
What to Eat with Keto Biscuits
Obviously, these are wonderful on their own or with a pat of salted butter melted on top, but there are also a TON of ways you can use these keto biscuits to take your other meals to the next level.
Here are a few ideas to get you started:
Serve with scrambled eggs, keto chicken sausage, and coffee for a classic diner-style breakfast

Slice into halves to make mini keto sandwich buns

Dip into soup for a super comforting and hearty dinner – try it with this keto broccoli cheese soup for the ultimate cheesy overload!
Or use them to make this keto eggs benedict for an elevated breakfast!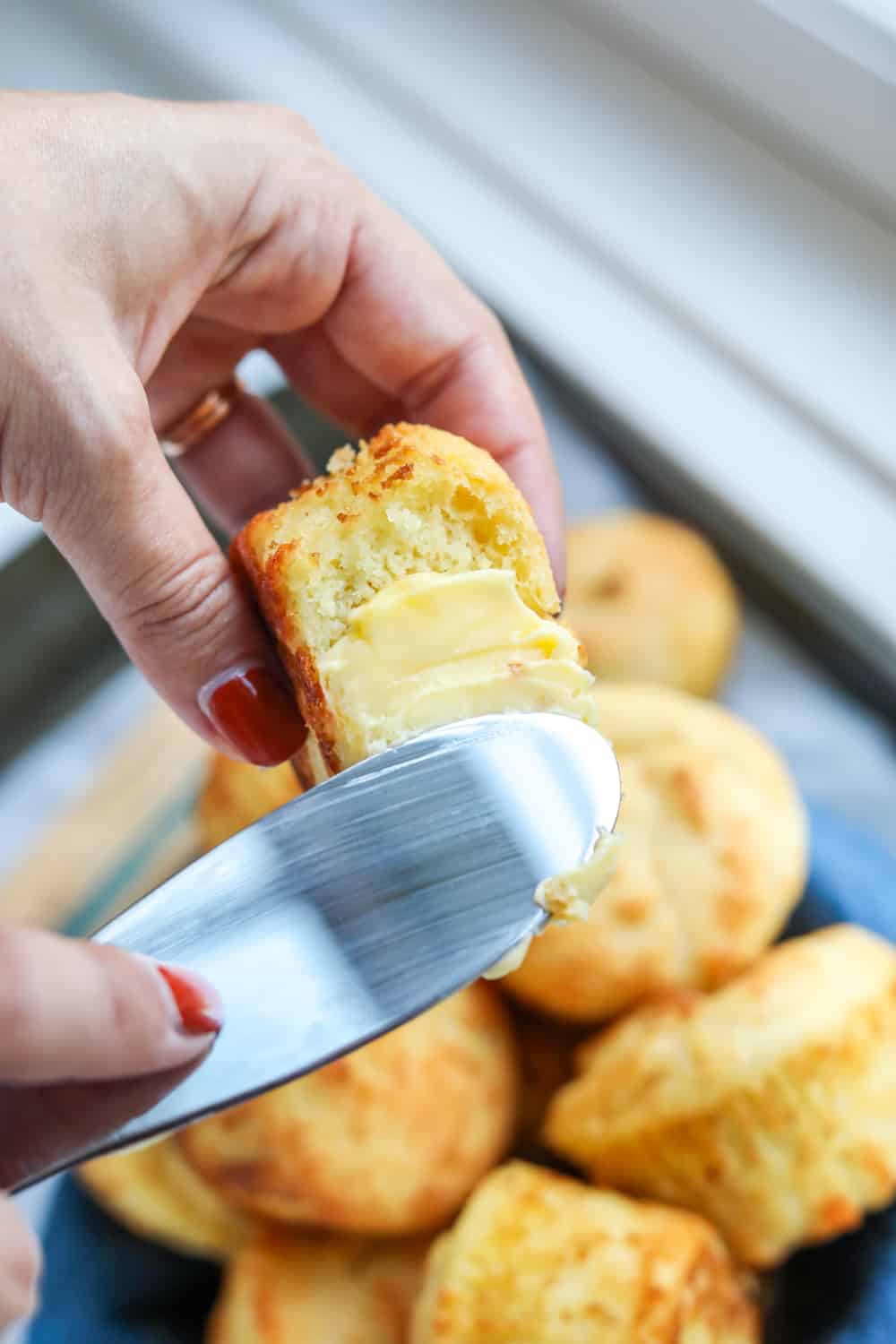 How To Store These Keto Biscuits
Ok, so you've made these low carb keto biscuits, and you love them!
But, this biscuits recipe makes 9 biscuits, and you've got some leftover.
So, to store them, I recommend just covering them in the pan with some tinfoil. Or you could also transfer them to an airtight container. I don't ever refrigerate mine, but you can if you want to.
With that said, these keto biscuits will stay good for up to 1 week if you store them this way.
Wrapping It All Up
That is how to make low carb keto biscuits that are soft, moist, incredibly flavorful, and super easy to make!
This is my go to almond flour biscuit recipe and I just love how versatile it is. You can enjoy them in a variety of different ways, and they really are just as good as traditional biscuits. Honestly, I think I like these low carb keto ones better!
So I hope you enjoy these gluten free, low carb, keto, and almond flour biscuits as much as I do. If you make them, leave a comment below and let me know your thoughts.
And for more recipes, make sure to check out more recipes, make sure to check out my Youtube channel & Instagram Page.
Oh, and by the way, if you're looking for another really tasty keto side dish give this roasted kohlrabi recipe a shot next.
Print
Keto Biscuits | THE BEST Low Carb Almond Flour Biscuits Recipe
These keto biscuits are soft, buttery, cheesy, and come together in just 20 minutes with only 6 simple ingredients. Not to mention, each one of these biscuits has LESS THAN 2 NET CARBS! Quick, easy, filling, AND low carb – this is definitely the best keto biscuit recipe you can make!
Author:
Prep Time:

10

Cook Time:

10

Total Time:

20 minutes

Yield:

9 Muffins

Category:

Breads and Biscuits

Method:

Baking

Cuisine:

Keto & Low Carb
1 ½ Cups (168g) Blanched Almond Flour
½ tablespoon (5g) Baking Powder
½ Cup (56g) Full-Fat Mozzarella Cheese, Shredded
2 Large Eggs, Room Temp.
½ Cup (120g) Sour Cream
4 Tbsps. (56g) Unsalted Butter, Melted
Instructions
Preheat your oven to 450° F (232

℃

).
In a food processor, pulse the dry ingredients and mozzarella until they combine into a fine flour-like consistency. Set aside.

In a medium bowl, mix the wet ingredients together. Pour the dry ingredients into the wet ingredients. Mix until a thick batter forms.

Coat the slots of a muffin tray with non-stick baking spray and spoon in the batter to fill them ¾ of the way full. 

Spray and fill one slot at a time to prevent sticking.

Bake for about 10 minutes. Let them cool completely in the tray. Run a thin knife around the edges of each biscuit to gently remove them from the tray.
Notes
1.75g NET CARBS per biscuit...
3g Carbs - 1.25g Fiber = 1.75g NET CARBS
Nutrition
Serving Size:

1 Biscuit

Calories:

225

Fat:

19.5

Carbohydrates:

3

Fiber:

1.25

Protein:

7
Keywords: Keto biscuits, Biscuits keto, keto biscuit recipe, low carb biscuits, biscuits for keto, almond flour biscuits, almond flour recipes, how to make keto biscuits, how to make biscuits for keto, easy keto recipes, easy keto bread recipes,