This Keto Creamed Spinach Recipe will change your life! Seriously this stuff is buttery, creamy, and full of spinach deliciousness. Plus, you can use fresh or frozen spinach to make it, and it's just so easy to whip up. And, did I mention there are chunks of bacon yumminess in every bit of this low carb creamed spinach too. Yeah, this stuff is good, scary good!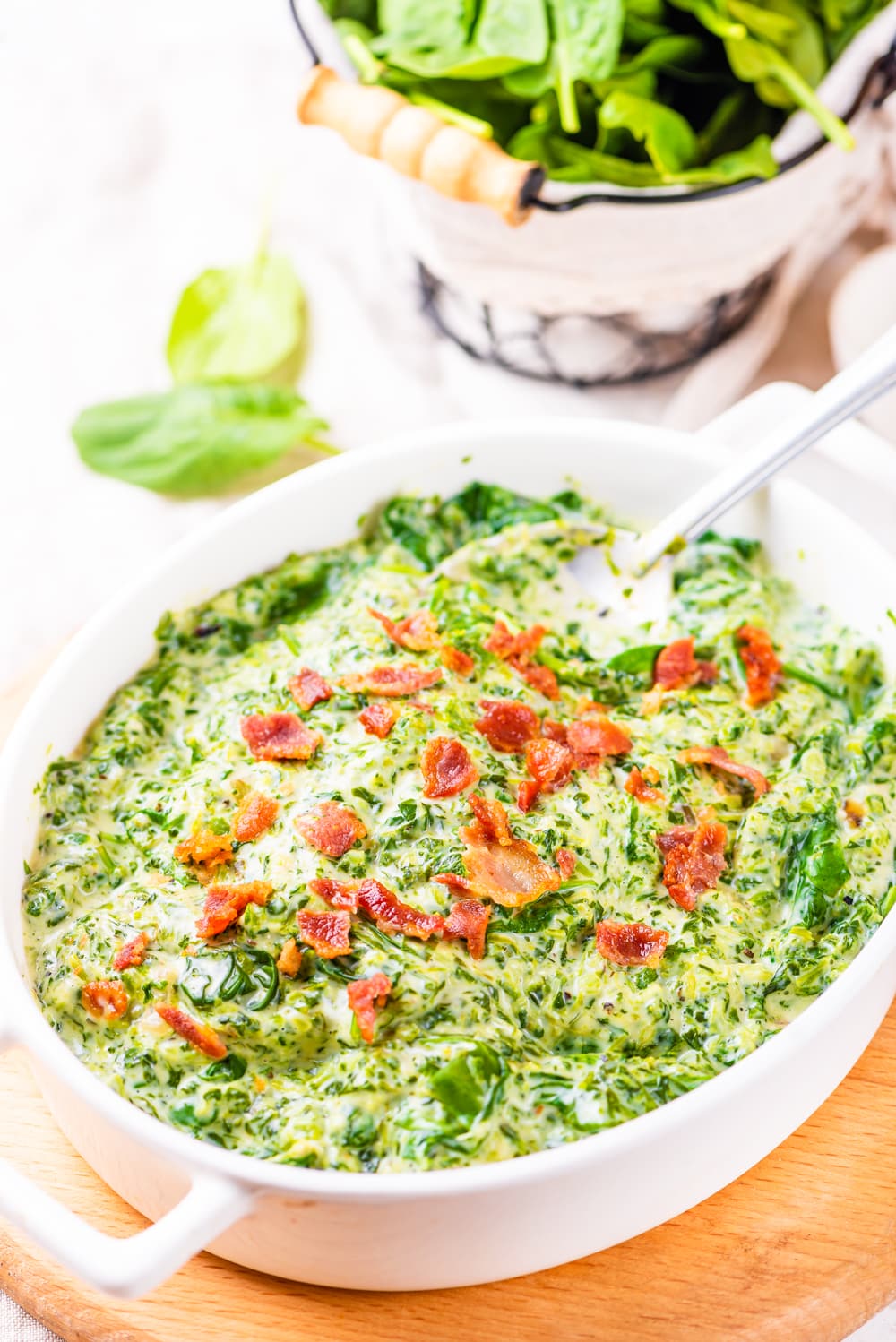 The BEST Keto Creamed Spinach
There are few side dishes as delicious and delectable as great creamed spinach.
It's hardy without being too filling, and it's the perfect side dish to several mainstream American meals.
I mean, there's a reason steakhouse creamed spinach is a "thing." It's not only a side dish cuisine that goes great with steak, but it goes great with just about every other meat option too.
And, since it's such a versatile dish, I wanted to share my go-to low carb keto creamed spinach recipe with you.
That way, you can add another super tasty side dish to your low carb keto repertoire! One that's perfect for all occasions, like a backyard barbecue, Thanksgiving, or any holiday really.
It's terrific served with this keto stuffing or air fryer turkey tenderloin, but it goes great with so many recipes!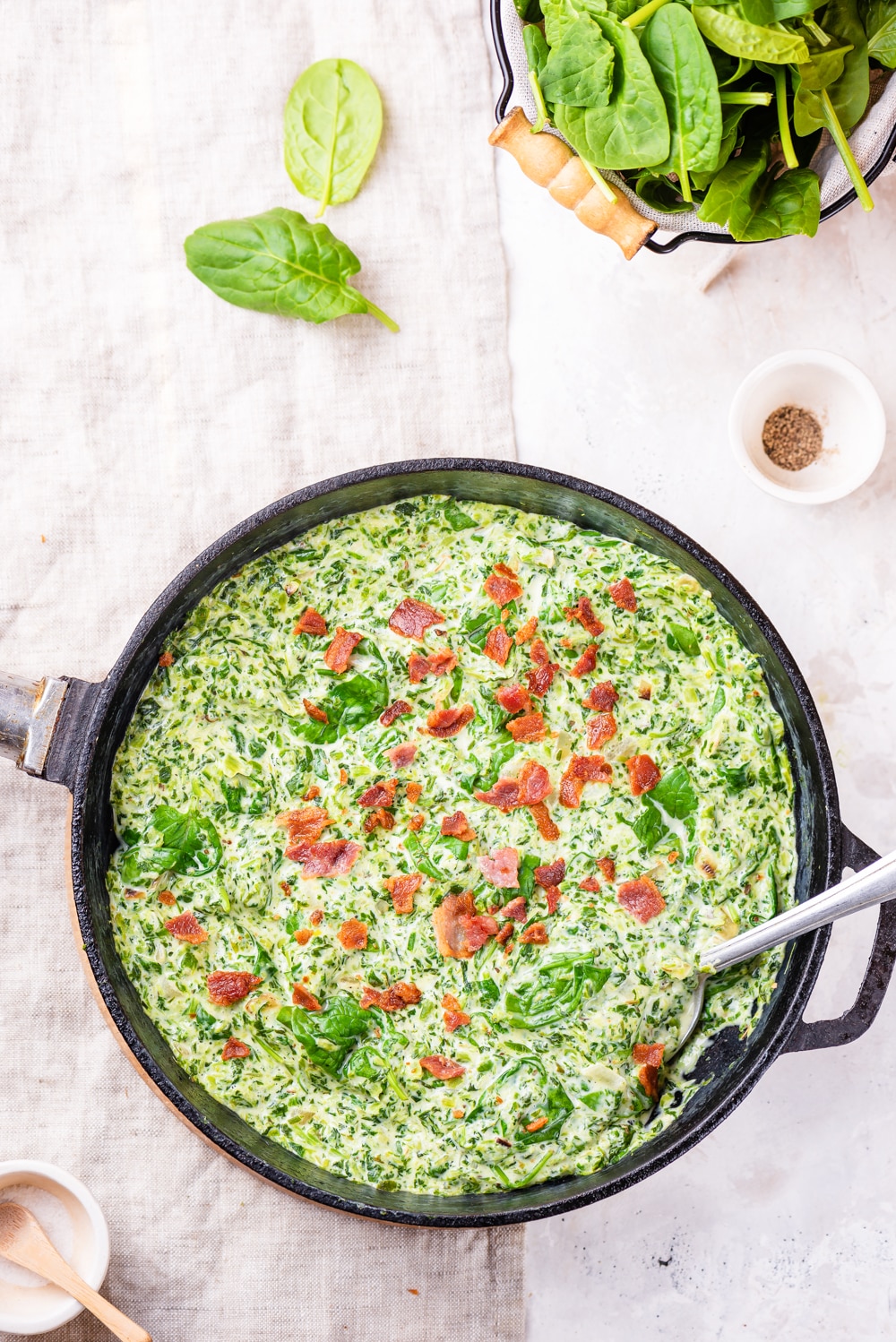 Ingredients
Ok, so the awesome thing about this recipe is that you probably have most - if not all - of the ingredients at home already!
Everything we're using to make today's keto creamed spinach recipe is pretty standard. If you've been doing a low carb diet, like keto for a while now, you probably can hop in your kitchen, and get started.
That said, to make this low carb keto creamed spinach you'll need...
Butter

Italian seasoning

Garlic cloves, minced

Onion, finely chopped

Chopped spinach – you can use frozen if necessary but drain away as much excess water as you can

Cream cheese

Heavy cream

Salt

Pepper

Crumbled bacon or about five thick-cut slices
Pretty simple stuff, right? Crazy that's all you need to make the best creamed spinach recipe.
And you can use a lot of these ingredients to make these keto chicken thighs, so you'll want to check out that recipe next!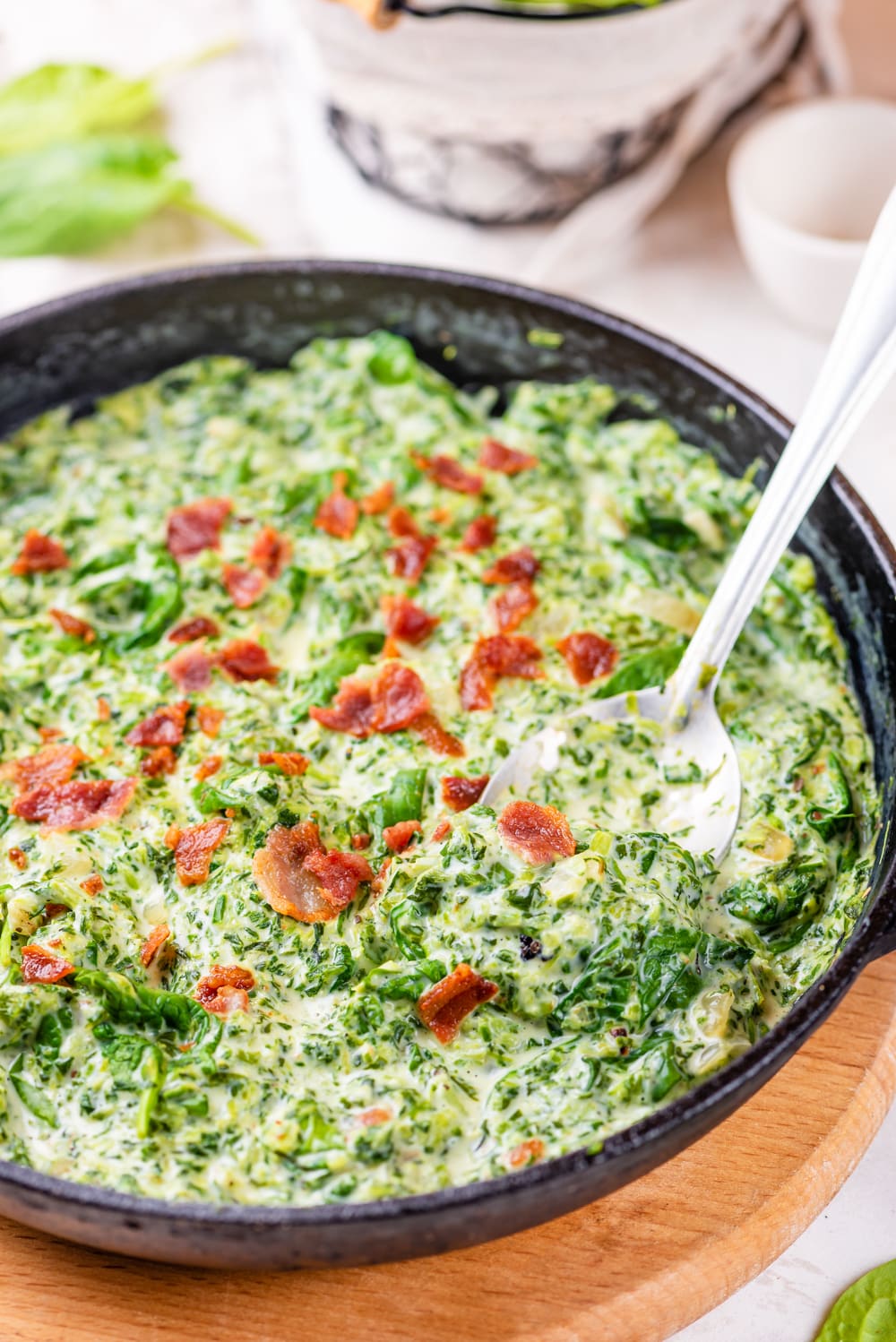 How To Make Keto Creamed Spinach
The truth is putting together this creamed spinach keto recipe is easier than you might think.
You can enjoy it with any other keto-friendly meal you desire in just about 10 to 15 minutes. Which, in my opinion, makes it one of the best keto side dishes out there!
Anyway, if this recipe sounds amazing to you, let's stop wasting time and get into how to make the best creamed spinach recipe
Step 1: Cook The Bacon
To start, cook the bacon in a medium-sized skillet set over medium heat.
You want to cook the bacon before crumbling it, as it will be easier to make it into pieces after it's already crispy. And bacon takes a while to cook, so it's good to start the creamed spinach making process with this first.
Also, bigger slices of bacon are generally better for crumbling because it doesn't become charred or burnt as easily. However, you can do it with smaller slices, just watch the bacon a bit more closely.
Now, while the bacon is doing its thing, start heating butter up in a separate large pan over medium heat.
The butter will begin to melt after just a few seconds, at which point you should add the minced garlic, onion, and Italian seasoning.
It might help to mince the garlic and chop the onion beforehand, as the butter melts very quickly and you'll be ready with these ingredients when it does.
Now you're all set to sauté the onion and garlic until the fragrance fills your kitchen. This should take about 2 minutes for most.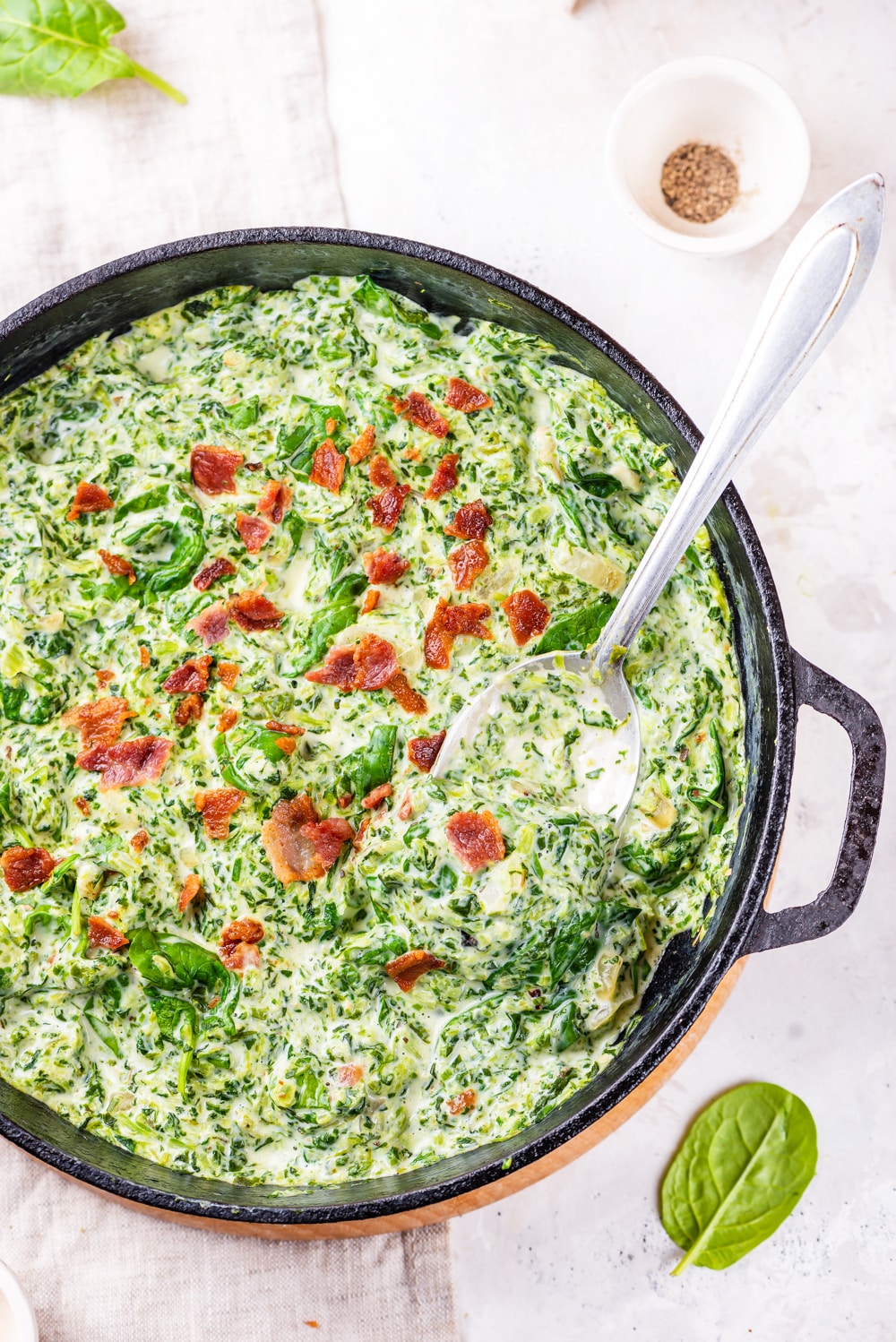 Step 2: Prepare The Spinach
At this point, our pan is ready for the spinach.
So, we're going to add it to the pan and cook everything together for an additional 2 to 4 minutes.
If you aren't sure about how long to cook it, wait until the spinach starts to wilt.
The trick, of course, is not to overcook the spinach.
Overcooking it will make the spinach a bit rubbery and slimy, which you don't want.
As soon as the spinach starts to wilt, you can begin to kill the heat. This way, the residual heat in the pan will finish the cooking process instead of accidentally overcooking.
What about if your pan is too small to take all the spinach you prepared?
No worries! Just go ahead and add as much spinach as you can fit at a time and cover the pan for a minute or two.
This will cause the initial batch of spinach to wilt, and then you can add the rest.
The colder spinach will prevent the first batch from wilting too much under most circumstances.
That said, the kind of spinach you use is totally up to you.
Fresh spinach, as mentioned earlier, is always preferred. That's just because the flavor is a bit more potent, though.
However, frozen spinach will work fine too. The key to using frozen spinach though is draining away any extra water after you defrost it.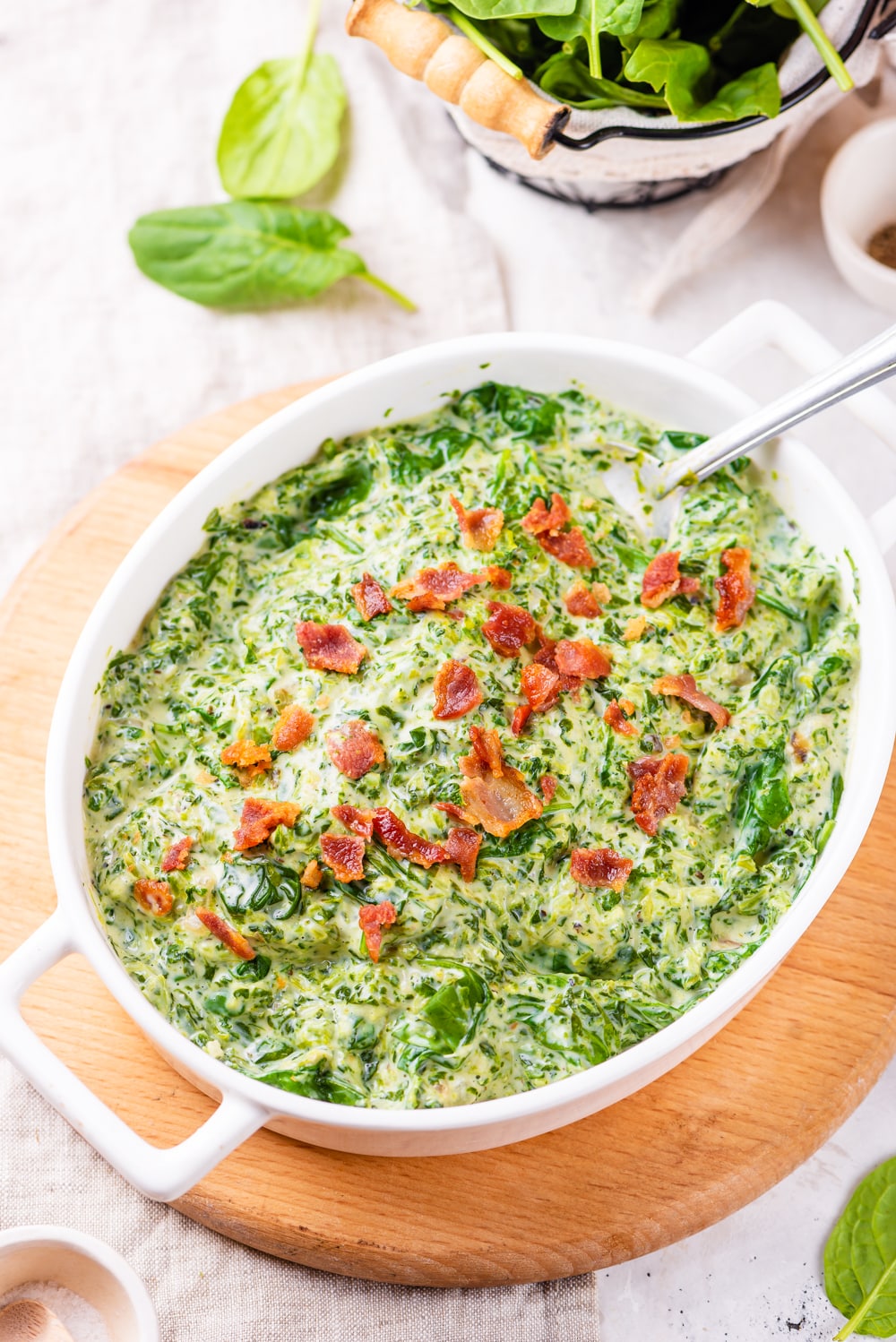 Step 3: Mix Everything Together
After all the spinach cooks and is wilted appropriately, it's time to add the heavy cream, the cream cheese, and the salt and pepper.
When it comes to the last two seasonings, don't be afraid to season them "to taste"; after all, it's your keto creamed spinach recipe!
Stir everything together until all the cream cheese is melted, then continue to cook the keto creamed spinach for a few more minutes - this helps thicken creamed spinach.
You want to try to get it to be about the same consistency as regular creamed spinach, although a little bit of difference in the cream sauce, as is to be expected.
Then you can sprinkle the crumbled bacon on top of the cooked spinach and serve as needed. And to make it cheesier, sprinkle grated parmesan cheese on top.
The bacon should have been cooking throughout this entire time, so it ought to be ready by this point.
If not, turn the heat down on the main pan and finish cooking the bacon until it's ready to crumble.
By the way, letting the bacon set on a few sheets of paper towel can really help crisp it up. The paper towel will absorb the grease as the bacon cools, leaving you with perfectly crisp strips that are ready to be crumbled.
And that's it!
How easy is this keto creamed spinach recipe?!
The answer is...too easy!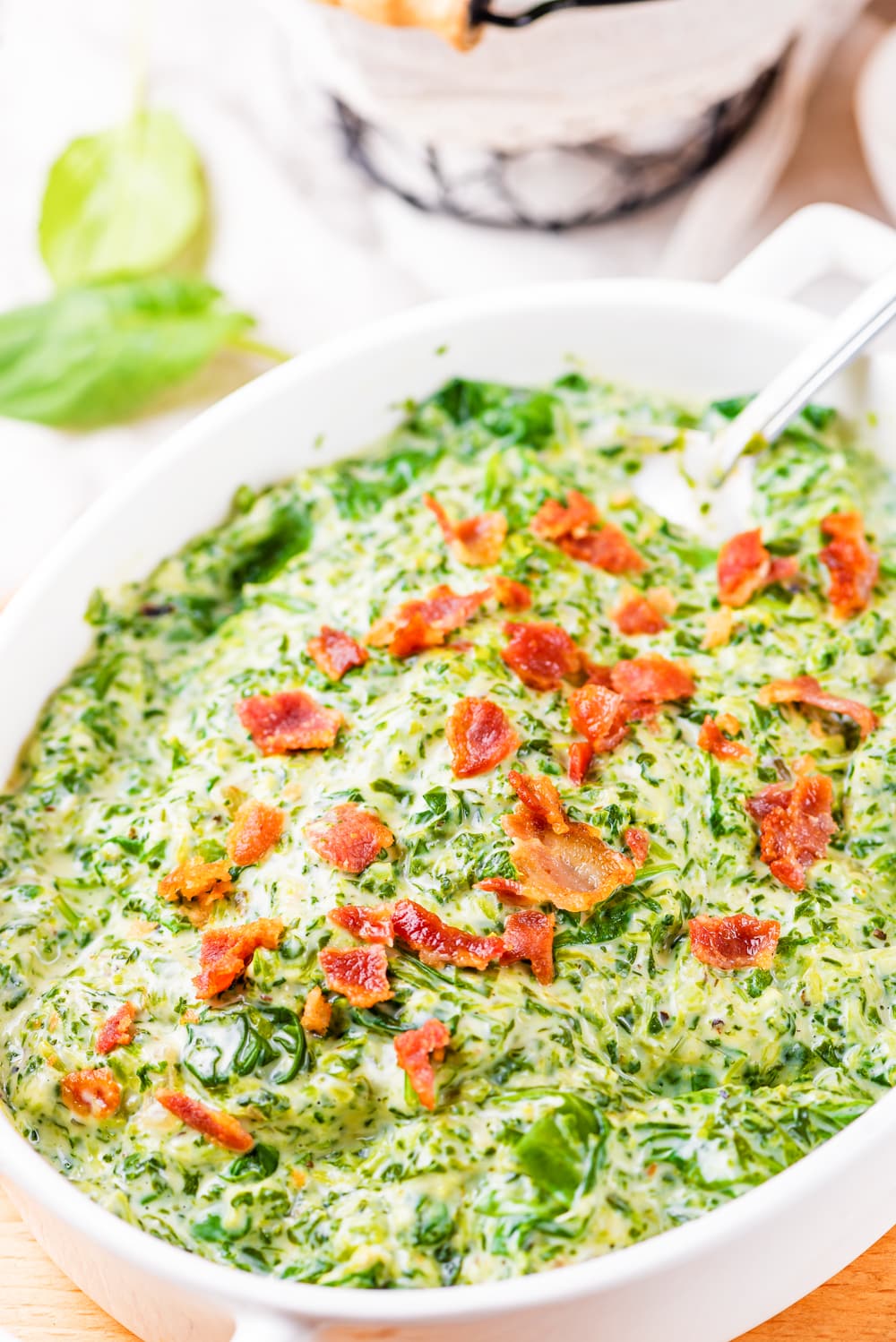 How To Store Keto Creamed Spinach
This recipe for keto creamed spinach makes 5 cups worth.
For starters, you can always freeze it if you want it to be stored for the long-term.
In fact, adequately frozen creamed spinach lasts for about a year before it goes bad.
But you can also store creamed spinach in your refrigerator for about three days. After this point, some of the ingredients in the spinach will begin to go bad and you should make a new batch.
Ultimately, though, making this cream spinach is so easy that you might want to make it fresh every time you can.
It takes only about 15 minutes with all the ingredients and preparation put together and it tastes great.
You can also make enough for just a couple of days and continually make fresh batches when you run out.
Wrapping It All Up
That is how to make this easy creamed spinach recipe!
The great thing about this keto creamed spinach is that you don't need to worry about adding too many carbs to your diet, even if you want to eat the creamed spinach as an accessory to your main meal.
Every serving has just 2 net carbs, so it's a great addition to just about anything you serve with it. Plus, it also has a nice fat-to-protein ratio as well. And, of course, that's important if you're following the keto diet.
With that said, I think this is one of the best creamed spinach recipes -keto or not- and everyone who tries it has no idea that it's actually low carb!
Anyways, if you gave this easy creamed spinach recipe a try, leave a comment below and let me know your thoughts. And for more recipes, check out my TikTok, Instagram, and YouTube.
More Keto Recipes
If you're looking for more delicious keto side dishes and appetizers, I have a bunch on the blog you can try next!
Check out all of these easy keto recipes:
Print
Keto Creamed Spinach | Works GREAT With Fresh or Frozen Spinach
This Keto Creamed Spinach Recipe will change your life! Seriously this stuff is buttery, creamy, and full of spinach deliciousness. Plus, you can use fresh or frozen spinach to make it, and it's just so easy to whip up. And, did I mention there are chunks of bacon yumminess in every bit of this low carb creamed spinach too. Yeah, this stuff is good, scary good!
Author:
Prep Time:

10 Minutes

Cook Time:

15 Minutes

Total Time:

25 minutes

Yield:

5 Cups

Category:

Side Dish

Method:

One Pot

Cuisine:

Keto Low Carb
4 Tbsp (56g) unsalted butter
1 Tsp Italian seasoning
2 Garlic cloves, minced
¼ Medium onion (30g) finely chopped
10 oz (283g) Freshly chopped spinach
4 oz (112g) Cream cheese
½ cup (118mL) heavy cream
½ Tsp salt
¼ Tsp pepper
⅓ Cup Crumbled bacon - about 5 strips
Instructions
Heat butter in a pan over medium heat.

Add minced garlic, Italian seasoning and onion, saute until fragrant about 2 minutes.

Add spinach.

Saute for 2 to 4 minutes, until wilted.

If the pan is too small to add all of the spinach, add as much as you can fit, cover it for a minute or two, which will let the spinach wilt, then add the rest.

Add heavy cream, cream cheese, sea salt, black pepper.

Stir until the cream cheese melts, then cook a few minutes until thickened.

Sprinkle crumbled bacon on top before serving.
Notes
If using frozen spinach make sure to strain away any excess water before cooking it in the pan.
Nutrition
Serving Size:

1 Cup

Calories:

345

Fat:

32

Carbohydrates:

3.5

Fiber:

1.5

Protein:

8
Keywords: keto creamed spinach, low carb creamed spinach, creamed spinach keto, easy keto creamed spinach, creamed spinach, creamed spinach low carb, creamed spinach recipe, steakhouse creamed spinach, frozen spinach recipes, healthy creamed spinach, creamed spinach recipe keto