This keto pecan pie bars recipe is buttery, crunchy, and melt in your mouth delicious. And these low carb pecan pie bars have everything you love about a classic pecan pie but in bite-sized form. Oh, and instead of being loaded with carbs and sugar, each bar only has 2 NET CARBS!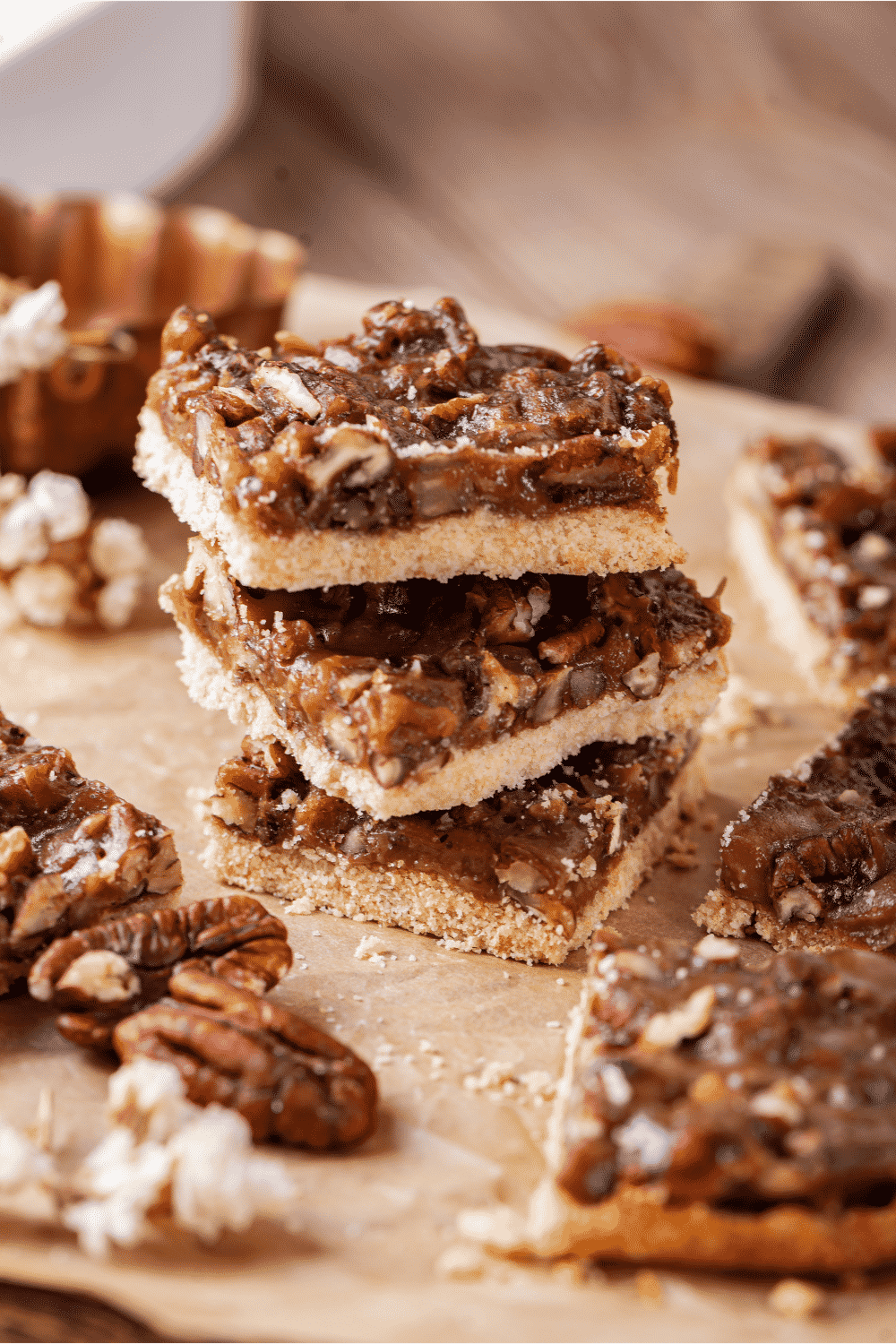 THE BEST KETO PECAN PIE BARS
Pecan pie is by far my favorite pie in the world. And my family always has a pecan pie at family get-togethers and holidays - it is such a tease and so hard to resist.
Luckily, these keto pecan pie bars literally taste like pecan pie, but are low carb, sugar free, and gluten free! They are a ideal replacement for a pecan pie that everyone will love.
These keto bars have a thick, buttery crust topped with a brown sugar pecan filling that is sweet, salty, and perfectly crunchy.
The crust-filling combination is seriously to die for, and you won't be able to stop eating these once you get a taste.
And not only is this recipe just as delicious as a traditional pecan pie, but it is also so much easier to make.
So if you're ready for your new favorite recipe for celebrations, holidays, and just an after-dinner treat, keep on reading!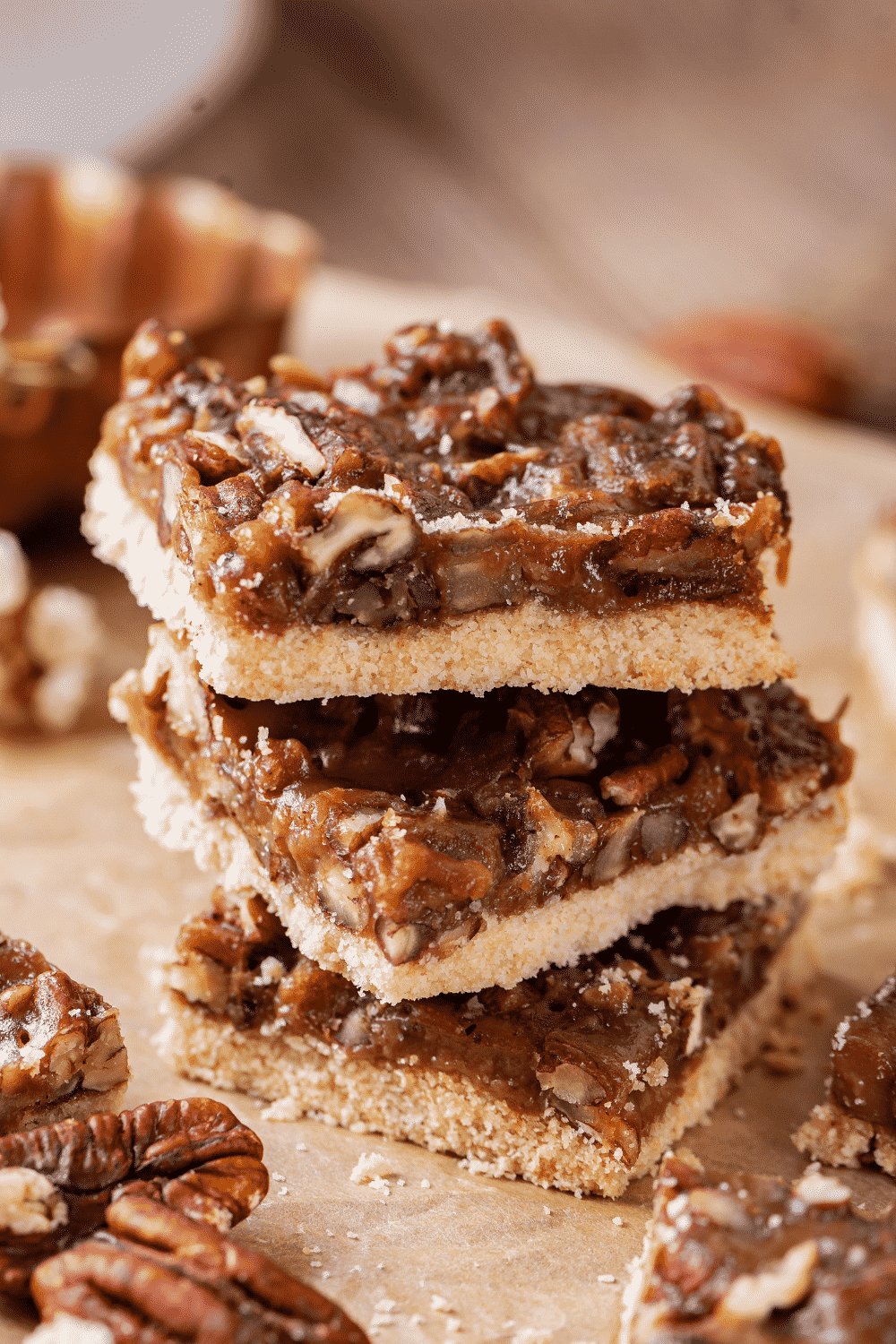 INGREDIENTS
The main reason the crust and filling are so good together is the combination of the ingredients.
They create that perfect sweet and salty balance with the buttery, melt-in-your-mouth finish a regular pecan pie has.
And you will need super common keto baking ingredients to make these pecan bars.
For the crust you'll need:
1 ½ cups Blanched Almond Flour
¼ Cup Melted Salted Butter
¼ Cup Confectioners Swerve
1 Large Egg
1 teaspoon Pure Vanilla Extract
And for the pecan pie filling:
¾ Cup Unsweetened Almond Milk
1 Cup Pecans, Chopped
½ Cup Brown Swerve
2 tablespoon Coconut Oil
½ teaspoon Pure Vanilla Extract
¼ teaspoon Xanthan Gum
½ teaspoon Sea Salt
If you don't already have everything you need, make sure to pick them up ASAP. You can use the majority of these ingredients to make some more delicious recipes, like these keto pecan pralines, and this keto butter pecan ice cream next!
Now let's go over a few of these ingredients before we get baking.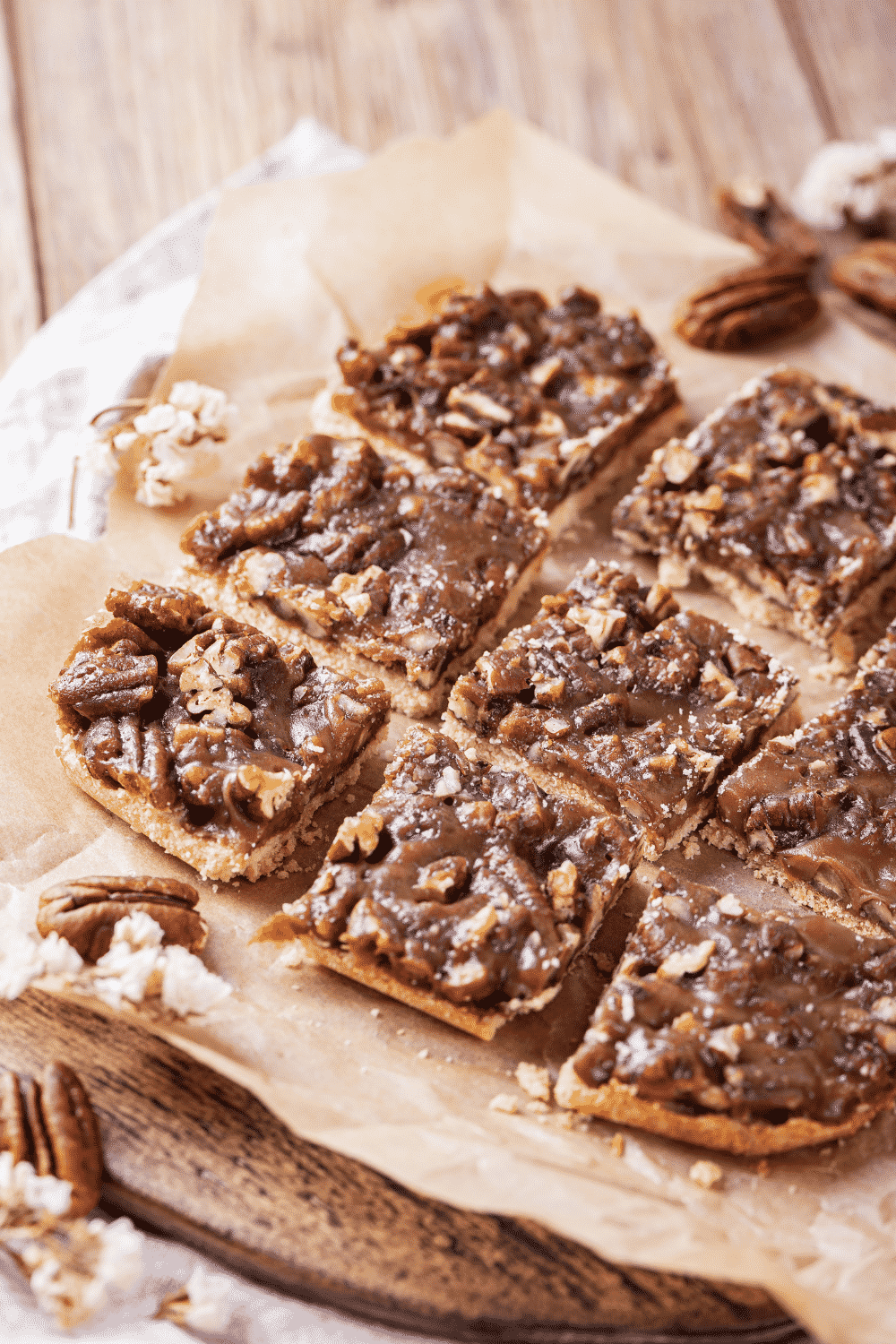 FLOURS TO USE FOR KETO PECAN PIE BARS
Ok, so to make the crust for these pecan bars, I used almond flour - it gives the crust that soft and slightly crumbly texture that is just so tasty.
But if you are allergic to almond flour or want some substitutes, walnut flour or sunflower seed flour will give you the same crust results. Both of them are low carb, keto-friendly flours that can be substituted equally with almond flour in this recipe.
Now, you may be thinking, what about coconut flour? Although coconut flour can be used as the main flour in some recipes like to make these keto brownies, I DO NOT suggest using it to make this pecan pie bar crust.
Coconut flour is an absorbent flour, and it will soak up the other ingredients causing the pecan crust to turn out dry and crumbly.
So for the best crust results, stick with almond, walnut, or sunflower seed flour.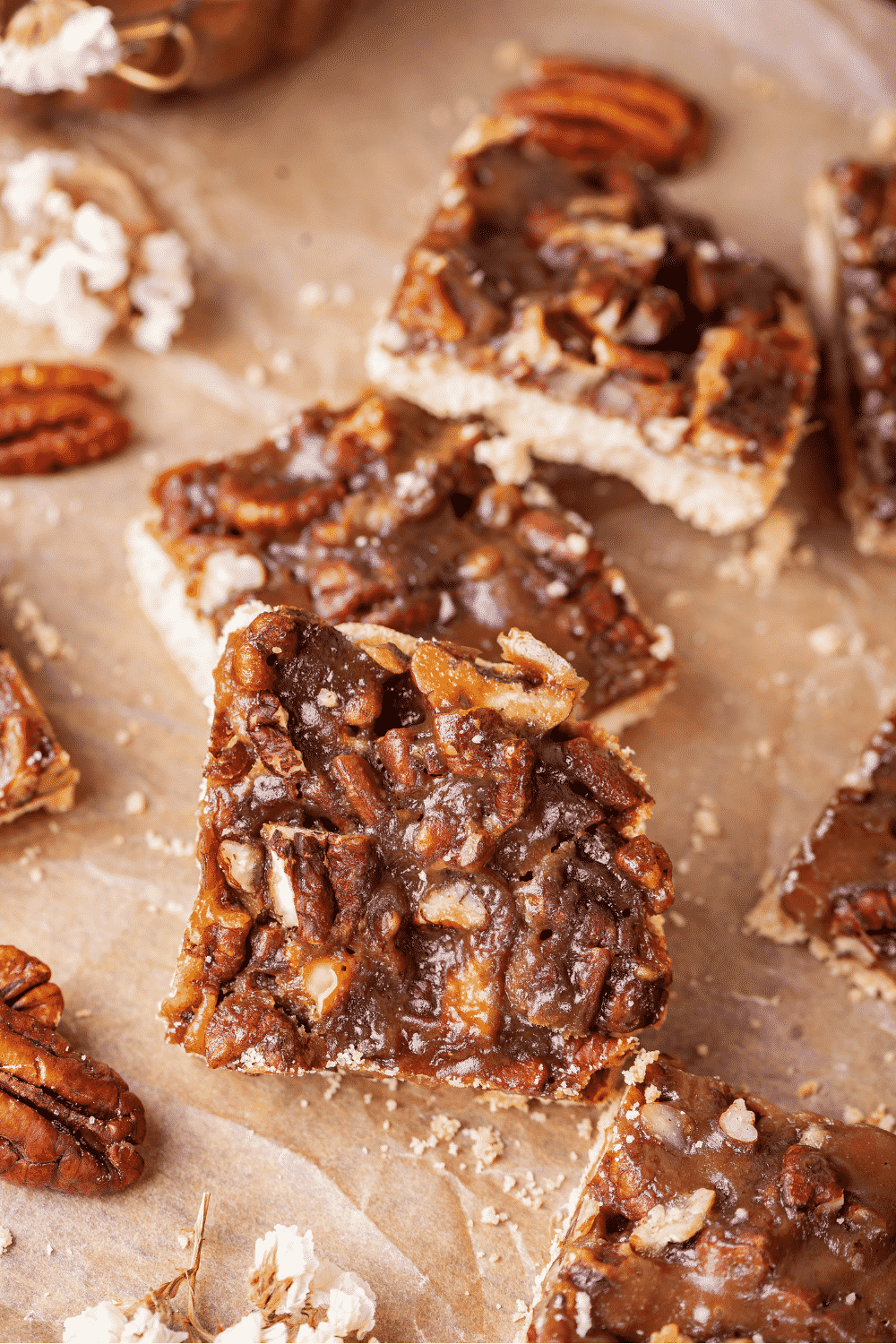 SWEETENERS TO USE
Going back to what I said earlier, the balance between sweet and salty is one component that makes this recipe so good. And we, of course, will be making sugar free pecan pie bars, so you'll need to use sugar substitutes.
So to make them sugar free but still wonderfully sweet, I used Confectioners Swerve for the crust and Brown Swerve for the filling. Swerve is a 0 calorie, 0 sugar sweetener that has the same sweetness as sugar.
Another keto sweetener option you have that you can use in place of the Confectioners Swerve is Lakanto's Powdered Monk Fruit Sweetener. Monk fruit is also as sweet as sugar, with no calories or sugar.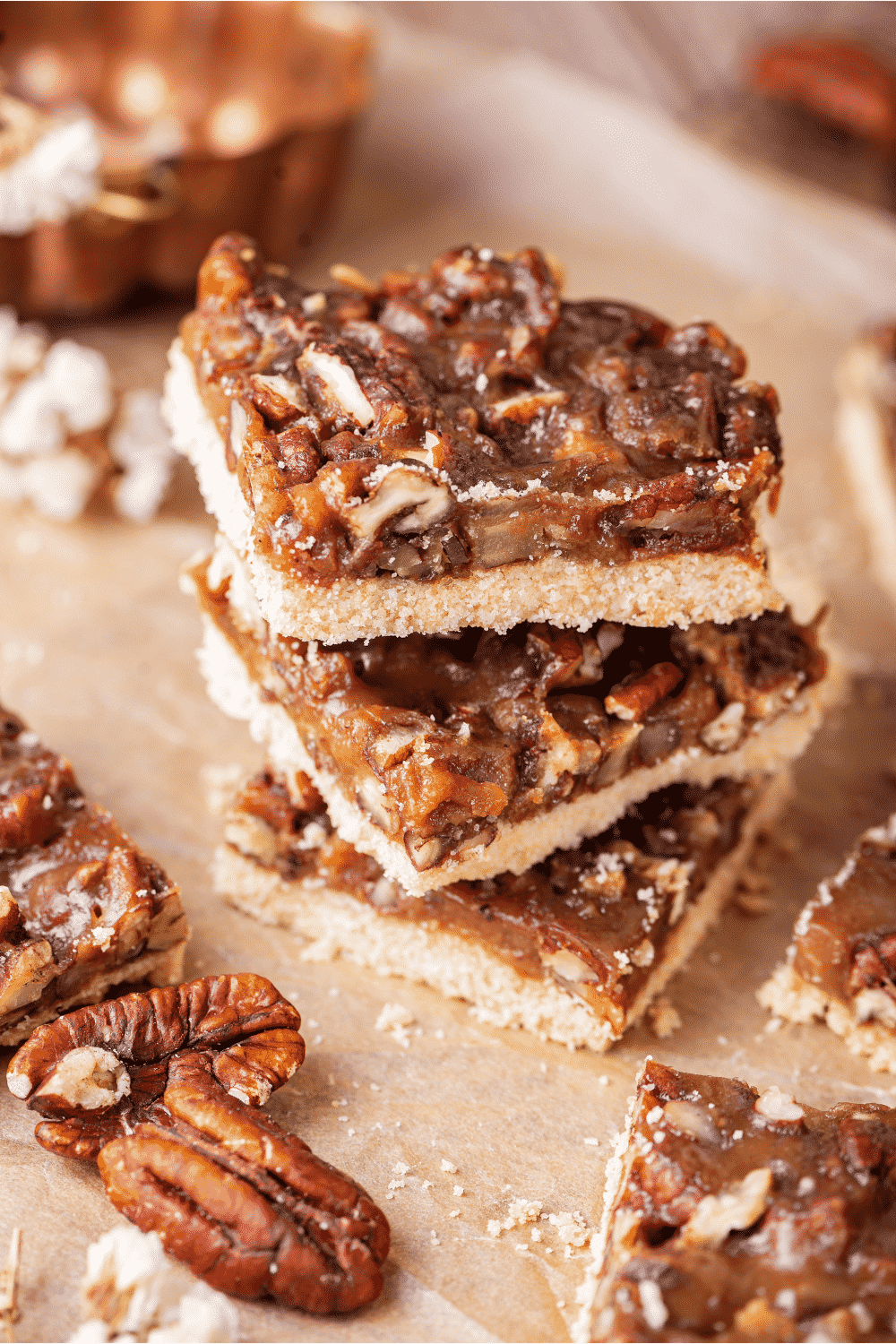 HOW TO MAKE KETO PECAN PIE BARS
Now it's time to turn a pecan pie into low carb bars!
The process of making this recipe is super easy, especially compared to making a pie from scratch.
So gather your ingredients, and let's get into to how to make low carb pecan bars!
STEP 1: MAKING THE CRUST
Before we begin, preheat your oven to 350°F (180°C) and line an 8x8 inch baking pan with parchment paper.
First, in a medium-sized bowl, mix your flour and Confectioners Swerve until combined.
Then add in your melted butter and vanilla extract and give your ingredients a quick mix. Lastly, add your egg into the bowl and mix all your ingredients until well combined and a dough forms.
Next, put the crust dough in the prepared pan and press it down with your hands.
You can then bake your crust for 10-14 minutes until the edges are golden brown. Once it is done, take your crust out of the oven, let it cool, and start making the filling.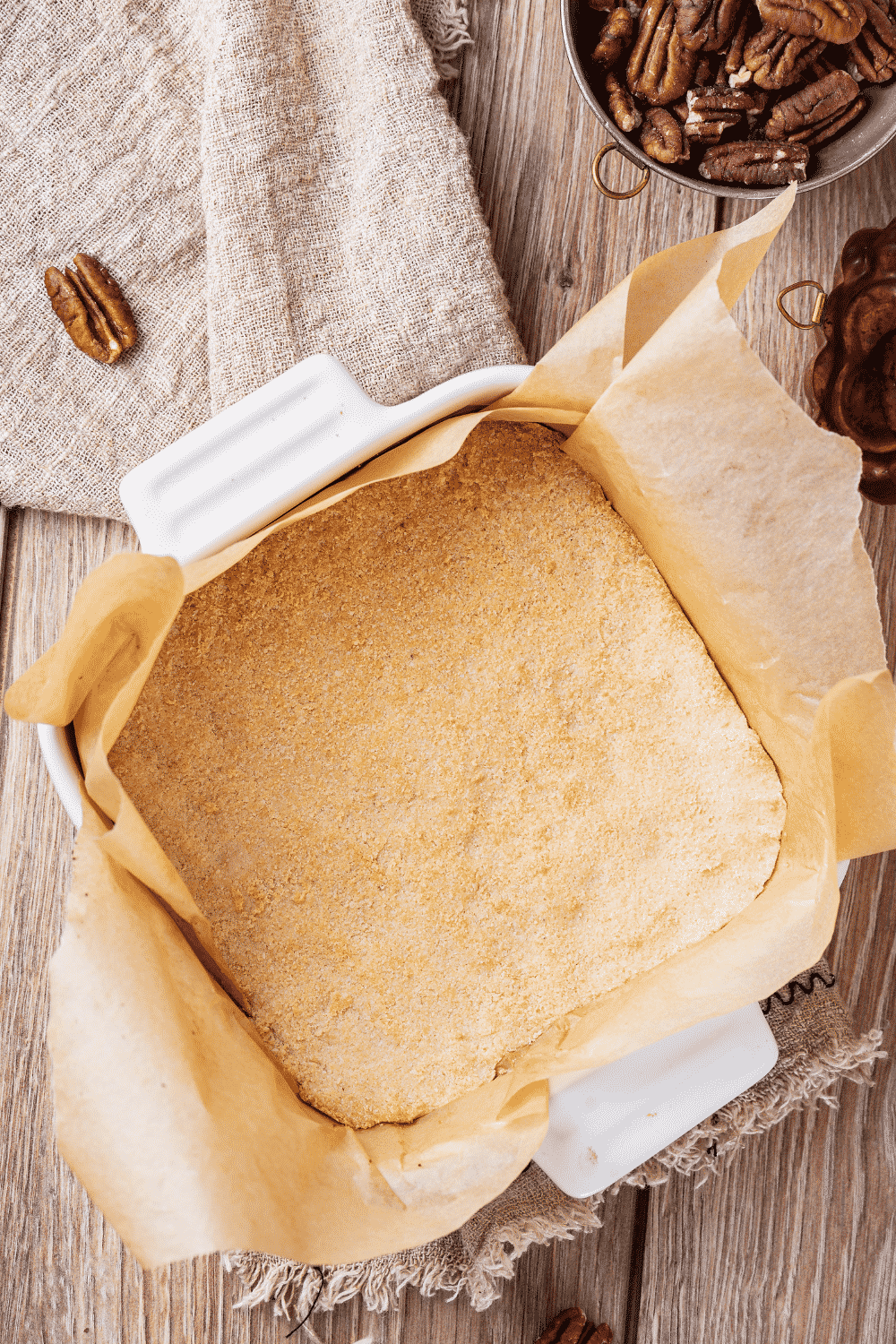 STEP 2: MAKING THE PECAN FILLING
First, take out a small saucepan, put it over medium heat, and add in all of your filling ingredients - EXCEPT for the pecans.
Continuously stir your ingredients together and bring them to a boil.
Then simmer for around 3-5 minutes until the mixture thickens and turns caramel in color.
Next, remove the saucepan from the heat and stir in your chopped pecans.
Then after your pecans are incorporated into the filling mixture, pour the pecan topping onto the baked crust and evenly spread the pecan topping over the crust with a rubber spatula.
Lastly, bake for about 15 minutes until the filling is bubbly. Take it out when this happens and let it cool completely.
To finish up, cut your pecan pie into 9 bars and enjoy!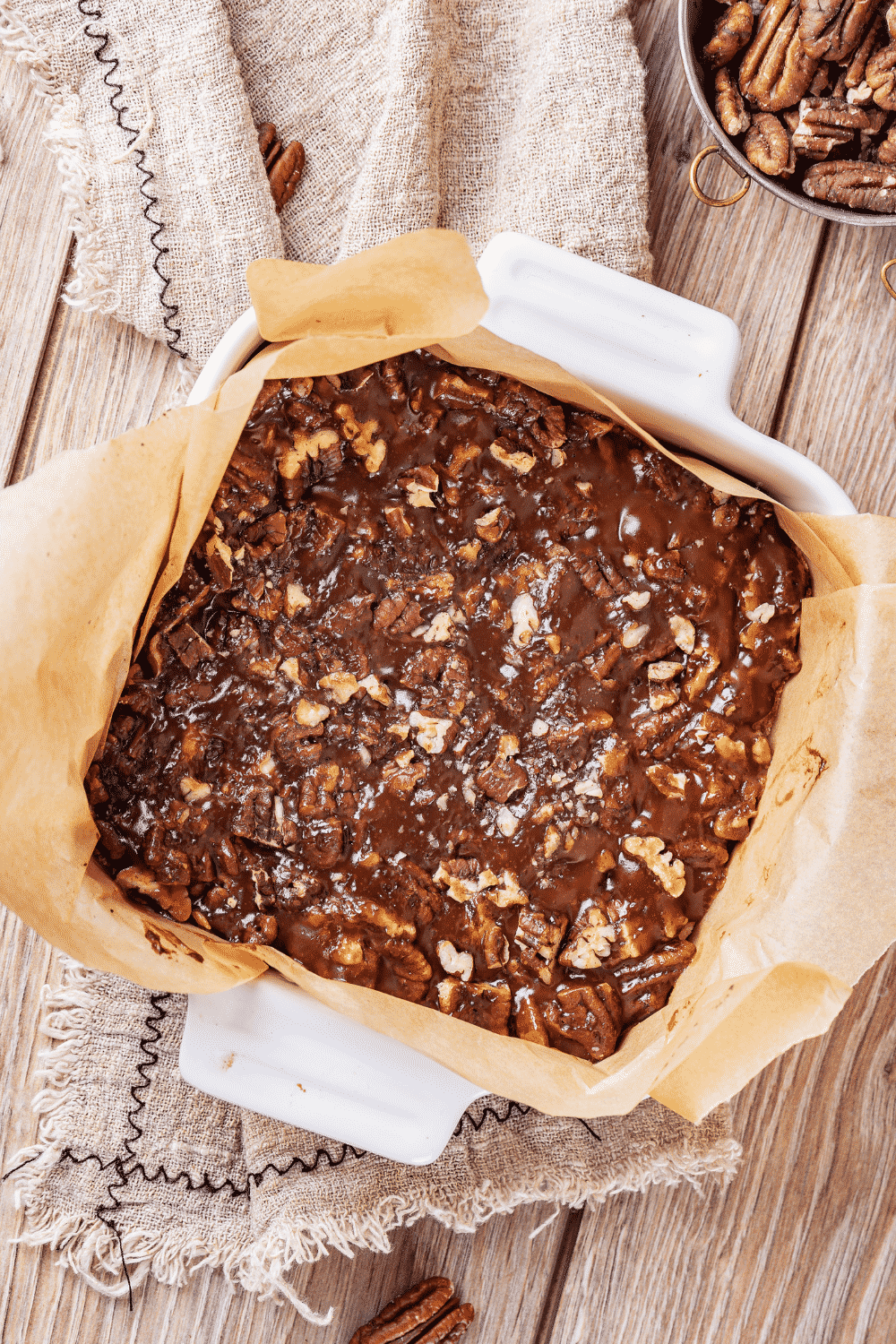 HOW TO STORE KETO PECAN PIE BARS
So, like I just said, this recipe for pecan bars makes about 9 bars. If you put them out at a party, I guarantee they'll be gone before you get a chance to have seconds.
But if you're making them just for yourself, which is a wonderful idea, you can save your leftover bars and store them in an airtight container in the fridge for up to 2 weeks.
And to keep them longer, you can freeze them up for up to 3 months.
Just make sure you let them completely cool, and then you can put them on a baking sheet lined with parchment paper and place them in the freezer until solid. Once solid, transfer to an airtight container or freezer-safe bag, and before enjoying, let your pecan pie bars thaw at room temperature.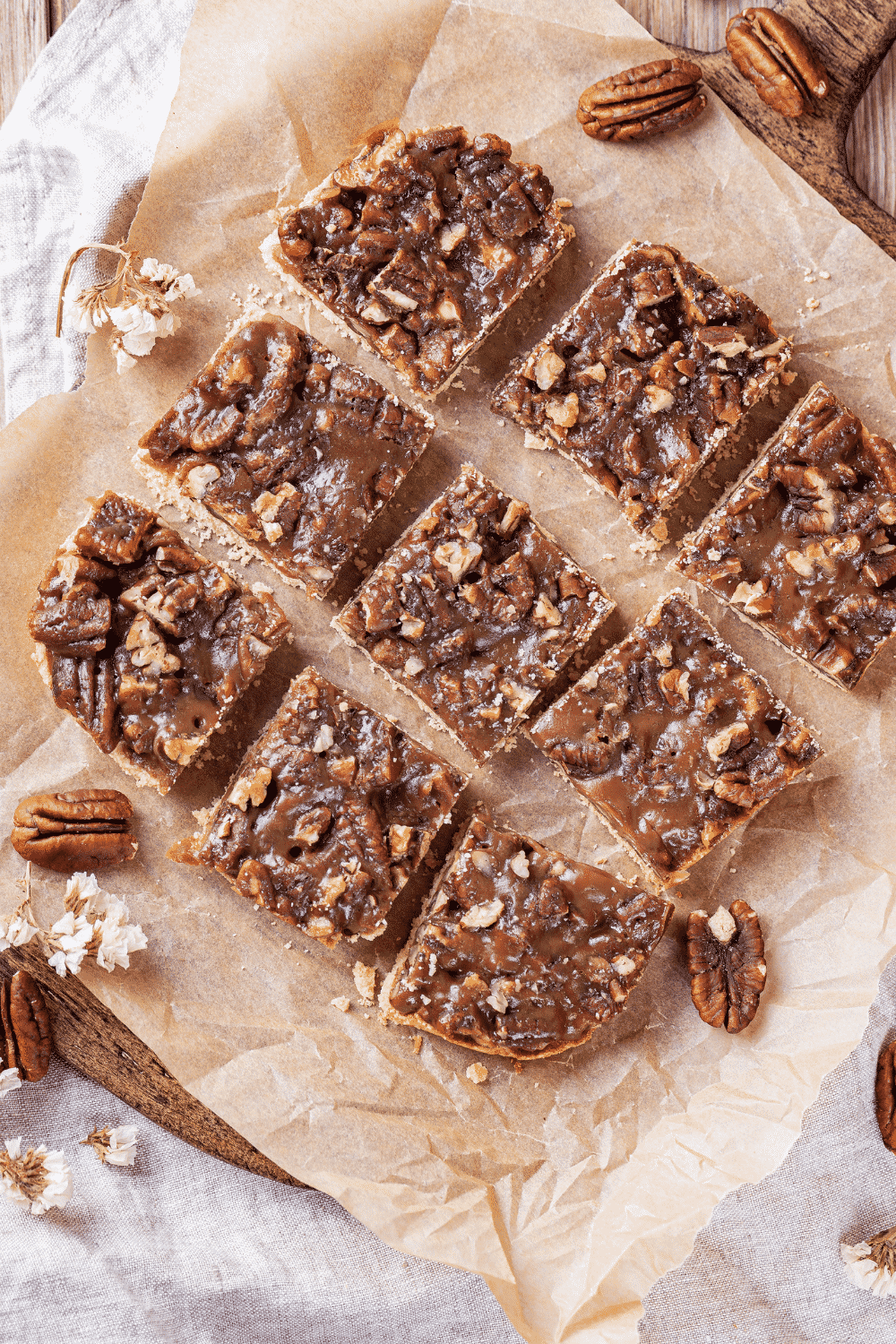 Wrapping It Up
That is how to make keto pecan bars!
These are honestly every bit as good as regular pecan bars, and you'd never guess that each one has only 2 NET CARBS. So you can totally have seconds or even thirds without worrying about eating too many carbs!
So next time you need to make a dessert for a get-together or holiday celebration, you have to make these.
Every time I make them, everyone loves them - keto or not - and says they taste just like a pecan pie!
Anyways, I hope you enjoy these easy keto pecan pie bars as much as I do! Make sure to leave a comment below if you make it, and let me know how it goes.
EASY KETO DESSERT RECIPES
If you liked this pecan bar recipe and want to make some more easy dessert recipes, I think you'll like these low carb recipes:
Print
Keto Pecan Pie Bars | The Best Low Carb Pecan Pie Bars
This keto pecan pie bars recipe is buttery, crunchy, and melt in your mouth delicious. And these low carb pecan pie bars are everything you love about a classic pecan pie but in bite-sized form. Oh, and instead of being loaded with carbs and sugar, each bar only has 2 NET CARBS!
Author:
Prep Time:

25 minutes

Cook Time:

25 minutes

Total Time:

50 minutes

Yield:

9 servings

Category:

Dessert

Method:

Oven

Cuisine:

Keto Low Carb
Instructions
Preheat the oven to 350°F (180°C) and l

ine a

8x8 inch baking pan

with parchment 

paper.

In a medium-sized bowl, add and mix the flour and

Swerve

together. Then add the

melted butter

, and

vanilla extract

, and give everything a quick mix. Finally, add and mix the egg into the ingredients until well combined.

Now press the dough into the lined pan and bake for 10-14 minutes, until the edges are golden brown.

Once the edges are golden brown, let the crust cool and start making the filling.

Combine all of the filling ingredients (except for the pecans) in a small saucepan.

Stir constantly, and bring to a light boil over medium heat.

Simmer for around 3-5 minutes until the mixture thickens and turns caramel in color.

Remove from heat and stir in chopped

pecans

.

Now pour the filling onto the crust, and spread it evenly with a spatula.

Bake for about 15 minutes - until the filling is bubbly.

Cool completely before cutting into 9 bars.
Notes
The scale up function does not change the gram measurements.
Nutrition
Serving Size:

1 serving

Calories:

285

Fat:

28

Carbohydrates:

6

Fiber:

4

Protein:

6
Keywords: keto pecan pie bars, keto pecan pie bars recipe, keto pecan pie, low carb pecan pie bars, low carb pecan pie bars recipe, easy keto pecan pie bars, keto pie bars, keto pie bars recipe, gluten free sugar free pecan pie bars, sugar free pecan pie bars, sugar free pecan pie bars recipe, easy keto pecan pie bars recipe, how to make keto pecan pie bars, how to make pecan pie keto, pecan pie bars keto, pecan pie bars low carb, how to make pecan pie low carb