These keto snickerdoodles are super soft, perfectly chewy, and covered with a "cinnamon-sugar" coating that gives them their iconic flavor without adding any carbs! And these cookies are so, so good, they taste anything but low carb. In fact, these keto snickerdoodle cookies are so good my friends and family don't believe me that they have just 1 NET CARB a piece.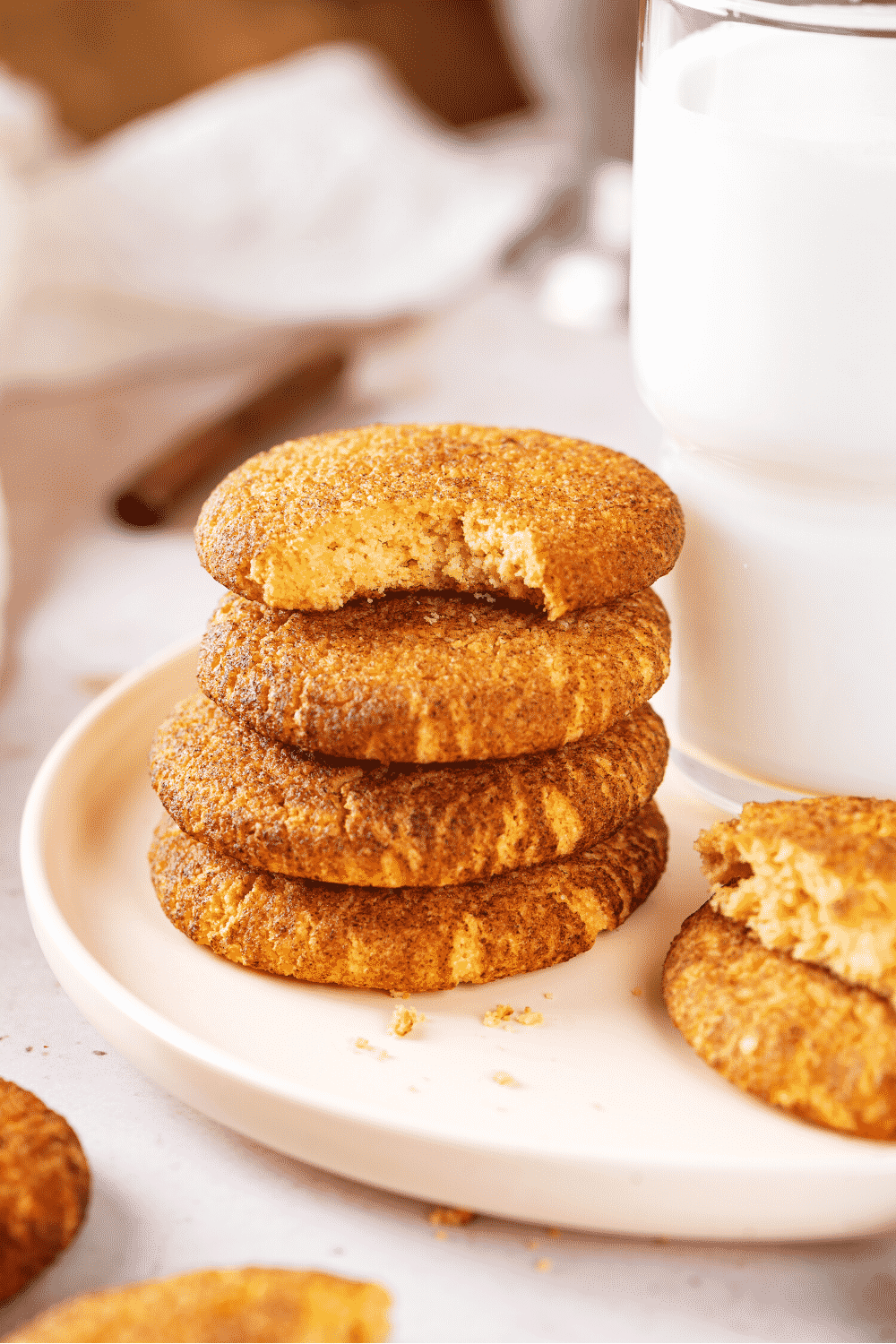 THE BEST KETO SNICKERDOODLES
Snickerdoodles are classic cookies that are just delicious any time of the year. Cinnamon, sugar, a cookie that melts in your mouth - how can you not want to make these cookies regularly?
And these keto snickerdoodles are by far the best ones you'll ever taste. I know, I know, I'm a little biased, but these are ridiculously good.
I mean, each bite of these cookies is so soft and chewy - and filled with "cinnamon-sugar" deliciousness - it's tough not to be obsessed with 'em. They're the way I think a true snickerdoodle should be.
And what's mind-blowing is each cookie has 0.8 NET CARBS!
So you can indulge all you want without worrying about eating too many carbs.
Plus, this recipe is beyond easy to make, and takes about 20 minutes! If you want these dreamy cookies ASAP, just keep on reading.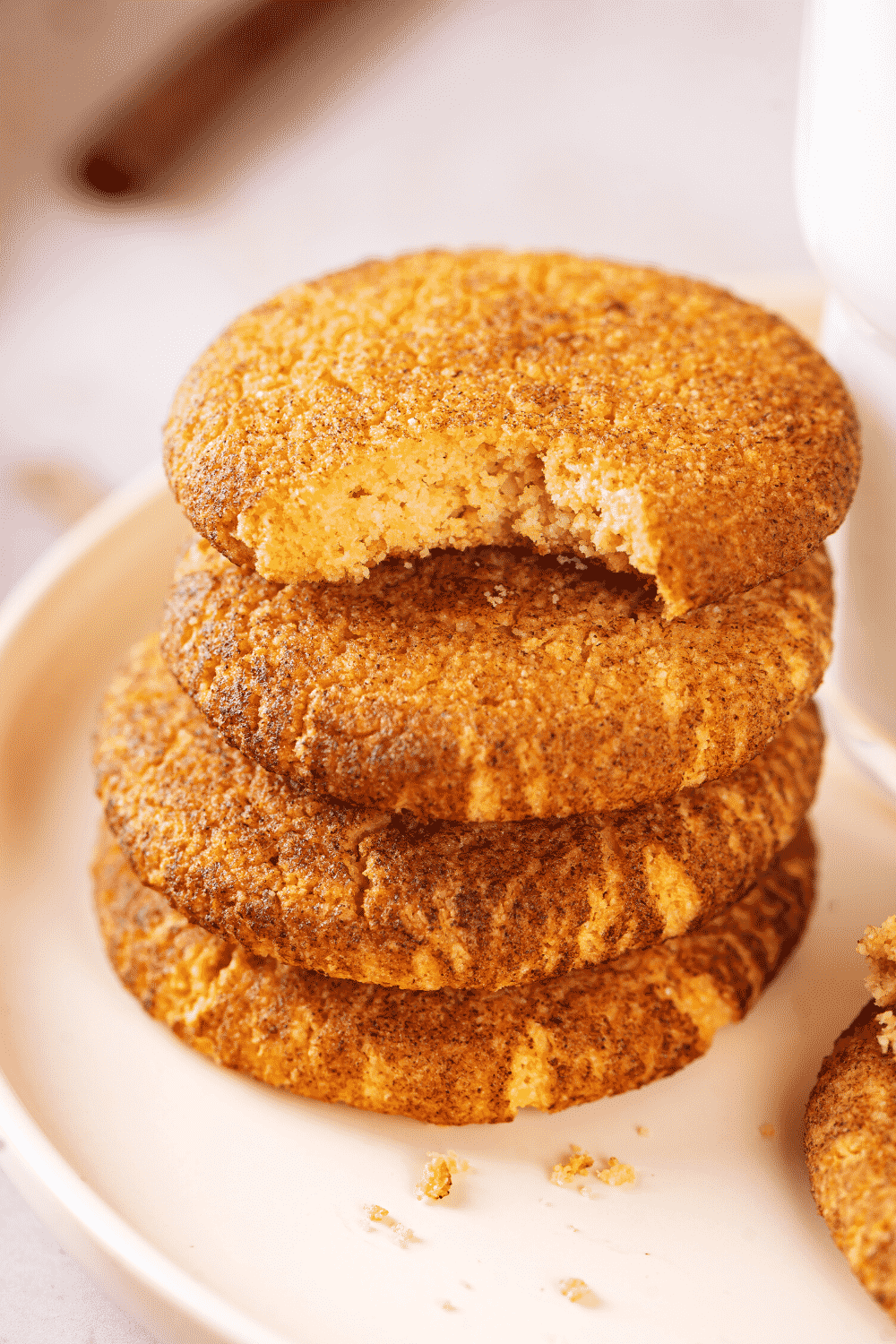 INGREDIENTS YOU'LL NEED
So, another reason to love this recipe is that you only need a few ingredients that I can almost guarantee you have already.
Seriously, when you read the ingredients, you'll think I forget something - but I promise I didn't.
Here is what you'll need for the cookie dough:
Just under 8 tablespoons butter, softened
½ cup granular swerve
½ teaspoon cinnamon
1 egg
2 cups almond flour
2 tablespoon coconut flour
1 teaspoon baking powder
And for coating the cookies:
½ teaspoon cinnamon
Heaping ¼ cup granular swerve
Some super basic ingredients to make some seriously delicious low carb cookies!
And if you love the cinnamon-sugar flavor that these cookies have, you'll have to try making these cinnamon sugar keto donuts next.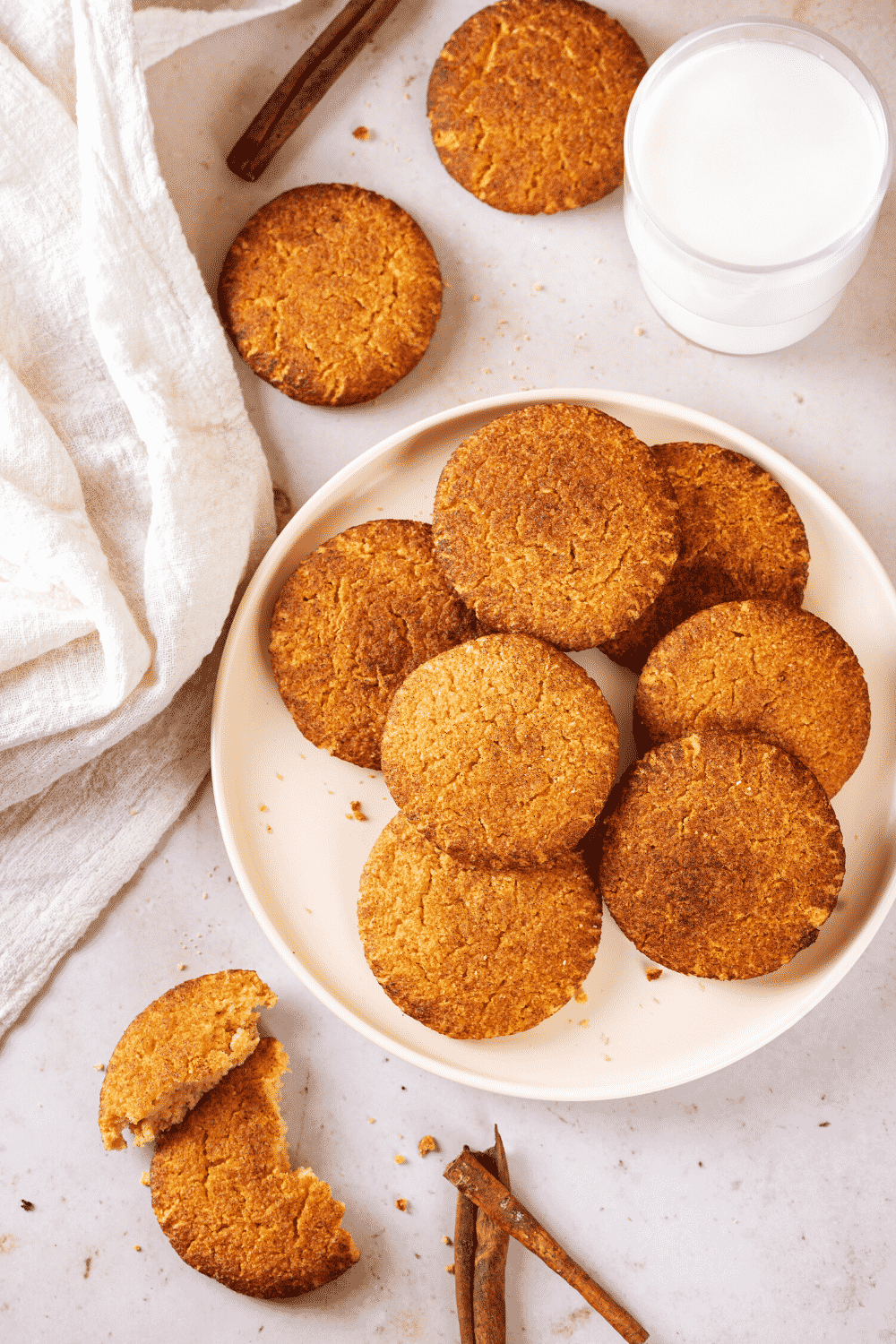 KETO FLOURS TO USE (AND AVOID)
Ok, so as you may have noticed we'll be using almond flour as the base for this keto snickerdoodles recipe. But, if you're allergic to almonds - or don't want to use them - you can swap out the almond flour for an equal amount of walnut flour or sunflower seed flour. Both will work just as well for these cookies.
With that said, I DO NOT recommend replacing the almond flour with more coconut flour.
You cannot use almond flour and coconut flour interchangeably - in any recipe really - since coconut flour is highly absorbent. Using more of it will result in dry and crumbly cookies.
KETO SWEETENERS TO USE
Ok, so the ingredient we'll be using to make these snickerdoodles sugar-free - and keto - is granular swerve. And this sweetener is not just used to make the cookie dough, but the coating as well.
Having said that, the reason I like - and recommend - using swerve is because it has 0 calories, 0 carbs, and it's just as sweet as sugar.
However, another sweetener you can use in this recipe instead is Lakanto's Monkfruit Sweetener. It also has 0 calories and sugars with the same sweetness as sugar.
Also, allulose is another great option as well. Just keep in mind that it isn't as sweet as Swerve/Lakanto, so you'll have to use more of it for these cookies if you use it.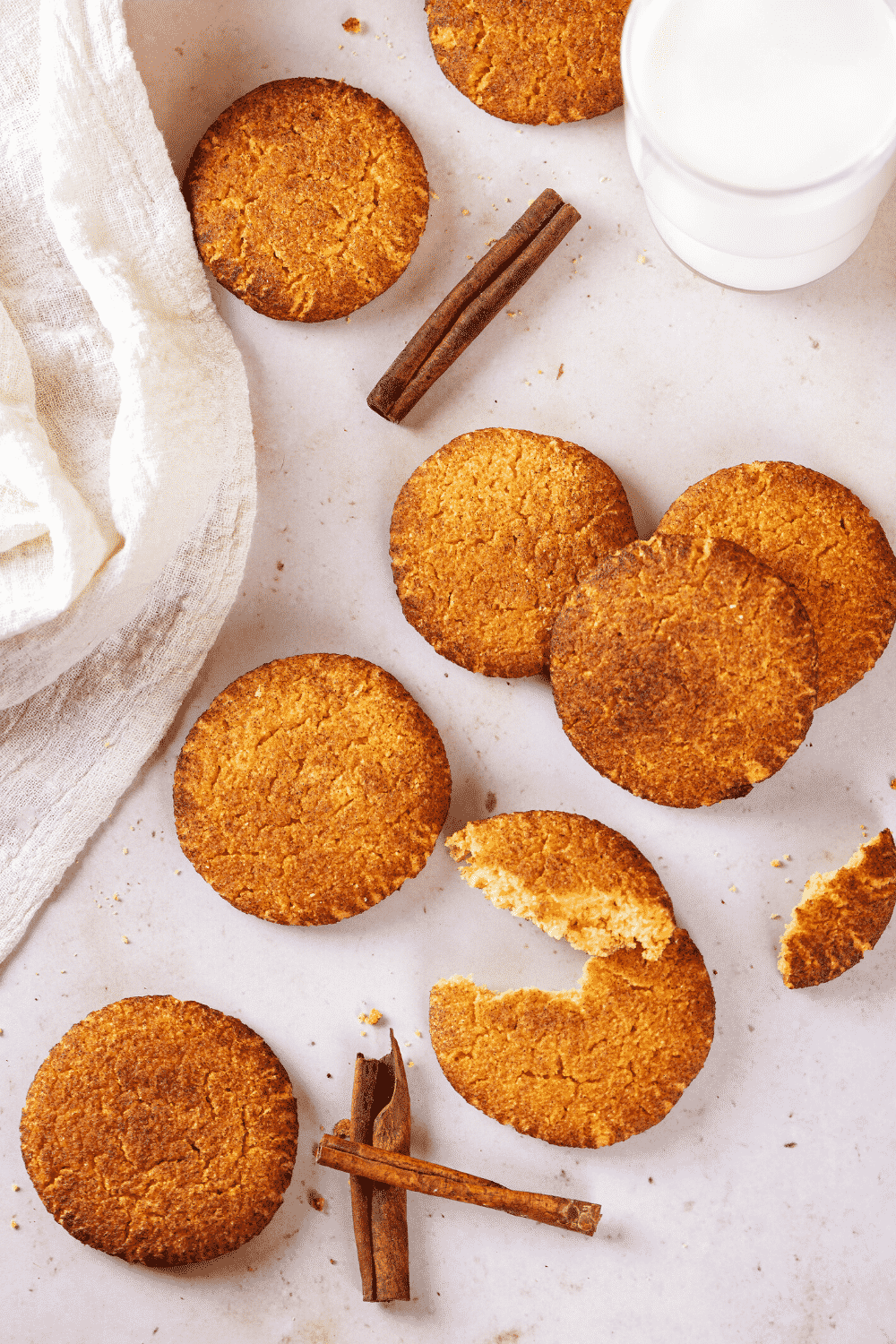 HOW TO MAKE KETO SNICKERDOODLES
These cookies are so tasty, so low carb, and they are sooo simple to make.
Like, these might be the easiest cookies to make in the world. And they turn out like a masterpiece every time.
Ok, I know you're ready to go, so let's get baking!
STEP 1: MAKING THE COOKIE DOUGH
The first thing you will do is preheat your oven to 375°F (190°C) and gather all of your ingredients.
Oh, and if you have a food scale, I highly recommend using it to get the most accurate measurements.
Now, get a large mixing bowl and add in your butter, egg, and granular swerve. Then, either using a hand mixer or stand mixer, cream these ingredients together.
Next, in a large bowl, mix your almond flour, coconut flour, baking powder, and cinnamon until combined. And then add in the butter-egg mixture and mix until well combined and a dough forms.
Let the dough sit for 5 minutes - this will make it easier to work with-in the next step.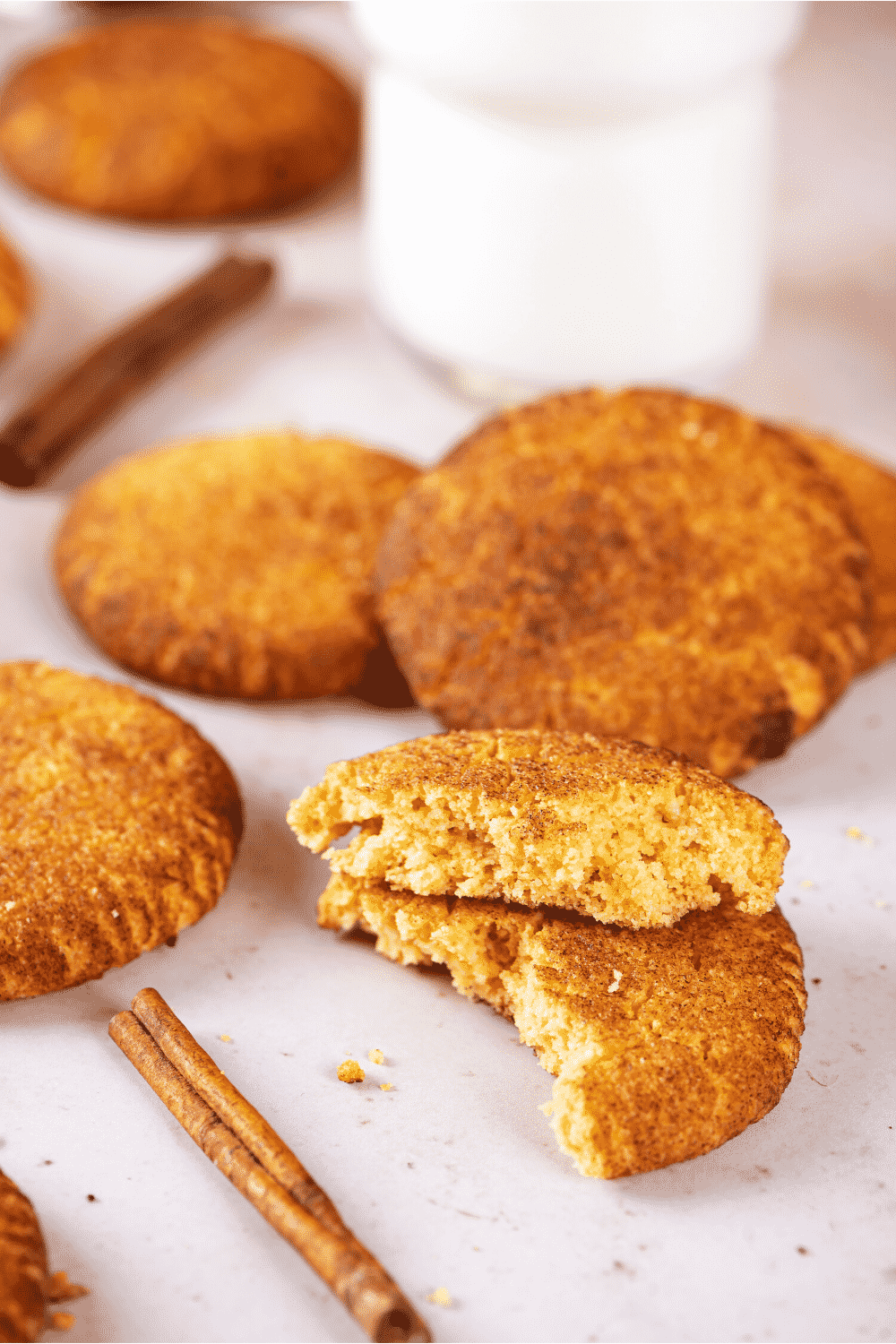 STEP 2: COATING THE COOKIE DOUGH
In a small bowl, mix together the cinnamon and granular swerve for the cookie coating.
Then form 1 tablespoon-sized balls from the cookie dough and roll each one in the cinnamon-sugar coating.
Next, place the coated snickerdoodles on a baking sheet lined with parchment paper, and leave some space between each cookie.
Then slightly flatten the cookie dough balls with the bottom of a glass. Keep in mind that they don't spread out much while cooking - so for the thickest and softest cookies, leave them rounder.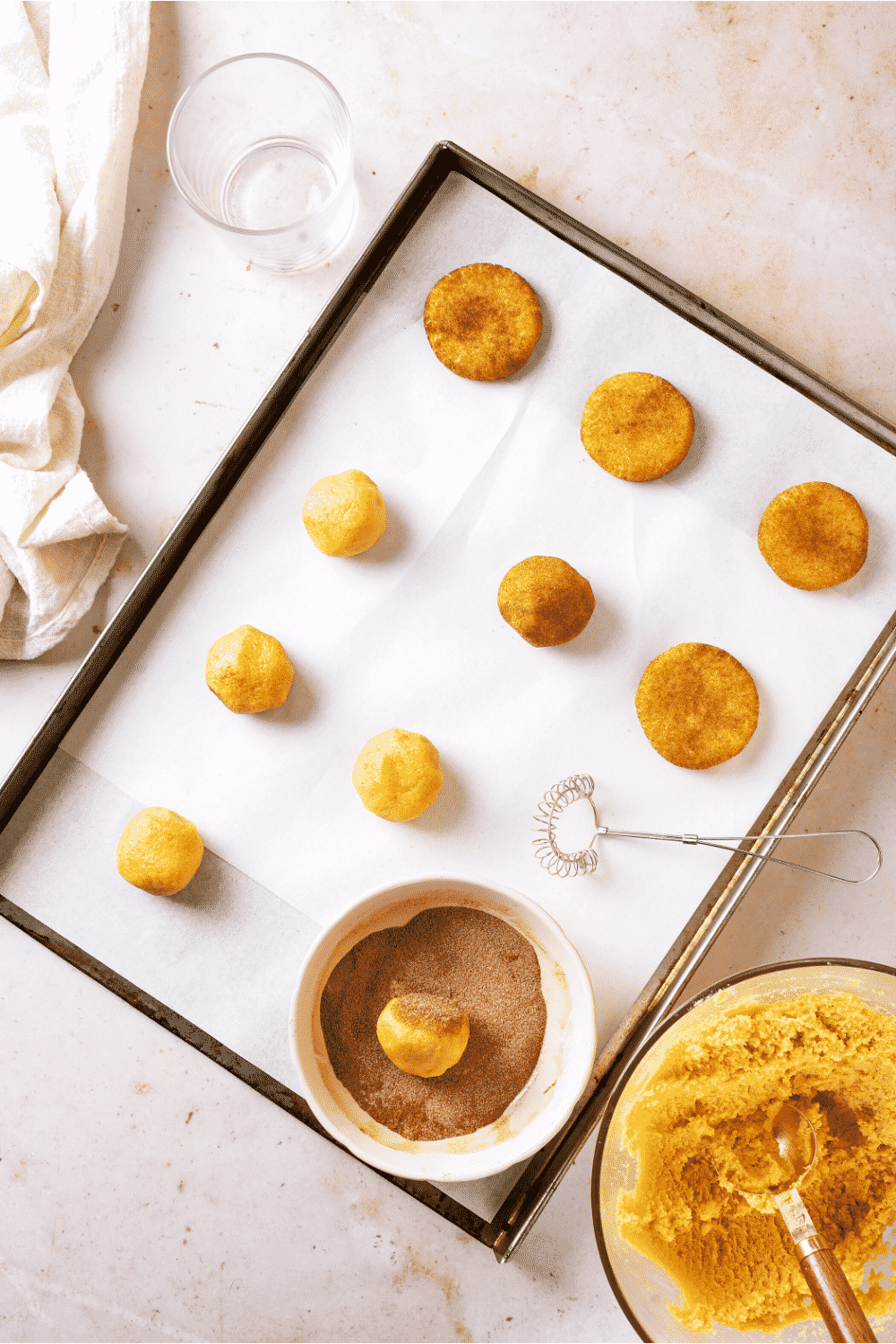 STEP 3: BAKING THE COOKIES
Once your snickerdoodles are ready to go, bake them in the oven for around 8 minutes - until they are lightly golden.
Let them cool on the baking sheet for 5 minutes, and then transfer them to a wire rack.
Enjoy your snickerdoodle cookies!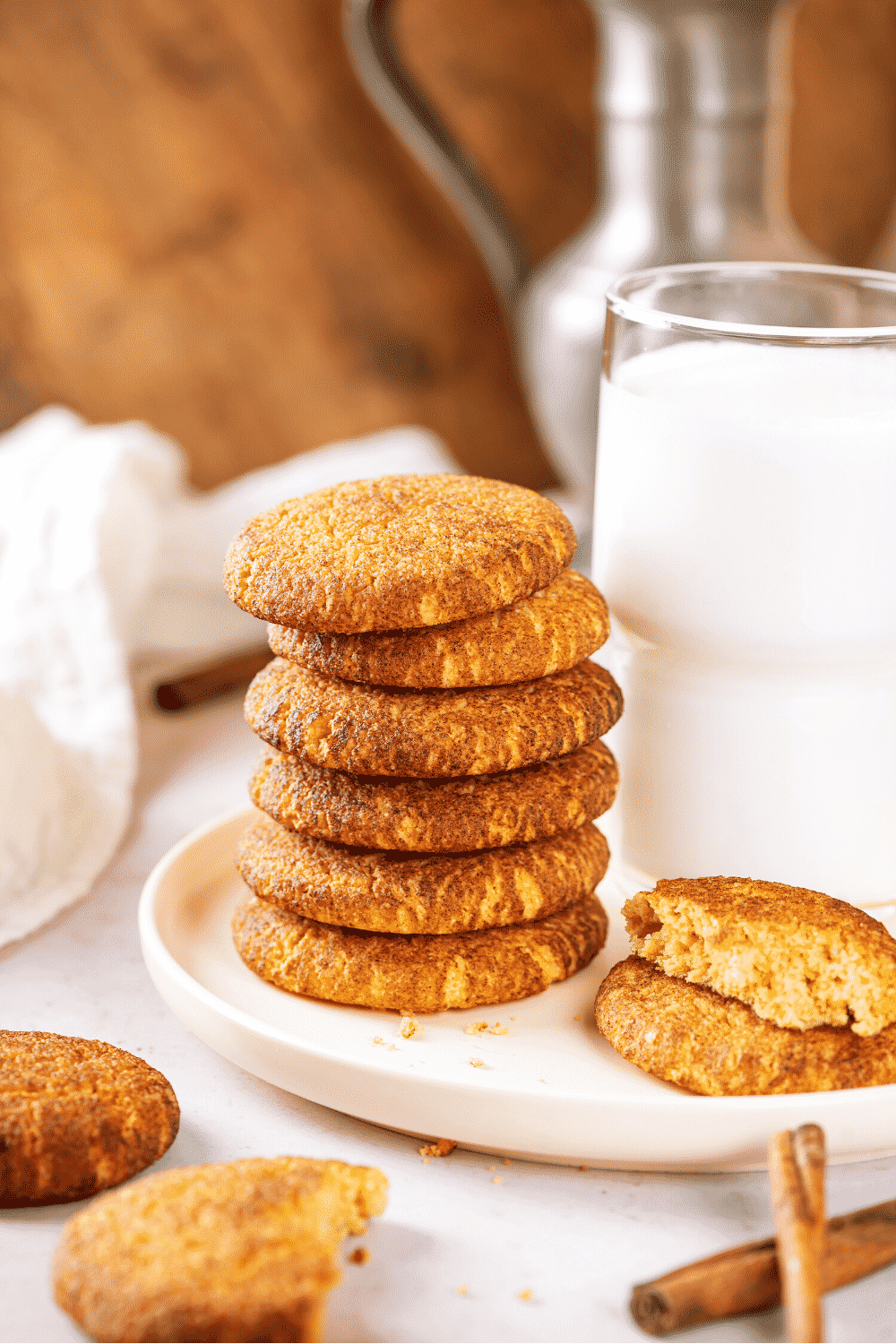 STORING YOUR KETO SNICKERDOODLES
This recipe makes 24 snickerdoodles, so even though they're deliciously addicting fresh out of the oven, hopefully, you have some leftover.
You can store your leftover snickerdoodles in an airtight container or sealable bag at room temperature for up to 5 days.
And if you have leftovers after that - or want to save them for another time - you can store them in the freezer for up to 3 months. Just make sure the cookies have cooled completely before freezing.
Then either let the cookies thaw, or you could eat them frozen! If you've never had a frozen cookie before, these keto snickerdoodles are an absolute treat frozen.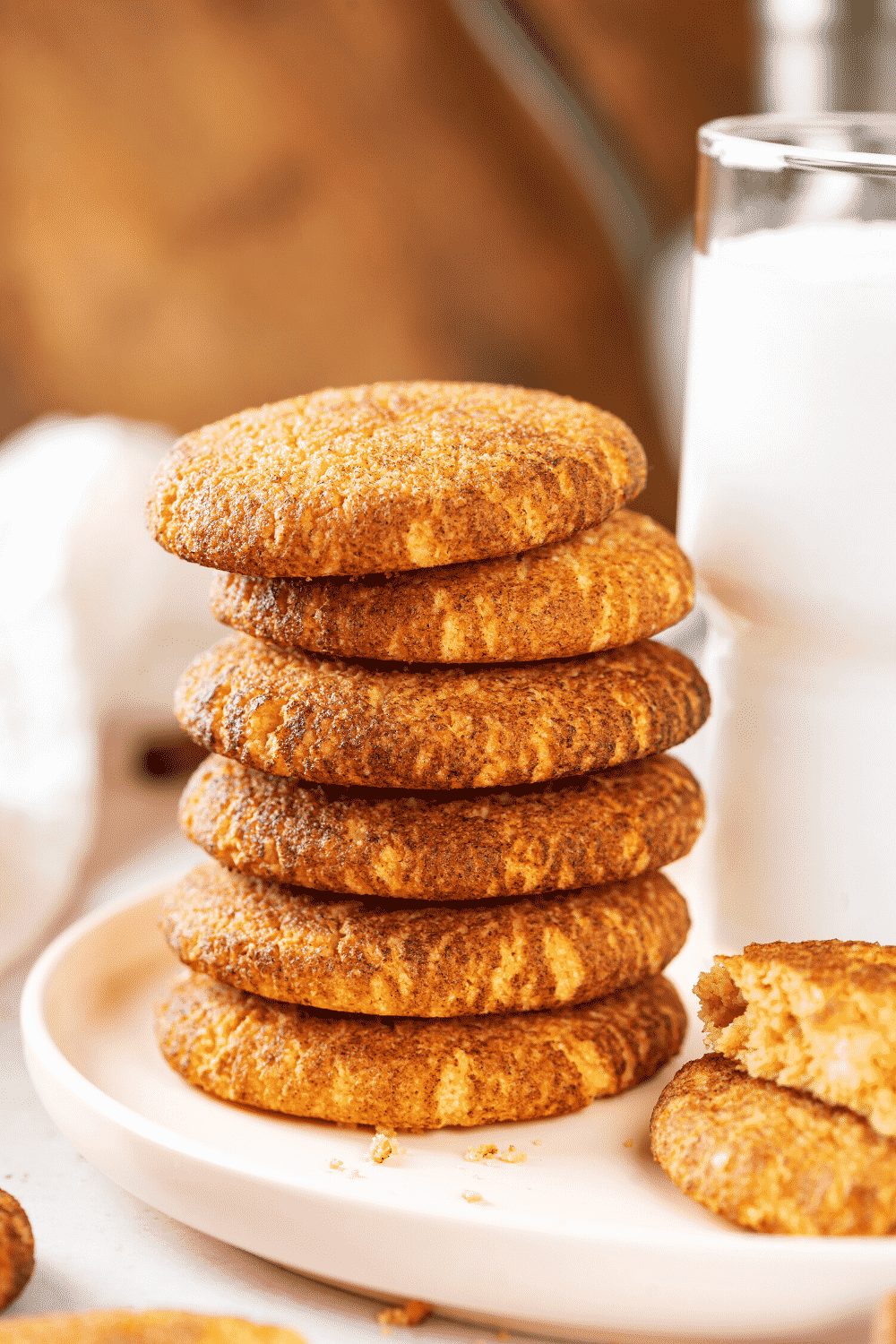 NUTRITIONAL INFORMATION
These might be the lowest carb cookie in existence - each one has LESS THAN 1 NET CARBS!
And they are low in calories, which is another reason this is one of my favorite cookie recipes.
As far as the rest of the macros go, each cookie has:
95 Calories

8.9g Fat

2g Carbs

1.2g Fiber

0.8g NET CARBS

2.3g Protein
Keto cookies don't get much better than these keto snickerdoodles.
They are packed with cinnamon sugar, are delightfully soft, and have just the right amount of chewiness.
Everyone who tries these cookies loves them, even if they're not keto! No one can ever tell that they're low carb and sugar-free.
Anyway, I hope you like this keto snickerdoodles recipe as much as I do. And make sure to leave a comment below if you try them!
MORE KETO COOKIE RECIPES
If you love cookies, you've come to the right place. I have a ton of other keto cookie recipes on the blog that you can try.
So if you liked these snickerdoodles, I think you'll like these:
Print
Keto Snickerdoodles | One of The Best Keto Cookie Recipes
These keto snickerdoodles are super soft, perfectly thick, and covered with a cinnamon-sugar coating that gives them their iconic flavor. You won't believe each cookie has less than 1 NET CARB! And after you try these low carb snickerdoodles, they might just become your new favorite keto cookies.  
Author:
Prep Time:

10 minutes

Cook Time:

10 minutes

Total Time:

20 minutes

Yield:

20 cookies

Category:

Dessert

Method:

Oven

Cuisine:

Keto Low Carb
Instructions
Preheat oven to 375°F (190°C).

In a mixing bowl, cream the butter with the egg and granular swerve, just until combined with a hand mixer or stand mixer. 

Mix the almond and coconut flours, cinnamon, and baking powder in a separate bowl. Then add to the butter-egg mixture and mix well to form a dough. Let it sit for 5 minutes, the dough will be easier to work with.

For the coating, mix the swerve and cinnamon in a small bowl. 

Make 1 tablespoon-sized balls from the dough and roll in the coating.

Place on a parchment lined baking tray. Slightly flatten the balls with the bottom of a glass.

Bake for around 8 minutes.

Cool for 5 minutes on the tray, then transfer to the wire rack.
Notes
The scale up function does not change the gram measurements.
Nutrition
Serving Size:

1 Cookie

Calories:

95

Fat:

8.9

Carbohydrates:

2

Fiber:

1.2

Protein:

2.3
Keywords: keto snickerdoodles, keto snickerdoodles recipe, keto snickerdoodle recipe, low carb snickerdoodles, keto snickerdoodles without cream of tartar, keto snickerdoodles almond flour, gluten free snickerdoodles, keto snickerdoodles with coconut flour, low carb snickerdoodles with coconut flour, no carb snickerdoodles, how to make keto snickerdoodles, low carb low sugar snickerdoodle recipe, keto cookies, keto cookies recipe, keto cookies with almond flour, keto snickerdoodle cookies recipe