This keto pizza recipe is about as easy as making homemade pizza gets! And, I may be a bit biased, but I honestly think this is the best keto pizza you can make. The crust is crisp, the sauce is delicious, and the cheese, well, it's cheesy! Not to mention, each slice of this keto pizza has just 3 NET CARBS.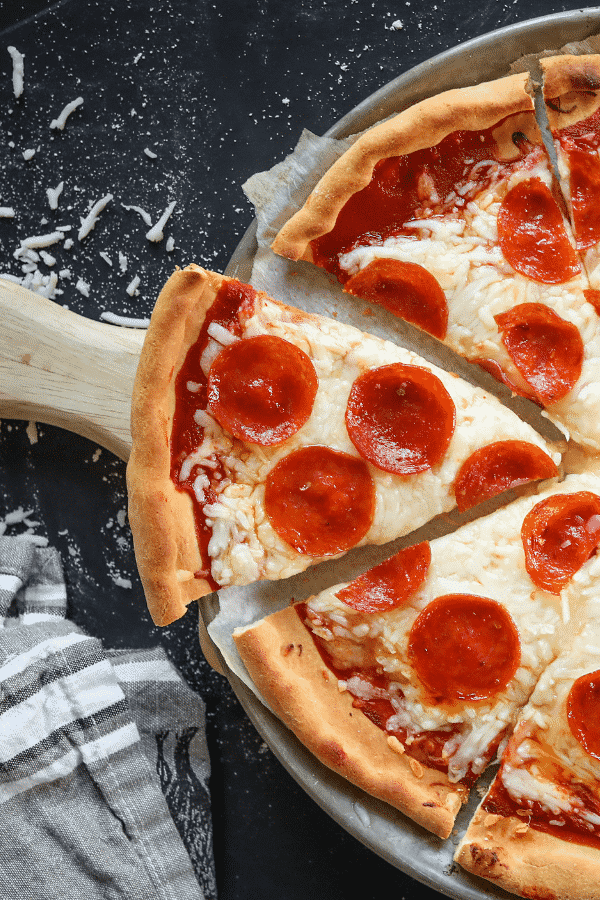 The BEST Keto Pizza
Keto Pizza in 10 Minutes! Say what?!
I know, that sounds impossible, but it isn't.
It's actually REALLY easy to make keto pizza this quick, and it's REALLY delicious too.
All you have to do is add your ingredients to a large bowl, mix them up into a ball of dough, roll that ball out, add your sauce, add your cheese, add your toppings, and bake.
Yep, it's that easy to make a keto pizza from scratch!
By the way, if you're making pizza, you might as well make some of these air fryer chicken wings to go with it!
Anyway, without further adieu, let's get into the good stuff!
Yes, Better Than Fathead Pizza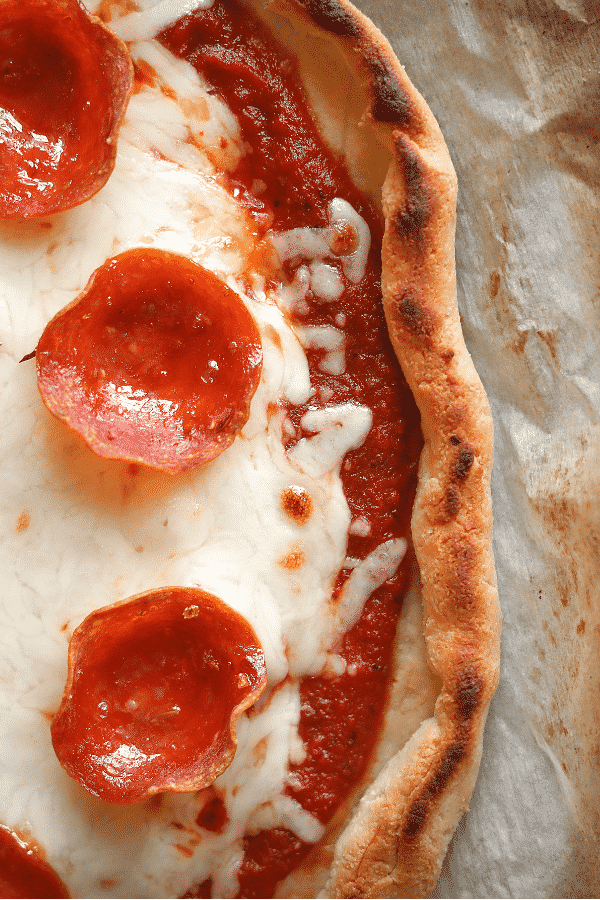 So, as you already know from the title, I think this keto pizza recipe actually puts fathead pizza to shame.
Ok, that might be a tiny bit of an exaggeration, but I do think it's quite a bit better.
Fathead Pizza is by far the most popular way to make keto pizza, but that doesn't mean it's the best way. See, the thing about making a fathead Pizza Crust is that it takes more time to make, and is much heavier and dough-y.
However, this pizza crust is much lighter, much crispier, and the outside crust is much crunchier!
And I like that.
A lot.
Ingredients You'll Need To Make This Pizza Keto Friendly
Anyway, the main reason the crust is so good is the ingredients. There's actually no cheese used to make this keto pizza crust like there is in fathead pizza crust.
Instead, we'll be using these ingredients to make our crust:
Almond Flour

Coconut Flour

Unflavored Whey Protein Powder (or more almond flour)

No Sugar Added Pizza Sauce

Xanthan Gum

Baking Powder

Pinch of Salt, Garlic Powder, & Onion Powder

2 Eggs

Refined Coconut Oil (there's no coconut taste)
If you don't have one or two of these ingredients I highly recommend picking them up. I actually use a lot of the same ones to make a bunch of different keto recipes, one of which is my FAMOUS 2 MINUTE KETO BREAD. And, let me tell you, it's worth getting those just for that recipe alone.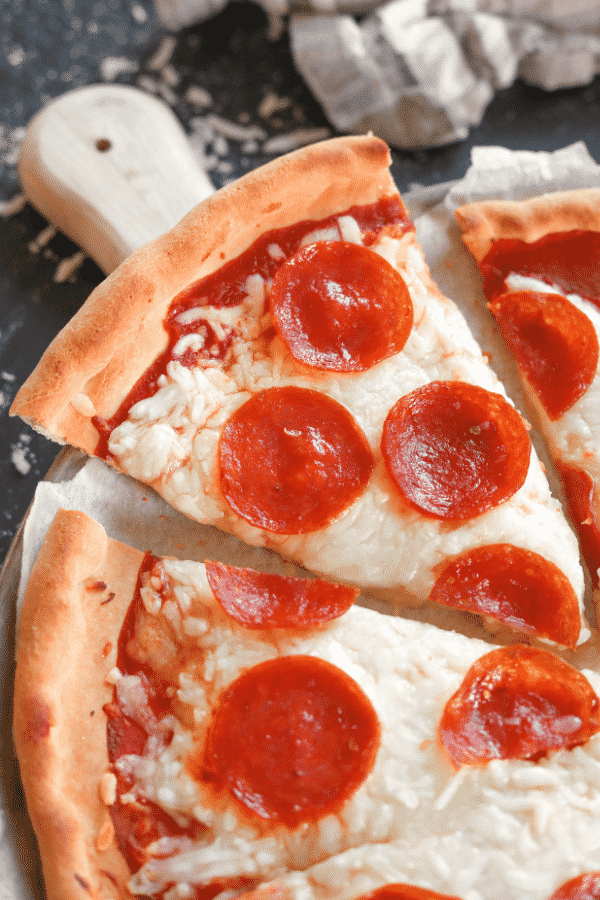 The Best Almond Flour To Use For Your Keto Pizza
Almond flour is by far my favorite low carb keto friendly flour substitute. And it's actually what the base of today's Keto Pizza Crust Recipe is made out of.
You can use it in so many different recipes and have amazing results. It mimics regular flour unbelievably well. So much so, that if you didn't tell someone the base of this keto pizza recipe was made with almond flour, they probably wouldn't know!
As far as the brand of almond flour I like to use, I like the Kirkland's Blanched Almond Flour.
The reason I like Kirkland's is because it's MUCH cheaper than other brands, and it has the lowest amount of net carbs per serving. Every 28 grams of that almond flour has just 2 net carbs!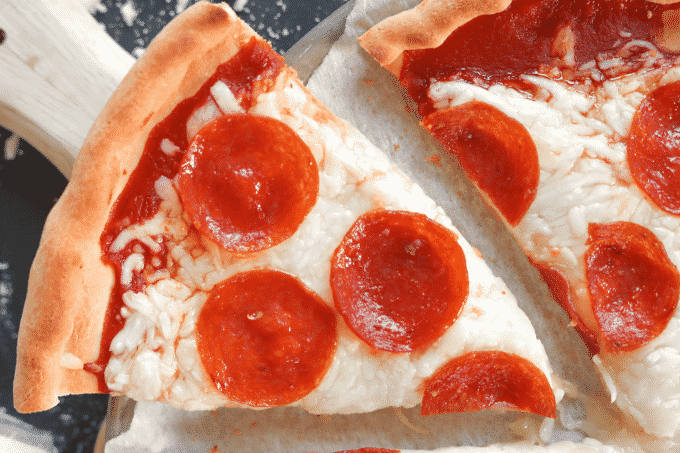 Other Flours To Consider Using
If you wondering if you have to use almond flour, the answer is no.
But, if you want to replace it, I recommend doing so with either sunflower seed flour or walnut flour.
Both of these flours are totally low carb and keto friendly, and they substitute perfectly with almond flour.
With that said, please, DO NOT substitute more coconut flour for the almond flour/sunflower seed flour/walnut flour, or more almond flour for the coconut flour.
Almond flour and coconut flour have different absorption properties, and you should NEVER substitute one for the other in ANY recipe, especially today's keto pizza recipe.
Coconut flour absorbs liquids at a much higher rate than almond flour does, it's like a sponge. And adding too much coconut flour is the easiest/fastest way to dry out a recipe - or even worse ruin it.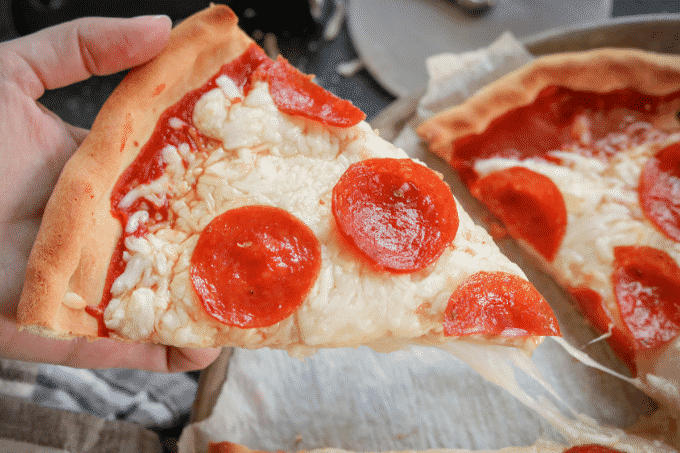 Replacing The Protein Powder
The protein powder really gives the keto pizza crust a nice chewiness and makes the texture of the crust more legit.
However, if you'd like to replace the protein powder to make this keto pizza crust you can.
And, as I mentioned above, all you have to do is add more almond flour in its place. That said, just use 30 more grams MORE almond flour to make your keto pizza crust instead of the protein powder.
That means you'll need to add 1 ¾ cups or 198 grams of almond flour for your keto pizza in total if you're going to skip the protein powder.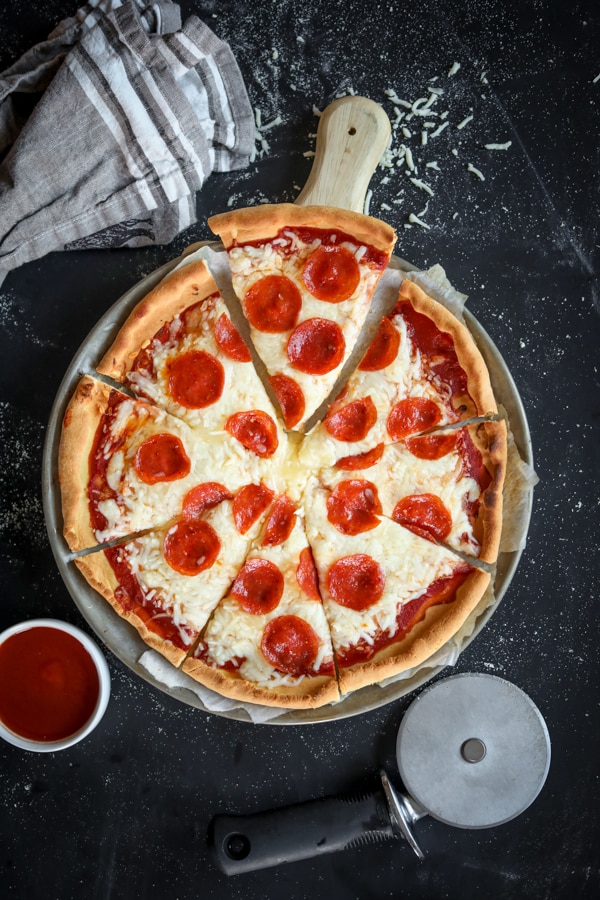 Replacing The Coconut Oil
A question/concern that comes up a bit about this keto pizza recipe is about the coconut oil, and if it gives this keto pizza recipe a coconut taste.
And the answer is that if you use refined coconut oil it won't.
However, if you want to replace it with butter, or olive oil, you totally can. Many readers have done this with great success.
Having said that, I recommend using refined coconut oil because it will give your keto pizza crust the best texture possible. There's just a certain chewiness that coconut oil gives to the crust that the other options don't give.
How To Make Keto Pizza (Video)
As I'm sure a lot of you know, making keto pizza crust usually is a long-drawn-out process. It involves melting cheese, mixing, re-melting cheese, mixing more etc. etc.
But the keto pizza crust we're making today comes together rather effortlessly.
Prepping and Cooking The Pizza
As I mentioned before, all you have to do is add the pizza ingredients to a bowl, mix, and then presto-change-o a ball of dough forms!
It doesn't get easier than that, does it?!
Then, once you form that ball of dough, you can preheat your oven to 425° Fahrenheit, roll it out into a 12" crust, and precook it before adding your toppings.
And this crust cooks quick - like less than 5 minutes quick - so you'll want to keep an eye on it. You'll know it's done when the outer-crust just starts to turn golden brown. Then, once that's looking good, you're ready to add your sauce, cheese, and toppings!
Then all you have to do is pop it back in the oven, and broil it at 500° Fahrenheit until the cheese melts. Which by the way, only takes about 3 minutes.
Also, during this broiling process, the edges of the crust get nice and crispy. So, don't skip this step! It's the key to getting a super crisp crust on your keto pizza.
Other Keto Dinner Recipes To Try
If you enjoyed today's low carb keto pizza there are quite a few other really tasty keto dinner recipes on the blog.
Here are some of my favorites:
Oh, and by the way, since pizza and beer go together like buttons on a shirt, you might want to check this list I put together of the best keto beers you can buy. There are over 30 beers on the list and they all have less than 5g of net carbs per serving!
Keto Pizza In 10 Minutes | Better Than FatHead Crust
Keto Pizza in just 10 MINUTES! This is seriously the BEST Keto Pizza recipe. The crust is made with almond flour, and just a few other ingredients, and it SO MUCH BETTER than fathead pizza crust. This keto pizza crust actually gets crispy, and crunchy like REAL pizza crust does. It's totally delicious, totally low carb, and totally keto approved!
Author:
Prep Time:

3 Minutes

Cook Time:

7 Minutes

Total Time:

10 minutes

Yield:

8

Slices

1

x
Category:

Dinner

Method:

Baking

Cuisine:

Keto & Low Carb
Instructions
Preheat your oven to 425 Degrees.
Add all of the dry ingredients to a large bowl - For BEST results measure them out on a food scale to the gram where listed.
*NOTE: There will be instructions in the "Notes" below on how to replace the protein powder if you don't want to use it.
Whisk until combined.
Once Combined, melt the coconut oil and add it to the bowl, along with the eggs.
Now use a spatula to mix and combine the ingredients until a ball of dough forms.
When the ball of dough becomes smooth, and the yolks have dissolved, take out a large sheet of parchment paper and add it to your work-surface area.
Now, add the ball of dough to the paper, and cover the dough with another large sheet of parchment paper.
At this point you'll want to roll out the dough to about 14 inches in diameter.
Once the dough is 14 inches, roll up the edges of the dough to form an outer crust.
The crust should now be about 12 inches in diameter.
When the outer crust looks good, you'll want to add it (along with the parchment paper underneath) to a pizza tray and bake it for 3-5 minutes.
3 Minutes if you're using the protein powder.
5 Minutes if you're NOT using the protein powder.
When it's done in the oven you'll want to add the sauce, cheese, and toppings of your choice.
You'll also want to switch the oven over to a "broil".
Once you've added all of your toppings the keto pizza is ready to go back in the oven.
Broil the keto pizza until the cheese melts.
Once the cheese melts, the pizza is done!
Enjoy.
Notes
*NOTE: If you're NOT using the protein powder you'll want to replace it with 30 grams more of almond flour. So, you'll want to use 1 ¾ CUPS (198g) Blanched Almond Flour for the crust instead of 1 ½ cups.
Remember to subtract the fiber from carbs to get NET CARBS.
6g Carbs - 3g Fiber = 3 NET CARBS a slice
Nutrition
Serving Size:

1 Slice

Calories:

220

Fat:

16

Carbohydrates:

6

Fiber:

3

Protein:

11.5
Keywords: Keto pizza, pizza keto, low carb pizza, how to make keto pizza, best keto pizza, easy keto pizza, pizza for keto