This keto smoothie recipe is perfectly thick, decadent, and rich in peanut butter and chocolate flavor. It's so filling and satisfying to drink any time of day. Not to mention, this low carb smoothie is loaded with 34 grams of protein with only 6 net carbs!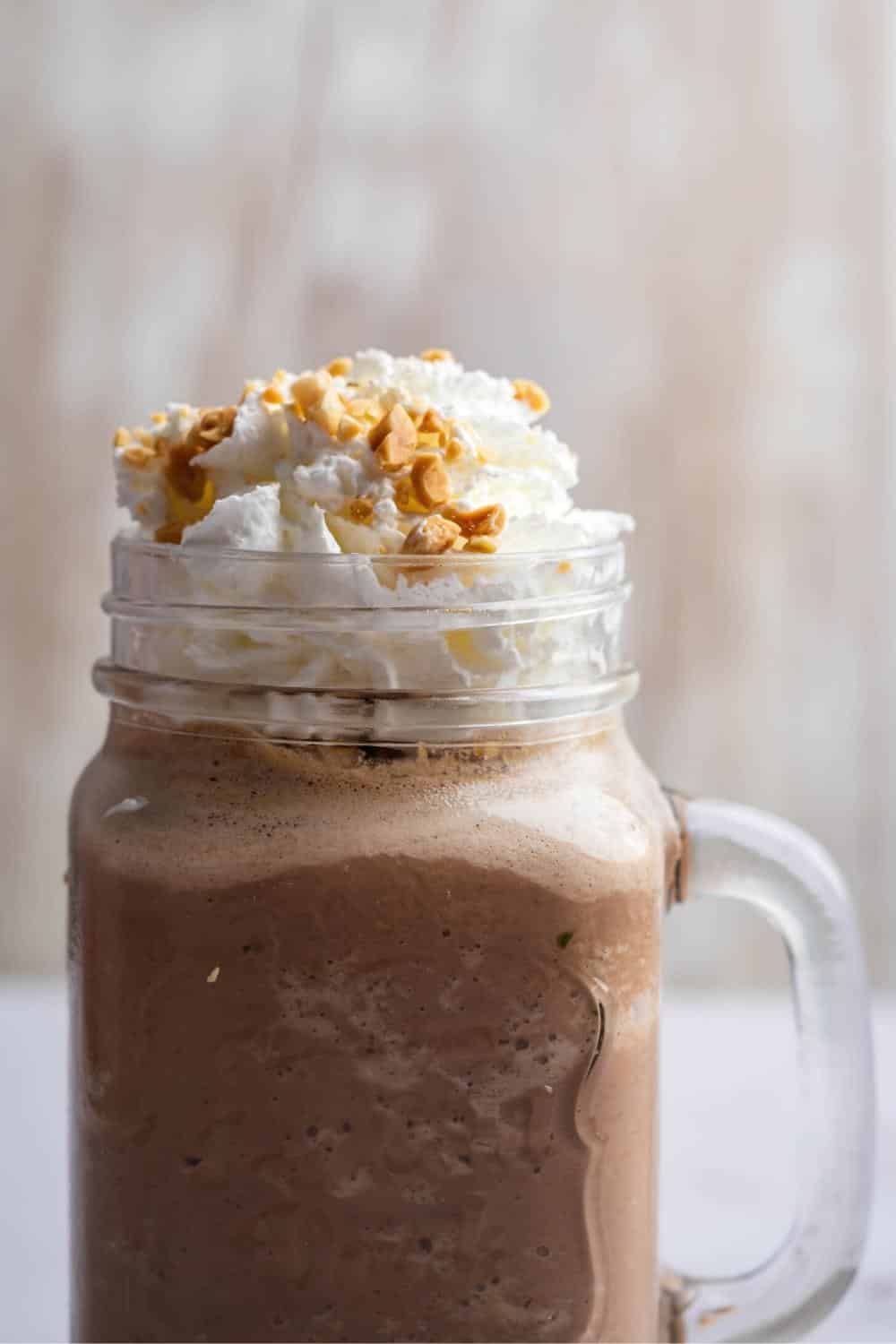 The Best Keto Smoothie Recipe
Whether looking for a keto breakfast smoothie, post workout drink, or a sweet treat after a long day, this keto smoothie recipe is just what you need! It's so refreshing, nutritious, and loaded with deliciousness.
Honestly, I love drinking this keto peanut butter smoothie as a meal since it's so filling and satisfying. It literally keeps me full for hours and hours and I can't get enough of it.
Now, some keto smoothies are boring and lack flavor. But this keto smoothie recipe is the total opposite! It literally tastes like a Reese's cup in smoothie form, and you'd never know it was low carb!
And to make it even better, it's super high in protein as I mentioned earlier with over 30 grams of protein for the whole smoothie!
By the way, not only is this low carb smoothie recipe incredibly simple to make, but it's easy to modify to your taste preference! I love changing it up with some small tweaks that I'll go over a little later on.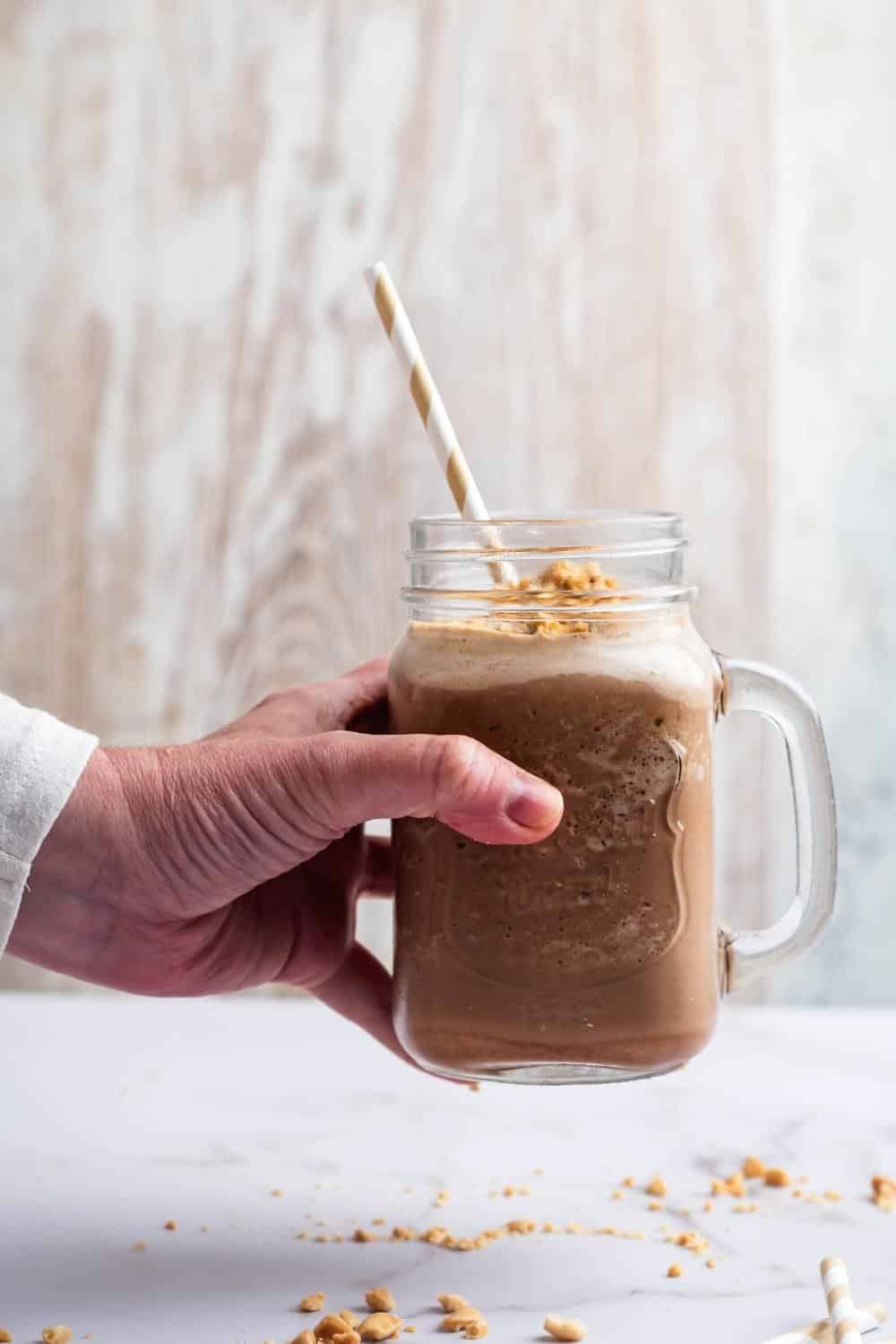 Ingredients
Now, as I mentioned, this keto friendly smoothie is packed with a ton of flavor. And to create all of that flavor, you actually need just a few simple ingredients.
Plus, most of the ingredients are kitchen staples that you might already have!
So here's everything you need to make this keto peanut butter smoothie:
⅓ Cup heavy cream
⅓ Cup unsweetened almond milk
2 tablespoon peanut butter
1 Scoop protein powder (chocolate or vanilla)
1 tablespoon confectioners erythritol
1 tablespoon Sugar free maple syrup
Pinch of salt
1-2 Cups of ice
Optional Toppings: keto whipped cream and peanuts
That's all you need to make one of the most delicious, satisfying keto smoothie recipes you'll ever create on the keto diet!
Now, for the sugar free maple syrup, I have a zero carb maple syrup recipe that works perfectly in this smoothie. And if you want to, you can use it for these keto pancakes for another quick keto breakfast!
Oh, and for the confectioner erythritol, my favorite one to use is Confectioners Swerve, but anything you want to use will work as long as it's keto friendly.
Also, make sure to use natural peanut butter with no sugar added to keep this smoothie as low carb as possible.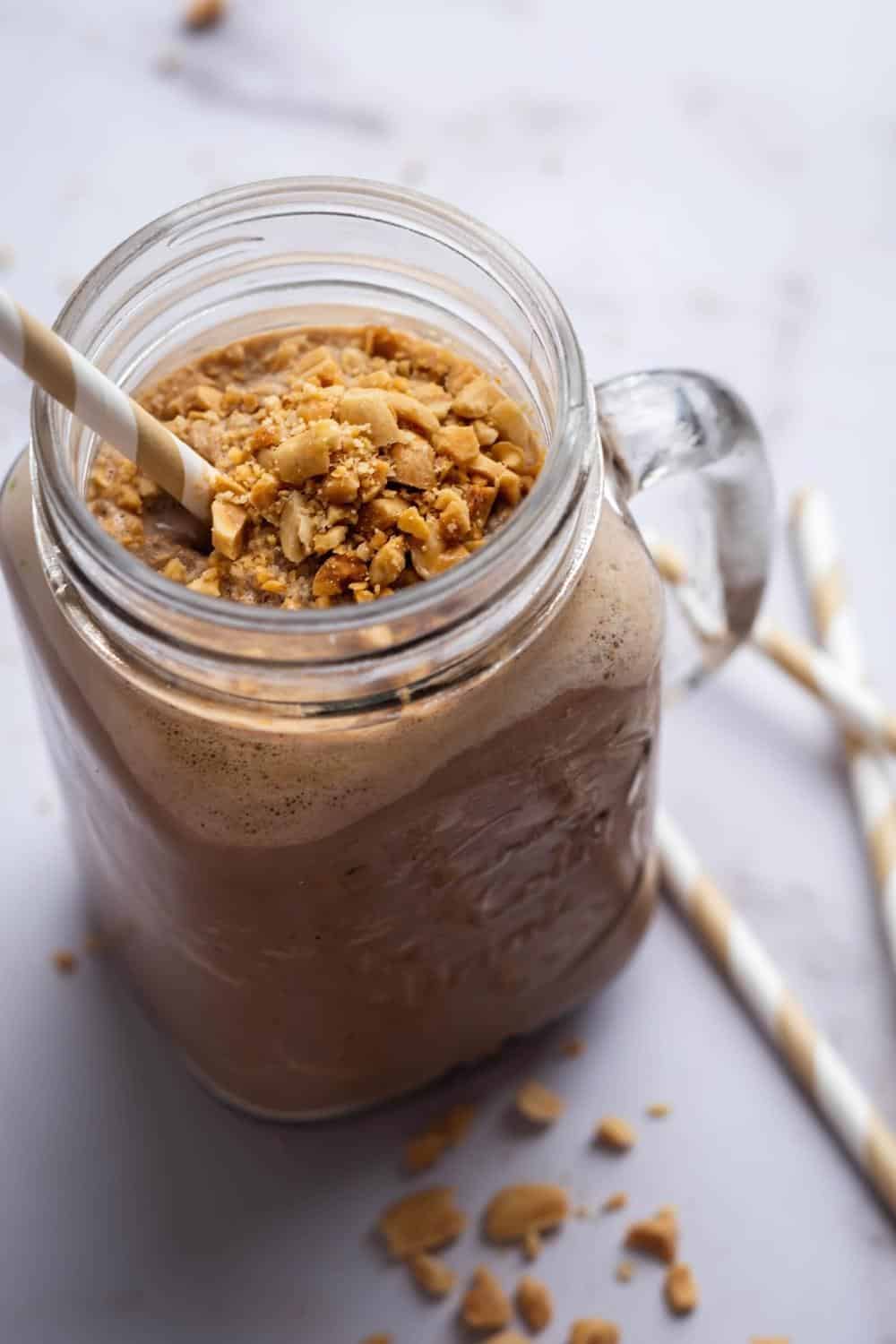 Modifying Your Keto Smoothie
As I mentioned, it's super easy to adjust this smoothie and tailor it to how you want it to taste.
Here are just a couple of ways to change up this smoothie and make it a little different each time you make it:
To make it dairy free, just swap out the heavy cream for coconut milk (regular or full fat coconut milk work just as well) and use a plant based protein powder.

If you don't like peanut butter - or are allergic - swap the peanut butter out for any nut butter, like almond or sunflower seed butter,

If you want to enhance the peanut butter flavor, use vanilla or unflavored protein powder in place of the chocolate protein powder. Or if you want to enhance the chocolatey flavor, add in a tablespoon or two of unsweetened cocoa powder
At the end of the day, you can tailor this keto smoothie to your tastes. There are no wrong answers here!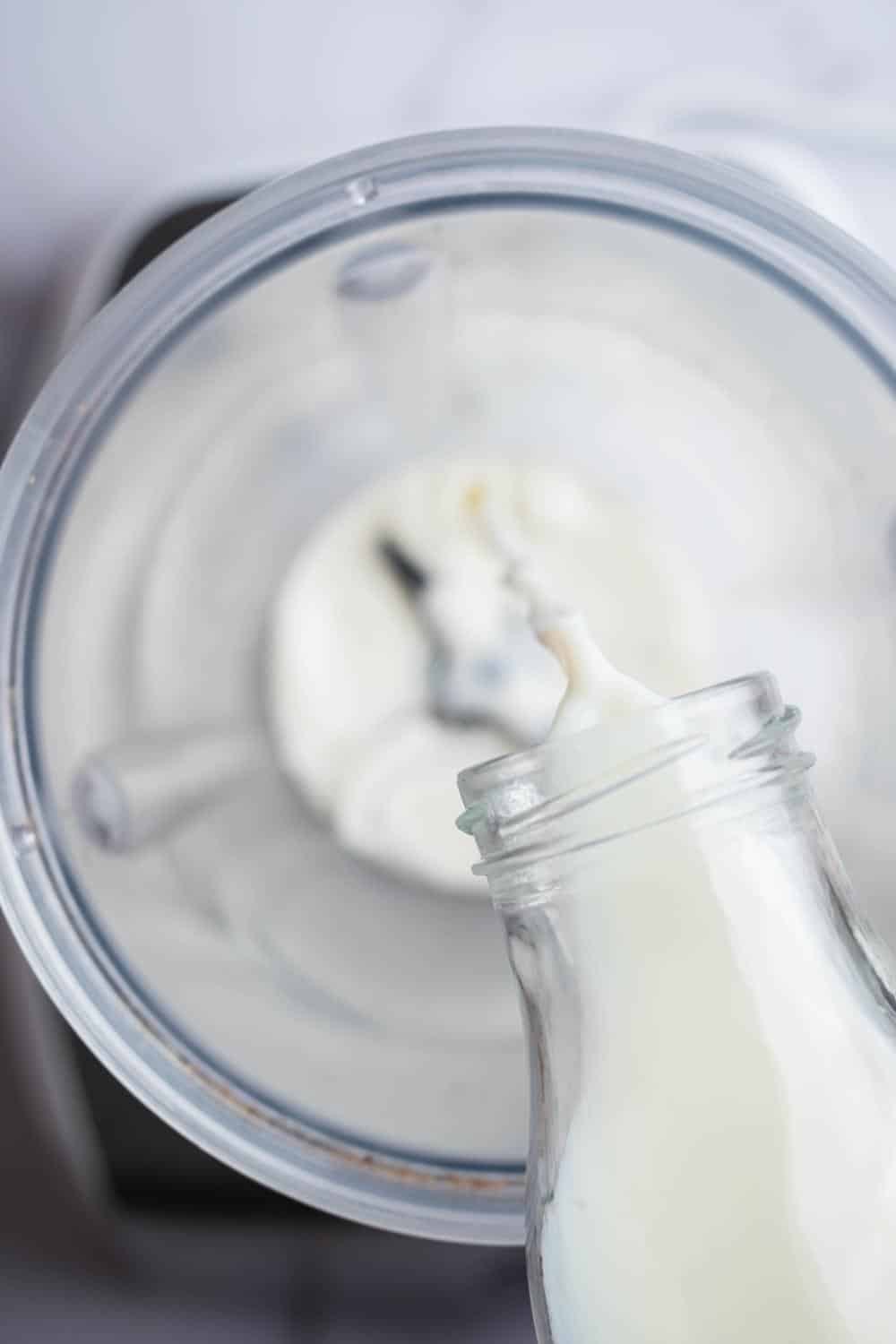 How To Make This Keto Smoothie Recipe
The instructions on how to make this keto smoothie could not be simpler. And the best part is the whole process takes less than a minute!
Before you know it, you'll have a big, delicious healthy keto smoothie that's sure to keep you going all day long!
Now, without further ado, let's make this keto smoothie!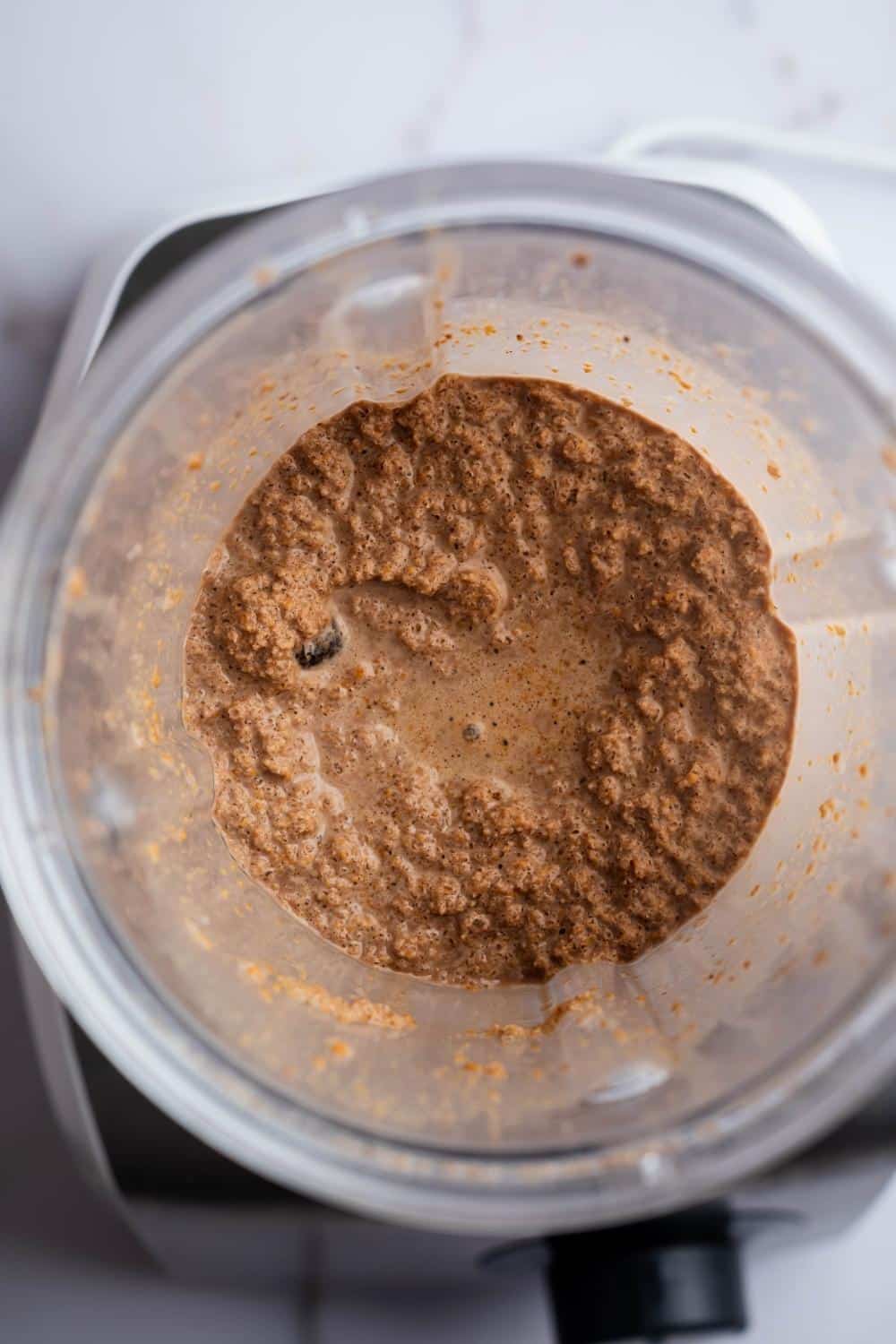 Step 1: Adding The Ingredients
So, for this smoothie, you'll need a blender or you could use a single-serve Nutri bullet style blender.
Once you have that out, start by pouring in the unsweetened vanilla almond milk and heavy cream.
Next, add in the protein powder, confectioners erythritol, maple syrup, peanut butter, and pinch of salt.
Lastly, finish it off with 1-2 cups of ice. You can really use as much ice as you want - if you want a super thick, creamy texture, use more ice cubes!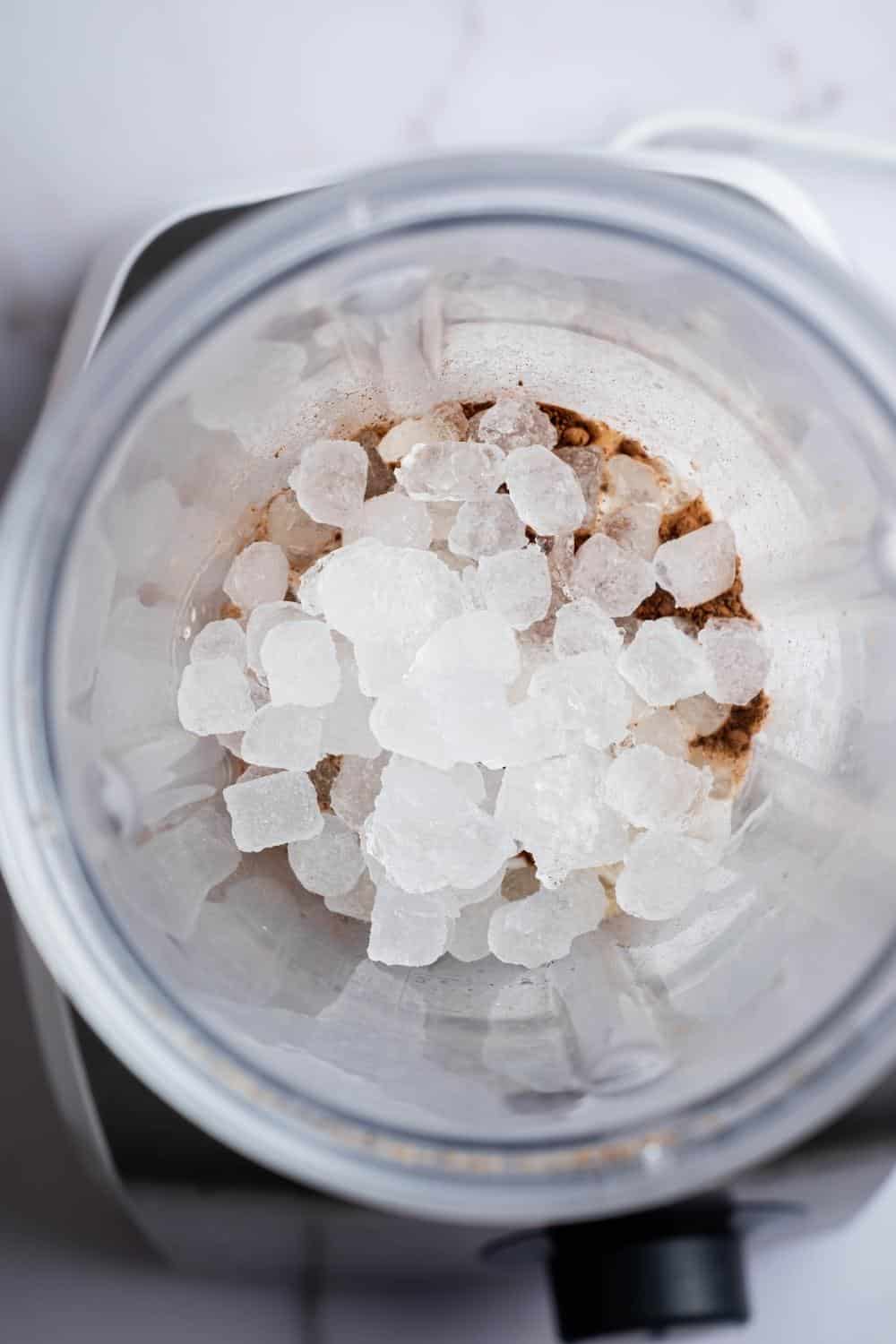 Step 2: Blending Everything Together
Now that the blender is filled with all that good stuff, blend until smooth. It usually takes me about a minute for everything to blend until smooth and the mixture to turn nice and thick.
Once you have the smoothie, pour it into your favorite cup or mug. I like to use a glass one for a classic smoothie aesthetic.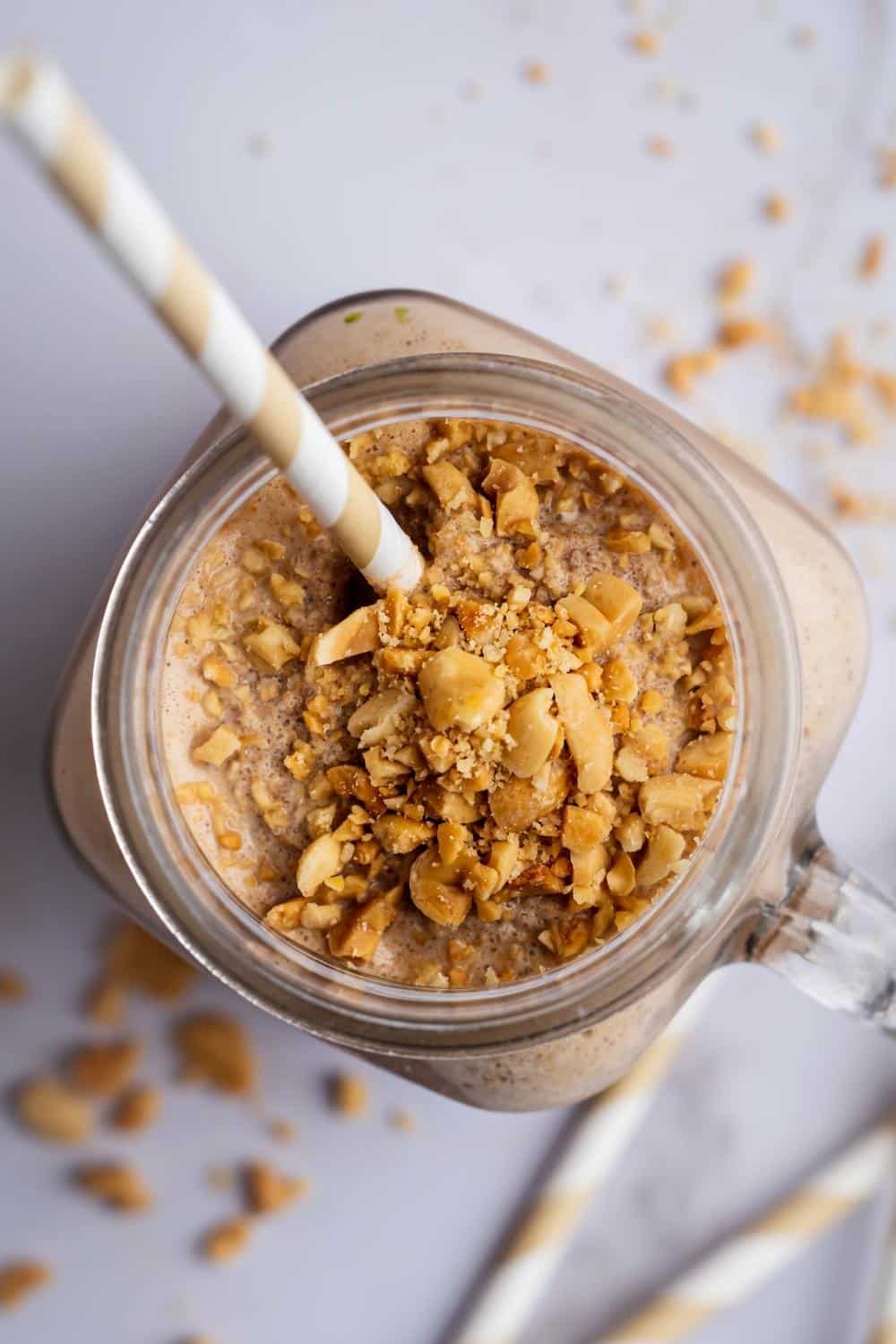 Step 3: Adding The Toppings
Now to finish off one of the most delicious keto smoothie recipes ever, top it off with some whipped cream and crushed peanuts.
And for a pro tip, add a little whipped cream between each pour of the smoothie, so it's incorporated throughout.
Lastly, put a straw in your cup and enjoy!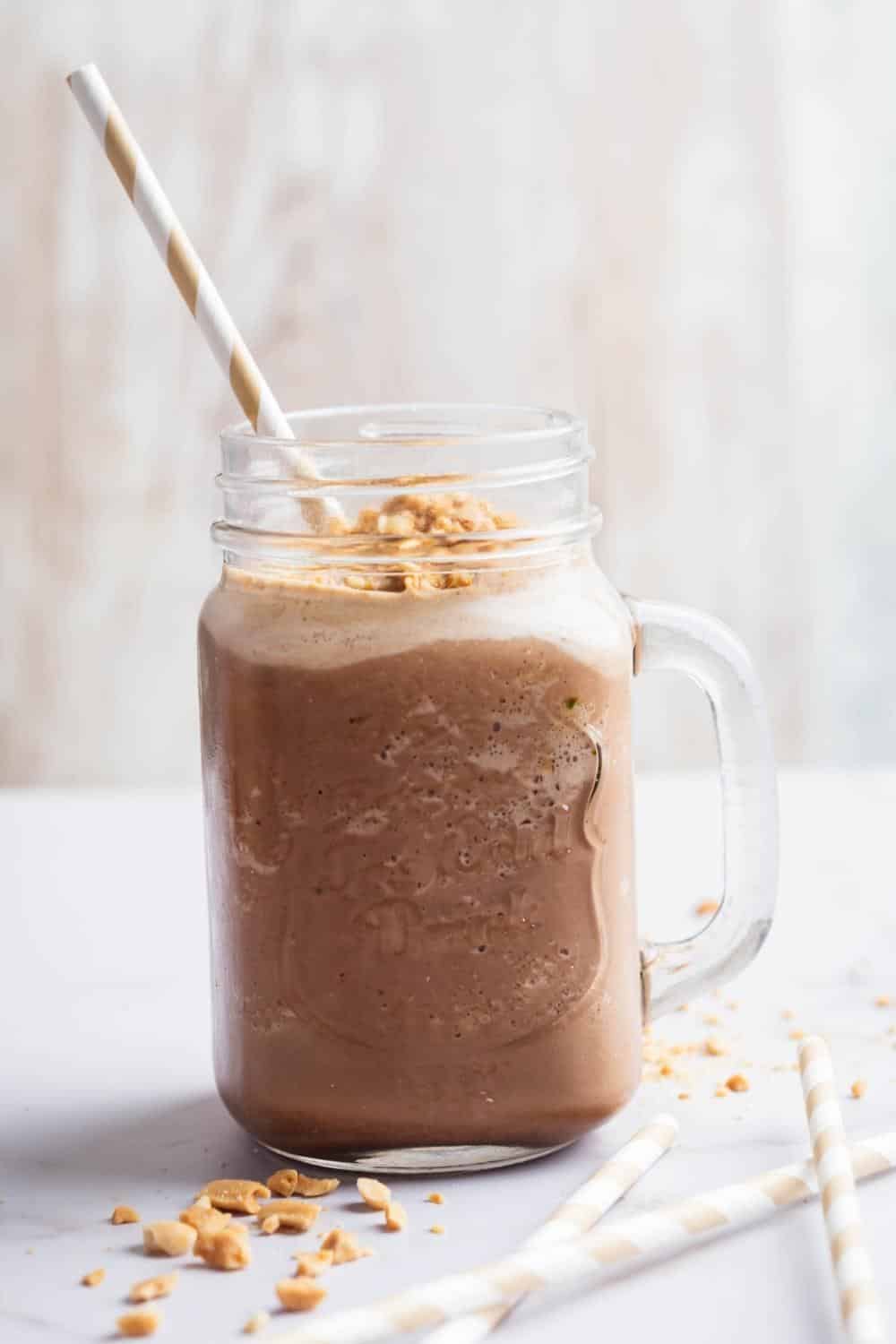 How To Store Your Keto Smoothie
This keto smoothie recipe will make one large serving. But if you want it to be even bigger, you can always add some more unsweetened almond milk along with more ice to increase the volume.
Now, it'll be impossible not to drink this smoothie in one sitting, but if you don't end up finishing it, you can totally save it for later for an after-dinner treat or a quick breakfast for the next day.
After you're satisfied, pour the smoothie into a mason jar with a sealable lid or airtight container and you can refrigerate it for up to 24 hours or freeze it for up to 2 months.
Now, with that said, I'm going to blow your mind a bit - have you ever heard of smoothie cubes?
One of my favorite things to do is to make a double or triple batch of this smoothie recipe and pour the smoothie into an ice cube tray.
Then, when I'm craving this smoothie - but maybe I'm out of the ingredients or just feeling lazy - I can grab these smoothie cubes and blend with a little extra unsweetened almond milk until smooth. This idea works great for any of my keto shake and keto smoothie recipes.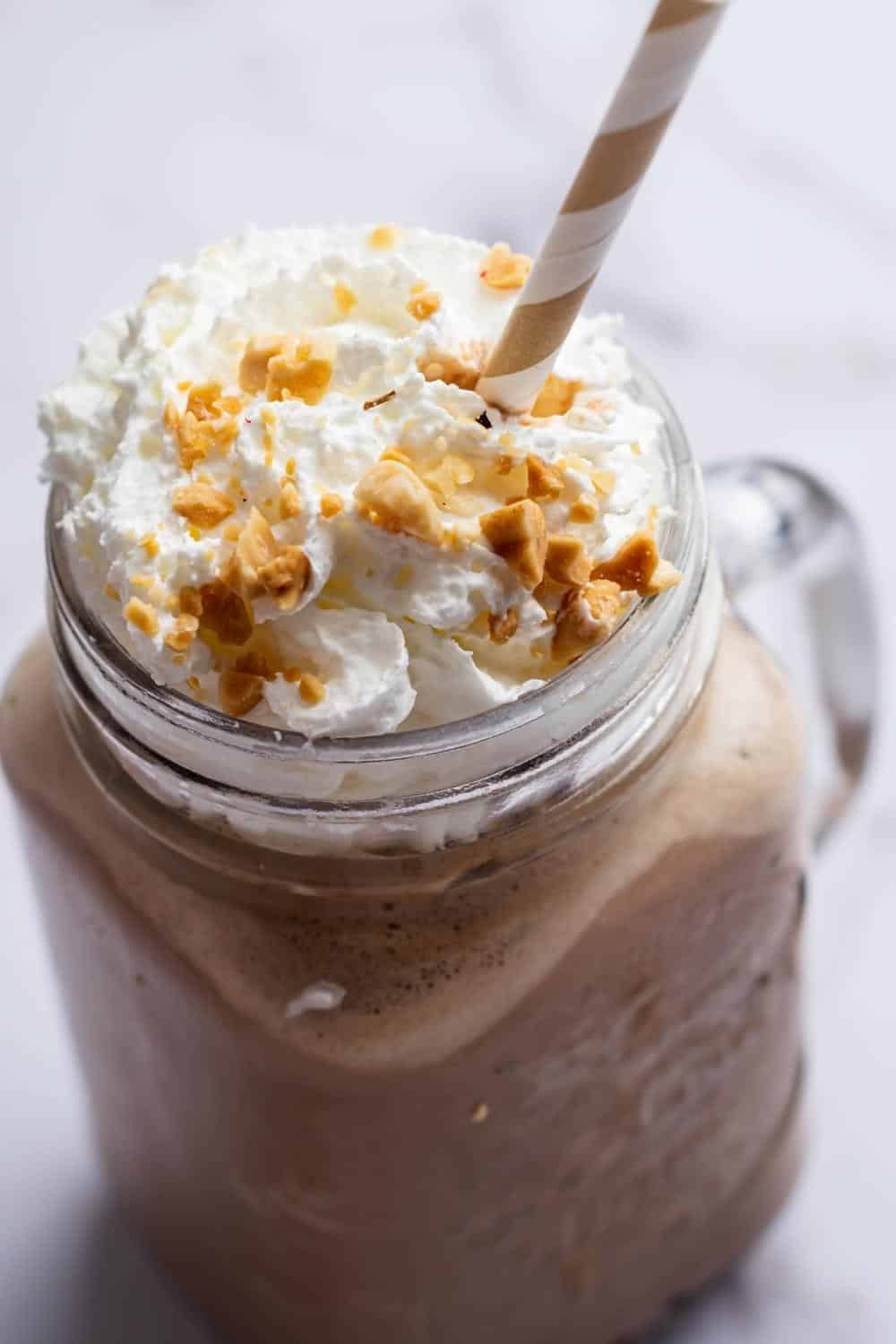 FAQS ABOUT THIS KETO SMOOTHIE RECIPE
What fruit is keto?
Some fruit is keto only if it is used in a small amount. Fruit like berries used in small quantities, such as used in my keto cheesecake recipe for the topping, and like the blueberries used in my 1 minute keto blueberry muffin mug cake, are ok to have. The only fruit that is totally keto friendly in any quantity is avocado. That's why I love using avocado in things like these keto brownies and keto breakfast burritos.
Can you have bananas on keto?
Unfortunately, you cannot have bananas on keto since they are so high in natural sugars. Bananas have upwards of 25g of carbs per serving, so they are too high in carbs for the keto diet. But if you like the taste of bananas, you can still have banana recipes like my keto banana pancakes and keto banana bread! Both of them have all of the banana flavors without all of the sugar.
What shakes can I have on keto?
You can have a variety of shakes on keto. As long as they are higher in fat and low in carbs and sugar, you're good to go. And being high in protein is a definite added bonus! Here are some of my favorite easy keto smoothie recipes to try: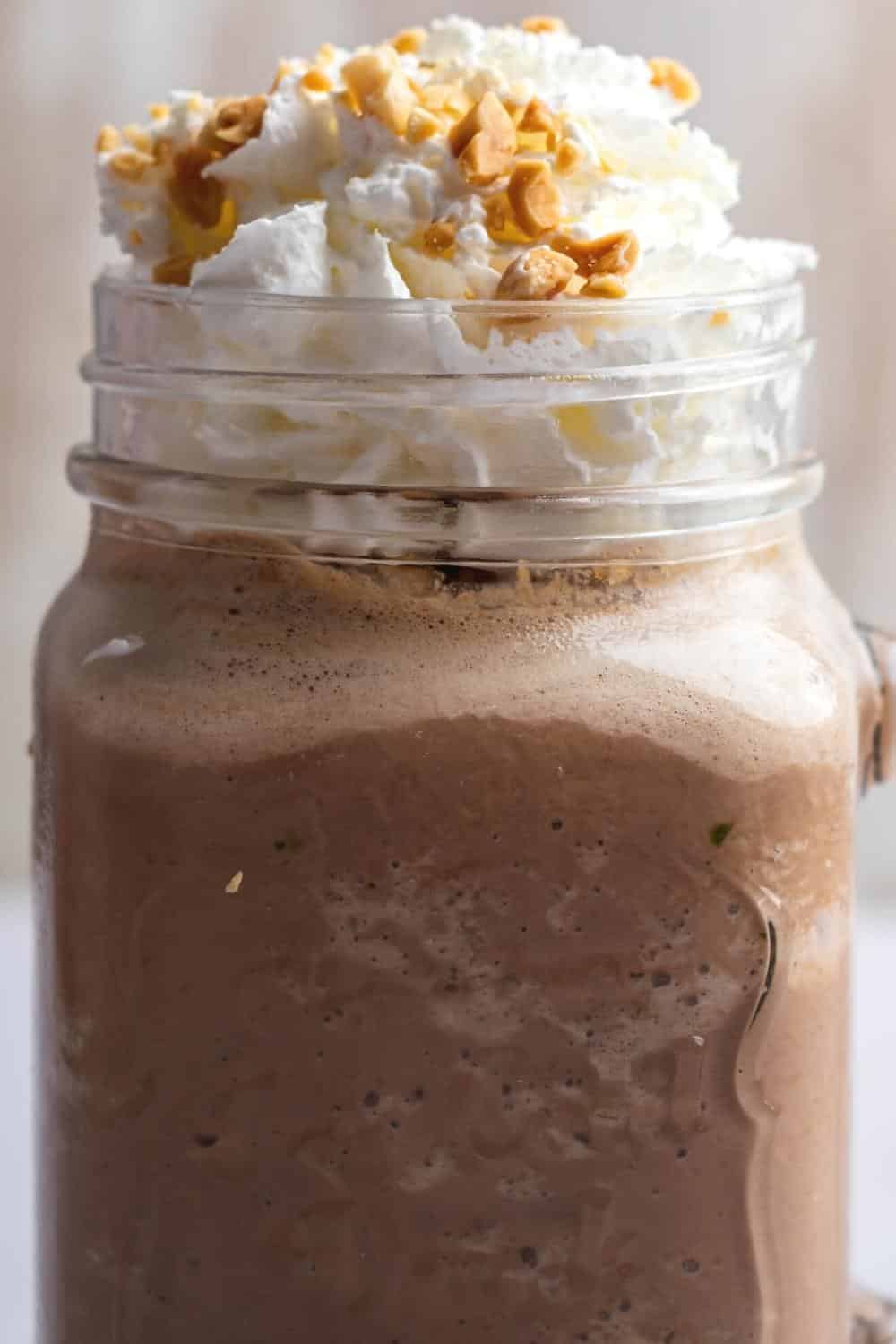 Wrapping It Up
Well, that is how to make a keto smoothie that is filling, healthy, high in protein, and low in carbs. And along with all of the goodness, it tastes like a chocolate peanut butter dream.
So whether you need a quick breakfast to keep you full for hours, a pre/post workout drink, or even a sweet treat for dessert, this recipe is everything you need. It really is one of the best keto smoothie recipes you'll try!
Anyway, I hope you enjoy this keto smoothie recipe as much as I do.
If you end up making it, leave a comment below and let me know your thoughts. I'd love to hear what you think and when you like drinking it. And for more recipes, make sure to check out my Youtube channel.
More Keto Recipes
If you liked this keto recipe, I have a ton of keto recipes on the blog that you have to try out next!
Here are some of my most popular low carb recipes:
Print
Keto Smoothie | Low Carb, Sugar Free, & High Protein
This keto smoothie recipe is perfectly thick, decadent, and rich in peanut butter and chocolate flavor. It's so filling and satisfying to drink any time of day. And this low carb smoothie is loaded with 34 grams of protein with only 6 net carbs!
Author:
Prep Time:

1 minute

Total Time:

1 minute

Yield:

1 serving

Category:

Breakfast

Method:

Blender

Cuisine:

Keto Low carb
Instructions
Add all of the ingredients to a blender and process until smooth.

Pour into a glass mug and top with whipped cream and peanuts.
Nutrition
Serving Size:

1 serving

Calories:

537

Fat:

40

Carbohydrates:

8

Fiber:

2

Protein:

34
Keywords: keto smoothie, keto smoothies, keto smoothie recipe, keto smoothie recipes, keto protein shake, keto protein shakes, keto shake, keto shakes, how to make a keto smoothie, low carb smoothie, low carb protein shake, peanut butter keto smoothie, keto peanut butter smoothie, keto friendly smoothie, low carb shake, how to make a keto protein shake, healthy smoothie, healthy protein shake,