These Keto Tortilla Chips are perfectly crisp, crunchy, and salty! In fact, as far as homemade low carb tortilla chips go, these are probably the best ones you can make. Not to mention, an entire serving of these chips has just 1 NET CARB. Trust me, keto friendly snacks don't get better than these chips.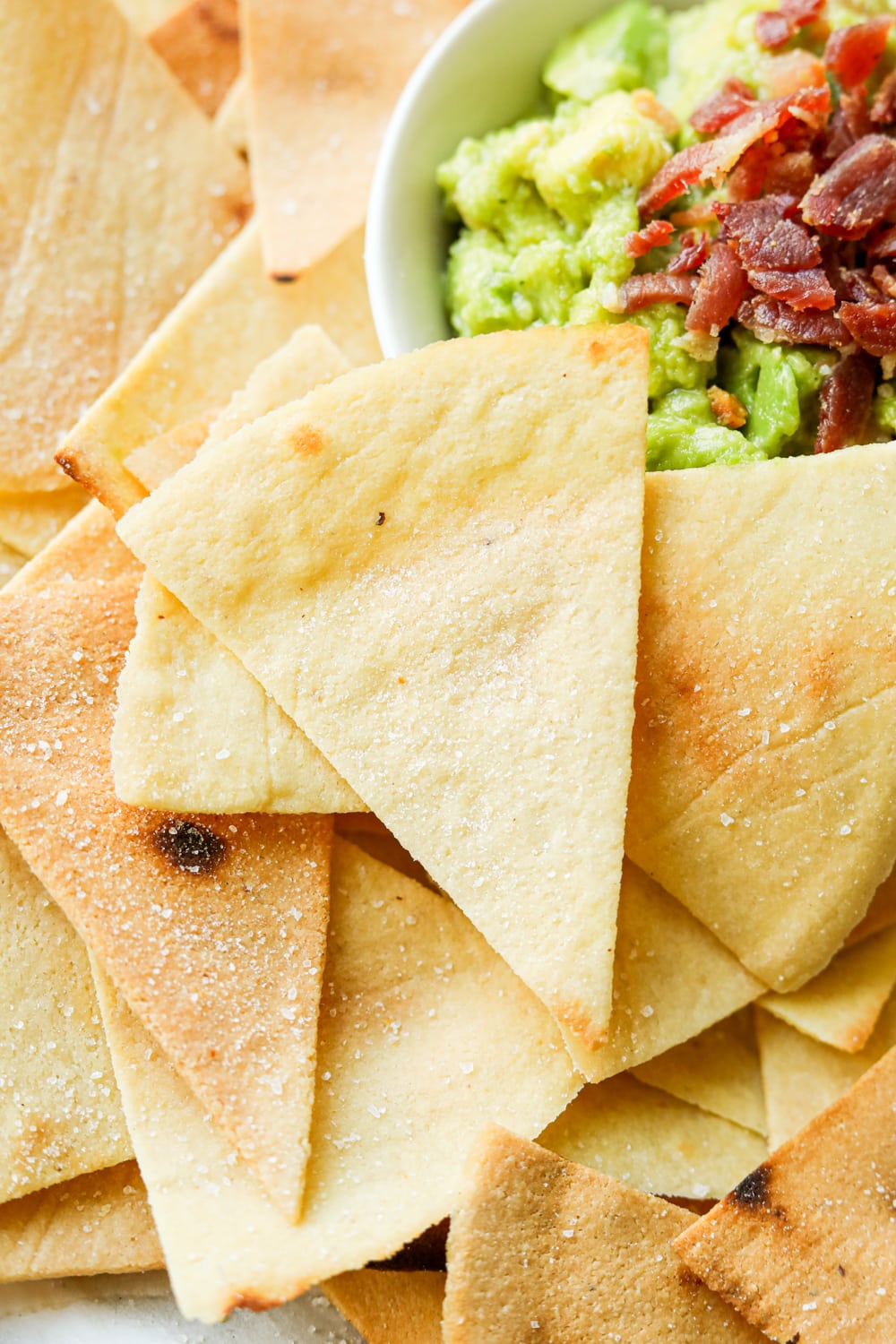 The Best Keto Tortilla Chips Recipe
What I love about these keto tortilla chips is how close they are to the "regular" kind!
Their flavor is absolutely on point, and so is their texture.
Also, they're incredibly easy to make too! You can get these done in as fast as 10 minutes.
Plus, as I mentioned earlier, an entire serving of these – 10 chips – has just 1 net carb.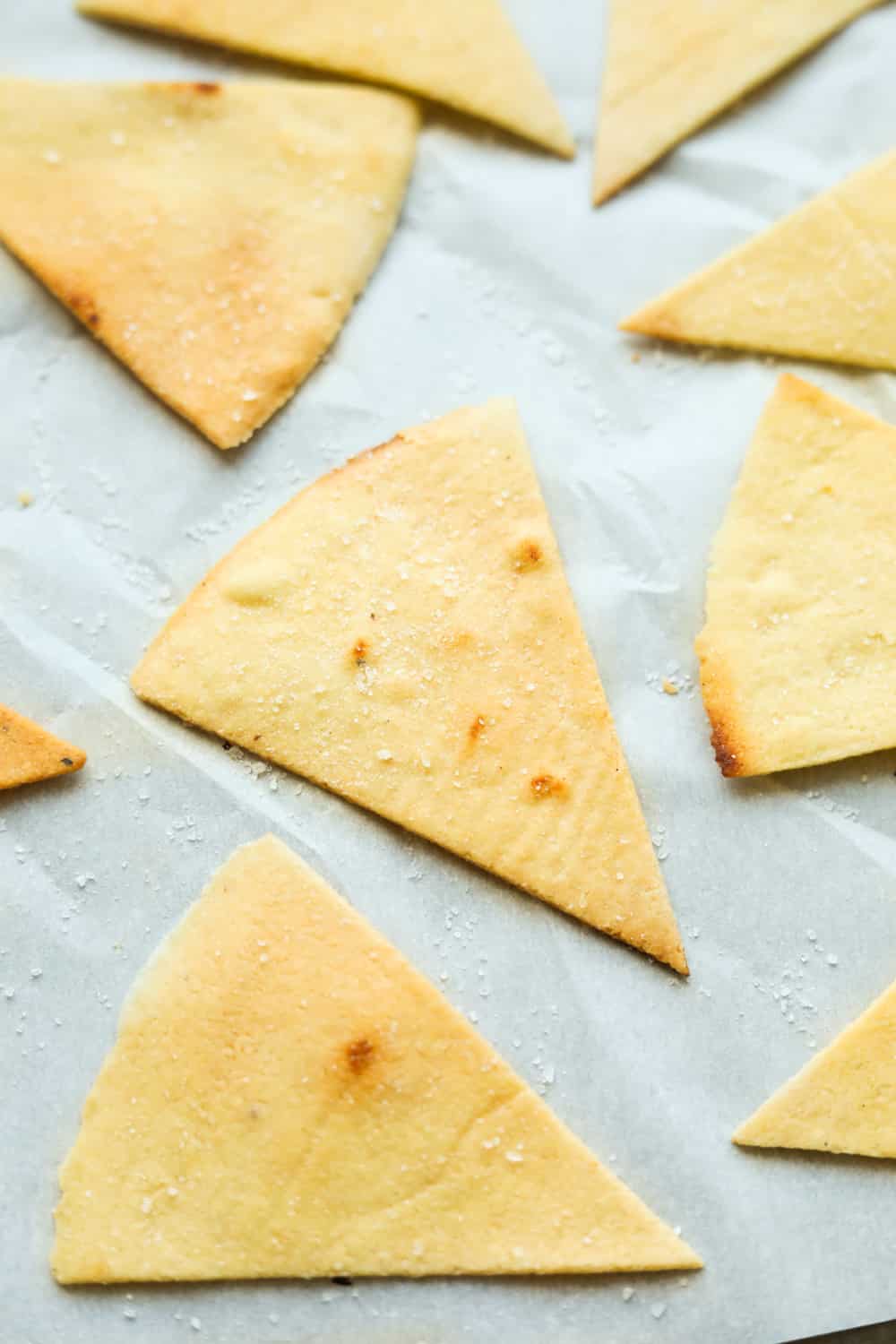 And the recipe makes around 40-50 chips so you can store the extras in a ziplock bag and have your low carb tortilla chips fix throughout the week!
Or you can share these with your friends and family for a fantastic addition to your Taco Tuesday celebration!
Anyways, let's get into the nitty-gritty about how to make tortilla chips keto friendly!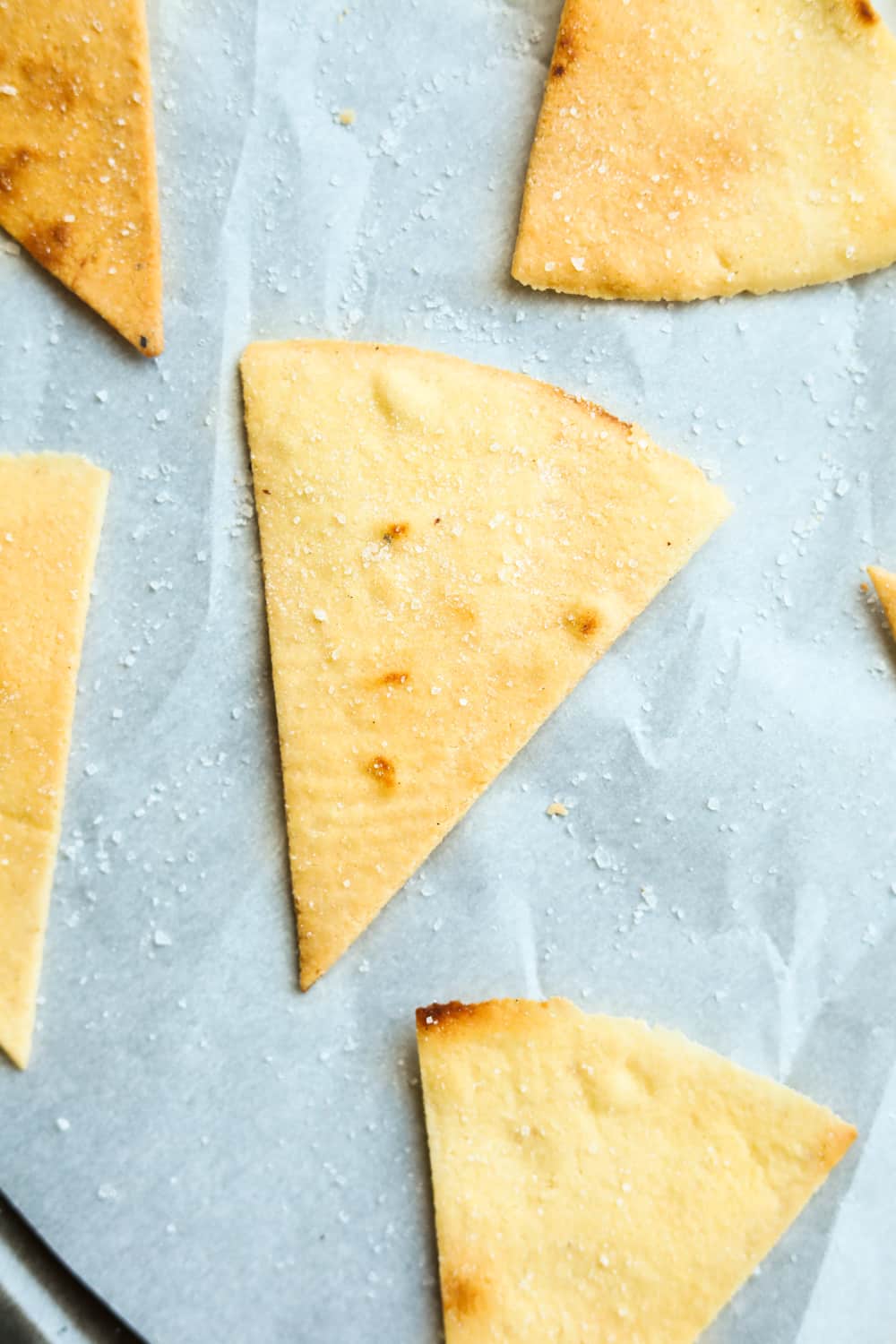 Low Carb Tortilla Chips Ingredients
Besides being crazy easy to make, the ingredients list for this low carb tortilla chip recipe is also super simple.
All of the ingredients are keto pantry staples that you probably already have, or should consider getting if you're planning on doing a lot of keto cooking!
That said, to make these keto tortilla chips, you'll need:
Pretty standard keto ingredients, eh?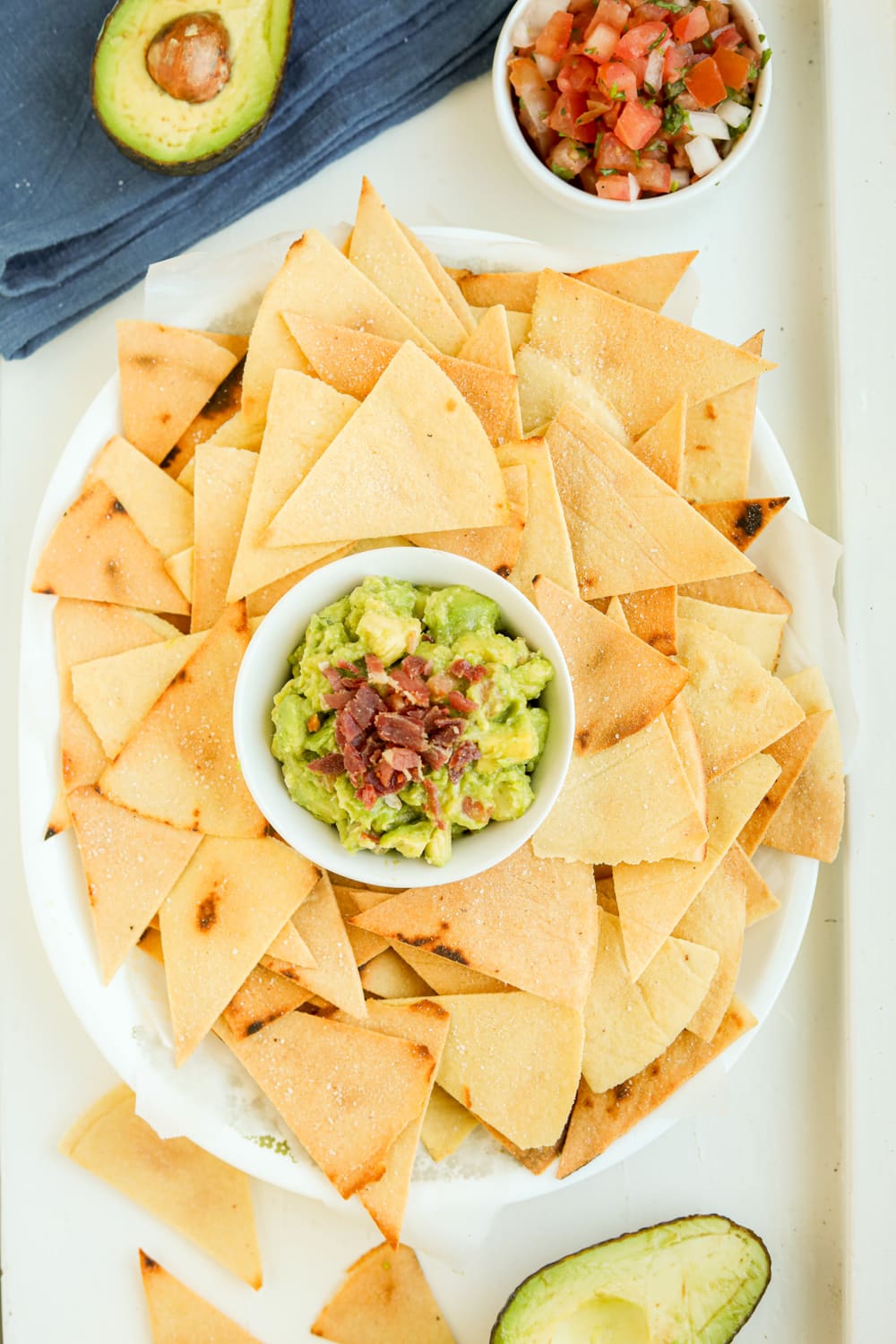 Almond Flour and Other Keto Substitutes
Almond flour is one of the best flours to use for keto since it works well in any recipe – from savory keto chaffles to sweet keto brownies – and it's really low in carbs.
Having said that, I've been using the Blue Diamond Almond Flour lately. It's got the lowest carb count I've seen on almond flour, and it's the cheapest one I've found too.
Now, if almond flour isn't your thing, there are a couple of different keto friendly options you could use in its place.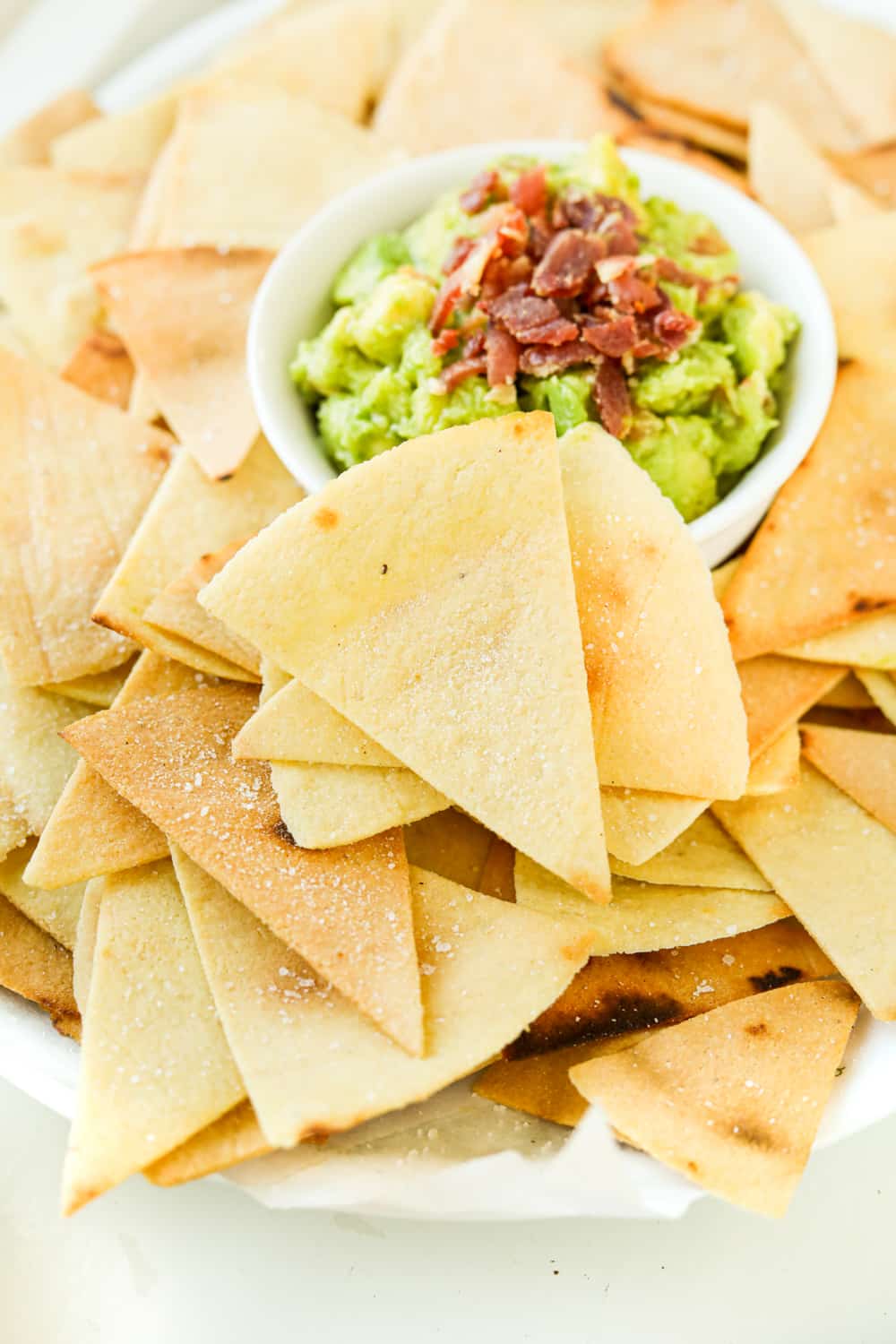 The best alternatives for keto are walnut flour and sunflower seed flour.
And, I've said this a couple of times before, but substituting coconut flour for almond flour is a rookie mistake you don't want to make.
Coconut flour is highly absorbent and will make your dough extremely dry and crumbly.
Not to mention, the coconut flavor is overpowering and won't work in a recipe like this - just a little pro-tip for ya!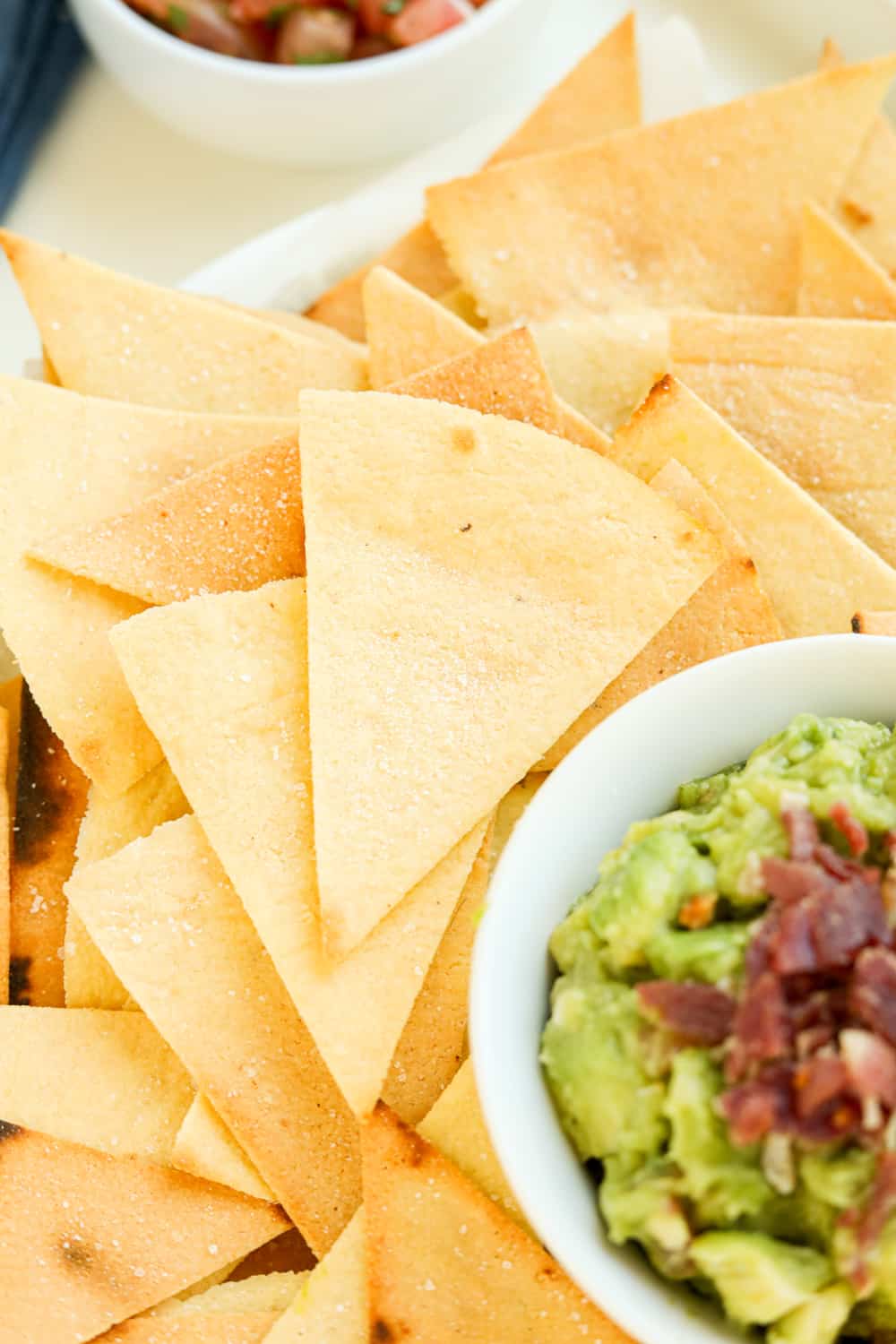 Xanthan Gum in Keto Cooking
So if you've been following my recipes for a while, you've probably noticed I use xanthan gum pretty often.
Xanthan gum is basically keto-friendly gluten. It binds all the ingredients together and gives you a wonderfully chewy texture.
For this keto tortilla chip recipe though, it's mostly going to help give our dough an elastic quality so we can roll it out thin enough to make tortilla chips.
However, If you don't have xanthan gum on hand - or can't find it - guar gum can be used in its place. And the beautiful thing about using guar gum is that it's a 1:1 substitute for xanthan gum.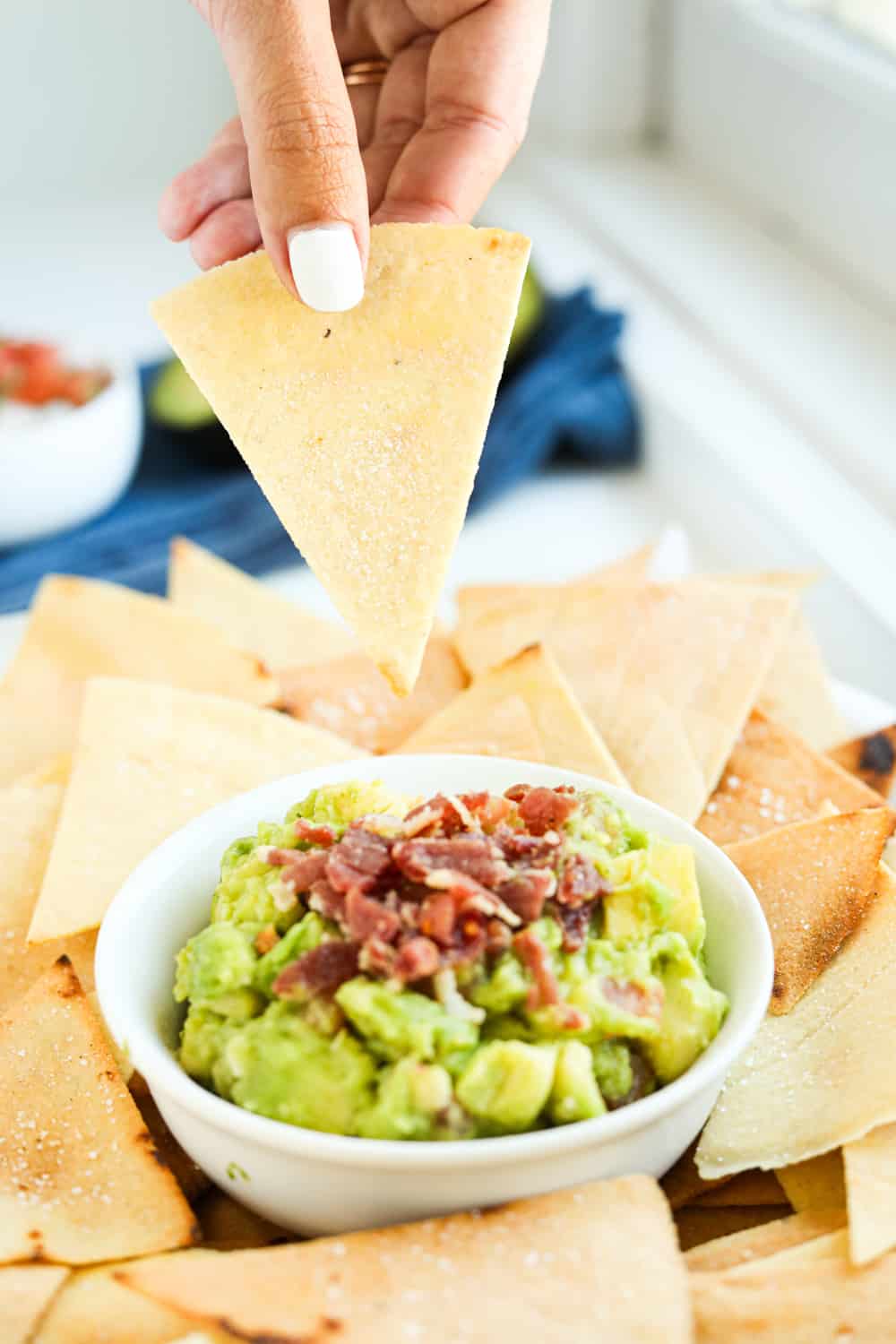 How to Make Keto Tortilla Chips
As I mentioned, these keto chips are actually super easy to make.
And the result is classic tortilla chips that are perfect for the keto diet!
So get out the ingredients and let's get cooking.
Step 1: Making The Dough
Ok, so the first step to making keto tortilla chips is making the dough.
And, this dough is similar to what I use in my keto quesadilla recipe.
So, you'll want to start by whisking the dry ingredients – the almond flour, xanthan gum, baking powder, and salt – together followed by the wet ingredients – your egg and water.
The pro-tip here is to thoroughly mix the egg white and yolk until combined before adding it to your dry ingredients. Doing that will ensure the yolk fully incorporates into the dough, and your tortillas end up uniform in color.
Oh, and make sure to do a generous pinch of salt! We want these tortilla chips SALTY.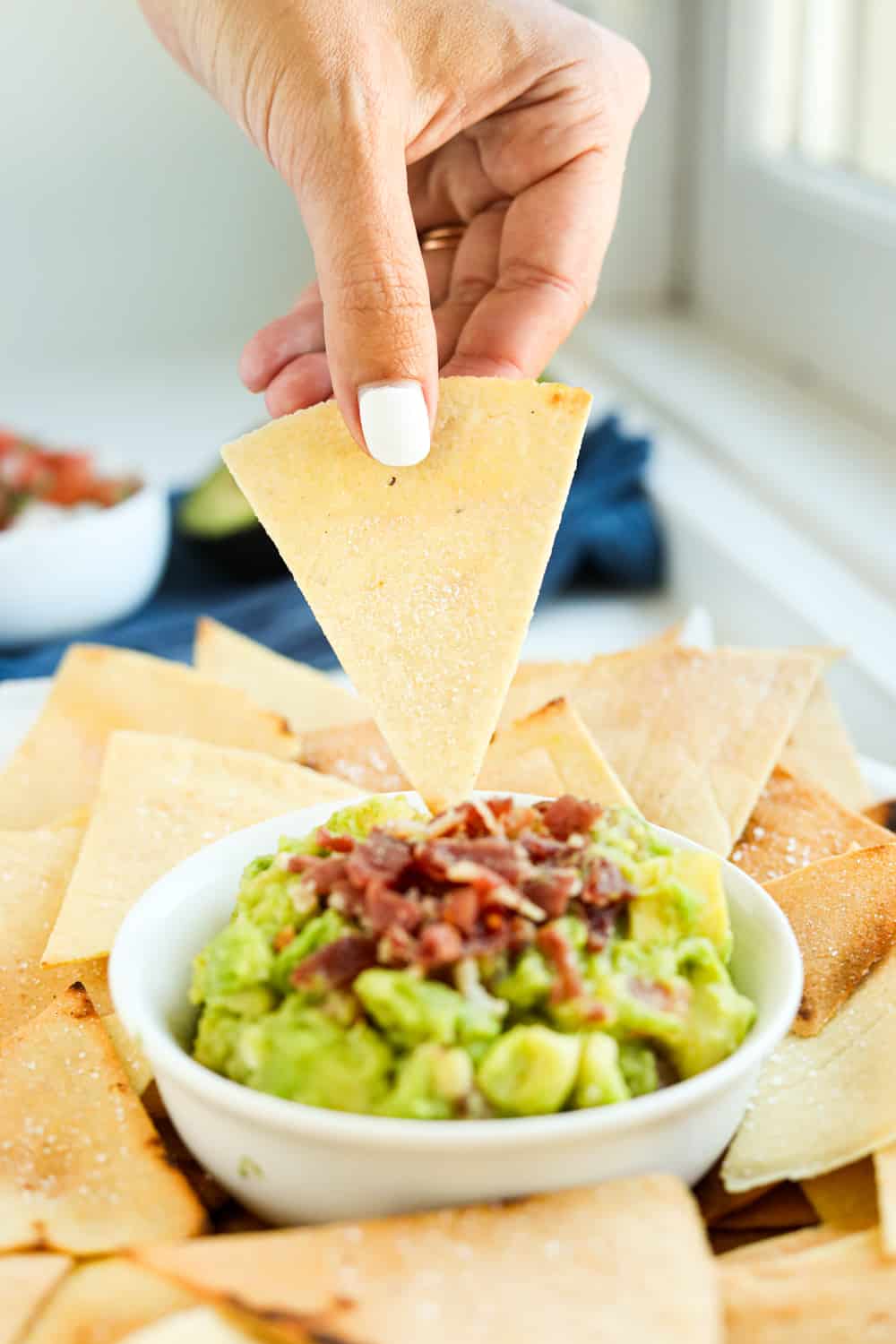 Ok, so once you've added all the ingredients, you'll want to combine everything together with a spatula. Then, when the dough is well-combined and crumbly, use your hands to roll it into a large dough ball.
At this point, you'll want to divide that larger ball of dough into 4 smaller ones. And to keep each portion equal, I like to use a food scale.
Step 2: Shaping The Keto Chips
Next, sandwich a dough ball between two sheets of parchment paper so it doesn't stick to your work surface when you're rolling it out.
You'll want to roll it until it's got a diameter of around 7 inches. Then, to make it into a perfect circle, I use the rim of a 7-inch bowl.
All you have to do is press the rim of the bowl into the top sheet of parchment paper covering the dough, and voila, you've got a perfect circle of dough.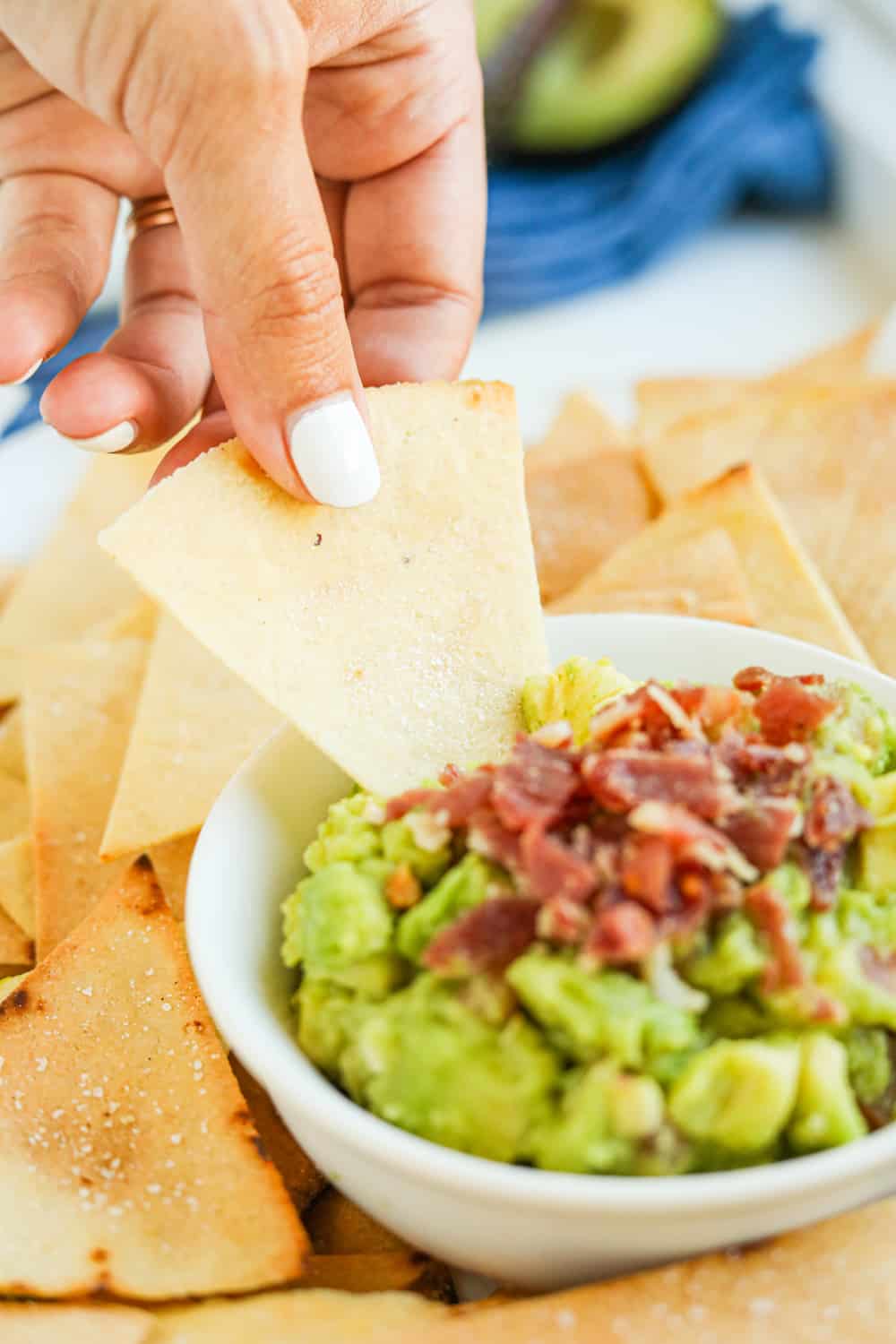 And don't forget to save the extra dough along the edges. You can combine them to make a fifth dough ball...and more keto tortilla chips!
Anyways, once you've removed the extra dough, you'll want to use a pizza cutter to divide the dough into 8 tortilla chips.
Then, remove the excess parchment paper from around the chips - so only a small amount remains around them - and cook the tortilla chips in the microwave for about 1 minute.
After 1 minute, check and see how the chips are cooking, and then pop them back in for another 15-30 seconds.
Now, set them aside to cool, and repeat the process with the rest of the dough balls.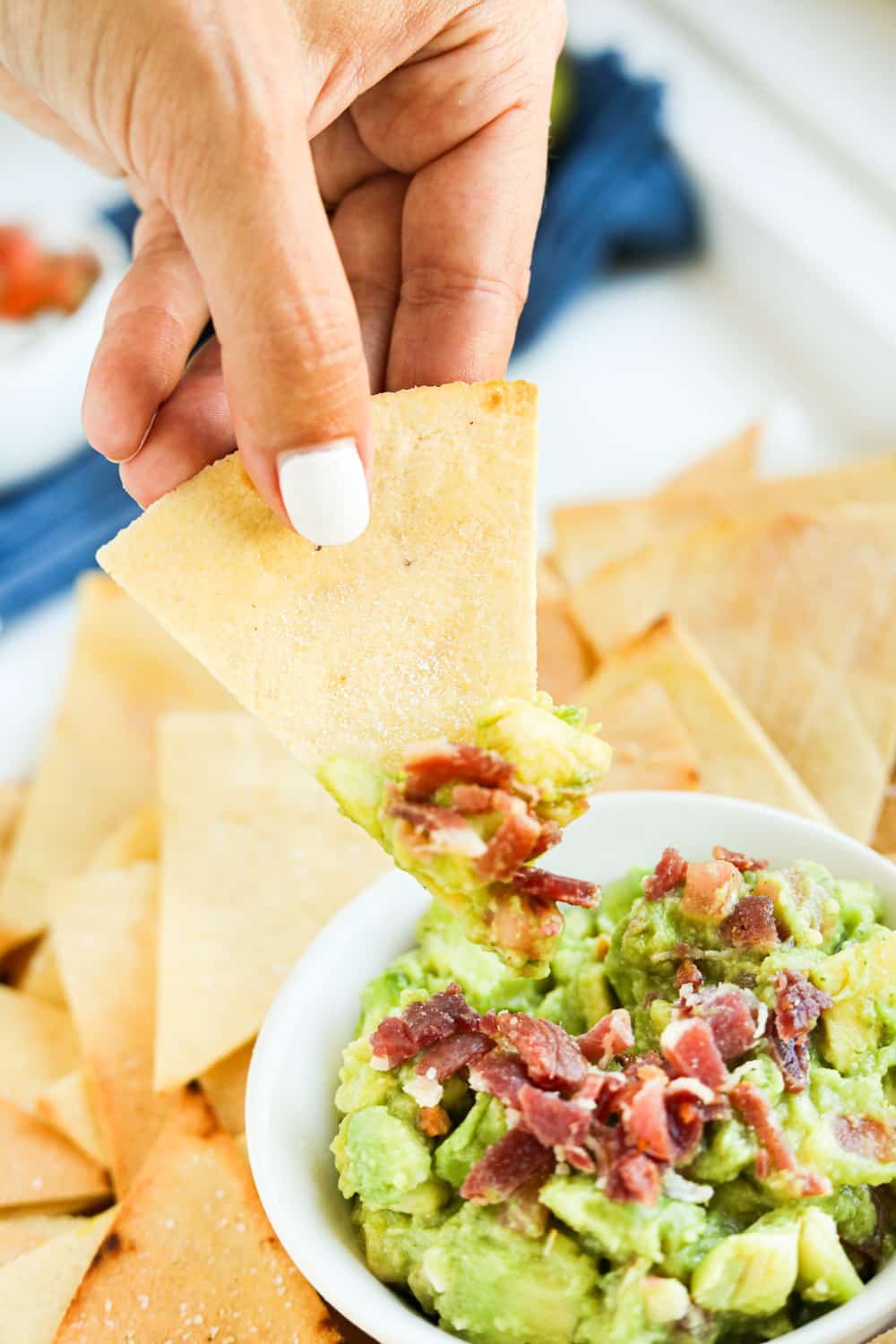 Step 3: Cooking These Low Carb Chips
Now, once you've got all of the low carb chips cooked in your microwave and cooled, you'll want to add your tortilla chips to a non-stick pan or a heated seasoned cast iron one.
Then, sprinkle some salt over them, and cook over medium heat.
These low carb chips tend to cook pretty quickly so you'll want to keep a close eye on them!
Between 15-30 seconds (depending on what color you want them) per side should do the trick.
And when you flip, be sure to sprinkle some more salt!
Then, when they're done cooking, transfer them to a large Tupperware lined with a paper towel to keep them crunchy as they cool.
That's it!
So easy and so good.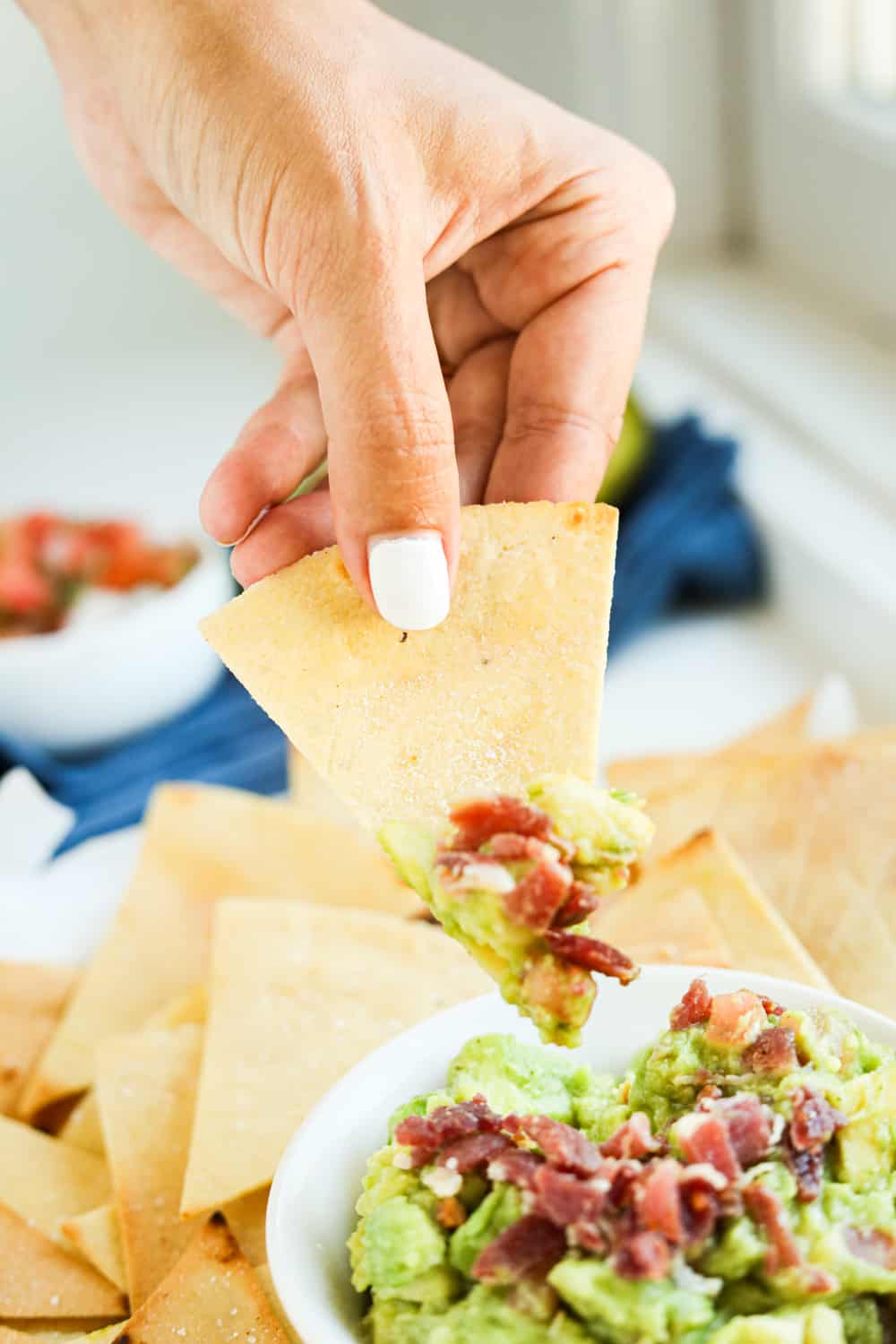 What to Serve with Keto Tortilla Chips
The best way to serve these is obviously with a good dip.
These would go wonderfully with salsa, but my personal favorite is guacamole with bacon. Mmm.
And of course, I have a ton of fantastic low carb dips that would be PERFECT with these. My top recommendations are Keto Cheese Sauce and Keto Spinach and Artichoke Dip.
But if you want to pair these with a protein, I also have a ton of keto recipes that would be excellent with a side of crispy tortilla deliciousness. Bonus: most of them take less than an hour to make!
Oh, and if you really want to go all out: Keto Taco Casserole. Need I say more?
Wrapping It All Up
That is how to make keto tortilla chips in just a few simple steps! These crispy chips taste just like regular tortilla chips, but they are low carb, gluten free, and perfect for the keto diet.
Honestly, anyone who tries these won't be able to tell that they're keto!
Anyways, I hope you enjoy these super easy keto tortillas as much as I do.
Let me know in the comments if you tried it and what you think!
Print
Keto Tortilla Chips Recipe | One Of THE BEST Keto Friendly Snacks
These Keto Tortilla Chips are perfectly crisp, crunchy, and salty! In fact, as far as homemade low carb tortilla chips go, these are probably the best ones you can make. Not to mention, an entire serving of these chips has just 1 NET CARB. Trust me, keto friendly snacks don't get better than these chips.
Author:
Prep Time:

10

Cook Time:

2

Total Time:

12 minutes

Yield:

45 Tortilla Chips

Category:

Snacks

Method:

Stovetop Cooking

Cuisine:

Keto & Low Carb
Instructions
Add all of the dry ingredients to a medium-sized bowl, and whisk until combined.

Now, add the egg and water into the bowl, and combine until a thick crumbly consistency forms.

Once it does, use your hands to form a ball of dough.

Now, form four equal-sized smaller balls of dough from the large ball.

Then, place a ball of dough between 2 sheets of parchment paper, and roll it out into a circle as best you can.

I recommend rolling it out until it's 7-inches in diameter, and about a ¼ inch thick.

Once it's rolled out appropriately, press the top of a bowl - one that's about 7 inches in size - into the parchment paper covered dough.

Now remove the top layer of parchment paper, as well as the extra dough around the circle we just formed with the bowl.

Save the extra dough to roll-out later on, and make more tortilla chips with.

Use a pizza cutter to cut 8 chips out of the dough.

Remove any excess parchment paper from around the dough, and microwave for 1 minute.

Now, check on the chips to see how they're cooking, and microwave for another 15-30 seconds.

Let the first batch of tortilla chips cool, and continue this process until all of the chips have been cooked.

Now cook the tortilla chips one batch at a time in a skillet over medium-heat.

The chips cook quickly so just about 15-30 seconds on each side should be enough.

Salt the tortilla chips as you cook them.

Transfer the chips to a large platter lined with a few sheets of paper towel, and let them cool.

Serve once the chips have cooled.
Nutrition
Serving Size:

10 Chips

Calories:

110

Fat:

9

Carbohydrates:

3

Fiber:

2

Protein:

4
Keywords: Keto Tortilla Chips, Tortilla Chips Keto, Keto Friendly Snacks, Low Carb Tortilla Chips, Tortilla Chips For Keto, Low Carb Tortilla Chip Recipe, How To Make Keto Tortilla Chips, Keto Friendly Tortilla Chips