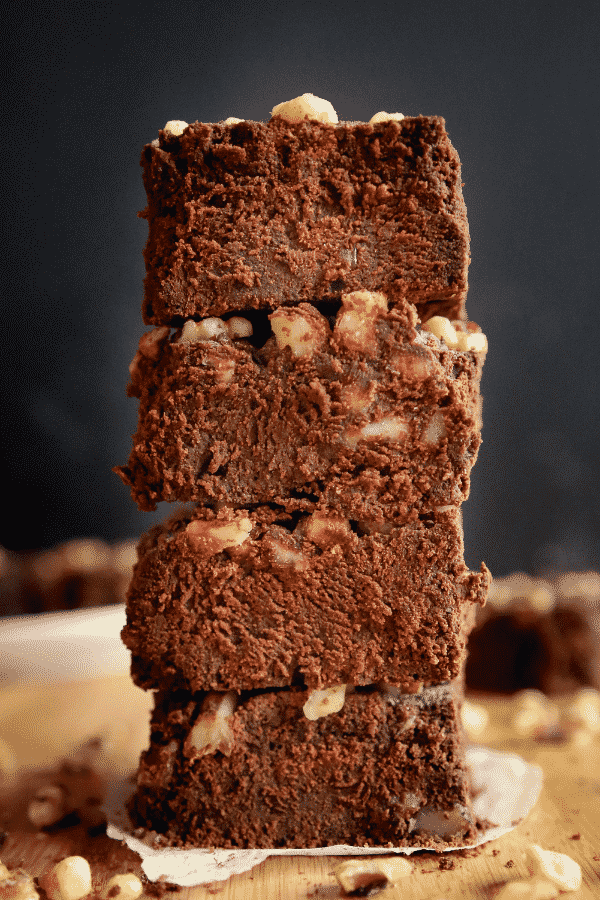 Fudgy Low Carb Keto Brownies
Today I'll show you how to make the BEST Fudgy Keto Brownies. These low carb brownies are full of rich chocolate deliciousness, they're chewy as can be, and they're so EASY to make. Plus, they're made with almond flour and just a few other ingredients. 
If you're craving brownies, but not craving all the carbs, these brownies are the answer to your cravings. That's because each one of these almond flour brownies has just 3 NET CARBS!
How To Make Keto Brownies Using Almond Flour
Keeping The Carbs As Low As Possible
Brownies are usually loaded with carbs.
And that's mainly attributed to the fact that the average fudge brownie recipe uses ingredients like sugar, flour, and milk chocolate. All of which are filled with - you guessed it - carbs.
With that being said, it's easy to replace all of those ingredients with low carb keto friendly ingredients. And, it's also easy to make these keto brownies taste just like a "normal" brownie too.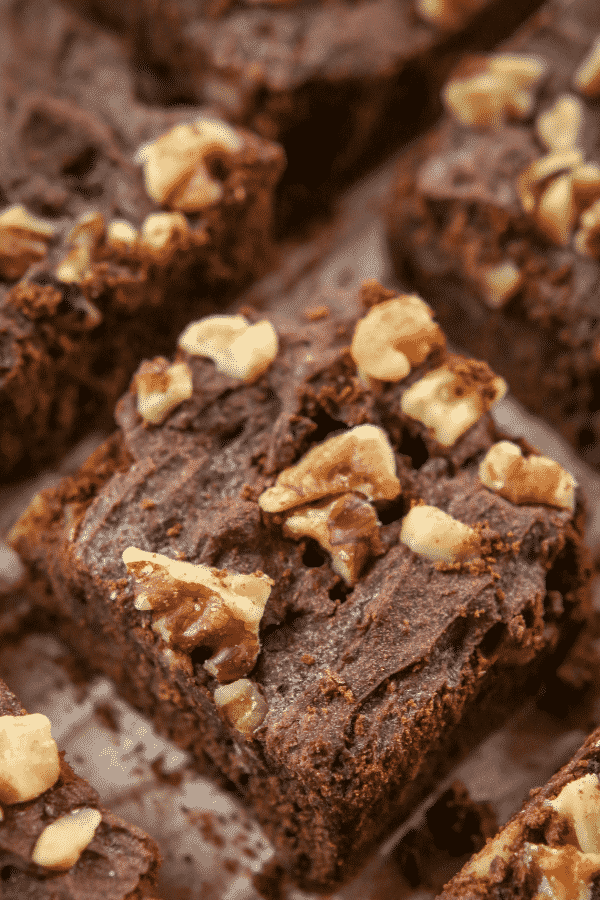 So, today's keto brownie recipe is made with almond flour, unsweetened cocoa powder, and confectioners erythritol. All of which have very few net carbs.
In fact, this Almond Flour By Kirkland's has just 2 net carbs per 28g. That's not only the lowest amount of net carbs I've seen for almond flour, but that's also 10x less net carbs than normal flour.
Also, to keep the carbs even lower in these keto brownies I used a small amount of 0 Carb Unflavored Whey Protein Powder. A lot of times you can replace some of the flour in a recipe with it, and save yourself some carbs. So, that's exactly what I did for today's low carb keto brownie recipe. If you don't have Unflavored Whey Protein - or don't want to buy it - just use more almond flour.
Lastly, erythritol is my favorite sugar replacement for low carb keto recipes. I particularly like the Confectioners Erythritol From Swerve, it has 0 net carb and 0 calories. Plus, it dissolves unbelievably well. In my opinion, it's the best!
Print
The Best Keto Brownies Using Almond Flour
The BEST Keto Brownies! This Low Carb Brownie Recipe is fudgy, chewy, and so easy to make. All you need is almond flour, and just a few other ingredients to make these no sugar added brownies. Best of all, each keto brownie has just 3g of NET CARBS!
Author:
Prep Time:

10 minutes

Cook Time:

25 minutes

Total Time:

35 minutes

Yield:

9

brownies

1

x
Category:

dessert
Instructions
Pre-heat your oven to 350 degrees
Add the butter and low carb chocolate chips to a small bowl and melt them in the microwave until all of the butter dissolves - about 1-2 minutes.
Whisk the butter and chocolate chips until a chocolate sauce forms.
When it does, add all of the other ingredients (except the eggs) and combine them with a spatula until crumbly.
Once a crumbly consistency develops, add and mix 1 egg at a time until you've added/mixed 4 of them.
Now at this point, line an 8x8 dish with parchment paper and coat it with baking spray.
Add the batter to the dish, and evenly spread it out with a spatula.
Bake the brownies for around 25 minutes. You'll know they are done when you can insert a toothpick into the center of the dish, and brownie residue is stuck to it. NOTE* It's always better to slightly undercook the brownies if you want REALLY FUDGY brownies.
Notes
Macros DO NOT account for erythritol because it has 0 CALORIES, and should be tracked as 0 CARBS.
3 NET CARBS A BROWNIE:
9g Carbs - 6g Fiber = 3g NET CARBS
Nutrition
Serving Size:

1 Brownie

Calories:

215

Fat:

18

Carbohydrates:

9

Fiber:

6

Protein:

6
Keywords: keto brownies, low carb brownies, how to make keto brownies, how to make low carb brownies, best keto brownies, best low carb brownies, fudgy keto brownies, keto brownies using almond flour