These chocolate peanut butter protein balls are chewy, chocolatey, and jam-packed with protein. You only need 5 ingredients and about 5 minutes to prepare them, and there's no baking required!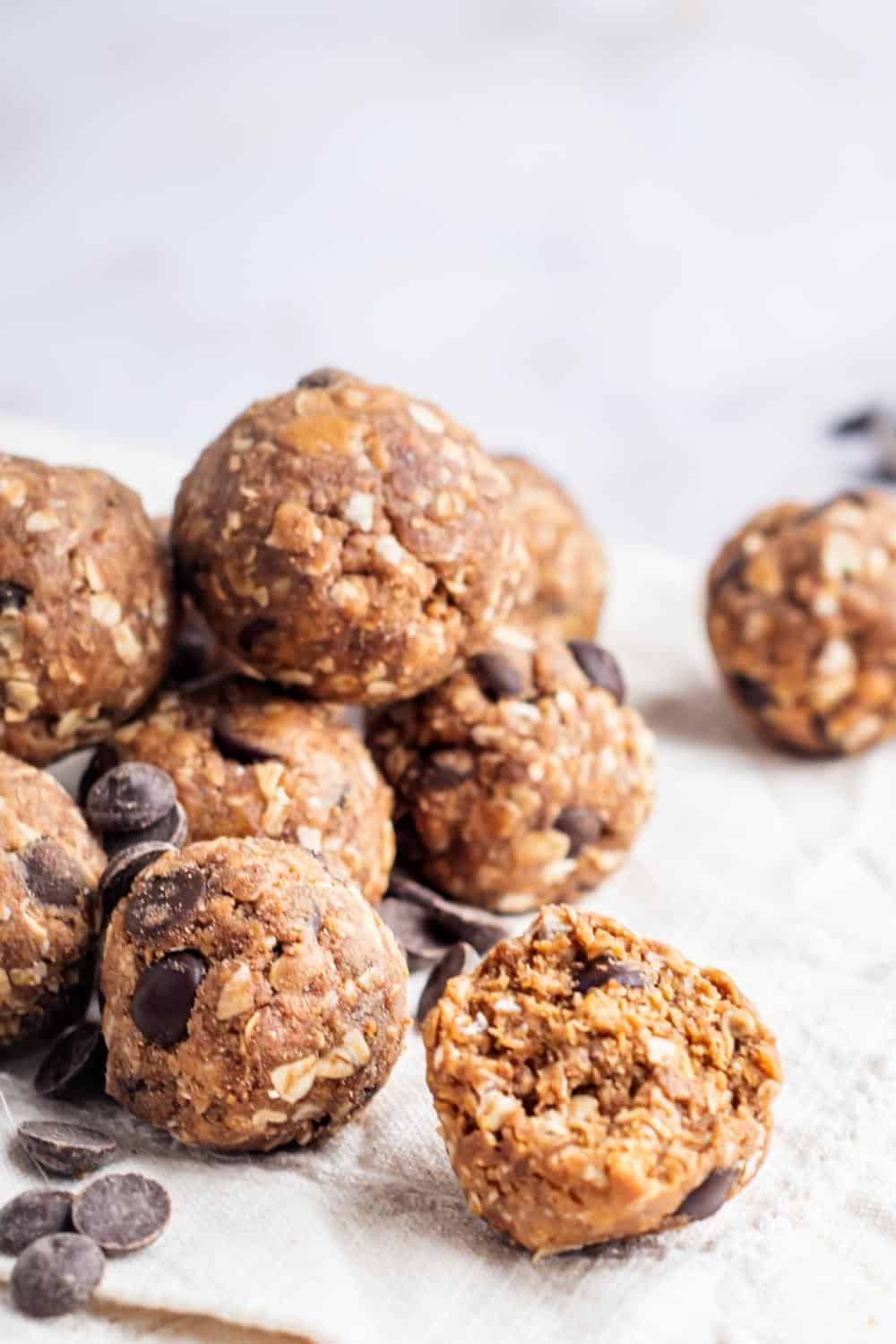 The Best Protein Balls
These no bake protein balls are the perfect quick and easy treat to make for a midday energy boost, a pre-workout - or post-workout - snack, or even a speedy breakfast.
And not only are these protein energy balls a fantastic source of healthy protein, but they're also insanely delicious and so easy to make.
These protein energy balls are made with your favorite chocolate protein powder (or vanilla protein powder), peanut butter, rolled oats, and just a few other simple ingredients.
Sounds pretty quick and simple, right?
Well, in just 15 minutes, you can make a whole batch of these addictive energy balls and refrigerate - or freeze - them to enjoy whenever you need a little protein boost.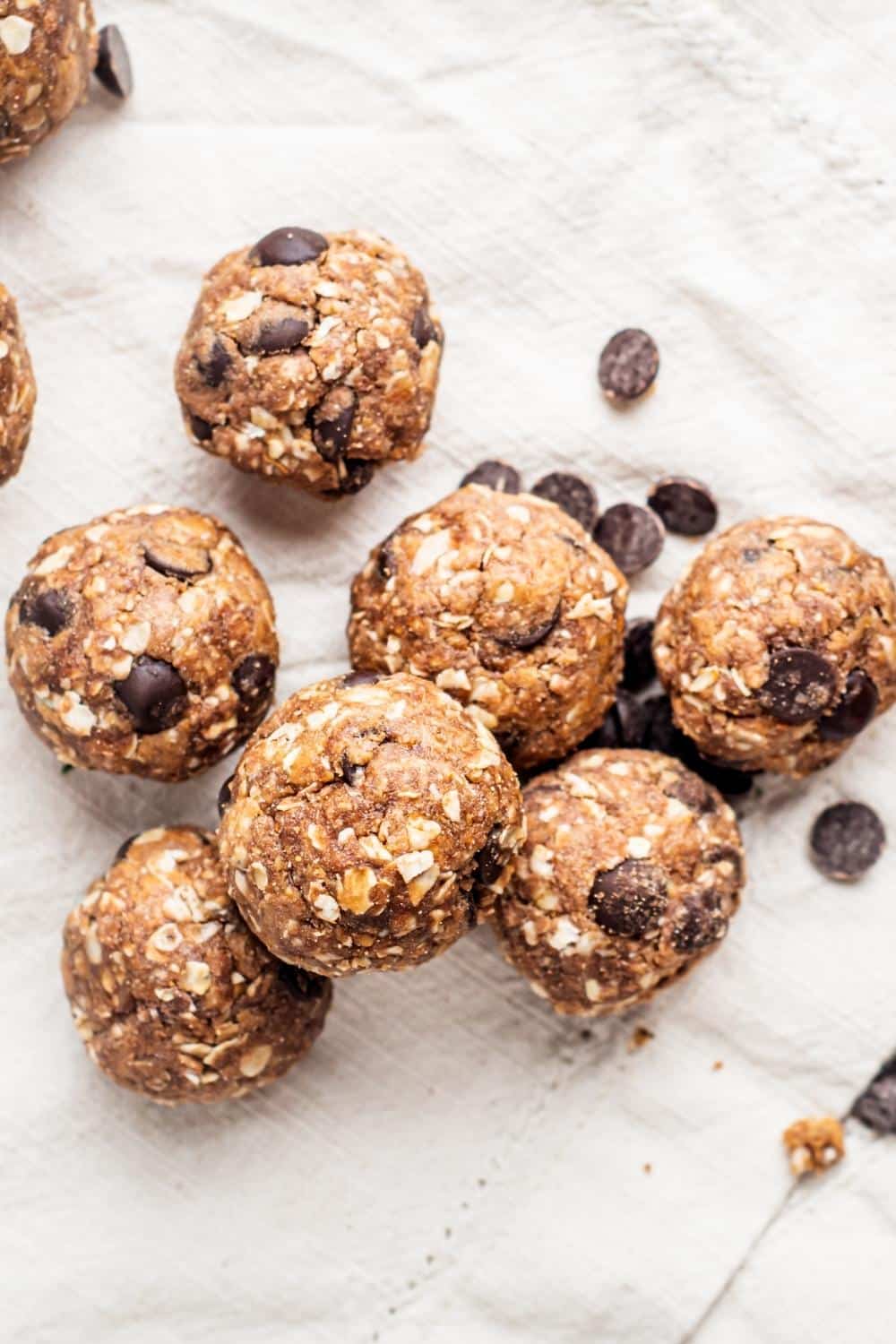 Ingredients To Make Protein Balls
Again, 5 ingredients are all you need to make this chocolate peanut butter protein balls recipe.
And there's a good chance you already have everything you need at home since these are all super common pantry staples.
So, to make this protein energy balls recipe you'll need:
1 ½ Cup Rolled Oats
1 Cup Peanut Butter (I used natural creamy peanut butter with no sugar added)
¼ Cup Honey or Maple Syrup
2 Scoops of Chocolate Whey Protein Powder
¼ Cup Sugar Free Chocolate Chips
Super simple, right?
Now, if you want to keep these energy bites as healthy as possible, I suggest using sugar free chocolate chips. I like to use Lily's sugar free chocolate chips, but you can use anything that you want!
For the maple syrup, I highly recommend making my sugar free maple syrup. Not only is it sugar-free, but it's carb-free and calorie-free too.
Also, if you have any oats leftover after making this recipe you can always put them to use by making this protein overnight oats recipe next.
Oh, and if you're interested in a fat bombs version of these energy bites, I also have a peanut butter cookie dough fat bombs recipe that's just as tasty and it's perfect if you're following a low carb or keto diet.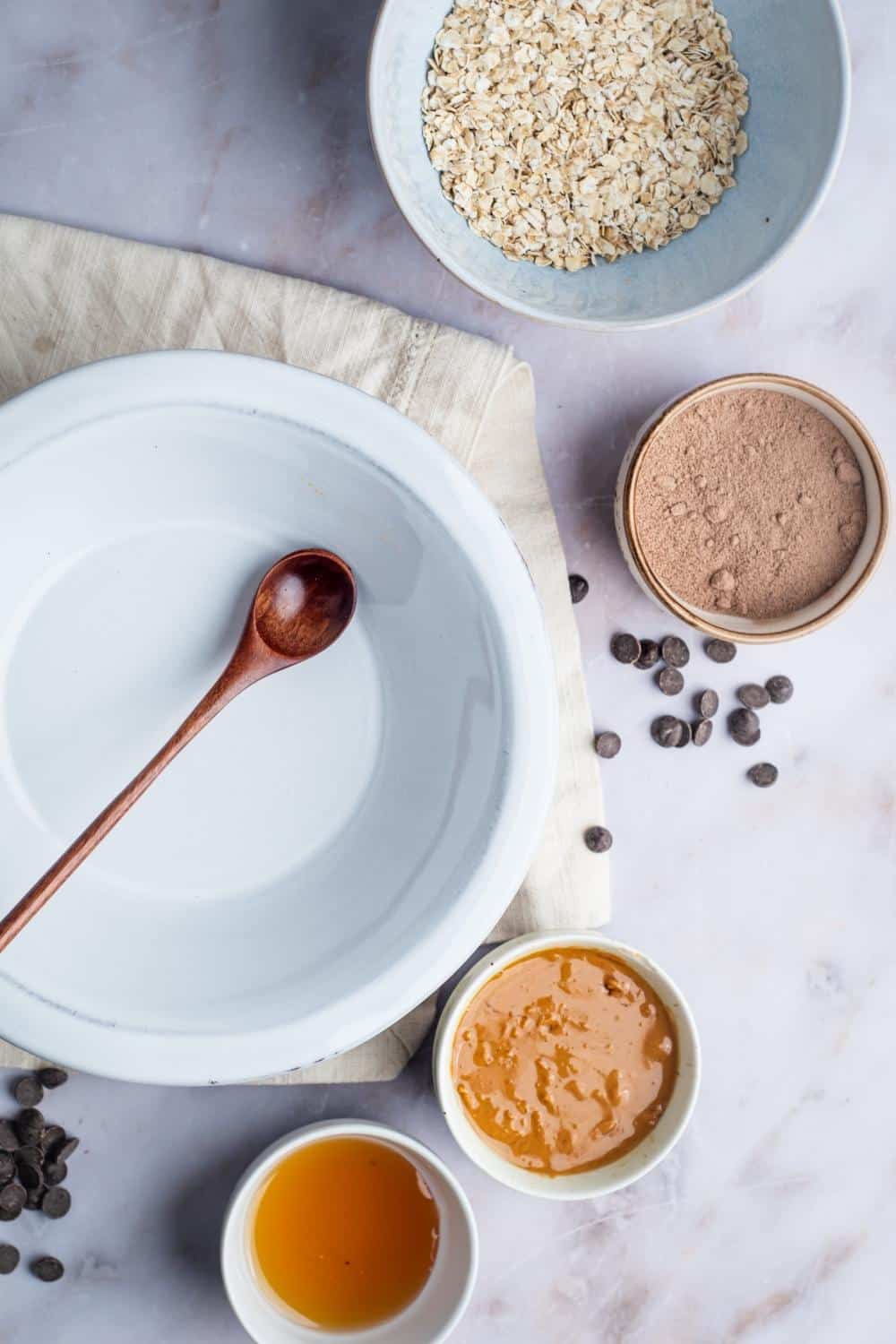 Customize Your Protein Balls
Alright, so the great thing about this protein energy balls recipe is that there are a ton of ways to switch it up. Basically the possibilities are endless with how you make 'em, so you really won't ever get tired of them!
For example, you can swap out the peanut butter with any nut butter or seed butter of your choice. With that said, almond butter and sunflower seed butter are some of the best high protein nut butter options you can try to make these energy bites with.
Also, you don't have to stick to just chocolate protein powder - only if you want to make chocolate protein balls. Vanilla protein powder, peanut butter protein powder, or any flavor of protein powder would work great in this recipe too. I like changing it up by using vanilla protein powder.
Oh, and you can use whey protein powder or plant based protein powder, and these no bake protein balls will turn out terrific.
And, as for the chocolate chips, feel free to go with any flavor your heart desires. Lily's sells a ton of different sugar free ones - from caramel to white chocolate, all of the ones I've had are awesome! As you can see, there are really so many ways to make this protein ball recipe.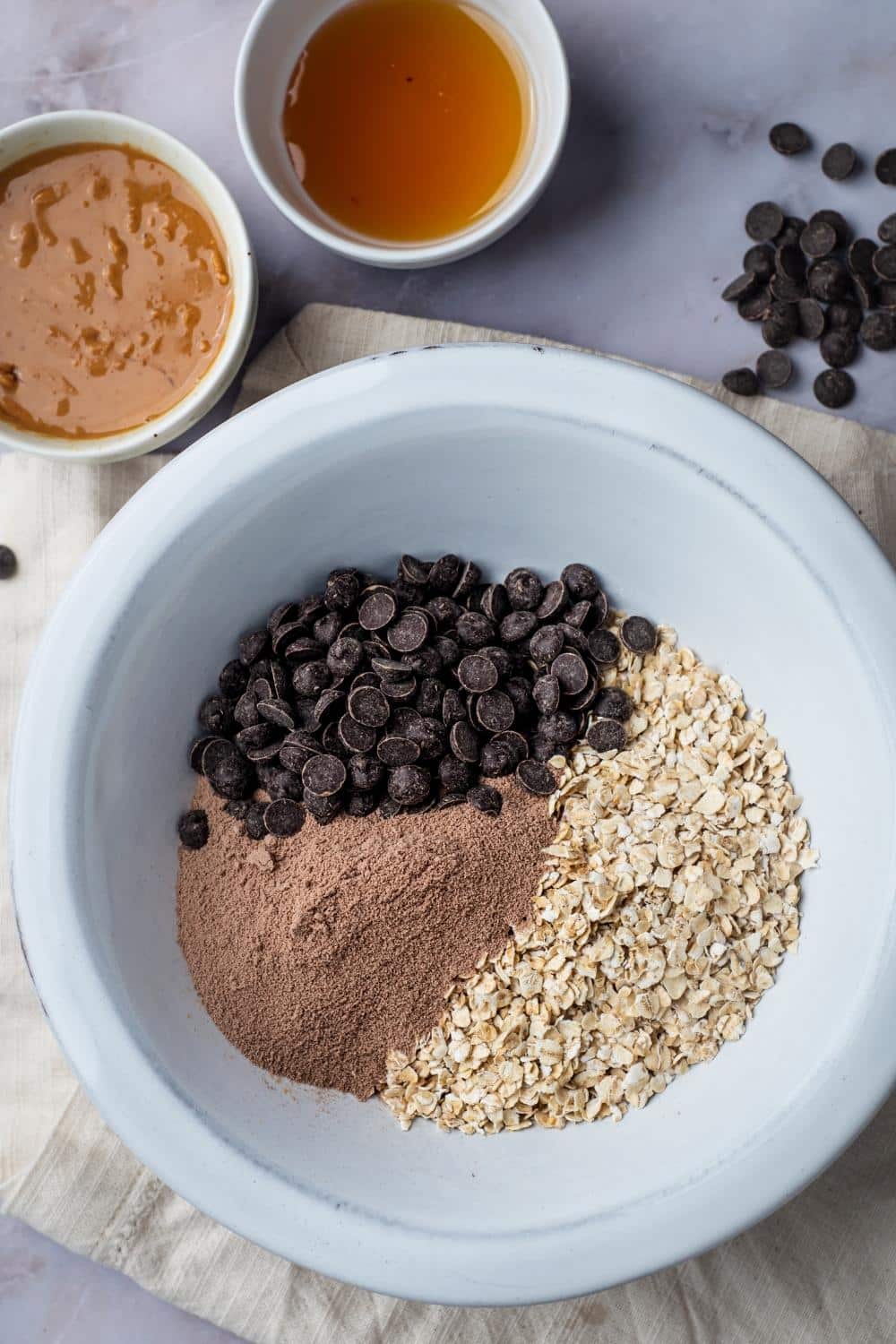 How to Make Protein Balls
So, you can make a batch of about 12 of these no bake protein balls in just three easy steps: mix, scoop, and refrigerate.
Yup, making these is as easy as that!
That's basically all there is to it! There's no baking, chopping, or melting involved, so this is the ultimate snack to make when you're busy or aren't in the mood to bake.
Now, let's not waste any more time and I'll show you how to make energy bites!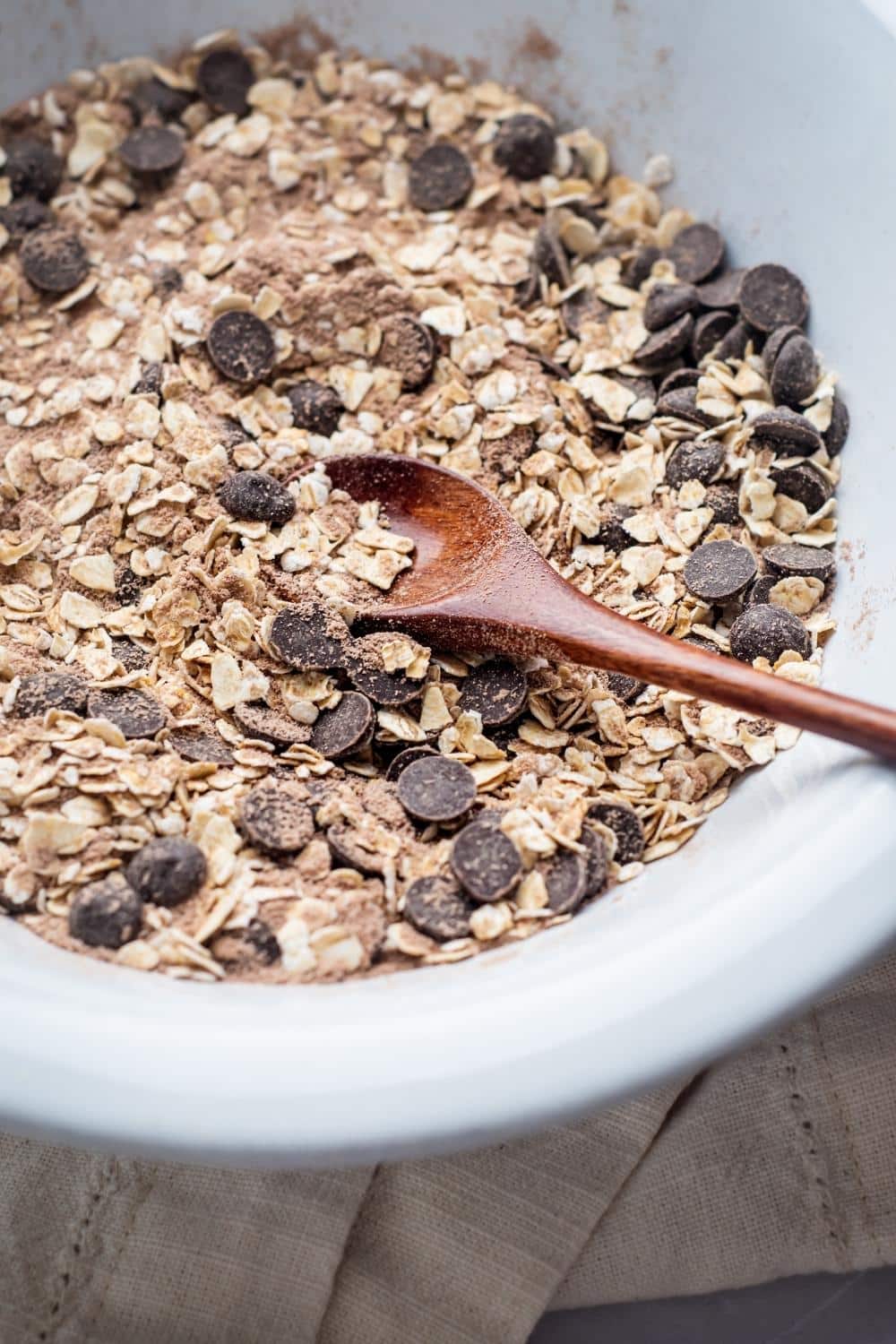 Step 1: Combining the Ingredients
First, measure out all your ingredients - the rolled oats, natural peanut butter (or almond butter), honey or syrup, protein powder, and chocolate chips.
Then, mix everything together in a large bowl until fully combined and you have a somewhat compact protein ball mixture.
I find a rubber spatula gets the job done the quickest, but a spoon, fork, or even clean hands with gloves would work too.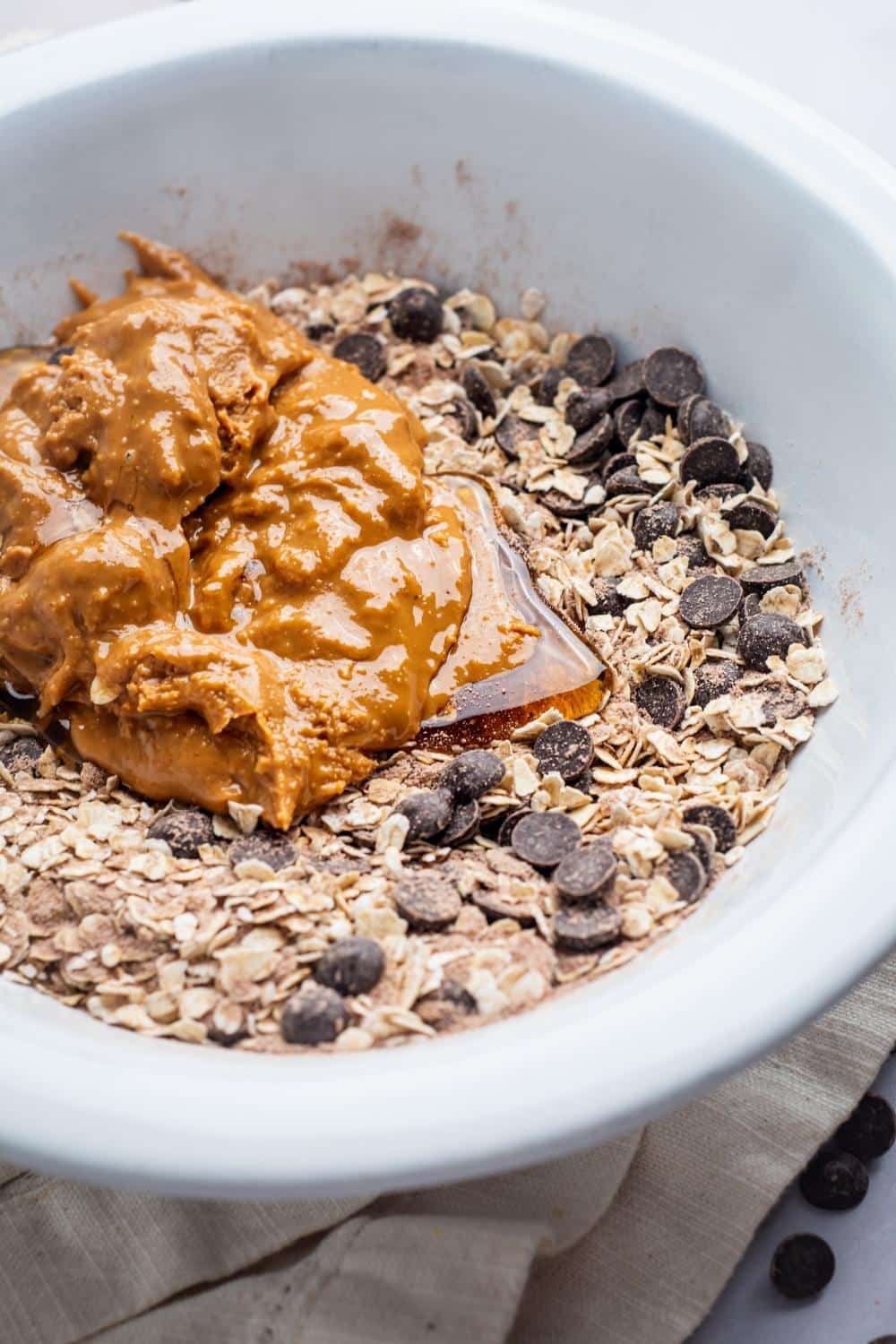 Step 2: Shaping your Protein Balls
When all the ingredients are fully combined, you can get shaping the protein ball mixture.
Use a small cookie scoop - or a regular spoon - to scoop out equal amounts of the peanut butter protein balls and use clean hands to shape each energy bite into a ball.
Now, if your protein balls somehow won't stick together, you can mix in an extra tablespoon of natural peanut butter until it's sticky enough to shape.
Then, once that's done, you should end up with around 12 protein balls.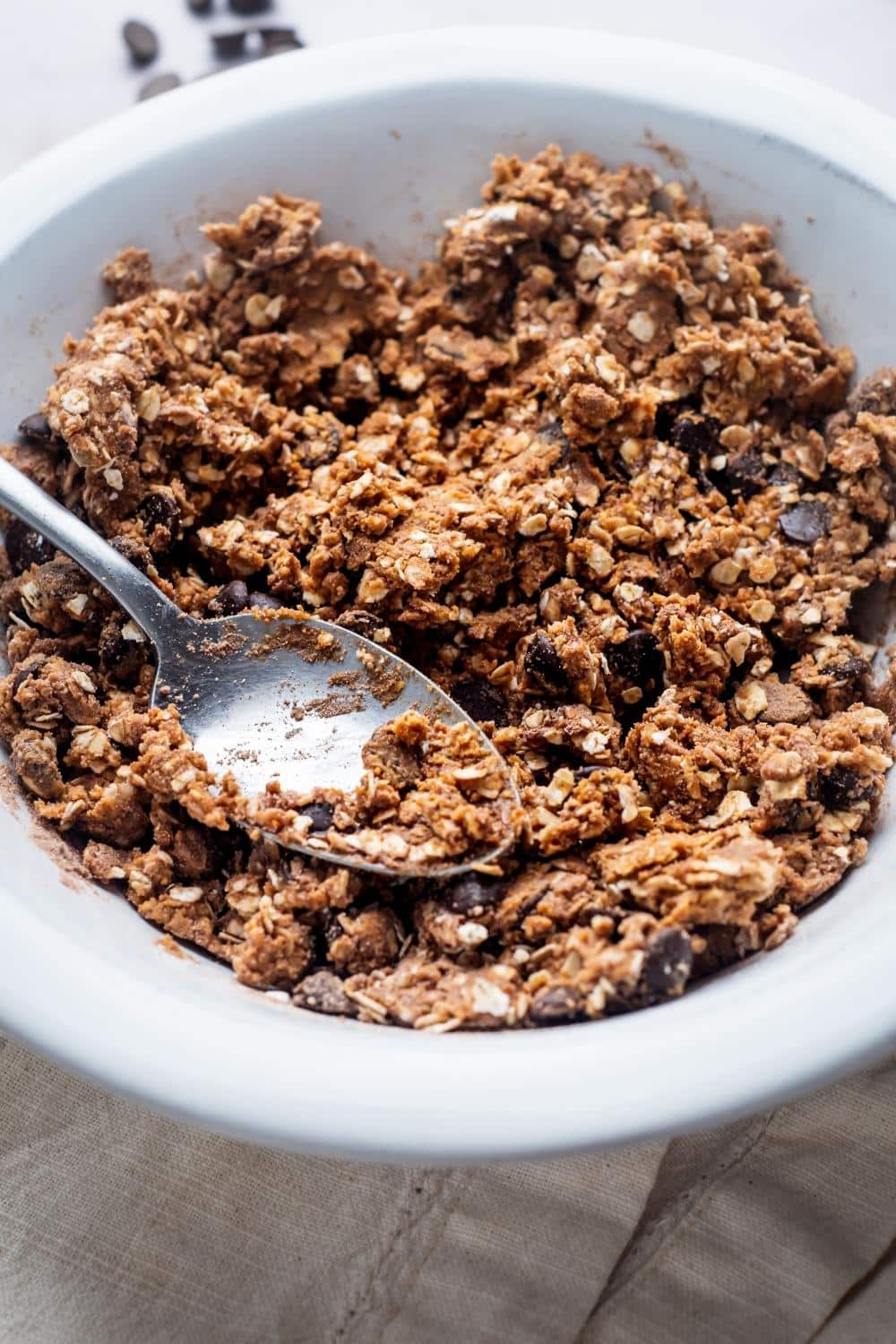 Step 3: Refrigerate and Set
Finally, transfer your protein balls into an airtight container and refrigerate until they set, around 30 minutes.
By the way, if you absolutely can't wait to dig into these protein powder energy balls, you can actually have them at room temperature too.
You don't have to refrigerate them at all, chilling these protein balls in the fridge just makes them firmer.
However you decide to eat these energy bites, they'll be delicious, so enjoy!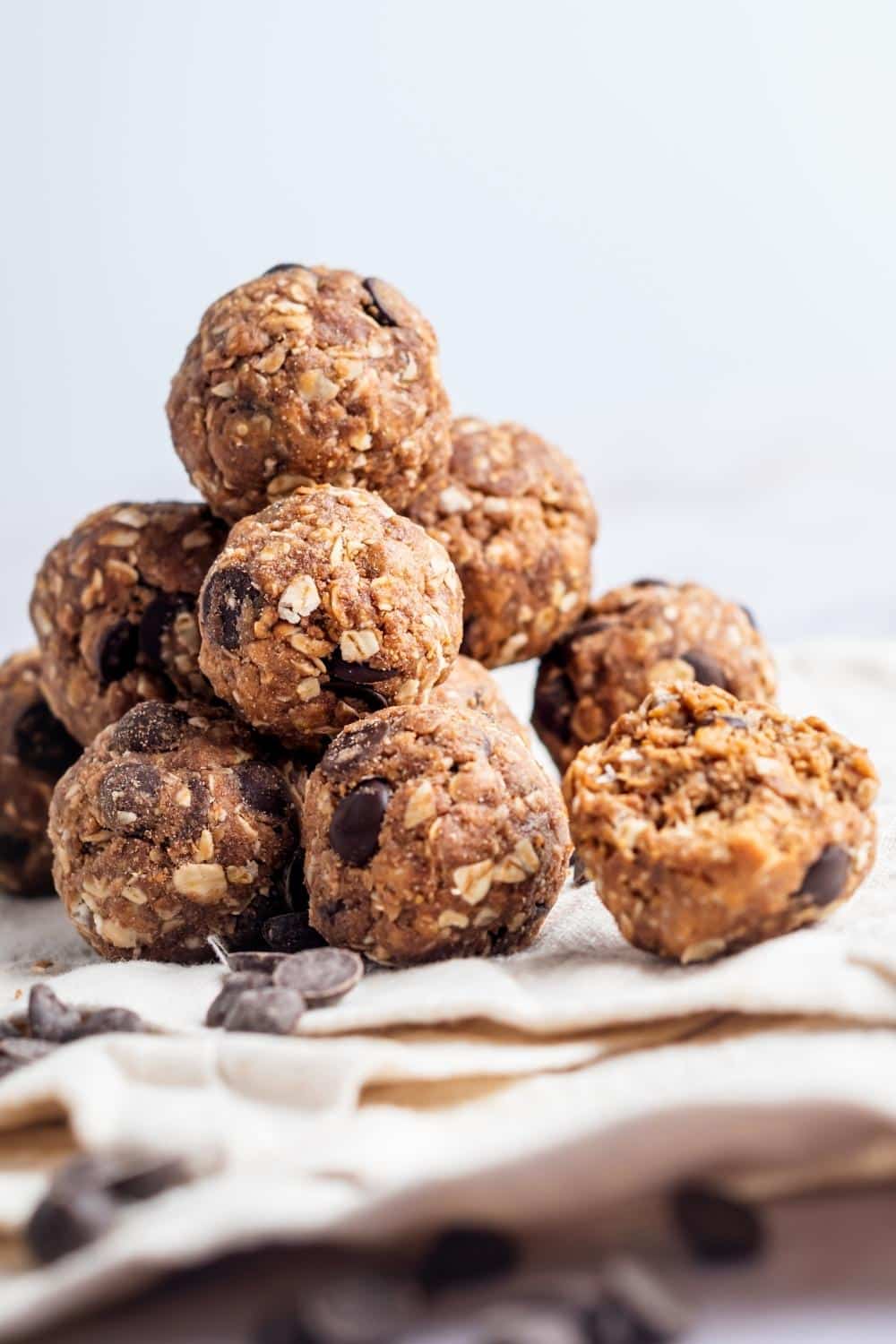 How to Store Protein Balls
As you know, this recipe for energy balls will make about 12 of this protein packed snack. But when I make this recipe, I like to whip up a double batch so I have plenty of energy balls to eat throughout the week!
I find that having a healthy snack like this on hand makes it convenient to keep me on track. Also, my 2 year old loves 'em too.
So, don't be afraid to keep a bunch on hand! These no bake peanut butter protein balls will keep in an airtight container in the fridge for up to 2 weeks.
How To Freeze Protein balls
Now, you can also make a huge batch and freeze the rest of the energy balls so you can enjoy them whenever you have a sweet craving.
If you want to do that, transfer them to a freezer bag, squeeze all the extra air out before storing, and freeze for up to 3 months.
Then, to eat the energy balls, just let them chill at room temperature or until they're soft enough to bite into.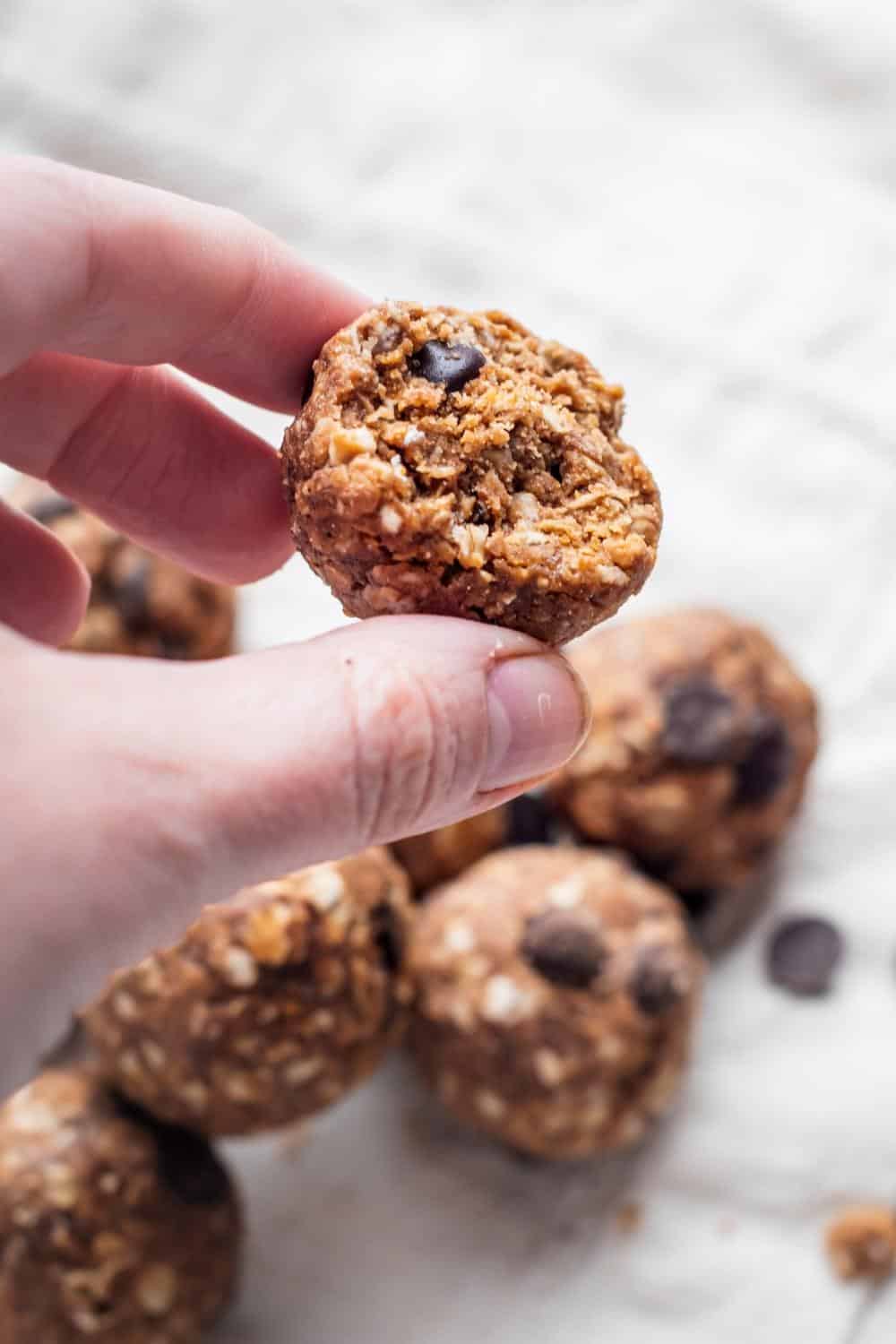 FAQs About This Protein Balls Recipe
Are protein balls good for you?
Generally, yes protein balls can be very good for you. As long as you're eating protein balls that are made with natural healthy ingredients and aren't made with too much sugar or processed add-ins. This recipe is the perfect example of a healthy protein balls recipe. It uses all nutrient-packed ingredients like nut butter, rolled oats, and protein powder.
What is the purpose of protein balls?
Protein balls are ideal for healthy snacking and make for a great dessert if you have a sweet tooth. They are a nutritious way to solve sugary snack cravings and give you extra energy. These energy balls are packed with healthy fats, fiber, and protein to keep you full and satisfied in between meals, improve your workout, or aid in recovery post-workout. Also, they're a popular alternative to the usual protein powder shakes as they deliver all the benefits of your favorite protein powder but in a delicious bite-sized form.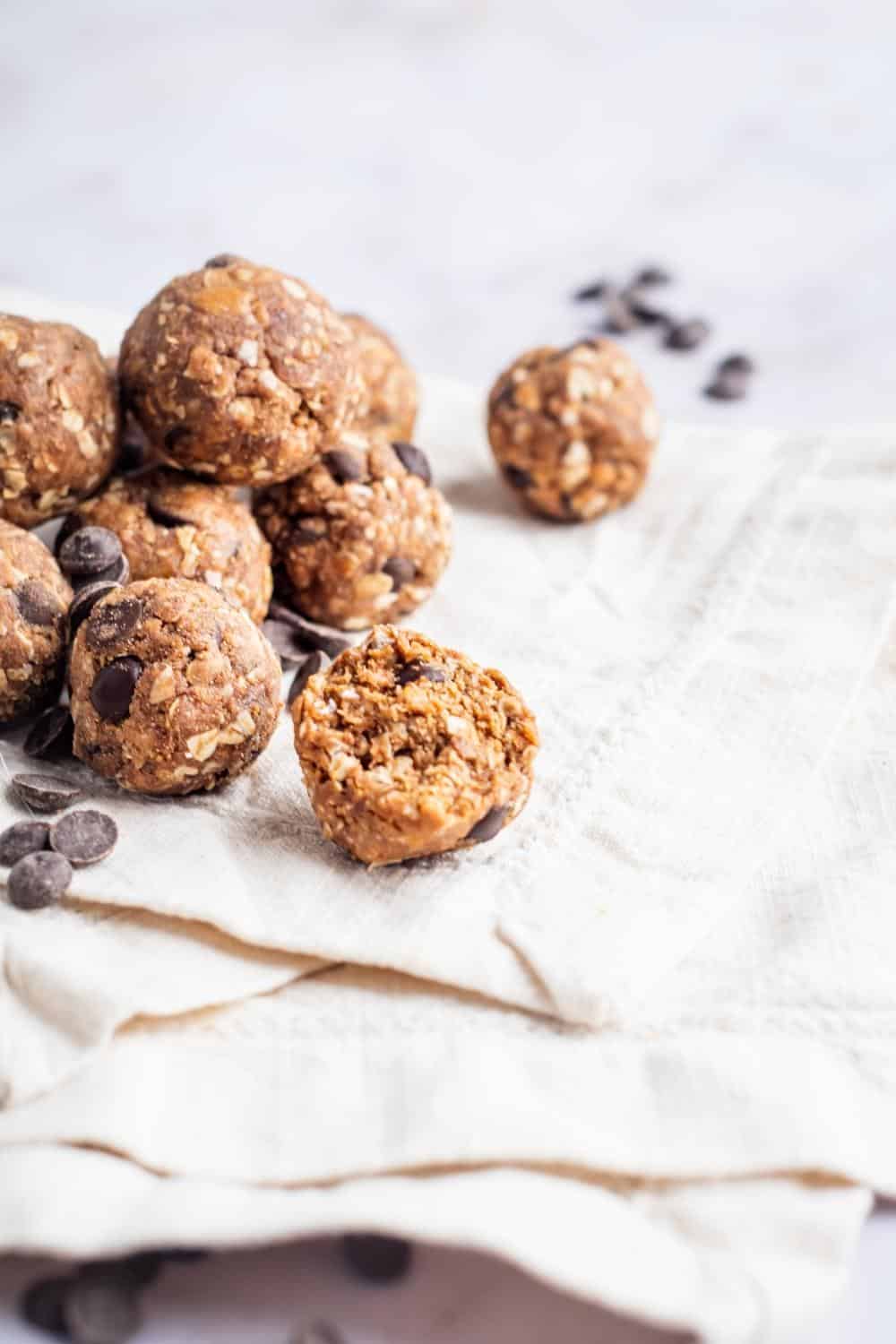 Wrapping It All Up
Well, that's how to make protein balls from scratch!
This energy balls recipe is probably one of my favorite quick and easy snacks to make whenever I need a boost throughout the day or am craving sweets.
They're quick & easy to make, incredibly tasty, and just so filling and satisfying. I know I'm biased, but I think this is one of the best protein ball recipes ever!
Anyway, I hope you enjoy these protein powder balls as much as I do.
Be sure to let me know in the comments what you think if you make them!
Oh, and for more delicious recipes like this one, be sure to check out my Youtube, TikTok, and Instagram page!
More Protein Recipes
By the way, if you're looking to add some more protein to your diet or just want some more delicious high protein recipes, I have a ton on the blog that you have to try next!
Check all of these out:
Print
Protein Balls Recipe Made In Only 5 Minutes
These chocolate peanut butter protein balls are chewy, chocolatey, and jam-packed with protein. You only need 5 ingredients and about 5 minutes to prepare them, and there's no baking required!
Author:
Prep Time:

5 minutes

Total Time:

5 minutes

Yield:

12 balls

Category:

Snack

Method:

Mixing

Cuisine:

Protein
Instructions
Combine all the ingredients in a bowl and mix until fully combined. 

Use a cookie scoop or a spoon to make the balls (about 12).

Refrigerate and store in an airtight container for up to 2 weeks.
Nutrition
Serving Size:

1 ball

Calories:

162

Fat:

11

Carbohydrates:

9

Fiber:

2

Protein:

10
Keywords: Protein balls, Peanut butter protein balls, Protein balls recipe, No bake protein balls, How to make protein balls, Energy protein balls, energy bites, energy bites recipe, how to make energy bites, how to make energy balls, easy protein balls, protein desserts, protein dessert recipes, protein recipes, protein powder recipes, protein balls no bake, protein balls peanut butter, protein balls with protein powder, protein balls for kids, protein balls recipe healthy, protein balls recipe with protein powder, protein balls recipe easy