These protein pancakes are a quick and delicious way to jump-start your day. They're made with protein powder and just 5 simple ingredients. Plus, they come out so pillowy and fluffy you'd never know they're healthy pancakes. Oh, and best of all, they're ready in about 15 minutes!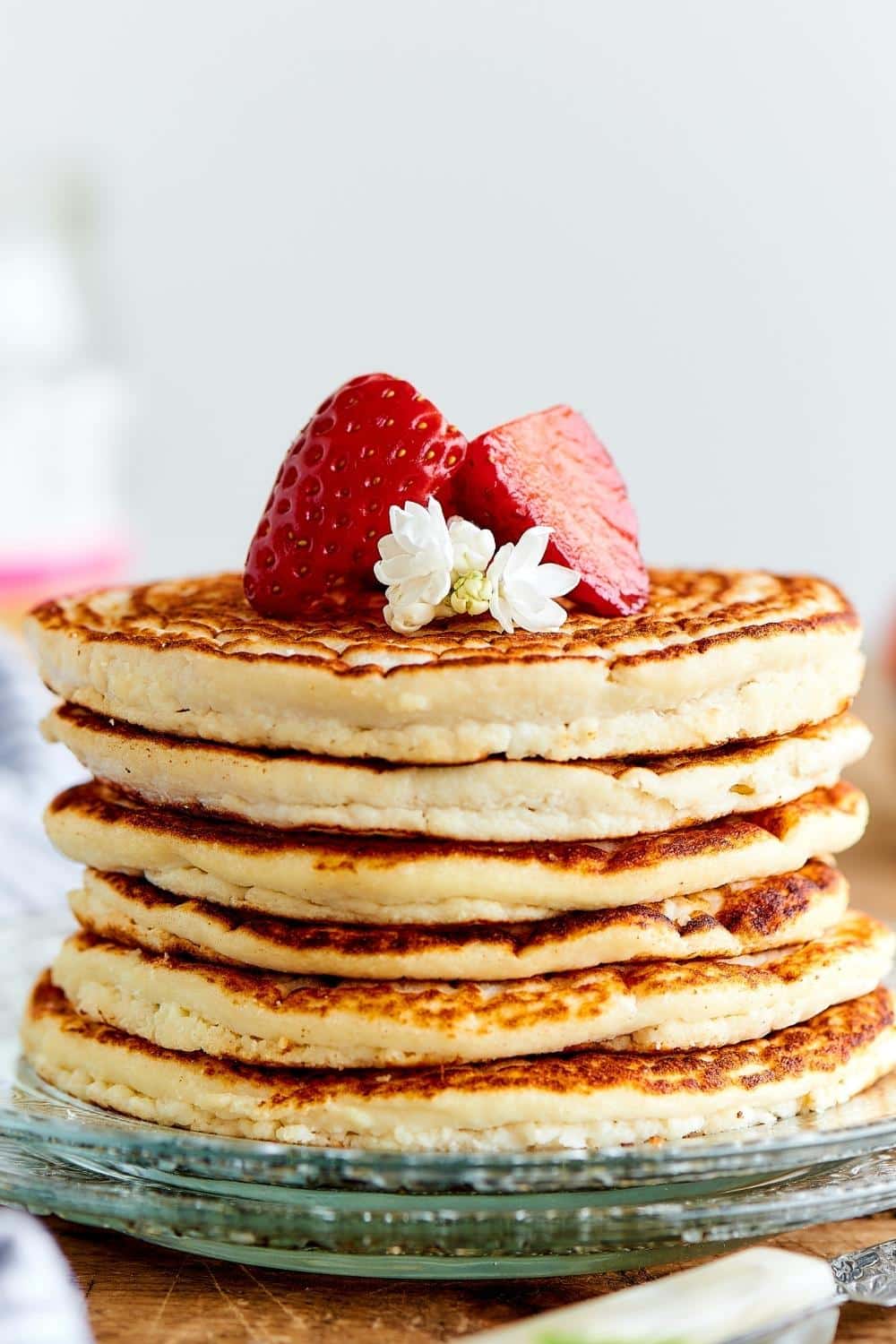 The Best Protein Pancakes
Now I don't know about you, but warm, freshly-made pancakes are definitely one of the first things I think of when it comes to a crave-worthy American breakfast.
But, of course, regular pancakes are packed with sugar and carbs, and not a lot of nutritional value. So, they aren't exactly the healthiest way to start your day.
And that's where these quick and easy high protein pancakes come in!
This tasty protein pancake recipe is made in minutes with your favorite whey protein powder and a few pantry staples. And, as I already mentioned, they come out incredibly soft and fluffy and taste just like buttermilk pancakes!
But, what really sets these protein powder pancakes apart from most other recipes is the high protein content - each pancake has over 20 grams of protein! Yep, these protein pancakes pack almost the same amount of protein as a scoop of protein powder!
So, if you're looking for a quick, tasty, and healthy breakfast recipe to switch up from your usual protein shakes, these protein pancakes are exactly what you need.
Speaking of protein shakes, if you're looking for a super tasty one, give this Oreo shake a try! It's absolutely ridiculous.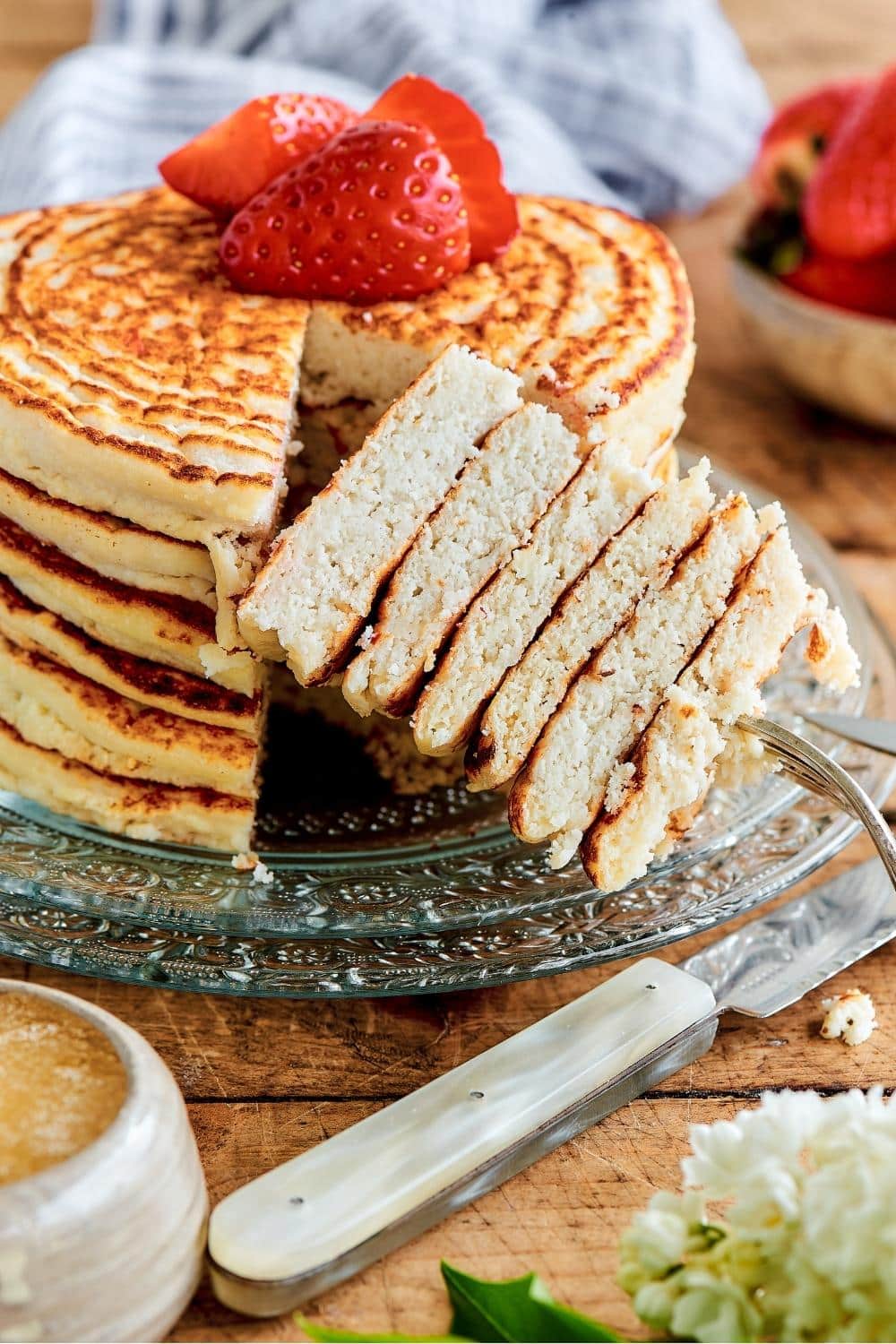 Ingredients
Now, the ingredients needed to make this protein pancake recipe are all basic ingredients and shouldn't be hard to find at your local grocery store.
Here's the full list of what you'll need to get these protein pancakes on your plate:
1 cup 1% fat small curd no salt added cottage cheese
6 egg whites
6 tablespoon coconut flour
1 scoop vanilla whey protein powder
1 teaspoon baking powder
1 teaspoon vanilla extract
Now, if you can't find the type of cottage cheese I listed here, you can use a cup of low-fat cottage cheese instead. Or, if that's not available, you can also use low-fat Greek yogurt. Both work great to get that classic fluffy texture.
By the way, you can also use most of these same ingredients for these protein waffles or these protein donuts so I highly recommend checking out those recipes out soon too! And you can even use the protein powder to make this protein coffee recipe or protein balls recipe next!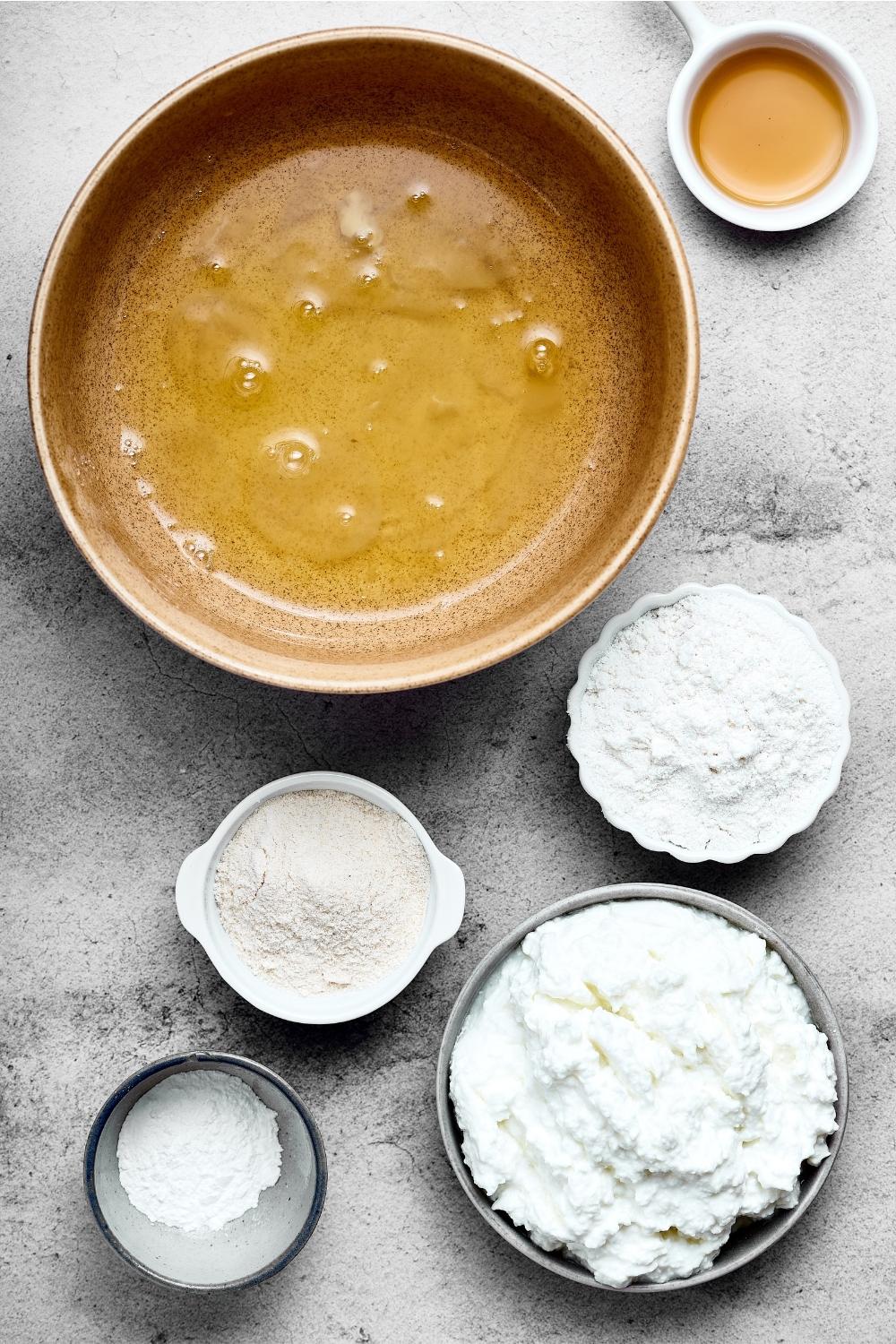 How to Make Protein Pancakes
Making this protein pancake recipe couldn't be simpler.
The pancake batter is made in a blender and the pancakes cook up in about 5 minutes. I also have a video of this recipe up on my Youtube channel if you want to follow along.
Anyway, here are the step-by-step instructions on how to make these protein pancakes.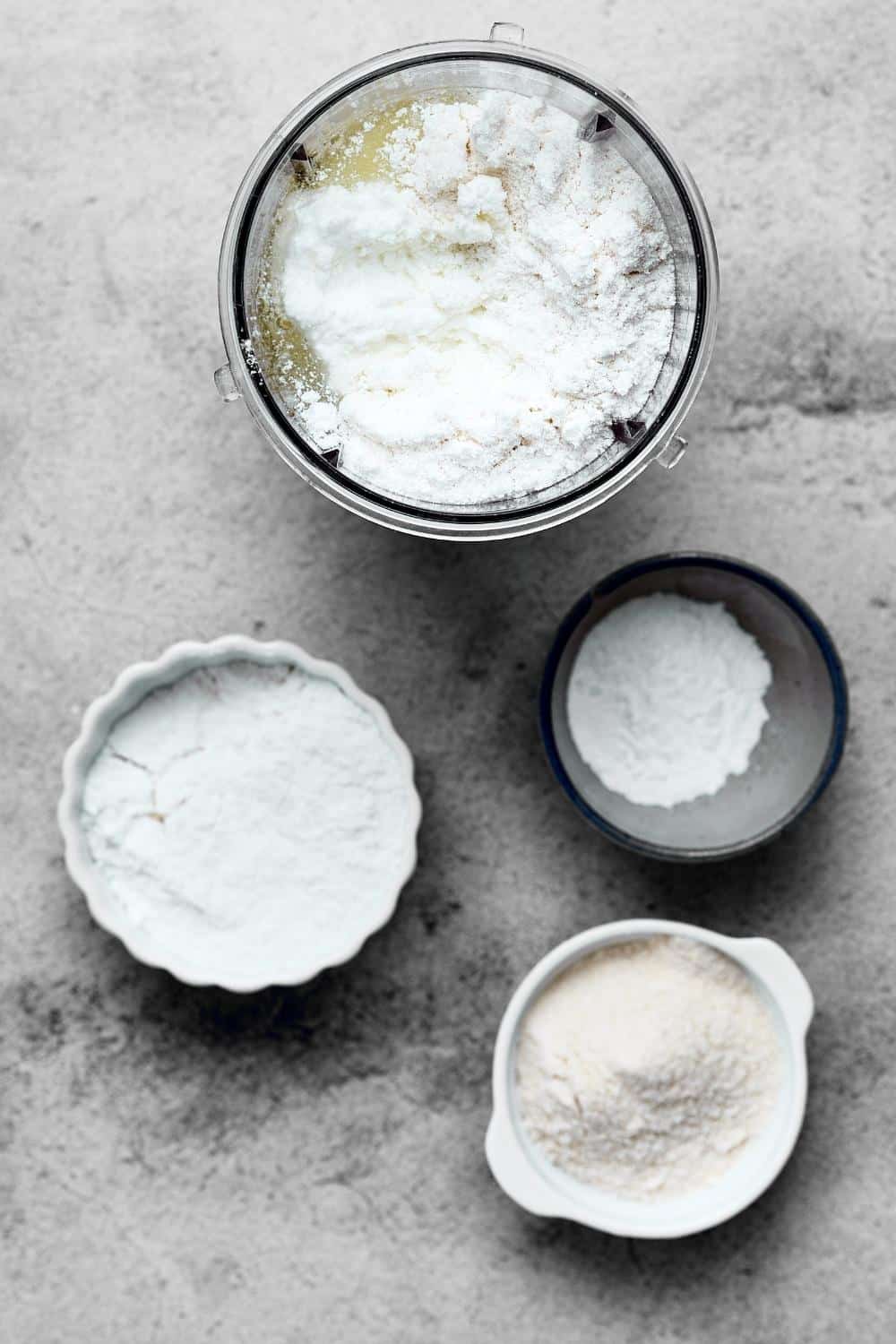 Step 1: Make the Protein Pancake Batter
First, put all the ingredients into a blender. That would be your egg whites, cottage cheese, vanilla extract, coconut flour, whey protein powder, and baking powder.
Then, start pulsing your blender to combine the ingredients until smooth. Also, since the pancake batter is going to be really thick, I recommend you use a rubber spatula in between pulses to help evenly combine the ingredients.
Having said that, your pancake batter is ready when it's smooth and thick with no lumps.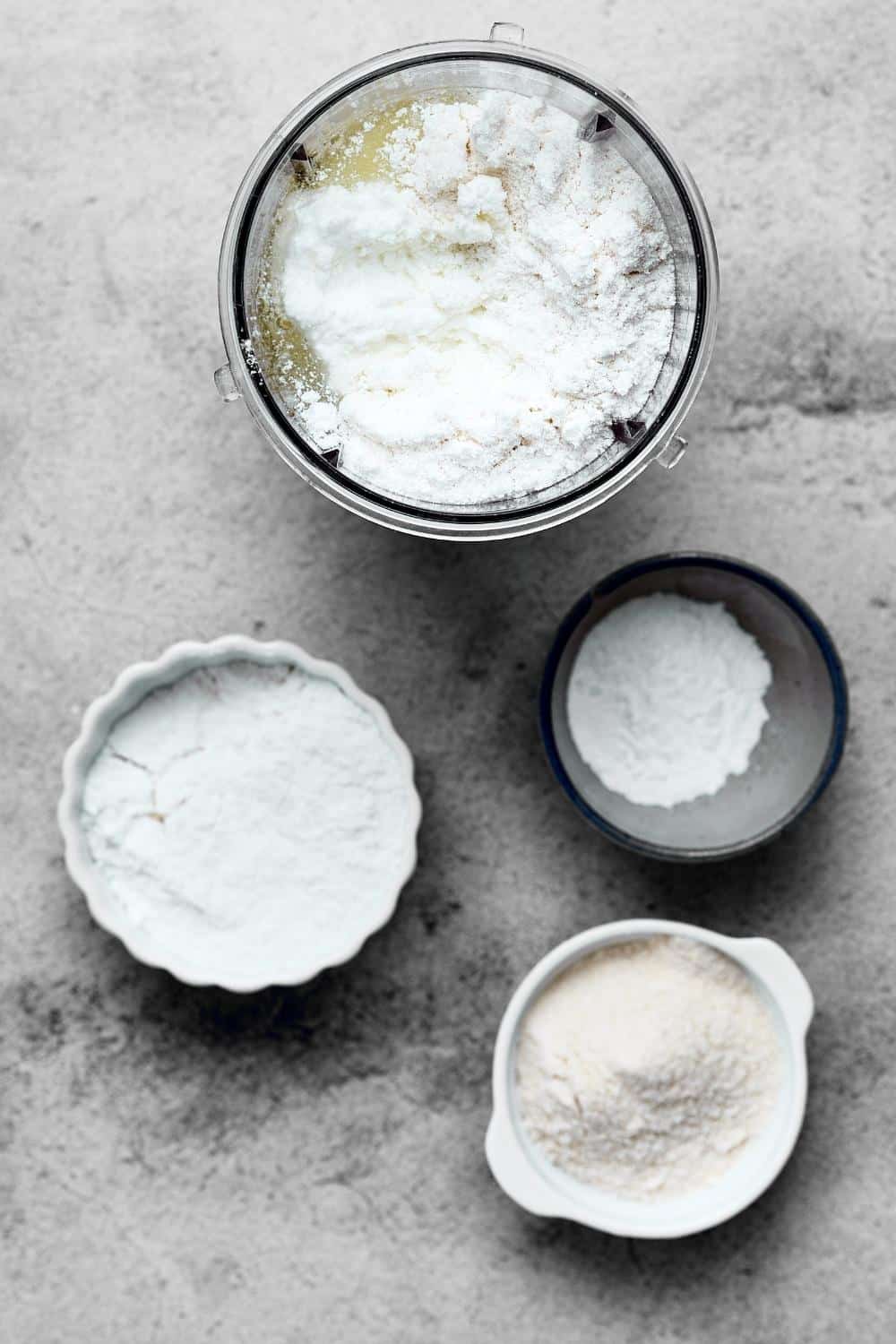 Step 2: Prep To Cook The Protein Pancakes
Next, pour your pancake batter into a medium-sized bowl. Because the batter is super thick, it can be a pain to try and pour it directly from the blender and a bowl will make it a lot easier to pour your pancakes into the pan.
Now, to cook the protein pancakes, grab a pan and spritz some non-stick spray on it. Then, turn your stove up to medium-high heat.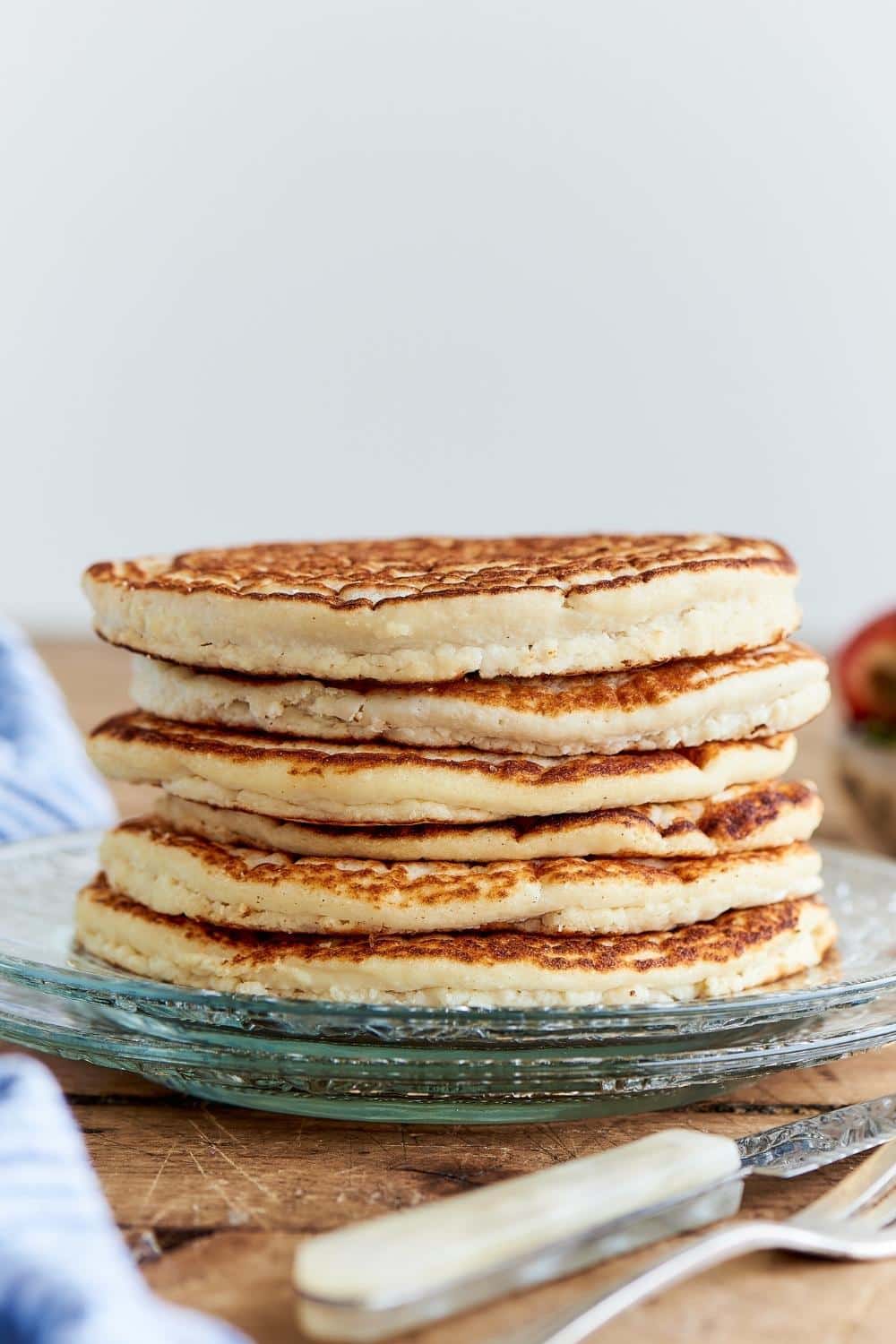 Step 3: Cook The Protein Pancakes
Ok, now you can pour the pancake batter into the pan.
I usually like doing one huge pancake, but this recipe can make a stack of 4 medium-sized pancakes if that's more your style.
You'll know your pancakes are ready on one side when bubbles start to form on the top. Then, just flip and cook for another 2-3 minutes before removing it from the pan.
And that's it! Your protein pancakes are ready!
You can top these protein pancakes with some butter and my sugar free maple syrup for the best results. They come out perfectly sweetened, fluffy, and moist. Serve and enjoy!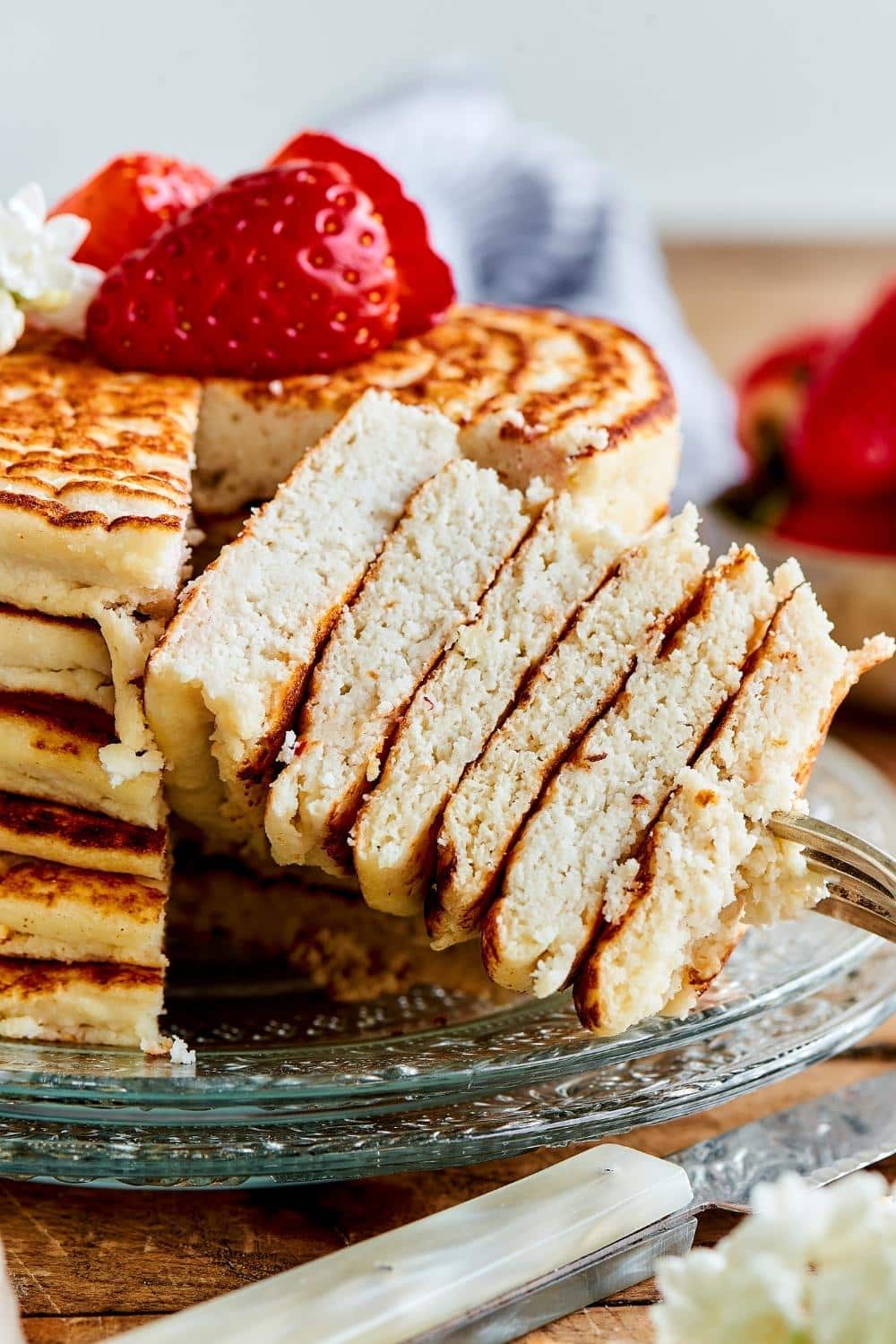 How to Store Protein Pancakes
As I mentioned, this protein pancake recipe makes 4 pancakes. And these protein pancakes are designed to be stored and easily reheated, making them a fantastic choice for meal prep if you have a busy morning routine. So I highly recommend that you double or triple this recipe when you're making it.
The best way to store these protein pancakes would be to put them in an airtight container in the fridge. Stored this way, your protein pancakes will stay good for up to 3 days.
Then, to warm them up, just pop however many pancakes you want in the microwave one at a time for about 15 seconds.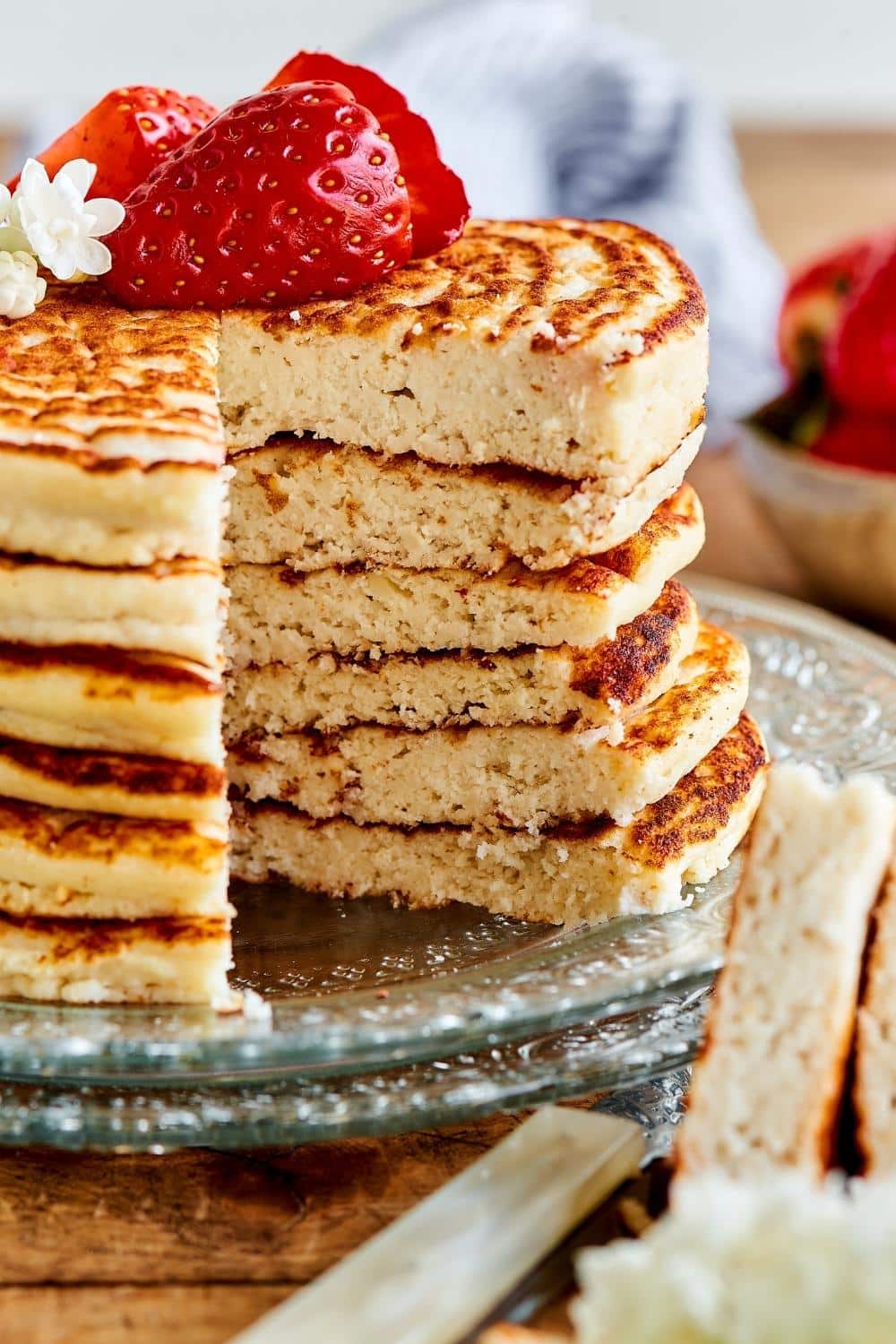 How To Freeze Pancakes
Ok, so if you want to meal prep - and store these pancakes even longer - you can make a double or triple batch as I mentioned earlier. Then, you can store the cooked pancakes in the freezer, and they'll last for up to 2 months.
Having said that, the best way to freeze them is to put the pancakes on a baking tray, flash freeze them until solid, and store 'em in a freezer-safe bag.
Then, when you want to enjoy a frozen pancake, either thaw it in the fridge, warm it up in the microwave, or heat it in the toaster oven.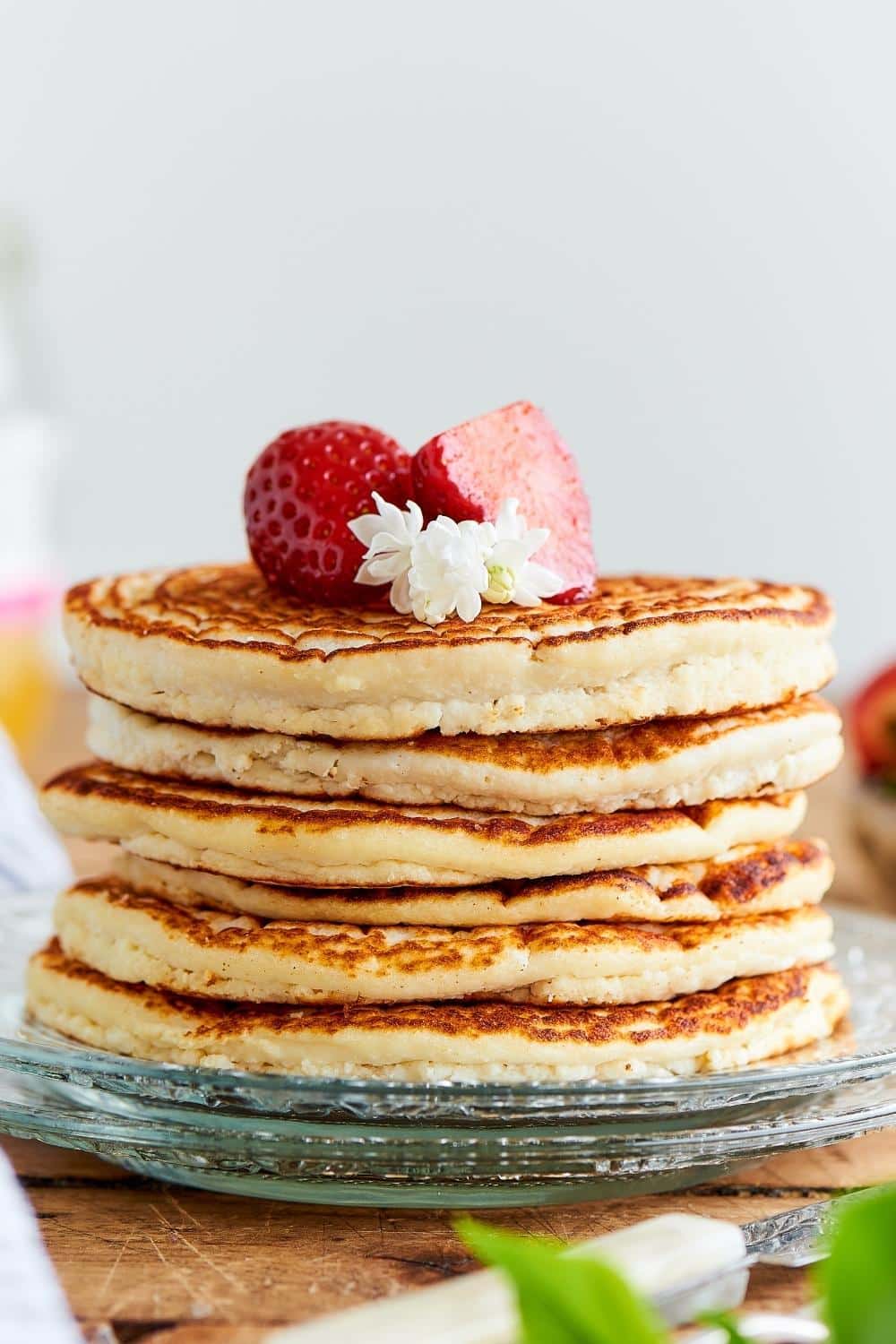 Wrapping It All Up
Well, that's how to make protein pancakes!
These pancakes are a fantastic way to turn your favorite sweet breakfast option into a healthier and more satisfying one.
A stack of these healthy pancakes will make you feel full until lunchtime - even if you're a super-early riser - and they'll also give you a huge boost of protein to kick off your day.
Plus, you can easily make large batches of it and have protein powder pancakes for the week!
Anyway, I hope you like these protein pancakes as much as I do. If you make them, be sure to let me know in the comments what you think.
And of course, don't forget to check out my Youtube channel or Instagram page for more high protein recipes like this.
Oh, and if you're trying to bulk up and gain some muscle, I recently put together a list of the best protein powder for weight gain. So give that a look if you're trying to add some size.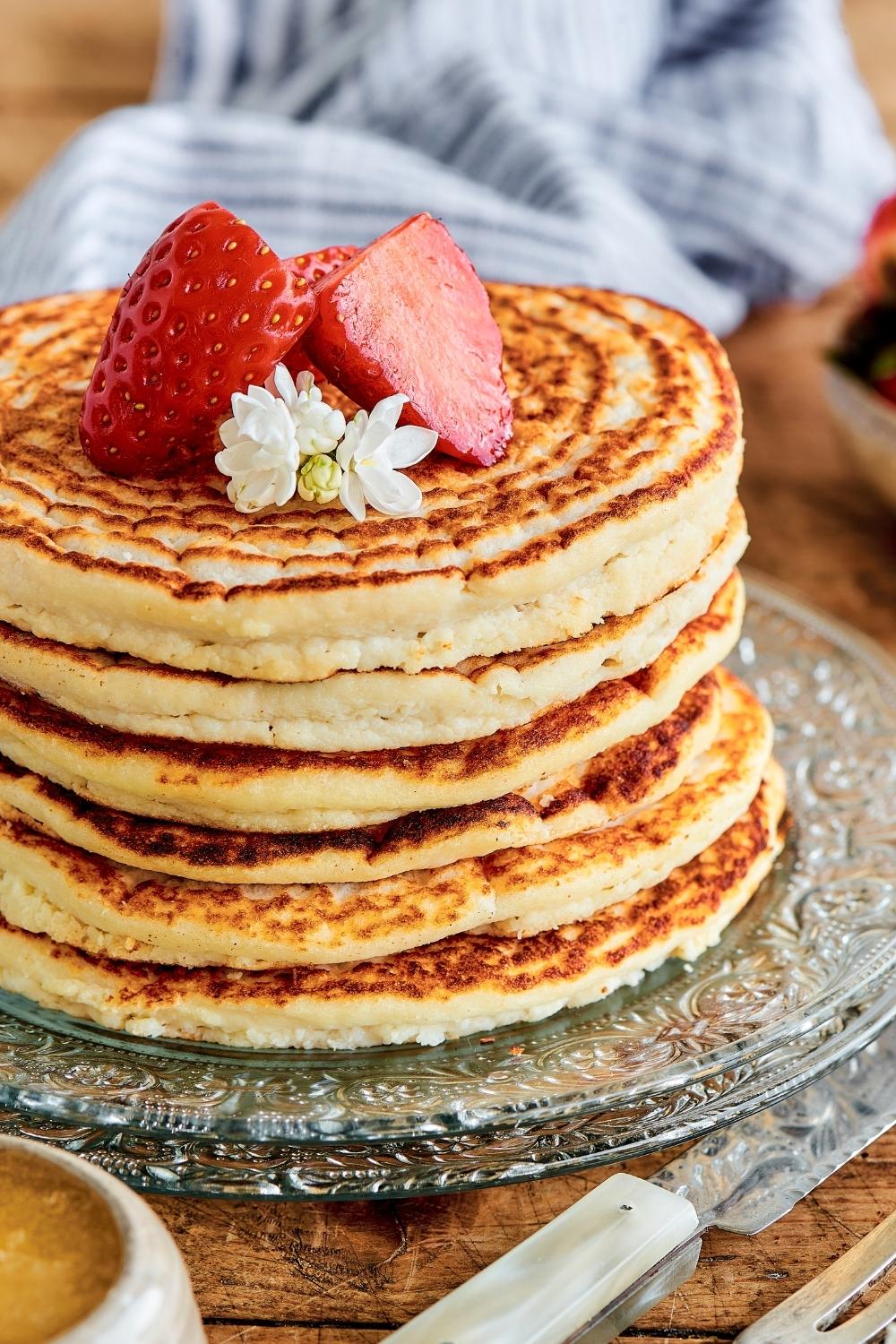 More Protein Recipes
If you want even more recipes that are packed with protein, I have a ton of high protein recipes that I think you'll enjoy just as much.
Print
Protein Pancakes | Over 20 Grams Per Pancake
These protein pancakes are a quick and delicious way to jump-start your day. They're made with protein powder and just 5 simple ingredients. Plus, they come out so pillowy and fluffy you'd never know they're healthy pancakes. Oh, and best of all, they're ready in about 15 minutes!
Author:
Prep Time:

5 minutes

Cook Time:

10 minutes

Total Time:

15 minutes

Yield:

4

pancakes

1

x
Category:

Breakfast

Method:

Stovetop

Cuisine:

American
Instructions
Add all ingredients to your blender. B

lend until smooth

Once smooth turn your stove up to medium heat, coat a pan with baking spray, and add your batter.

Cook the pancake for a few minutes and flip once bubbles start to appear on the top of your pancake

Cook for another 2-3 minutes and remove from the pan. Top with my sugar free maple syrup and enjoy!
Nutrition
Serving Size:

1 serving

Calories:

181

Fat:

4

Carbohydrates:

16

Fiber:

8

Protein:

21
Keywords: Protein pancakes, Protein pancakes recipe, Protein powder pancakes, How to make protein pancakes, protein pancake recipe, easy protein pancakes, protein powder pancakes, protein powder pancake recipe, best protein pancakes. protein pancakes with protein powder, protein pancakes recipe with protein powder, protein pancakes recipe low calorie, protein pancakes recipe easy