This chocolate protein mug cake has a soft, gooey texture and a decadent chocolatey flavor with melty chocolate chips stuffed throughout. It's a healthy treat that's super easy to make and has over 25 grams of protein!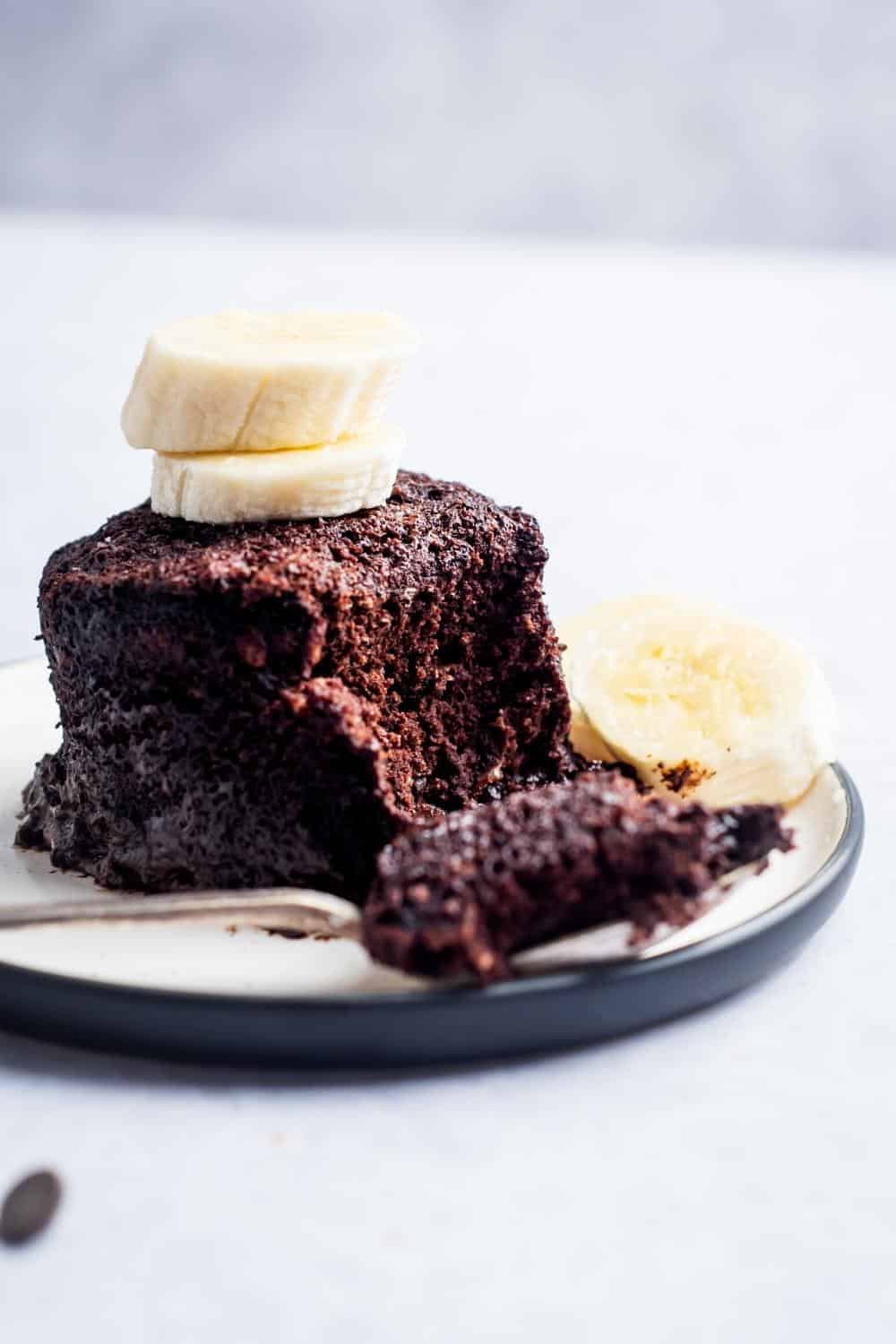 The Best Protein Mug Cake
Whether you're looking for a high-protein post-workout snack - or just want to satisfy your chocolate cravings in a healthy way - this chocolate protein mug cake recipe is for you.
It's made with chocolate protein powder, cocoa powder, and chocolate chips for the richest and most decadent chocolate experience with a nice protein boost all in one. In fact, this chocolate protein mug cake recipe has less than 10 ingredients and is done in just 5 minutes from start to finish.
Even better yet, this protein powder mug make is basically an easier and healthier chocolate cake. And it's way quicker to make too - since it only takes 1 minute to cook up! Plus, not only is it super high in protein with 26 grams for the entire mug cake, it's pretty low calorie too - it has only 187 calories!
By the way, if you want to try more healthy mug cake recipes, I have a ton of other mug cakes you can try - like this chocolate peanut butter mug cake and this Oreo mug cake.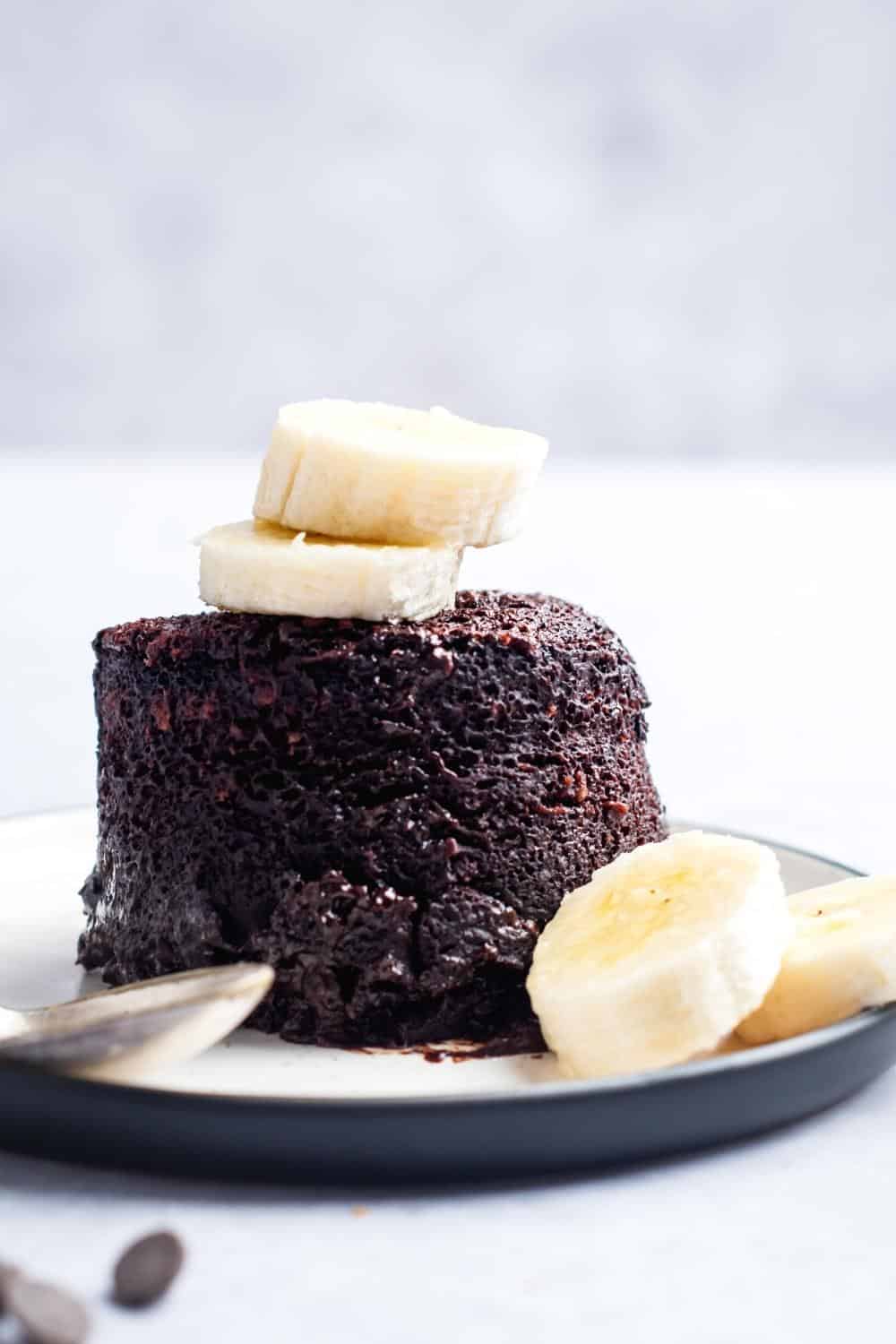 Ingredients
So, as I alluded to earlier you only need about 8 ingredients to make this chocolate mug cake recipe.
And a lot of these are common baking staples so you should be able to pick up everything you need with no problem. In fact, I wouldn't be surprised if you have all the ingredients already!
With that said, here's everything you'll need to make this chocolate mug cake recipe:
3 tbsp. Oat Flour

1 Scoop Chocolate Protein Powder

1 tbsp. Sugar Free Sweetener

2 tsp. Unsweetened Cocoa Powder

¼ cup Unsweetened Almond Milk

½ tsp. Baking Powder

¼ cup Dark Chocolate Chips

Banana to serve (optional)
By the way, you'll notice there are no eggs in this recipe. Although eggs are a good source of protein, they have a tendency to make mug cakes spongey or rubbery.
Skipping the eggs also saves you the trouble of having to split a beaten egg in half to make a small protein mug cake. And as a bonus, it makes this a vegan protein mug cake as well - just make sure to use vegan chocolate chips!
Also, if you stock up on the chocolate protein powder, you can use it to make my peanut butter protein cookies, this low carb Wendy's frosty, this protein shake for weight loss, or even these protein waffles next! All of these are super high in protein and super delicious.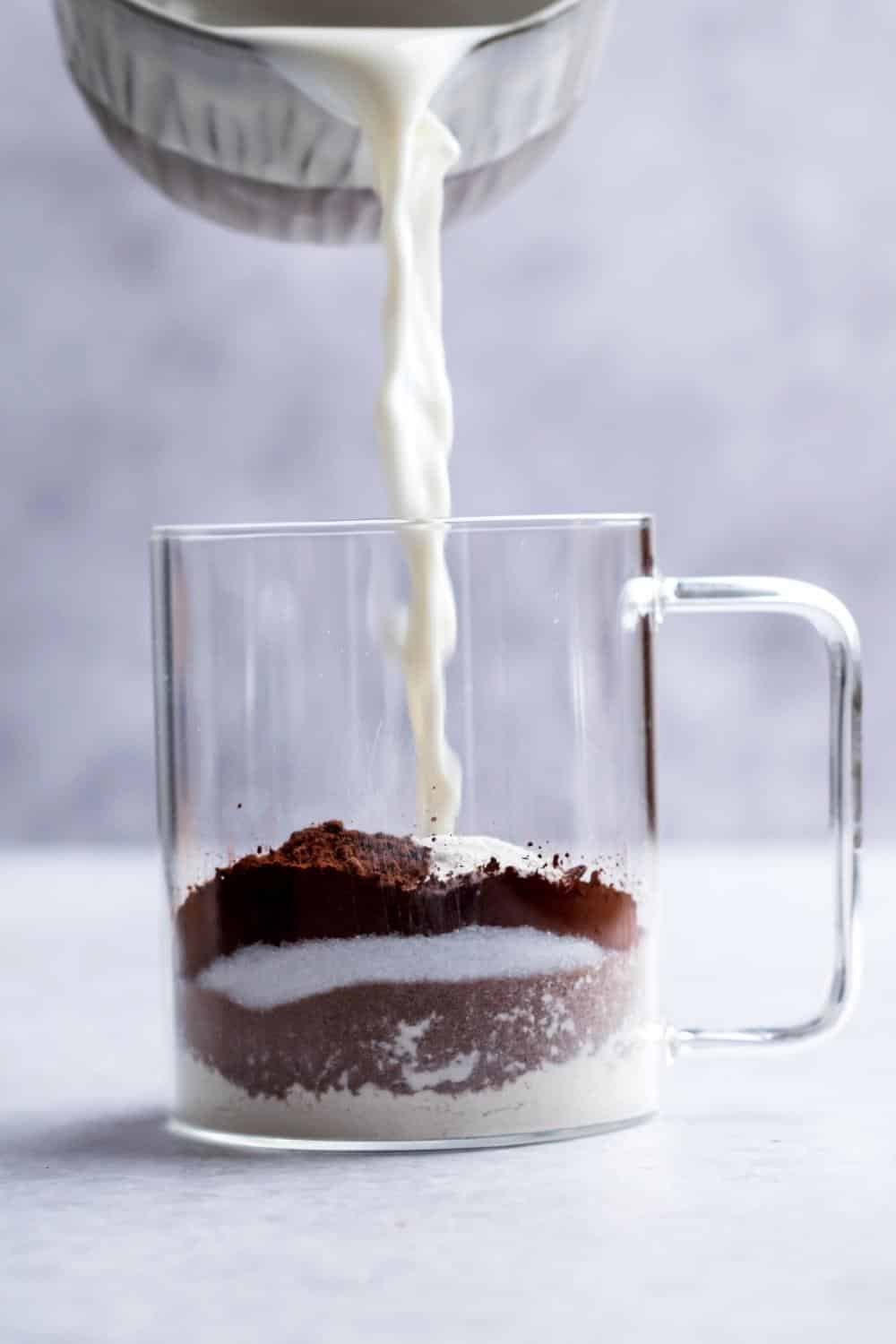 How to Make Protein Mug Cake
Again, one of the things that make this protein mug cake such a great snack recipe is how easy it is to make!
It seriously could not be any easier and is as quick as a decadent dessert gets.
So, let's not waste any more time and get into this recipe!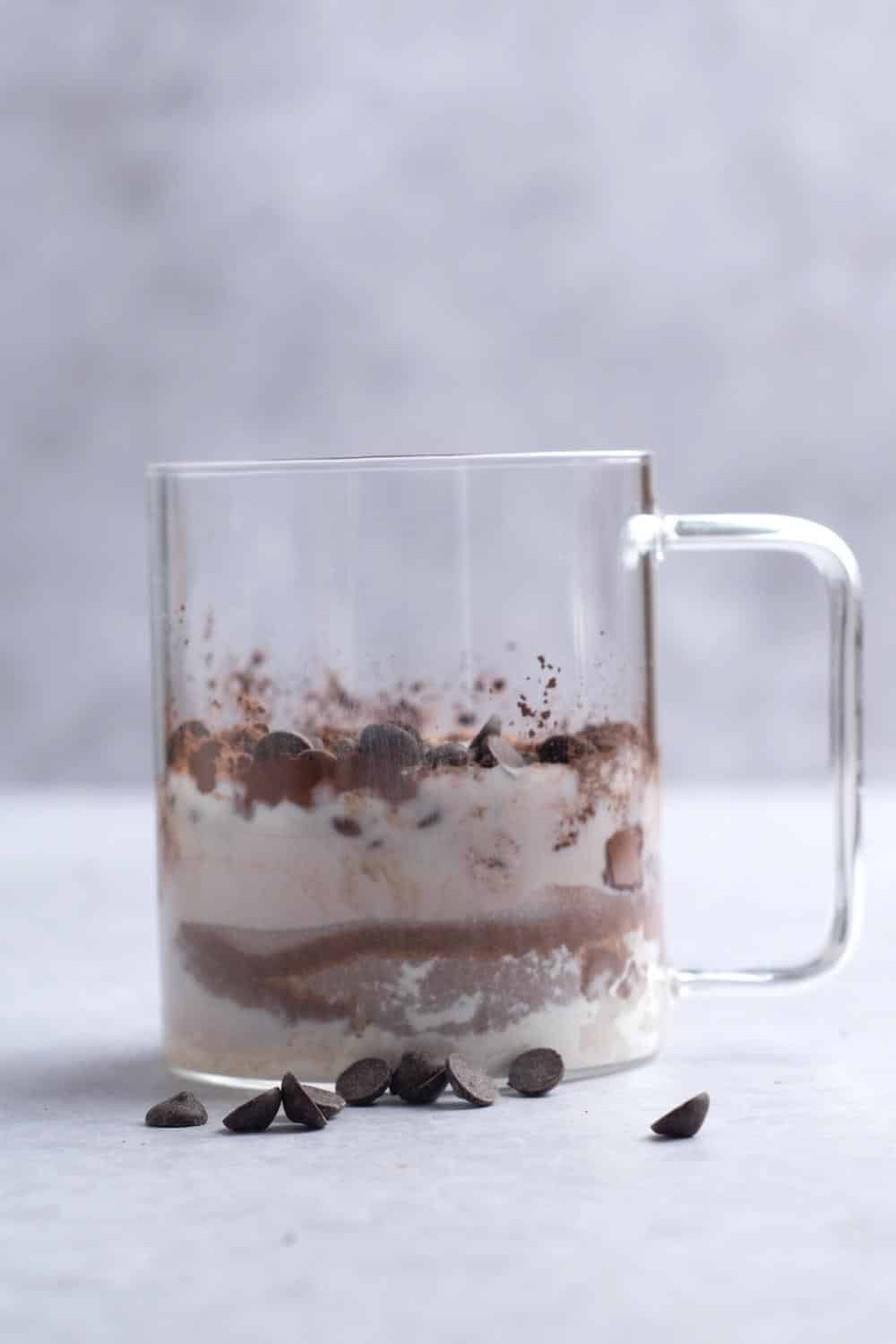 Step 1: Mixing the Ingredients
First things first, make sure the mug you use for your protein mug cake is microwave safe.
Your mug should also be big enough to accommodate the cake rising as it cooks in the microwave. You'll need a capacity of about 1½ cups (12 oz.) or more. And you can also use a ramekin if you don't have a mug.
Now, combine the oat flour, chocolate protein powder (I used whey protein powder), sugar free sweetener such as erythritol, unsweetened cocoa powder, unsweetened almond milk, baking powder, and dark chocolate chips in the mug.
Next, mix everything together with a fork until smooth and well-combined.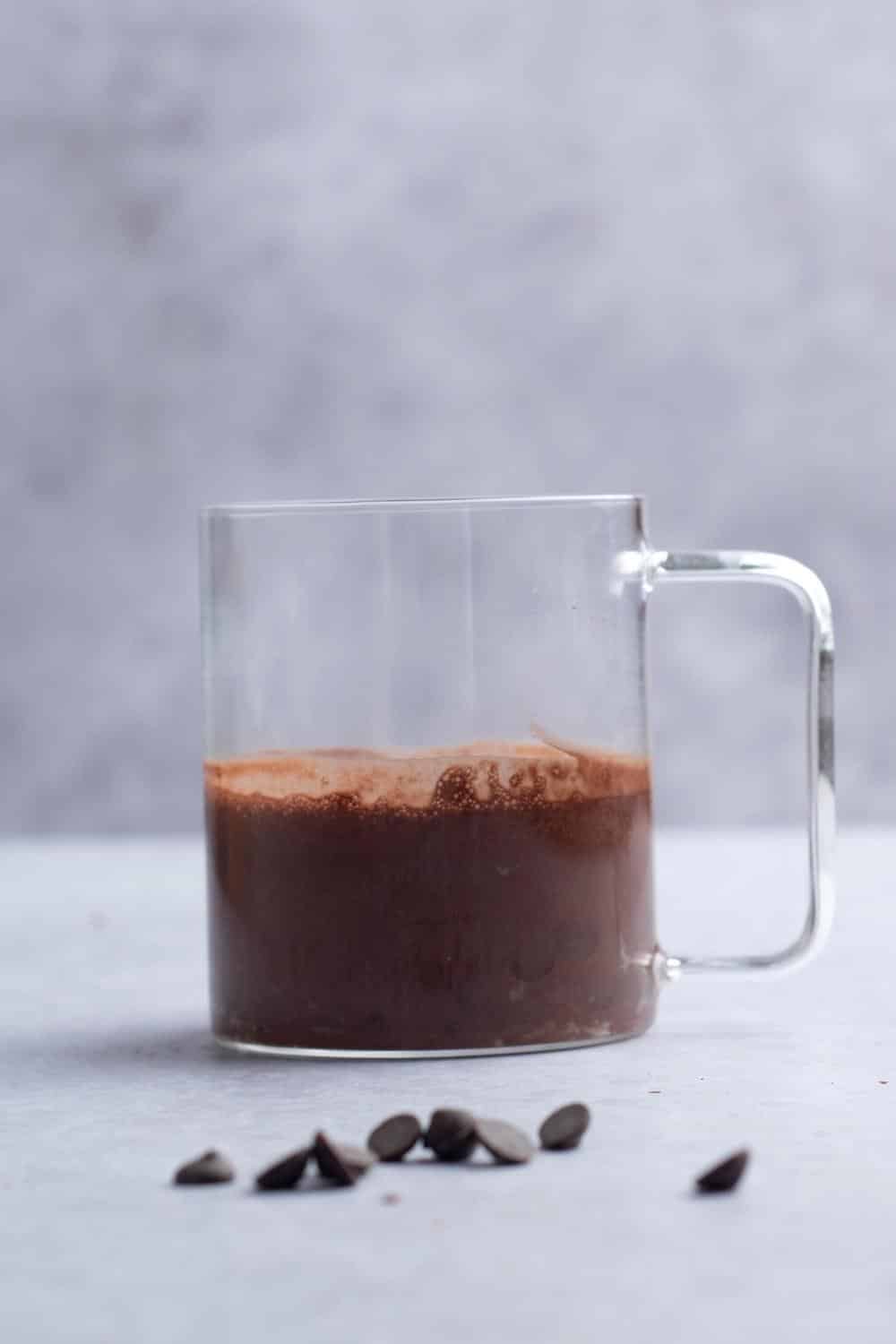 Step 2: Cooking the Mug Cake
Once your mug cake batter is ready, pop the mug in the microwave and heat it in 1-minute increments until cooked. You'll know your mug cake is ready when you insert a toothpick into the center and it comes out clean.
In my microwave, this took about 4 minutes, but that could be different for you depending on the power of your microwave.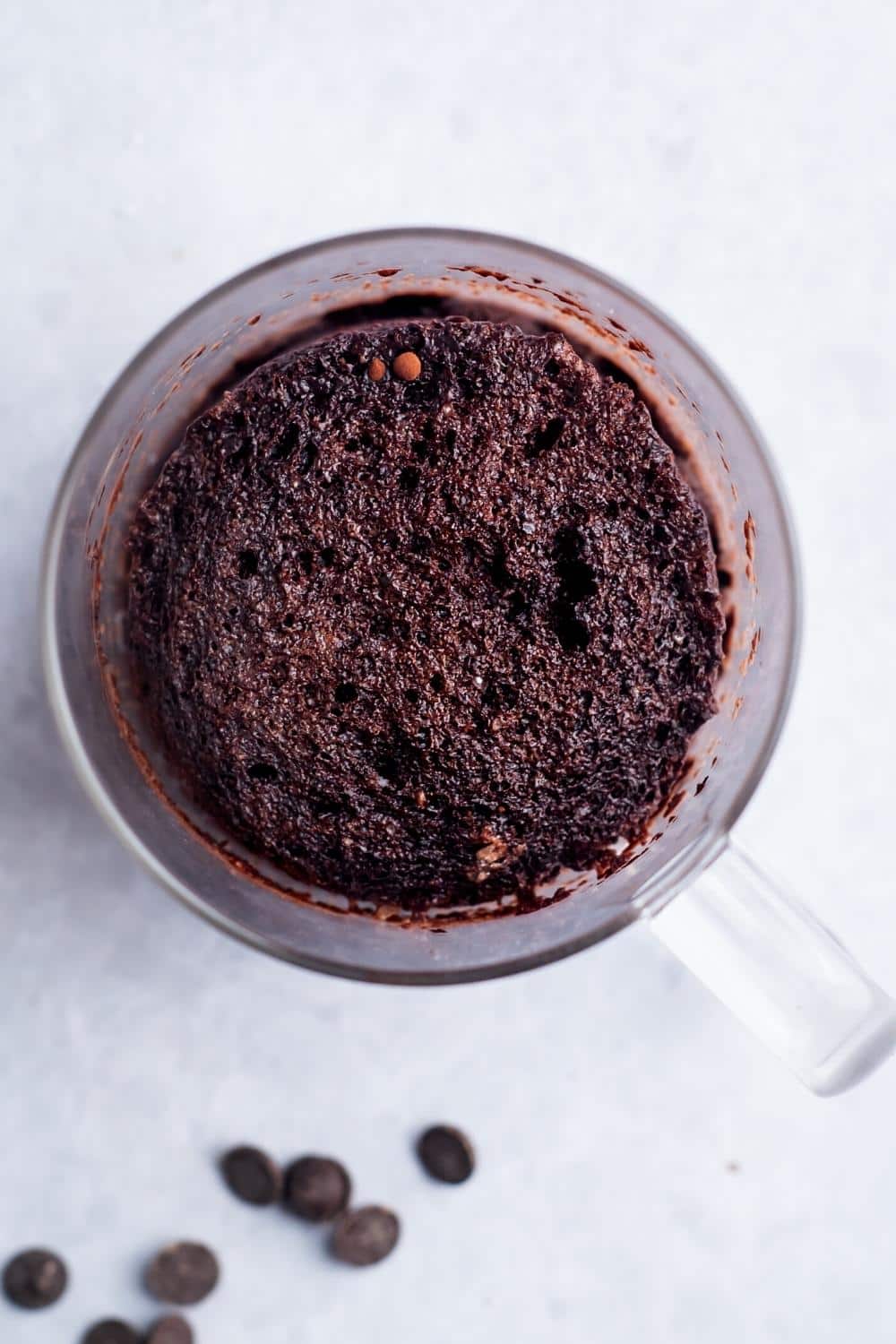 Step 3: Serving
After the mug cake cooks, give it a couple of minutes to cool and serve!
You can eat it directly from the mug or if you want to get fancy with it, transfer the mug cake to a plate and serve it as a mini chocolate cake.
You can take the mug cake out of the mug by gently running a thin knife along the sides, then flip the cake onto a serving dish. I like to slice up a banana and serve it alongside the mug cake, but you can also top it off with some whipped cream or some of this sugar free caramel sauce.
Enjoy!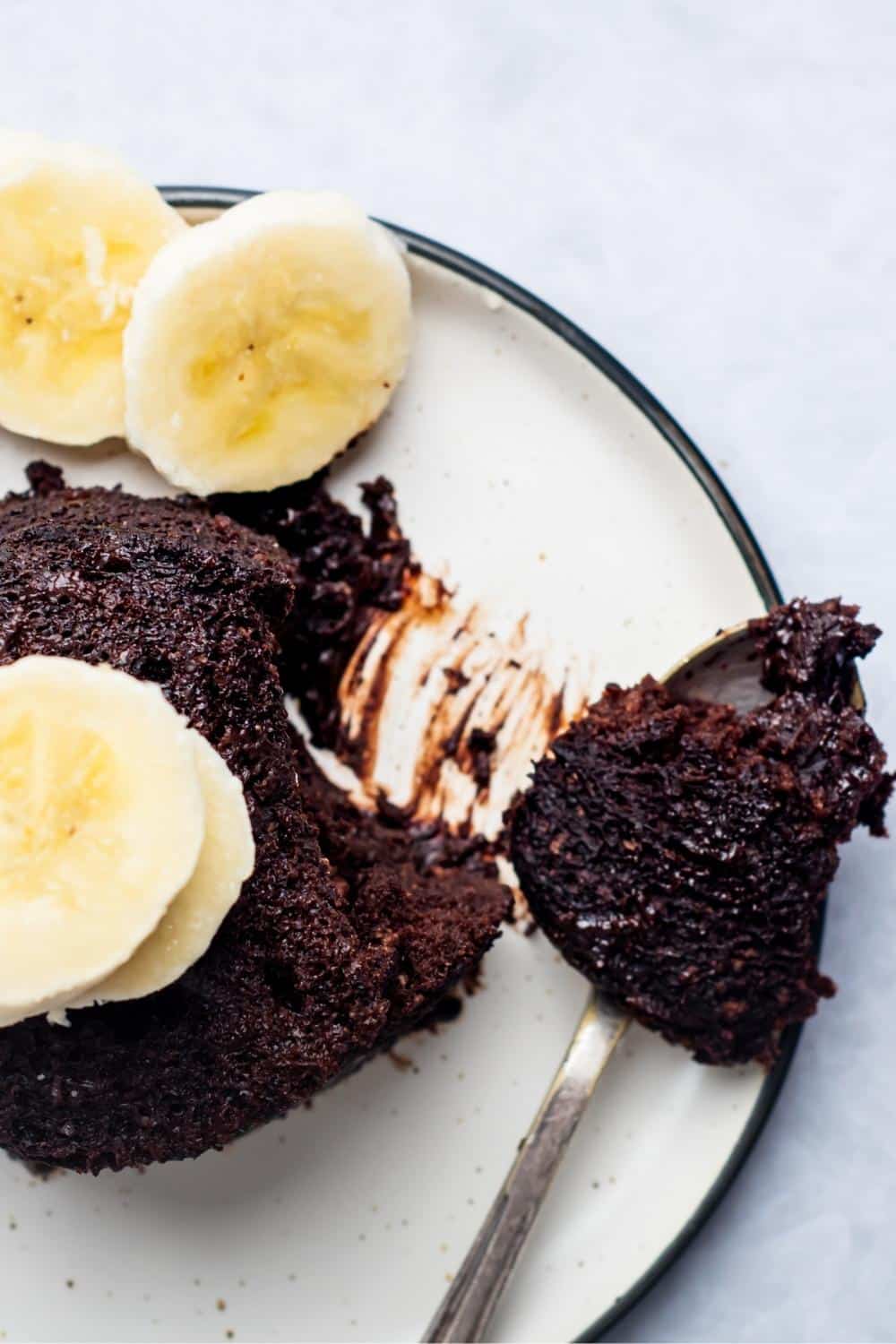 How to Store This Protein Mug Cake
This protein mug cake will make one perfect serving, so odds are you'll finish it off in one sitting.
But if you don't this mug cake is still a cake, so you can store it like one. To store, let the mug cake cool completely and then you can either transfer it to an airtight container or wrap the mug tightly with plastic wrap.
Then you can store the cake at room temperature for 24 hours for the best leftover experience, but it will last up to 3 days.
Oh, and if you want to make a few of these protein mug cakes at once, you can store them in the freezer to have on hand at a moment's notice.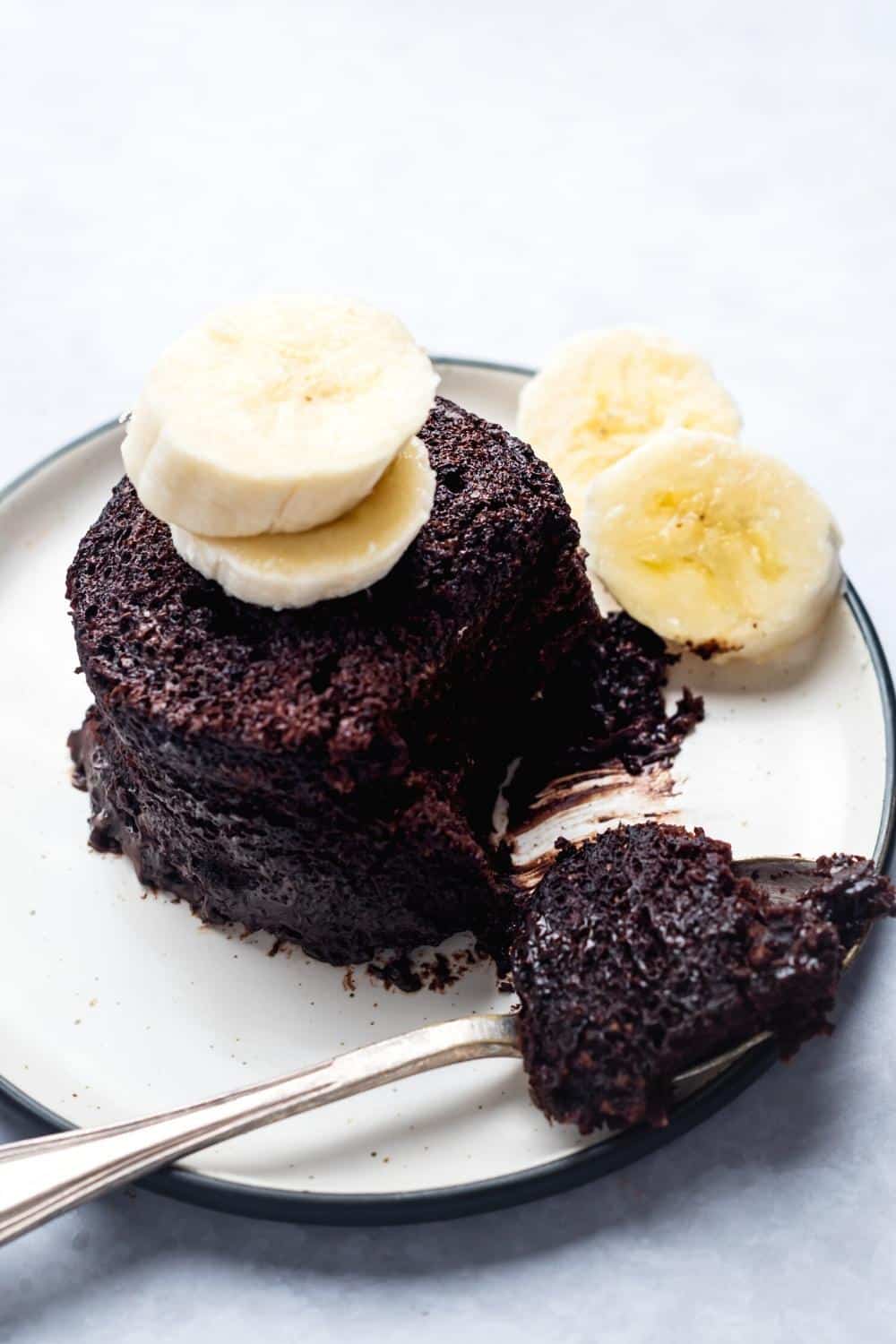 Wrapping It Up
And there you have it. That's how to make a protein mug cake in just 5 minutes!
Whether you have it as a post-workout snack, quick breakfast, or healthy dessert, this protein mug cake will make your tastebuds sing and leave you satisfied.
So, whenever you're craving a rich, chocolatey treat to eat while keeping it healthy, you know exactly what recipe to make.
Anyway, I hope you enjoy this protein mug cake as much as I do.
If you make this recipe, leave a comment below and let me know how it went!
By the way, if you're looking for some of the best protein bars you can buy at the store, check out my list of the best protein bars for weight loss.
Also, if you're looking for a couple of other high protein breakfast ideas, give these blueberry protein muffins, these protein pancakes, or this protein coffee recipe a shot next!
Oh, and if you're trying to put on a bit of muscle I recently put together a list of the best protein powders for weight gain - so give that a look.
Lastly, as always check out my YouTube channel and Instagram page for a bunch of other delicious recipes. I post new ones on them weekly.
Print
Protein Mug Cake
This chocolate protein mug cake has a soft, gooey texture and a decadent chocolatey flavor with melty chocolate chips stuffed throughout. It's a healthy treat that's super easy to make and has over 25 grams of protein!
Author:
Prep Time:

5 minutes

Cook Time:

5 minutes

Total Time:

10 minutes

Yield:

1 serving

Category:

Dessert

Method:

Microwave

Cuisine:

High Protein
Instructions
Combine all ingredients in a microwave-safe mug and mix until well combined.

Heat in 1-minute increments in the microwave or until a toothpick comes out dry (it took 4 minutes for me).

Serve directly in the mug or transfer to a plate and enjoy!
Nutrition
Serving Size:

1 serving

Calories:

187

Fat:

3

Carbohydrates:

15

Fiber:

3

Protein:

26
Keywords: protein mug cake, Protein powder mug cake, Protein mug cake recipe, chocolate chip protein mug cake, chocolate banana protein mug cake, best chocolate protein mug cake, high protein desserts, high protein dessert, high protein baked goods, healthy mug cake, healthy chocolate mug cake, protein powder recipes, Protein powder recipes, Chocolate protein mug cake