This easy protein coffee recipe is packed with over 20 grams of protein and creamy iced coffee goodness. It's made with your favorite cold brew and protein powder and it's ready in just minutes! And, honestly, after you try this recipe you'll never want to make your iced coffee any other way!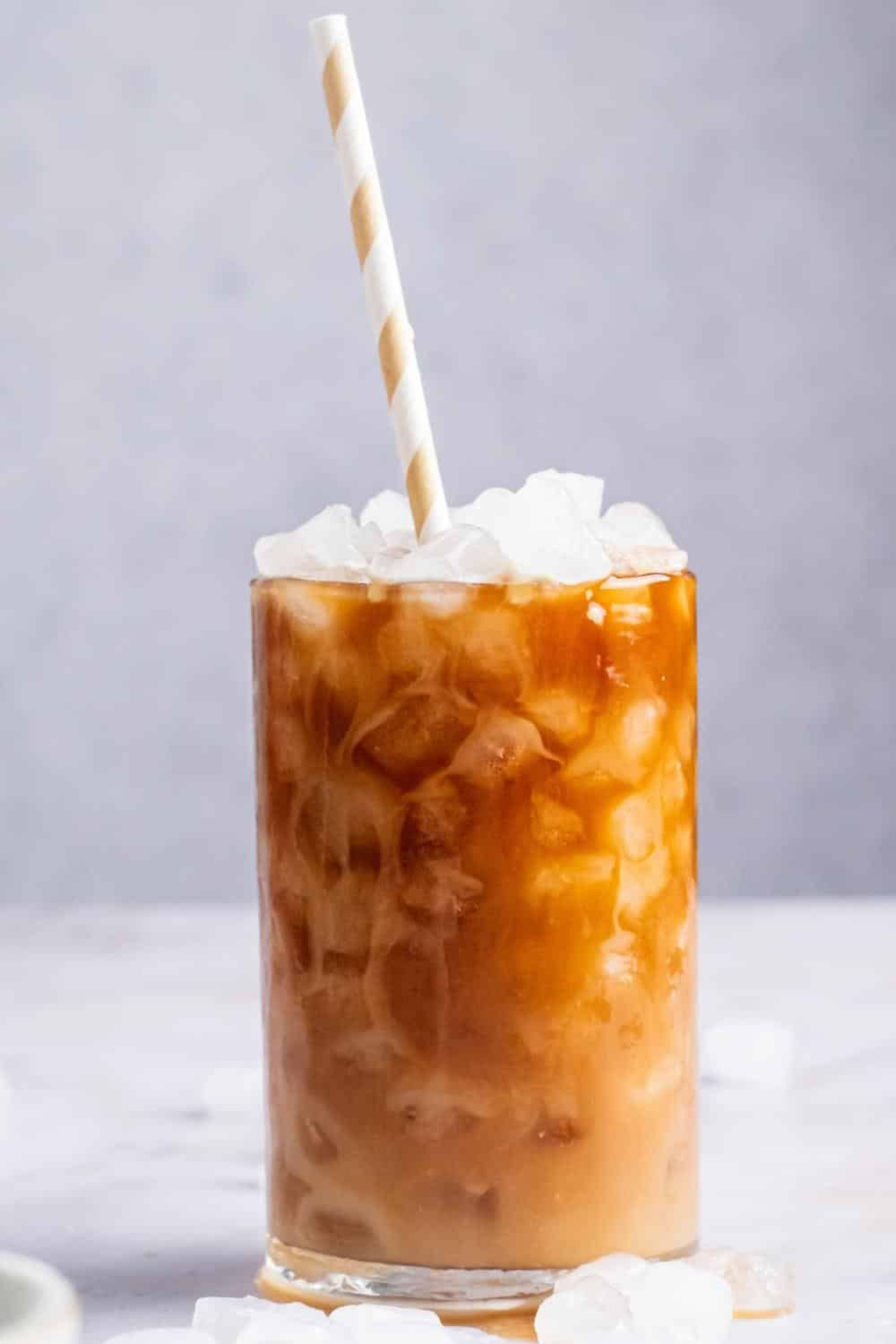 The Best Protein Coffee Recipe
If you didn't think your morning coffee could get any better, this protein coffee recipe will blow your mind!
This healthy high protein drink gives you all the deliciousness of iced coffee with about 25 grams of protein, depending on the protein powder you use! So it's ideal for upping your protein intake first thing in the morning.
On top of that, it's insanely delicious! Protein coffee is a cross between a smooth cold brew coffee and a protein shake that tastes like a lightly sweet vanilla iced coffee you would get from a cafe.
Oh, and for a high protein breakfast, this iced protein coffee goes really well with these protein waffles, or these protein pancakes!
Why This Recipe Works
Quick and easy. You can make this protein coffee in just 1 minute, and all it takes is a little mixing.
It's loaded with protein. There's 25 grams of protein in this coffee, which is more than most protein shakes.
Simply delicious. It's so smooth, creamy, bold, and so tasty.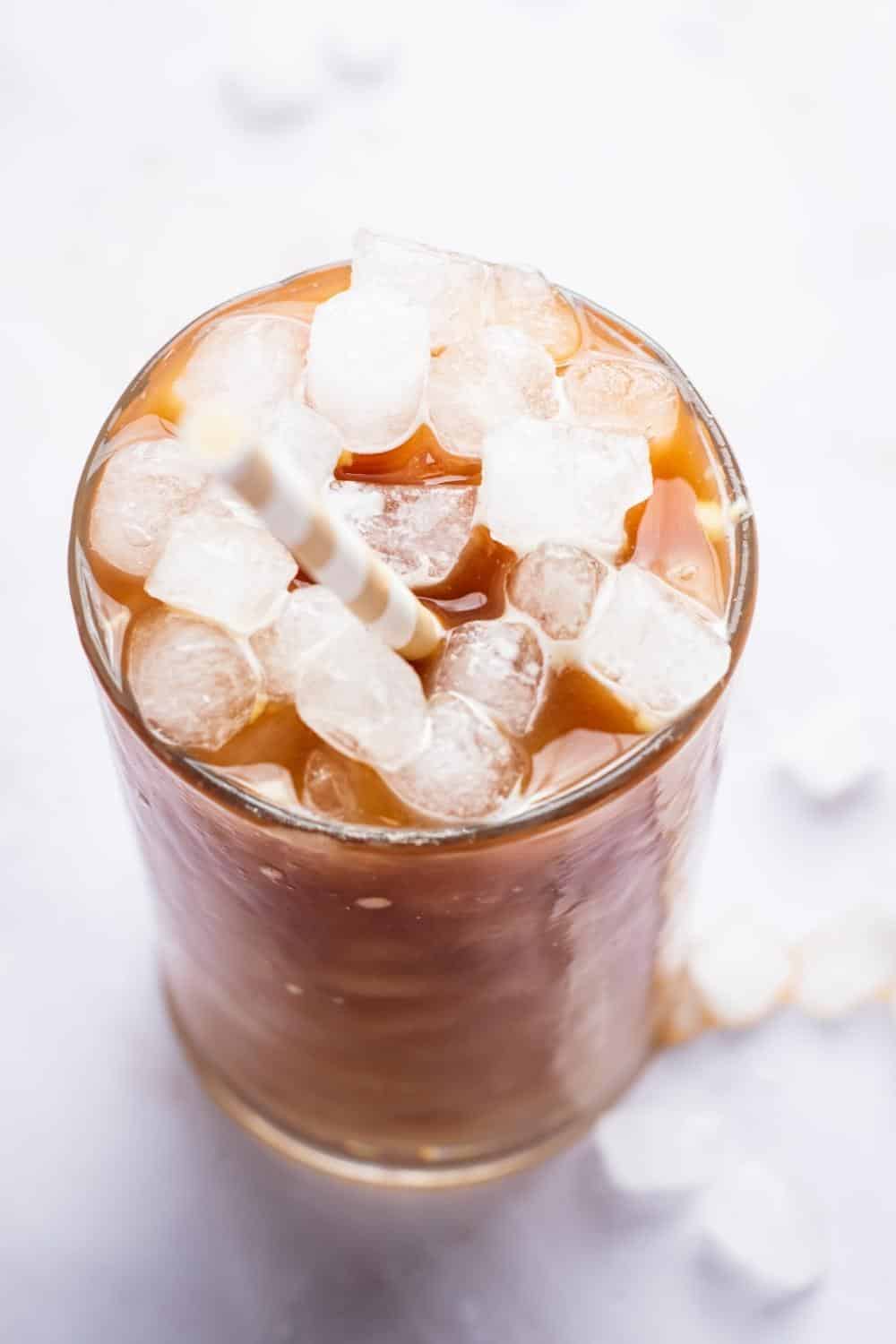 Ingredients
Again, this protein coffee recipe couldn't be more simple.
It only has 4 ingredients and there's a high chance you have everything you need in your pantry already. And that means there's nothing stopping you from making this cold coffee packed with added protein right now!
Anyway, here's everything you'll need to make this protein coffee:
¾ cup Cold Brew
1 scoop of Vanilla Protein Powder
½ cup Water or milk: almond milk and oat milk work great
1 cup Ice
Of course, you don't have to limit yourself to whey protein powder and milk. You can also use plant-based protein powder and plant-based milk for a vegan protein coffee version.
And for other health benefits - along with added protein - you can even replace the protein powder with a scoop of collagen powder instead.
You can also experiment with the flavors and add-ins for your coffee. I'll go into more detail on that in a minute.
Oh, also, if you have any protein powder leftover after making this coffee I highly recommend using some of it to make these chocolate peanut butter protein balls. They've been a HUGE hit at our house lately.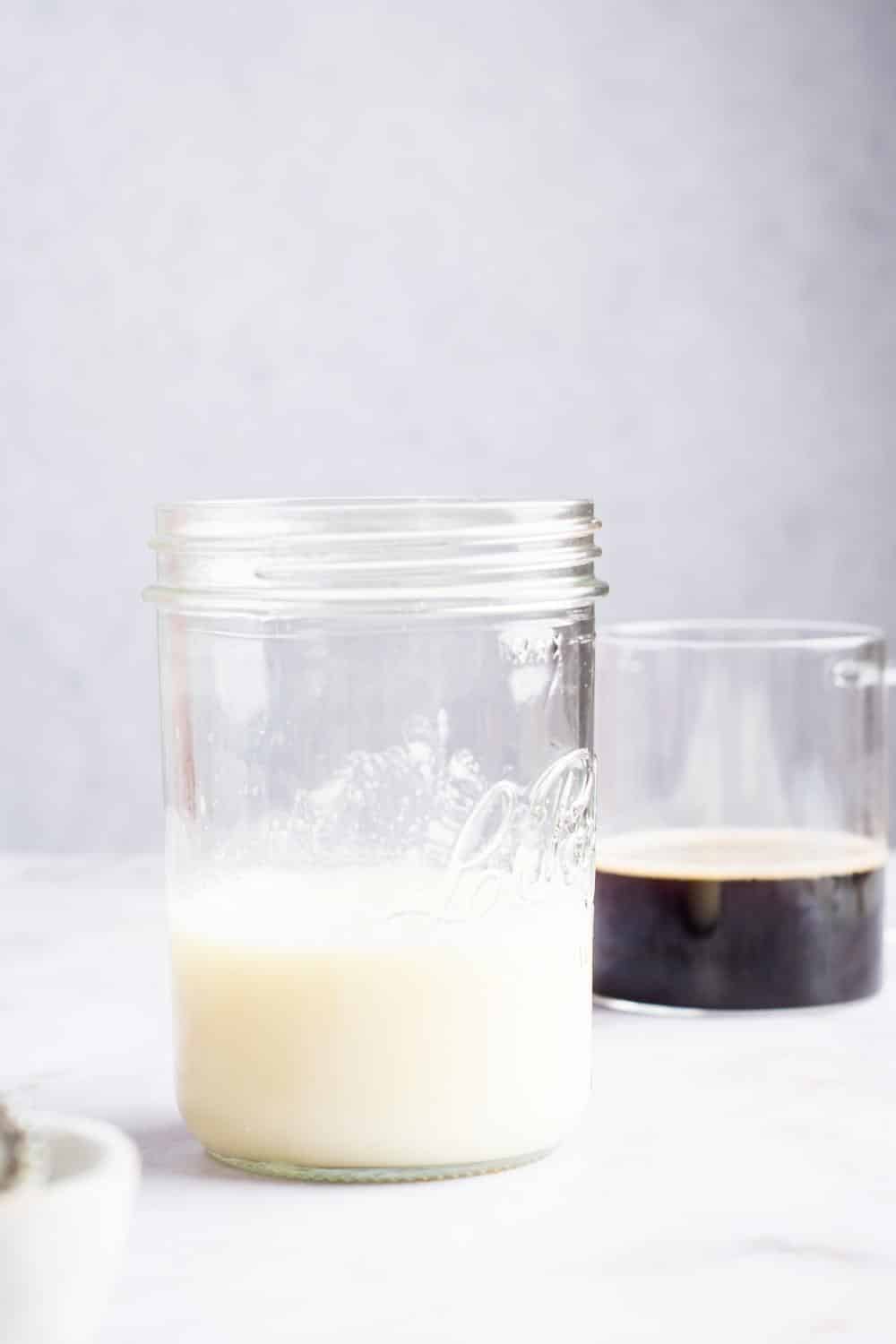 Making Hot Protein Coffee
If you want to make a hot version of this protein coffee, skip the ice and swap the cold brew for hot coffee.
Put the hot coffee in a pan on the stovetop, and whisk in the milk and protein powder until it fully dissolves. Alternatively, you can use an immersion blender to mix the protein powder and milk into the coffee.
Making Your Own Cold Brew Coffee
So, most grocery stores sell cold brew concentrate, but it's also pretty easy to make your own at home!
To do that, combine filtered water and coffee grounds in a 3:1 ratio (3 cups water to 1 cup of coffee grounds) in a large mason jar. Close the lid and let the mix sit for 12 hours, then slowly strain it through a coffee filter into a glass jar or airtight container.
There you have it, your own cold brew made at home!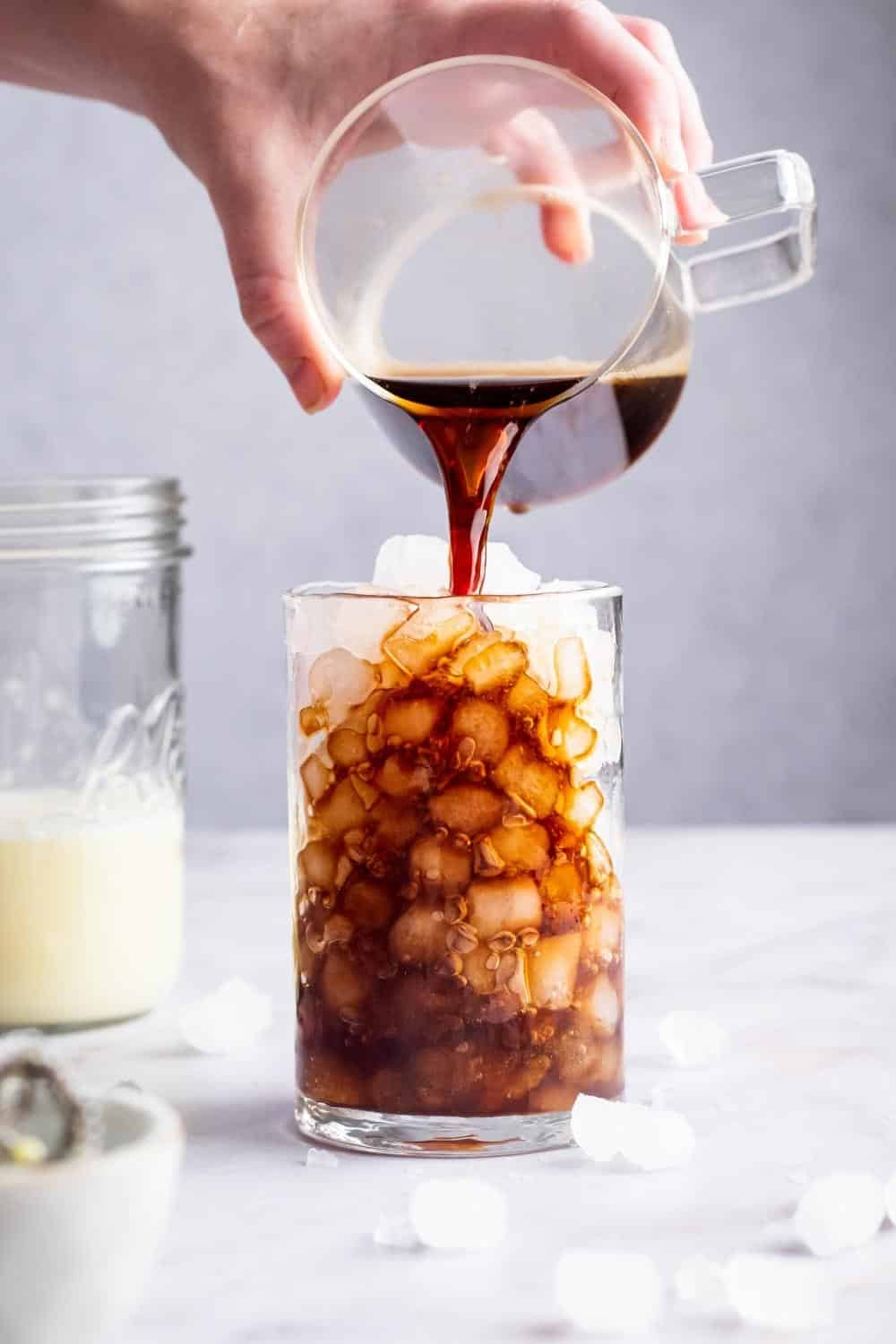 How To Make Protein Coffee
This healthy coffee recipe is honestly so simple, it's hardly a recipe at all.
It takes about 5 minutes to prepare and doesn't require any cooking or fancy equipment.
So, let's now waste any more time and dive in!
Step 1: Dissolve The Protein Powder
First, dissolve the protein powder in the milk or water.
To do this, you can add the protein powder and almond milk, oat milk, or water to a blender or a glass with an immersion blender, or even in a protein powder shaker bottle.
Then, blend or mix until the protein powder dissolves and combines with the liquid.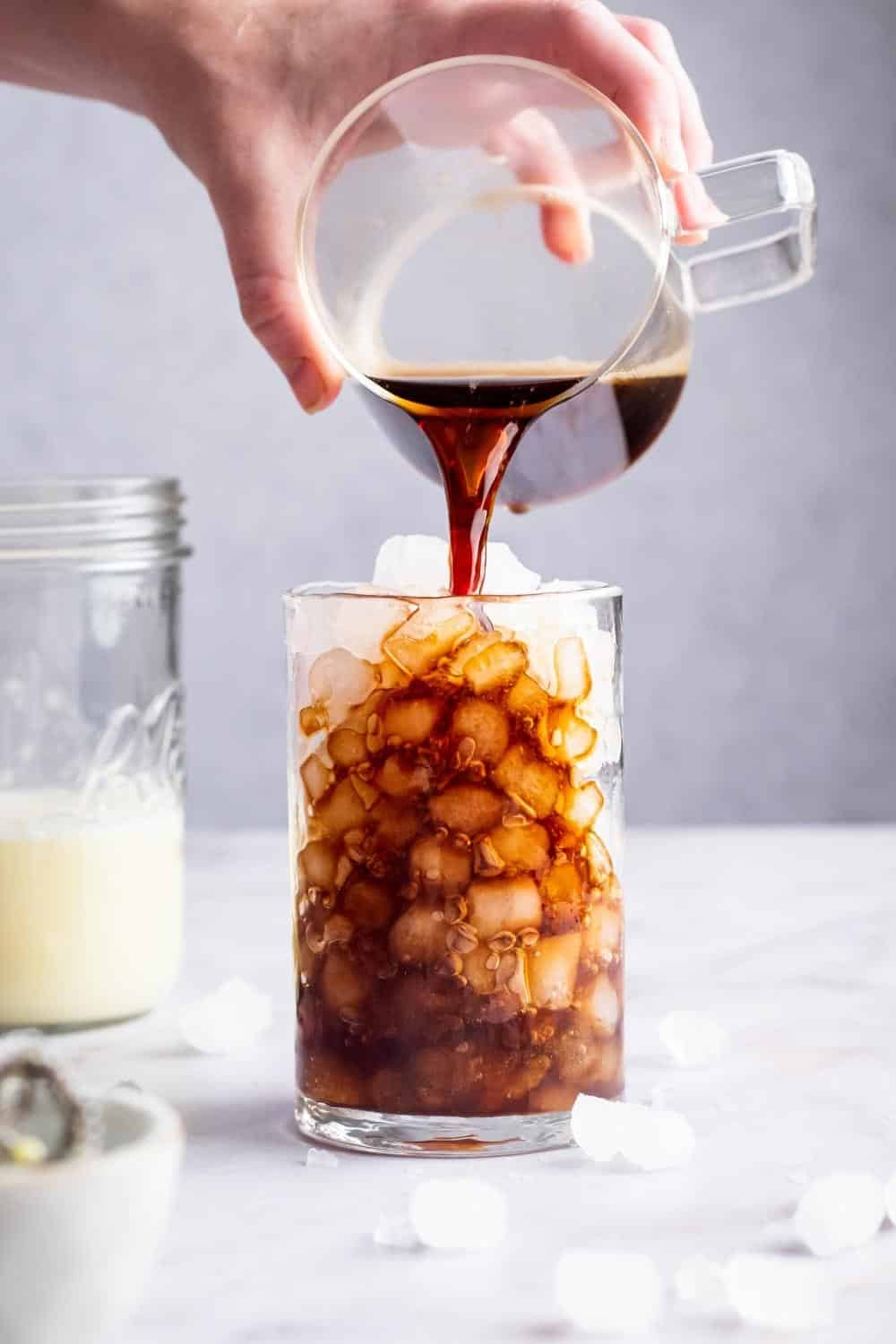 Step 2: Assemble The Cold Brew
Next, fill a tall glass or mason jar with some ice cubes, followed by the cold brew.
Oh, and this drink recipe makes enough to fill a 20-30 oz. glass depending on the amount of ice you put.
Step 3: Combine The Protein Shake and Coffee
Lastly, pour the prepared protein iced coffee into the glass that is filled with the ice and cold brew.
Then give it a good stir to combine and enjoy!
Tips To Make The Best Recipe
Mix the protein powder fully in the water or milk.
For a stronger coffee flavor and more caffeine, add a shot of espresso to the mixture.
Make this a coffee protein shake by blending everything together with some more ice cubes or even a banana.
Sweeten it up by adding your favorite zero-calorie sweetener.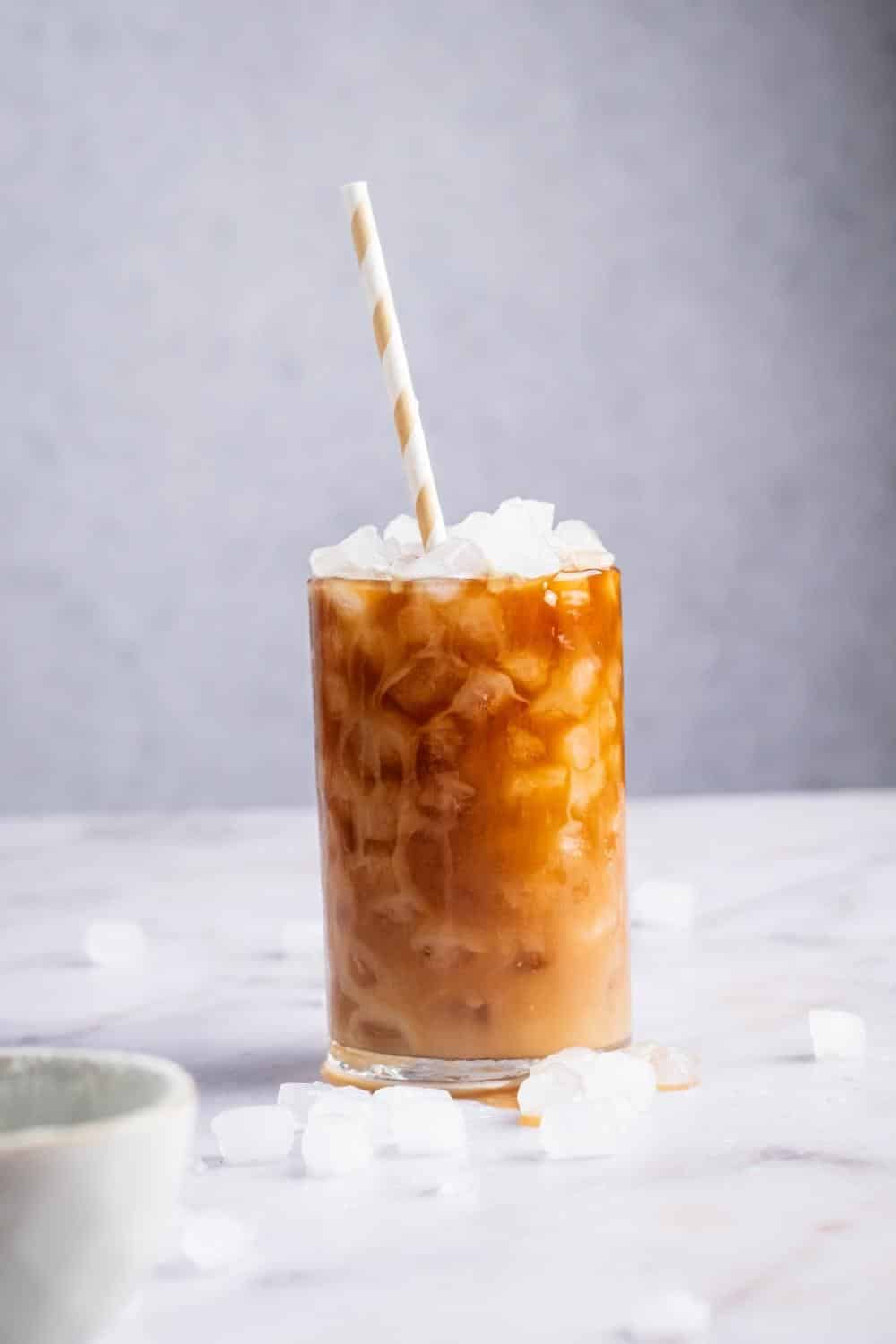 How To Store Protein Coffee
If you're usually in a rush in the morning, you can make a bigger batch of this protein coffee to store in an airtight pitcher or drink dispenser in the fridge. That way you can grab your protein coffee on the way out the door without having to make it!
The already made protein coffee will stay good in the fridge for 3-4 days.
Now, the protein powder tends to settle at the bottom of the drink over time. So you'll want to either give the contents of the container a stir before pouring it into your glass or put it in a bottle and give it a good shake to combine.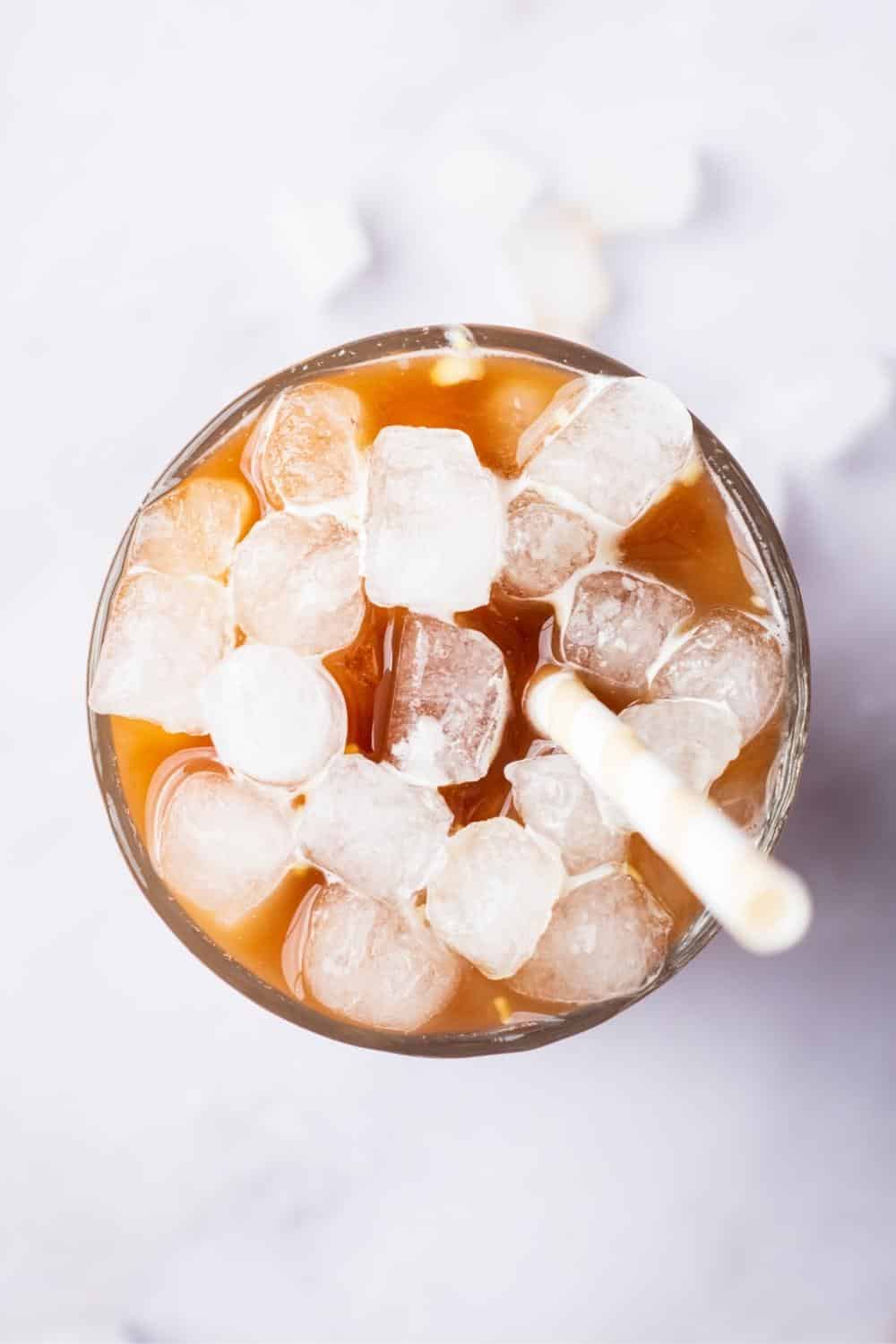 FAQs About This Protein Coffee
Can I add protein to my coffee?
Yes, you sure can add protein to your coffee!
Instead of stirring the protein powder into your coffee, it's best to shake or blend it with a little milk or water first before pouring it into the coffee - like in this recipe. Or, combine the coffee and protein powder with an immersion blender. Otherwise, the protein powder won't fully combine with your coffee.
What protein goes with coffee?
You can use all kinds of protein powders to add to your coffee. The best flavors to use are vanilla, caramel, and chocolate. But you can really use any kind of flavor that you want. Oh, and of course, you can use both whey protein powder, casein protein powder, collagen powder, and plant-based protein powders to make your coffee.
Is protein coffee a meal replacement?
Protein coffee can be a meal replacement since it's so high in protein. And it's actually really satiating from the combination of protein and caffeine.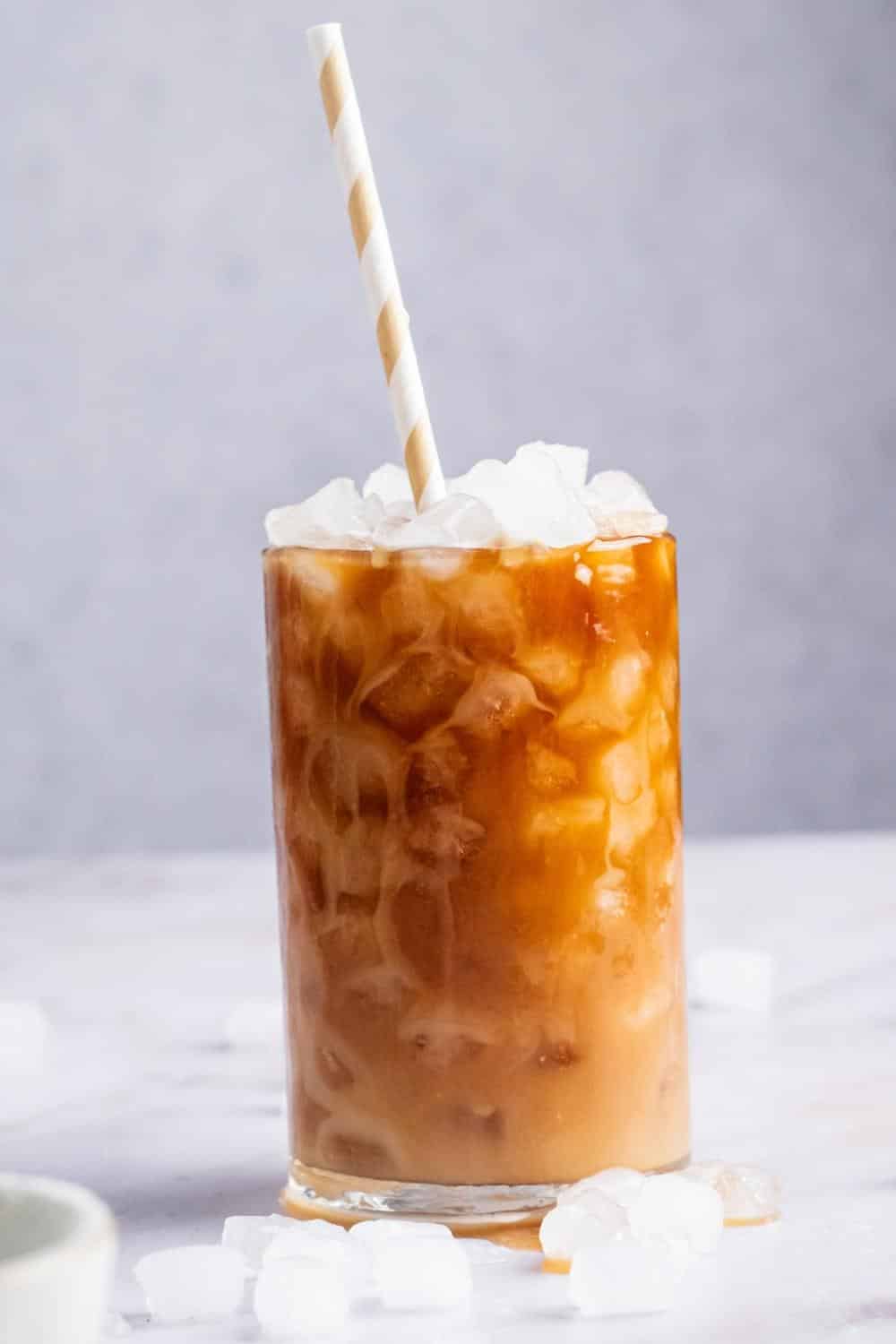 Wrapping It All Up
Well, that's how to make protein coffee!
We could all use a little extra protein every now and then, not to mention a little dose of caffeine to get us through the day. And I love this recipe because it combines the best of both worlds.
This proffee is the perfect way to squeeze in 25 grams of protein, along with a little pick-me-up, all while tasting fantastic.
You'll wonder what took you so long to make your coffee this way!
Anyway, if you gave this protein coffee recipe a try, leave me a comment below and let me know how it went!
Also, be sure to check out my Youtube channel, where I'm always posting new easy recipes like this one.
More High Protein Recipes
Oh, and for even more high protein recipes you can make with protein powder, try these:
Print
Protein Coffee Made in 1 Minute | Over 20 Grams Of Protein
This easy protein coffee recipe is packed with over 20 grams of protein and creamy iced coffee goodness. It's made with your favorite cold brew and protein powder and it's ready in just minutes! And, honestly, after you try this recipe you'll never want to make your iced coffee any other way!
Author:
Prep Time:

1 minute

Total Time:

1 minute

Yield:

1 serving

Category:

Drink

Method:

Mixing

Cuisine:

High Protein
Instructions
Dissolve the vanilla protein powder in the milk or water with a blender or in glass with an immersion blender.

Fill a tall glass with ice and pour the cold brew into it.

Add the vanilla protein and milk mixture. Stir to combine.
Nutrition
Serving Size:

1 serving

Calories:

107

Fat:

1

Carbohydrates:

0

Protein:

25
Keywords: protein coffee, protein coffee recipe, high protein coffee, protein drink, protein coffee healthy, easy protein coffee, cold brew recipes, how to make protein coffee, proffee recipe, protein coffee recipe cold,