These blueberry protein muffins are soft, fluffy, incredibly flavorful, and of course, packed with plenty of protein. Not to mention, they're ready in under an hour and are just as delicious as the ones from your favorite bakery!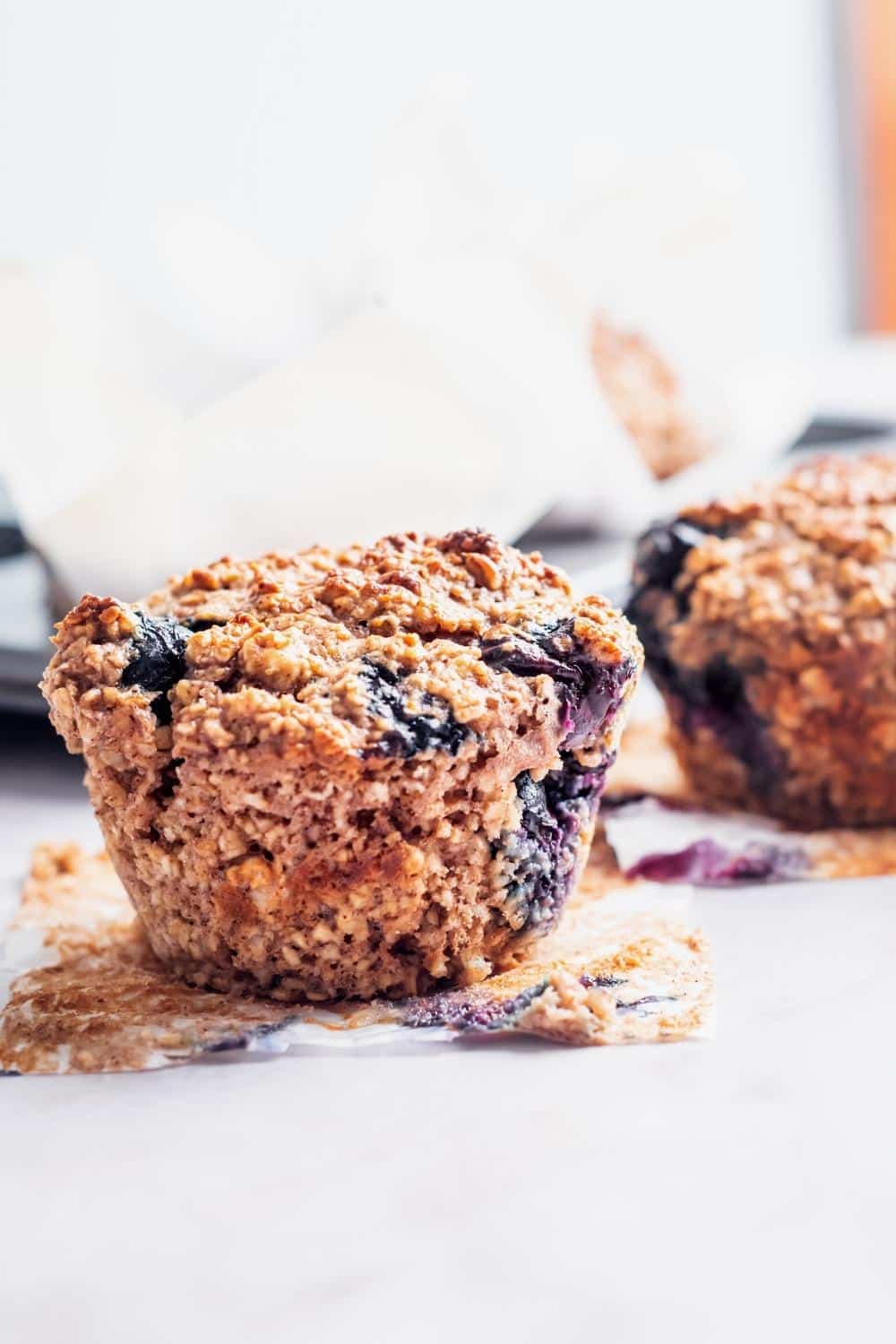 The Best Protien Muffins
If you're getting bored of the usual protein shakes, these protein muffins are a tasty and easy way to switch it up while still getting in an adequate amount of protein.
I mean, these protein powder muffins have 15 grams of protein each! So, just two will match the typical amount of protein in a shake.
Also, this healthy muffin recipe is made with simple, easy-to-find ingredients. All you need is your favorite protein powder, some blueberries, greek yogurt, oats, and just a handful of other ingredients to make 'em.
Oh, and best of all these protein muffins are delightfully sweet even though they're made without sugar. So they're sure to satisfy your sweet tooth without giving you the sugar crash that follows eating "normal" muffins.
And that's a big reason why I love having one or two of these protein powder muffins to start off my day. I know once the afternoon rolls around I won't be feeling drained and tired. Instead, when I eat these sugar free muffins for breakfast I get a steady boost of energy all morning long.
Also, just so you guys know, this recipe is easy to customize, and it can even be made into vegan protein powder muffins with just a few small modifications.
Oh, and for more healthy muffin recipes you can make after these protein muffins, check out these low carb banana nut muffins and these low carb chocolate chip pumpkin muffins!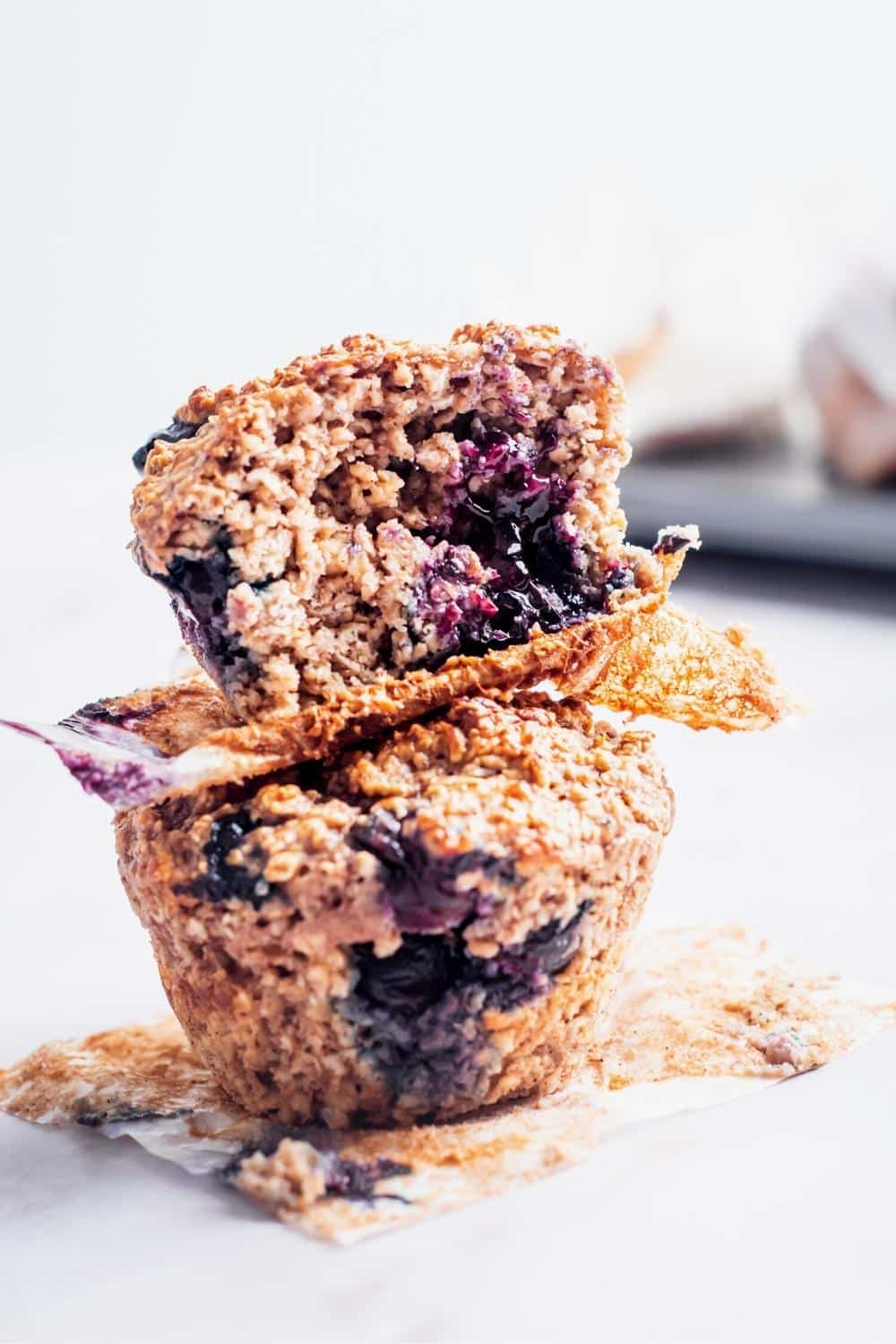 Ingredients
Ok, so basically everything on this list is a pantry staple, except maybe the erythritol.
With that said though, if you're into sugar free baked goods - like these protein muffins - I highly recommend stocking up on some. It's a staple for sugar free and low carb baking and is one of the best substitutes for sugar you can have!
Anyway, here's everything you'll need to make this healthy blueberry muffin recipe:
¼ cup Unsweetened Almond Milk

1 Egg

1 cup Greek Yogurt

2 tsp. Vanilla extract

2 cups Oats

4 tbsp. Granulated erythritol

2 scoops Vanilla Protein Powder

2 tsp. Baking powder

½ tsp. Baking soda

½ tsp. Cinnamon

¼ tsp. Salt

1 cup Blueberries
As I mentioned earlier, you can use your favorite vanilla whey protein powder or even switch it up and use a plant-based protein powder. And if you want them to have solely a blueberry flavor, you could even use unflavored protein powder.
For the erythritol, my favorite one to use is granular Swerve, but you can use any erythritol or monk fruit based sweetener that you want!
By the way, if you have any oatmeal leftover after making this recipe you can put it to good use by making this high protein overnight oats recipe next.
Oh, and if you want a low carb version of these muffins, you can use many of the ingredients above to make these keto blueberry muffins!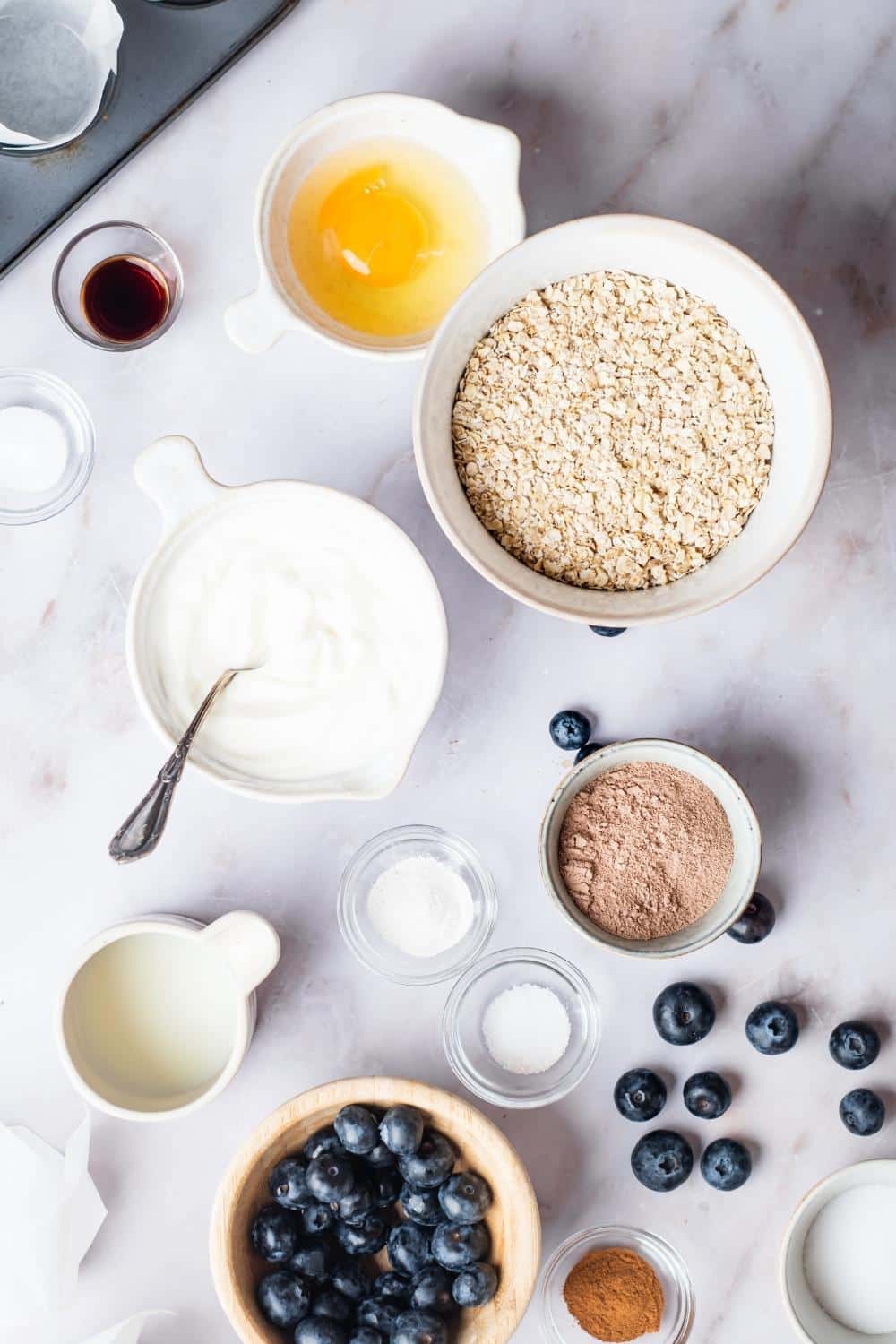 Modifying Your Protein Muffin Recipe
Again, this protein muffins recipe is super easy to customize! In fact, this recipe works as a really great base muffin recipe and you can use it to make a variety of different muffins from it.
Here are just a few options for mixing up the recipe, all in equal portions to the ingredients listed above:
Banana Protein Muffins: Swap vanilla extract for banana extract and leave out the blueberries

Double Chocolate Protein Muffins: Swap vanilla protein powder for chocolate protein powder and add chocolate chips instead of the blueberries.

Peanut Butter Protein Muffins: Swap protein powder for peanut butter protein powder and use peanut powder instead of cinnamon.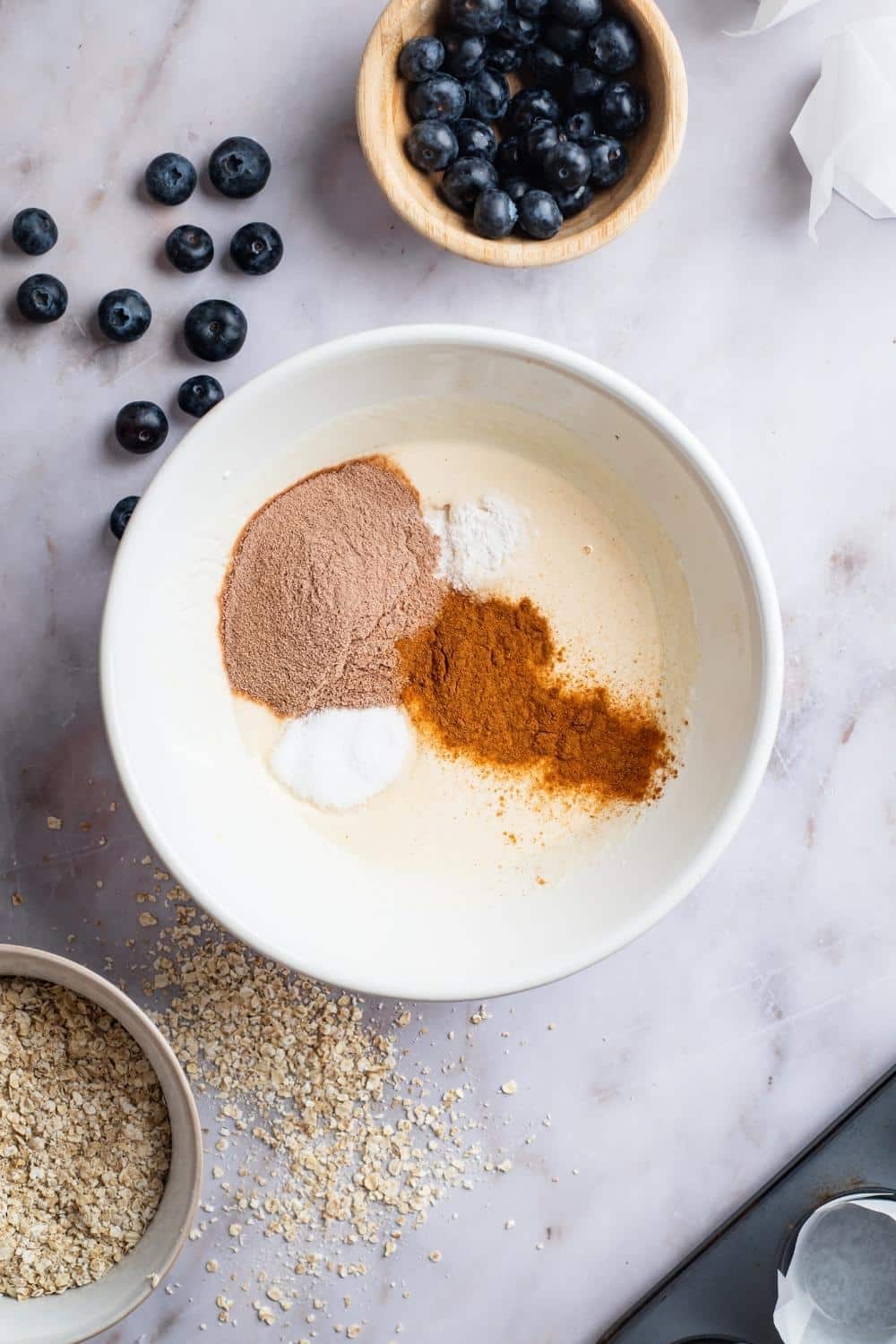 How to Make Blueberry Protein Muffins
Honestly, these healthy muffins couldn't be simpler to make. All you really have to do is combine the ingredients, fill the muffin tin, and bake.
In less than an hour, you'll have 6 of these yummy and filling high protein muffins ready to be devoured. By the way, the number of protein muffins this recipe makes will depend on the size of your muffin tin.
Now, let's not waste any more time and make some protein muffins!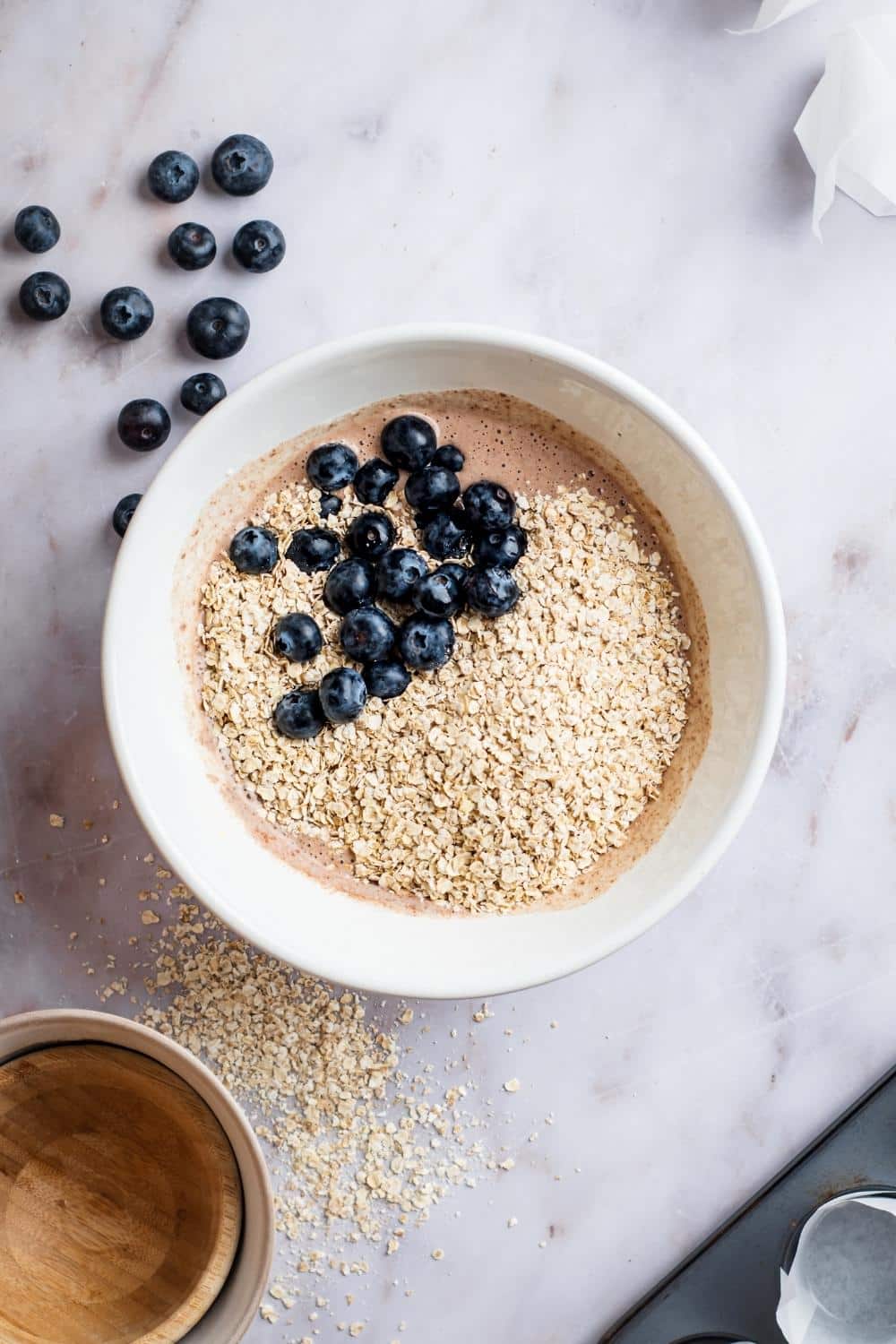 Step 1: Prep Work
First things first, preheat your oven to 350°F (175°C).
Next, place muffin paper tins or silicone muffin tins in the slots of your muffin tray.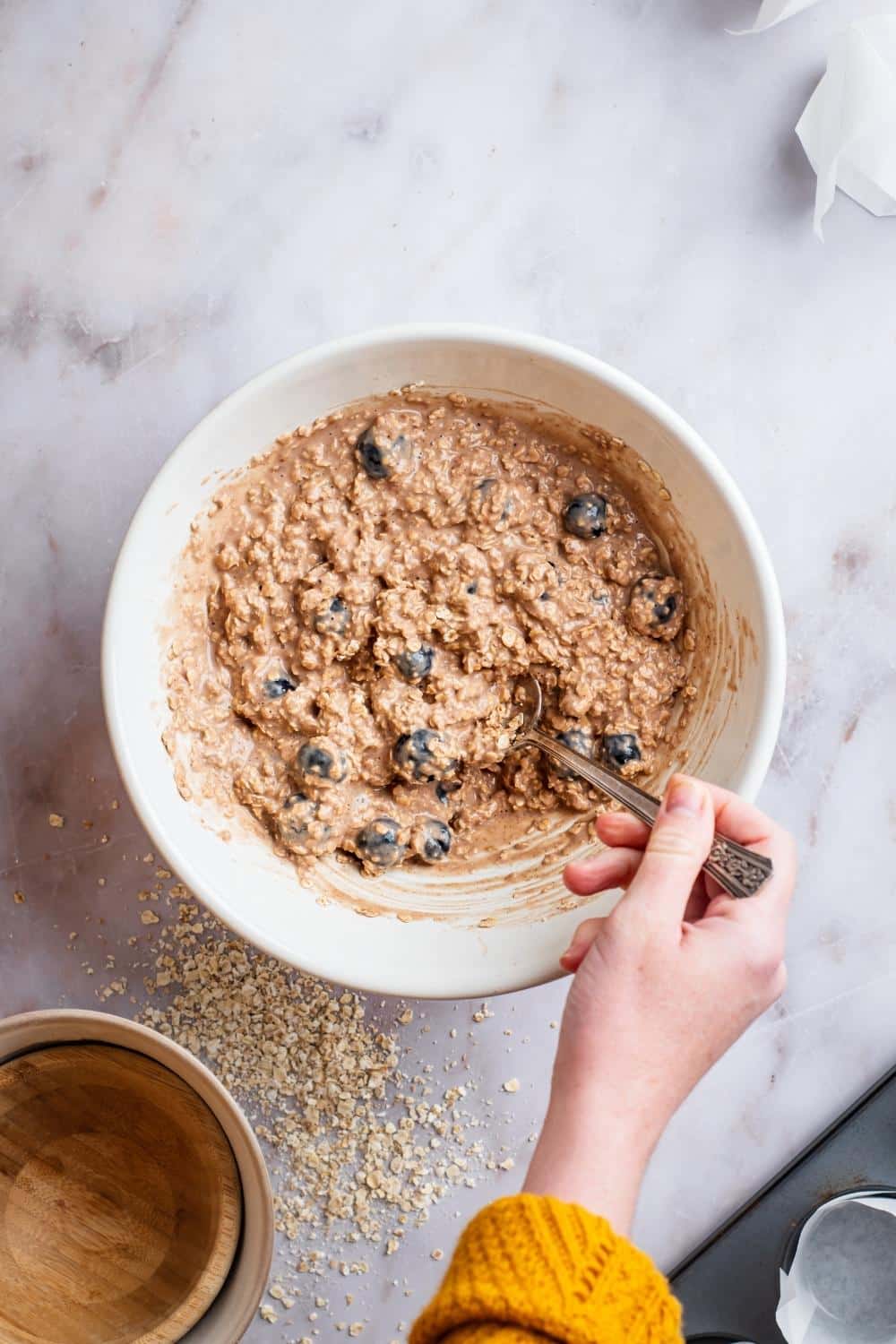 Step 2: Making The Muffin Batter
Now, in a large bowl, add the almond milk, egg, yogurt, and vanilla extract and mix until smooth. Then, to that, add in the oats, erythritol, protein powder of choice, baking powder, baking soda, cinnamon, and salt.
Now mix the wet and dry ingredients together until a batter forms. And be careful not to overmix your muffin batter. At this point, it should be slightly lumpy but shouldn't have any areas with dry flour.
Lastly, add the blueberries and stir to combine them into the batter.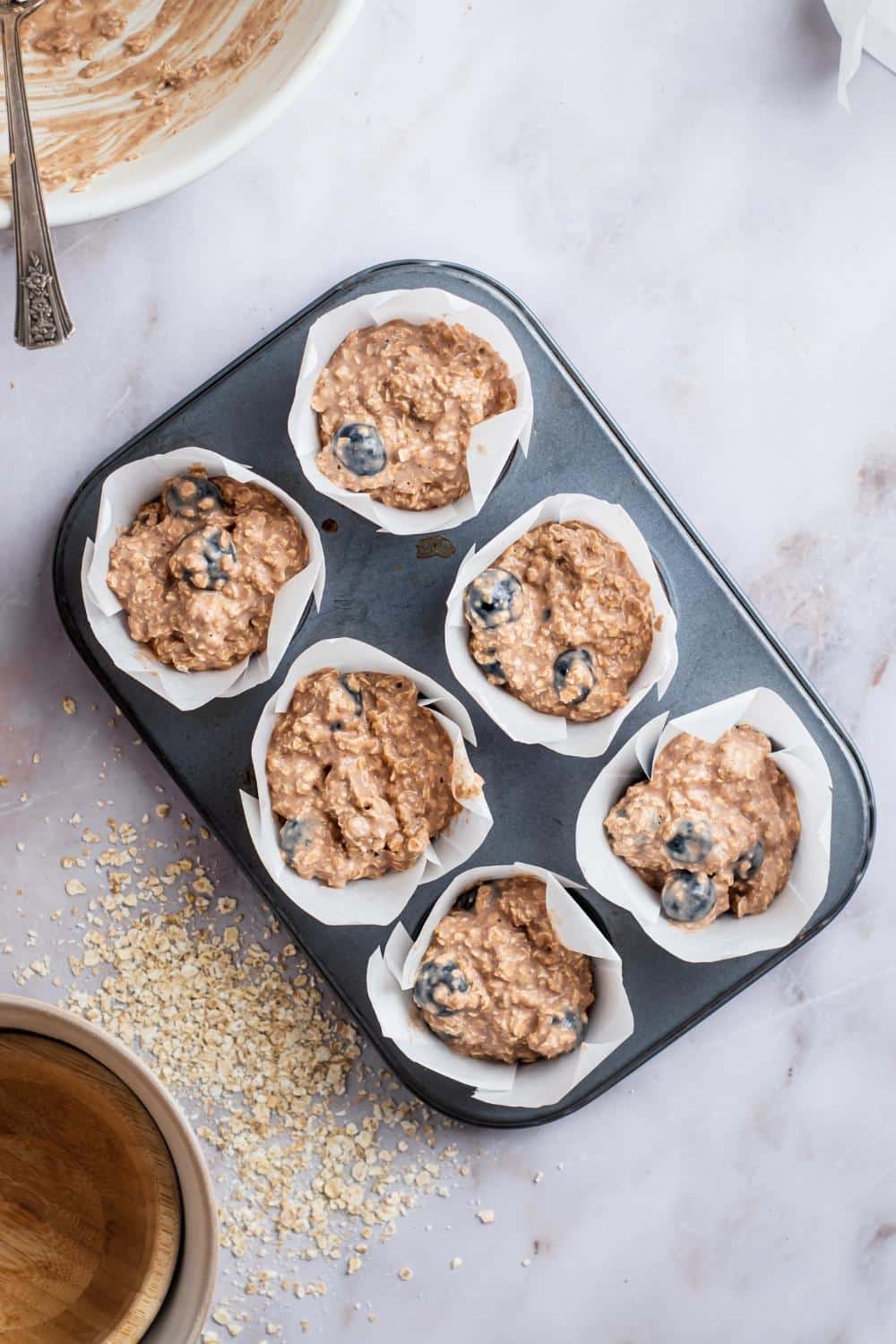 Step 3: Baking the Muffins
Now that you have a batter, scoop it into the slots of the muffin tin and fill them about ¾ of the way to the top.
Then bake the protein muffins for about 20-25 minutes. You'll know your muffins are done when you insert a toothpick into the center of the muffin and it comes out clean or with just a few moist crumbs.
Finally, take these delicious healthy blueberry oatmeal muffins out of the oven, let them cool for a few minutes, and enjoy!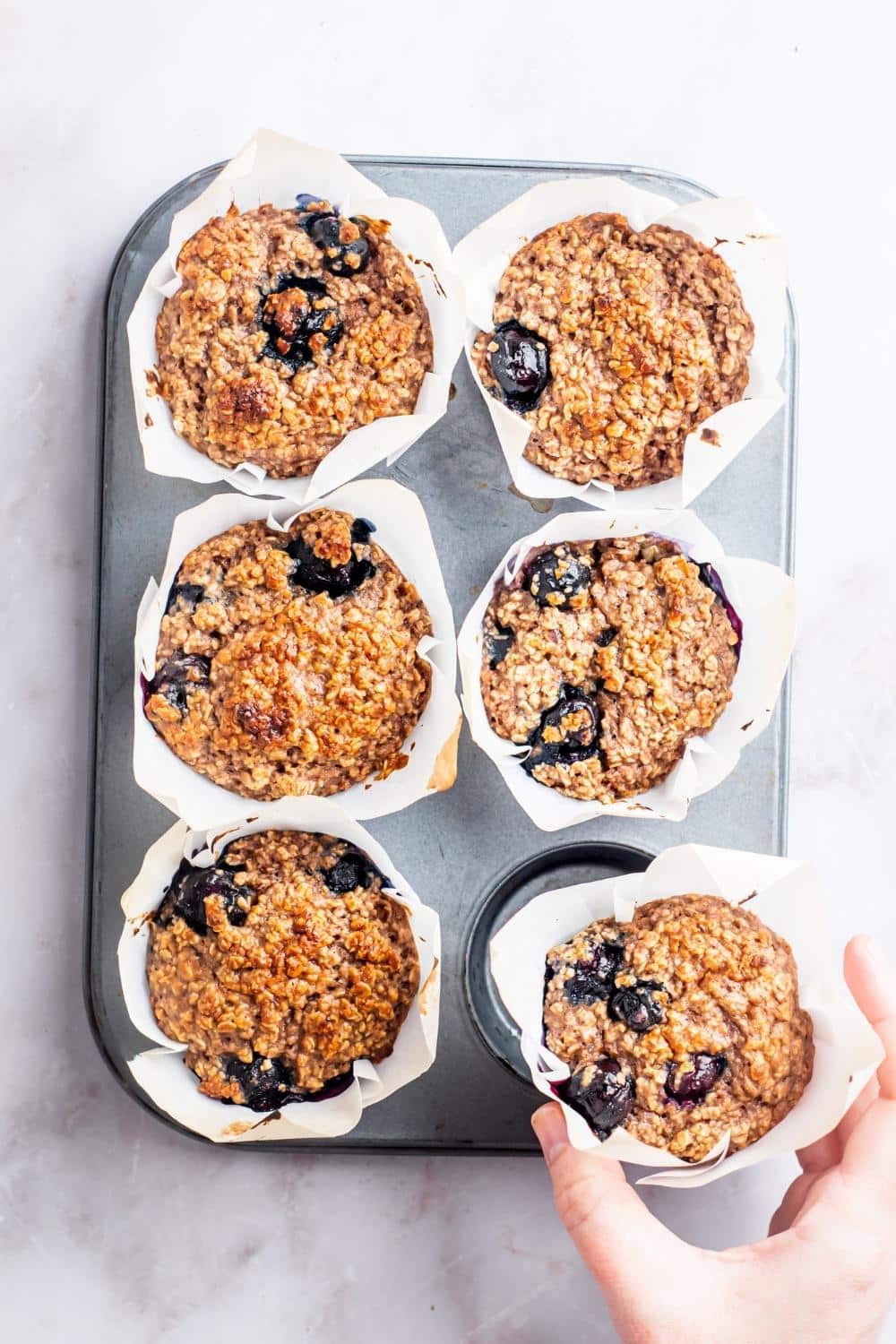 How To Store Blueberry Protein Muffins
As you know, this protein muffin recipe will make 6 regular-sized muffins. And if anyone is around while they're baking, there may not be any left after they come out hot from the oven.
But if you have some leftovers - or are just making them for yourself - these blueberry muffins store super well and are just as delicious days after baking them. They make for a great quick breakfast, snack, or even dessert!
The best way to store the protein muffins is an airtight container with a paper towel on the bottom and top of the muffins. And if you want, you can also do this in a ziploc bag.
Stored this way, the muffins will last for up to 4 days.
And if you want to reheat the muffins, just pop them in the microwave for 10 seconds.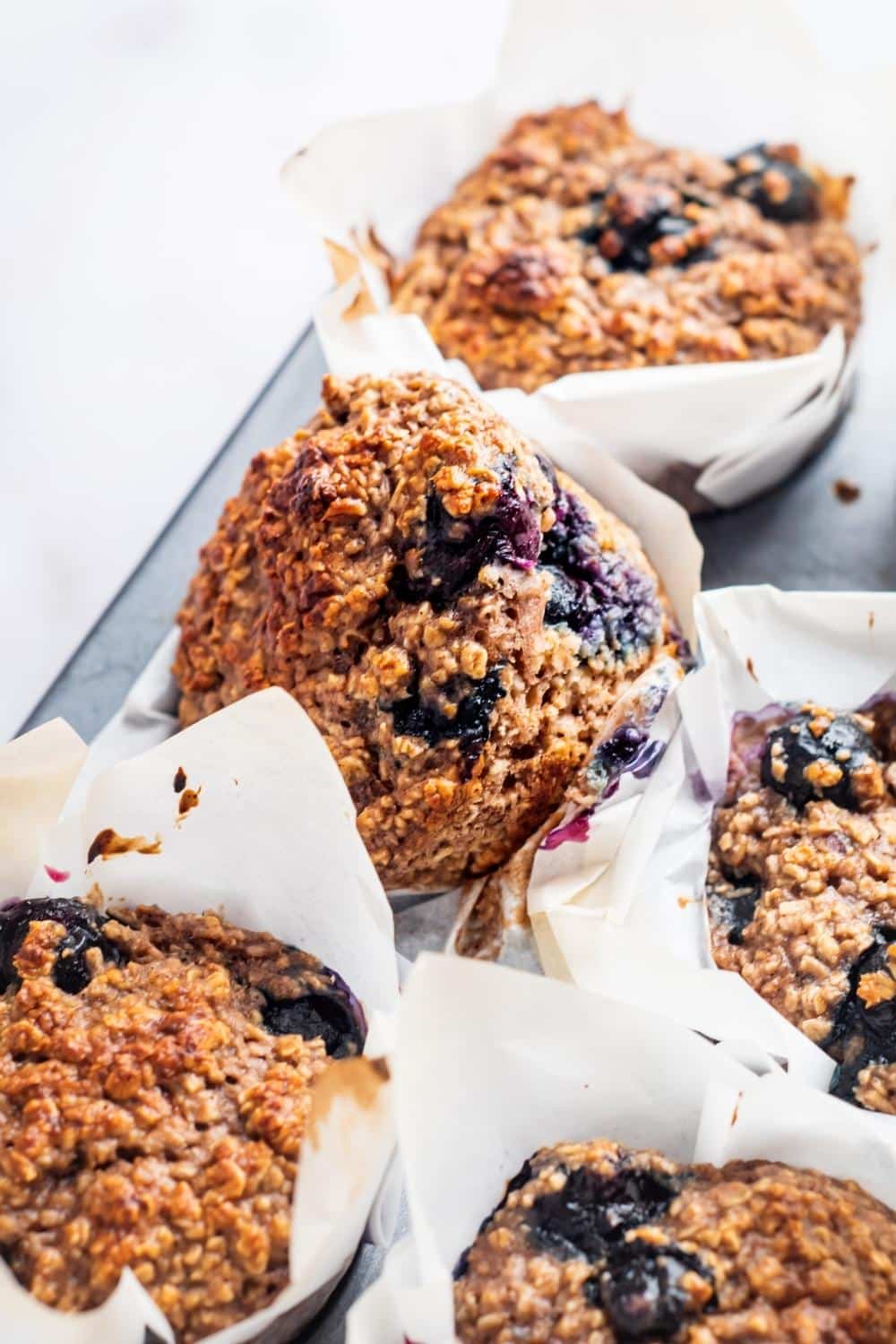 How to Freeze Blueberry Muffins
If you don't think you'll finish the muffins off in the days after making them - or if you want to make a big batch - you can always freeze them.
To do this, let the muffins first cool completely. Then, put them in a freezer-safe bag and make sure to squeeze all of the excess air out. Stored this way, they'll last in the freezer for about 2 months.
Then, when you're ready to eat them, you can either let the muffins thaw at room temperature or put them in the microwave to warm them up.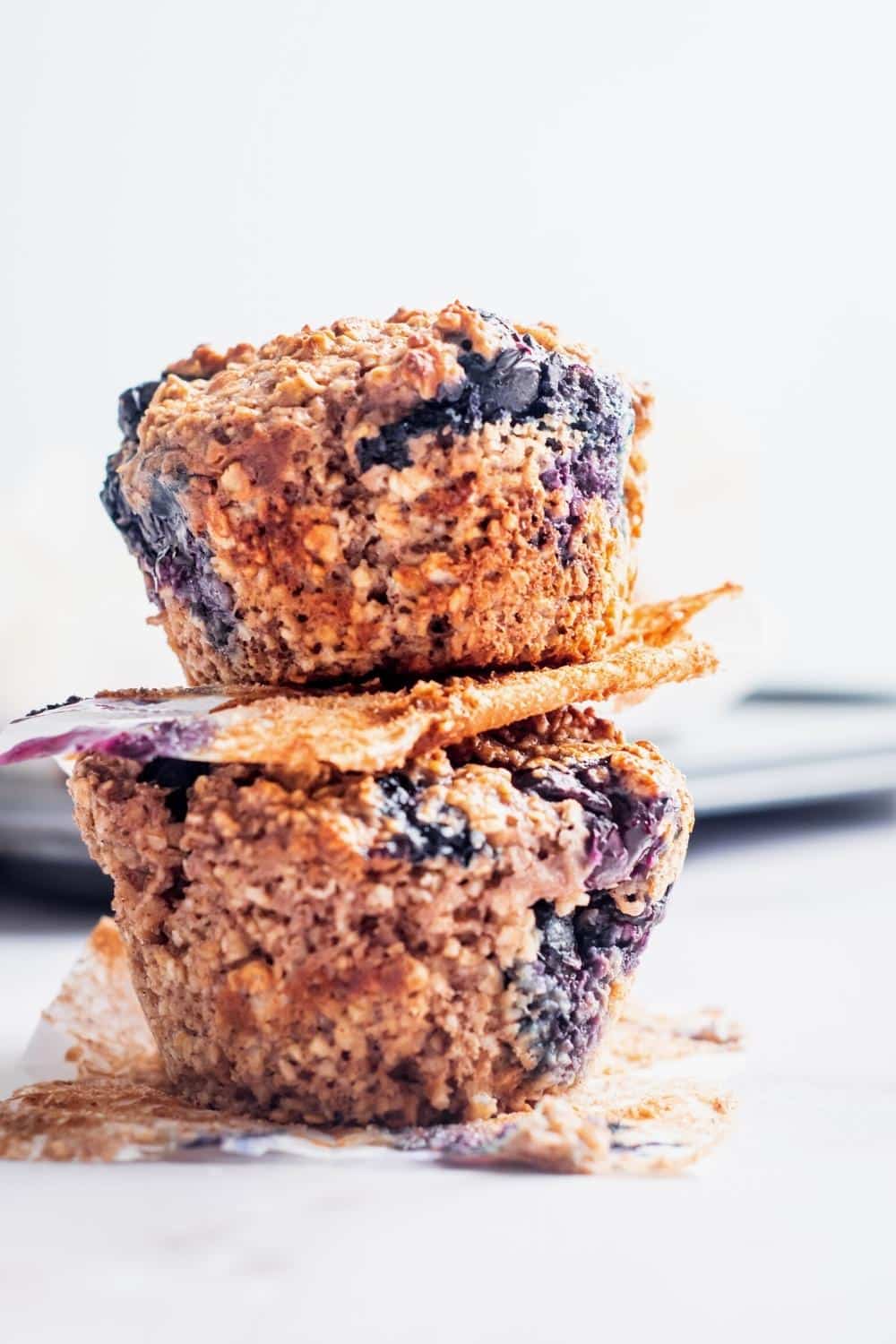 Wrapping it Up
Well, that's how to make protein muffins with 15 grams of protein in each one!
These blueberry protein muffins are unlike any you've had before. They're perfectly soft and rich - not dense or chalky - and they're packed with blueberry goodness. It's honestly hard to believe they have protein powder in them!
Anyway, I hope you enjoyed this protein powder muffin recipe as much as I do!
If you give this recipe a try, leave a comment below and let me know how it went!
Also, be sure to check out my Youtube channel and Instagram page for even more easy and tasty recipes like this one.
More Protein Recipes
If you're looking for more high protein recipes I have a bunch on the blog that you have to try out next!
Here are a few to get you started:
By the way, if you're trying to add some muscle, I recently put together lists of the best protein powders for weight gain and the best high protein cereals. So give that list a look if you're trying to add some size.
Print
Vanilla Blueberry Protein Muffins
These blueberry protein muffins are soft and fluffy, incredibly flavorful, and of course, packed with plenty of protein. They're ready in under an hour and are just as delicious as the ones from your favorite bakery! 
Author:
Prep Time:

20 minutes

Cook Time:

25 minutes

Total Time:

45 minutes

Yield:

6

muffins

1

x
Category:

Breakfast

Method:

Oven

Cuisine:

American
Instructions
Preheat the oven to 350°F (180°C). 

Place muffin paper tins in a muffin baking pan.

In a large bowl, combine almond milk, egg, greek yogurt, and vanilla and mix until well combined.

Add the oats, erythritol, protein powder, baking powder, baking soda, cinnamon, and salt to the bowl. Mix until well combined.

Add the blueberries and mix them into the batter. 

Scoop the mixture into the muffin tins and bake for 20-25 minutes.

Let them cool, serve, and enjoy!
Nutrition
Serving Size:

1 muffin

Calories:

144

Fat:

2

Carbohydrates:

16

Fiber:

3

Protein:

15
Keywords: Protein muffins, Protein blueberry muffins, protein powder muffins, protein muffin recipe, protein muffins recipe, homemade protein blueberry muffins, protein powder muffins recipe, protein powder muffin recipe, protein powder muffins blueberry, blueberry protein powder muffins, berry protein powder muffins, easy blueberry protein powder muffins, best protein blueberry muffins recipe, protein powder blueberry muffins recipe