These double chocolate protein donuts are deliciously chocolatey with a soft cakey texture coated in a rich chocolate glaze. They're made with your favorite chocolate protein powder and each donut has 13 grams of protein. Healthy and decadent - the best of both worlds!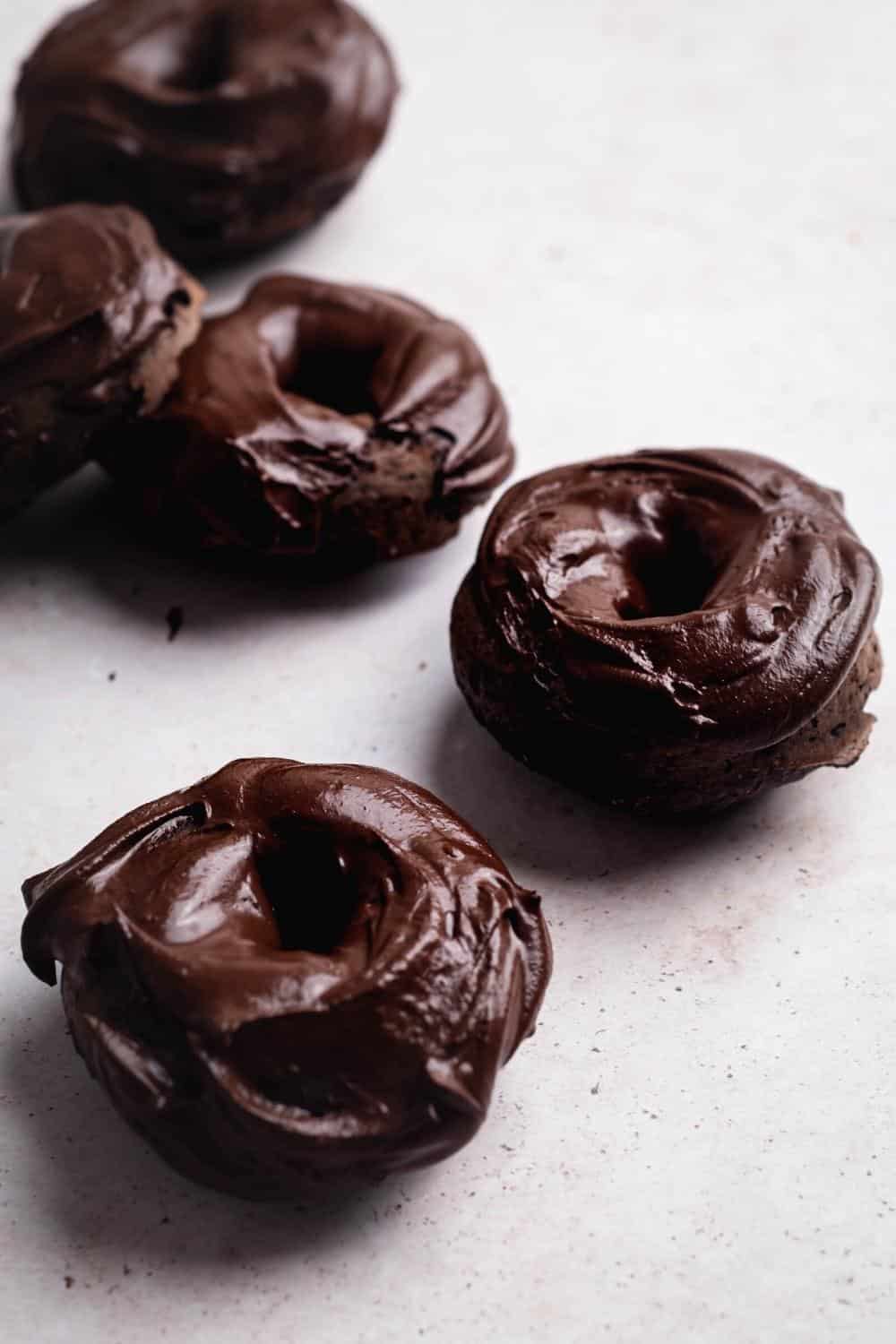 The Best Protein Donuts
This homemade chocolate protein donut recipe is a fantastic way to get your protein fix for the day and curb your sugar cravings at the same time.
They taste just like classic chocolate cake donuts, but are sugar free and packed with protein. In fact, as I mentioned just a second ago, there's actually 13 grams of protein in each one of 'em! As a result, these protein donuts will keep you fuller for longer and leave you perfectly satisfied without the sugar crash.
So, if you're tired of boring old protein shakes, this recipe is a great way to switch it up to hit your protein goals.
Oh, and if you are tired of protein shakes, and haven't tried this Oreo protein shake you've got to, stat. The shake with one of these chocolate donuts is a dream of a breakfast or fantastic pre or post-workout meal.
Anyway, the best things about this donut recipe with whey protein is the fact that you can make a whole batch of 'em in under 30 minutes. The recipe is super simple, too - just combine everything in a bowl, transfer to the donut pan, and bake!
Honestly, it's one of the easiest donut recipes you can make, protein or not. It's about as simple as making this 1-minute chocolate protein mug cake.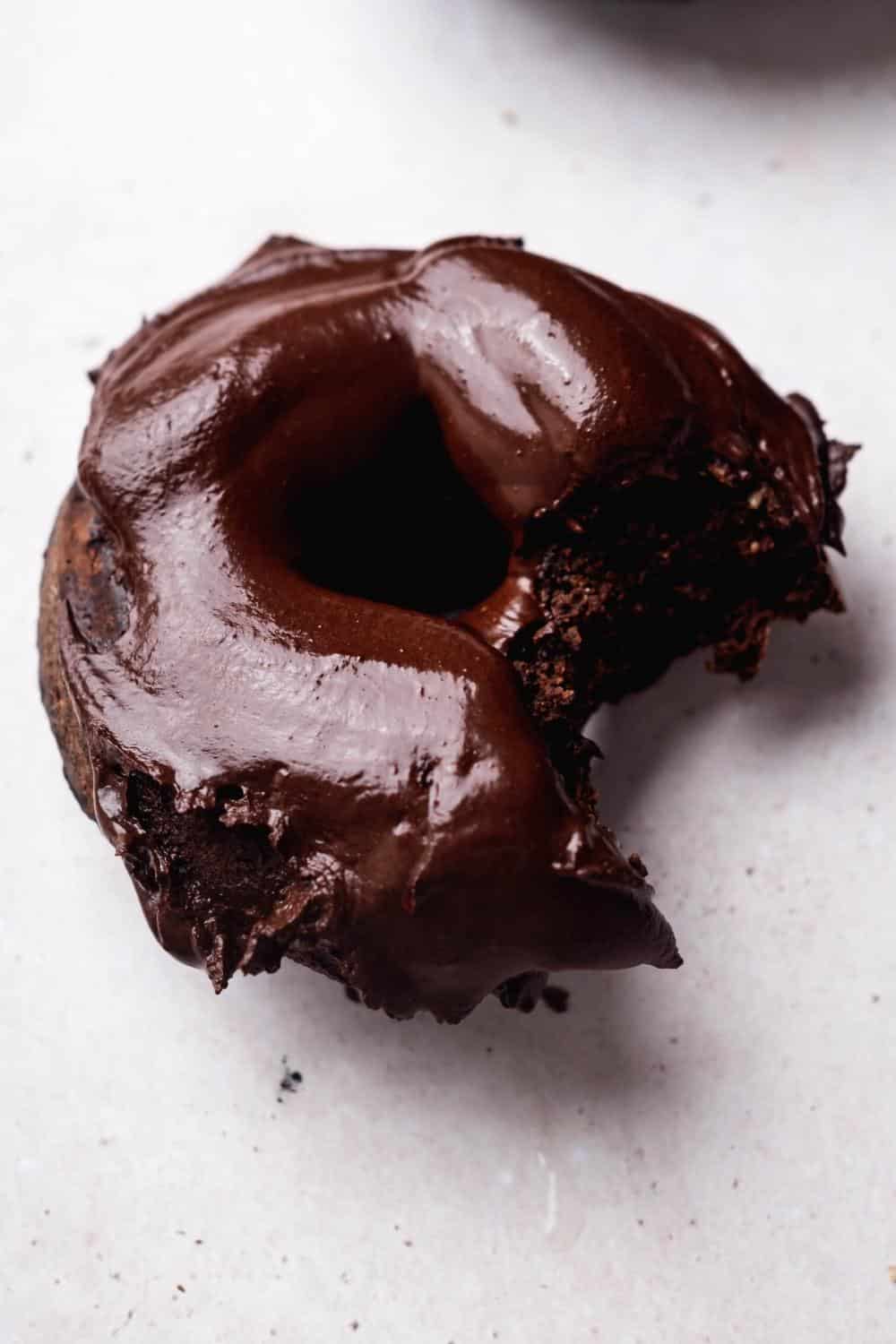 Ingredients
So, you only need a handful of ingredients to make this protein donuts recipe.
And most of them are common pantry staples, so you shouldn't have any trouble finding them at your nearest supermarket if you don't have them at home already.
Anyway, here's what you'll need to make these chocolate protein donuts:
⅓ cup milk of choice
2 eggs
½ cup unsweetened applesauce
1 tsp. vanilla extract
⅓ cup granular swerve
¾ cup flour
1 ½ scoop Chocolate Protein Powder
½ tsp. baking soda
⅓ cup Unsweetened cocoa
And to make the chocolate frosting to coat them with:
1 scoop of Chocolate Protein Powder
⅓ cup of unsweetened cocoa powder
2 tbsp. sugar substitute
water
Pretty simple, right?
By the way, I actually use a lot of these ingredients to make my protein brownies and low calorie hot chocolate. So, if you're looking for some other decadent protein dessert recipes, you'll definitely want to check those out!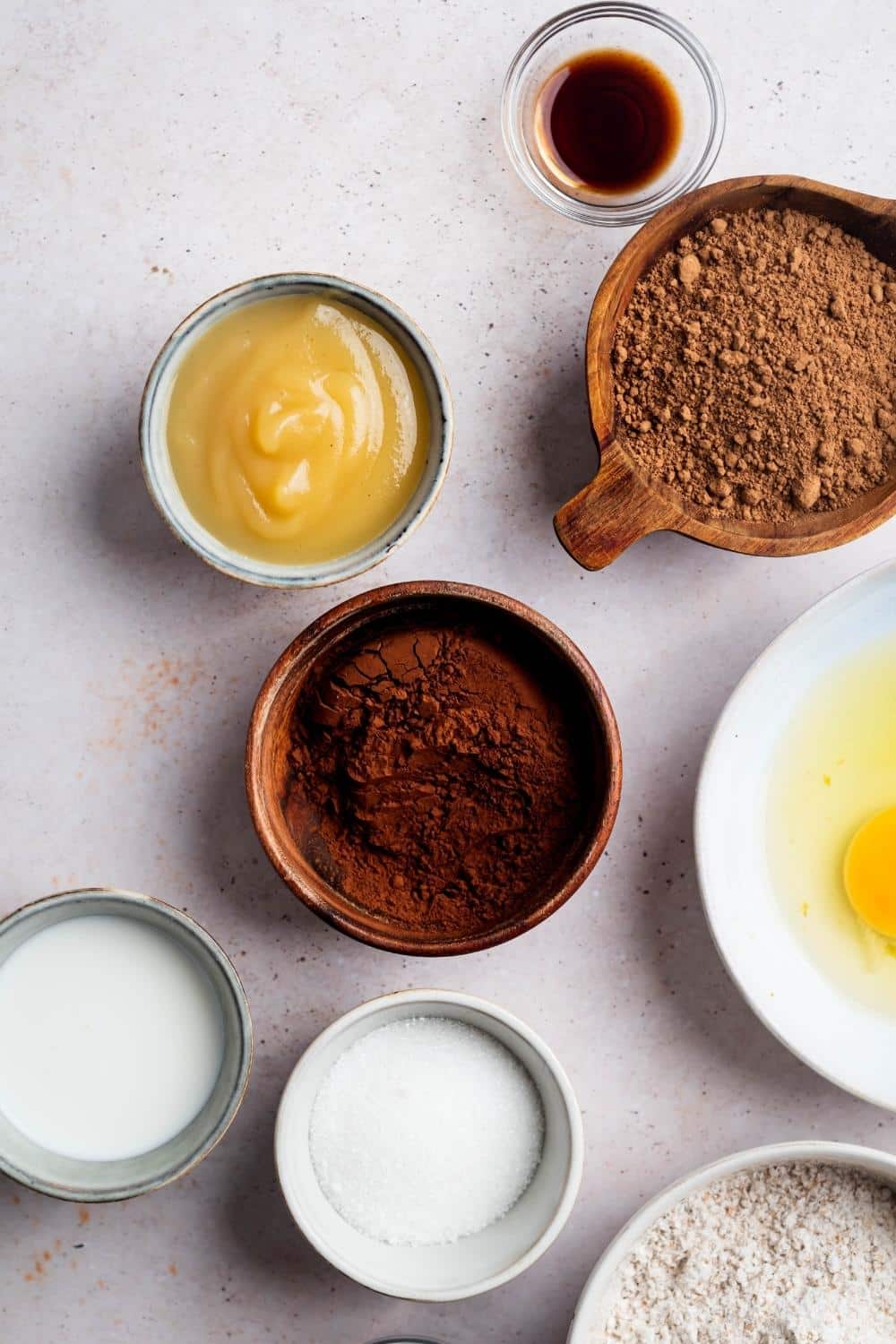 Diving Into The Ingredients
Alright, you can use any kind of milk for these protein donuts but my favorite option is unsweetened almond milk. With that said, regular milk and other plant-based milk options work great too.
Now, to keep these donuts sugar free, I used Granulated Swerve. However, another sugar free sweetener that works really well is Lakanto's monkfruit sweetener. That said, I don't recommend Stevia for this recipe. It's a lot sweeter than regular sugar - as well as Swerve & Lakanto - and could end up overpowering the taste of these protein donuts.
As for the protein powder, you can use any kind you have! Whey protein powder and plant based protein powder both yield great results for these protein donuts.
By the way, you don't even have to stick to one flavor of protein powder. You can switch it up with vanilla protein powder, peanut butter protein powder, or any flavored protein powder. It'll still be a chocolate protein donut, but with a little variety.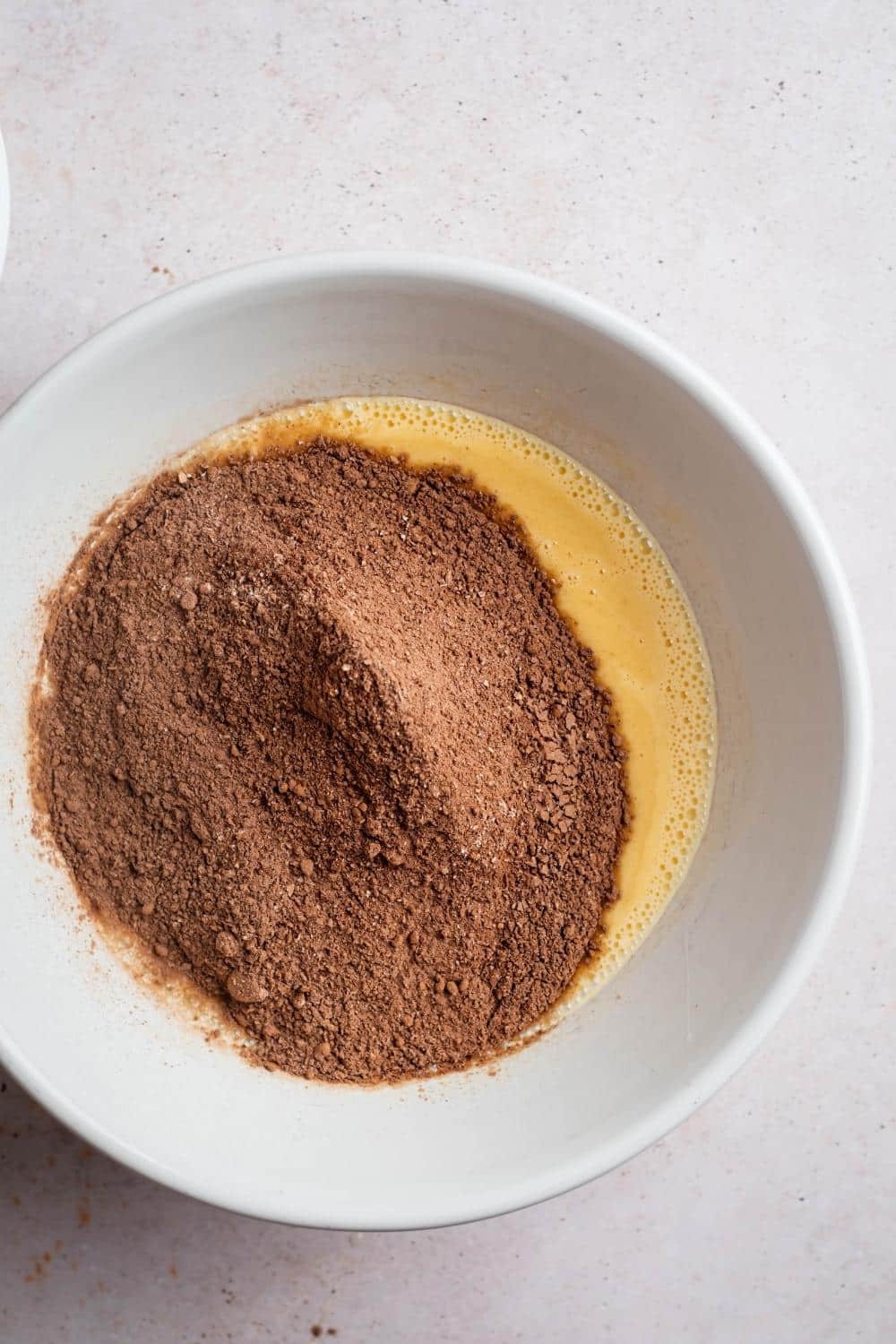 How to Make Protein Donuts
As I mentioned earlier, this protein donuts recipe is incredibly quick and simple.
It takes less than an hour to make from start to finish and doesn't require any fancy equipment or techniques. All you really have to do is mix the batter, bake it in the donut tray, and coat them with frosting.
So, without further ado, let's gather up our ingredients and bake protein donuts!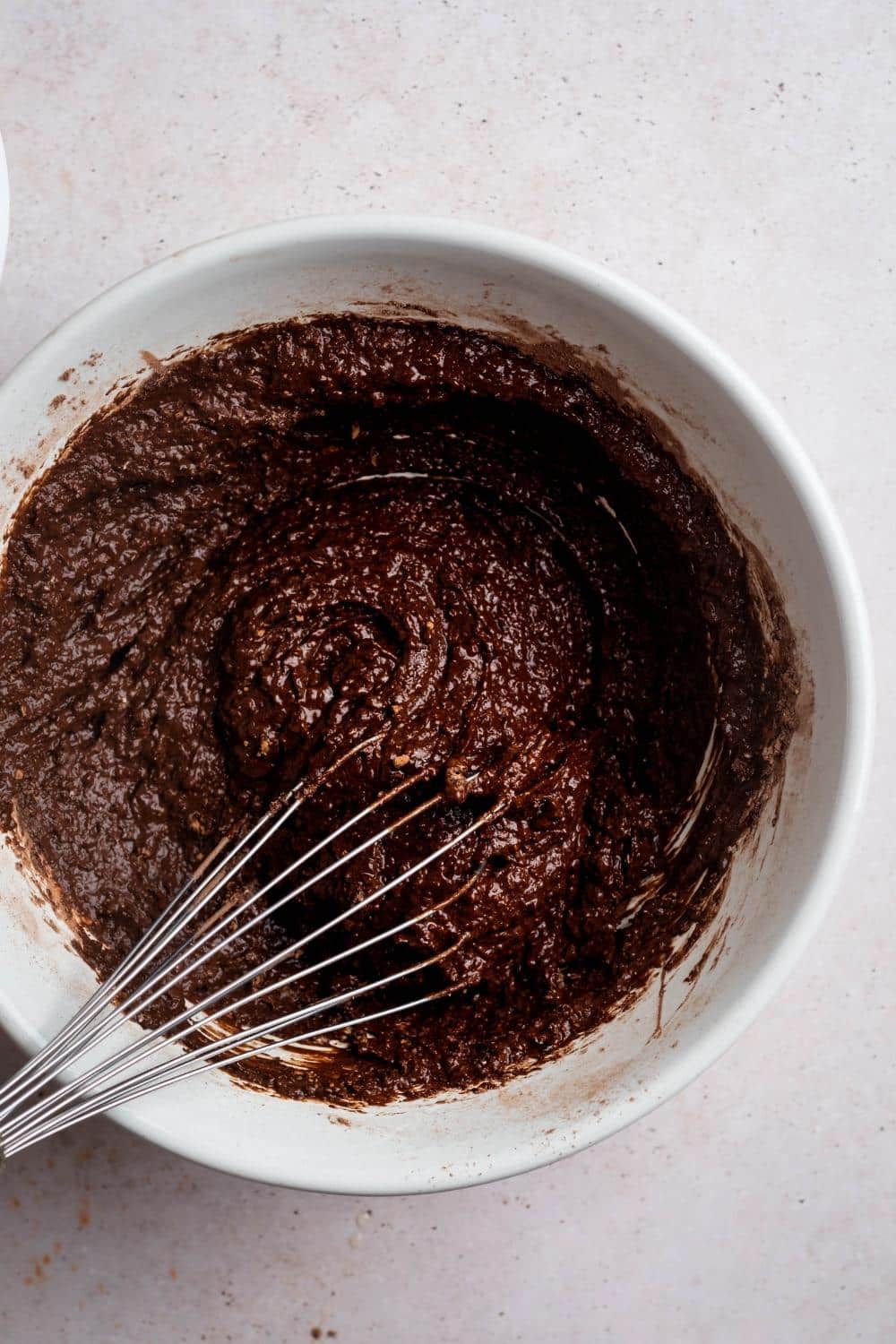 Step 1: Making the Donut Batter
First, preheat your oven to 350ºF (175ºC).
Then, take out a large bowl and start combining the wet ingredients for the donuts. This would be your milk of choice, eggs, applesauce, and vanilla extract.
Now, once they're well combined, mix in your dry ingredients - the sugar substitute, flour, protein powder, baking soda, and unsweetened cocoa powder. Then, give everything a stir until you have a smooth batter.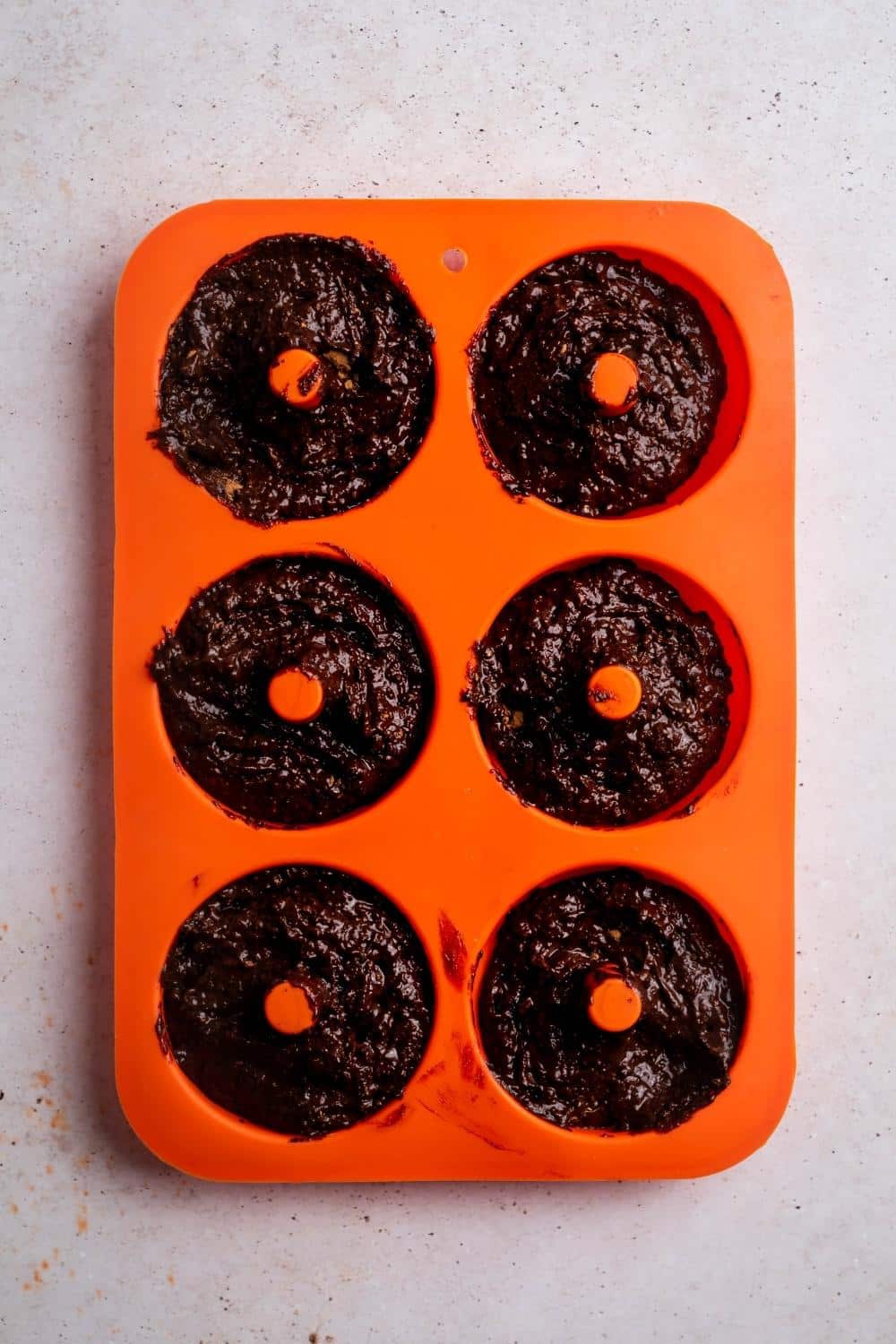 Step 2: Baking the Protein Donuts
Ok, sop now you'll want to fill your silicone donut mold or donut pan with the donut batter. That said, if you aren't using a silicone - or non-stick pan - grease the insides with non-stick cooking spray or melted butter first.
Also, if you don't have a donut pan, you can use a muffin tin!
Anyway, now you'll want to slide your filled donut pan into the oven and bake for 12-15 minutes. Your donuts are done when you can stick a toothpick into the center and it comes out clean when pulled out.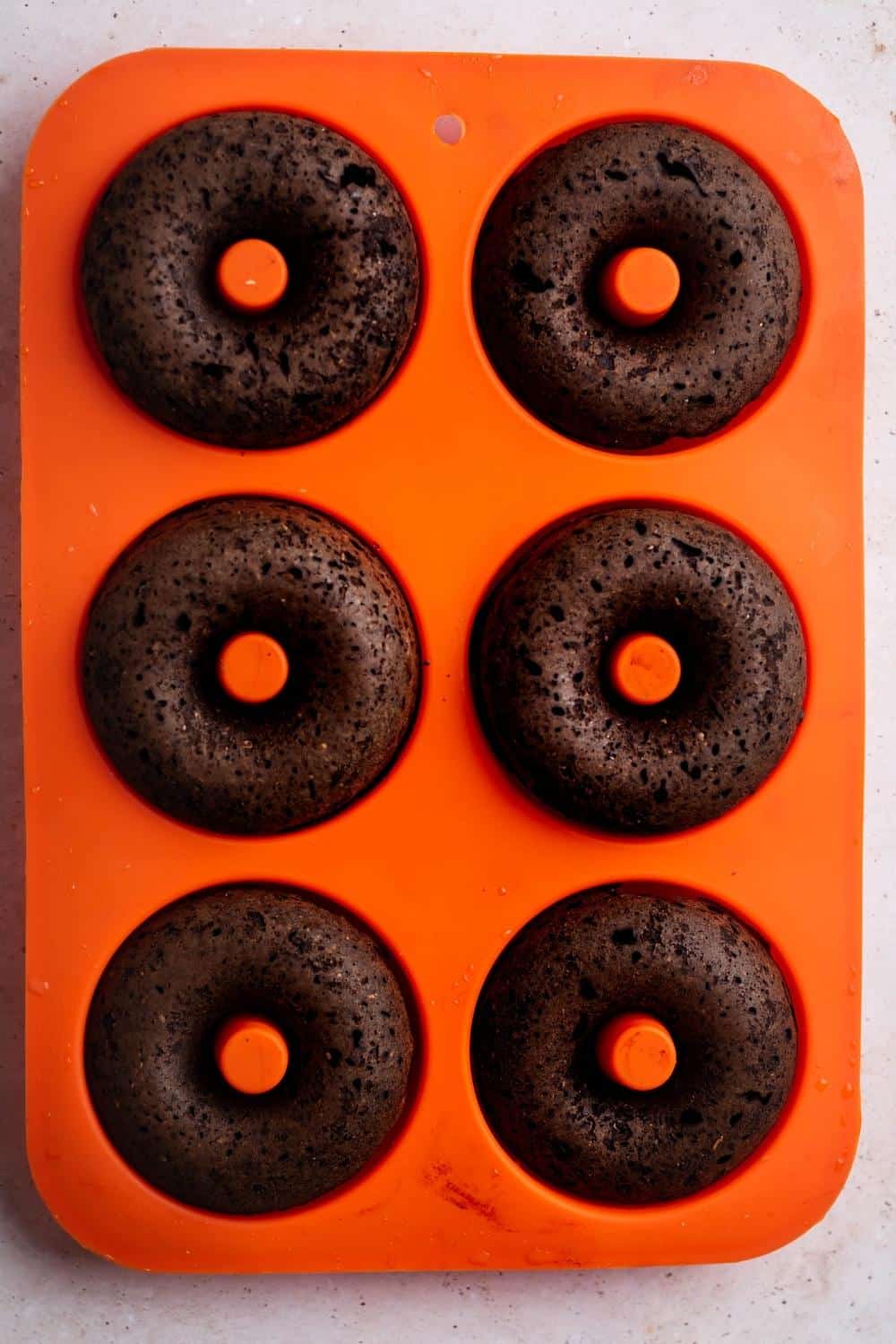 Step 3: Frosting the Protein Donuts
So, while the donuts are baking, you'll want to make the chocolate frosting to finish off the donuts.
In a small bowl, combine the chocolate protein powder, unsweetened cocoa powder, and sugar substitute and mix everything together until smooth.
Then, let the donuts cool to room temperature and top the cooled donuts with frosting. And if you're feeling extra, you can top them off with some rainbow or chocolate sprinkles. Enjoy!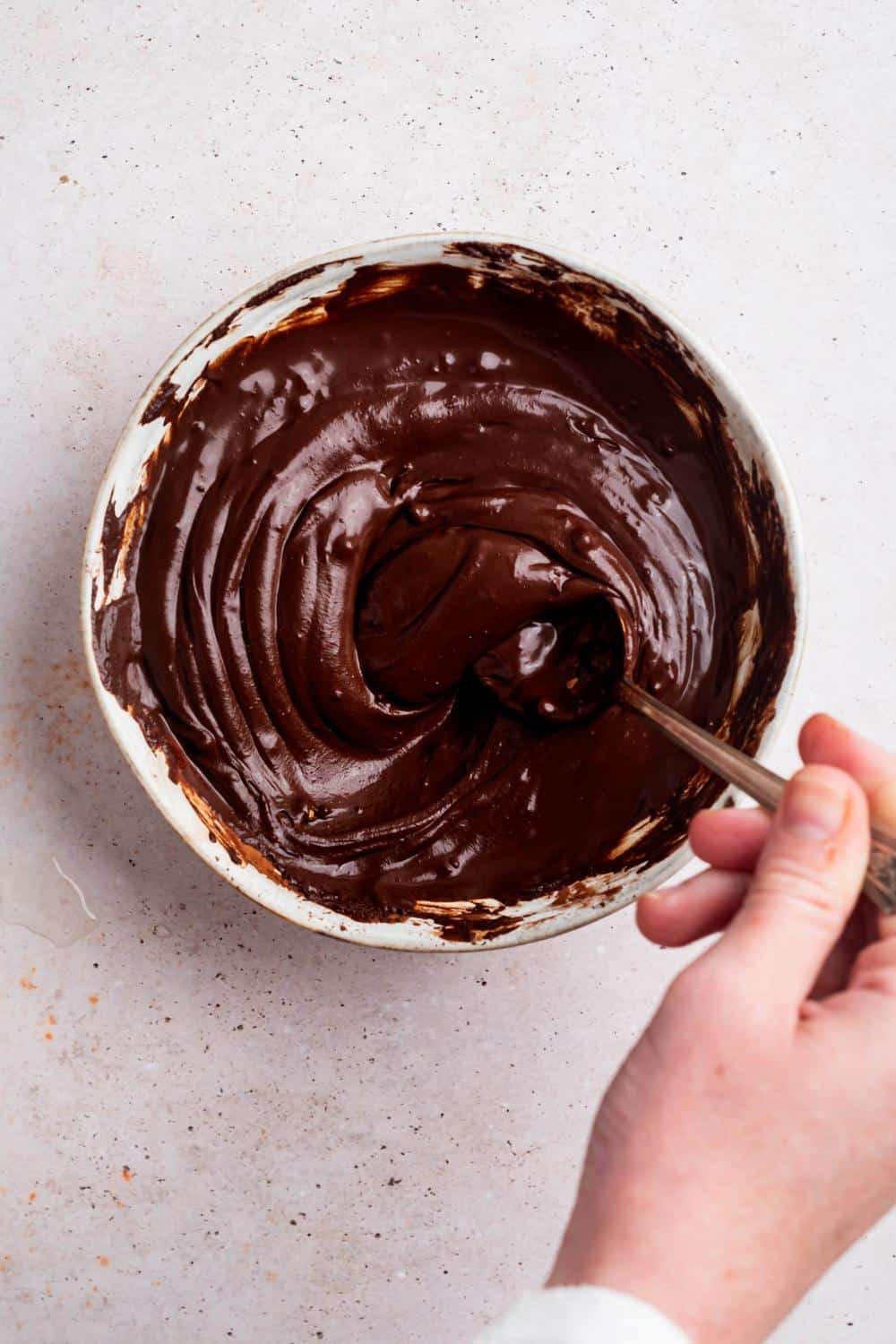 How to Store These Protein Donuts
This protein donuts recipe will make 6 delicious chocolate donuts. And if anyone is home when they come out of the oven, you might not have any left! But, if you do it's super easy to store them.
If you have leftover donuts, you can store them in an airtight container in the refrigerator for up to 5 days, and you can also keep them at room temperature for up to 2 days.
And to store 'em just place a piece of parchment paper between each donut before stacking them to prevent the frosting from sticking.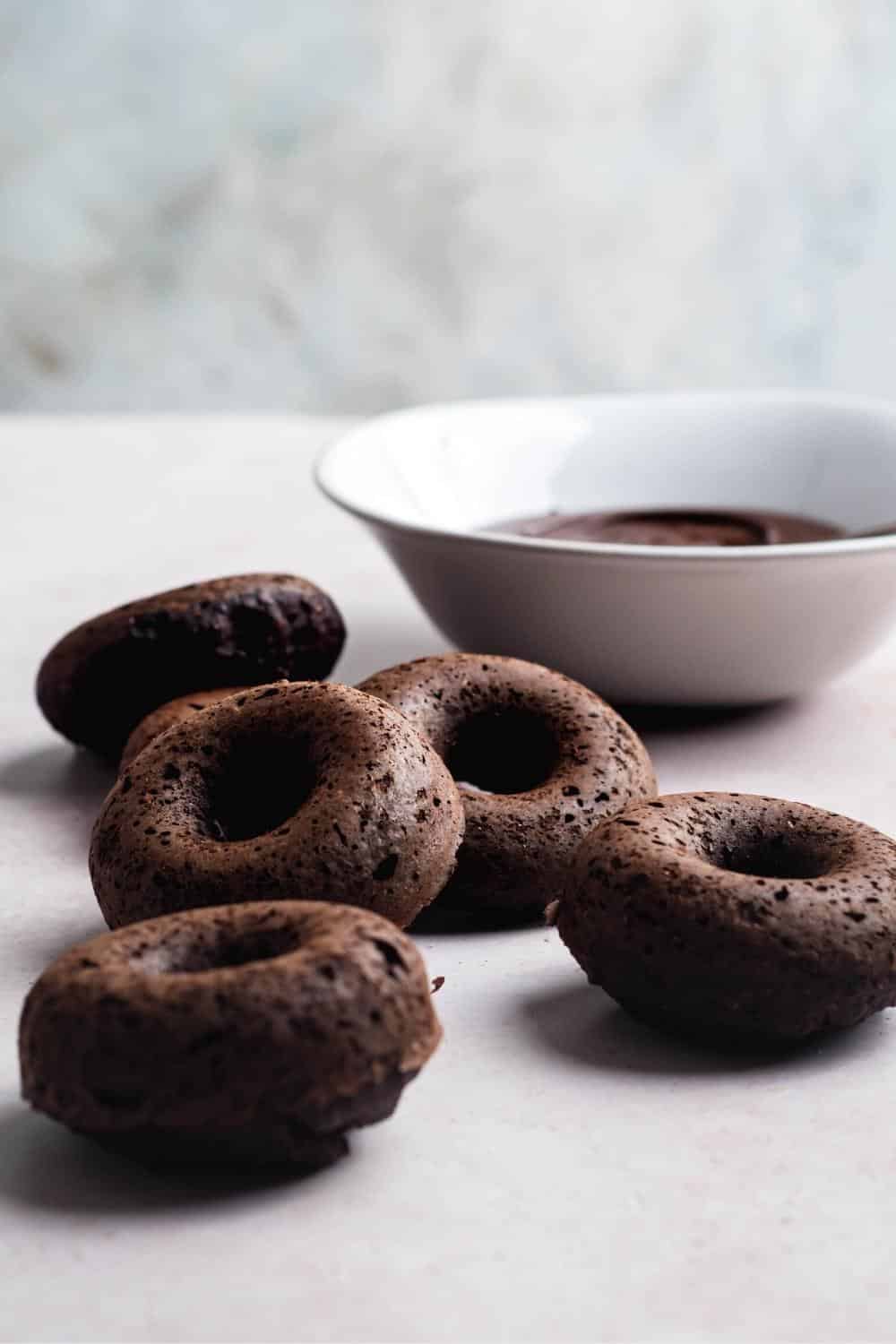 How To Freeze Donuts
Now, these donuts last even longer, up to 2 months, if you put them in the freezer.
If you want to freeze the donuts, place them on a lined tray and let them chill in the freezer until the frosting hardens. Then, store them in a freezer bag with a piece of parchment paper between each donut.
You can also store them without frosting (in this case, skip the pre-freezing step), and add frosting once you've defrosted the donuts.
To defrost them, keep them in the refrigerator overnight and let them come to room temperature on the counter or warm them up in the microwave for about 15 seconds.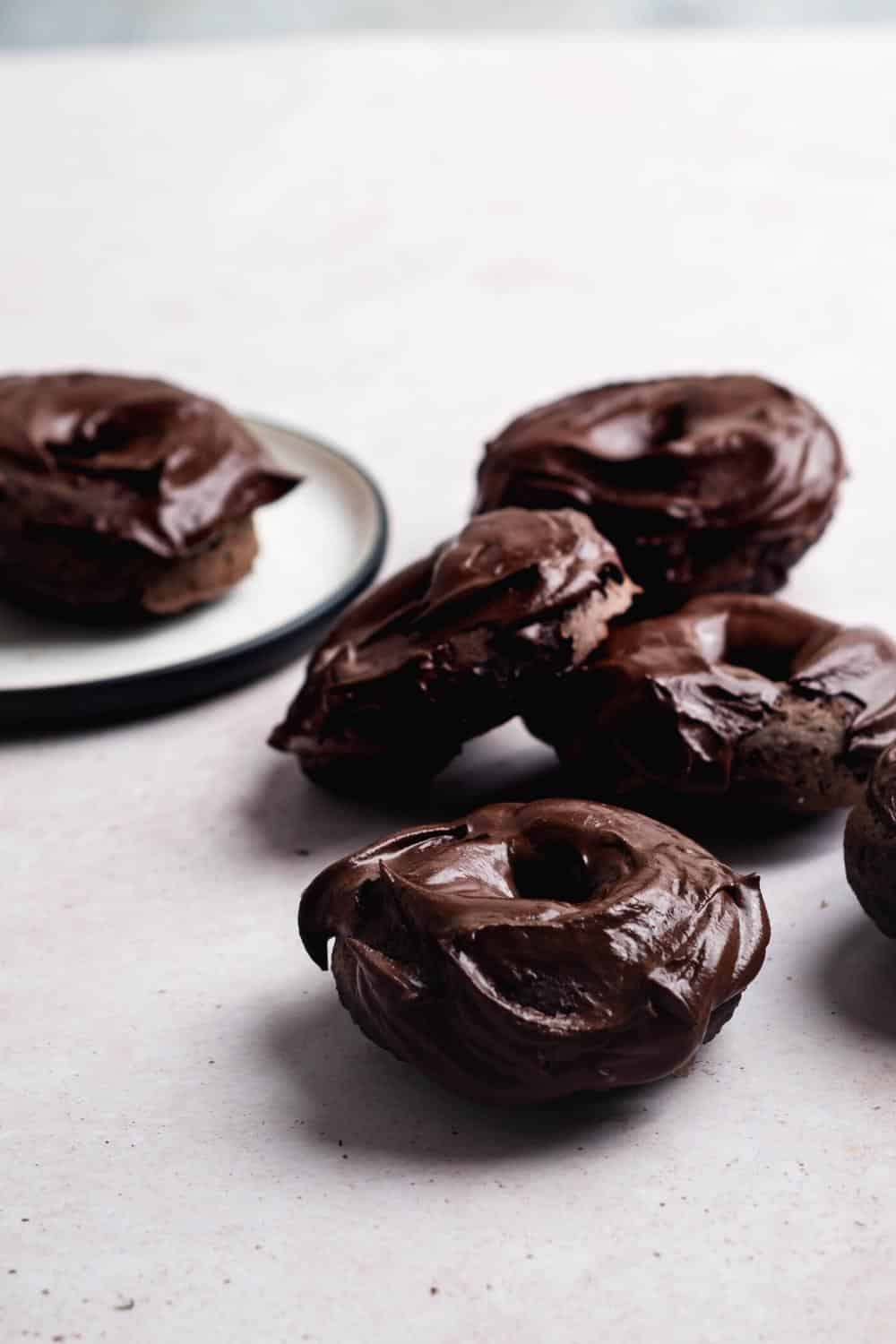 FAQs About This Protein Donut Recipe
What Are Protein Donuts Made Of?
These protein donuts are made of protein powder, flour, cocoa powder, baking soda, and a sugar substitute, plus applesauce, eggs, and milk. The dry ingredients give these donuts a soft and cakey texture like old-fashioned cake donuts while the wet ingredients add enough moisture to counteract the dryness from the protein powder.
How Many Carbs Are in Protein Donuts?
There are 17 grams of carbs and 4 grams of fiber in each one of these protein donuts. So there's a total of 13 net carbs which is pretty low compared to a standard donut, and they are completely sugar free. Donuts typically have upwards of 30 grams of carbs, so these are pretty low carb compared to that. But if you want to give a donut recipe a try that is even lower in carbs, these collagen donuts have only 2 carbs each!
How Many Calories Does A Protein Donut Have?
Each one of these protein donuts has 142 calories, which is pretty incredible for how delicious they are. Regular donuts, meanwhile, pack over 300 calories each, which is over twice the amount of calories in these protein donuts - and that's without any extra protein!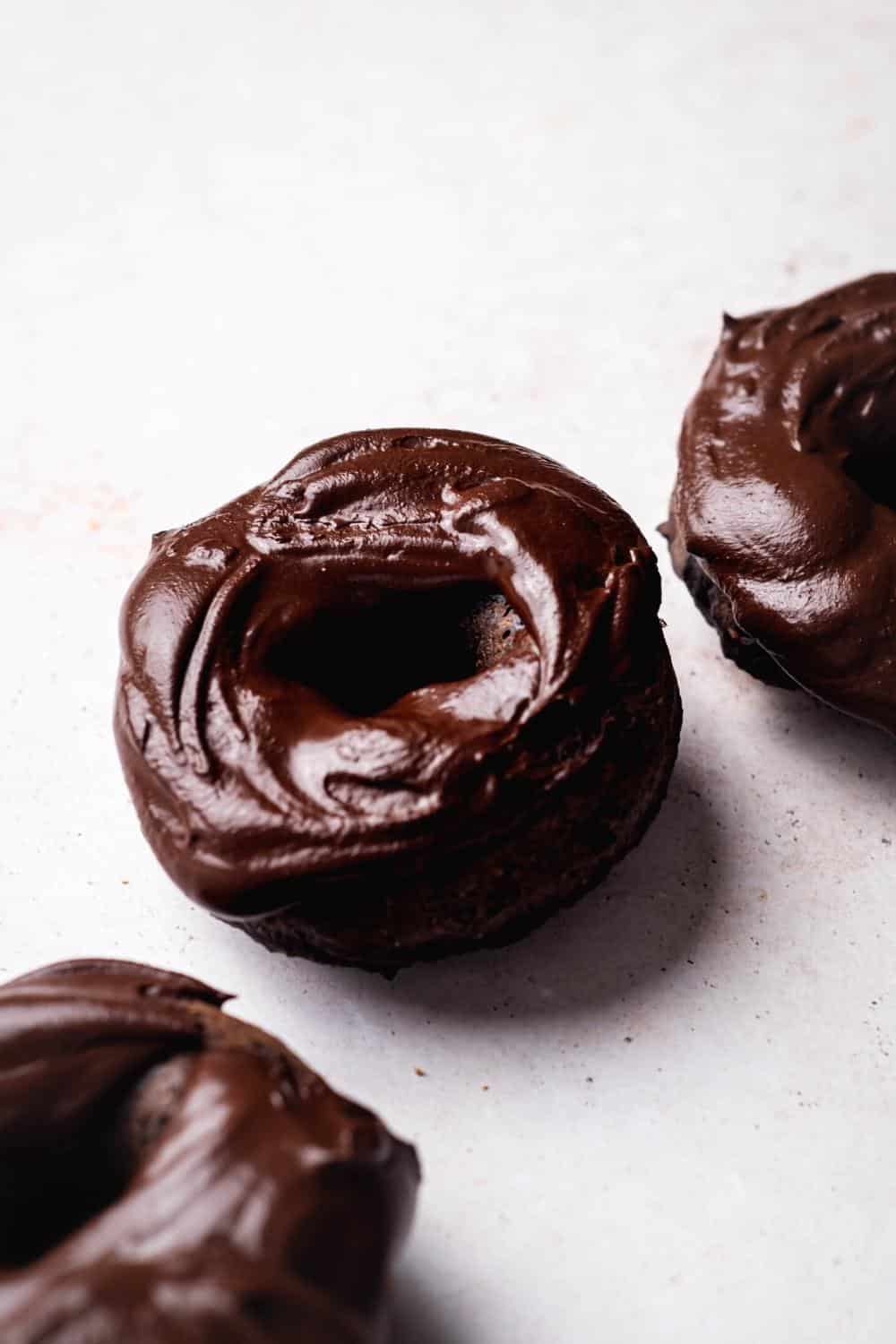 Wrapping It Up
Well, that's how to make protein donuts from scratch!
These healthy donuts are an easy and delicious way to get more protein into your diet without sacrificing the decadent experience of a chocolate donut. They seriously bring all the satisfaction of regular donuts without any guilt.
Soft, cakey, and fluffy with over 10g of protein and less than 20g of carbs per donut what's not to love? They're definitely the perfect combination of healthy and indulgent. And I know I'm biased, but I think this is one of the best protein donuts recipes!
Seriously, they're guaranteed to be a hit snack, dessert, or even breakfast with family and friends! And speaking of breakfast, if you're looking for another tasty high protein breakfast recipe to try, these protein overnight oats are always a hit too.
Honestly, no one would ever even guess this was a healthy dessert!
Anyway, I hope you enjoy these protein donuts as much as I do. If you make them, leave a comment below and let me know what you think! And for more recipes like this one, check out my Youtube channel, TikTok, and Instagram page.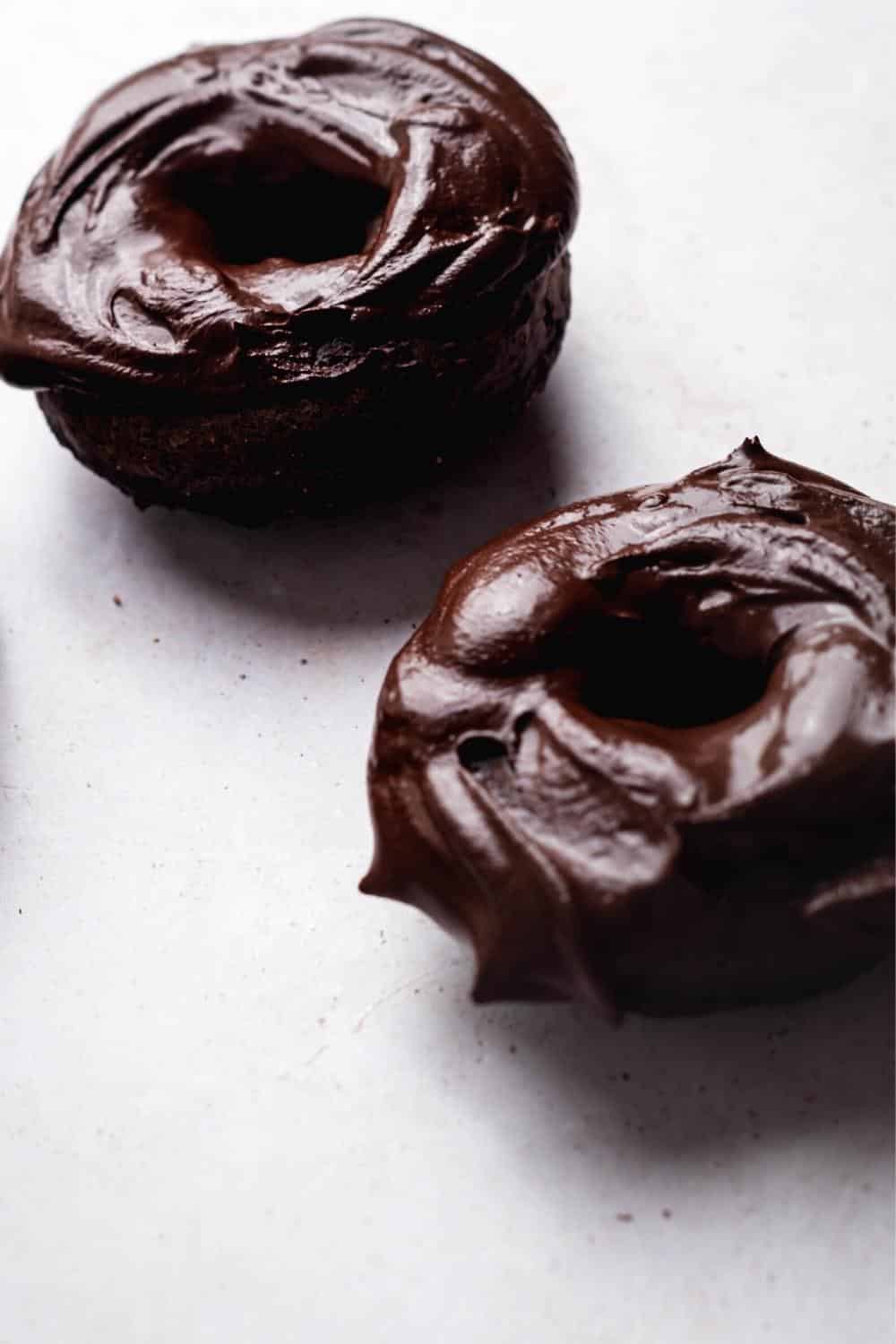 More Protein Recipes
If you liked these protein donuts, I have a ton of protein recipes on the blog that you have to try next!
Check out these high protein recipes:
By the way, if you're looking for other donut recipes with whey protein powder, you have to check out these pumpkin donuts too. They're so, so good.
Print
Rich Chocolatey Protein Donuts Made From Scratch In Just 25 Minutes
These double chocolate protein donuts are deliciously chocolatey with a soft cakey texture coated in a rich chocolate glaze. They're made with your favorite chocolate protein powder and each donut has 13 grams of protein. Healthy and decadent - the best of both worlds!
Author:
Prep Time:

10 minutes

Cook Time:

15 minutes

Total Time:

25 minutes

Yield:

6

donuts

1

x
Category:

Dessert

Method:

Oven

Cuisine:

High Protein
Donuts:
⅓ Cup milk of choice
2 Eggs
½ Cup unsweetened applesauce
1 tsp. vanilla extract
⅓ Cup sugar substitute
¾ Cup flour
1 ½ Scoops Chocolate Protein Powder
½ tsp. Baking soda
⅓ Cup unsweetened cocoa
Frosting: 
1 Scoop Chocolate Protein Powder
⅓ Cup unsweetened cocoa powder
2 Tbsp. sugar substitute
water
Instructions
Preheat the oven to 350ºF (180°C).

Combine the wet ingredients for the donuts in a bowl.

Combine the dry ingredients in another bowl. Incorporate the dry ingredients into the bowl of wet ingredients. Mix well.

Fill a donut silicone mold with the mixture and bake for 12-15 minutes, or until a toothpick comes out clean from the center.

Mix all the frosting ingredients in a bowl and top the donuts with it. 
Nutrition
Serving Size:

1 donut

Calories:

174

Fat:

3

Carbohydrates:

28

Fiber:

4

Protein:

13
Keywords: Protein donuts, Protein donuts recipe, Chocolate protein donuts, chocolate protein donuts recipe, How to make protein donuts, high protein donuts, high protein donut recipe, protein donuts recipe low carb, protein donut recipe low calorie, high protein doughnut recipe, healthy high protein donuts, best healthy protein donuts, chocolate protein doughnut recipe,