This sauteed asparagus recipe is seriously one of the best asparagus recipes you'll ever make. Crisp, tender asparagus spears are tossed in a garlicky lemon butter sauce and topped with toasted breadcrumbs for an irresistible crunch in every bite. And, best of all, this simple and easy side dish recipe is ready in just 5 minutes.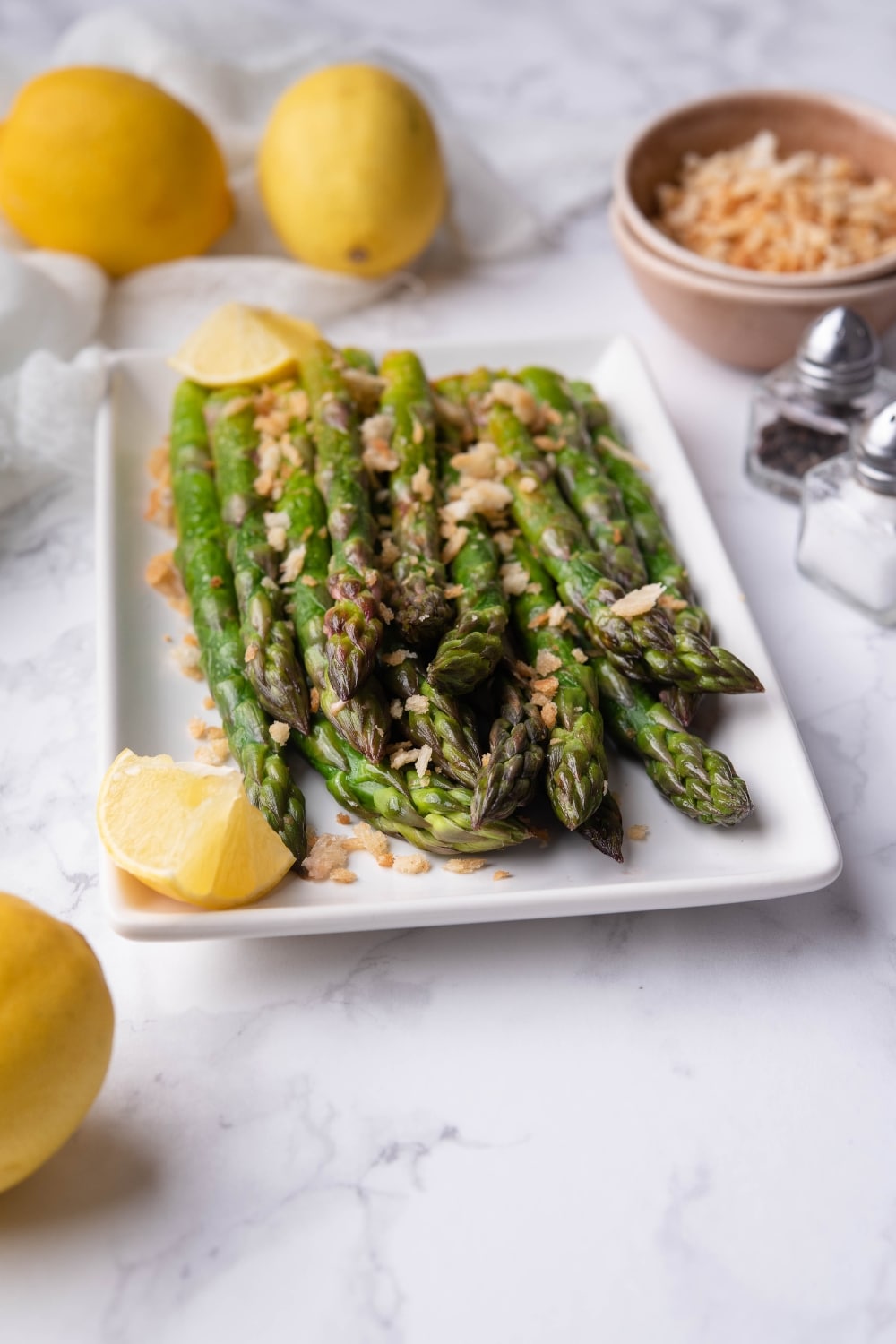 The Best Sauteéd Asparagus
When it comes to easy asparagus recipes, you simply can't go wrong with this pan fried asparagus recipe. I mean, you only need a handful of ingredients to make it, and it comes together in 5 minutes. Not to mention, the results are to die for!
Also, while most sauteed asparagus recipes come out greasy or overcooked, this one comes out super tender yet still slightly crisp. Honestly, after you try making asparagus like this once, you'll never want to make it another way again. Atleast that's been the case at our house - my wife literally won't let me cook it any other way now!
Oh, and for what it's worth if you want to serve one of the best asparagus recipes ever created with something else, I highly recommend pairing it with either this air fryer chicken breast recipe or this easy roasted pork loin recipe. Honestly, even this pan fried salmon goes super well with it too.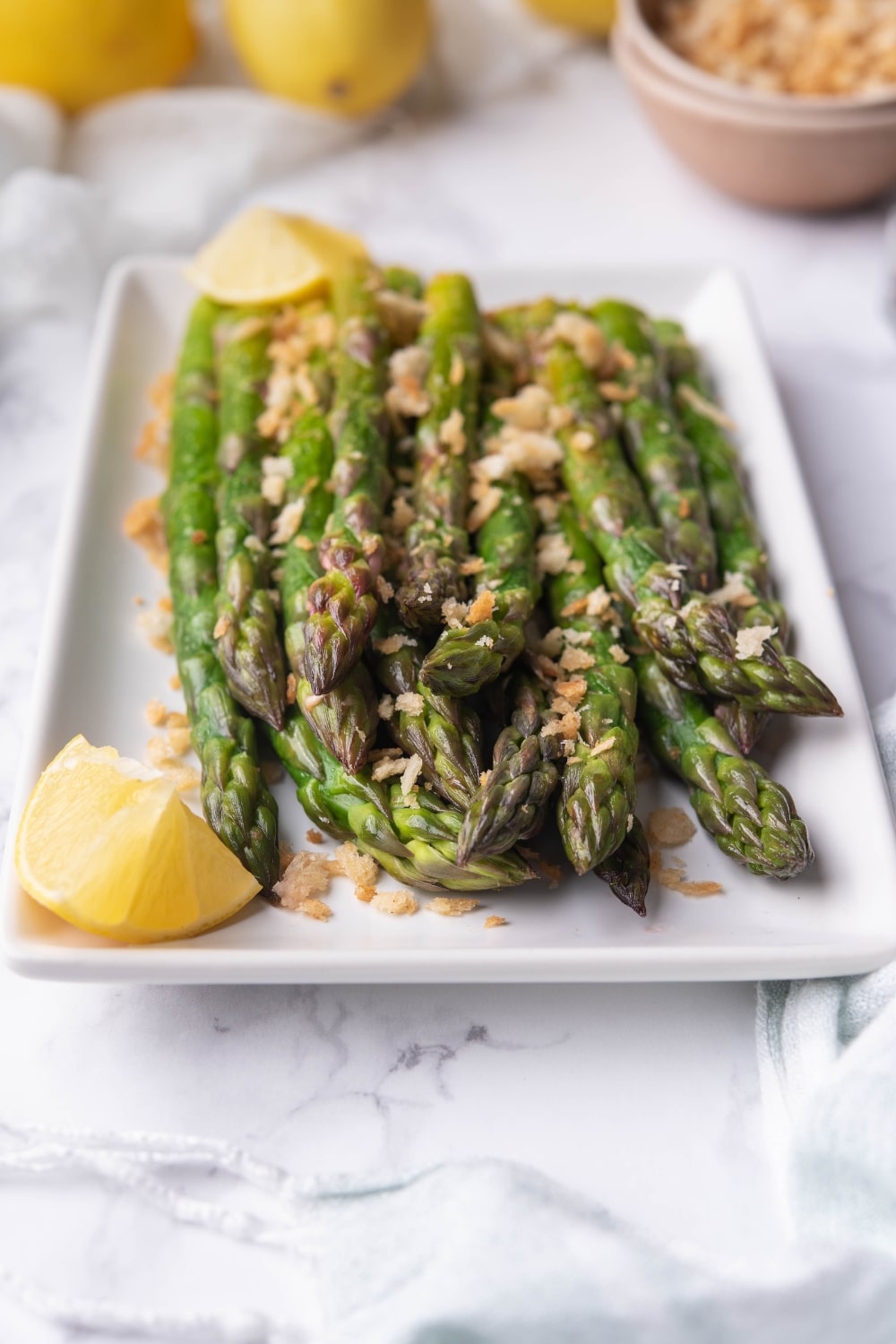 Ingredients
Once again, just 5 simple ingredients - plus salt and pepper - are all you need to make this easy asparagus recipe. And it's more than likely that you have most - if not all - of them on hand already!
Anyway, here are all the ingredients for this sauteed asparagus recipe:
12oz. fresh asparagus spears, trimmed
2 tablespoon butter
Salt and pepper, to taste
1 teaspoon garlic paste
2 tablespoon lemon juice
2 tablespoon toasted Panko breadcrumbs for serving
Simple stuff, right?
Now, just so you know, I recommend using thinner asparagus stalks for this recipe. Thick asparagus takes longer to cook fully than thin ones, and the garlic might overcook if you use ones that are too thick.
By the way, if you have to pick up asparagus stalks from the store, I def recommend grabbing some extra. You can use 'em to make my bacon-wrapped asparagus recipe next! It's another one of my favorite quick and easy asparagus recipes, and it's always a hit at the dinner table.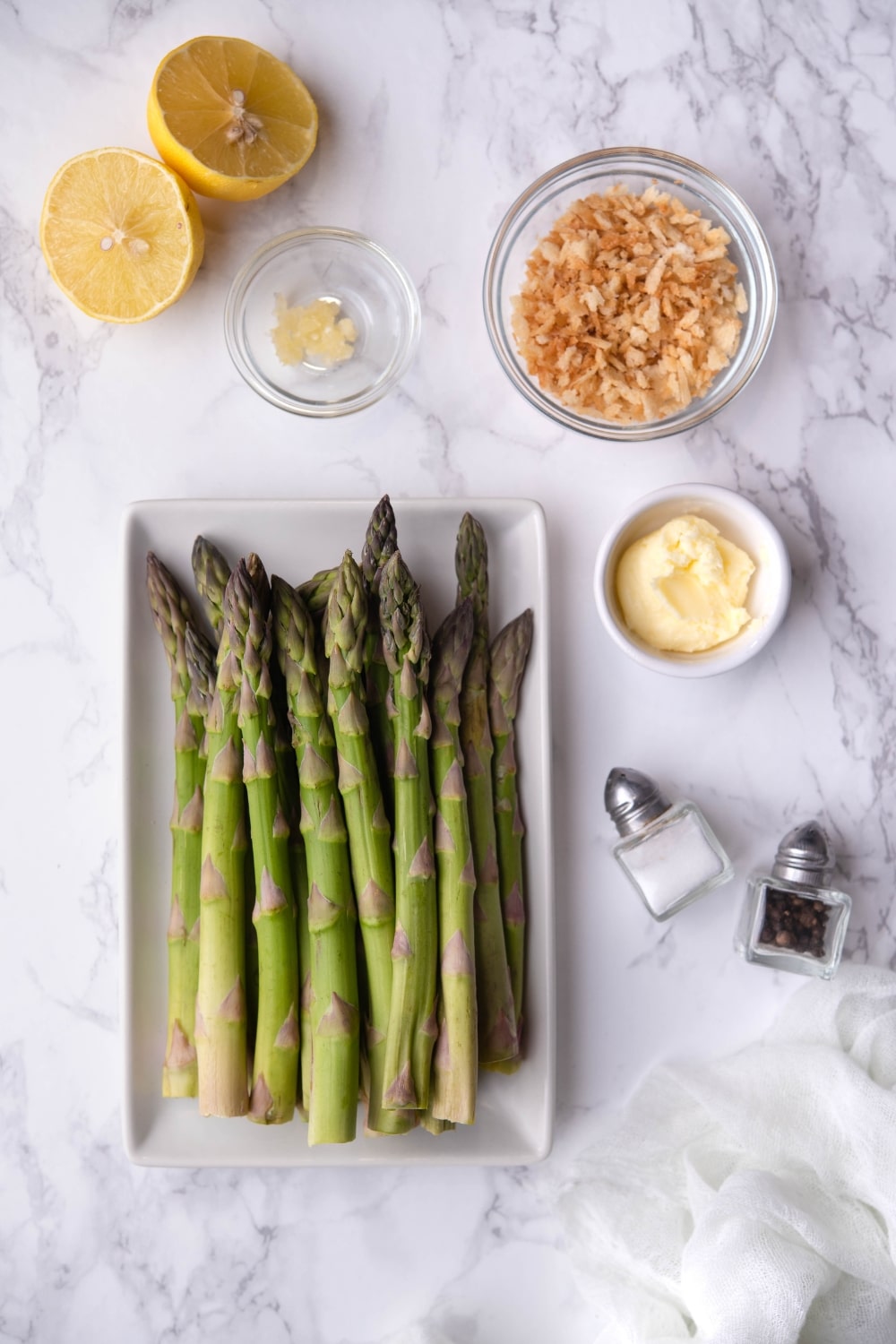 How to Make Sauteed Asparagus
As I mentioned, this sauteed asparagus can be made in as fast as 5 minutes and with minimal effort!
All you have to do is prepare the garlic butter and sauté the asparagus in it. Yup, it's really that easy.
So, if you're looking for a quick and easy side dish recipe to have in your back pocket, this one is it. Now grab your skillet, and let's get cooking.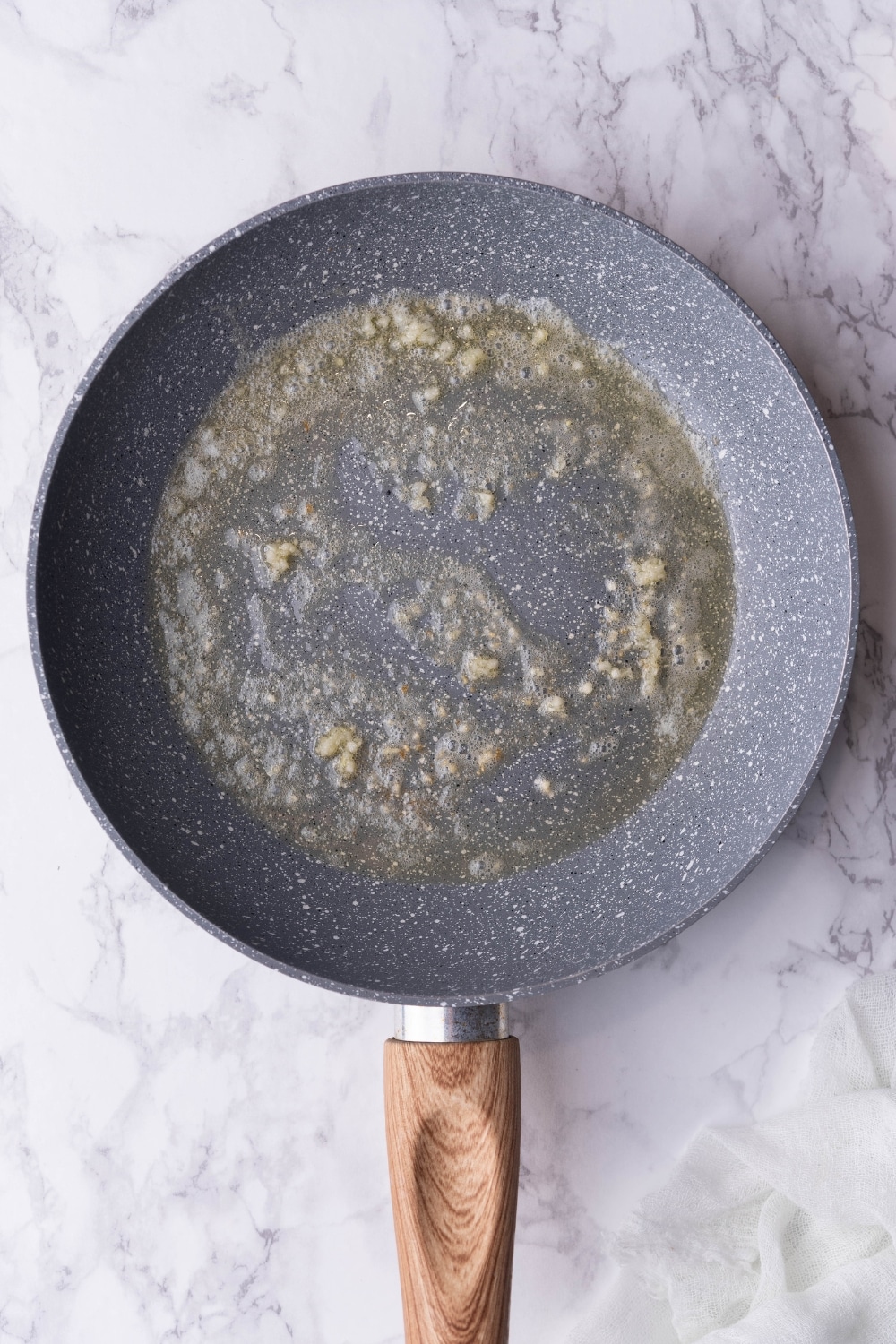 Step 1: Prepare the Asparagus
First things first, you'll want to remove the ends of the asparagus stalks since they're typically really hard to chew. So, you can either snap those bottoms off with your hand, or you can use a knife to cut them off.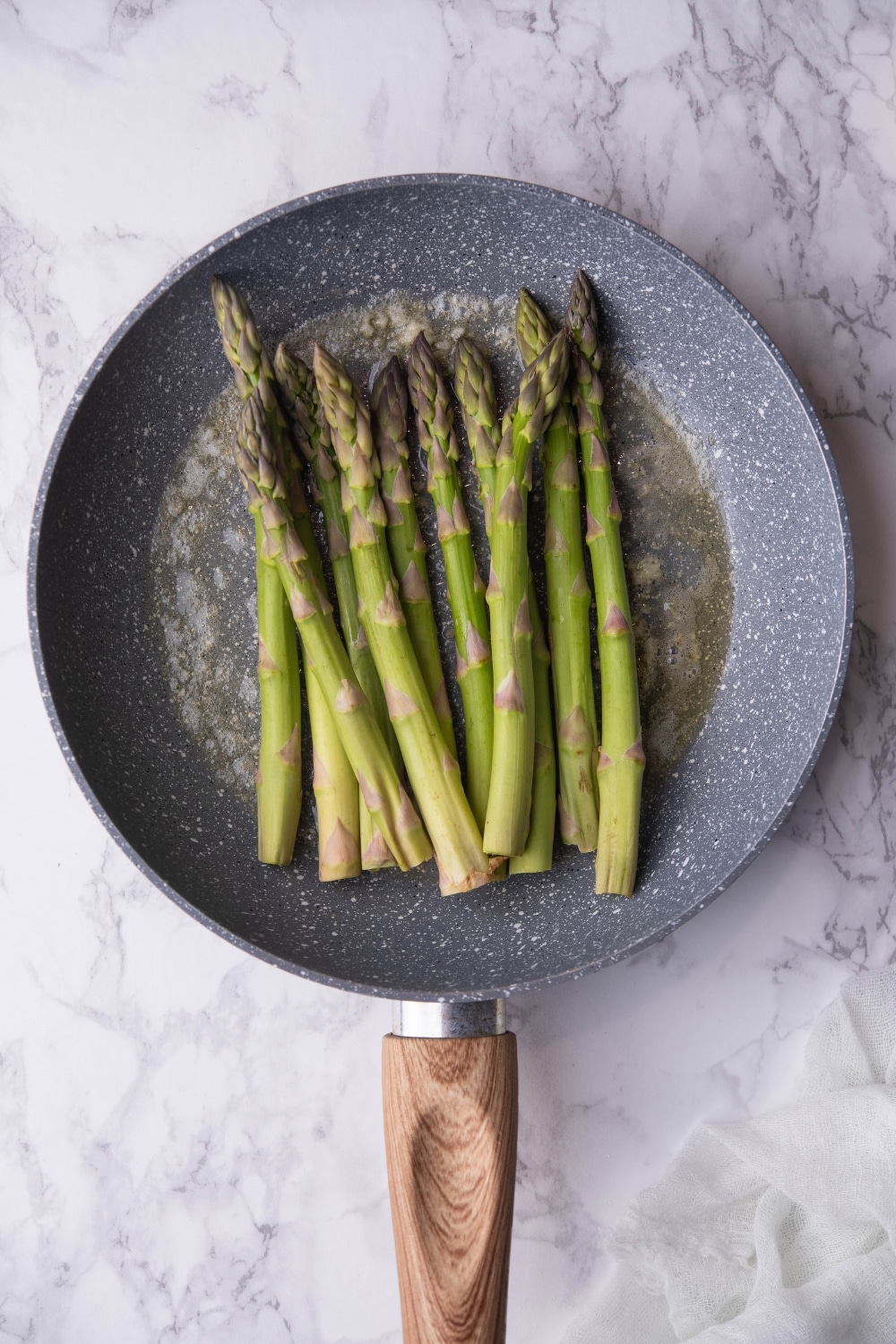 Step 2: Saute The Asparagus
Now that the asparagus is good to go you can add the butter to a large skillet and melt it over medium-high heat.
Then, once it's melted, you can add the garlic paste - or minced garlic - and cook the two together about 30 seconds or until the garlic is fragrant. Oh, and make sure to give everything a little mix while it's cooking, so it doesn't burn
Next, you'll want to add the asparagus to the skillet and season it with a little salt and pepper. Then, you can use a pair of rubber tongs to toss the asparagus in the garlic butter as it cooks. Once that's taken care of you can squeeze in the lemon juice and continue sauteing the asparagus until it's vibrant green and tender enough to pierce with a fork.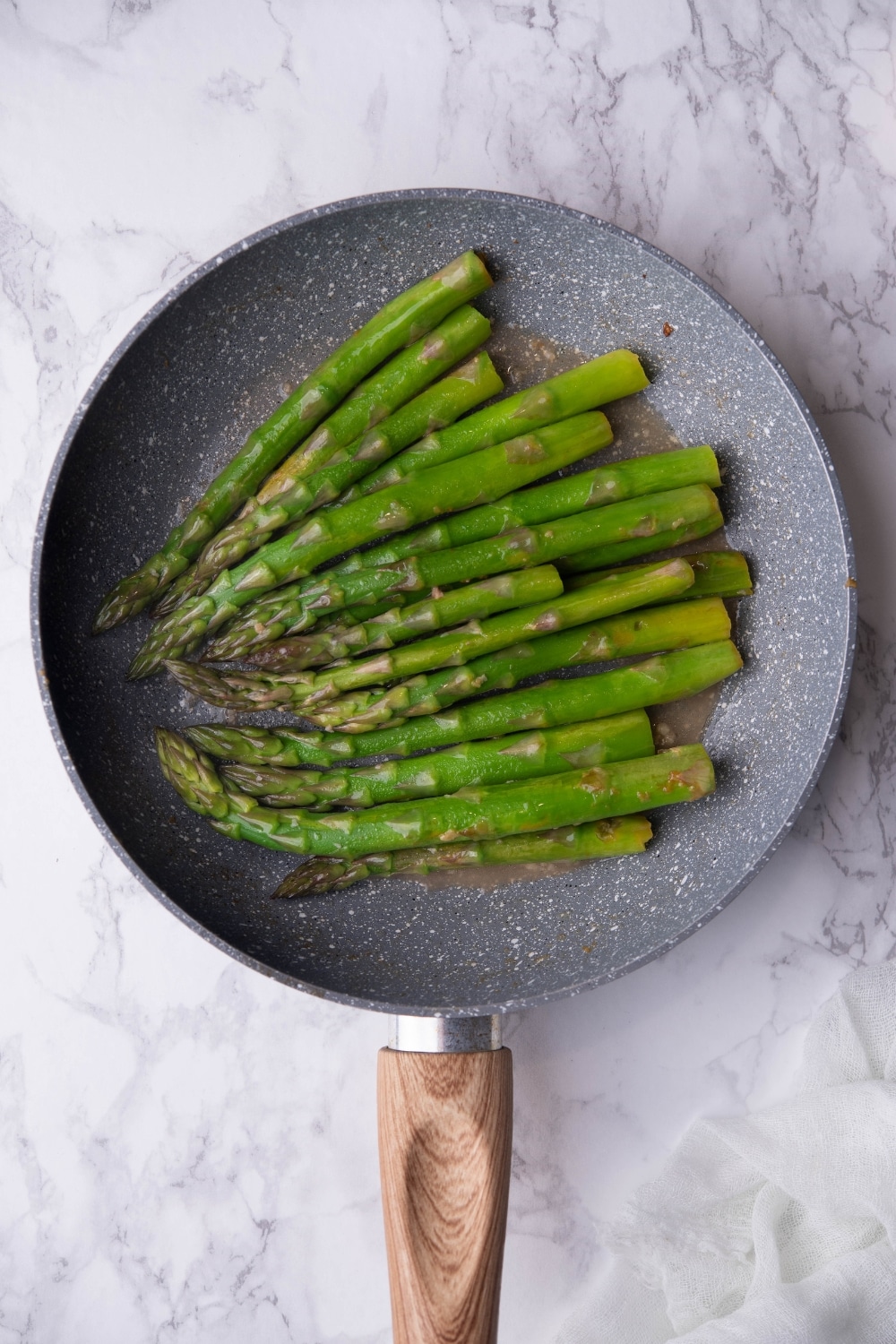 Step 3: Garnish and Serve
Now, to finish up, you can just toast the panko breadcrumbs for a minute or so in another skillet over medium heat.
Finally, you can serve the asparagus on a tray with the toasted breadcrumbs on top and a sprinkle of parmesan cheese if you want to elevate the flavor even more.
Serve your sautéed asparagus hot, and enjoy!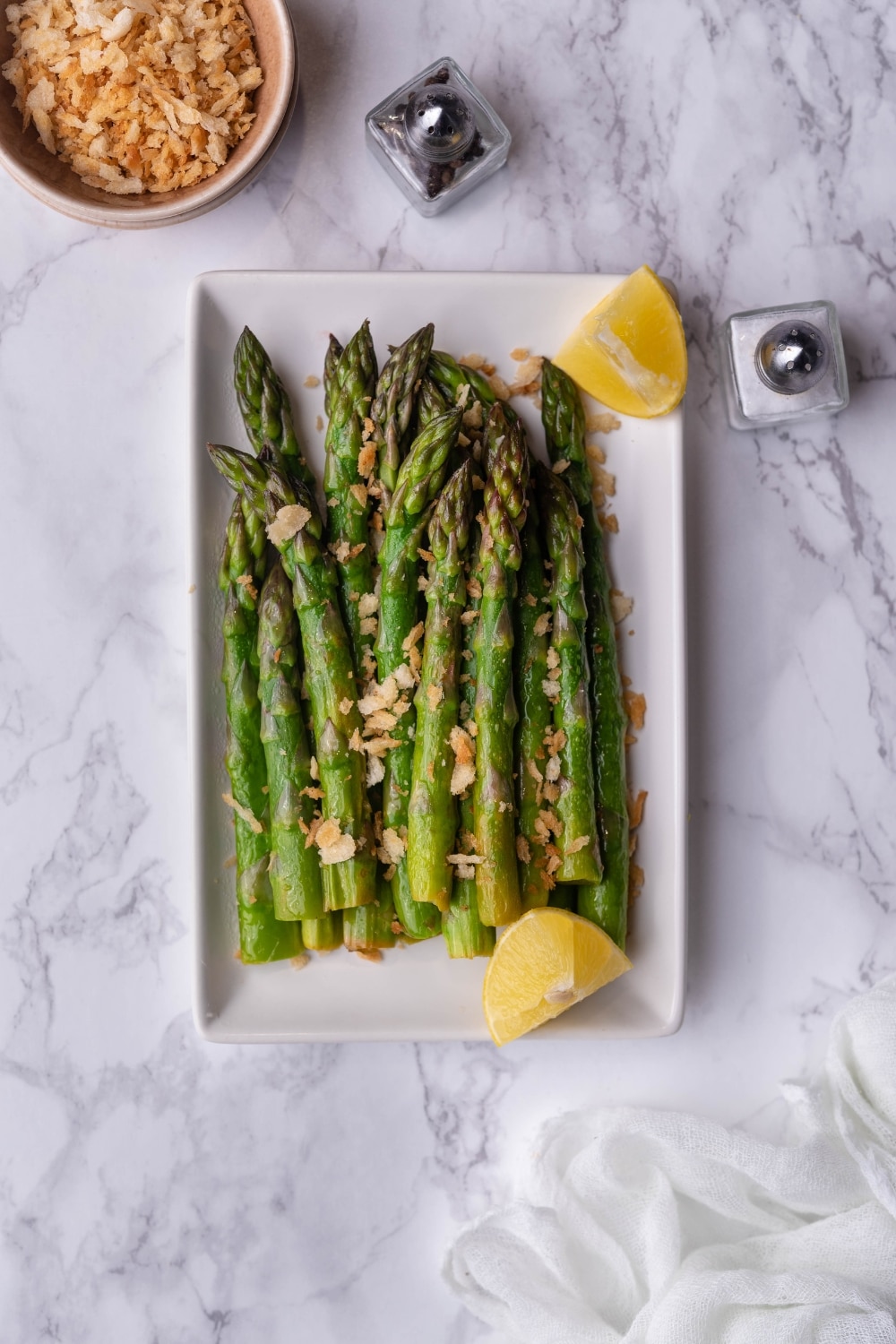 What to Serve with Sauteed Asparagus
This sauteéd asparagus recipe is super versatile and it goes great with practically anything.
With that said though, here are some of my favorite things to serve this sauteed asparagus with:
Steak
Cajun shrimp and sausage
Meatloaf

Fish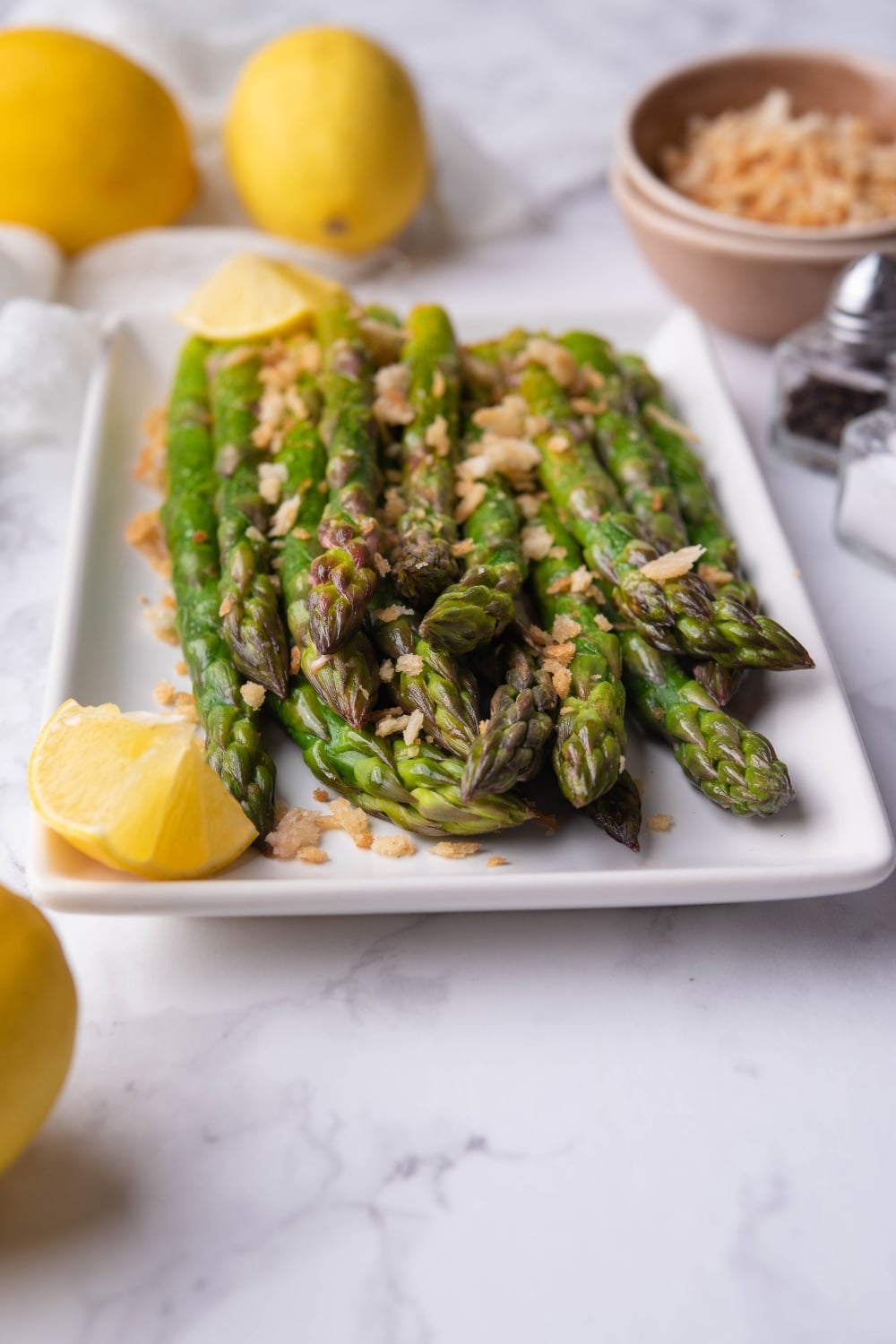 How To Store Cooked Asparagus
This recipe for sautéed asparagus makes enough for 4 side dish servings. And, honestly, it's so good that you'll probably want to double or triple the recipes. Then, if you have leftovers, you can eat them over the next day/s.
Speaking of leftovers, you can just transfer your leftover cooked asparagus to an airtight container and store it in the fridge for 2-3 days.
With that said, if you want to store it even longer, you can freeze your leftover asparagus for 2-3 months in an airtight container or freezer-safe bag.
How To Reheat Cooked Asparagus
Leftover cooked asparagus is actually pretty good cold, but you can certainly reheat it.
For a quick method, just put the asparagus on a plate and microwave it in 20 seconds intervals until it's warm.
Alternatively, if you don't want to use the microwave, you can reheat your sautéed asparagus in a skillet over medium heat for a couple of minutes. Just turn it over frequently until it's warmed through.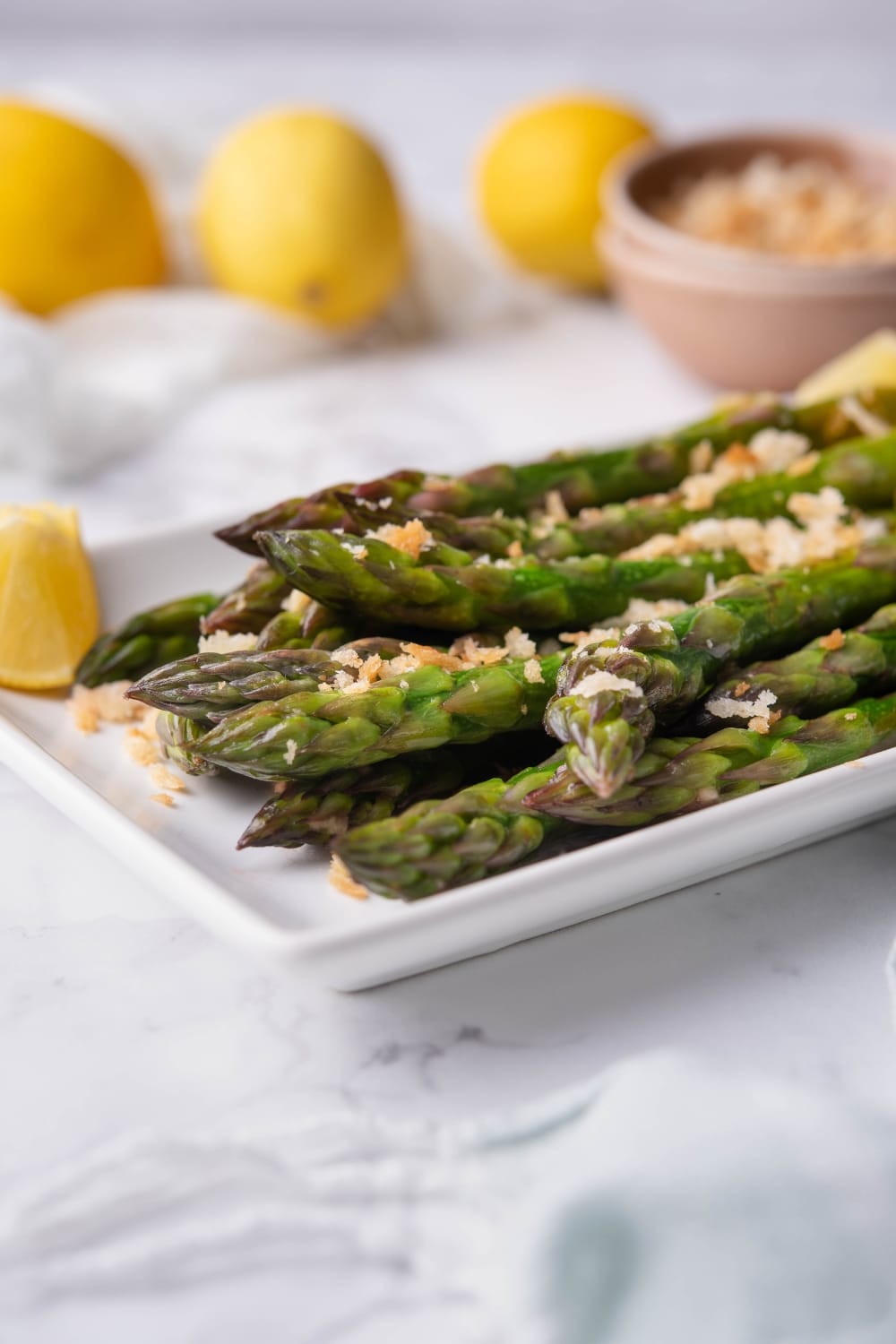 FAQs About Making Sauteed Asparagus
Should I blanch asparagus before sauteing it?
If your asparagus spears are thicker then giving them a quick blanch before sauteing them is a great way to make them more tender without overcooking the other aromatics. But if you're sauteeing asparagus spears, you generally don't have to blanch your asparagus before sauteing.
How do you cook asparagus so it doesn't get soggy?
Cooking asparagus for a short time over high heat is a great way to ensure it stays tender yet crisp and never gets soggy or overly chewy. Roasting asparagus on the grill can be an easy way to achieve this result.
How do you trim asparagus?
You can easily remove the tough, woody ends of an asparagus stalk by snapping the bottom quarter off of the stalk with your hands. It'll naturally break where the woody part meets the tender part of the stalk. You can do this for all the asparagus spears or you can use the first asparagus as a guide for trimming the rest of the bunch and cut the rest of the ends off with a knife.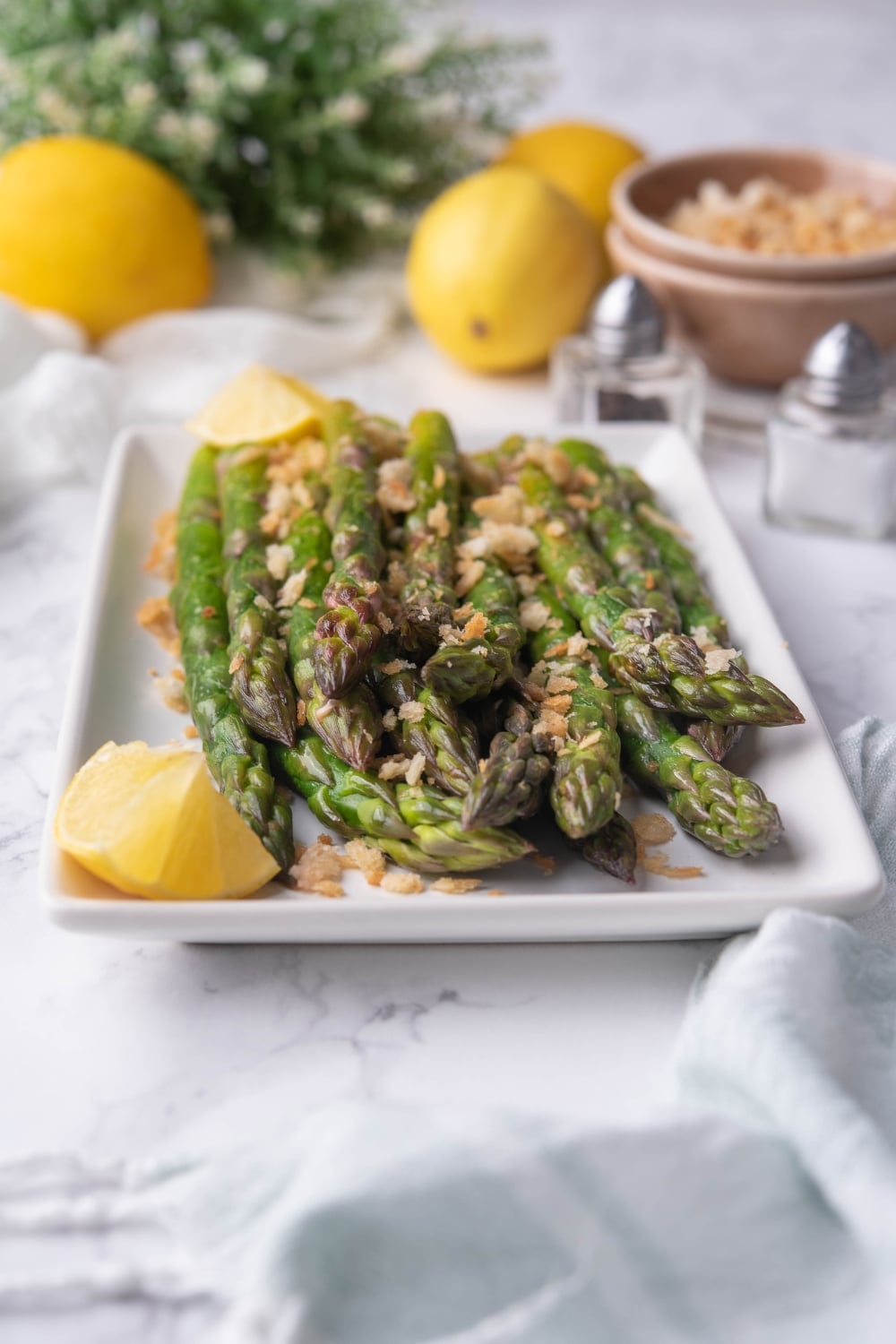 Wrapping It Up
Well, that's how to make the best sauteed asparagus in just 5 minutes!
I know I'm biased, but I honestly think this is one of the best ways to cook asparagus. Not only is it fast and simple, but the asparagus cooks perfectly every single time. Not to mention, it's coated in the most addictive garlicky lemon butter sauce with crispy toasted breadcrumbs on top.
I mean, can it get any better than that?!
Anyway, I hope you enjoy this sauteéd asparagus recipe as much as my family and I do! If you give it a try, don't forget to leave a comment below and let me know how it went.
More Easy Side Dish Recipes
If you love quick, healthy, and tasty side dish recipes - like this asparagus one - I have a ton of recipes that you can check out on the blog.
Here are some reader favorites:
Oh, and as always, be sure to check out my YouTube channel, TikTok, and Instagram page for even more deliciousness. I post new recipes on there all the time!
Print
Quick and Easy Sautéed Asparagus Recipe (Ready In 5 Minutes)
This sauteed asparagus recipe is seriously one of the best asparagus recipes you'll ever make. Crisp, tender asparagus spears are tossed in a garlicky lemon butter sauce and topped with toasted breadcrumbs for an irresistible crunch in every bite. And, best of all, this simple and easy side dish recipe is ready in just 5 minutes.
Author:
Prep Time:

1 minute

Cook Time:

5 minutes

Total Time:

6 minutes

Yield:

4 servings

Category:

Side

Method:

Stovetop

Cuisine:

Vegetable
12 oz. asparagus, trimmed (the thinner, the better)
2 tbsp butter
Salt and pepper, to taste
1 tsp garlic paste
2 tbsp lemon juice
2 tbsp toasted Panko breadcrumbs for serving
Instructions
Trim the asparagus by removing the bottom parts.

Melt butter over medium-high heat in a large skillet.

Add garlic paste and cook until fragrant, for 30 seconds.

Add the asparagus and season it to taste with salt and pepper. Toss gently to coat the asparagus with butter.

Add lemon juice and cook until the asparagus are tender.

Toast the breadcrumbs in a pan over medium heat for a few minutes until golden.

Serve asparagus warm, topped with toasted Panko breadcrumbs.
Nutrition
Serving Size:

1 serving

Calories:

46

Fat:

2

Carbohydrates:

6

Protein:

2
Keywords: easy sauteed asparagus, sauteed asparagus, sauteed asparagus recipe, how to saute asparagus, how to cook asparagus, sauteéd asparagus, sauteéd asparagus recipe, satueed asparagus with garlic, sauteed asparagus in butter,