This sauteed zucchini is a simple yet incredibly delicious healthy side dish. The zucchini turns out perfectly tender, and it's jam-packed with flavor from the garlic butter sauce that goes with it. Plus, it's super quick and easy to make. In fact, you can have it ready and on the table in just 10 minutes!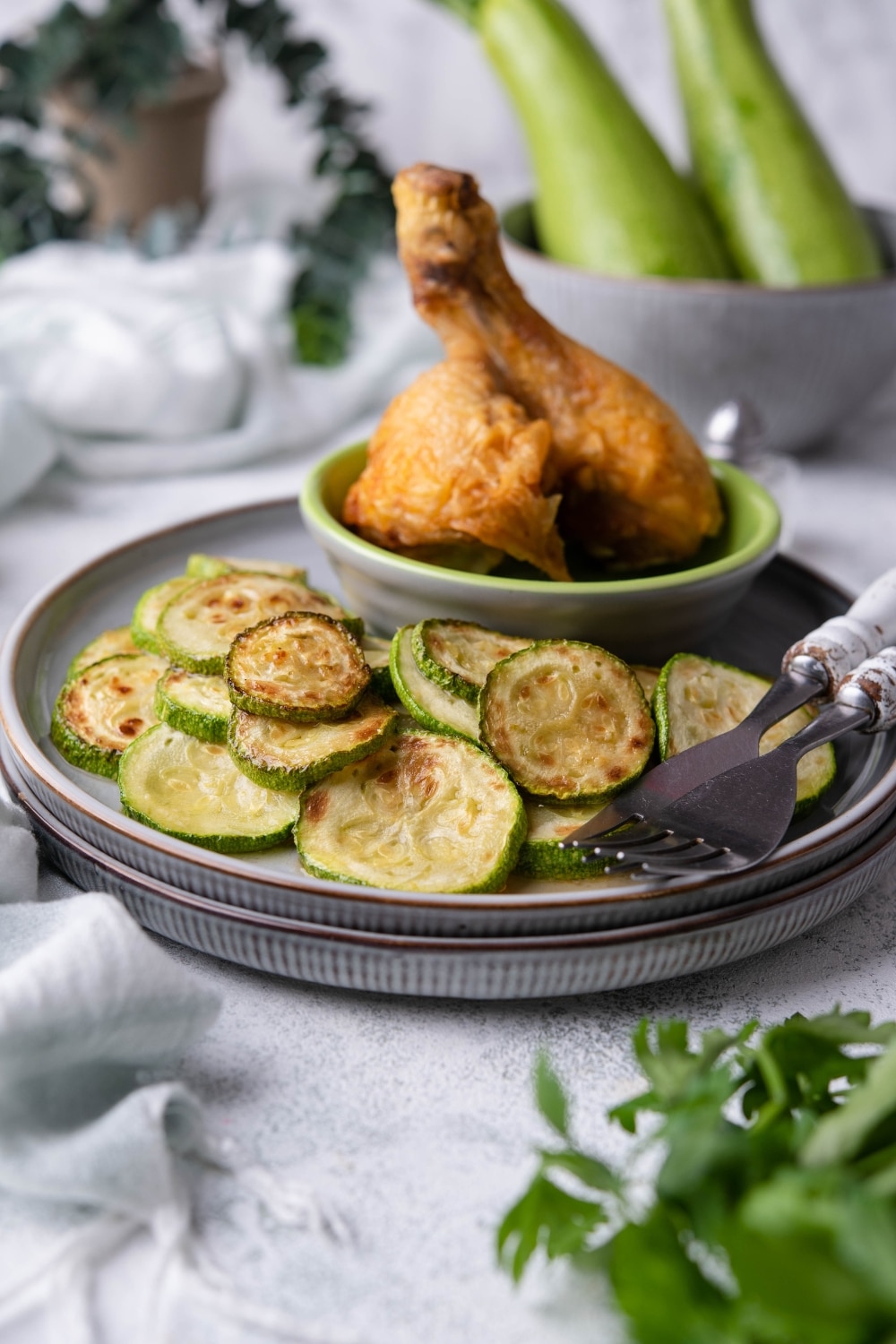 The Best Sauteed Zucchini
There are so many different ways you can prepare zucchini, but none may be more tasty tasty than this sauteed zucchini recipe.
I mean, the zucchini gets sauteed until slightly crisp yet tender, then it's coated in a garlic butter sauce that just melts in your mouth with each bite. It's seriously so good that you won't believe you're just eating a healthy vegetable!
And, as I mentioned, this is a lightning-quick recipe that's ready in just 10 minutes - prep and cook time included! So, it's the perfect thing to whip up whenever you need a quick and healthy side dish to go with dinner.
Also, what's great about this sautéed zucchini recipe is that it's super versatile. Honestly, it'll go with anything you're serving for dinner.
For what it's worth, I love serving it with this blackened chicken recipe, these oven-roasted brats, this grilled tilapia, or these grilled boneless skinless chicken breasts.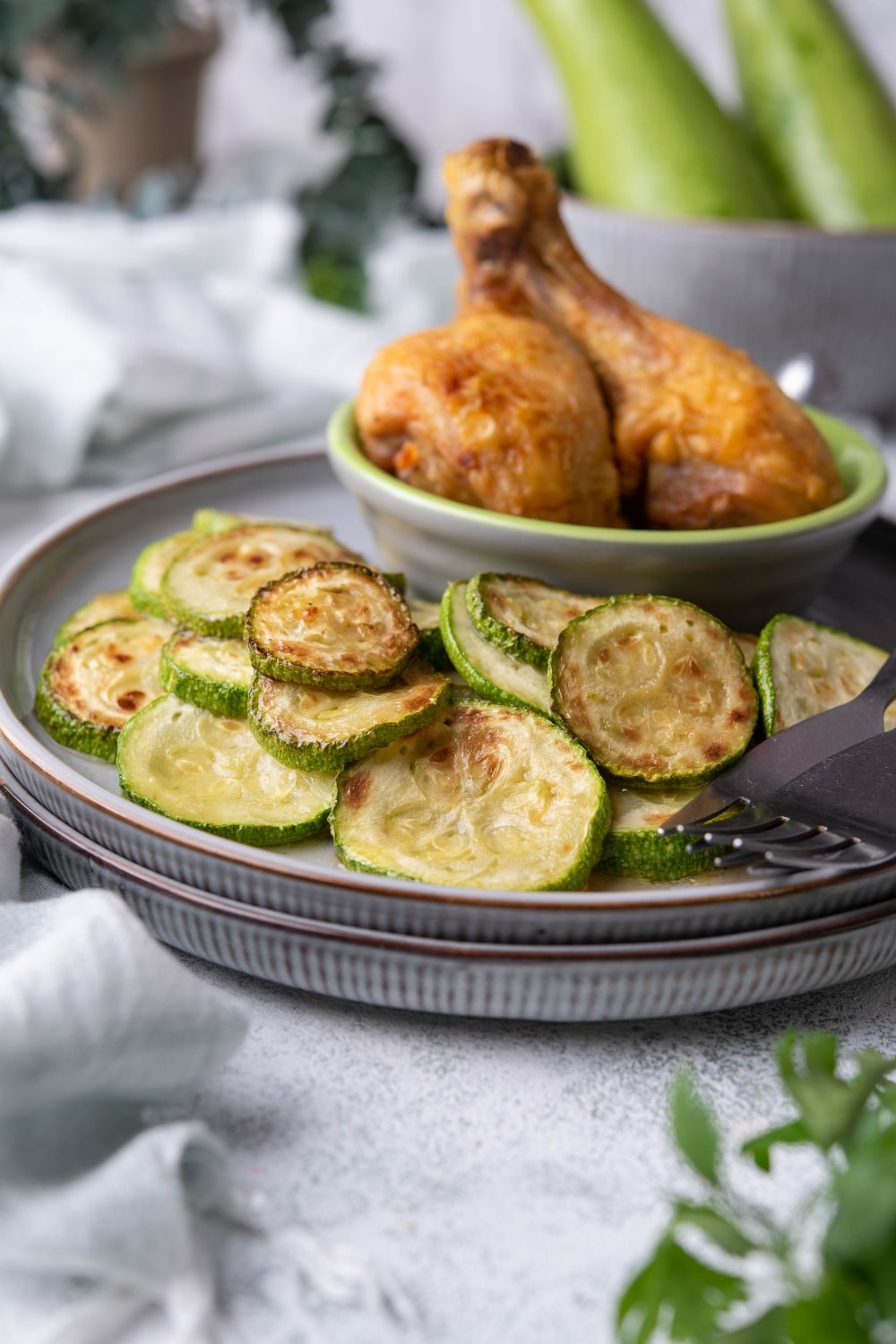 Ingredients
As I mentioned earlier, this easy sautéed zucchini recipe is made with only a handful of ingredients. In fact, all you need is some fresh zucchini and 4 pantry staple ingredients to make it. And, honestly, I'm willing to bet you have most - if not all - of these on hand already!
Anyway, here's what you'll need:
1lb. zucchini
1 ½ tablespoon olive oil
1 tablespoon unsalted butter
1 teaspoon garlic paste
Salt and pepper, to taste
Pretty basic stuff, right?!
By the way, if you happen to have any leftover zucchini from this recipe, you can use it to make my low carb zucchini fries or this air fryer zucchini recipe next.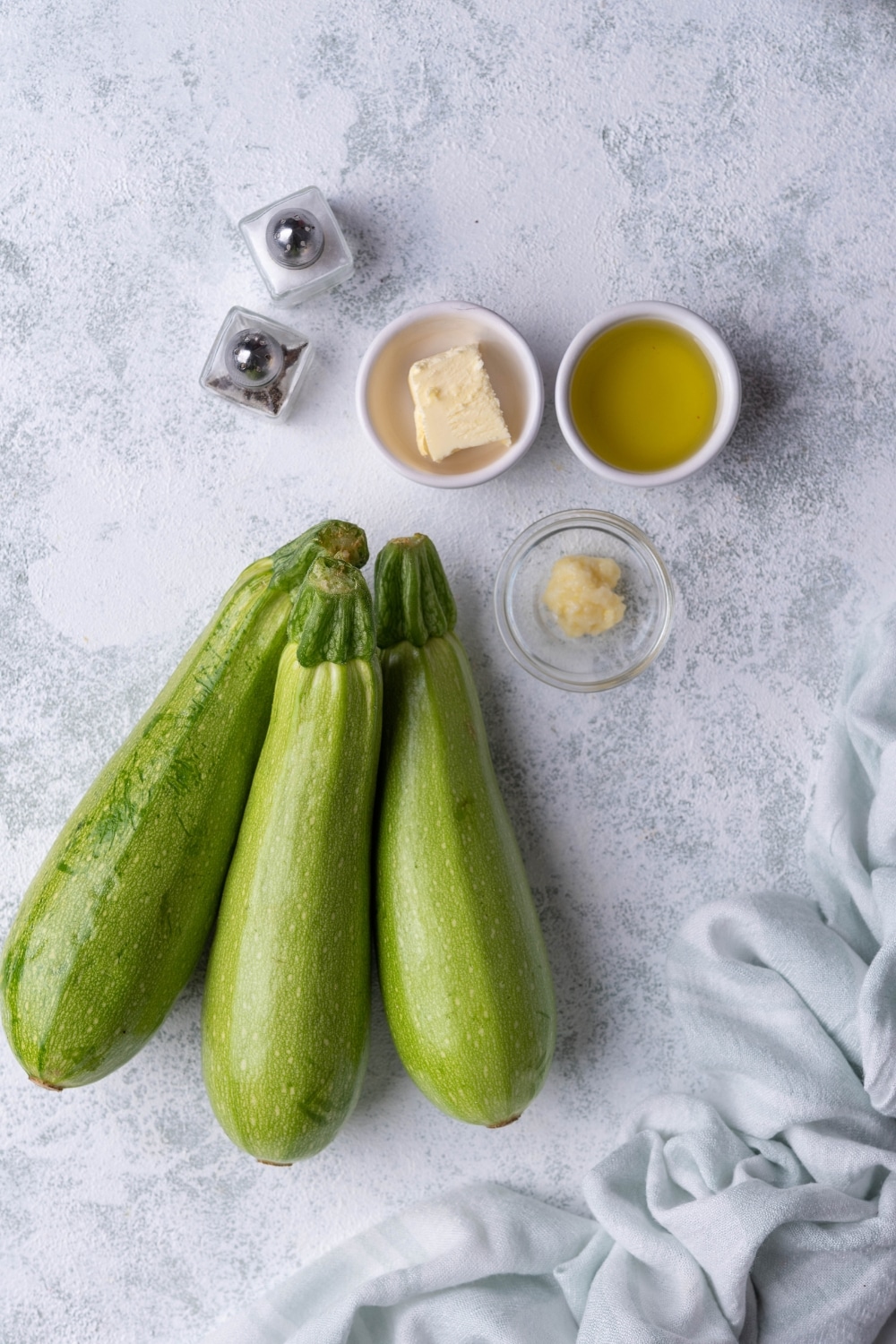 Ingredient Substitutions and Suggestions
Now, I usually make this sauteed zucchini recipe with the exact ingredients listed above, but there's definitely some room for you to switch things up each time you make it.
Also, with the suggestions/substitutions I've got for you below, you might even be able to save yourself a trip to the grocery store too.
Add In Yellow Squash and Eggplant
So, if you'd like to beef this recipe up - and make it more of a mixed veggie dish - you can add some yellow squash or eggplant to it. This is especially a nice little workaround if you don't quite have the 1 pound of zucchini you need to make the standard recipe.
Olive Oil Substitutions
If you don't have olive oil on hand, don't worry. You can use avocado oil, coconut oil, macadamia nut oil, or even vegetable oil in its place, and your sauteed zucchini will still turn out just as delicious.
Butter Alternatives
If you find yourself short on butter - or you're just trying to make this zucchini recipe dairy free - you can always swap it out for coconut oil, almond butter, or even cashew butter.
Also, just so you know, ghee will work as a butter substitute as well. It's not dairy free, but it will work great too.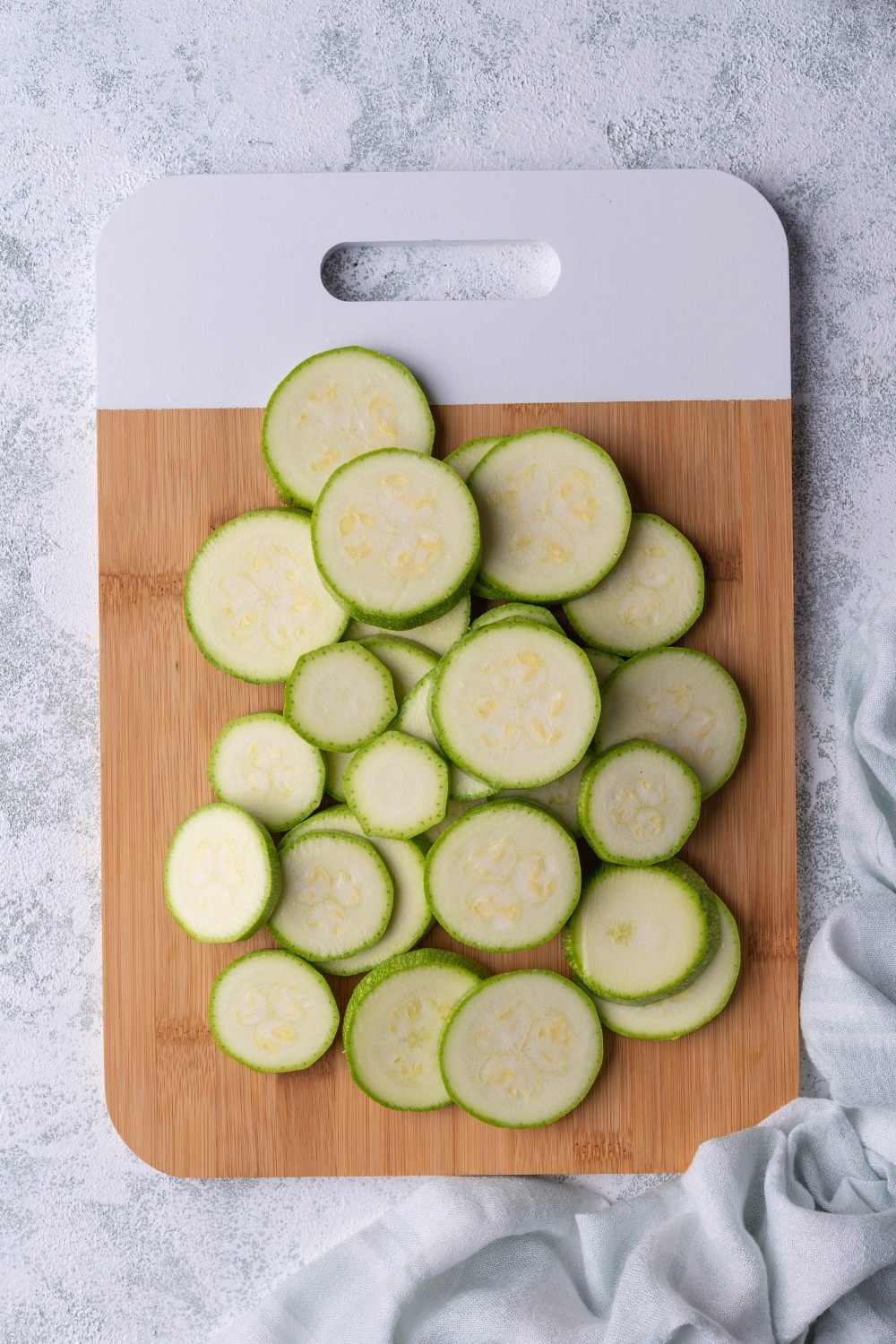 How to Make Sauteed Zucchini
Again, making this sauteed zucchini recipe couldn't be easier.
I mean, all you have to do is slice the zucchini, sauté it untouched, and then toss it with the garlic butter sauce that gets made in the same pan as the zucchini does.
Yep, it really is as easy as that!
Anyway, let's stop wasting time; let's get cooking!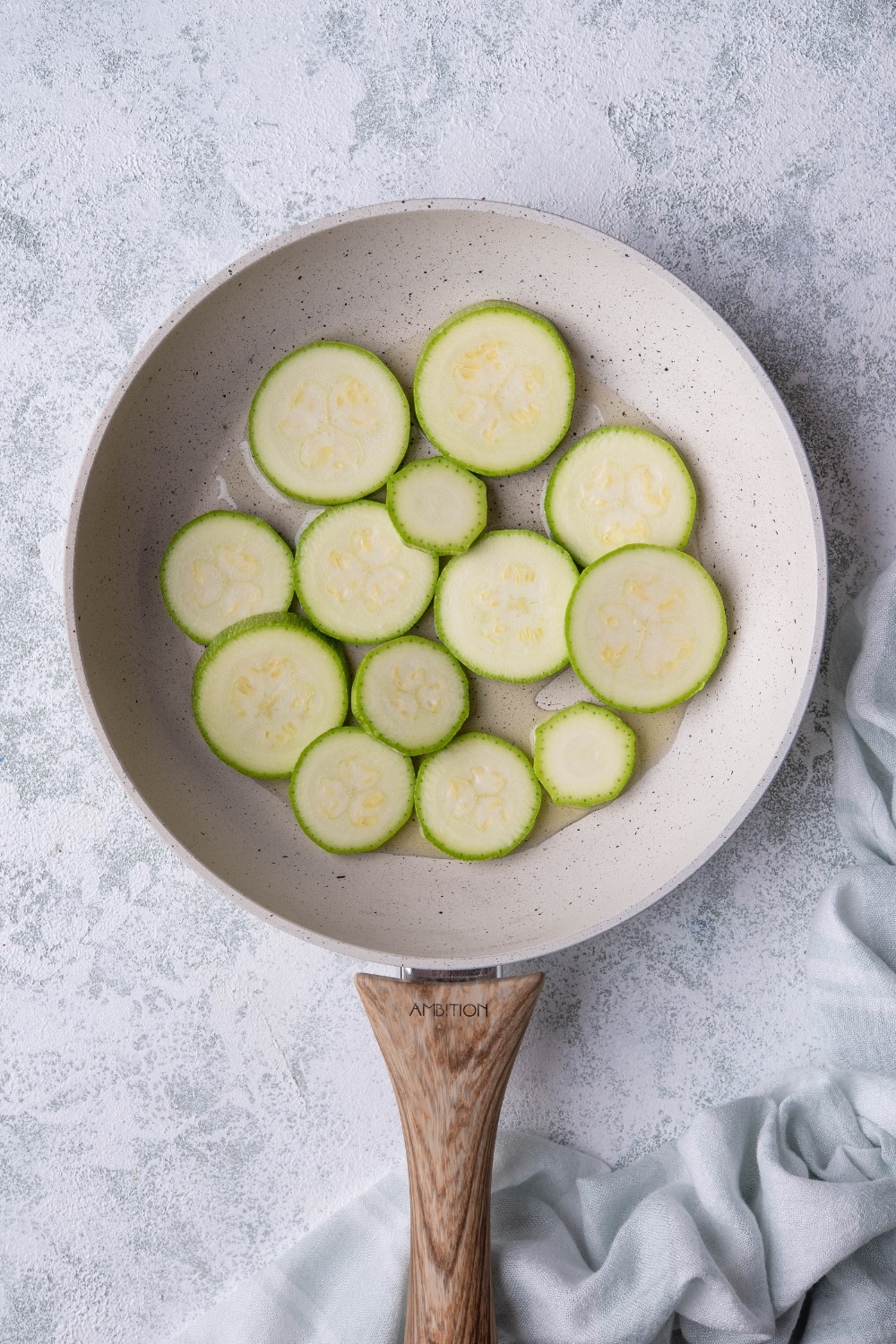 Step 1: Prepare The Zucchini
First off, you'll want to wash your zucchini thoroughly and pat it dry with a kitchen or paper towel.
Then, you can trim off the stems and ends of the zucchini and thinly slice it into thin rounds. I recommend using a mandoline to get uniform rounds, but a regular knife will work great too.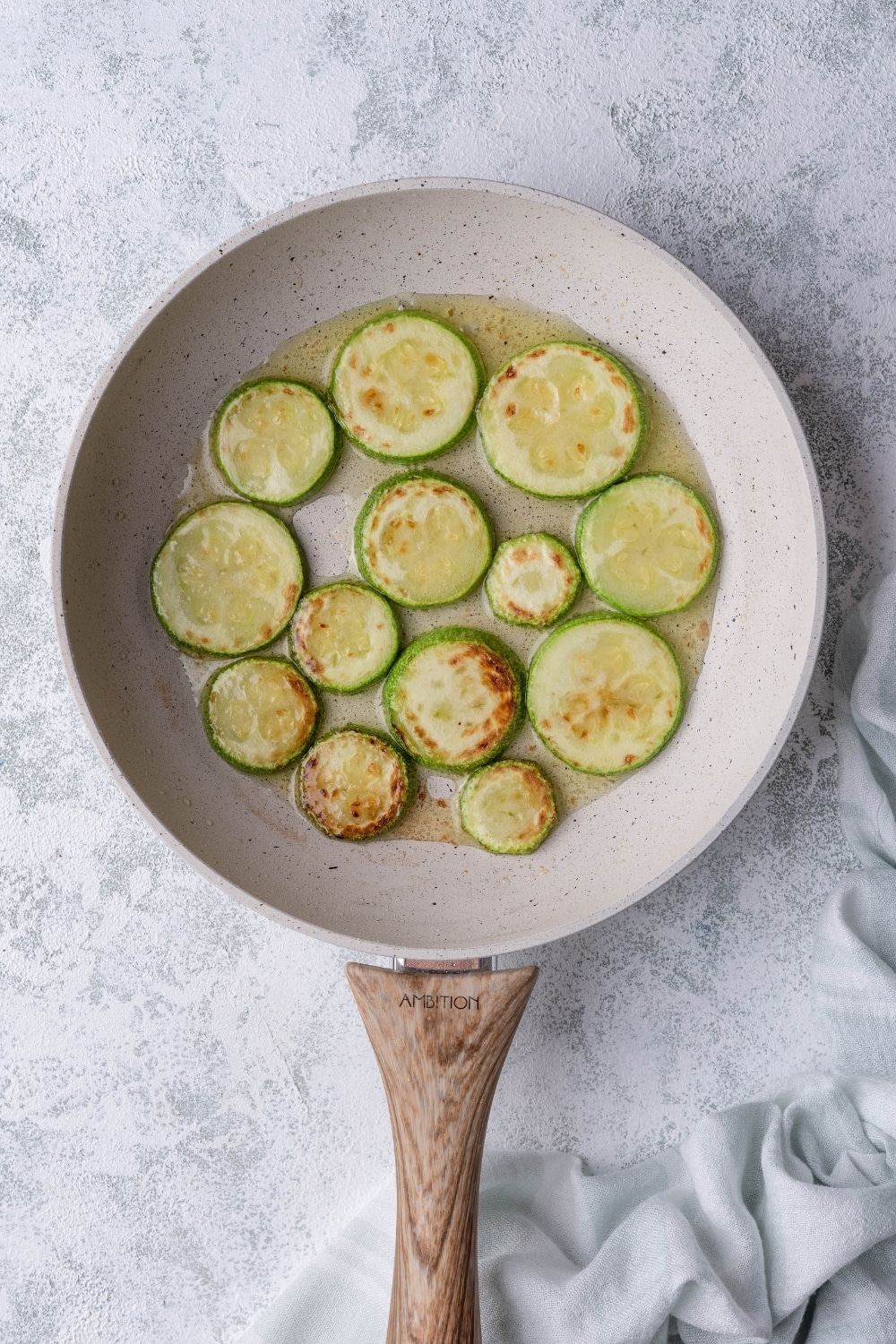 Step 2: Saute The Zucchini
Next, you can take out a large skillet, add the olive oil to it, and let it heat up over medium-high heat.
Then, as soon as the oil is hot, you can add the zucchini slices to the pan in a single layer. A little bit of overlapping is fine, but the key here is to avoid overcrowding the pan with your slices, and doing so will let the zucchini cook evenly.
That said, if there isn't enough room for all the zucchini, you'll want to cook 'em in batches.
Anyway, you'll want to cook your zucchini for about 4-5 minutes to start, and you'll want to leave them untouched as they cook so they'll develop a nice golden brown sear on the bottom.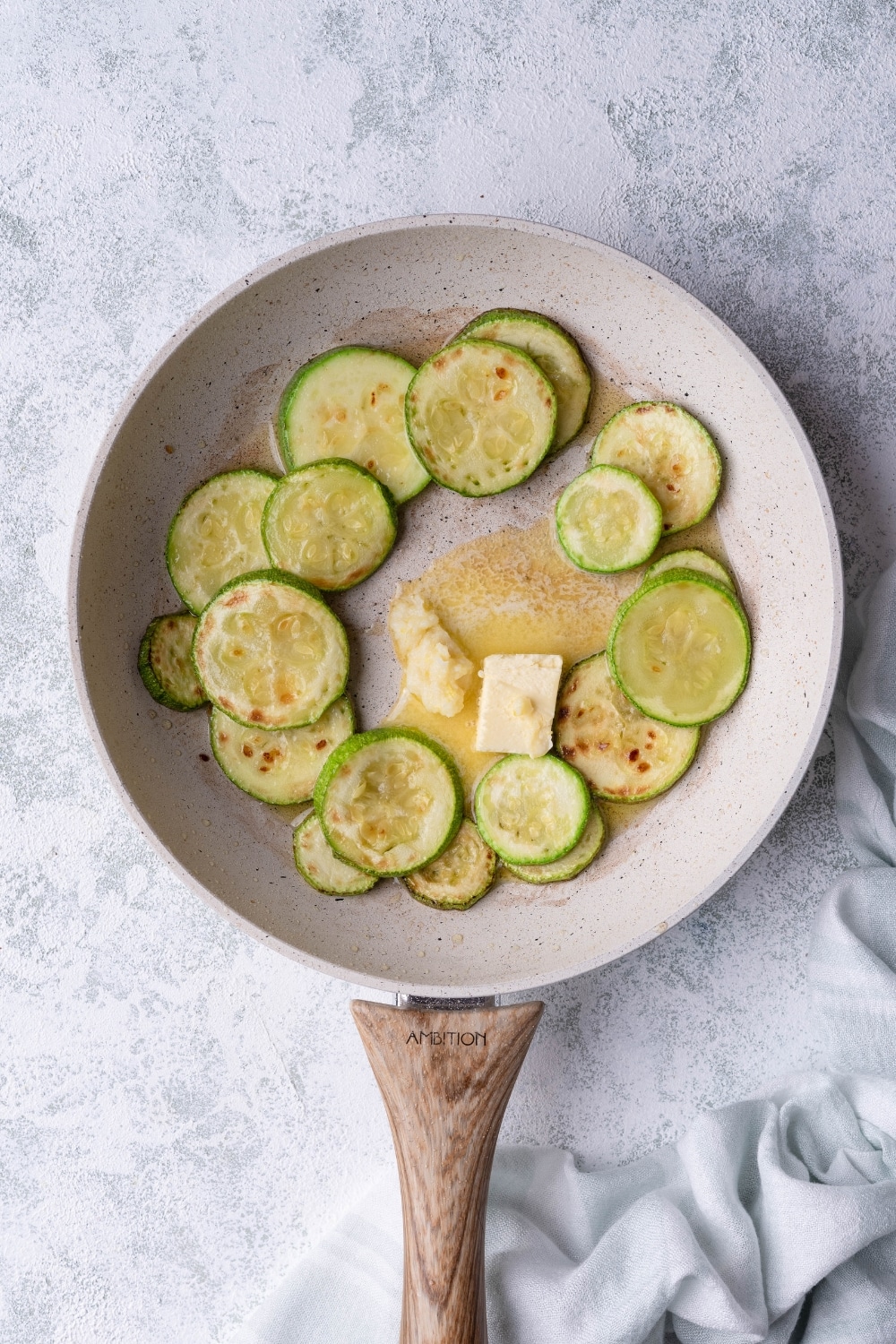 Step 3: Add the Garlic Butter Sauce
So, once your zucchini has seared on one side, you can reduce the heat of your burner and push the zucchini slices towards the edge of the pan.
Then, you'll want to add the butter and garlic paste to the center of the pan and let the butter melt and cook until the garlic is fragrant. When that happens, you can push the zucchini slices back into the middle of the pan and toss them gently in the garlic butter.
Finally, you can serve your sauteed zucchini warm and enjoy!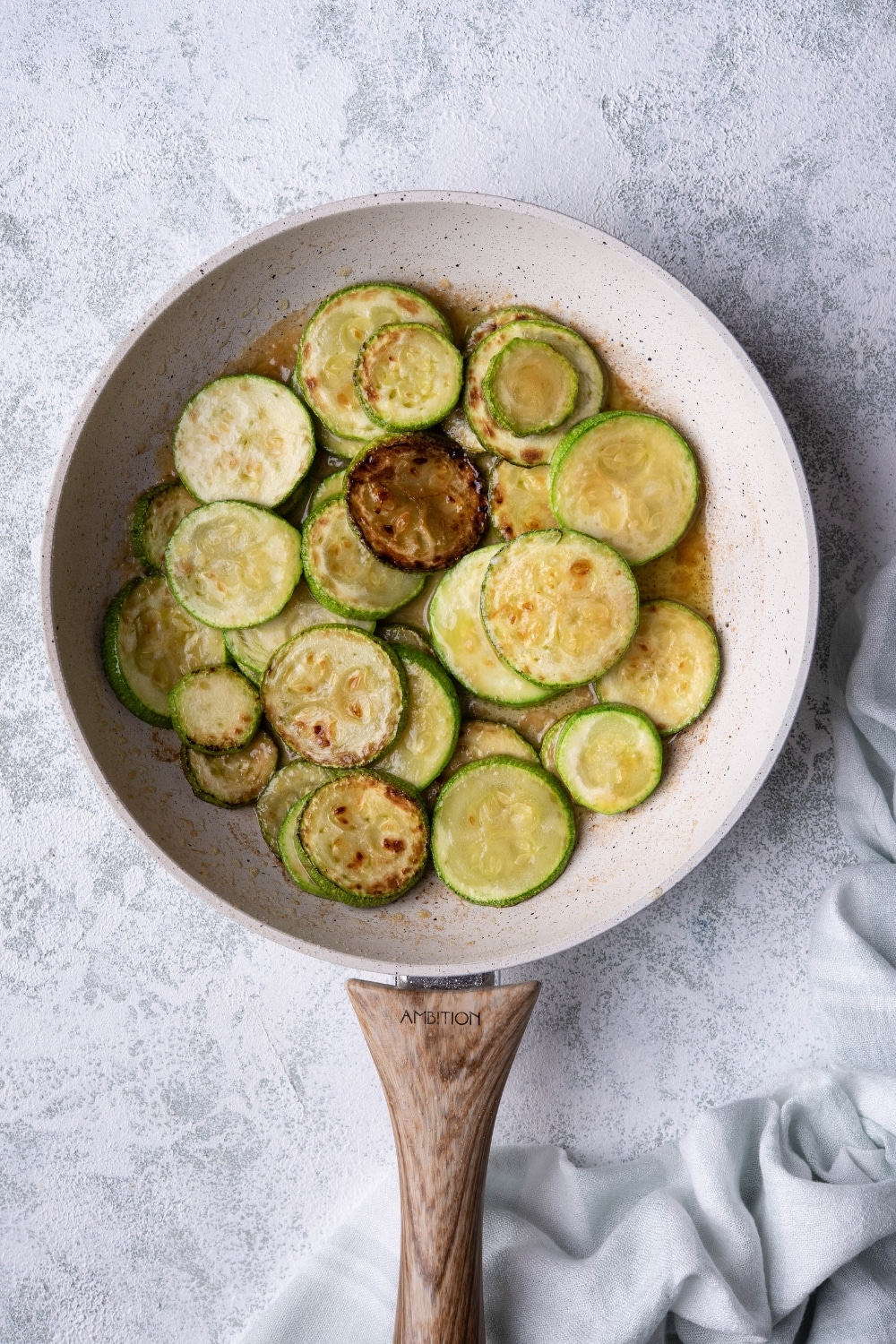 How To Store Cooked Zucchini
This recipe for sauteed zucchini will make enough for 4 servings as a side dish. With that said, you can easily make double or triple batches for a bigger group or if you want to have leftovers for the week.
Speaking of leftovers, if you have any, just transfer them to a shallow airtight container and they'll last in the fridge for about 3-4 days. Also, just so you know, the leftovers of this sauteed zucchini recipe are absolutely delicious. The zucchini soaks up all the flavor from the garlic butter and it tastes amazing the next day.
How To Reheat Cooked Zucchini
Whenever you're ready to eat your leftover zucchini, you can either eat it cold or warm it up - it's great both ways.
With that said, to warm up the zucchini, I recommend just tossing it in a pan coated with a little oil and heating it back up over medium heat for a few minutes.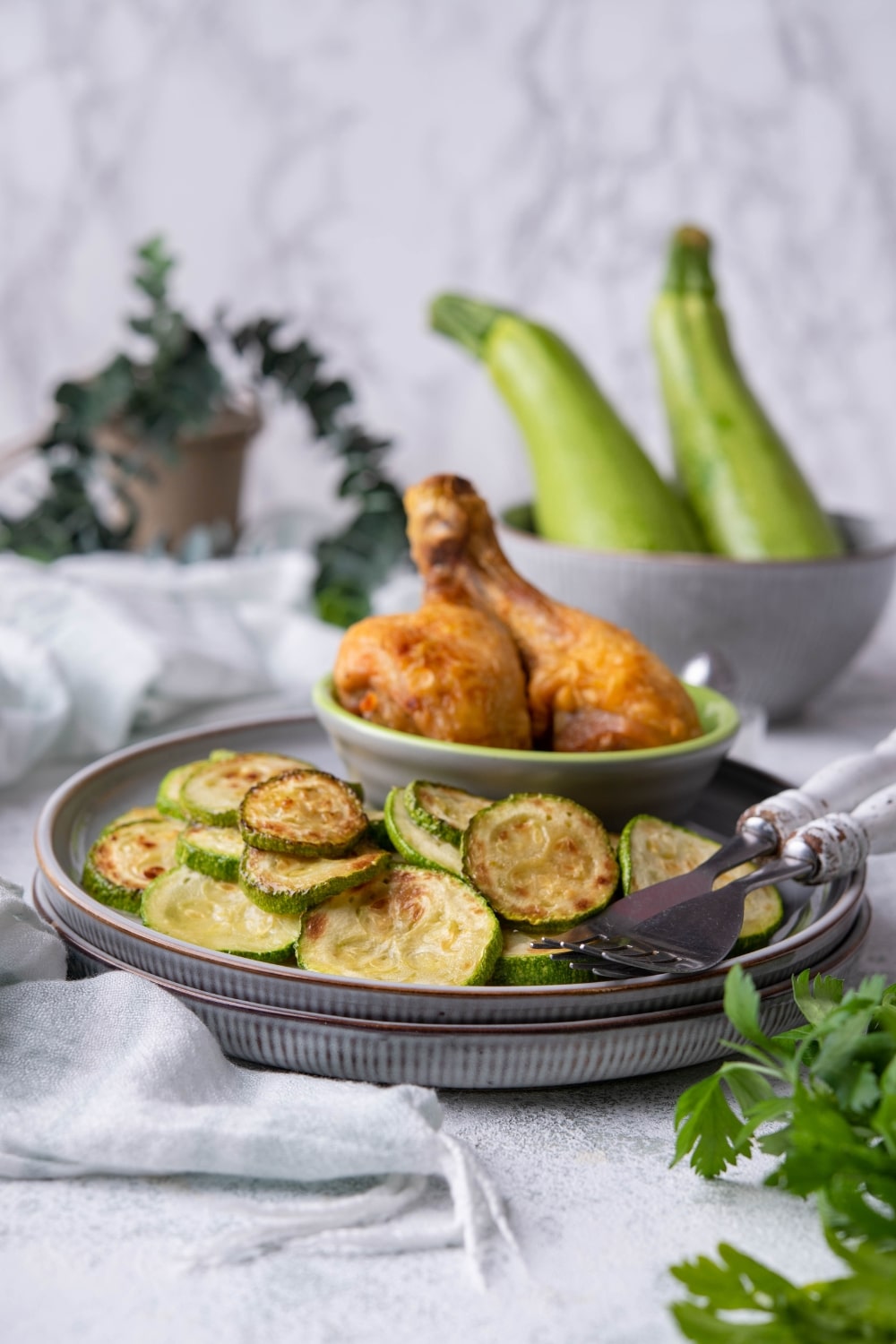 FAQS About This Sauteed Zucchini Recipe
How do you keep zucchini from getting soggy when sauteed?
The best way to keep zucchini from getting soggy when it's sauteed is to make sure that the zucchini is lying flat on the pan. If there is too much overlap between the slices, the part of the zucchini that is not touching the pan will end up being soggy.
How do you cut zucchini for sauteing?
The best way to cut zucchini for sauteing is to cut it into uniform-sized pieces - doing so ensures that it cooks evenly.
As far as the shape you'll want to cut your zucchini into when you saute it, either half moons or circles work best. Now, as far as the thickness goes on your pieces, a
bout ½-1/4 inch thick is the perfect thickness to shoot for; any larger and the zucchini can be hard to crisp up, and it will tend to be a bit soggier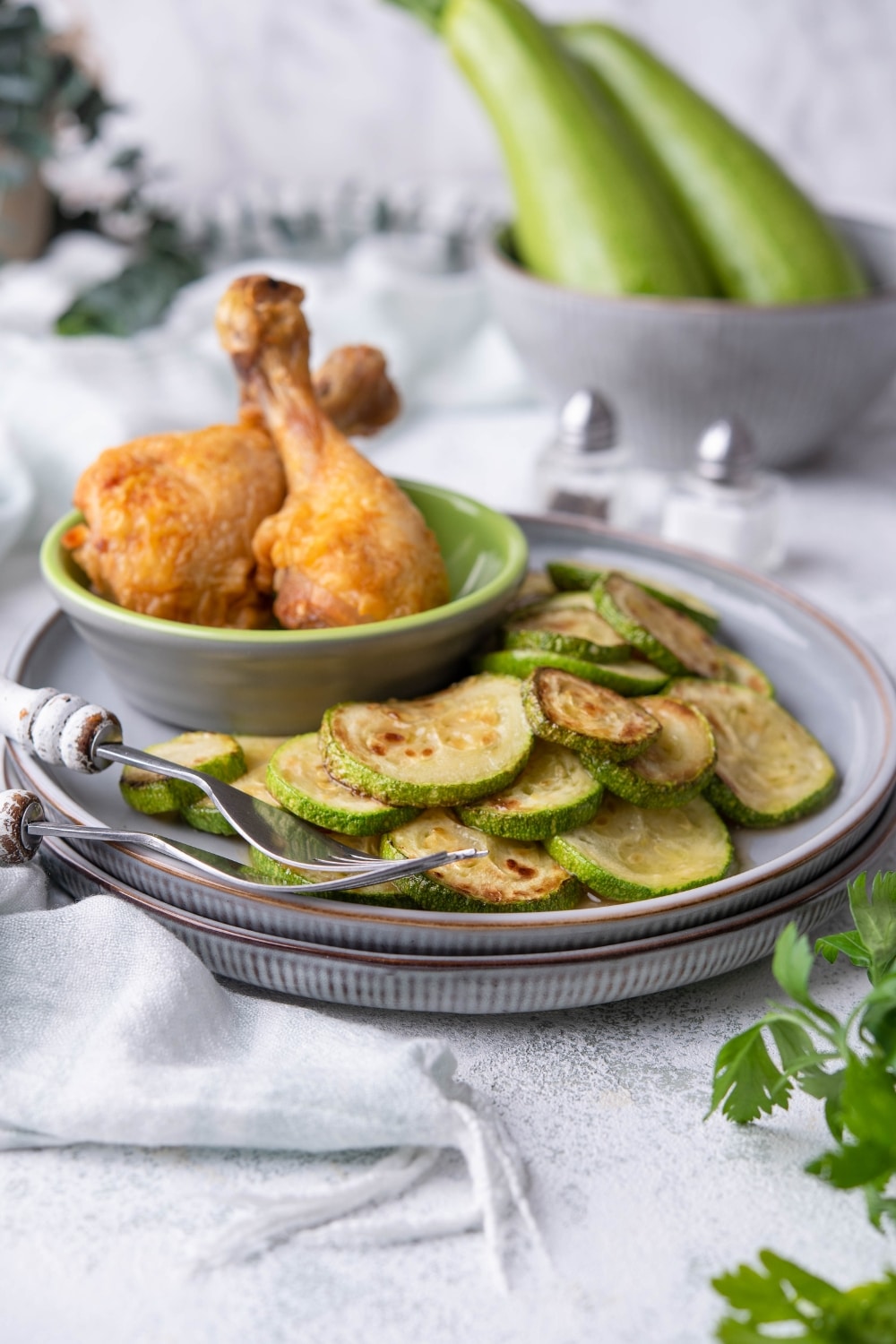 Wrapping It Up
Well, that's how to make sauteed zucchini in just about 10 minutes!
This deceptively simple zucchini recipe is always one that my family loves, especially in the summertime. Between the crunchy-tender texture of the zucchini slices and the rich garlic butter sauce, it really doesn't get better than this when you want a delicious and healthy side dish with dinner.
Anyway, I hope you enjoy this quick and easy zucchini recipe as much as I/we do. It's seriously one of our favorite sauteed veggie recipes ever.
If you give this recipe a shot, don't forget to leave a comment below and let me know what you think!
More Easy Side Dish Recipes
By the way, if you liked this sauteed zucchini recipe and are looking for even more easy and healthy side dish recipes, I have a bunch on the blog that you can try next!
Oh, and as always, be sure to follow my Youtube channel, Instagram, and TikTok for even more healthy recipes! I post new ones on them all the time.
Print
Easy Sauteed Zucchini Recipe (Ready In Under 10 Minutes)
This sauteed zucchini is a simple yet incredibly delicious healthy side dish. The zucchini turns out perfectly tender, and it's jam-packed with flavor from the garlic butter sauce that goes with it. Plus, it's super quick and easy to make. In fact, you can have it ready and on the table in just 10 minutes!
Author:
Prep Time:

3 minutes

Cook Time:

5 minutes

Total Time:

8 minutes

Yield:

4 servings

Category:

Side

Method:

Stovetop

Cuisine:

Vegetable
1lb. zucchini
1 ½ tbsp olive oil
1 tbsp unsalted butter
1 tsp garlic paste
Salt and pepper, to taste
Instructions
Wash and trim the zucchinis.

Thinly slice the zucchini and set them aside.

Heat olive oil in a large skillet. Add the sliced zucchini into the skillet in a single layer. It is okay if they are a bit overlapping, but do not overcrowd the skillet.

Cook the zucchini for 4-5 minutes, leaving them to sear nicely and without stirring and moving too much.

Reduce heat and push the zucchini toward the edges of the skillet. Add butter and garlic to the skillet. Allow the butter to melt and cook until fragrant. Put the zucchini in the pan and toss gently to coat them with the butter.

Serve zucchinis warm.
Nutrition
Serving Size:

1 serving

Calories:

89

Fat:

8

Carbohydrates:

3

Protein:

1
Keywords: sauteed zucchini, sauteed zucchini recipe, sautéed zucchini, sautéed zucchini recipe, how to cook zucchini, easy sauteed zucchini recipe, saute zucchini, easy sautéed zucchini recipe, best sauteed zucchini recipe