These sauteed shiitake mushrooms are perfectly cooked and loaded with flavor. They're rich, buttery, and have a delicious umami flavor that'll keep you coming back for more. And the best part is this healthy side dish takes just 15 minutes to make!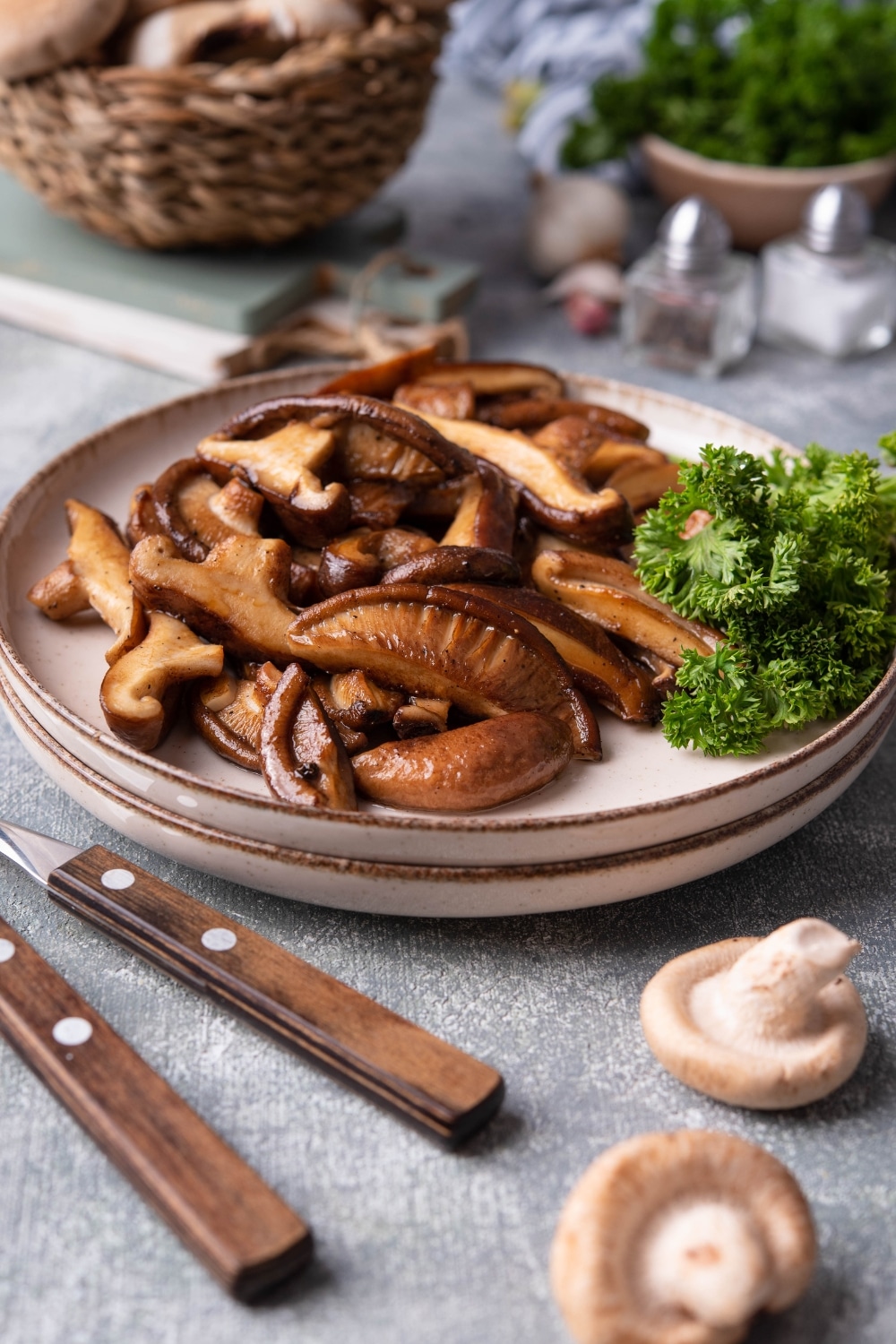 The Best Sauteed Shiitake Mushrooms
I know I'm biased, but I think this is the best way to cook shiitake mushrooms. I mean, these sauteed shiitake mushrooms are quick and easy to make, and they turn out incredible every time.
If you've ever cooked mushrooms before, then you know how hard it can be to get that right texture. But with this recipe, you'll get that tender, slightly chewy shiitake mushrooms consistency your looking for.
Plus, as I mentioned, you only need 15 minutes from start to finish to make these pan seared shiitake mushrooms! Not to mention, since you just need one skillet to cook 'em, clean up is a breeze, too.
Oh, and another great thing is these sauteed shiitake mushrooms is that they literally go amazing with just about any and every main dish. I especially love pairing them with these air fryer chicken breasts, these sauteed pork chops, this bottom round roast, and this eye of round roast.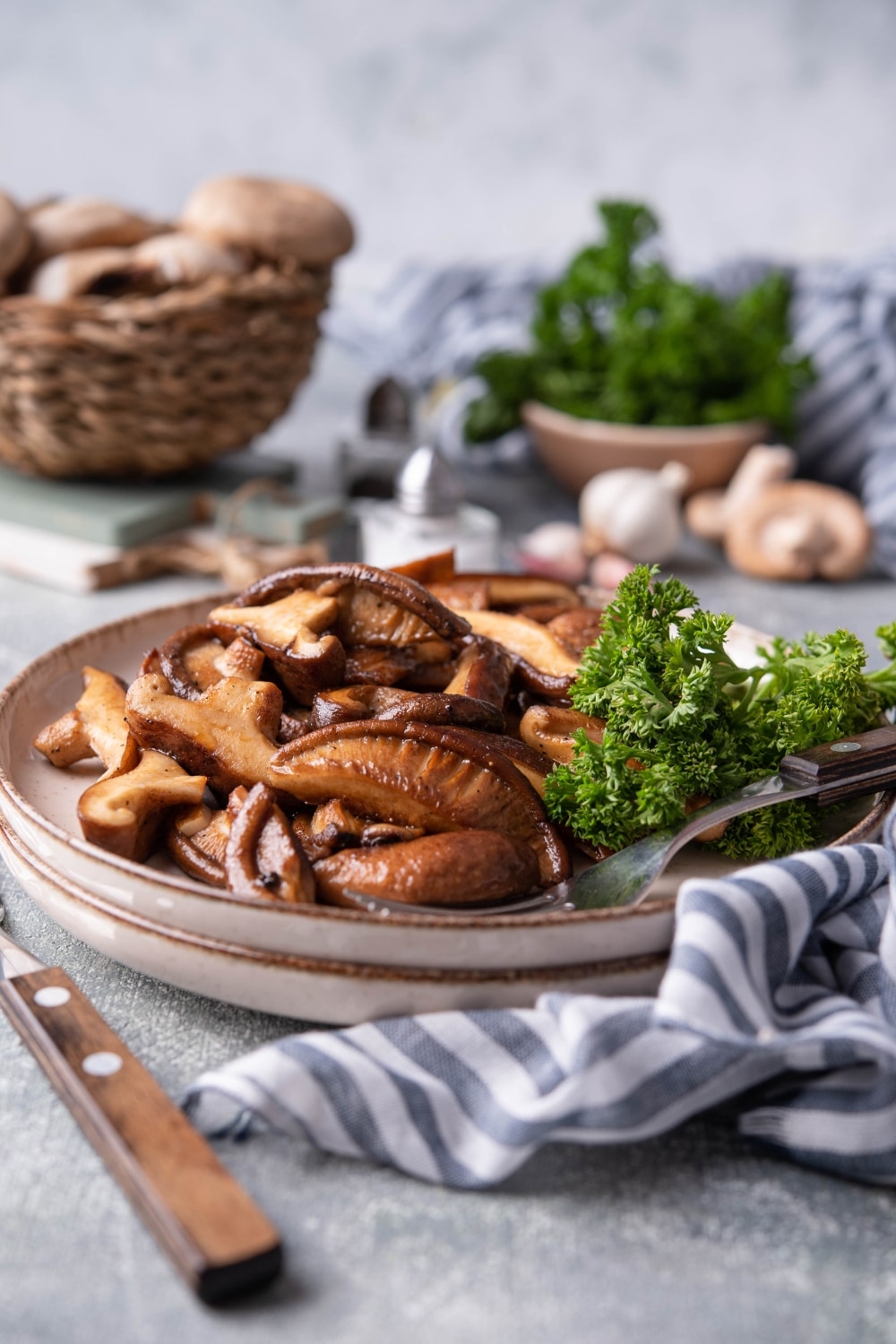 Ingredients
Something else I love about this sauteed shiitake mushroom recipe is that it's made with just a few simple ingredients. In fact, if you have the mushrooms, I can almost guarantee you have everything else you need at home already!
Anyway, here are all of the ingredients for this sautéed mushrooms recipe:
1lb. raw shiitake mushrooms
2 tablespoon olive oil
Salt and pepper, to taste
1 tablespoon soy sauce
2 cloves garlic, thinly sliced
Pretty simple stuff, right?
By the way, if you don't want to use soy sauce, you can use an equal amount of tamari sauce for the same saltiness and umami flavor.
Oh, also, I use all of these same ingredients to make this sauteed eggplant recipe, so you'll definitely want to check that out next! It's one of the most popular healthy side dishes I've got on the blog. Speaking of eggplant, if you like it, you have to try this eggplant rollatini too!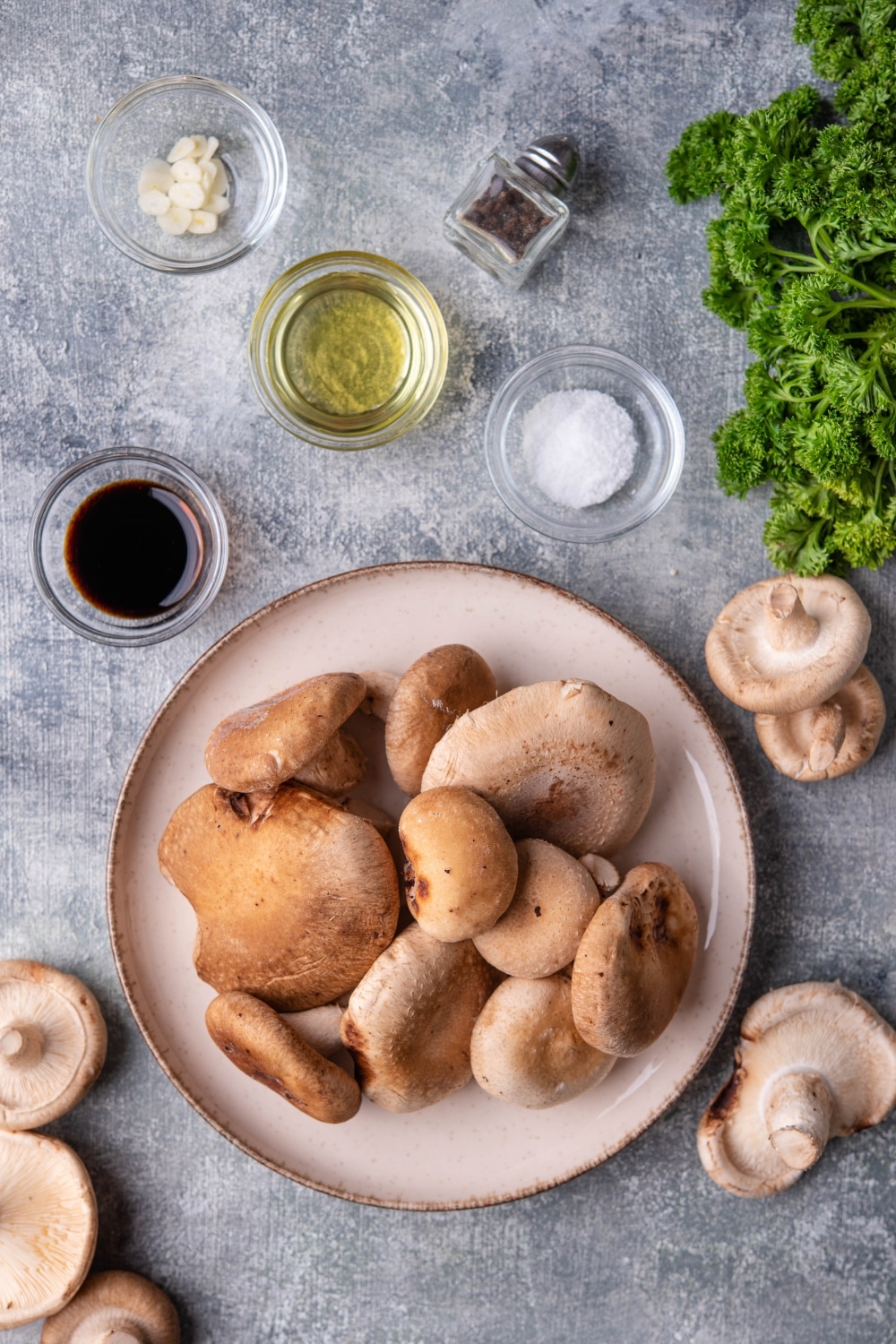 How to Cook Shiitake Mushrooms
Again, making these sauteed shiitake mushrooms could not be easier. In just 15 minutes tops, you'll have perfectly cooked shiitake mushrooms that are jam-packed with flavor.
So, gather up your ingredients, and let's get cooking.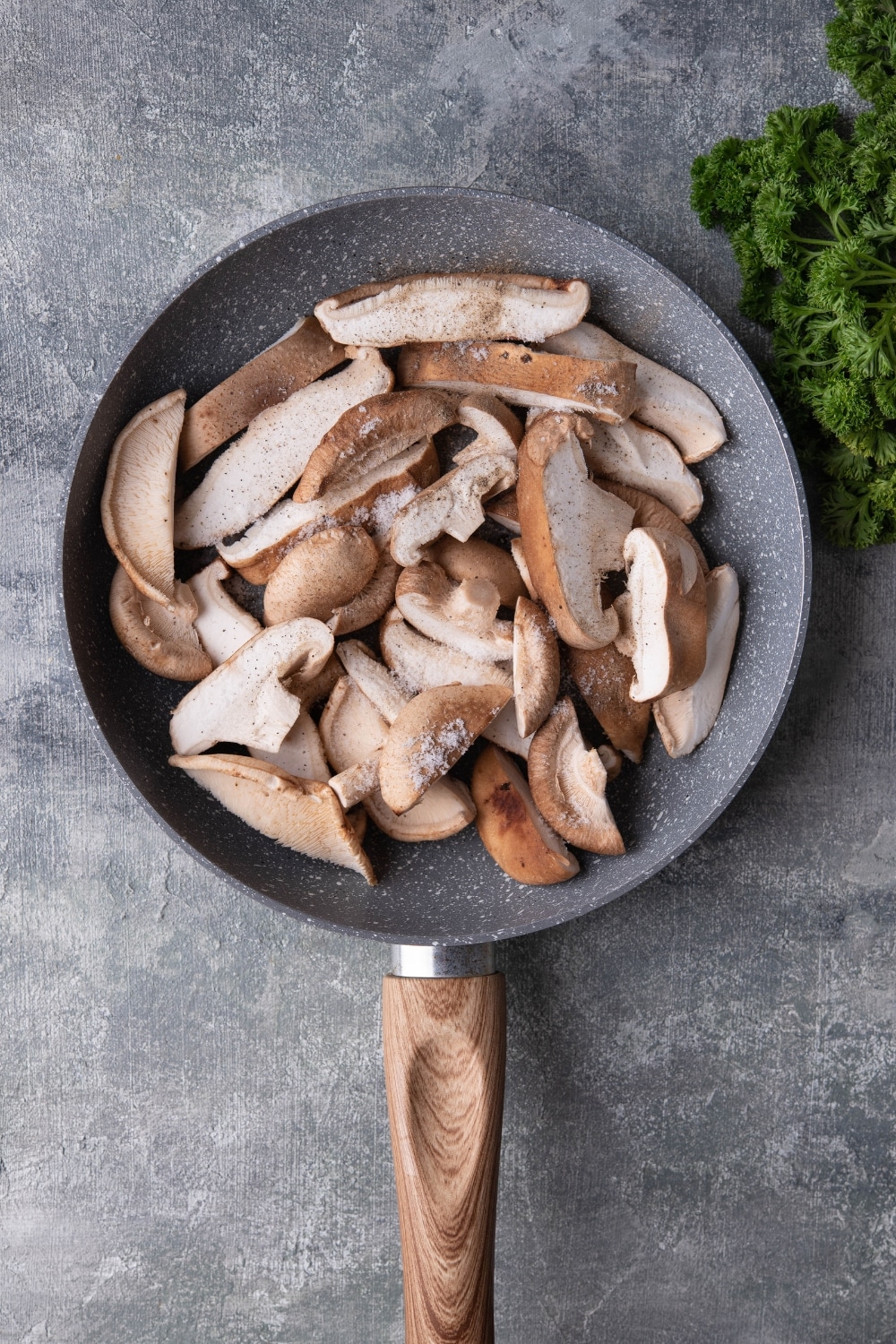 Step 1: Prep The Mushrooms
First things first, you'll want to clean the mushrooms by wiping the dirt off them with a dry cloth or paper towel. Alternatively, you can give them a quick rinse under running water. If you go with the rinsing method though, you'll want to give them time to dry before cooking them since mushrooms soak up water like a sponge.
Anyway, next you'll want to remove the stems and chop the shiitake mushrooms into slices.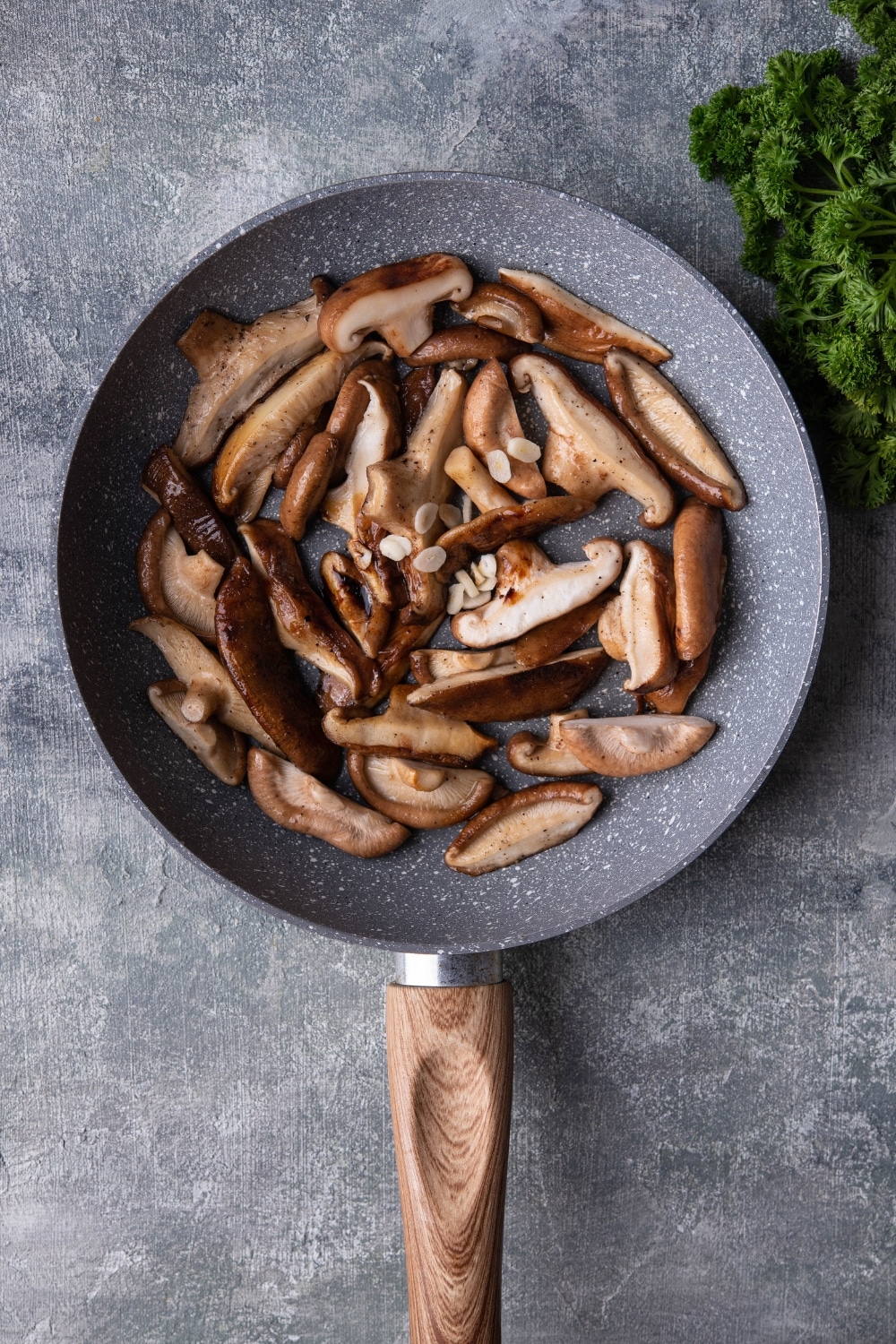 Step 2: Cook The Shiitake Mushrooms
Now that the mushrooms are prepped, you can heat some olive oil over medium-high heat in a large skillet.
Then, once the oil is hot, you'll want to add the sliced mushrooms to the pan and coat them with a little salt and pepper. You'll want to cook the mushrooms untouched for about 2-3 minutes, then you can give the skillet a good shake and let the mushrooms continue to cook for 6-7 more minutes - or until they've softened and turned golden brown.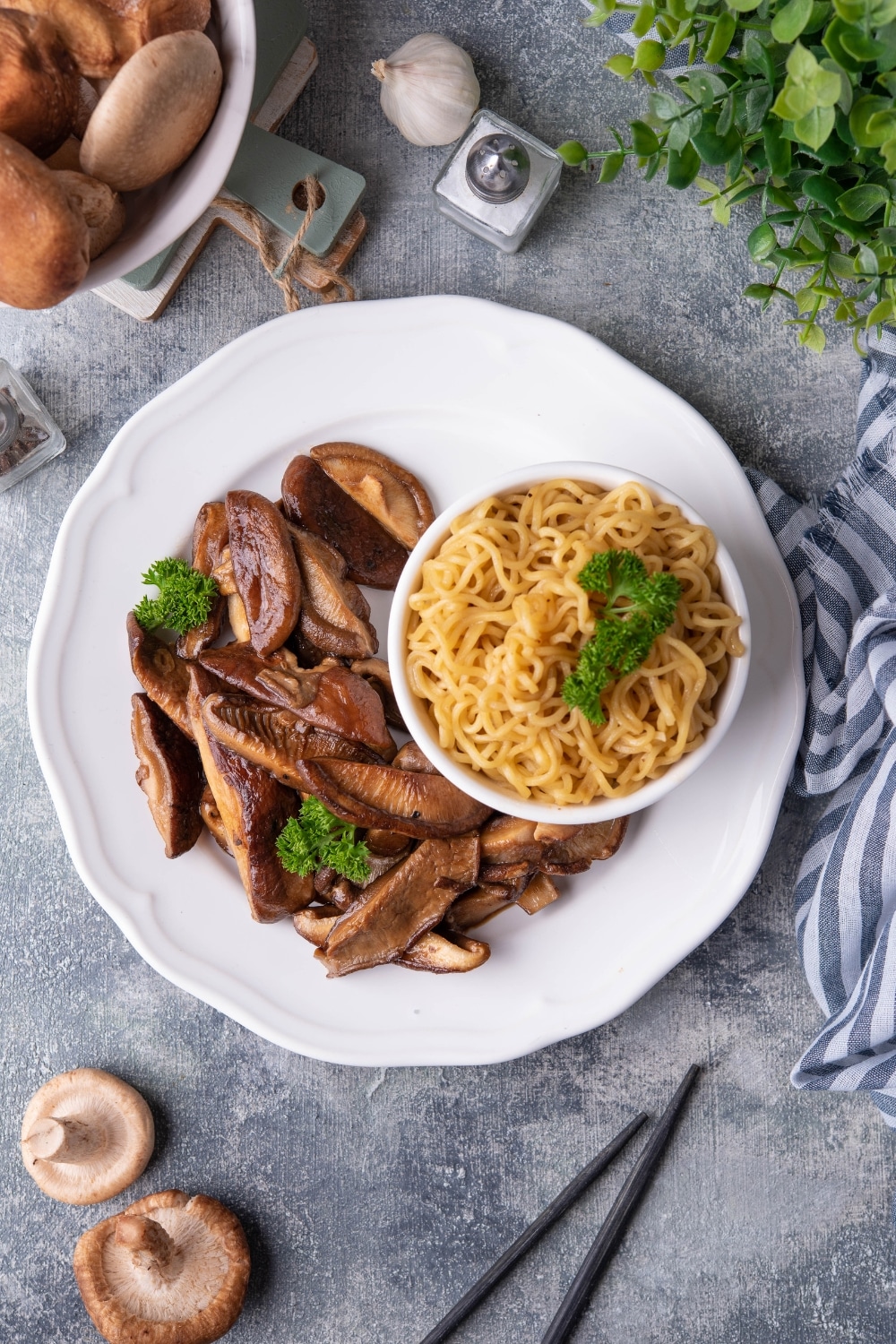 Step 3: Season The Sautéed Mushrooms
So, now that the mushrooms are cooked, you can turn off the heat and add the soy sauce and sliced garlic to the skillet. Then, you'll want to gently toss the mushrooms in the soy sauce and garlic, cover the skillet with a lid, and let everything sit for 1 minute to soak up all of that deliciousness.
Finally, you'll want to transfer your sautéed shiitake mushrooms to a plate and serve 'em! You could even sprinkle a little parmesan cheese on top to add to the rich flavor of the mushrooms - that's something we like to do at our house when we make 'em anyway.
Enjoy!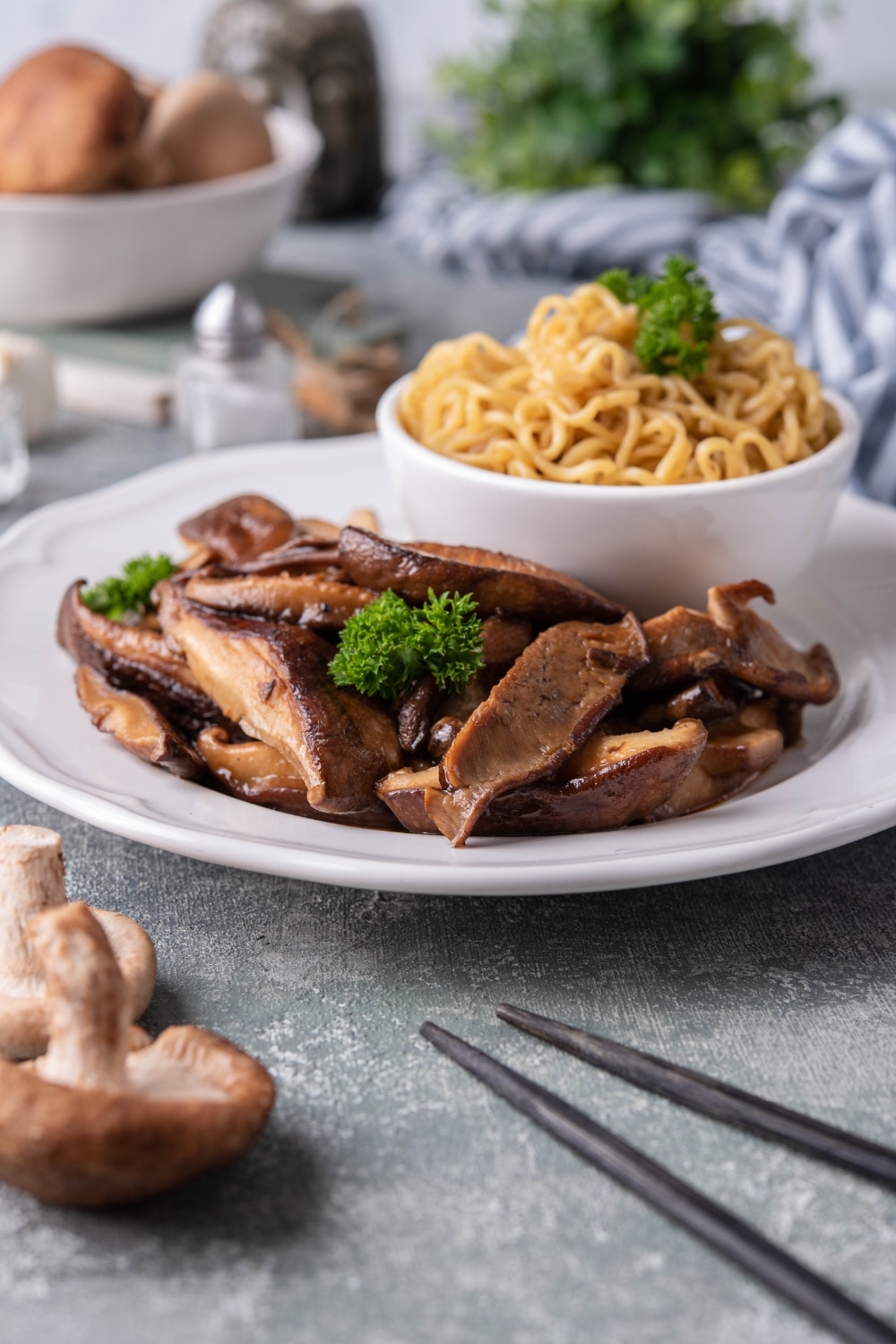 What To Serve With Shiitake Mushrooms
These savory sautéed mushrooms are delicious alone, but they're fantastic paired with other dishes too.
With that said, here are some ideas of what you can serve with shiitake mushrooms:
Brown rice
Pasta
Stir fry noodles
Steak

How to Store Cooked Shiitake Mushrooms
This recipe for shiitake mushrooms makes about 4 side dish servings. Of course, you can always make a double or triple batch if you want to make more.
Then, if you have any leftovers, you can store your cooked shiitake mushrooms in an airtight container in the fridge for about 3-5 days.
Alternatively, if you want to store them for even longer you can freeze your mushrooms. Just them to an airtight container - or freezer-safe bag - and they'll last for up to 10-12 months.
How To Reheat Cooked Mushrooms
Once you're ready to enjoy your mushrooms again, you'll definitely want to reheat 'em.
So, to reheat cooked shiitake mushrooms, just put them back in an oil coated skillet set over medium heat and warm em' up for about 3 minutes.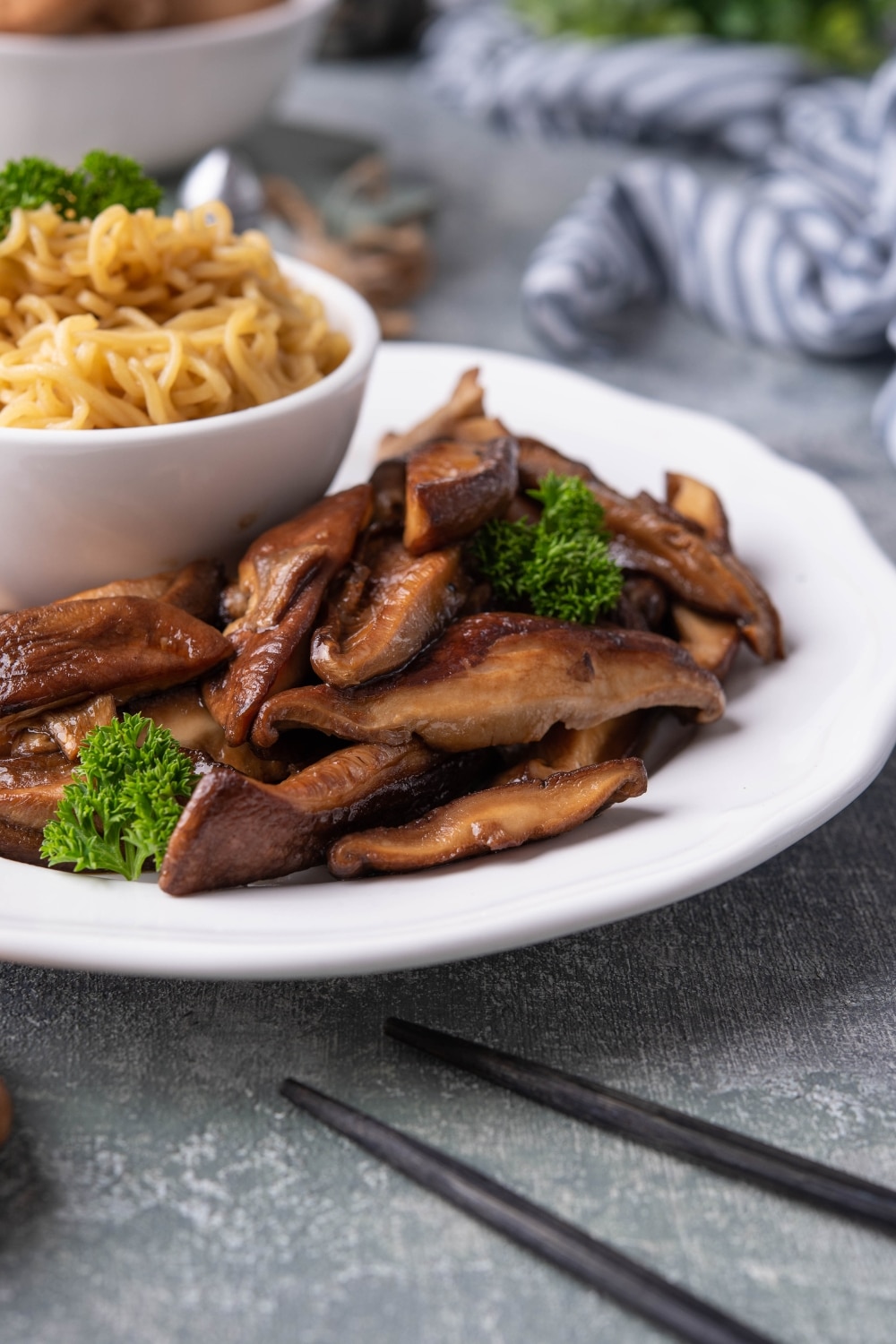 FAQs About Sauteed Shiitake Mushrooms
How long should shiitake mushrooms be cooked?
Shiitake mushrooms can cook as fast as 10 minutes over medium high heat - like in this recipe. The most important thing for cooking shiitake mushrooms is not to move them around too much while cooking 'em. Direct contact with the pan is key in getting the mushrooms golden brown, and it also helps prevent them from becoming soggy.
Should you remove the stems of shiitake mushrooms?
The stems of shiitake mushrooms are pretty tough, so it's a good idea to cut them off before cooking.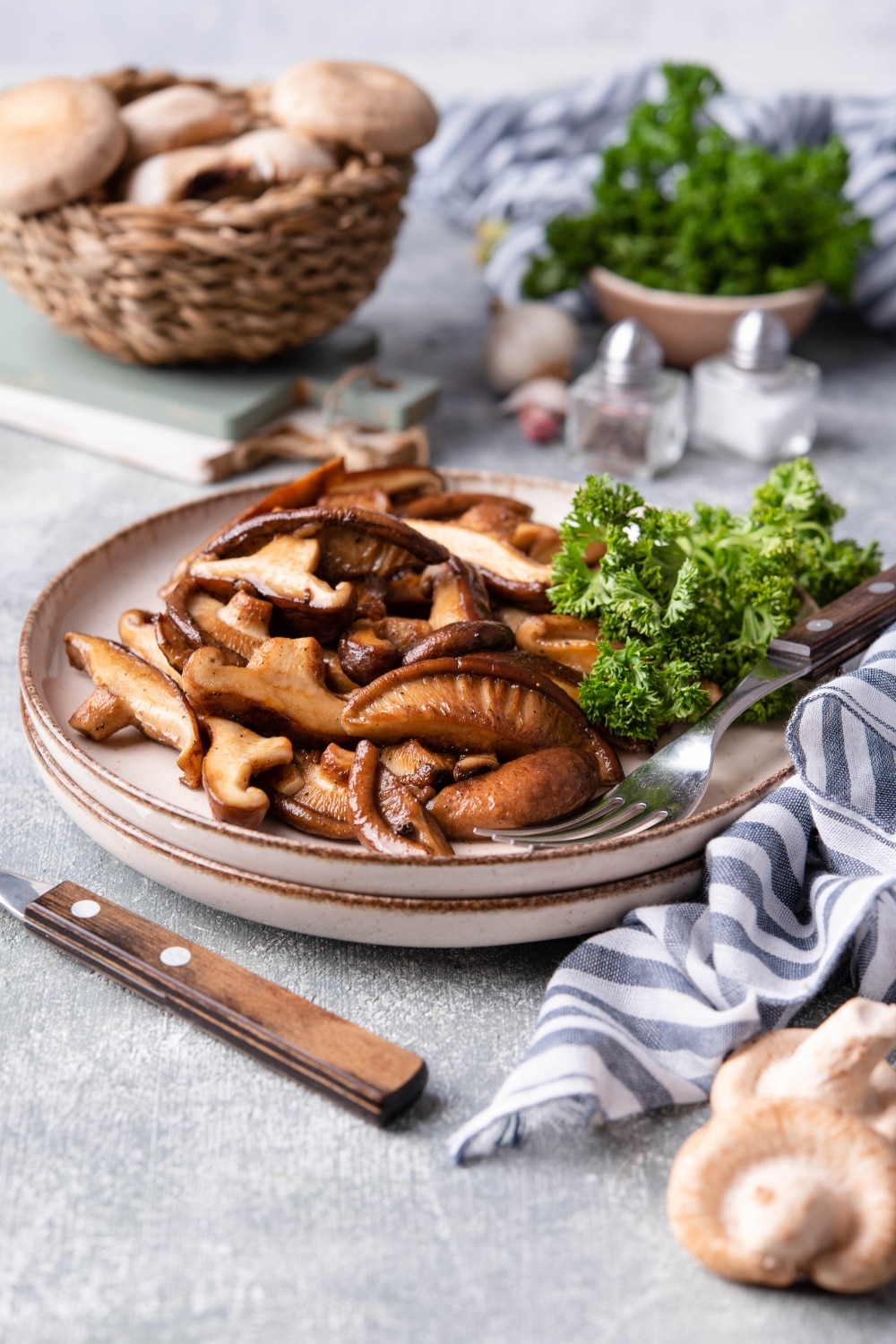 Wrapping it Up
Well, that's how to make sautéed shiitake mushrooms!
This seriously is one of the best shiitake mushroom recipes you'll ever make. Pan searing the mushrooms really enhances their natural flavor and the results are incredible every time.
Not to mention, this mushroom recipe is unbelievably easy to make too. I think that's why it's become one of my go-to healthy side dishes to make lately. It certainly doesn't hurt that my wife and 2 year old are also obsessed with this recipe too.
Anyway, I hope you enjoy these sauteed shiitake mushrooms as much as I do!
As always, if you make 'em leave a comment below and let me know what you think.
More Easy Healthy Side Dish Recipes
If you liked this quick and easy mushroom recipe, I have a bunch of other healthy side dish recipes on the blog I think you'll love just as much!
Give one of these a shot next:
Oh, and for more great recipes, don't forget to check out my Instagram, TikTok, and Youtube channel! I post new ones on them all of the time.
Print
PERFECT Sauteed Shiitake Mushrooms Made In Just 15 Minutes
These sauteed shiitake mushrooms are perfectly cooked and loaded with flavor. They're rich, buttery, and have a delicious umami flavor that'll keep you coming back for more. And the best part is this healthy side dish takes just 15 minutes to make! 
Author:
Prep Time:

5 minutes

Cook Time:

10 minutes

Total Time:

15 minutes

Yield:

4 servings

Category:

Side

Method:

Stovetop

Cuisine:

Mushrooms
1 lb. shiitake mushrooms
2 tbsp olive oil
Salt and pepper, to taste
1 tbsp soy sauce
2 cloves garlic, thinly sliced
Instructions
Clean any dirt off the mushrooms.

Slice or chop the shiitake mushrooms.

Heat olive oil in a large skillet, over medium-high heat.

Add mushrooms, salt, and pepper, and cook them without stirring for 2-3 minutes.

Give the skillet a good shake and continue to cook the mushrooms for 6-7 minutes or until they are soft.

Turn off the heat and stir in soy sauce and sliced garlic. 

Toss the mushrooms gently and cover them with a lid for 1 minute.
Nutrition
Serving Size:

1 serving

Calories:

42

Fat:

0

Carbohydrates:

8

Protein:

4
Keywords: sauteed mushrooms, sauteed mushrooms recipe, how to cooke shiitake mushrooms, best way to cook shiitake mushrooms, sauteed shiitake mushrooms, sauteed shiitake mushrooms recipe, sauteed shiitake mushroom recipe,