This sauteed eggplant recipe is seriously one of the best eggplant recipes you'll ever make. Tender, chewy chunks of chopped eggplant are tossed in a sweet and savory Asian-inspired sauce that explodes with flavor in every bite. Best of all, this simple and easy side dish recipe is ready in under 15 minutes!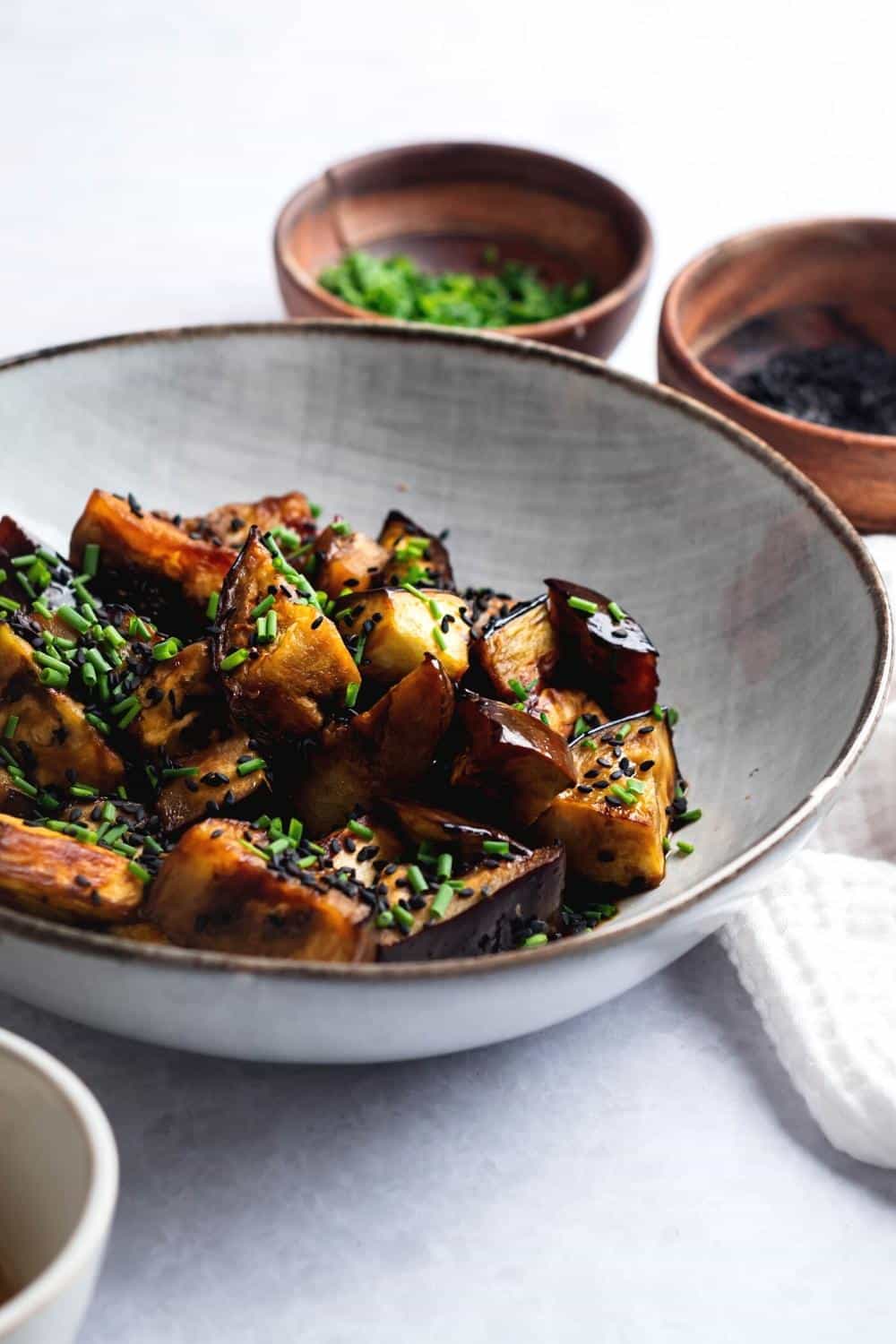 The Best Sauteed Eggplant
When it comes to easy eggplant recipes, you can't go wrong with this simple pan fried eggplant recipe.
This recipe is as easy and flavorful as any eggplant dish can get. I mean, you only need a handful of pantry staples and 15 minutes to make it.
It doesn't get much quicker or easier than that, does it?
Also, while most sauteed eggplant recipes tend to come out greasy and overcooked, this one comes out light, buttery soft, and packed with flavor!
Seriously, this stuff makes a standout side dish at any dinner and can even work as a main meal. And, honestly, these eggplant chunks are so addictive, that you won't even want to eat anything else!
With that said, if you want to serve one of the best eggplant recipes ever created with something else, I have to say it goes really well mixed in with this cauliflower rice, on the side of this air fryer chicken breast, or even with this pan seared salmon.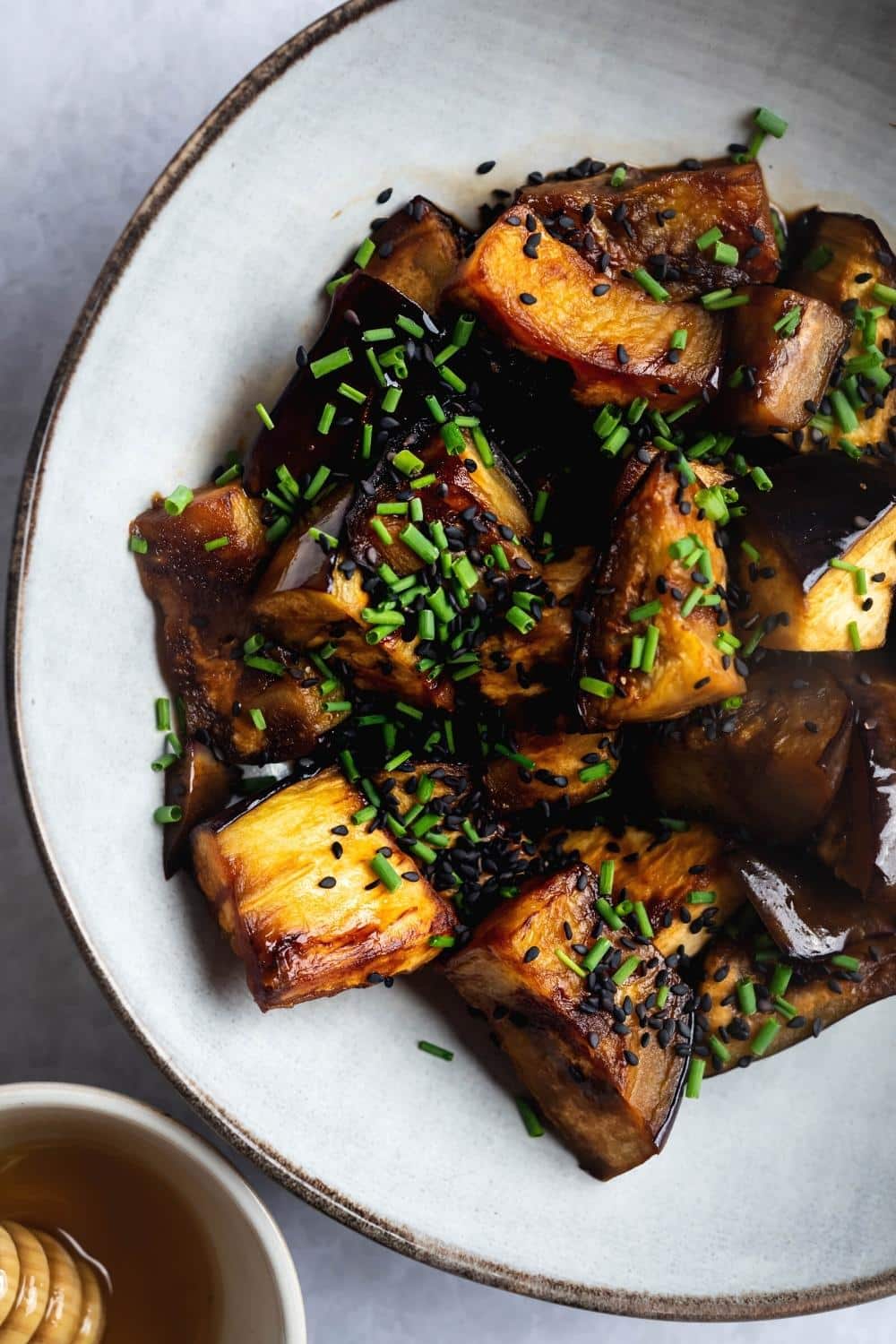 Ingredients
So, you only need one eggplant and 5 simple ingredients to make this absolutely delish sauteed eggplant. Even better yet, all of the ingredients used to make it are pantry - and kitchen - staples.
Anyway, here's what you need to make this recipe for sauteed eggplant:
1 Eggplant
1 tbsp. Sesame Oil
3 tbsp. Soy Sauce
2 tbsp. Honey
1 tbsp. Lemon Juice
2 tbsp. Green Onions, chopped
Honestly, that's got to be one of the shortest ingredient lists you'll find as far as eggplant recipes go.
But, don't let the short ingredient list fool you. I have a feeling you're going to be blown away by how flavorful these eggplant chunks turn out. Each bite is seriously better than the last with this dish.
By the way, be sure to use regular sesame oil and not toasted sesame oil when making your eggplant. Toasted sesame oil has a much lower smoking point and can burn and turn bitter as you're cooking.
Oh, and if you want to add a kick of heat to this sliced eggplant, you can add a dash of red pepper flakes. Sometimes we like to do that at our house, and it always adds a nice extra element of flavor to the dish.
Also, just so you know, I use quite a few of the same seasoning ingredients in this bok choy recipe as well. So, if you end up giving this recipe a shot, and falling in love with it as so many other readers have, I can almost guarantee you'll love that one too.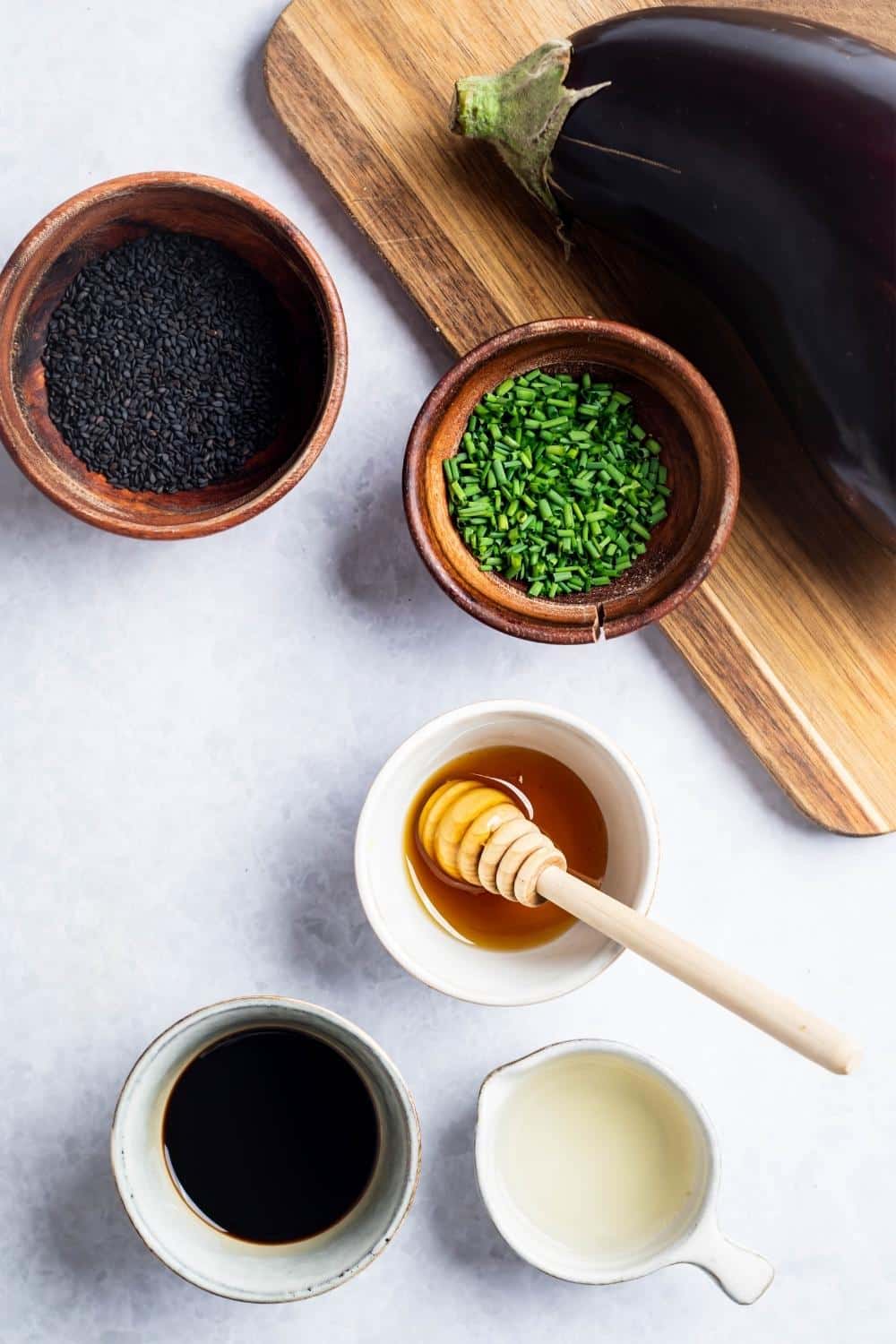 How to Cook Eggplant
Making eggplant recipes is generally pretty easy, and this sauteed eggplant recipe is no exception.
With only 20 minutes (at the most), you'll have perfectly cooked eggplant with a delicious honey soy glaze sauce.
So, let's not waste any more time. Let's make some eggplant!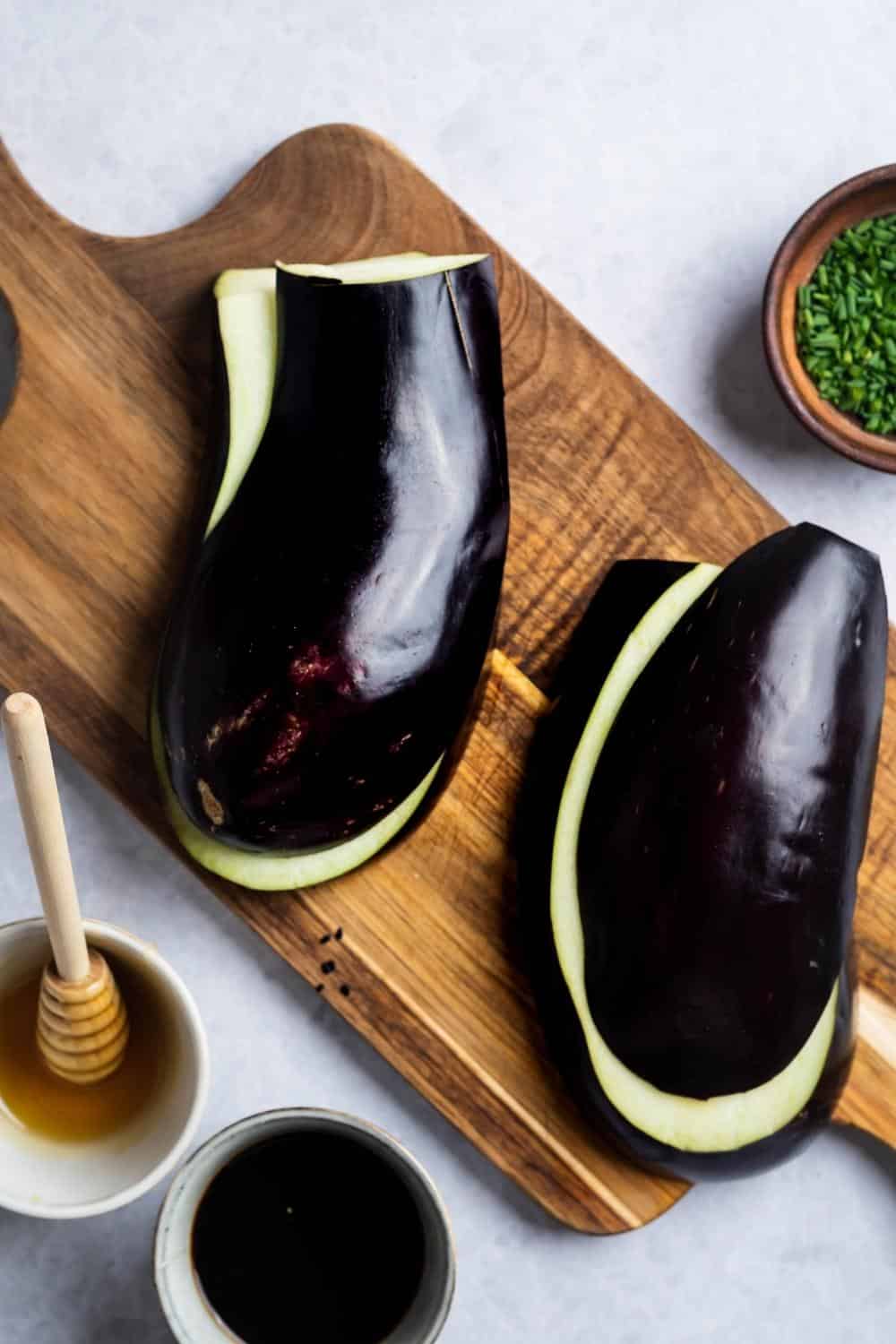 Step 1: Prep the Ingredients
First, grab your fresh eggplant and cut it into cubes.
You can make them any size you like, but I recommend cutting your eggplant larger than an inch since they'll greatly reduce in size as you cook. But, if really you want, you can make thin slices as well.
Anyway, at this stage, you'll want to pat dry your eggplant cubes with a paper towel. Doing this will help you achieve a golden brown crust on the outside when pan frying.
Then, after you've got the eggplant dried, you'll want to whisk your soy sauce, honey, and lemon juice together in a small bowl, and set it aside for later.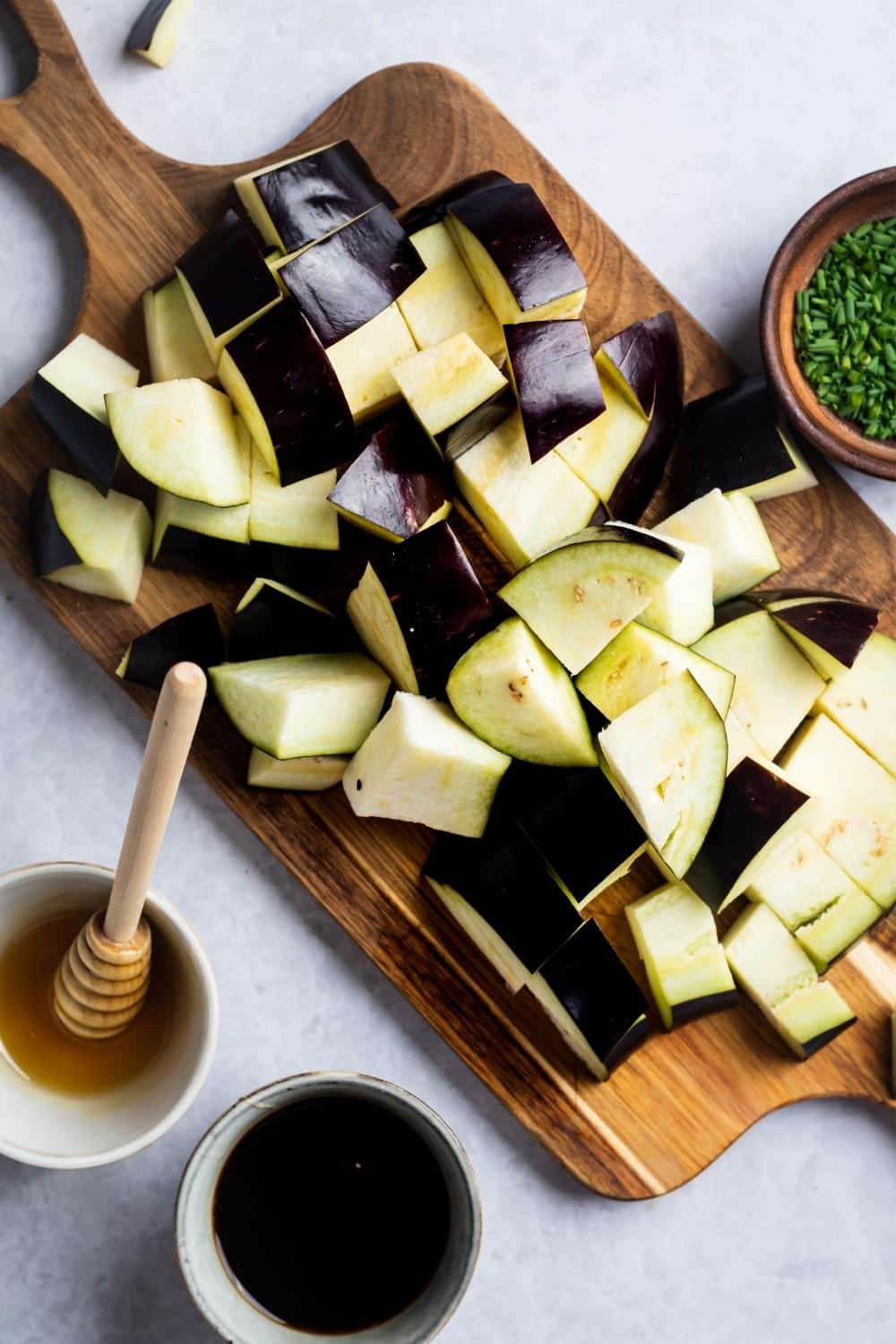 Step 2: Cook the Eggplant
Next, preheat a large skillet - or wok - over medium heat and add the sesame oil to it.
Once the oil is hot enough, add eggplant slices to it and cook, frequently tossing, until your eggplant is golden brown on every side.
Oh, and if you're adding red pepper flakes for some heat, you can start stirring them in when your eggplant is almost done browning.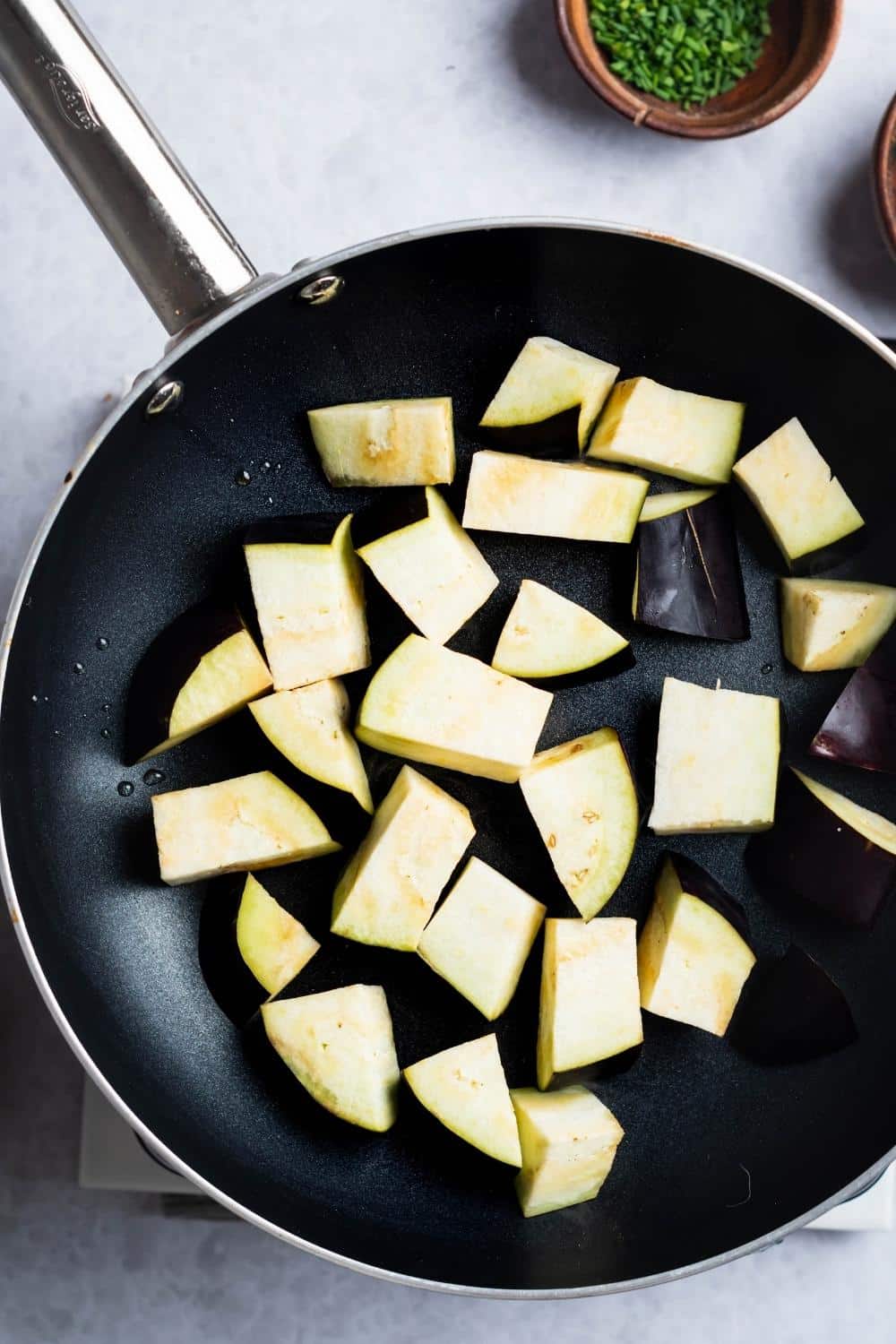 Step 3: Make the Eggplant Sauce
Now, take your prepared sauce and give it a quick stir to make sure everything is well-combined.
Finally, add the sauce into the pan and toss to completely coat the eggplant in it. Then, let it simmer for a couple of minutes to let the sauce soak into the eggplant and thicken up a bit.
Now, once the sauce has reduced and the eggplant is evenly coated in the glaze, you'll want to take it off the heat and transfer it to a serving dish.
Garnish your sauteed eggplant with sliced green onions, and enjoy!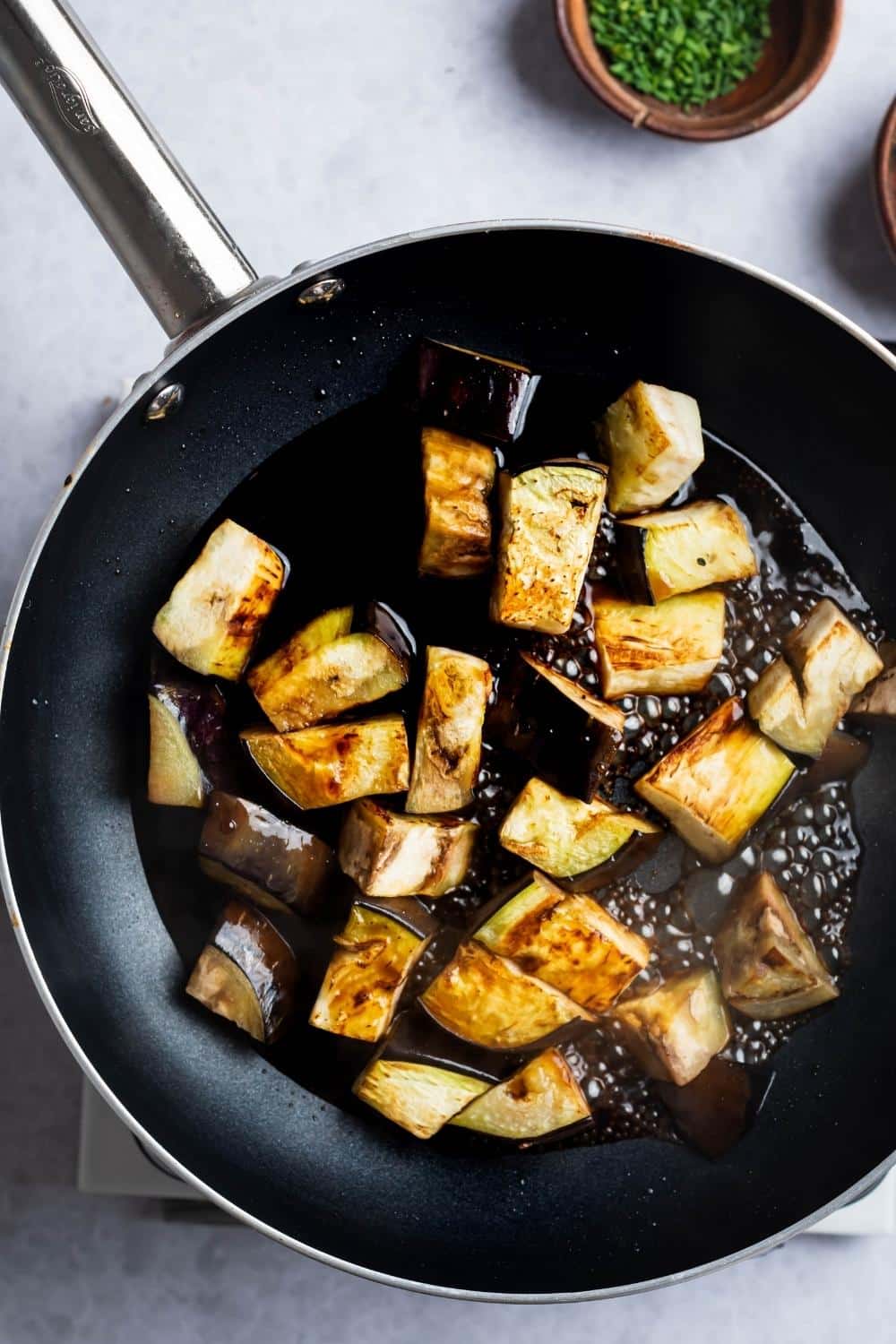 How To Store Cooked Eggplant
Ok, so this recipe will end up making about 2 servings as a side, depending on the size of your eggplant.
I used one large eggplant for this recipe, but you may need to adjust the amount if you're using the smaller Italian eggplant or narrow eggplant varieties like Chinese eggplant and Japanese eggplant.
And, remember, when it comes to measuring for eggplant recipes, you want to use more eggplant than you think you'll need since eggplant tends to shrink as it cooks.
Also, as far as storing your leftover eggplant goes, you'll want to wait for the eggplant to cool down and store it in an airtight container in the fridge for up to 3-5 days.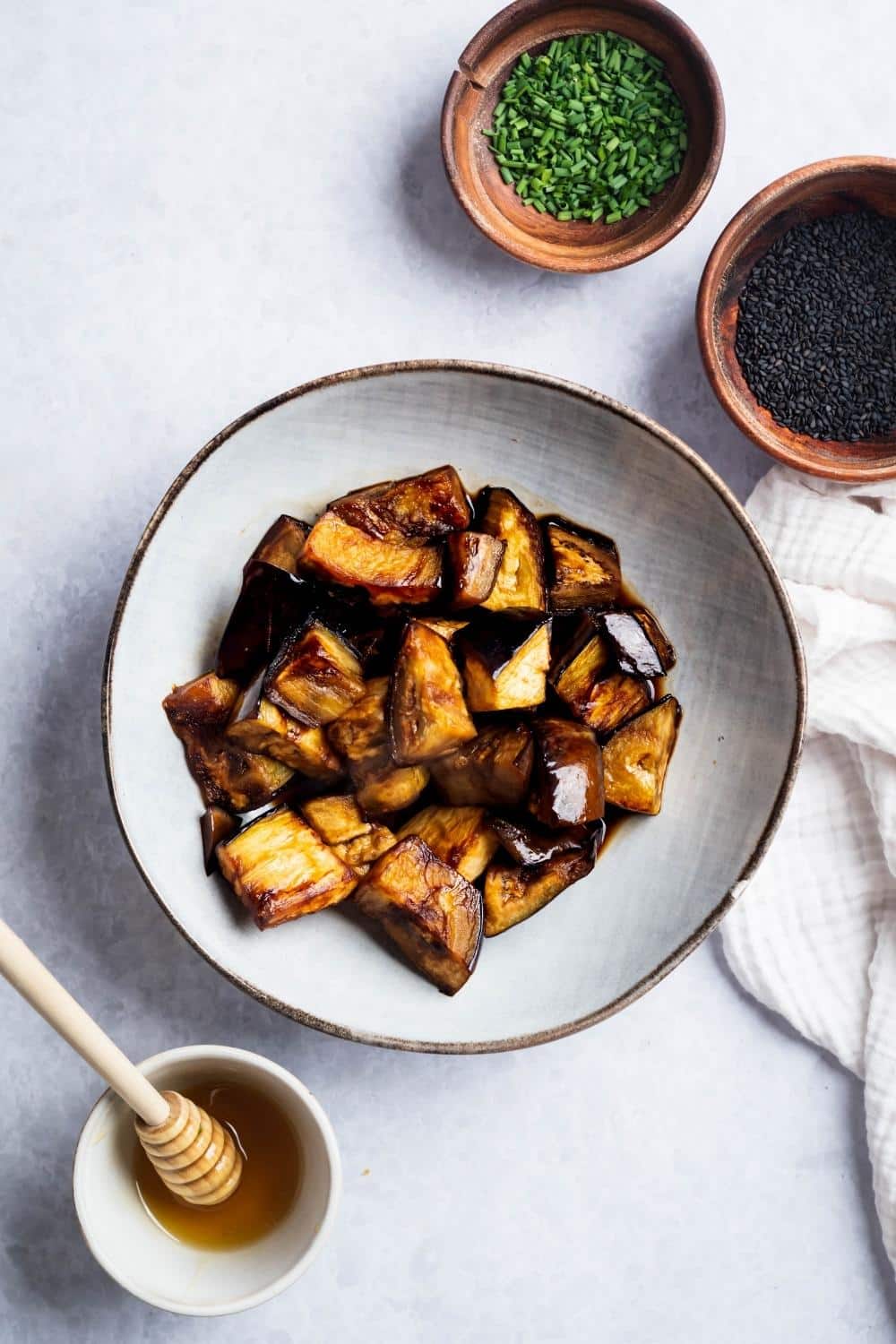 How To Reheat Eggplant
Ok, so this eggplant is pretty good cold, but you can definitely reheat it if you want.
To reheat your sauteed eggplant, all you have to do is put it back in a pan on the stovetop and saute for a few minutes until warm.
Or, if you want a roasted eggplant effect, you can put it in the oven at 350°F (180°C) for about 5-10 minutes, or until the roasted eggplant is warm again.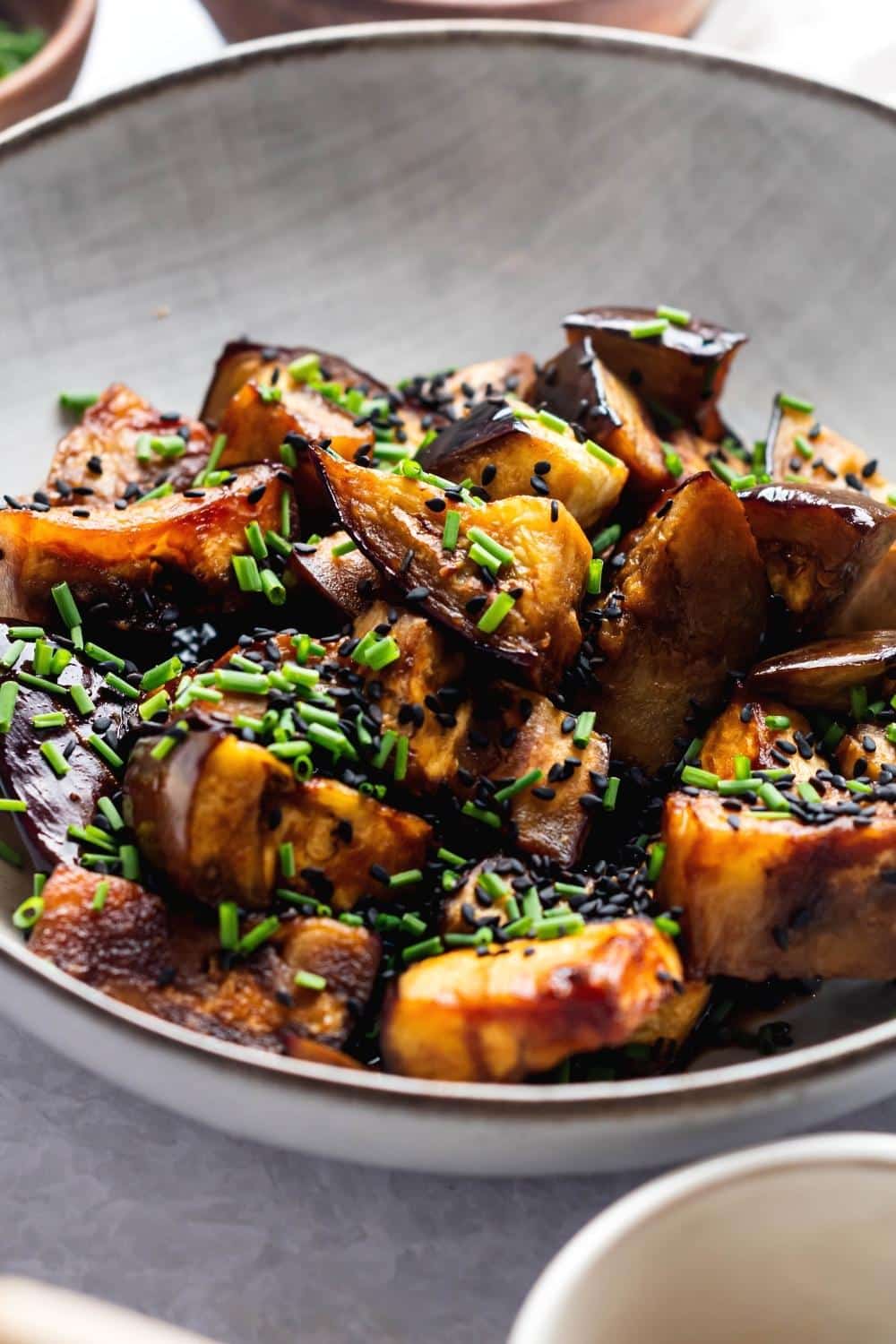 FAQs About Eggplant Recipes
Do you peel eggplant before sauteing?
Though eggplant skin is edible and nutritious, whether or not you peel the eggplant skin depends on the kind of eggplant you're using. Small eggplants don't have to be peeled at all, but large eggplant, on the other hand, tends to have tougher skin and should be peeled before sauteeing.
However, if you're making eggplant recipes that use longer cooking methods like baked eggplant, roasted eggplant, and grilled eggplant, you could get away with not peeling the eggplant skin even on a large eggplant.
Should I salt eggplant before sauteing?
Salting the eggplant isn't a necessary step in all eggplant recipes. That said, it can increase the natural flavor of the eggplant and give it a "meatier" texture that some people prefer.
Old or overripe eggplants also tend to have a bitterness to them that can be slightly reduced by salting the eggplant beforehand. To salt your eggplant slices or cubes, place them on a colander positioned over a bowl (to soak up the excess liquid from the eggplant) and sprinkle a generous amount of salt over the eggplant. Let the eggplant sit with the salt for 30 minutes to 60 minutes, then rinse and pat dry.
What is the best way to prepare eggplants?
There are so many delicious eggplant recipes since eggplants are so versatile.
With that said, there are a lot of fantastic eggplant recipes you can make. Sauteeing your eggplant, like in this recipe, is one delicious way to prepare eggplant. But other common methods are making baked eggplant, eggplant parm, roasted eggplant, eggplant salad, stuffed eggplant, and grilled eggplant.
Is sauteed eggplant good for you?
Sauteed eggplant is one of the healthier eggplant recipes you can make because it doesn't use as much oil as breaded and deep-fried eggplant recipes do, like eggplant parm.
That said, you'll want to stick to sauteed eggplant recipes that don't use a lot of oil. Also, make sure your oil is hot enough before adding in the eggplant. Eggplant tends to soak up a lot of oil, especially when you're starting with cold oil, so you'll want to ensure your oil is already at frying temperature.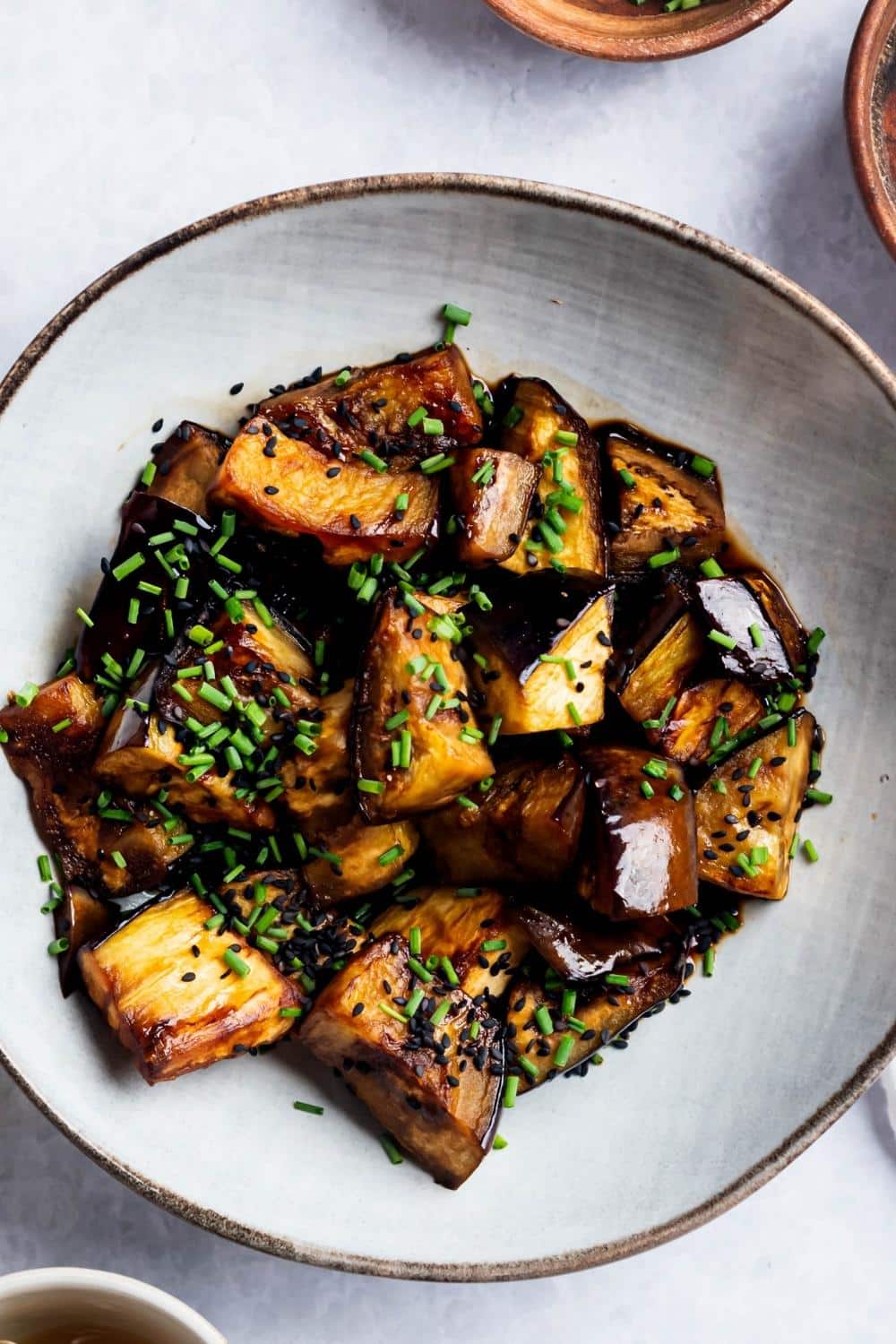 Wrapping it All Up
Well, that's how to make sauteed eggplant in just a few simple steps with a few simple ingredients!
As far as eggplant recipes go, this is by far my favorite one. This recipe is quick, easy, and incredibly delicious. Plus, it's suitable for vegetarians, vegans, and meat eaters alike.
Anyway, I hope you like this eggplant recipe as much as I do. I've been making this eye of round steak recipe a bunch lately, and I always pair this sauteed eggplant - they pair together so, so well.
As always, if you make it, be sure to let me know what you think in the comments below.
More Vegetable Recipes
If you love eating veggies and want to give some more of my vegetable recipes a try, I have a ton on the blog that I think you'll enjoy!
Give one of these a try next:
And for even more recipes, check out my Youtube channel and Instagram page! I post new ones on them all of the time.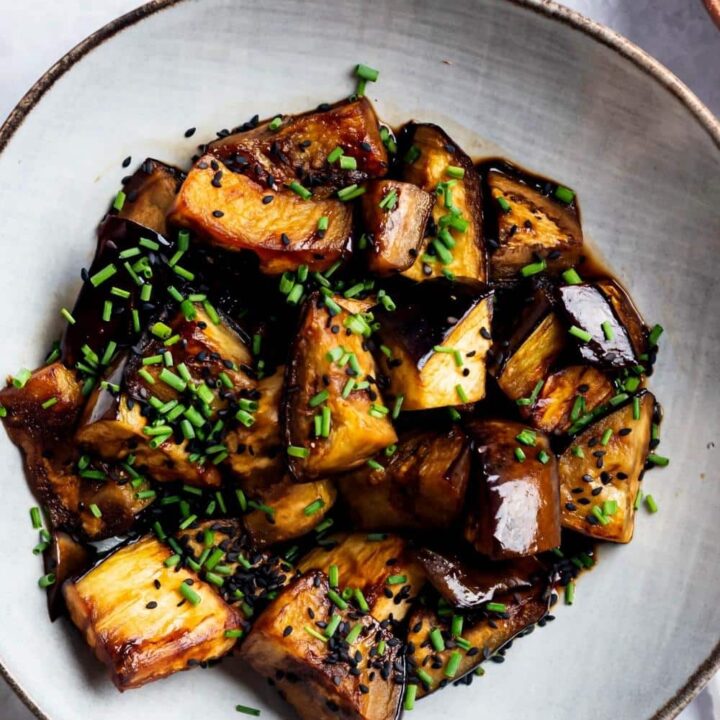 Quick and Easy Sautéed Eggplant Recipe | Ready In 15 Minutes
This sauteed eggplant recipe is seriously one of the best eggplant recipes you'll ever make. Tender, chewy chunks of chopped eggplant are tossed in a sweet and savory Asian-inspired sauce that explodes with flavor in every bite. Best of all, this simple and easy side dish recipe is ready in under 15 minutes!
Instructions
Cut the eggplant into cubes.

Preheat a pan or a wok over medium heat and add the sesame oil.

Mix the soy sauce, honey, and lemon juice.

Add the eggplant to the skillet and cook until it's golden brown on every side.

Add the sauce, let it soak, and combine for a couple of minutes.

Serve with green onions.
Nutrition Information:
Serving Size:

1 serving
Amount Per Serving:
Calories:

139
Total Fat:

7g
Saturated Fat:

0g
Trans Fat:

0g
Unsaturated Fat:

0g
Cholesterol:

0mg
Sodium:

0mg
Carbohydrates:

16g
Fiber:

0g
Sugar:

0g
Protein:

5g