This blackened chicken is super quick and easy to make and an excellent meal to have in your dinner repertoire. This recipe has the best seasoning for chicken, and it pairs so well with a variety of sides. And since this blackened chicken recipe takes just 15 minutes, you'll have plenty of time to whip up something to go with it!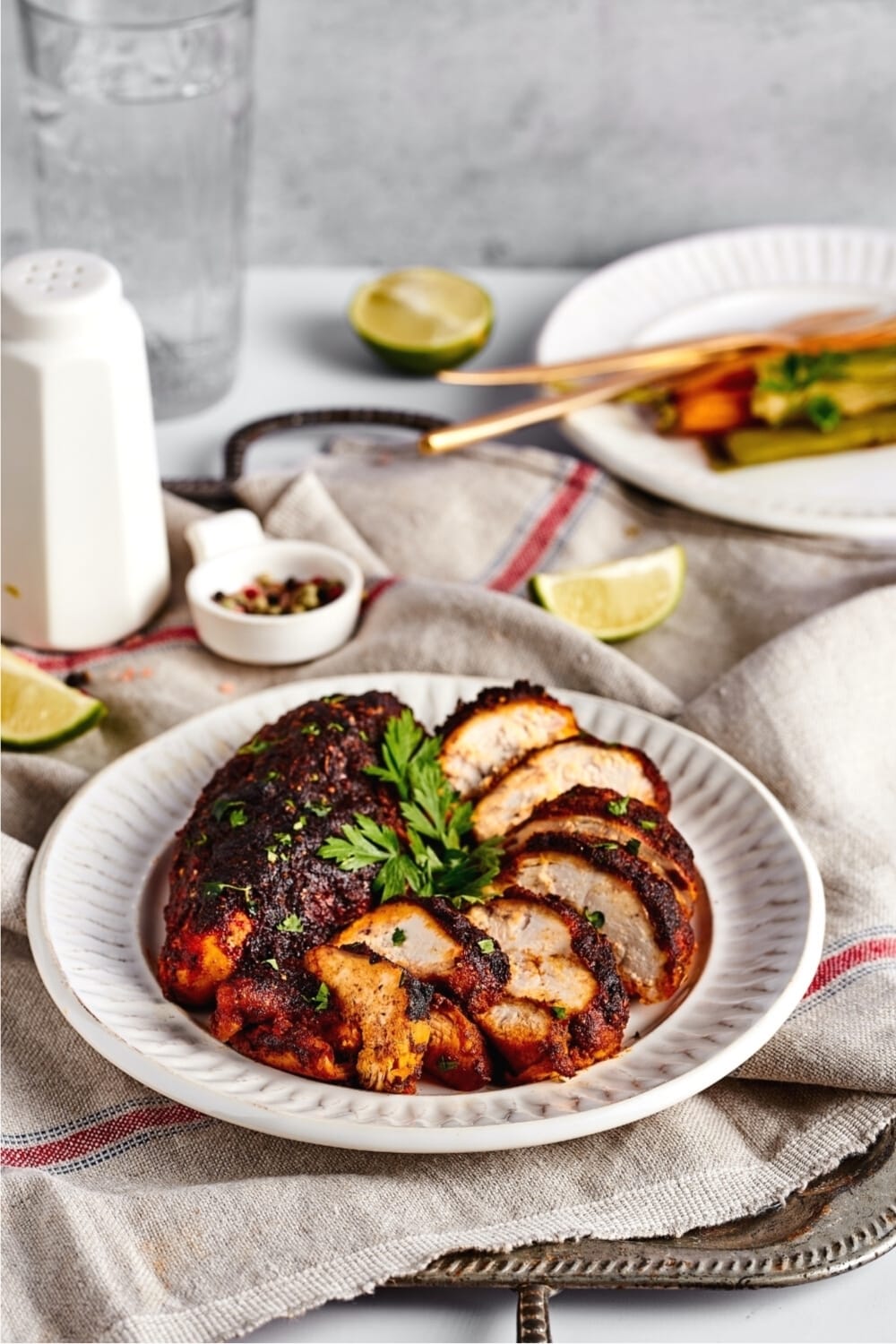 THE BEST BLACKENED CHICKEN
Cooking dinner can sometimes feel like a daunting task, and on days when you don't know what to make, it's good to have a go-to recipe.
That is what this recipe is for me - the homemade blackened chicken seasoning is made with all staple kitchen ingredients, and it only takes about 15 minutes from start-to-finish to make!
And the blend of flavors from the blackened seasoning that cooks into the chicken breast goes so well with a variety of dishes.
As you'll notice in the recipe - and photos - I included my favorite easy side dish to make with this blackened chicken breasts. It's a healthy & tasty assortment of roasted veggies, and you can make them when the chicken breasts are cooking!
That said, you can also enjoy this chicken with a variety of other sides, like these cheddar bay biscuits, this creamed spinach, or you can add it to some pasta or a salad!
Now get ready for a taste like no other, even if you've made blackened chicken before - I use a secret ingredient and a cooking technique that elevates the flavor and makes it come out perfect every time.
INGREDIENTS
So, as I mentioned, something to love about this recipe - along with how delicious it is - is that it uses all common ingredients for the blackened seasoning. And I can almost guarantee you have everything on hand.
Here is everything you'll need to make blackened chicken breasts:
2 boneless skinless chicken breasts
1 tablespoon smoked paprika
1 tablespoon sweet paprika
1 teaspoon garlic powder
1 teaspoon dried oregano
1 tablespoon olive oil
3 tablespoon butter, melted
Salt and pepper
And for the optional side dish:
4-5 carrots
1 large leek
2 tablespoon butter
1 teaspoon brown sugar (or brown Swerve)
1 tablespoon water

Chopped parsley for serving
Now, the only ingredient you may not have is chicken breasts. So, if you're going to the store to get some, make sure to pick up extra. You can always use any leftover chicken breasts to make this delicious air fryer chicken breast recipe, this creamy Buffalo chicken soup, this sauteed chicken, or this Chipotle chicken bowl.
Oh, and if you end up with some extra seasonings, you can always use them to make this blackened salmon with next.
You can use the leftover chicken to make this recipe again - or to make some of my other chicken recipes like this instant pot bbq chicken, instant pot chicken stew, chicken marsala, keto chicken nuggets, or air fryer chicken breasts with next!
What Does Blackened Mean?
Before we get into making the best blackened chicken breasts, let's talk about what blackened means.
Blackened is simply a cooking technique that can be used with chicken, steak, seafood, and other meats.
The unique part about it is the combination of spices used and the preparation of dipping the chicken in butter, then the herbs and spices, before cooking.
When the chicken breasts are cooked, it takes on a dark, almost burnt appearance, creating a crust-like texture on the outside while keeping the meat tender and juicy inside.
HOW TO MAKE BLACKENED CHICKEN
Another aspect to love about this recipe is how incredibly easy it is to make!
And if you're wondering how easy, you can just coat the chicken in the seasonings, and get right to cooking without having to wait hours for it to marinade.
So, if you're ready to whip up this quick and delicious blackened chicken, let's get to it!
STEP 1: PREPARING THE CHICKEN
First, preheat the oven to 365 degrees Fahrenheit (185°C).
Then mix all of your spices for the blackened seasoning - the smoked paprika, sweet paprika, garlic powder, and dried oregano - in a large bowl, then set it aside.
Next, melt the butter and brush the boneless skinless chicken breasts with the spice rub, completely covering both sides of the chicken.
Then dip the butter-coated chicken in the blackening seasonings mixture and thoroughly coat each piece.
STEP 2: COOKING THE CHICKEN
Now that the chicken is ready to go, heat the oil in a hot cast iron skillet or large pan over medium high heat, arrange the two pieces of chicken on the hot pan, and fry them briefly for 2-3 minutes on each side.
Then transfer the seared chicken from the hot skillet to a baking sheet coated with baking spray and bake for about 10-15 minutes until the seasoning blend darkens and the chicken reaches an internal temperature of 165°F (74°C).
And while the chicken is cooking, you can prepare the side dish.
STEP 3: MAKING THE SIDE DISH
First, steam the carrots and leek until they are tender.
Then fry them in a pan with a little butter, brown sugar, and water until the vegetables caramelize.
When the cooked chicken is baked to perfection, let the chicken rest for a few minutes.
Then serve it with veggies, mashed potatoes, or any side of your choice, decorate it with chopped parsley, and enjoy! Oh, and you can even put it between bread to make blackened chicken sandwiches.
STORING THE BLACKENED CHICKEN
So, this recipe for blackened chicken makes 2 servings, perfect for a delicious dinner for one or two or a convenient meal prep recipe.
And if you want to make more chicken to feed the entire family or want meal prep for the week, you can easily double, triple, or quadruple the recipe. It makes a delicious blackened chicken salad!
You can store cooked chicken in an airtight container in the fridge for up to 4 days. Then just pair the blackened chicken breast with any side you want and enjoy!
And if you're looking for some easy side recipes to make, here are a few to try:
WRAPPING IT ALL UP
Well, that is how to make the best blackened chicken recipe that is quick, easy, and incredibly delicious.
And it's an excellent dinner recipe to have in your back pocket for when you're in a pinch or just want to cook up something with little effort that creates a tasty result.
Honestly, it's our favorite easy chicken recipe to make in the Duff household, especially on busy weeknights
And it's a recipe that the whole family is sure to love, and you can keep it fresh by pairing it with a different side each time you make it!
Anyways, I hope you enjoy this blackened chicken recipe as much as we do! If you make it, leave a comment below and let me know what you think and what you ate with it!
Print
Blackened Chicken | The Best Seasoning For Chicken
This blackened chicken is super quick and easy to make and an excellent meal to have in your dinner repertoire. This recipe has the best seasoning for chicken, and it pairs so well with a variety of sides. And since this blackened chicken recipe takes just 15 minutes, so you'll have plenty of time to whip up something to go with it!
Author:
Prep Time:

5 minutes

Cook Time:

10 minutes

Total Time:

15 minutes

Yield:

2 servings

Category:

Dinner

Method:

Stovetop

Cuisine:

Keto Low Carb
Blackened Chicken:
2 chicken breasts
1 tbsp smoked paprika
1 tbsp sweet paprika
1 tsp garlic powder
1 tsp dried oregano
1 tbsp olive oil
3 tbsp butter, melted
Salt and pepper
Side Dish:
4-5 carrots
1 large leek
2 tbsp butter
1 tsp brown sugar
1 tbsp water
Instructions
Mix all the spices together and set aside.

Coat the chicken breast with melted butter, then dip each piece on all sides in the spice mixture we previously prepared.

Heat the oil in a pan, and arrange the meat on it. Fry only briefly for 2-3 minutes, then transfer to a baking sheet on greaseproof paper and bake in the oven at 185°C (365°F) until the spices darken and until the meat is cooked.

While the meat is baking in the oven, prepare the side dish. Steam the carrots and leeks, then fry the vegetables in a pan with a little butter, sugar and water until caramelized.

Serve meat warm with side dish.
Notes
The scale up function does not change the gram measurements.
Nutrition
Serving Size:

1 serving

Calories:

278

Fat:

18

Carbohydrates:

5

Fiber:

1

Protein:

25
Keywords: blackened chicken, blackened chicken recipe, blackened, best seasoning for chicken, how to make blackened chicken, blackened chicken seasoning, blackened chicken recipe oven, blackened chicken recipe skillet, blackened chicken recipe stove top, blackened chicken recipe easy, blackened chicken recipe baked, easy blackened chicken, chicken blackened, keto blackened chicken, keto blackened chicken recipe