This sirloin tip roast is succulent and juicy with fall-apart tender meat. The garlic and herb-crust add an incredible flavor, giving you an elegant yet effortless entree that never fails to impress. The best part, it takes just 5 minutes to prepare!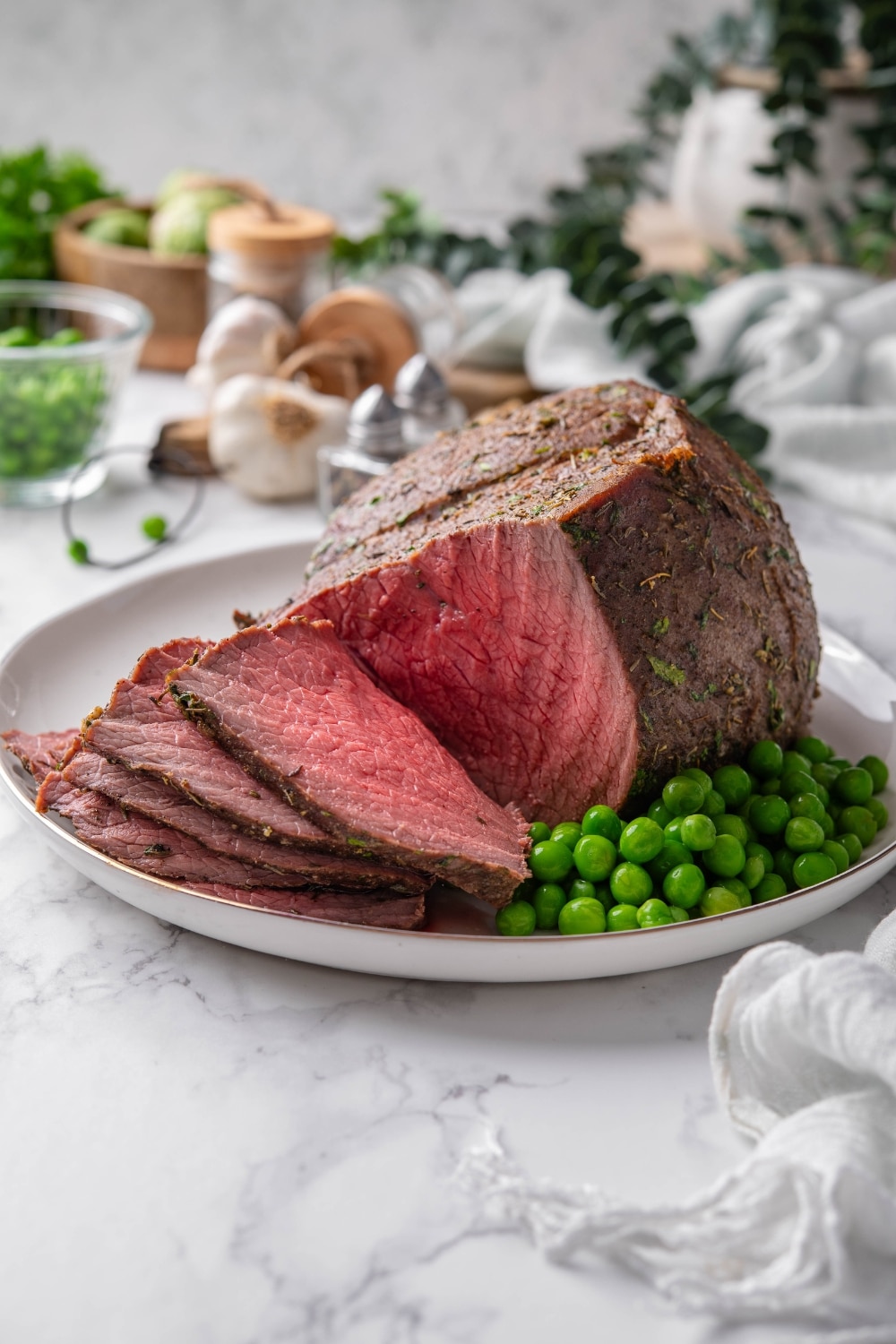 This recipe is a quick and simple way to make a 5-star meal out of a more budget-friendly cut of beef. This beef sirloin tip roast is rich and meaty, complemented by a fragrant garlic and herb crust.
It is incredibly juicy and tender and cuts like butter, revealing a perfect medium-rare center that practically melts in your mouth!
This sirloin roast is one of my favorite recipes for hosting. The quick prep and hands-off cooking give you plenty of time to make some equally delicious sides - like these sauteed carrots and creamy cauliflower mash.
Why You'll Love This Recipe
Minimal prep. It's an excellent recipe for treating your family or dinner guests without a lot of effort. It takes just 5 minutes to prepare, but the results are restaurant-worthy!
It's foolproof. You'd be surprised how easy this recipe is to make and how well it turns out each time. Even if you've never cooked a sirloin tip roast before, this guide will have you roasting like a pro.
Versatile. As an entree, it goes great with an endless variety of sides, from mashed potatoes to roasted veggies and salad. Slice up the roast, and it also makes an awesome filling for sandwiches and wraps.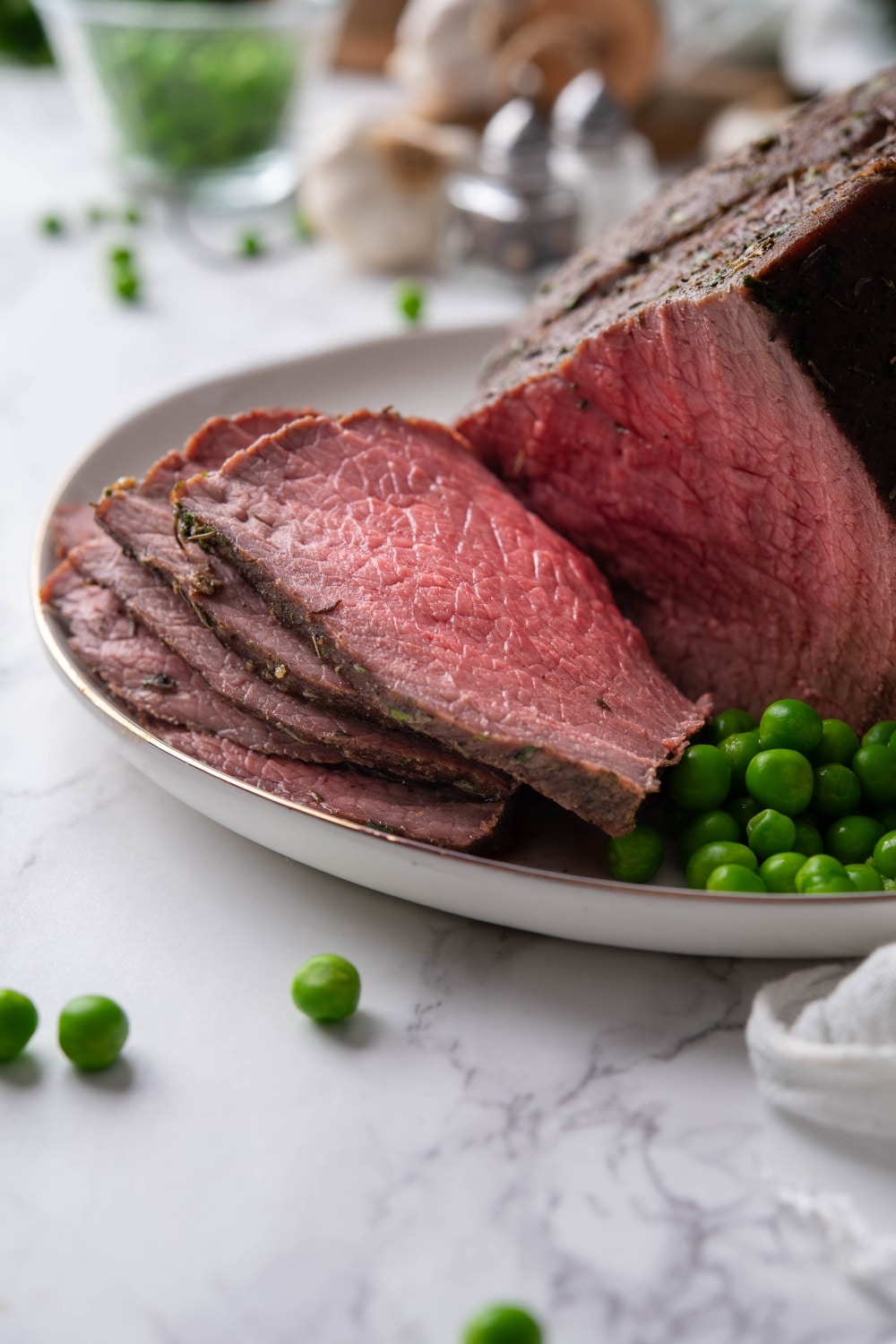 Ingredients Needed
Sirloin tip roast - also known as round tip roast. It's a lean but flavorful cut that's relatively inexpensive.
Olive oil - helps adhere the spice rub to the meat and adds juiciness to the extra lean cut.
Salt and black pepper - bring out the flavors of the meat and seasonings.
Parsley - its fresh, herby taste brightens up the deep savory flavor of the roast.
Dried thyme - adds a peppery-sweet earthiness that complements the taste of beef perfectly. Dried thyme has a more concentrated flavor than fresh, so if you're using fresh thyme, use 3 times the amount.
Minced garlic - for fragrant garlicky notes.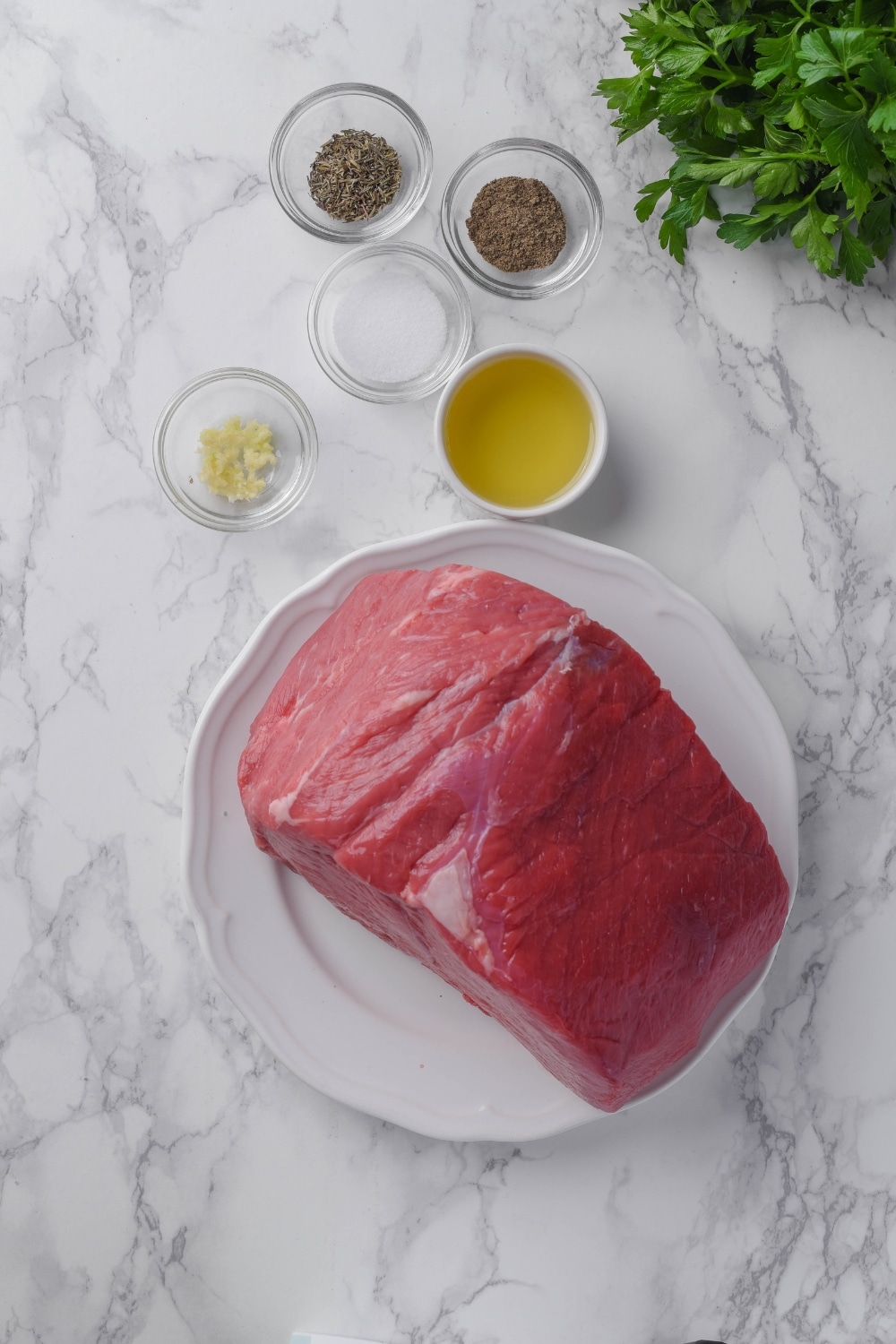 How To Cook Sirloin Tip Roast
1. Season the roast: Preheat the oven to 350°F (180°C). Rub the sirloin tip roast with olive oil, then season it all over with parsley, dried thyme, minced garlic, salt, and pepper.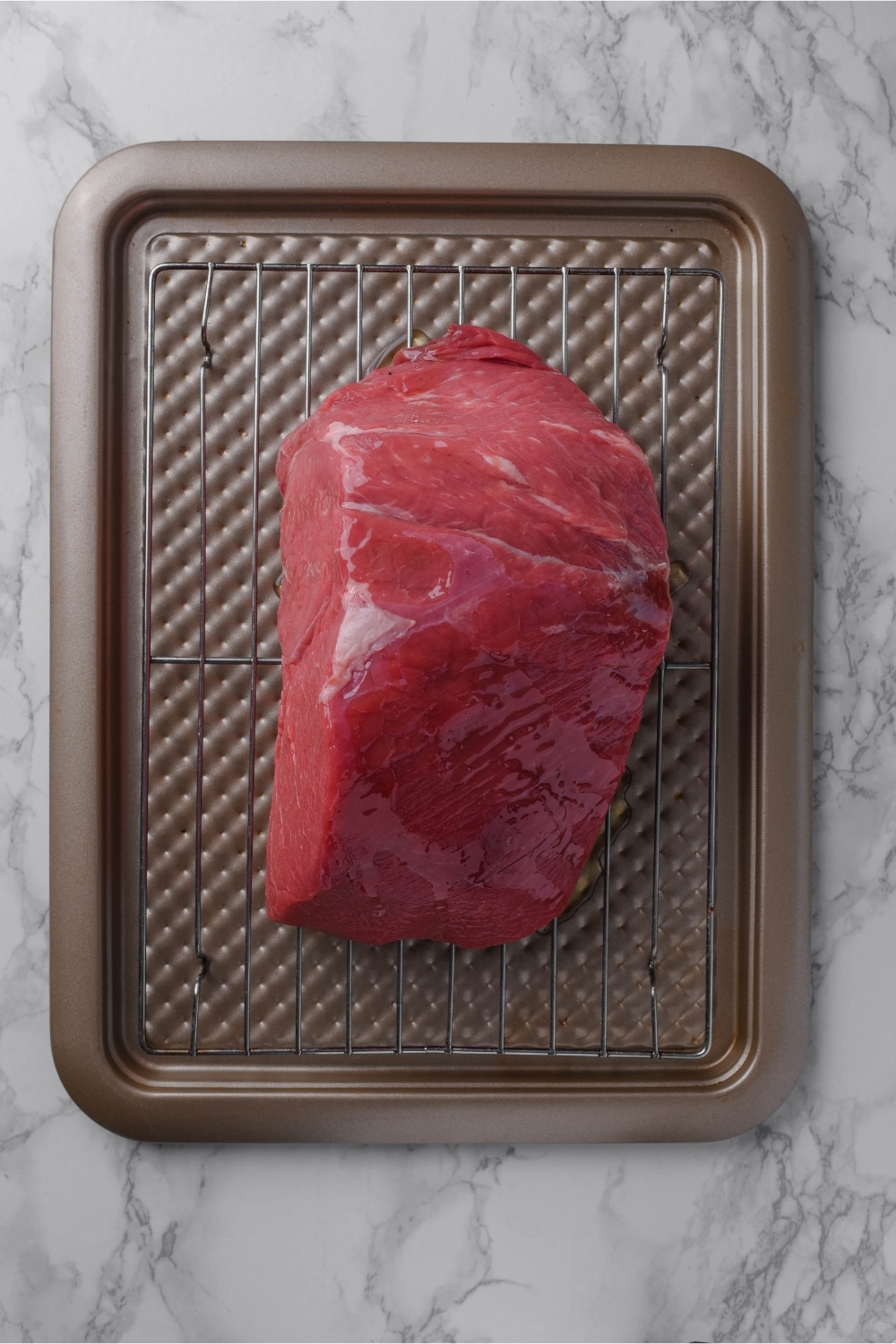 2. Roast the beef: Set the seasoned beef roast on a baking sheet and roast it for 45-50 minutes or medium rare. You can use a meat thermometer to test the internal temperature; it should reach 135°F at the thickest part.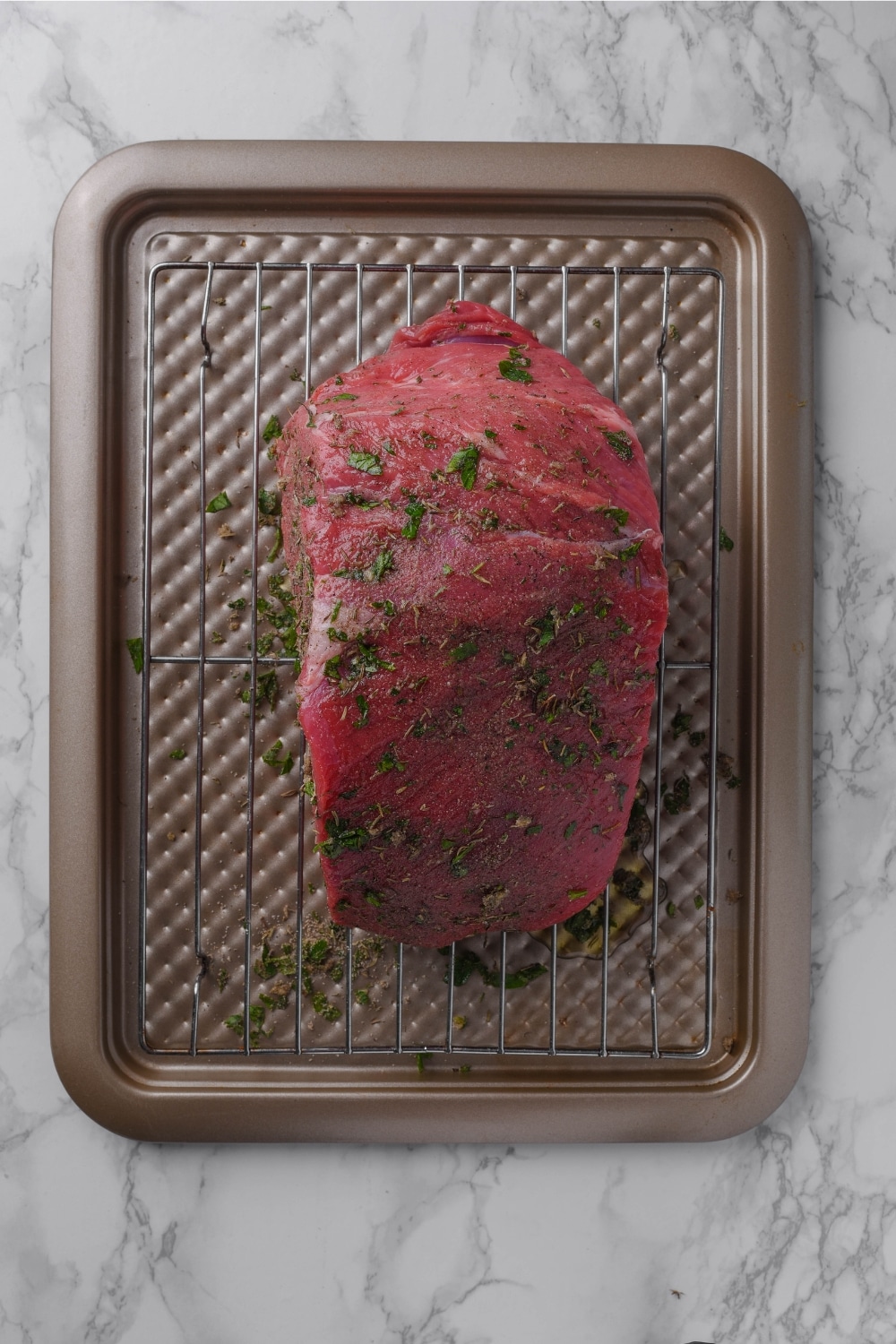 3. Tent: Once it's done, take the sirloin roast out of the oven and tent it with aluminum foil, crimping the sides of the foil to the baking sheet. This will keep the roast warm and juicy. Let it sit for 10 minutes, then remove the foil. Slice, serve, and enjoy!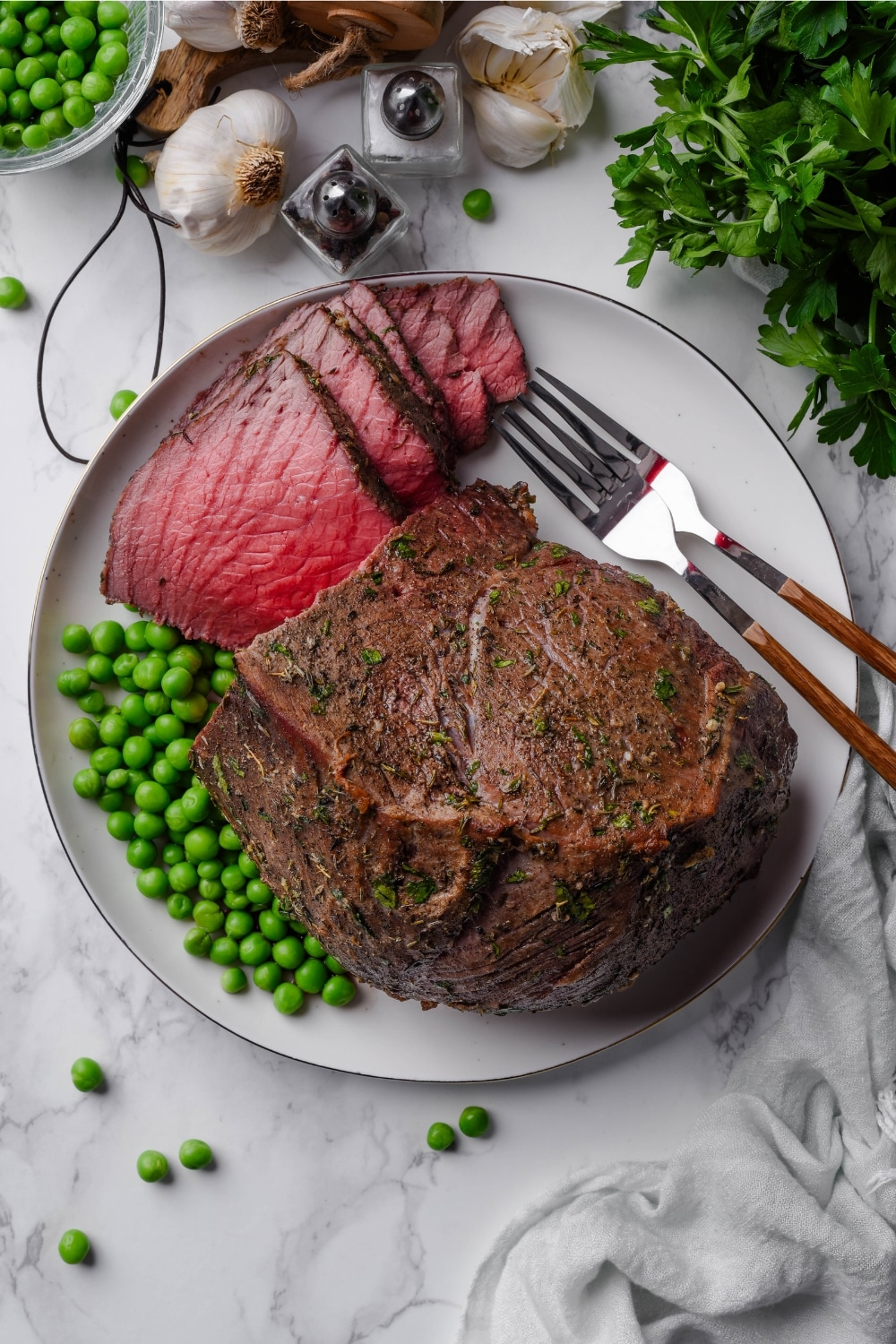 Tips To Make The Best Recipe
Always let the beef come to room temperature before starting. This is the key to getting the roast evenly and perfectly cooked throughout.

Before roasting, you can optionally sear the seasoned beef on the stovetop. Do a few minutes on each side to form a nicely browned crust. If you're going to do this step, shave a few minutes off the final roasting time.

Take the roast out of the oven a few degrees before your desired doneness; it'll continue to cook slightly after you tent the meat. Aim for 135°F (57°C) for medium-rare or up to 145°F (62°C) for medium.

When carving your sirloin roast, slice it against the grain and at an angle for the most tender bite.

Reserve the pan drippings and cook them in a saucepan with roux to make a delicious gravy, or simmer them with wine for an elegant red wine jus.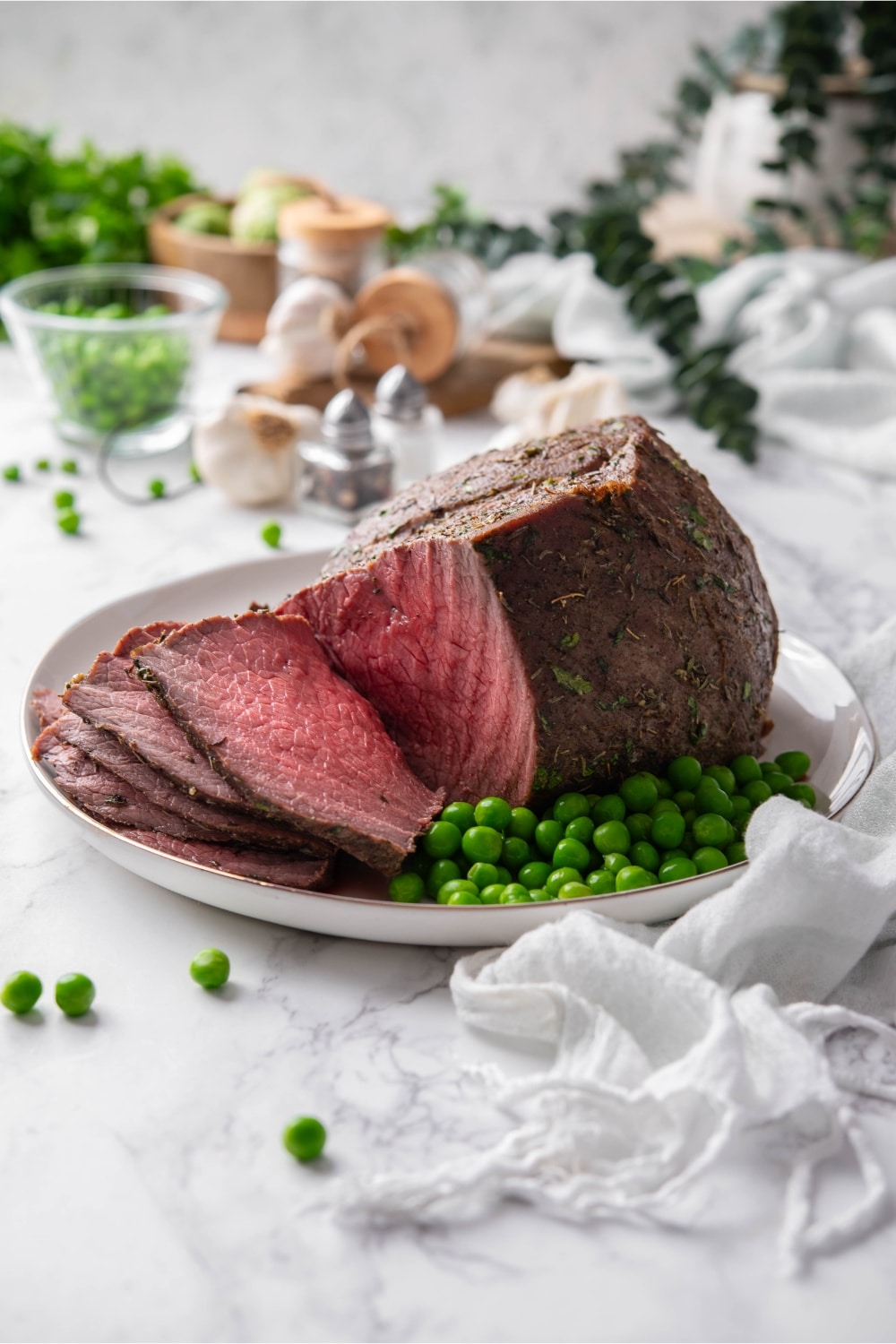 Storage Instructions
In the fridge: Transfer whole or sliced sirloin tip roast into an airtight container. Store it in the coldest part of your refrigerator for 3-4 days.
In the freezer: Cut the sirloin tip roast into slices and store them in a freezer-safe airtight container or a freezer bag with the extra air squeezed out. They'll stay good in the freezer for up to 3 months.
Reheating: Bring the leftover roast beef to room temperature and place it on a baking sheet or roasting pan. Add a tablespoon or two of beef broth and cover it loosely with foil. Bake in an oven preheated to 250°F (120°C) until warmed through. Slices can be ready in around 10 minutes, while a whole roast can take over an hour.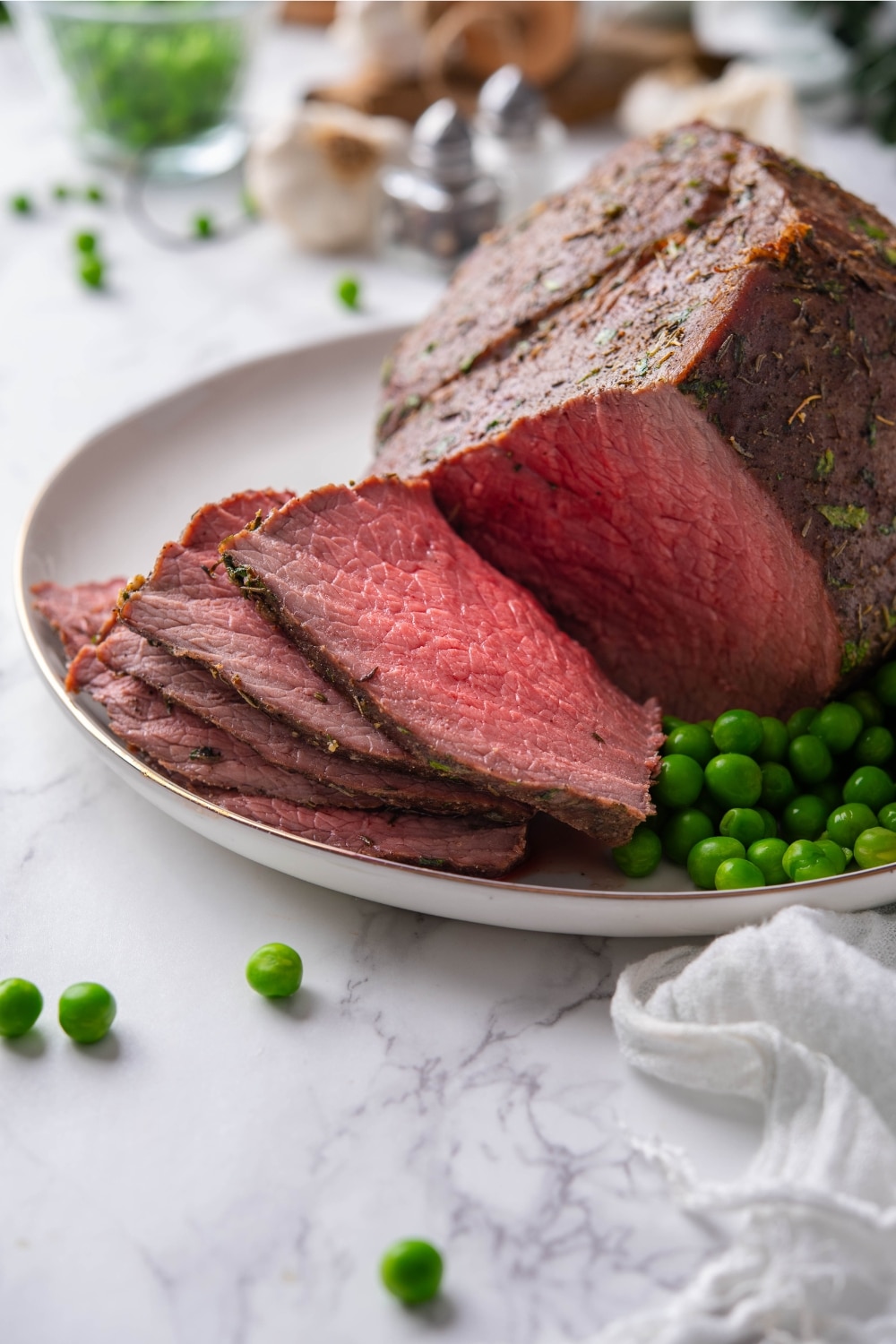 Frequently Asked Questions
What can I serve with sirloin tip roast?
Some of my favorite dishes to pair it with are cauliflower rice, fried eggplant, crispy air fried brussels sprouts, and grilled carrots.
Can I make this recipe in a slow cooker?
Yes, you can definitely make slow cooker sirloin tip roast! First, season the beef on all sides and pan-sear it in a skillet over medium-high heat for 2 minutes on each side. Add the seared beef to your slow cooker with a cup of beef broth and cook on low heat for 8 hours.
More Beef Recipes
Sirloin Tip Roast
This sirloin tip roast is succulent and juicy with fall-apart tender meat. The garlic and herb-crust add an incredible flavor, giving you an elegant yet effortless entree that never fails to impress. The best part, it takes just 5 minutes to prepare!
Ingredients
2.25lb. sirloin tip roast
1 tablespoon olive oil
1 ½ teaspoon salt
¾ teaspoon black pepper
1 ½ tablespoon chopped parsley
¾ tablespoon dried thyme
2 cloves garlic, minced
Instructions
Preheat oven to 350°F.

Rub the roast with olive oil.

Season the roast with salt, pepper, parsley, thyme, and garlic on all sides.

Place the beef onto a baking sheet and roast for 45-50 minutes or until it reaches a medium rare temperature of 135°F.

Remove the beef from the oven and tent with aluminum foil.

Let the beef rest for 10 minutes before slicing and serving.
Nutrition Information:
Serving Size:

¼ lb.
Amount Per Serving:
Calories:

306
Total Fat:

17g
Saturated Fat:

6.3g
Trans Fat:

0g
Unsaturated Fat:

0g
Cholesterol:

106mg
Sodium:

522mg
Carbohydrates:

0.6g
Fiber:

0.2g
Sugar:

0g
Protein:

35g