Creamy, luscious, and sweet, this almond milk ice cream is a guilt-free pleasure. It is a dairy free and sugar free ice cream made with just 4 ingredients. And this is a no churn ice cream with no ice cream machine needed!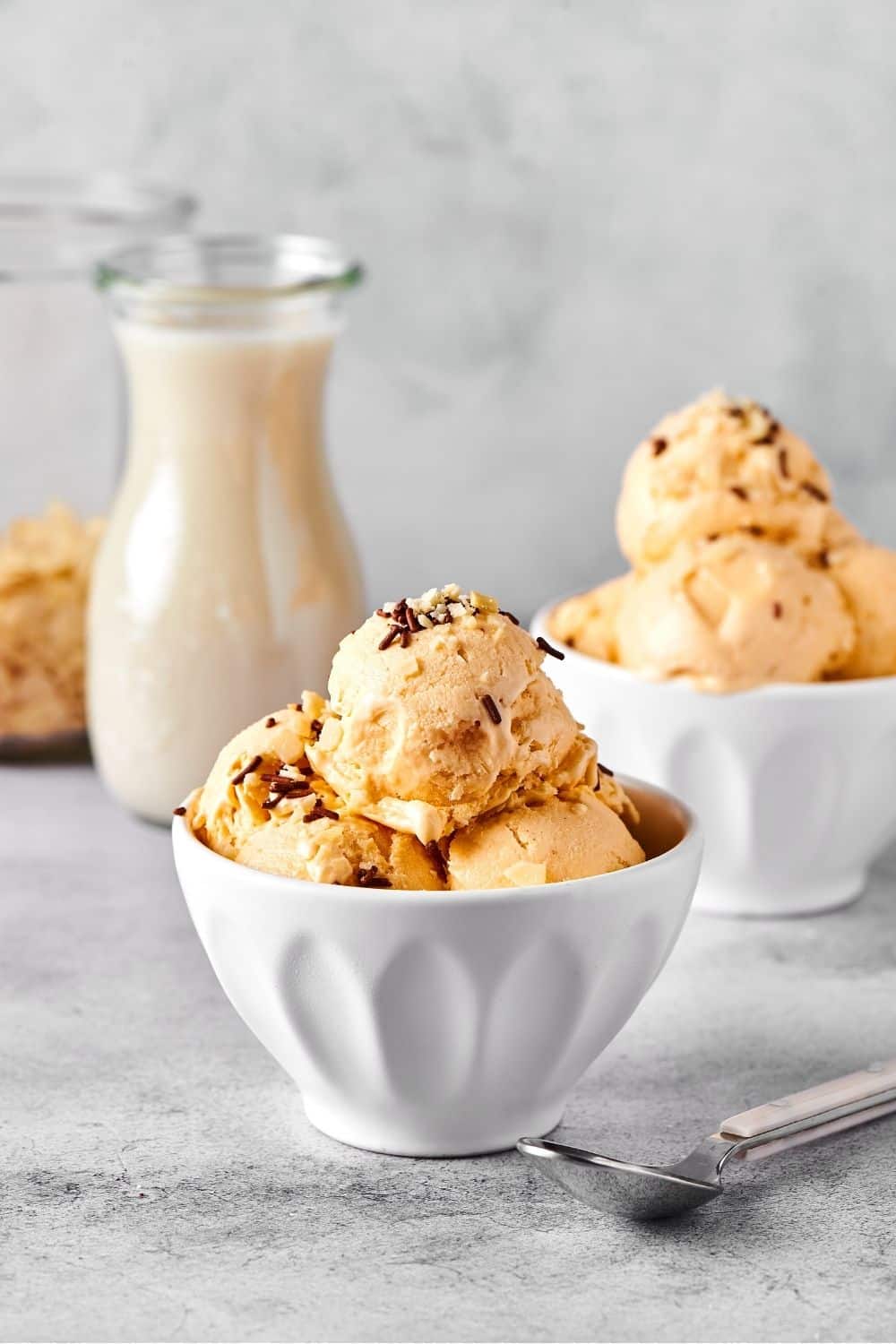 THE BEST ALMOND MILK ICE CREAM
Ice cream is not just a warm-weather treat. I mean, I don't know about you, but I love enjoying ice cream as a dessert all year round.
And there's nothing quite like homemade ice cream made with all wholesome ingredients.
This almond milk ice cream recipe uses just 4 ingredients to make a sugar free dairy free ice cream that tastes like a dream.
The texture is unbelievably creamy with a delightfully sweet flavor that will leave you wanting more. And, in my humble opinion, it is the perfect healthy replacement for the typical high-calorie, sugar-packed ice cream that the store offers.
Also, as I mentioned earlier, the best part about this ice cream is that there is no machine required! All you have to do is mix everything together, steam it, and then let it thicken the freezer.
Oh, and this is an almond milk keto ice cream with just 1 NET CARB per serving!
So, if you're following a low carb lifestyle - like the keto diet - this recipe is perfect.
Ingredients
As I mentioned earlier, you only need a few ingredients to make this almond milk ice cream recipe.
And you probably have at least half of them on hand already!
Here's everything you'll need:
Just over ¾ Cups unsweetened vanilla almond milk
4 egg yolks
4 tablespoon granulated erythritol
Just under 1 Cup full fat coconut cream
Sliced almonds and sugar free chocolate sprinkles for decoration
Pretty simple, right?
By the way, almond milk is not only great as a base for this ice cream, but also for this Keto Frosty and Keto Oreo Shake - so pick up an extra gallon if you have to run to the store!
Oh, and if you're looking for something to top this low carb ice cream with, try drizzling some of this keto caramel sauce on it! It also goes really well on this frozen yogurt recipe, so you'll want to try making that next.
Making Sugar Free Ice Cream
So, to make this a sugar free almond milk ice cream, there is one key ingredient that we'll be using. And that ingredient is granulated erythritol.
I used Granular Swerve to make the ice cream. It's a 0 calorie, 0 carb sweetener with the same sweetness as regular sugar!
Another great option is to use though is an allulose based sweetener. It's not as sweet as sugar, so just add a little bit more if you use it.
How to Make Almond Milk Ice Cream
The process of making this ice cream could not be any easier. And as I mentioned, you don't need any special equipment to make it!
So get out your ingredients, and let's make some ice cream!
Step 1: Preparing the Egg Mixture
Start with separating the egg whites from egg yolks and discard the whites - or use them to make this low carb bread.
Then, put the yolks in a mixing bowl along with the erythritol and beat it with a hand - or stand mixer - until the mixture becomes light, fluffy, and doubles in volume.
Step 2: Making The Ice Cream
Next, you will steam the mixture for about 10 minutes.
Pour the mixture into a double-bottomed pan or pot over boiling water. And make sure to stir the mixture occasionally while it steams.
After that, cool the thickened filling for a few minutes, then add in the almond milk and full fat coconut cream.
Whisk everything together until you achieve a smooth and creamy mixture.
Step 3: Freezing
For the final stage, pour the ice cream mixture into a loaf pan and sprinkle some sliced almonds on top if you want.
Then freeze the ice cream for a few hours until solid or overnight for the best results.
Finally, scoop the ice cream into a bowl and top with some more almond flakes sugar free chocolate sprinkles.
How To Store Homemade Ice Cream
This dairy free almond milk ice cream recipe will make enough for about 6 large scoops of ice cream. So, if your family is around after it freezes, odds are you won't have any leftovers.
But if you do, you can store the ice cream in an airtight container in the freezer for about 1 month. After that, it will be good to eat a little longer but can get freezer burned.
Now, this ice cream stores super well, and if you're making it, I definitely suggest doubling or tripling the recipe. It's so worth it and once the ice cream is gone, you'll wish you made more.
FAQS About This Almond Milk Ice Cream Recipe
Which non dairy milk is the best for ice cream?
The unsweetened vanilla almond milk by Blue Diamond is my favorite one to use to make ice cream. But really any non dairy milk you want will work well!
You can also use oat milk, cashew milk, and even hemp milk to make this dairy free ice cream recipe in place of the almond milk.
Is almond milk ice cream healthy?
This almond milk ice cream is super healthy!
It has no sugar and is made with all-natural ingredients. It's also dairy free too - so, if you're lactose intolerant you can enjoy almond milk ice cream without hesitation.
Is this a keto friendly ice cream?
Since there is no sugar and only 1 net carb per serving, this is absolutely a keto ice cream recipe!
Wrapping It All Up
Well, that is how to make ice cream with almond milk!
It is such a creamy, luxurious, and indulgent treat to make any time of year.
I love having this as a late night treat, and it's great that you can enjoy as much as you want in a guilt-free way since it has no sugar and is low in carbs. This recipe proves that you can eat healthy without giving up on your favorite sweet treats.
Well, I hope you enjoy this almond milk ice cream recipe as much as I do!
Don't forget to let me know how you liked it in the comments below if you make it.
Oh, and if you want to make some more sugar free sweet treats, check out my YouTube Channel!
Print
Almond Milk Ice Cream
Creamy, luscious, and sweet, this almond milk ice cream is a guilt-free pleasure. It is a dairy free and sugar free ice cream made with just 4 ingredients. And this is a no churn ice cream with no ice cream machine needed!
Author:
Prep Time:

15 minutes

Cook Time:

0 minutes

Total Time:

15 minutes

Yield:

6 servings

Category:

Dessert

Method:

Freezing

Cuisine:

Keto Low carb
Instructions
In a mixing bowl, beat the egg yolks and sugar with a mixer until it becomes light, fluffy and twice as large in volume.

Then steam this mixture for about 10 minutes in a double-bottomed pan or a pot of boiling water. Stir occasionally.

Cool the thickened filling a little, then add almond milk and coconut cream.

Combine and pour into a bowl and freeze for until solid or overnight for best results.

Serve with sugar free chocolate sprinkles and almond flakes on top.
Nutrition
Serving Size:

1 serving

Calories:

115

Fat:

11

Carbohydrates:

1

Protein:

3
Keywords: almond milk ice cream, almond milk ice cream recipe, how to make almond milk ice cream, dairy free ice cream recipe, sugar free ice cream recipe, sugar free dairy free ice cream, almond milk keto ice cream, keto almond milk ice cream, almond milk ice cream recipe with eggs, almond milk ice cream recipe no sugar, almond milk ice cream recipe no churn, keto ice cream made with almond milk,