I'm all about easy meal prep recipes! 
Seriously though, that the easier something is, the more likely I am to do it. And since the New Year is here, and 9/10 of us wants to start losing weight, meal prep can be a huge help to making that happen.
Plus, it's just cheaper than eating out, and it saves you time too. So it's really a win-win!
Anyways, today I'm going to show you how to meal prep for the week (lunches or dinners that is) ... in less than an hour.
Chicka-chicka yeah ...
Chicken Meal Prep Essentials: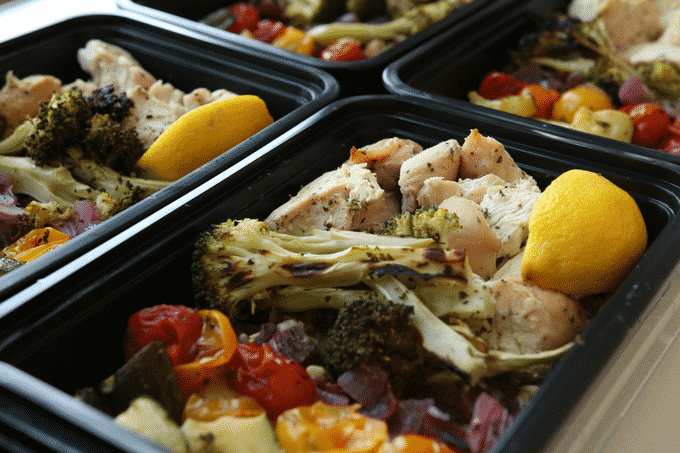 Print
Chicken Meal Prep For Beginners
A healthy chicken meal prep recipe for beginners, for weight loss, and for the week! If you're looking for easy meal prep ideas look no further. ANYONE can make this chicken, rice, and veggie meal prep recipe and have tasty results.
Author:
Prep Time:

20 mins

Cook Time:

40 mins

Total Time:

1 hour

Yield:

7

Servings

1

x
Category:

Meal Prep
7

Large chicken breasts with rib meat (4lbs - 1.8kg UNCOOKED)

2 Cups

brown rice (

236g

UNCOOKED)

4 Cups

water (around

1

Liter)

1

Large head of broccoli (

550g

after stem was removed)

1

Red onion (

350g

)

1

Large green zucchini (

450g

)

3 Cups

grape tomatoes (

375g

)

3

Cloves of garlic

2

Tbsps (30g) olive oil

3

Lemons

2

Tbsps Italian seasoning

3

Tsps salt

2

Tsps pepper
Instructions
Pre-heat your oven to 450 Degrees or 230 Celsius
Bring water to a boil in a large pot - add 1 teaspoon sat and 1 tablespoon olive oil
Once water is boiling add rice, stir, and reduce heat to a simmer - it will take around 40 minutes
Take 2 cookie sheets and line them with tin foil and set them aside
Chop up your vegetables and add them to a sheet
Cut a lemon in half and mince 3 cloves of garlic
Add half the juice of the lemon to the vegetables, along with the other tablespoon of olive oil
Rub the oil and lemon into the vegetables and add 1 teaspoon salt and pepper, 1 tablespoon of Italian seasoning, and ¼ of the minced garlic evenly to the veggies
Set that sheet aside and trim all 7 of your chicken breasts
Cut the chicken into bite sized pieces and add the pieces to a large bowl
Add all of the remaining garlic, the juice from the remaining half of the lemon, 1 tablespoon Italian seasoning,and about 1 teaspoon salt and pepper to the bowl of cut up chicken
Work the seasoning into the chicken until well combined
Add the chicken to the other baking sheet and cook both sheets at 450 Degrees or 230 Celsius for about 15 - 20 min max.
At this point the rice will be finishing
Once the rice is fully cooked (all the water has absorbed into the rice) set it on a hot plate and weigh all of it in a small bowl
Divide however much is in the bowl by seven and add that amount equally to each meal prep container
Do the same process with the chicken once it's done cooking too
*The veggies I weigh before and don't bother weighing after - I just divide the weight before cooking into seven and factor that number into the nutritional value of each container
Add an equal amount of veggies to each container
Cut up 2 lemons and add quartered slices of each lemon to the finished meal prep containers, and add the juice just before consuming (don't heat the lemon when reheating your containers)
Notes
STORAGE: The longest I'll keep cooked chicken in my fridge is 5 days. So if you don't plan on doubling up and eating multiple containers in a day I recommend freezing some of the containers. Easily defrost them by setting them in the fridge the night before, and in the morning they should be god to go.
Nutrition
Serving Size:

1 Serving

Calories:

425

Fat:

6

Carbohydrates:

52

Fiber:

6

Protein:

40
Do you need help losing weight?!
My e-book Macros Made Easy can help!
The book is a detailed weight loss guide that shows you step-by-step how to build a weight loss plan specifically for you.
One of the most frustrating things about dieting is hitting weight loss plateaus. That's why Macros Made Easy also comes along with a spreadsheet to hold you accountable, and track your progress. The spreadsheet will also alert you when you need to make adjustments to your diet so you can continue losing weight, and avoid those annoying plateaus.
I started tracking my macronutrients (protein, carbohydrate, and fat intake) over 6 years ago - and I've lost over 70lbs because of it! Not only have I lost the weight, I've kept it off too. Plus, I didn't eliminate any foods from my diet to do it- and neither will you!
So, if you're ready to start your weight loss journey today, you can pick-up a downloadable copy of Macros Made Easy here!