These keto blueberry muffins are buttery, fluffy, and oh-so-tasty. They're lightly sweetened (without sugar of course) and filled with fresh blueberries, and they turn out incredibly, incredibly moist. Honestly, these low carb muffins are the perfect on the go breakfast, healthy snack, or low carb dessert. Plus, they're so quick and easy to make!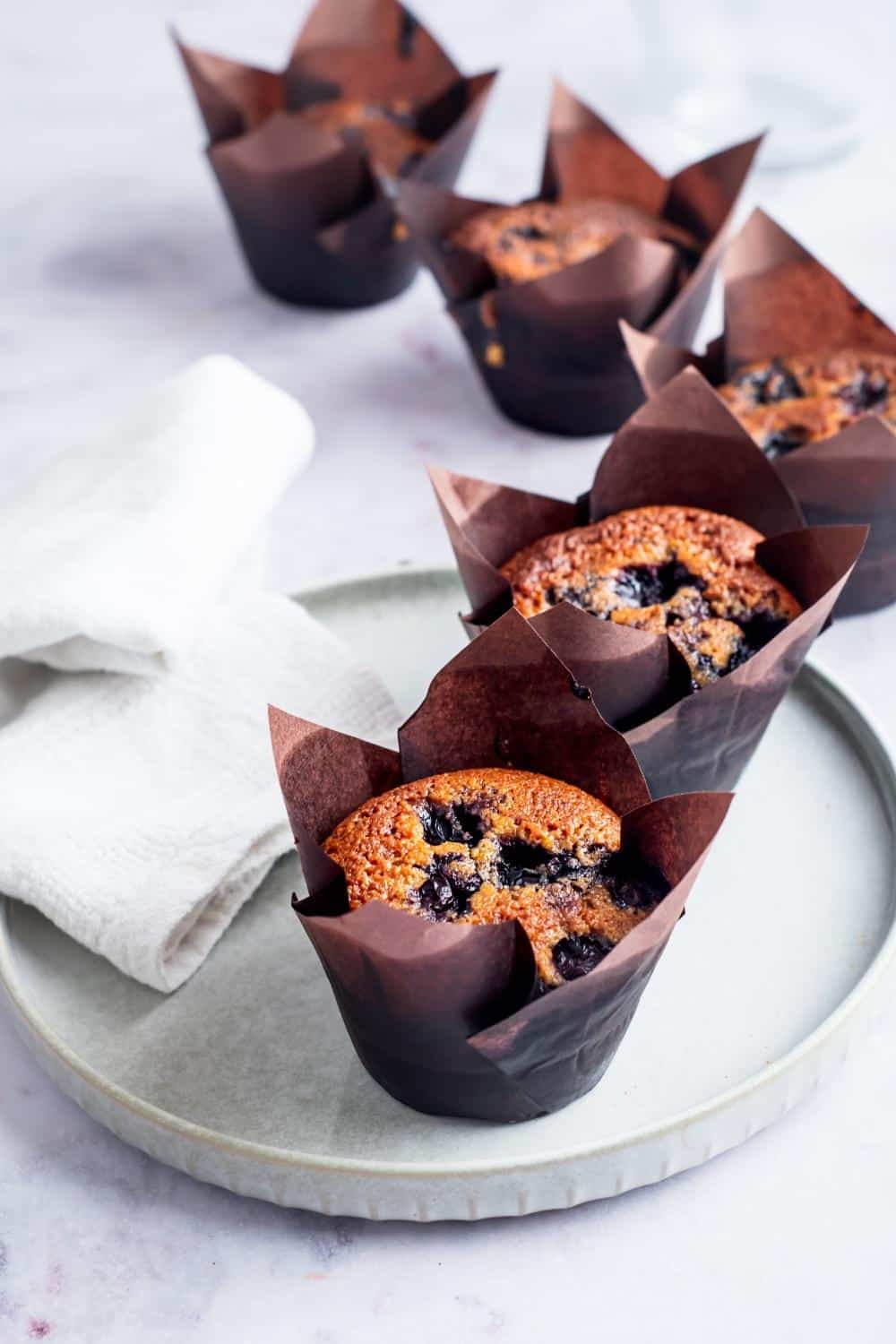 The Best Keto Blueberry Muffins
Now, I've tried a lot of keto muffin recipes, and I can confidently say these are some of the best keto blueberry muffins you'll make! I know I think they're the best ones I've had - but, of course, I'm biased.
I mean, these keto blueberry muffins are pillowy soft, super moist, oh-so buttery, and they have just the right amount of sweetness and tang to them. Not to mention, every bite of these muffins is bursting with juicy blueberries in every bite! And all of that delicious comes in a muffin that has less than 4 net carbs.
Pretty awesome, right?!
Also, as I alluded to earlier, this keto blueberry muffin recipe is super simple and straightforward. The ingredients are easy to find, and everything is done in just a handful of steps.
So, in less than an hour, you'll be digging into the freshly baked keto blueberry muffins of your dreams.
I know they're definitely some of my favorite low carb muffins to make, right next to these keto chocolate chip pumpkin muffins and banana nut keto muffins.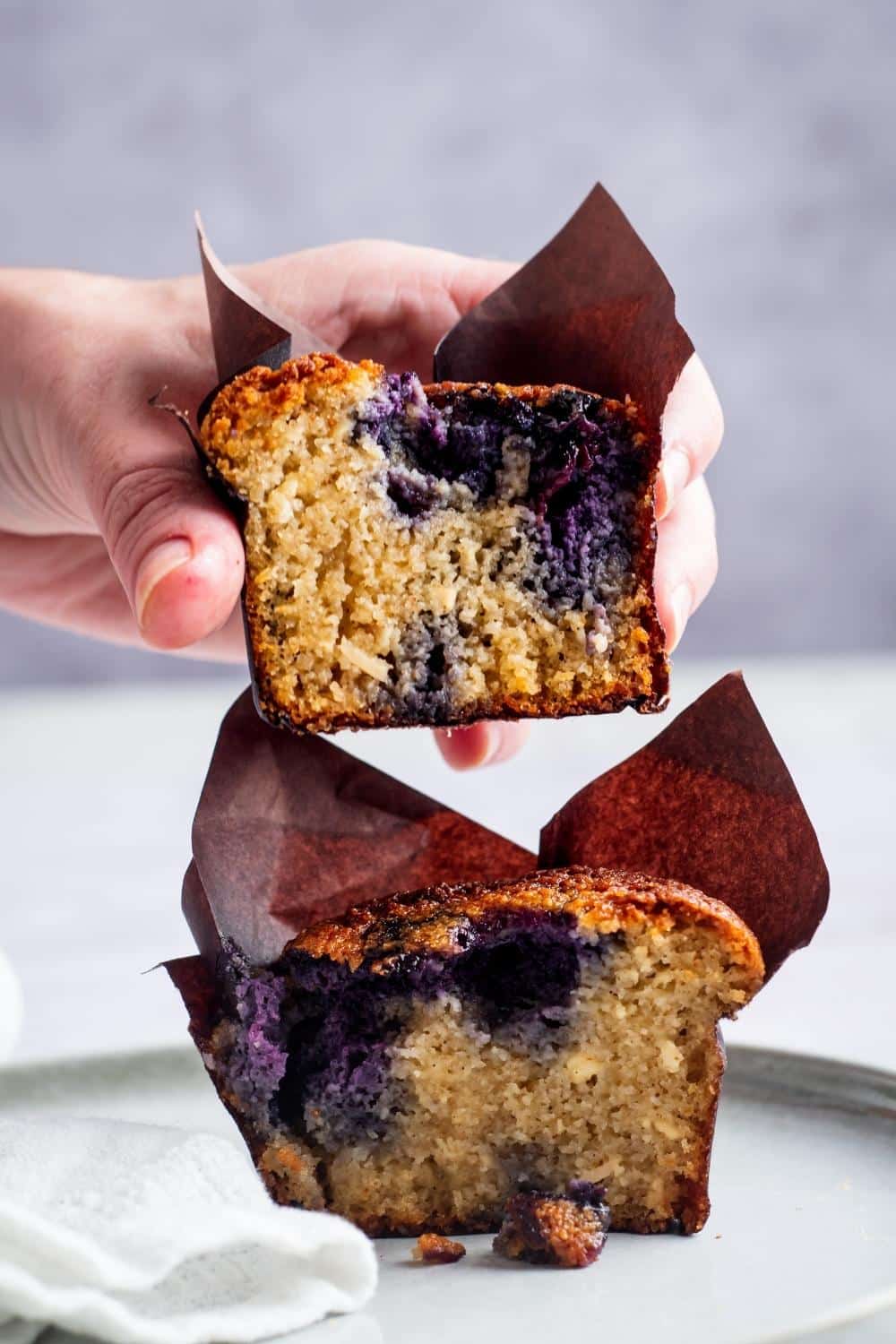 Ingredients
You need less than 10 ingredients to make this keto blueberry muffin recipe.
And, as far as ingredients go, they're all common keto pantry staples that you probably have at home already. If not, everything should be available at your nearest grocery store or supermarket.
Anyway, here's what you'll need to make these keto muffins:
2 cups Blanched Almond Flour
⅔ cup Confectioners Erythritol
½ tbsp. Baking Powder
3 Large Eggs
¾ Stick Unsalted Butter, melted
⅓ cup Fresh Blueberries or Frozen Blueberries
⅓ cup Full-Fat Sour Cream
2 teaspoon Pure Vanilla Extract
½ teaspoon Cinnamon
Pretty common stuff, right?
Also, for what it's worth, be careful not to add too many blueberries, as they can crowd the muffins and cause them to fall apart.
To keep these blueberry muffins sugar-free, I used confectioners erythritol. Erythritol is low in carbs, low in calories, and is a fantastic substitute for sugar in terms of taste and texture. So, don't be afraid to stock up if you haven't already.
My go-to erythritol is the confectioner's blend by Swerve. I use it in a ton of my recipes like this keto no bake cheesecake - which happens to have a lot of the same ingredients as this keto muffin recipe! So, if you're looking to put some of those ingredients to good use give that a shot next.
By the way, another great sweetner option - if you can't find erythritol - is Lakanto's powdered monk fruit sweetener. The monk fruit blend has the same level of sweetness as Swerve so they can be interchanged equally in recipes.
Keto Friendly Flours To Use
So, this recipe calls for almond flour, but almond meal will work as well. Almond meal is made with the skins of the almonds intact, so your almond flour blueberry muffins will have a slightly coarser texture.
Other flour substitutions that you can use - instead of almond four - is an equal amount of walnut or sunflower seed flour. Both work great and are also low carb and glute free flours.
With that said, a flour that you cannot use in place of the almond flour is coconut flour. Coconut flour is an absorbent flour that is not an equal substitute for almond flour. Although it works great in recipes like these coconut flour pancakes, it will not work in making these muffins.
Anyway, just keep all of that in mind. I know a lot of people try making flour substitutions when making low carb keto recipes and it typically ends up ruining the recipe. So, I just want to try my best to make sure these keto blueberry muffins turn out perfect for you.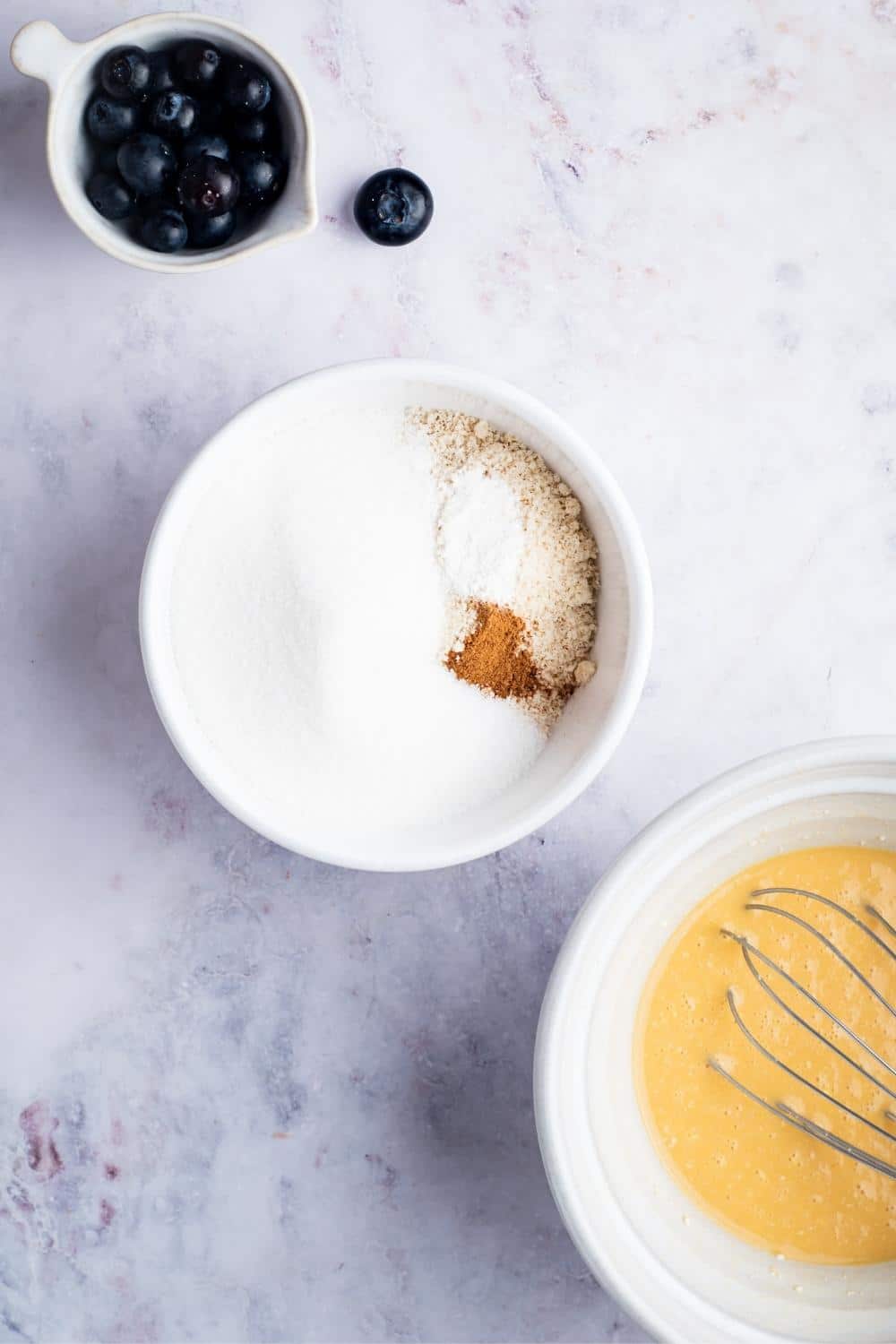 How To Make Keto Blueberry Muffins
As I mentioned, these keto muffins are made following just a handful of steps. Honestly, all you have to do is combine the batter ingredients, fill the muffin tin, and bake.
The hardest part of making this recipe will be waiting for them to cool down!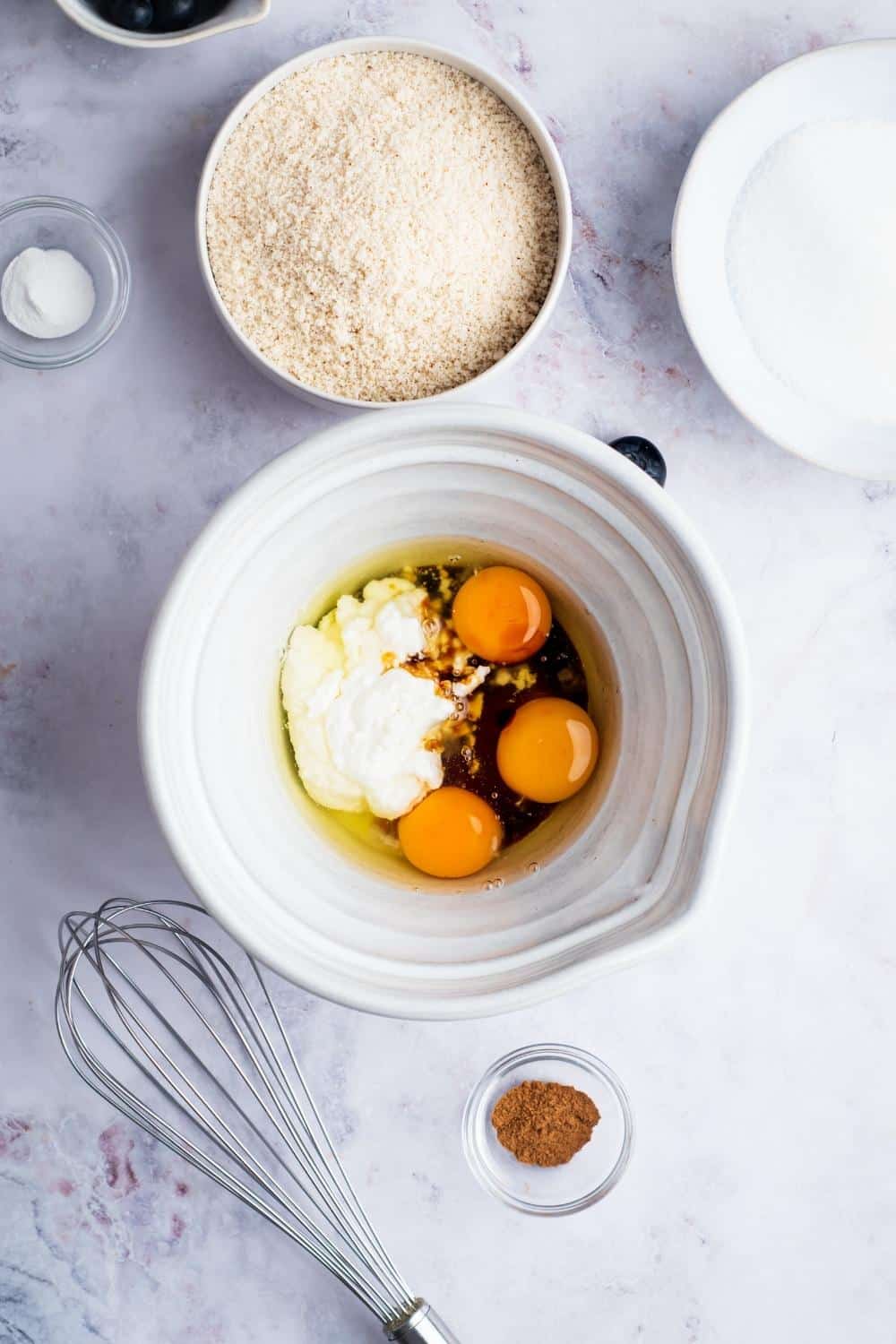 Step 1: Make the Muffin Batter
First things first, preheat your oven to 350ºF (175ºC) and prepare your muffin tin by placing muffin liners in each of the muffin cups.
Next, take out a large mixing bowl and combine the eggs, sour cream, vanilla extract, and melted butter.
In another bowl, combine the blanched almond flour, confectioners erythritol, baking powder, cinnamon, and blueberries.
Then, combine the dry ingredients into the wet ingredients until everything is well-combined.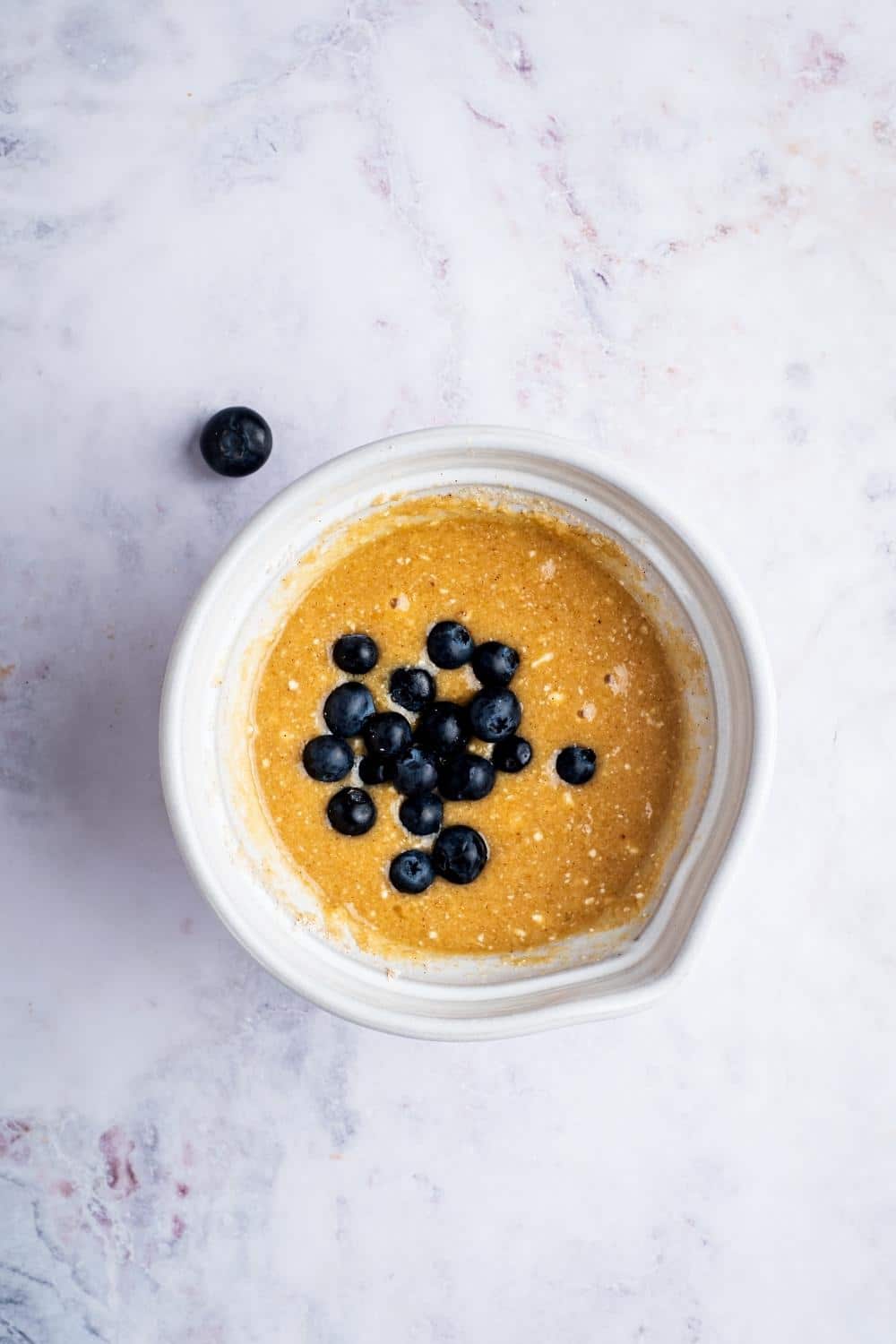 Step 2: Fill the Muffin Tin and Bake
So, once your muffin batter is ready, you'll want to fill the lined muffin cups until around ⅔ or ¾ full. And, again, make sure not to fill the muffin cups all the way to the top. The muffins will need extra space to expand and might spill over if the cups are filled to the brim.
Anyway, once you've added all of the batter to the slots, top each one with a few blueberries, slide it into the oven, and bake for 30 minutes or until the muffins are fully cooked. You'll know they're ready when you stick a toothpick into the center and it comes out completely dry or with just a c0uple of crumbs.
Then, when your keto blueberry muffins are done baking, take them out to cool, serve and enjoy!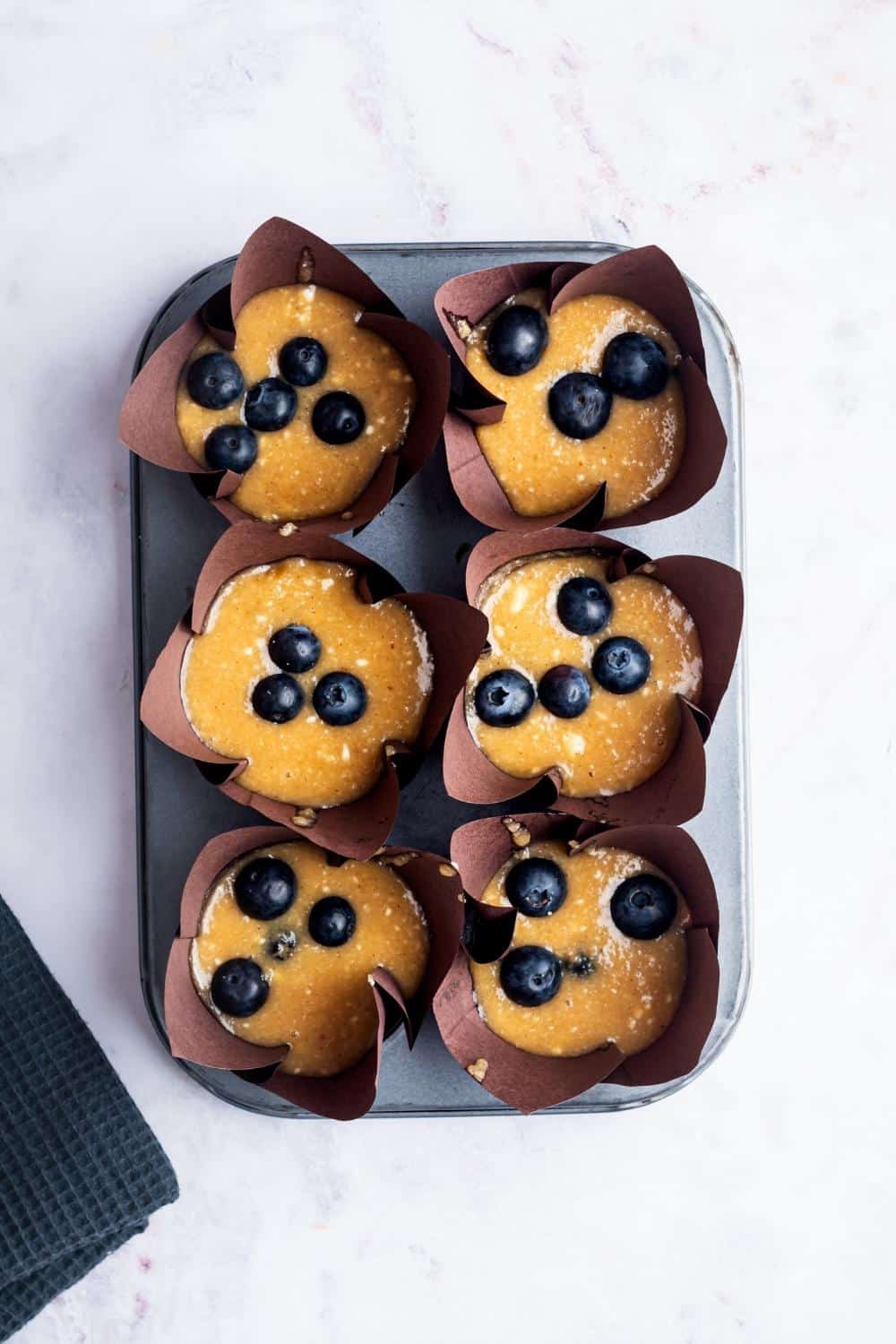 How To Store Keto Blueberry Muffins
The great thing about this low carb blueberry muffins recipe is how easy it is to make a double - or triple batch - and store the extras. These low carb muffins will stay good in an airtight container at room temperature for about 4 days, in your refrigerator for about 7 days, or in the freezer for a few months.
And they're great as a healthy breakfast option when you're on the go, as a healthy lunchbox treat, or even as a snack the whole office is sure to enjoy! So, you'll definitely want to make more than just 1 batch of them.
How to Reheat Keto Muffins
If you want to enjoy these blueberry muffins warm after they've cooled down, just pop them in the microwave and cook in 10 second intervals, or cover them with foil and bake at 350ºF for 10 minutes.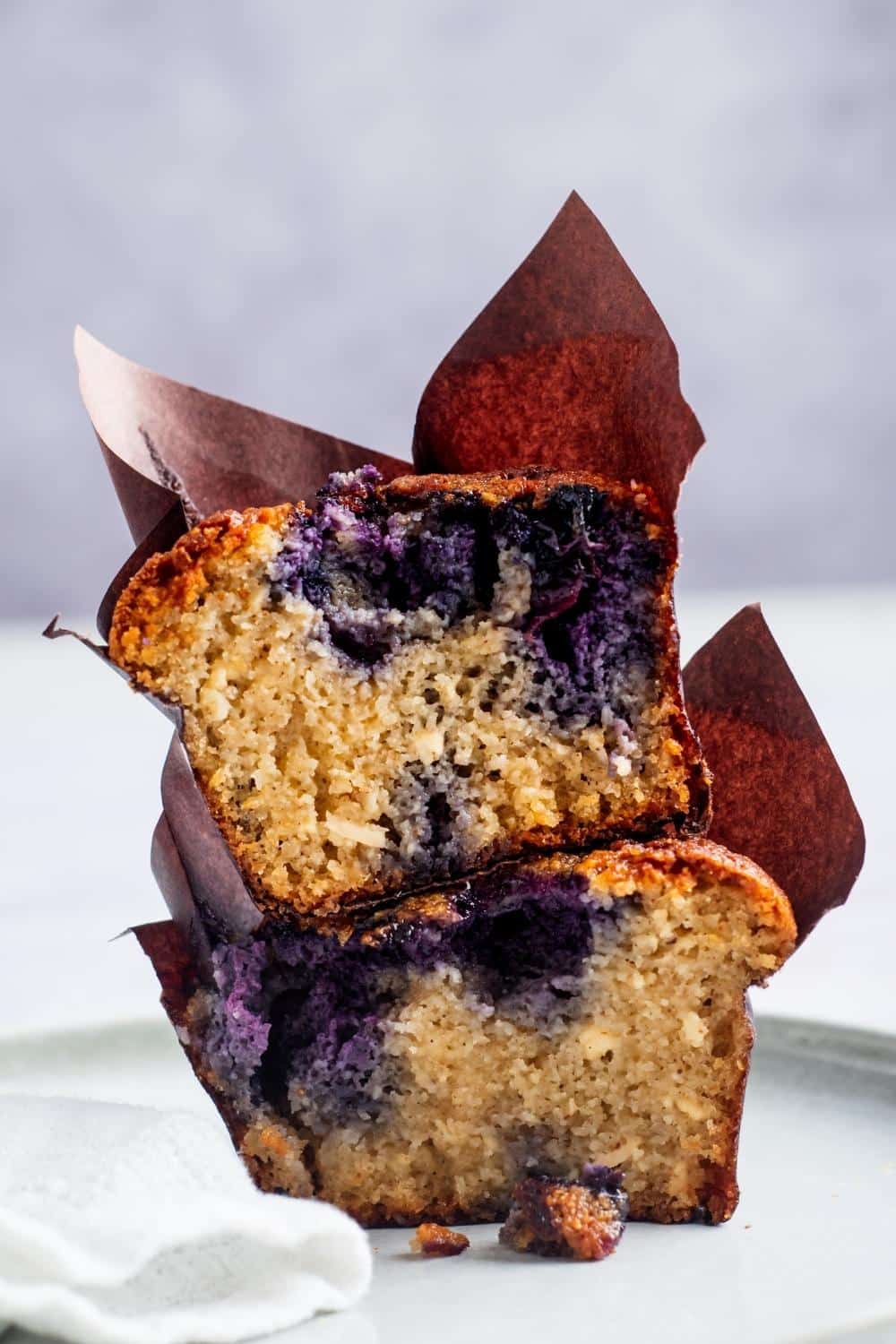 FAQs ABOUT THESE KETO BLUEBERRY MUFFINS
Can you have blueberry muffins on a keto diet?
You can't have regular blueberry muffins made with flour and sugar on keto, but you can definitely have low carb blueberry muffins like these.
I would even argue that these keto blueberry muffins, which are made with almond flour and are sugar-free, taste even better than regular blueberry muffins!
Are blueberries okay on a keto diet?
Yes! Fresh blueberries can be a great low carb fruit to eat on a low carb diet like the keto diet.
However, you'll want to avoid dried blueberries, which have a lot more sugar and carbs.
How do you make keto blueberry muffins?
These easy keto blueberry muffins are super simple to make and can be summarized in five easy steps:
Preheat your oven and prepare your muffin tin

Mix wet ingredients in a bowl

Mix dry ingredients in a separate bowl

Combine wet and dry ingredients

Pour into muffin tin, bake, and cool.
Wrapping It Up
Well, that's how to make keto blueberry muffins from scratch!
Pillowy, buttery, and flavorful, these keto muffins are definitely one of the best baked treats you can have if you're following a low carb diet.
Anyway, I hope you enjoy these healthy blueberry muffins as much as I do.
If you make them, leave me a comment below and let me know how it went! I appreciate all feedback and take your comments to heart when creating new keto recipes.
Also, be sure to check out my Youtube channel and Instagram for even more quick and easy low carb recipes like this one.
More Keto Recipes
If you liked these keto blueberry muffins, I have a ton of other keto breakfast recipes on the blog that I think you'll like too!
Give one of these keto recipes a try next:
Print
Incredible Keto Blueberry Muffins Made In Just 30 Minutes
These keto blueberry muffins are buttery, fluffy, and oh-so-tasty. They're lightly sweetened (without sugar of course) and filled with fresh blueberries, and they turn out incredibly, incredibly moist. Honestly, these low carb muffins are the perfect on the go breakfast, healthy snack, or low carb dessert. Plus, they're so quick and easy to make!
Author:
Prep Time:

5 minutes

Cook Time:

30 minutes

Total Time:

35 minutes

Yield:

6 muffins

Category:

Breakfast

Method:

Oven

Cuisine:

Keto Low Carb
Instructions
Preheat the oven to 350ºF. Prepare a muffin sheet with muffin liners.

Mix eggs, butter, sour cream, vanilla extract, and melted butter.

Mix all dry ingredients in another bowl.

Combine the wet ingredients and the dry ingredients until fully incorporated.

Fill the muffin cups with the batter and bake for 30 minutes - or until a stick comes out dry.

Let them cool and serve.
Nutrition
Serving Size:

1 muffin

Calories:

378

Fat:

34

Carbohydrates:

9

Fiber:

5

Protein:

17
Keywords: Keto blueberry muffins, keto blueberry muffin recipe, keto blueberry muffins recipe, how to make keto blueberry muffins, low carb muffins, keto muffins, low carb muffin recipe, keto muffin recipe, keto muffins recipe, low carb blueberry muffins, keto blueberry muffins with sour cream