This Keto Carrot Cake Loaf recipe just might be one of the best Easter keto dessert recipes you can make! It has a perfectly spiced flavor, super moist texture, and a zero carb cream cheese frosting on top that brings the whole thing together. Plus, each piece of this sugar free carrot cake has just over 3 NET CARBS!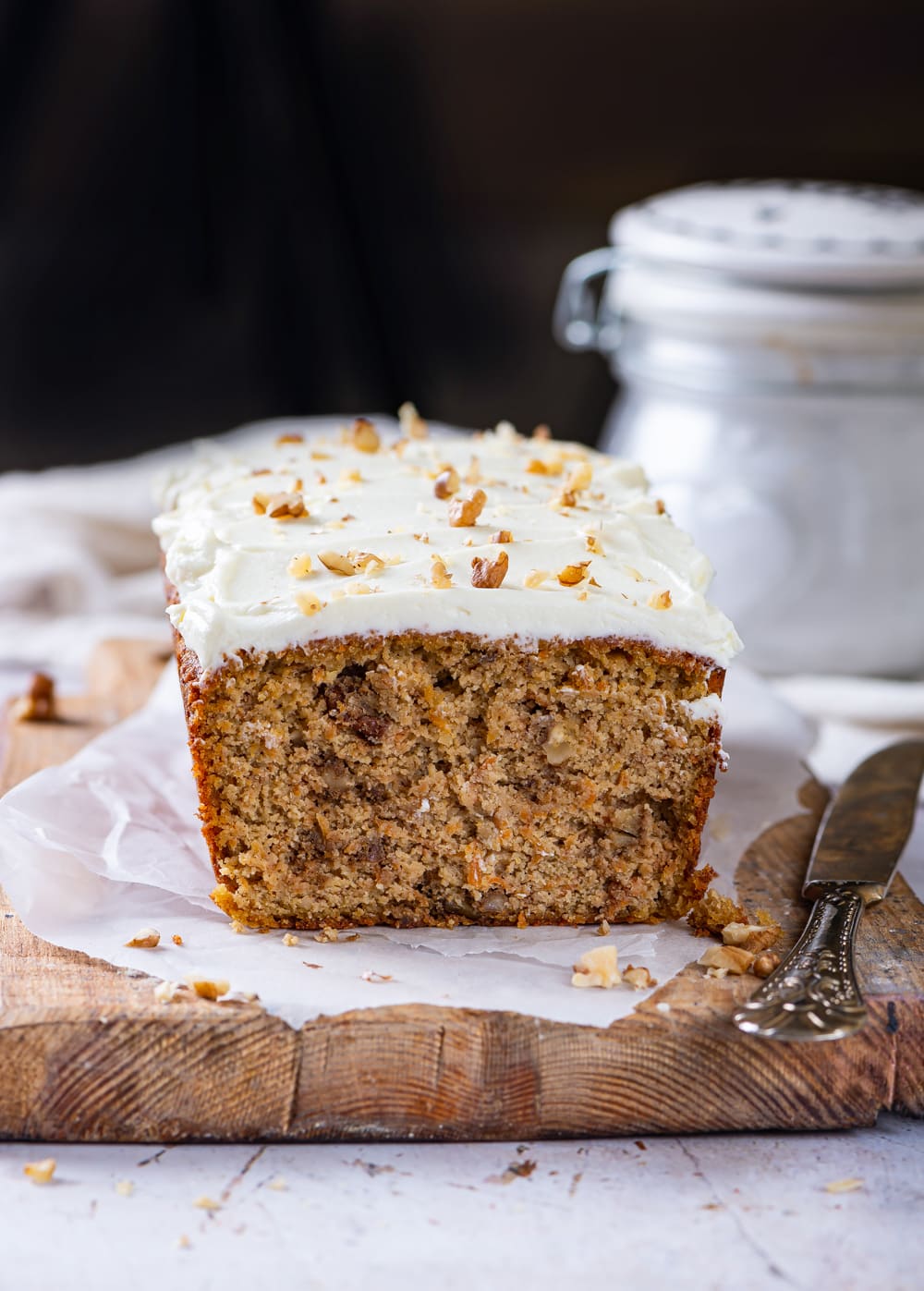 THE BEST KETO CARROT LOAF CAKE
It's almost a must to have a delicious keto carrot cake loaf recipe on hand around Spring/Easter time.
And, I mean, don't get me wrong, a straight-up keto carrot cake is delicious, but it does require quite a bit of time and effort.
However, this keto loaf cake is super easy & super quick, and basically just as delicious.
Seriously, all you have to follow is a few simple steps. It's literally that easy!
And I guarantee you'll make it picture perfect.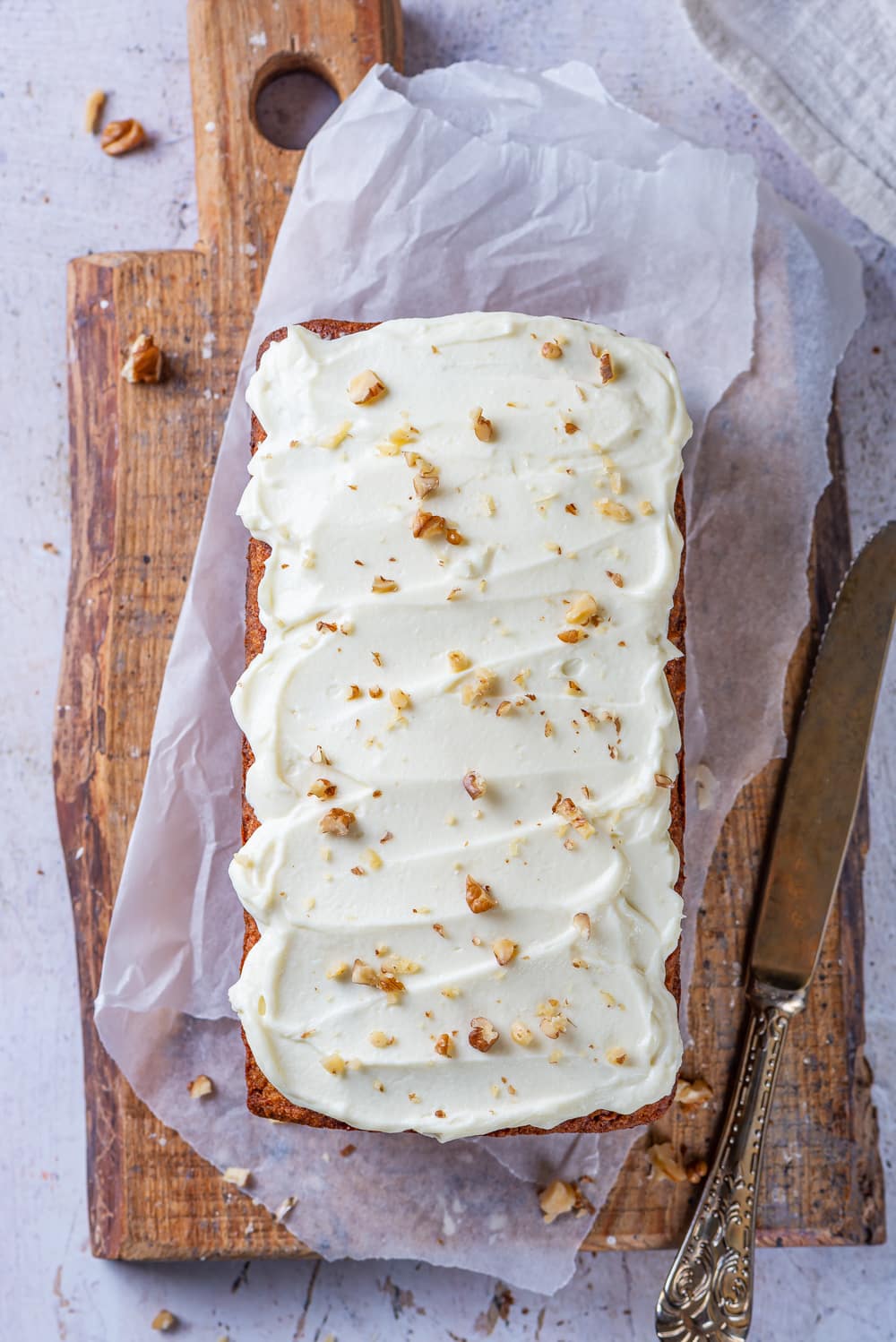 INGREDIENTS FOR KETO CARROT CAKE Loaf
Ok, so there are quite a few ingredients you'll need for this recipe.
But, don't worry, every single one is a staple keto-friendly ingredient, and you probably have everything you need.
Here are the ingredients for the cake:
½ cup butter (softened)
2 tablespoon coconut butter softened (or coconut oil, or more regular butter)
4 eggs
½ cup granular swerve
¼ cup brown swerve
1 ½ cup almond flour
¼ cup coconut flour
½ cup chopped pecans
1 cup (before squeezing) grated carrot (squeeze out excess juice)
1 ½ teaspoon baking powder
¼ teaspoon salt
1 ½ teaspoons ground cinnamon
½ teaspoon EACH ground cloves, ground ginger, ground nutmeg
And for the frosting:
Like I said, all common keto ingredients.
And if you don't have a few, picking them up is a fantastic idea because you'll be able to use them to make plenty more of my keto recipes - like these keto chocolate chip cookies, this keto chocolate cake, and this keto cheesecake.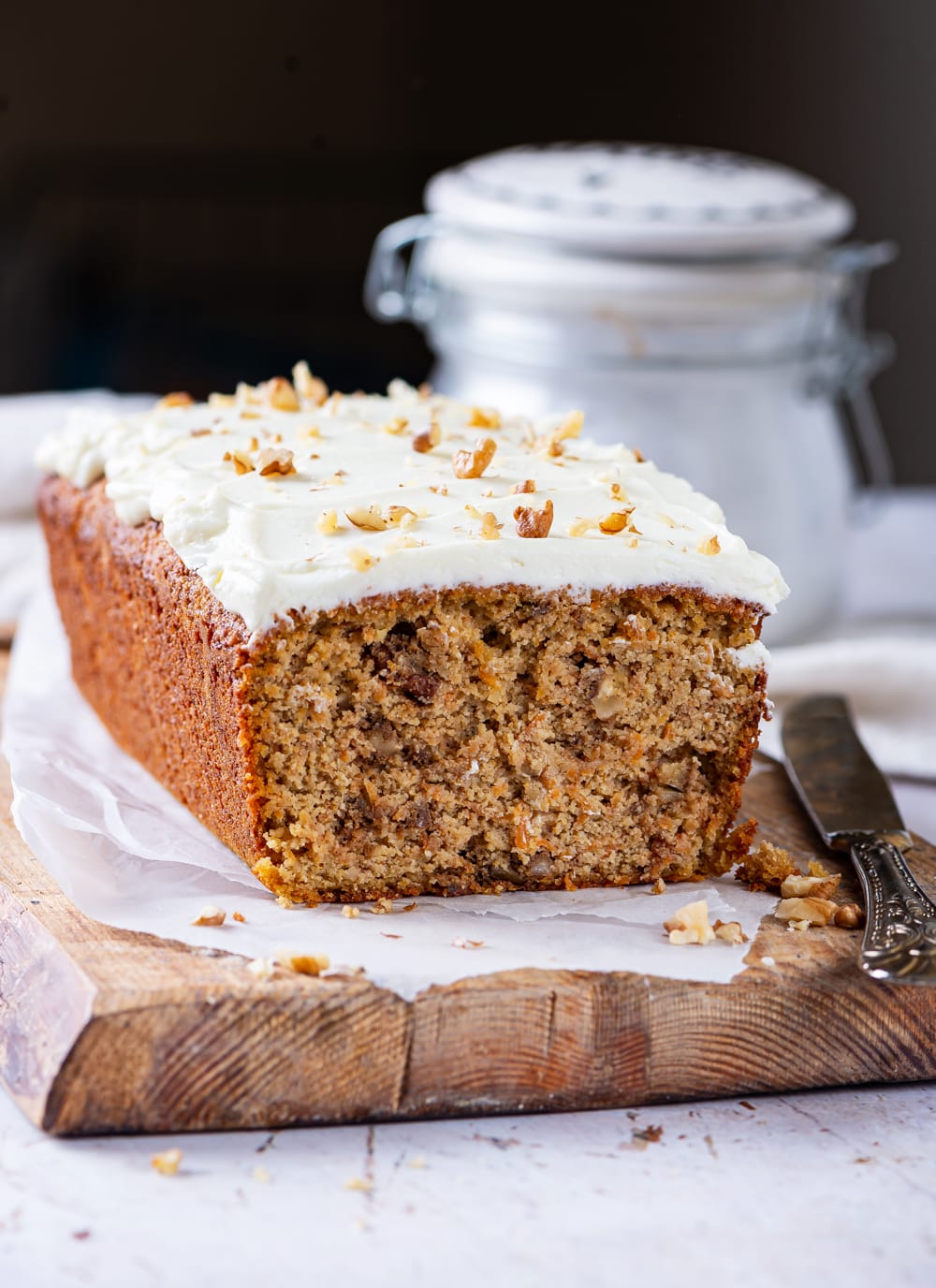 DIVING INTO THE INGREDIENTS
Ok, so as you may have noticed, you can use coconut butter, coconut oil, or regular butter for this recipe.
And, no matter which one you choose, your keto carrot cake loaf will turn out just as delicious.
But if you do use coconut oil, make sure you used refined coconut oil - it has a more neutral flavor and won't make your cake taste like coconut.
Also, for the flour, if you don't want to use almond flour, you can substitute it with walnut flour or sunflower seed flour - either will work just as well.
With that said, DO NOT substitute the almond flour for more coconut flour. Your loaf will turn out super dry and crumbly because coconut flour is very absorbent and won't work as the only flour in this recipe.
Are carrots keto?
Now, you may be wondering how we can use carrots to make a keto carrot cake loaf if carrots technically aren't technically a keto-friendly vegetable.
Well, the answer is we won't be using enough carrots to add a significant amount of carbs to the recipe. So, you'll be totally in the clear with staying in ketosis and eating this dessert.
In fact, the amount of carbs in the carrots we'll be using is only 12g, and that's split up between 12 pieces - so the carrots add just 1 gram of carbs per slice of cake. And, like I said, that is not a high enough carb count to kick you out of ketosis.
Plus, this is a sugar free carrot cake loaf, so it is 100% keto approved.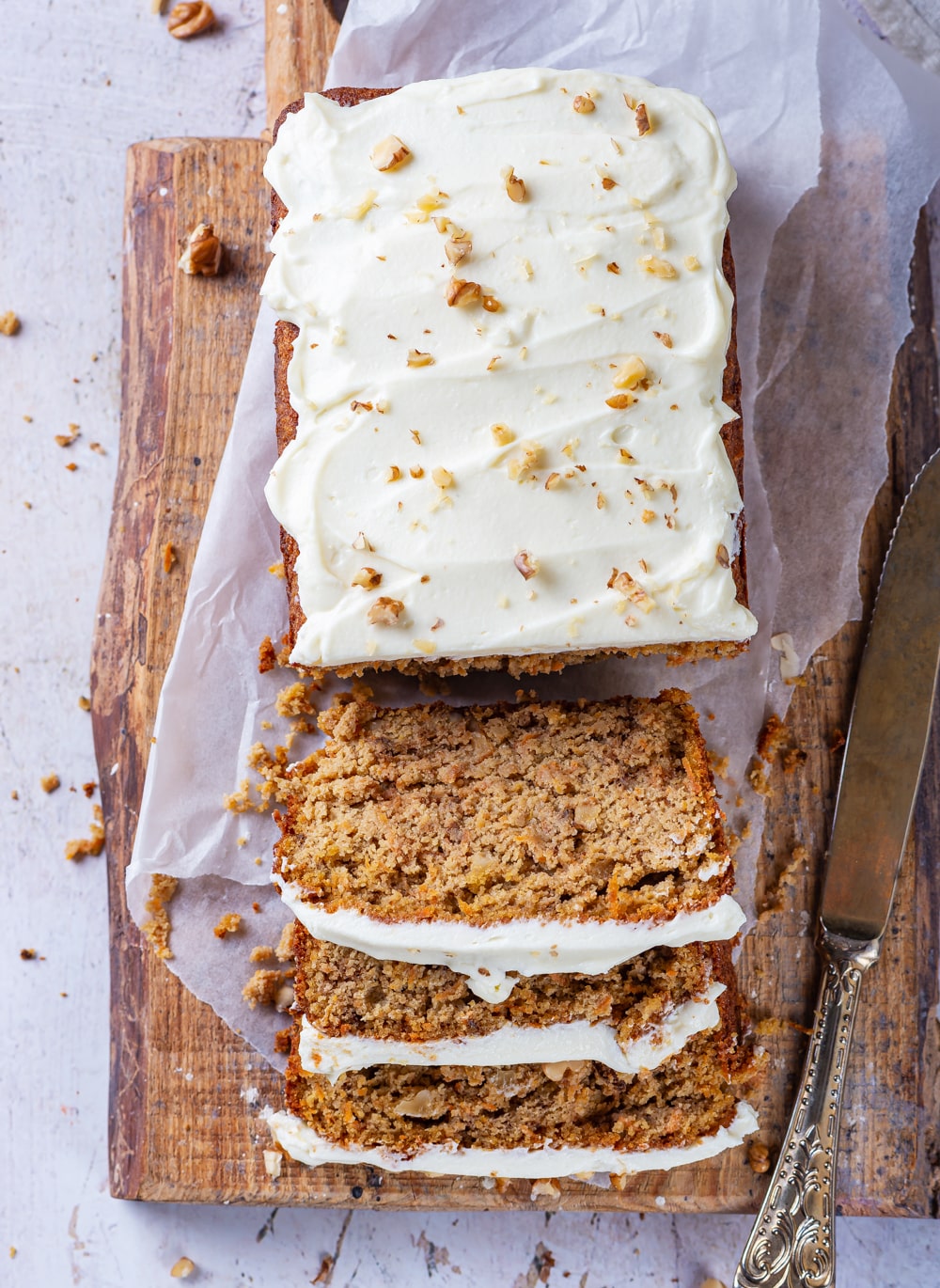 HOW TO MAKE THE BEST KETO CARROT CAKE LOAF
The first thing you will want to do is preheat your oven to 350°F (177°C).
Then grease the bottom and sides of a 9x5 in (23x13 cm) loaf pan and line it with parchment paper.
Now, in a large bowl, you'll want to whisk your eggs together with the butter and coconut butter (or coconut oil or more butter). And you'll want to whisk those ingredients until they are combined and smooth.
Next, add your dry ingredients to another bowl - the Swerves, flours, baking powder, salt, spices - and whisk them together to combine.
Then you can add your dry ingredients to your large bowl of wet ingredients. Mix everything until combined, and the ingredients are well incorporated.
Once they are combined, stir in the pecans and carrots, and make sure you squeeze all of the excess juice out of the grated carrots before adding them to the bowl.
Lastly, pour the batter into your prepared loaf pan and bake for 50-60 minutes. And you can test to see if the cake is done by sticking a toothpick in the center and seeing if it comes out clean.
MAKING THE KETO CREAM CHEESE FROSTING
Ok, so, after your carrot cake loaf is done, take it out of the oven and let it cool completely.
You will want to let the cake totally cool before spreading the frosting on top, or it will turn liquidy.
With that said, while the cake is cooling, you can make the keto cream cheese frosting.
So, you'll want to take out a large bowl and whip together the cream cheese, vanilla extract, and confectioners swerve - you can either use a hand mixer or stand mixer to this.
And once the ingredients turn into a smooth and creamy frosting, you can stop mixing.
Then, after the carrot cake loaf is thoroughly cooled, you can spread the cream cheese frosting evenly on top and enjoy!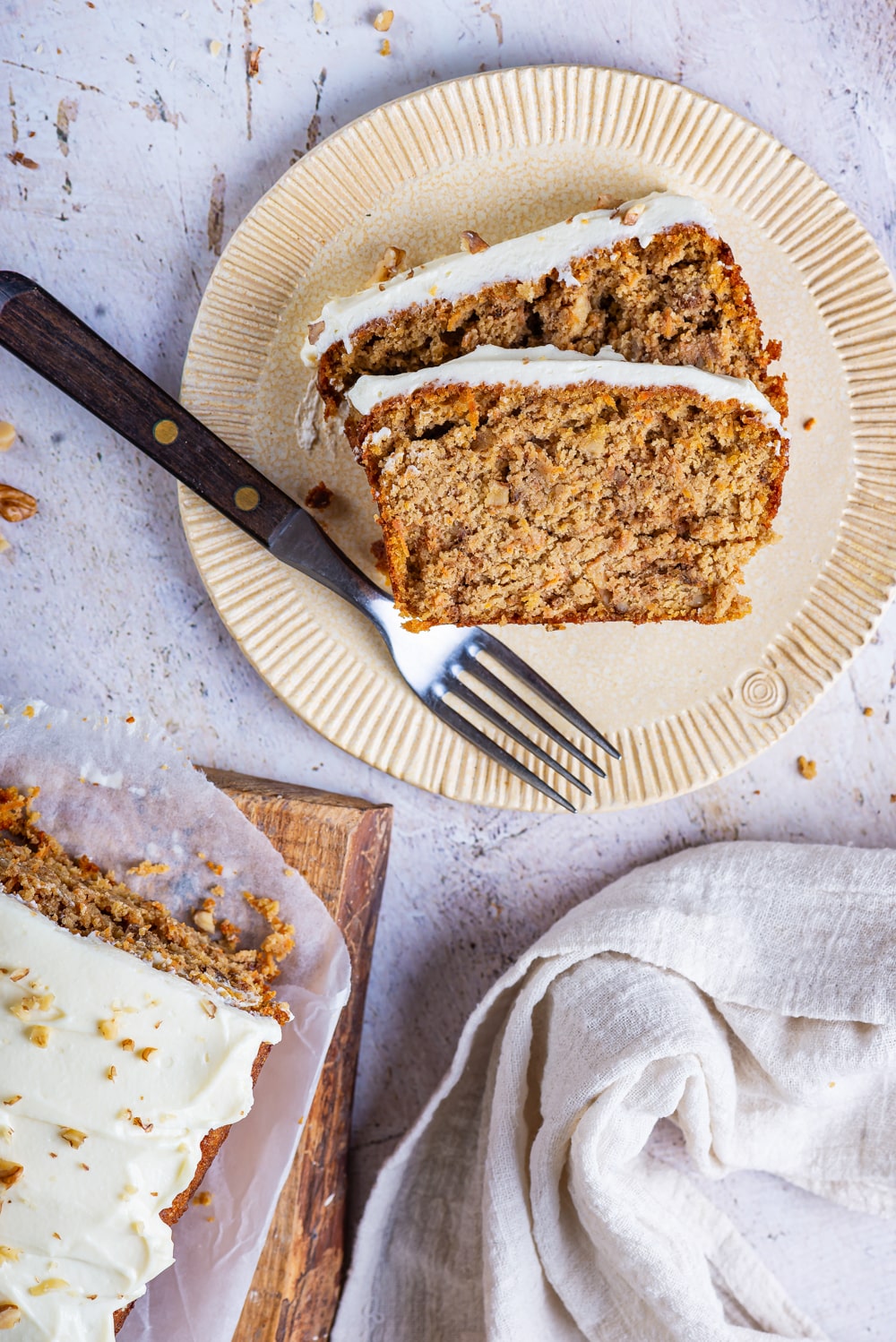 STORING YOUR Loaf Of KETO CARROT CAKE
This carrot cake loaf recipe will make 12 slices of cake.
So, luckily, you'll probably have some leftovers.
And you can store them in an airtight container in the fridge for up to a week. Or you could also store your leftovers in the freezer for up to 3 months.
That said, I think it is best refrigerated so you'll want to eat up all of this keto carrot cake within the week.
NUTRITIONAL INFORMATION
Ok, so I mentioned earlier that this loaf of keto carrot cake has one of the lowest carb counts you'll find. And along with being low carb, the rest of the breakdown is pretty great too - as far as keto macros go anyway.
Here's the nutritional info on every slice:
299 calories

28g Fat

6.25g Carbs

2.8g Fiber

3.45g NET CARBS

7.25g Protein
High fat, low carb, and moderate protein - you can't get more keto than that.
Keto or not, everyone will love this low carb sugar free carrot cake.
Whether you're making this recipe in the spring, for a holiday, or just on any regular day, it is sure to be a hit and superbly delicious.
Anyway, I hope you like this keto carrot cake loaf as much as I do!
Leave me a comment below if you try it.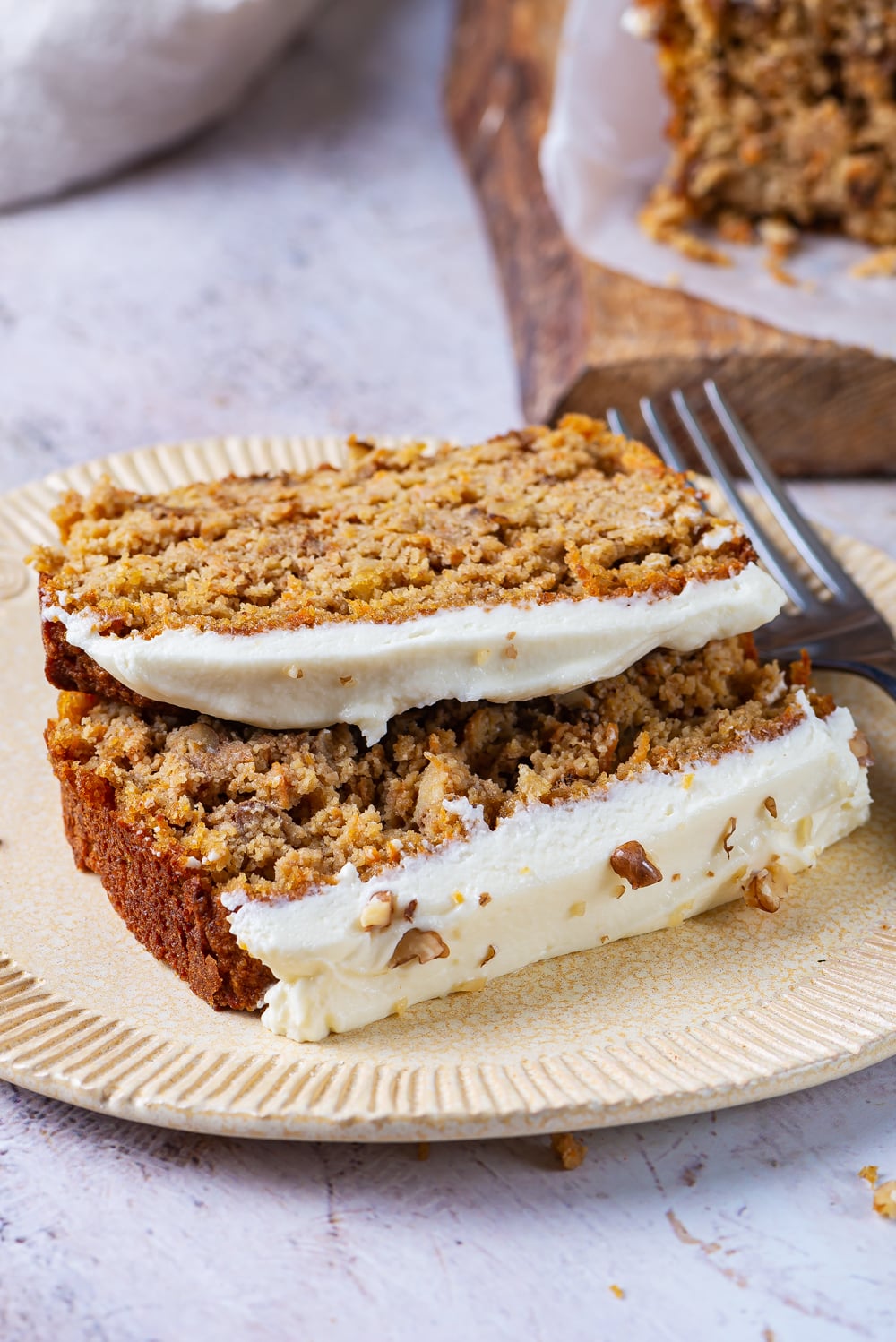 More Spring Inspired Keto Dessert Recipes To Try
Print
Keto Carrot Cake Loaf | The Best Low Carb Sugar Free Carrot Cake Loaf for Keto
A perfectly spiced flavor, super moist texture, and velvety zero carb cream cheese frosting on top, this truly is the best keto carrot cake. And not only that, this might be the best keto cake recipe. Making it even better, each piece of this sugar free carrot cake has just over 3 NET CARBS.
Author:
Prep Time:

5 minutes

Cook Time:

50 minutes

Total Time:

55 minutes

Yield:

12 servings

Category:

Dessert

Method:

Oven

Cuisine:

Keto Low Carb
Instructions
Preheat the oven to 350 degrees.

Grease the bottom and sides of a loaf pan 9x5 in (23x13 cm) and line it with parchment paper.

Whisk eggs with butter and coconut butter (or oil or butter) until smooth.

Whisk together all the dry ingredients then add them to the wet ingredients, mix until combined.

Add in the pecans and carrots and stir to combine (squeeze juice out of carrots before adding to bowl).

Transfer batter into prepared pan and bake for 50-60 minutes. 

Let cool completely before frosting.

For the frosting, whip together cream cheese, vanilla and confectioners swerve until smooth and creamy.

Spread the frosting on top of the cooled cake and enjoy!
Notes
The scale up function does not change the gram measurements.
Nutrition
Serving Size:

1 Serving

Calories:

299

Fat:

28

Carbohydrates:

6.25

Fiber:

2.8

Protein:

7.25
Keywords: keto carrot cake loaf, keto carrot cake, keto carrot cake recipe, low carb sugar free keto carrot cake, keto carrot loaf cake, sugar free carrot cake, keto loaf cake, how to make carrot cake keto, keto cake, keto cake recipe, how to make keto carrot cake, recipe for keto carrot cake, keto cream cheese frosting, low carb carrot cake recipe, low carb carrot cake loaf, keto carrot cake with cream cheese frosting, keto carrot cake loaf recipe, low carb carrot cake bread