Have you ever wondered how to make deliciously sweet and tangy keto lemon bars? Well, it's your lucky day! Because today I'm going to show you how to make one of the best keto desserts ever...You guessed it, low-carb, sugar-free, keto lemon bars. And the best part is they have all the sweet tasty tanginess that you'd want from a "normal" lemon bar but for just 2.5 NET CARBS a piece.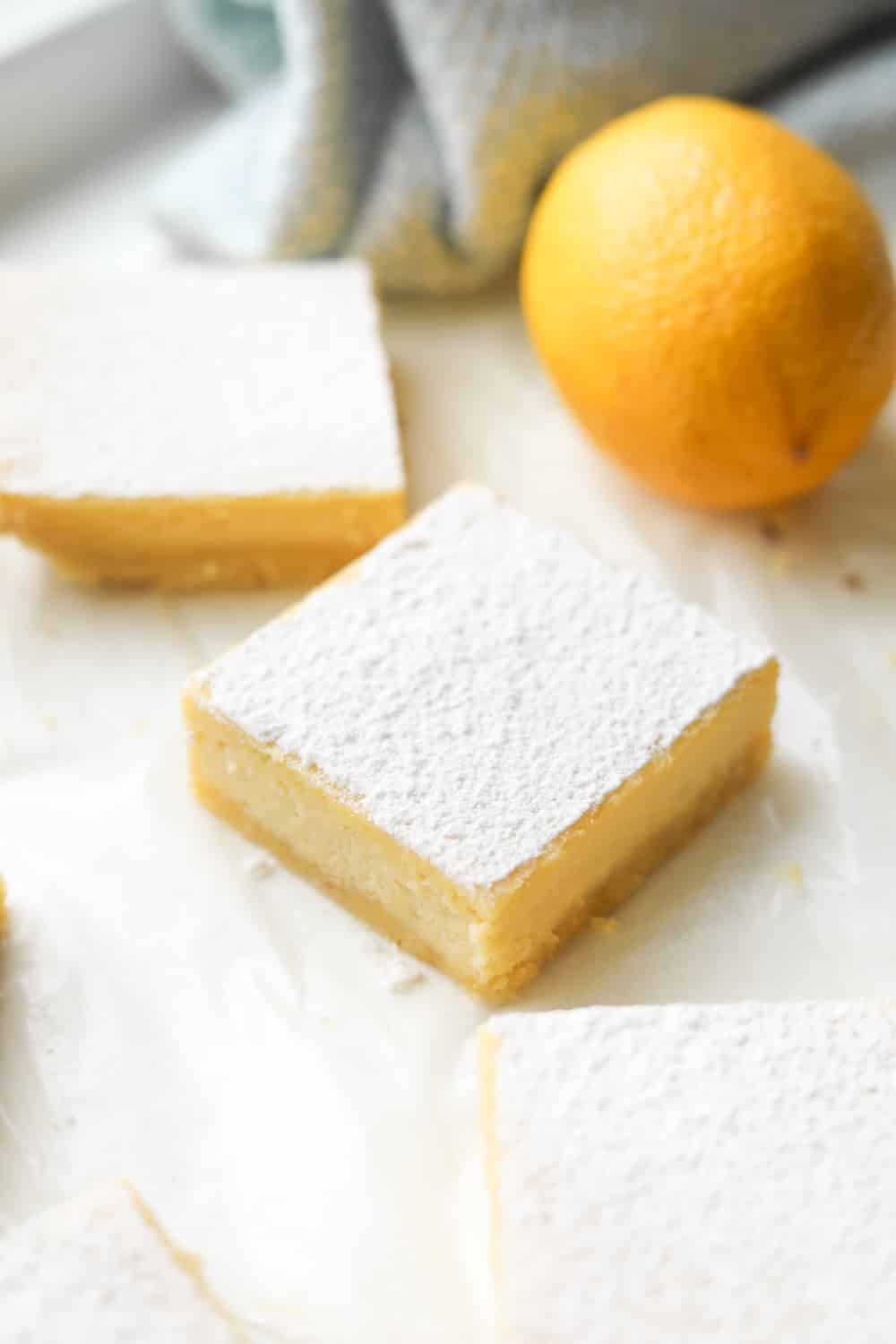 Keto Lemon Bars
These lemon bars have been one of my favorite go-to keto desserts lately because they taste so fantastic.
In my opinion, the best thing about this keto dessert recipe is that it hits all the hallmarks of an awesome lemon bar – it's chewy, tangy, and perfectly sweetened!
It has a super delicious and bright flavor that you'll love.
And did I mention that each serving is only 2.5 net carbs?
I think I did, but it's definitely worth repeating.
Mostly because when you taste these bars you'll have a hard time believing they're keto.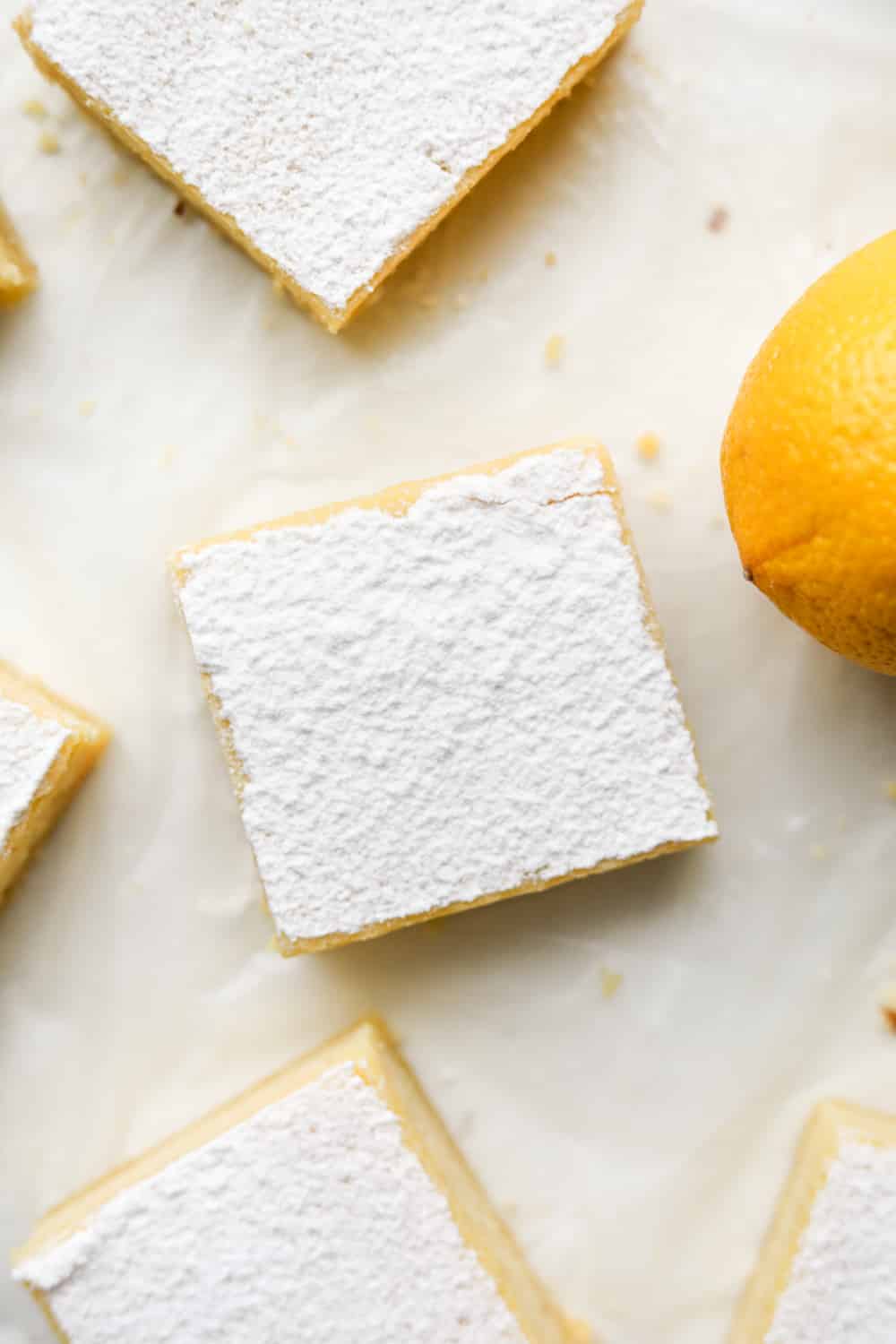 How to Make Keto Lemon Bars
First things first, let's talk ingredients.
Here are the ingredients you'll need for your bars:
Salted Butter
Eggs
Lemons
And for the keto powdered sugar topping:
More Confectioners Swerve
That's it!
It's literally just 6 ingredients.
You probably have most of these lying around the house, too.
Like I said, totally easy. And if you have any leftover lemons I highly recommend making my copycat Chick Fil A Diet Lemonade next! Oh, and if you have eggs leftover, give my keto creme brulee recipe a shot too!
Shortbread Crust
Making this recipe is divided into two parts: the crust and the filling. This is necessary for making these the BEST keto lemon bars because it gives you that gooey upper layer and that chewy bottom layer.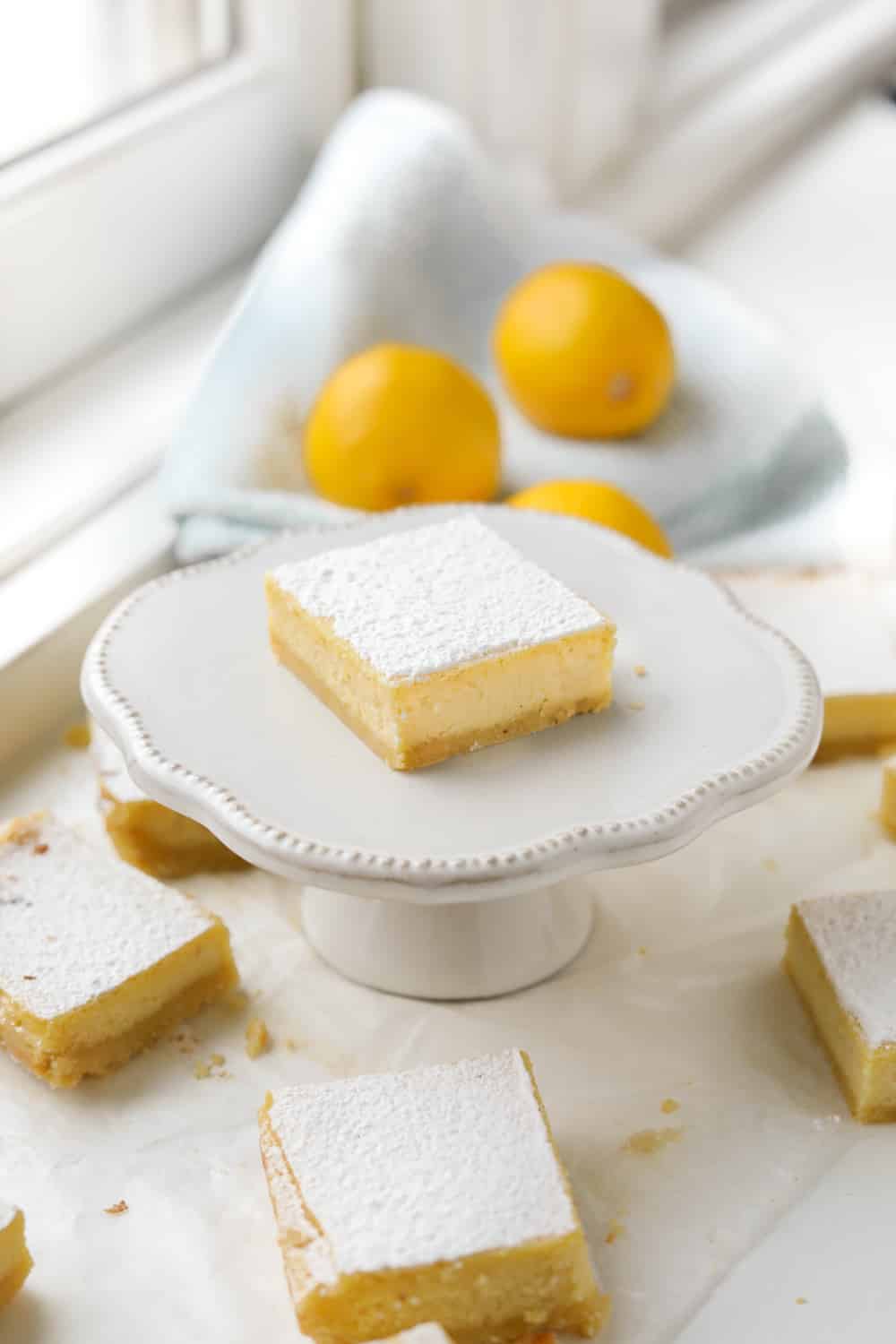 The crust to these bars is a shortbread crust.
So, to make it, we're going to add just less than a cup of almond flour and a heaping 3 tablespoons of Confectioners Swerve to a medium-sized bowl and mix well. Then we're going to add 3 tablespoons of melted butter, ½ a teaspoon of vanilla extract, and one egg yolk.
Then, once those are added, we're going to mix everything until crumbly, and then press the dough into an 8x8 baking tray, and start baking it. And, at this point, we're just going to par-cook the crust...so it will only need to bake for around 10 minutes at 350°F.
Making The Filling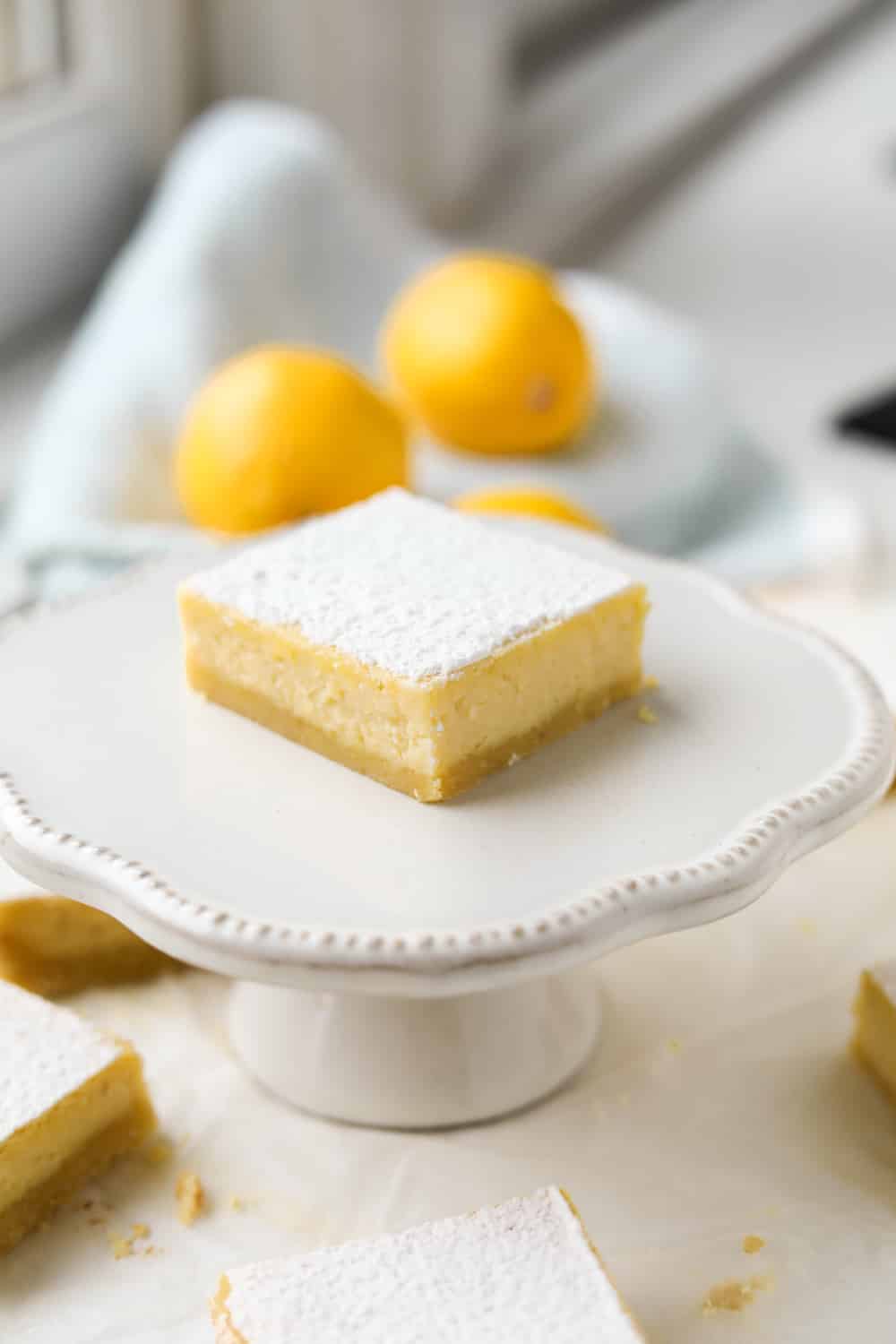 Anyways, while the shortbread crust is in the oven, you'll want to make the filling. This part has all of that tangy lemony goodness that makes these lemon bars so addictively delicious.
So, to make the filling we're going to add...3 eggs, the juice from 3 lemons, ⅔ of a cup of Confectioners Swerve, just less than a cup of almond flour, and some lemon zest to a medium-sized bowl.
That said, you'll want to add & combine the eggs and lemon juice first, before adding the dry ingredients. Doing this will ensure that the filling ingredients completely mix into one another.
Now, after you've whisked all of those ingredients together, you should have a thick wet batter. And your crust should also be finishing up in the oven at this point as well.
Having said that, once the crust does finishes cooking, you'll want to pour the batter on top of it, and bake for another 25 minutes or so.
What we're looking for here are golden crispy edges that are just starting to pull away from the parchment paper. And we're also looking for a filling that is just ever so slightly giggly in the middle as well. Then, when that happens, we're going to remove the baking tray from the oven and let it cool down to room temperature.
Now, these keto lemon bars are best served cold. So once our the tray of lemon bars cools down, we'll want to refrigerate them for atleast an hour.
Then, once the bars are chilled, we can remove them from the fridge, cut them into 9 squares, and sift some powdered sugar - Confectioners Swerve - on top of them.
Gah, my mouth is watering just thinking about making them!
I said it before and I'll say it again – thes bars are addictive.
Sugar Free Lemon Bars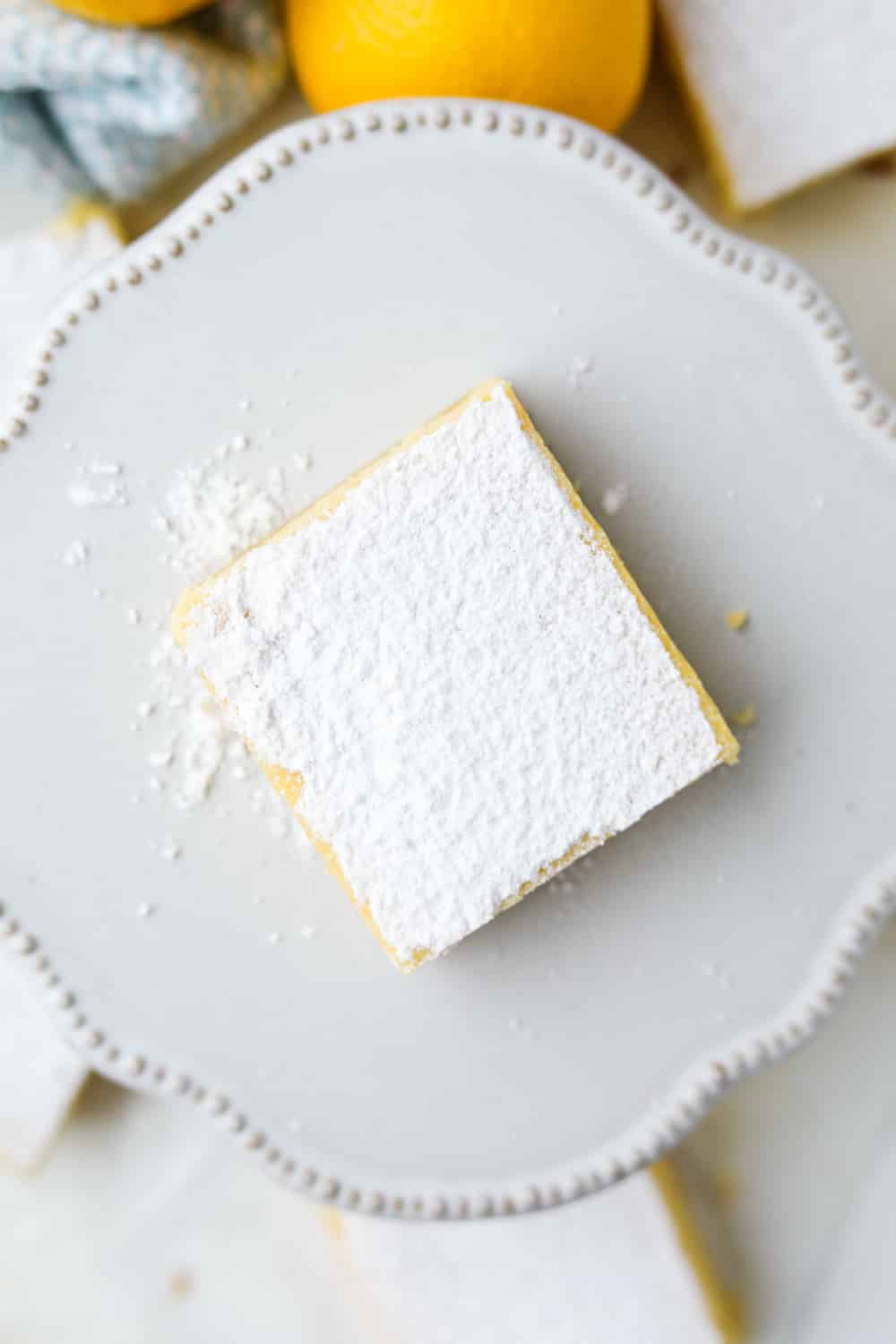 As I'm sure you know, lemon bars are a great dessert or snack, but most of the time, they're super full of sugar and carbs – not very keto friendly.
However, I keep my keto lemon bar recipe low carb & sugar-free by replacing the sugar with confectioner's erythritol. It's a low carb sweetener that works great with this recipe – I highly recommend trying it with other keto dessert ideas too. It gives you that perfect balance of sweetness without the added carbs! I like this one from Swerve – it dissolves really well, and most importantly, it has 0 net carbs & 0 calories!
Keto Flours To Make Lemon Bars With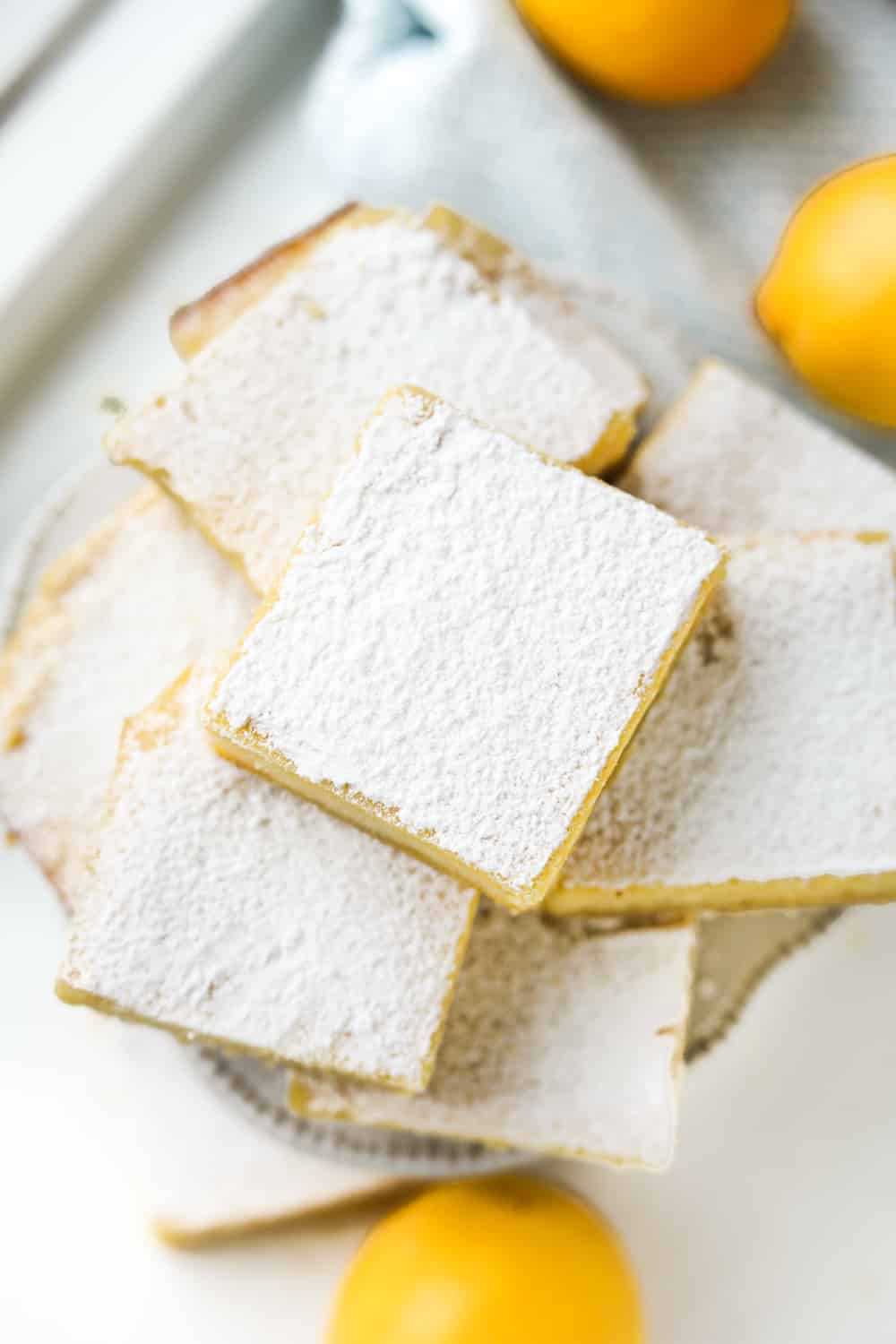 So, another problem with lemon bars is the carbs from the flour.
For this low carb dessert recipe, I use blanched almond flour. It has an awesome flavor and texture, plus you won't be able to tell the difference between it and white - or wheat - flour. Plus, almond flour - atleast the one that I use - has just 2 net carbs per serving, which is way less than "normal" flour.
With that said, if you'd like to substitute the almond flour, you can do so with walnut flour or sunflower seed flour. Both of these flour can be used as an almond flour substitute at a 1 to 1 ratio. So, just use the same amount of them in place of the almond flour, and they'll work great as a low carb crust base ingredient in this recipe.
Pro tip: You can substitute some of the flour for 0 Carb Unflavored Whey Protein Powder. It's a trick I use in some of my other dessert recipes – like in these keto brownies – that really helps lessen the number of carbs.
Now, if you decide to use a little protein powder, the rule is that 1 gram of protein should be substituted for 1.5 grams of almond flour.
Having said that, the most almond flour I'd substitute out of the crust would be 15 grams. So, that means you'd use 10 grams of protein powder in its place.
Also, not all protein powders are created equal, so if you do use it, make sure you use this protein powder.
Nutritional Info On These Low Carb Lemon Bars For Keto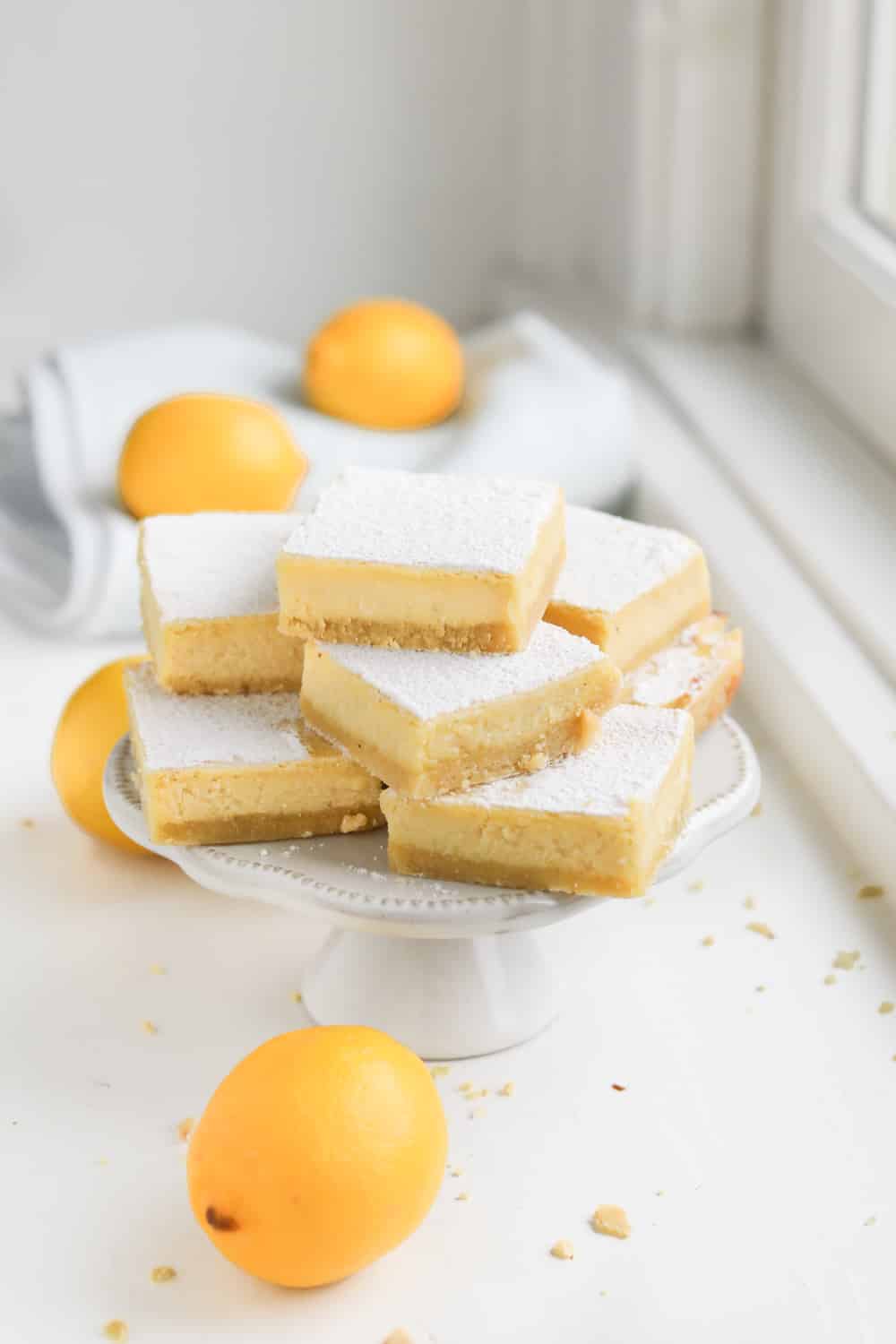 As I've already mentioned a couple of times, one of my favorite things about these bars is the carb count.
The fact that each one of these bars has just 2.5 net carbs is mind-blowing - and yes, that's even including the powdered sugar topping.
Anyway, when you taste these you'll know exactly what I'm talking about.
By the way, the recipe makes 9 lemon bars, and each one has...
210 Calories
18g Fat
5g Carbs
2.5g Fiber
2.5g NET CARBS
7g Protein
Also since we're all staying indoors - for now anyway, it's an excellent opportunity to make these lemon bars!
Plus, you get to do something with all the extra time you have at home...and you get a fantastic keto dessert out of it too.
It's a win-win!
Keto Drinks To Pair With These Lemon Bars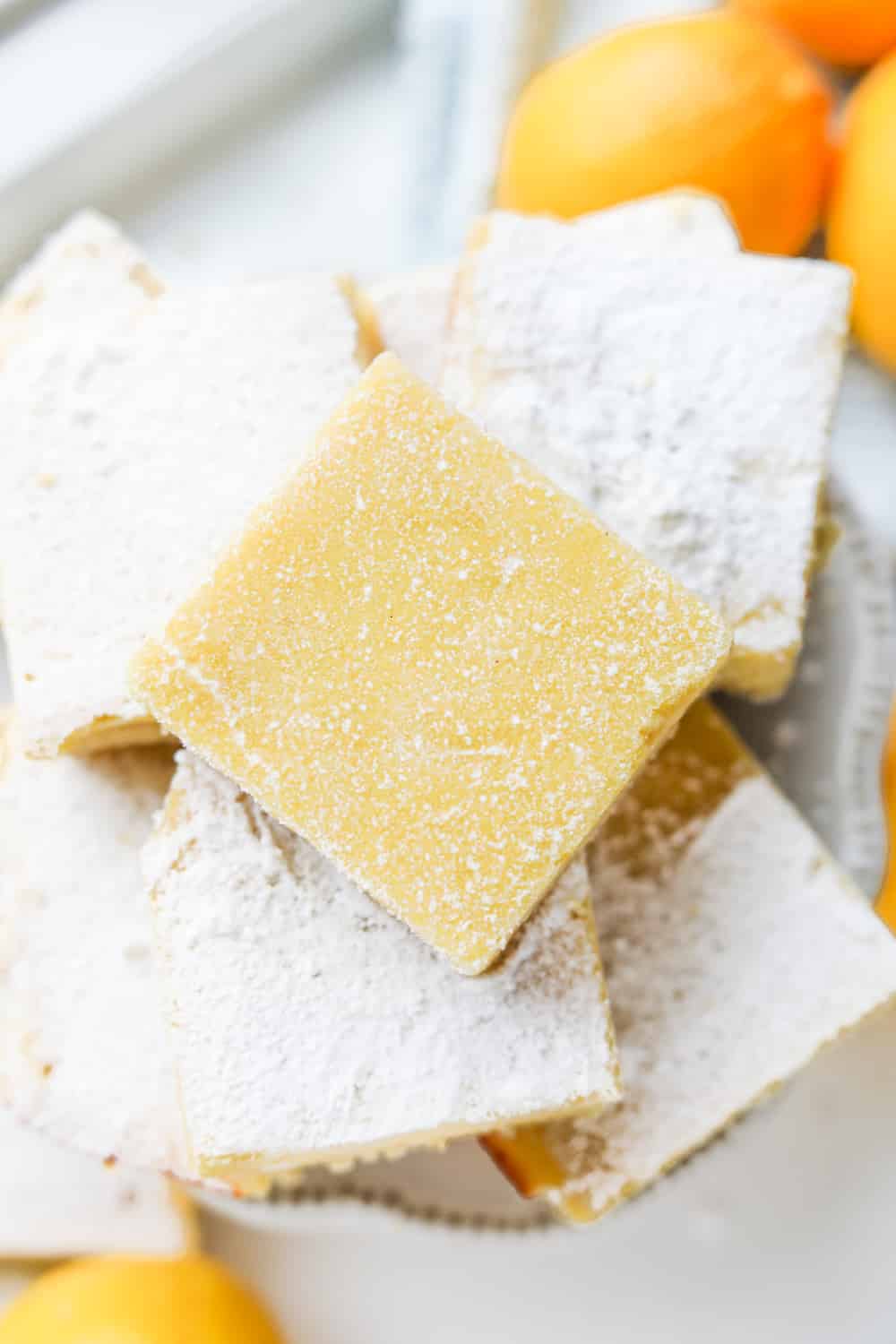 If you're looking for some tasty keto recipes to pair these low carb lemon bars, I definitely have a few on the blog.
The first recipe that comes to mind is my keto dalgona coffee recipe – another excellent choice during the #stayhome season.
I highly recommend pairing these keto lemon bars with that super low carb and delicious trending coffee for a café vibe at home.
However, if sweet and milky coffee isn't your thing, I also have a bulletproof coffee recipe. It's got all the richness and energy you want from a great cup of coffee without the caffeine crash! So definitely check out that recipe because pairing that with the bars would make a super delicious breakfast treat too.
More Keto Dessert Recipes To Try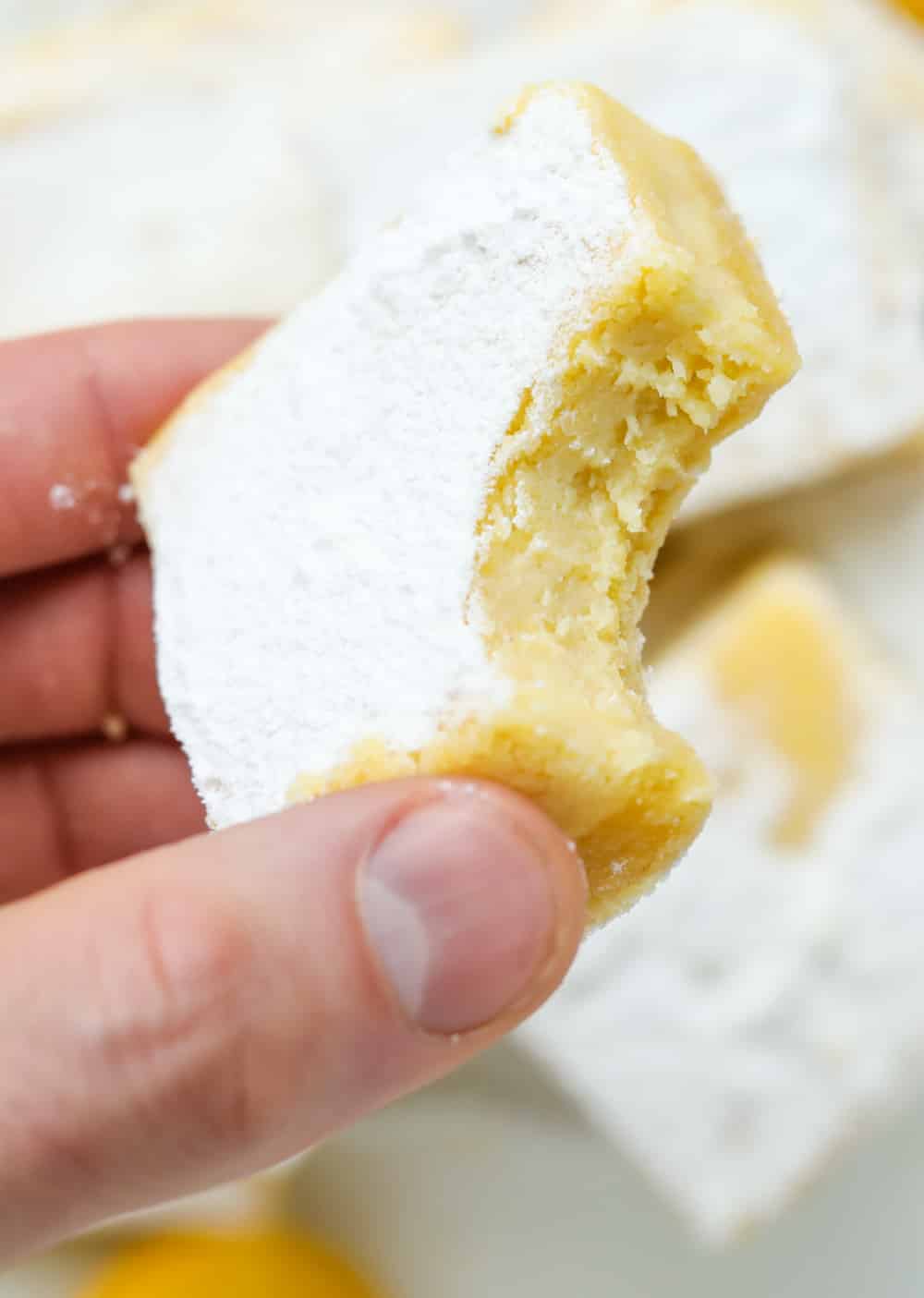 Okay, so we're all probably going to be at home for a little while longer. And that means now's a great time to stock up on keto snack and dessert recipes.
A few of my all-time favorites are these...
Also, if you're looking for even more tasty dessert deliciousness, there are a ton of other recipes in my cookbook - The Ultimate Low Carb Keto Cookbook: SWEET EDITION!
It's got over 125 super easy keto recipes that are sure to satisfy your sweet tooth in a totally low carb keto friendly way.
Print
Keto Lemon Bars | Healthy Low Carb Easy To Make Lemon Bars For Keto
These are THE BEST, healthy, low carb, keto lemon bars! They are so easy to make, and there's no sugar added to them, so they're totally kid friendly too. And, when you taste these keto lemon bars you'll have a hard time believing this is a low carb recipe for them...that's how good they taste. That said, each lemon bar has just 2.5 NET CARBS, so you can indulge guilt-free with this recipe.
Author:
Prep Time:

15 Minutes

Cook Time:

20 Minutes

Total Time:

35 minutes

Yield:

9 Lemon Bars

Category:

Dessert

Method:

Baking

Cuisine:

Keto Low Carb
Instructions
Preheat your oven to 350℉ (177℃).
Whisk the dry crust ingredients together in a medium-sized bowl.

Add in the

wet ingredients and mix with a spatula until

a dough forms.

Line an 8x8 in. square baking tray with parchment paper and coat it with non-stick
baking spray.
Add the ball of dough to the tray and press it outwards so that it covers the bottom of the tray.
Bake the crust for about 10 minutes - Start preparing the filling while it's cooking.
FILLING: In a medium-sized bowl, whisk the wet ingredients until creamy & combined.
Then add in the dry filling ingredients, and whisk again - The filling should be "wet".
Pour the filling on top of the crust.
Bake for 20-25 minutes or until the edges just start to pull away from the parchment paper.
Let them cool completely before placing in the fridge.
Refrigerate for at least an hour - and up to several days - then then cut into 9 lemon bars.
Sift Confectioners Swerve over the top of the bars just before serving.
The bars are best served chilled. Store covered in the fridge.
Nutrition
Serving Size:

1 Lemon Bar

Calories:

210

Fat:

11

Carbohydrates:

5

Fiber:

2.5

Protein:

7
Keywords: keto lemon bars, lemon bars keto, low carb lemon bars, lemon bars low carb, best keto lemon bars, lemon bars recipe, recipe for lemon bars, easy keto lemon bars, how to make lemon bars, how to make keto lemon bars