This keto chicken salad recipe is incredibly creamy, incredibly delicious, and incredibly easy to make! It's a great keto lunch idea too since it takes just 15 minutes to prep. And speaking of prep, this low carb chicken salad actually is a fantastic keto meal prep idea as well. In fact, it's one of those rare recipes that gets better as the days go on. Plus, this salad is incredibly easy to make and has just 1 net carb per serving.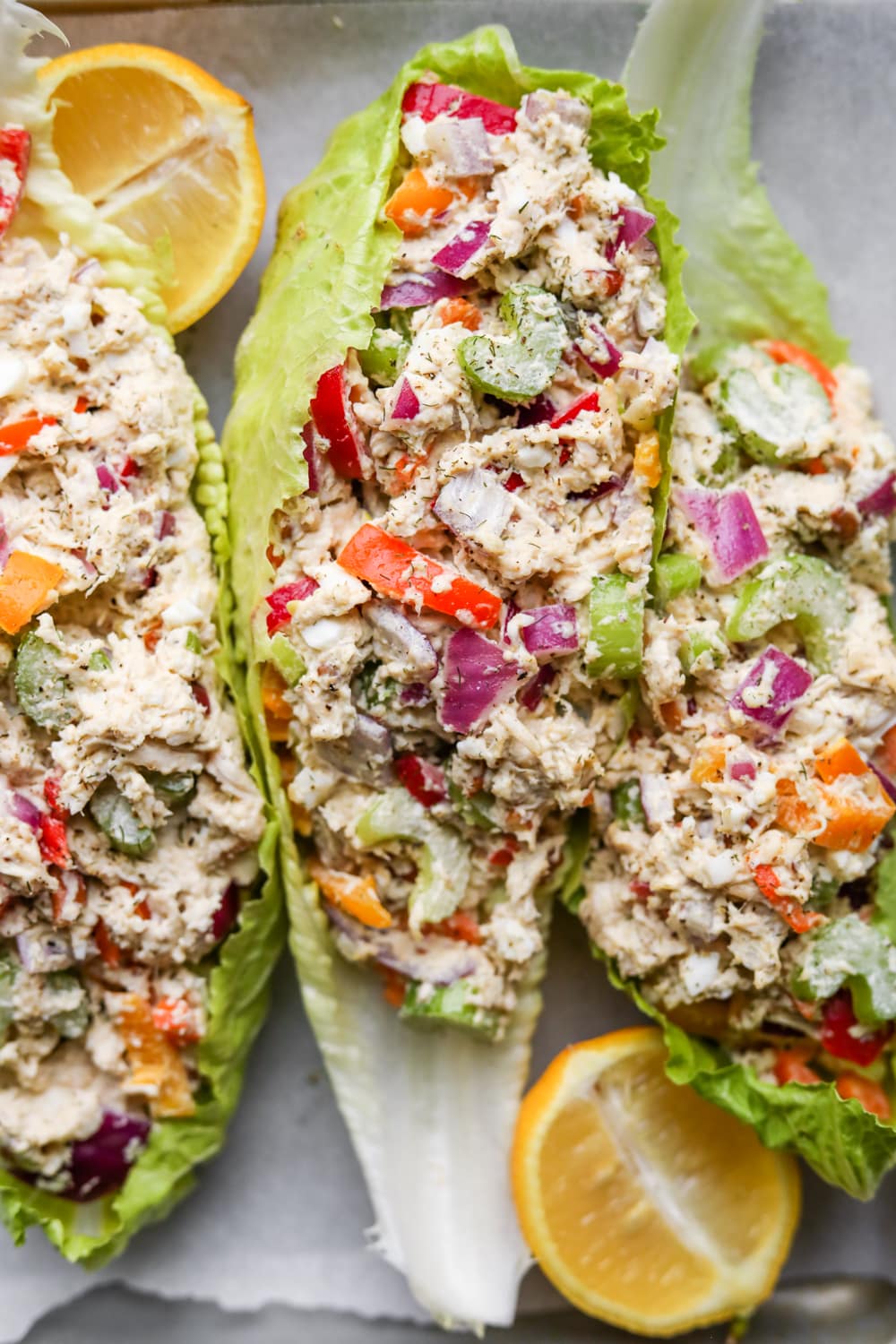 The Best Chicken Salad for The Keto Diet
Ah, chicken salad.
It's easily one of my favorite keto salads to make.
Especially for lunch.
It's healthy and satisfying, fresh and savory, filling, and most importantly, low-carb!
What's not to love about that?
Seriously, this is the best keto chicken salad recipe you'll try.
And it's the perfect fit for anyone trying to lose weight, but who doesn't want to give up their favorite lunch option...like me.
So, let's dive into the process of making it!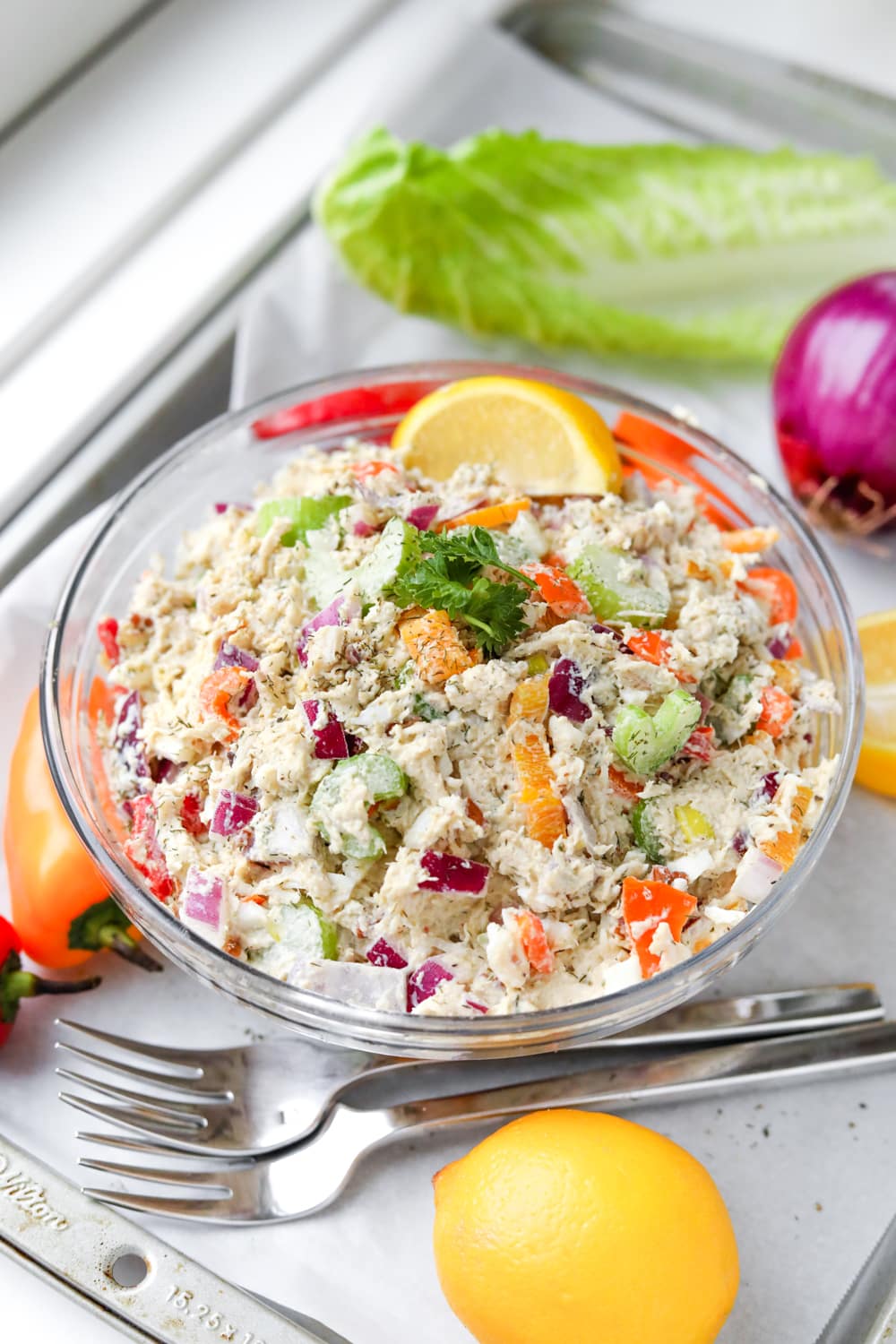 Chicken Options For this Keto Salad
First off, you've got to think about the chicken you'll be adding to the salad.
There are a few different ways you can get the chicken you need for the recipe.
You can use a rotisserie chicken, grilled chicken breasts, boiled chicken, or even chicken from a can to make this salad with.
So, let's talk about some of these options.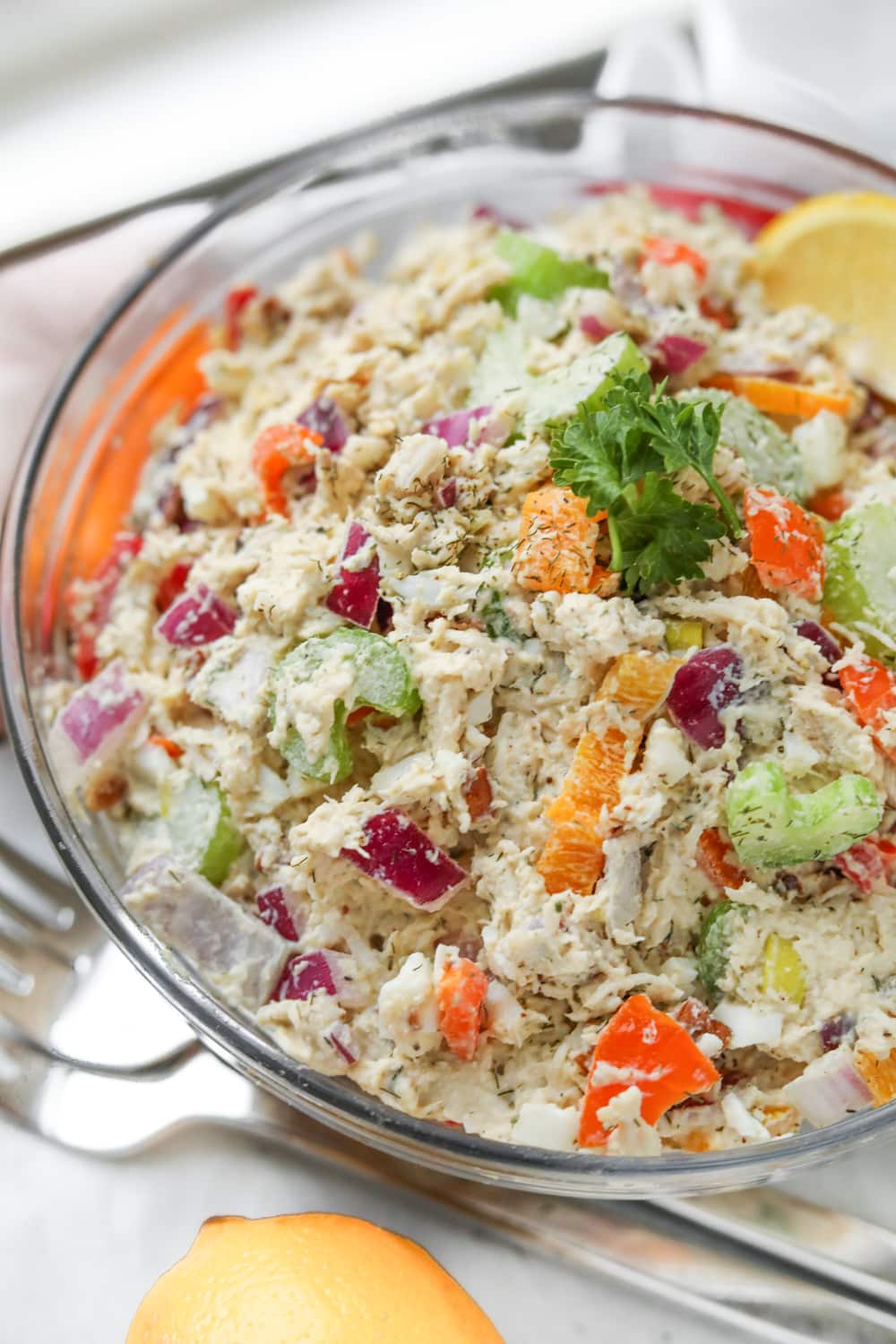 Rotisserie Chicken Salad
The first and possibly easiest way is to just buy a pre-cooked rotisserie chicken from the local supermarket.
Rotisserie chicken like this is already cooked all the way through; it just needs to be warmed up in the oven for most meals.
That said, using a rotisserie chicken to make this salad is actually my favorite chicken option to use. I love that it's cheap - usually, only about $5 - and that it's already cooked.
For your purposes, you can cut up the chicken breast right after purchasing and be good to go.
Also, you can also use any spare meat from that bird for your chicken salad. But salvaging chicken of the right shape and size from the drumsticks or wings might be a little tricky. So I suggest using that meat - the wing and thigh meat - for other keto chicken recipes, like this Buffalo Wing Dip!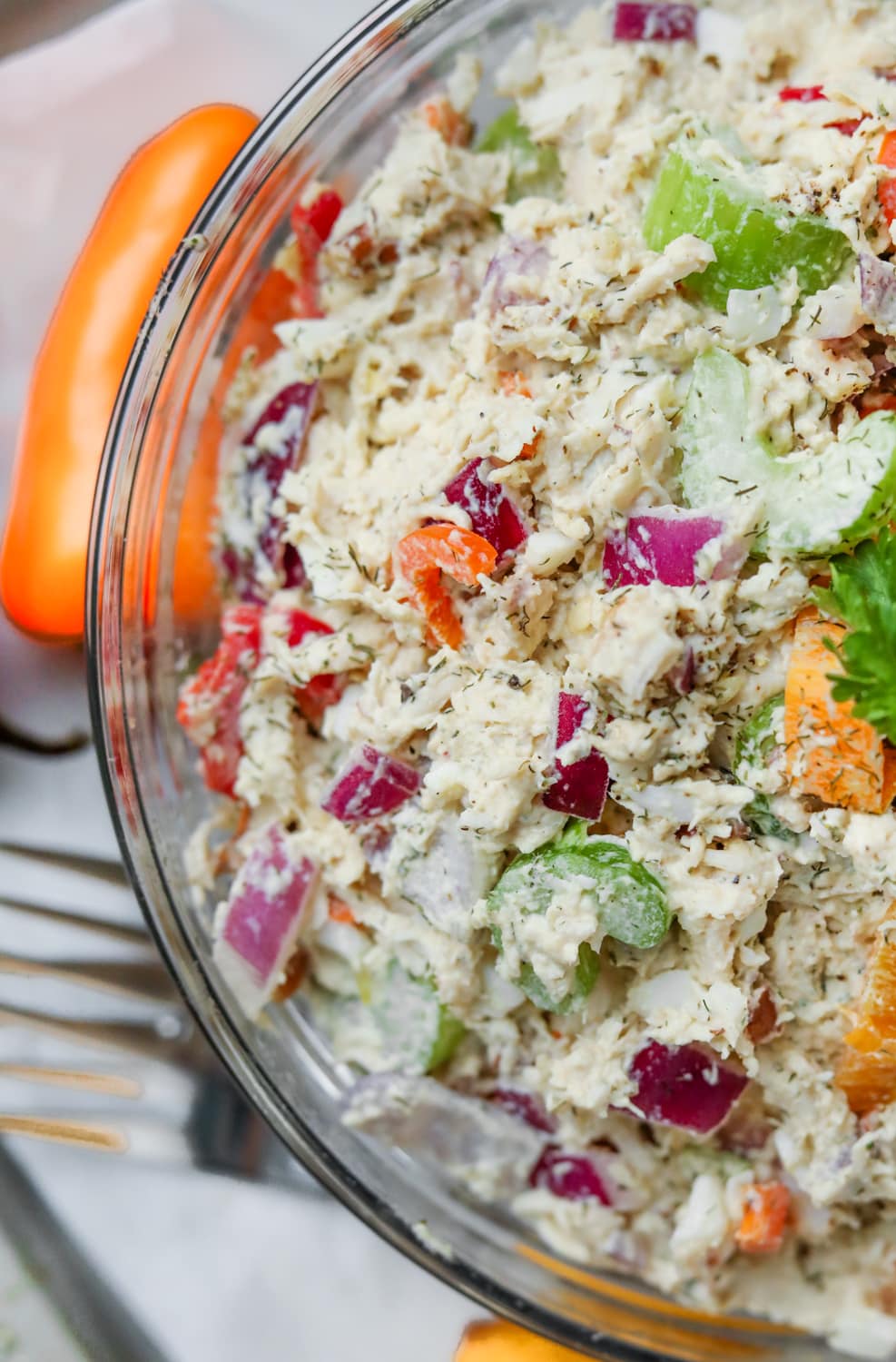 Other Chicken Options For This Salad
Alternatively, you can buy a few chicken breasts from the grocery store. These are uncooked but are often excellent in terms of value for money.
You can probably get more breast meat by purchasing uncooked breasts and cooking them yourself.
It only takes about 20 minutes to do several breasts in a pan - or boiled in a pot - and you'll be able to save them in the refrigerator for later.
For added aesthetic value, grill the chicken breasts on an outdoor BBQ grill or similar instrument.
However, regardless of which option you go with, you want to make sure you cook your chicken to 165°F.
This can make the chicken look like the stuff that comes in premade salads or on commercials.
Either way, you want to cook around 2 ½-3 cups of chicken breast meat, then shred it.
You can use to forks or even your fingers to do this.
Breast meat should come apart relatively easily and in strips.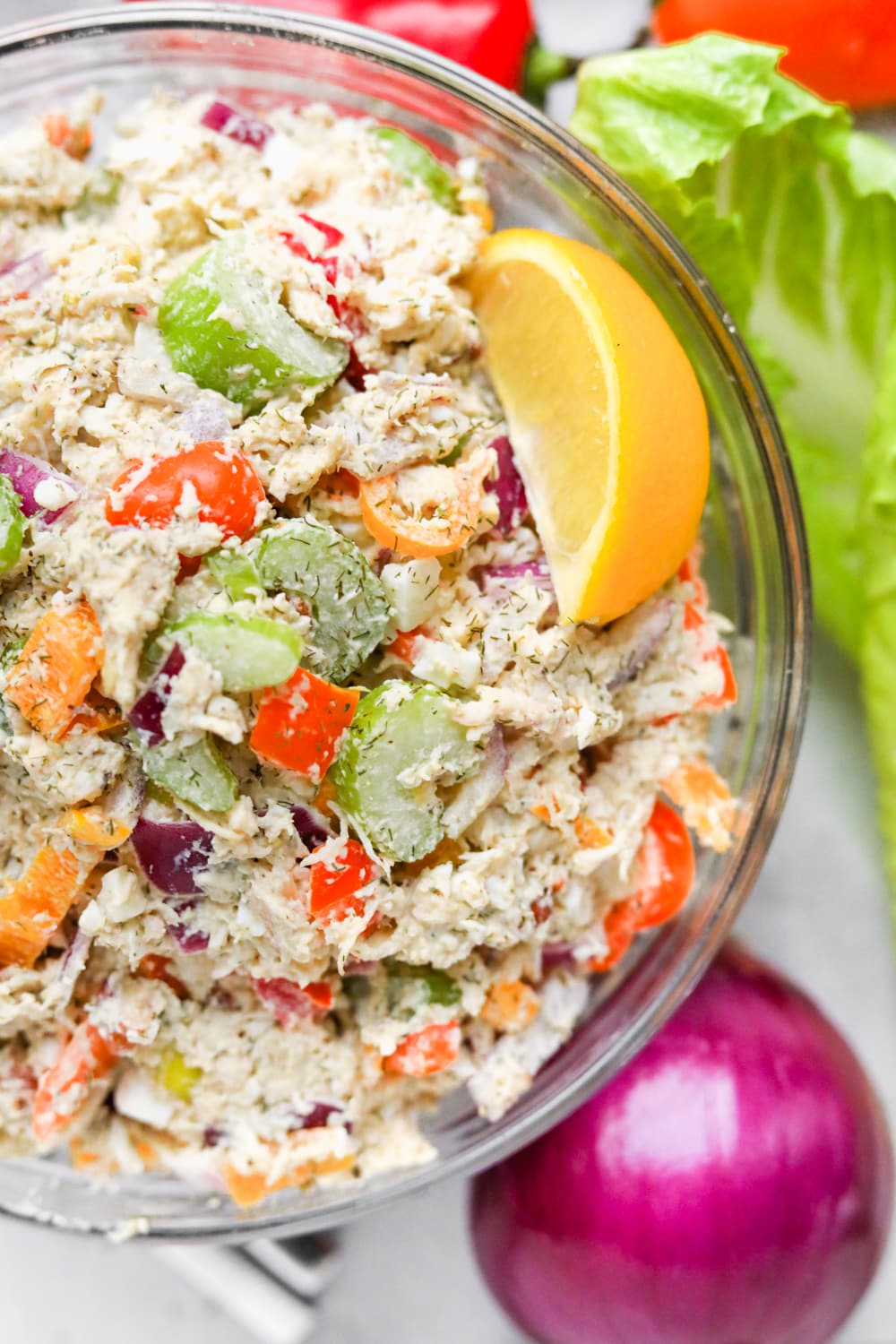 Other Ingredients You'll Need For This Keto Chicken Salad
This recipe is super easy because the above part is the most labor-intensive section of the whole process.
All the other ingredients just need to be chopped or diced at your leisure.
That said, you'll want to consider prepping these ingredients in advance...
Hard-boiled eggs
Chopped celery
Red onion
& Crushed pecans
Oh, and you can also add a few mini-peppers for color too
A good meal prep strategy is to do a lot of your chopping and dicing beforehand either the night before you'll be eating the salad or the morning of.
You can also chop and dice most of these ingredients in large quantities and store them in your fridge using Tupperware or glassware sets. That's what I like to do!
Then you'll have several chicken salad lunches prepared ahead of time; just combine the ingredients as you need.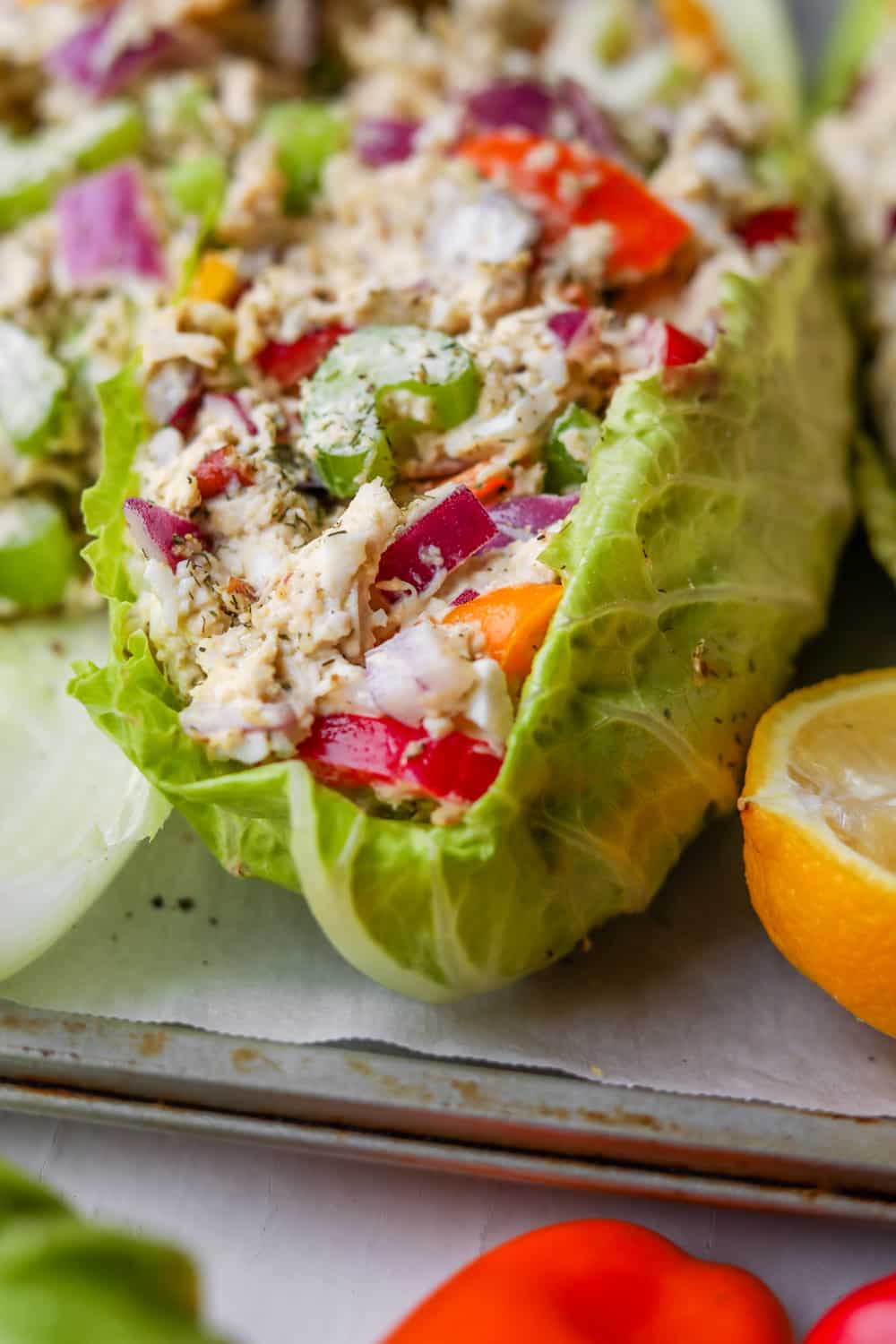 Prep Work Pro Tips
The hard-boiled eggs can be prepared in a pot of regular water over a few minutes; add a little salt for extra flavor and to speed up the boiling process.
Farm-fresh eggs, of course, are the best way to go, both for your nutritional needs and for the health of the animals who made them.
And I love having hard-boiled eggs on hand at almost a moment's notice, so I try to keep my fridge stocked with them. They're great in EVERY keto salad, not just this chicken salad.
Plus, they make an awesome keto snack too.
Anyways, make sure to take special care when chopping the red onion. The recipe needs ½ of a medium-sized red onion, but you'll want to dice the onion pieces very small.
Onion chunks that are too large can be a bit pungent or noticeable when you take a bite of the salad.
It might be a good idea to use a professional chopper appliance rather than a knife, though it's all up to your discretion.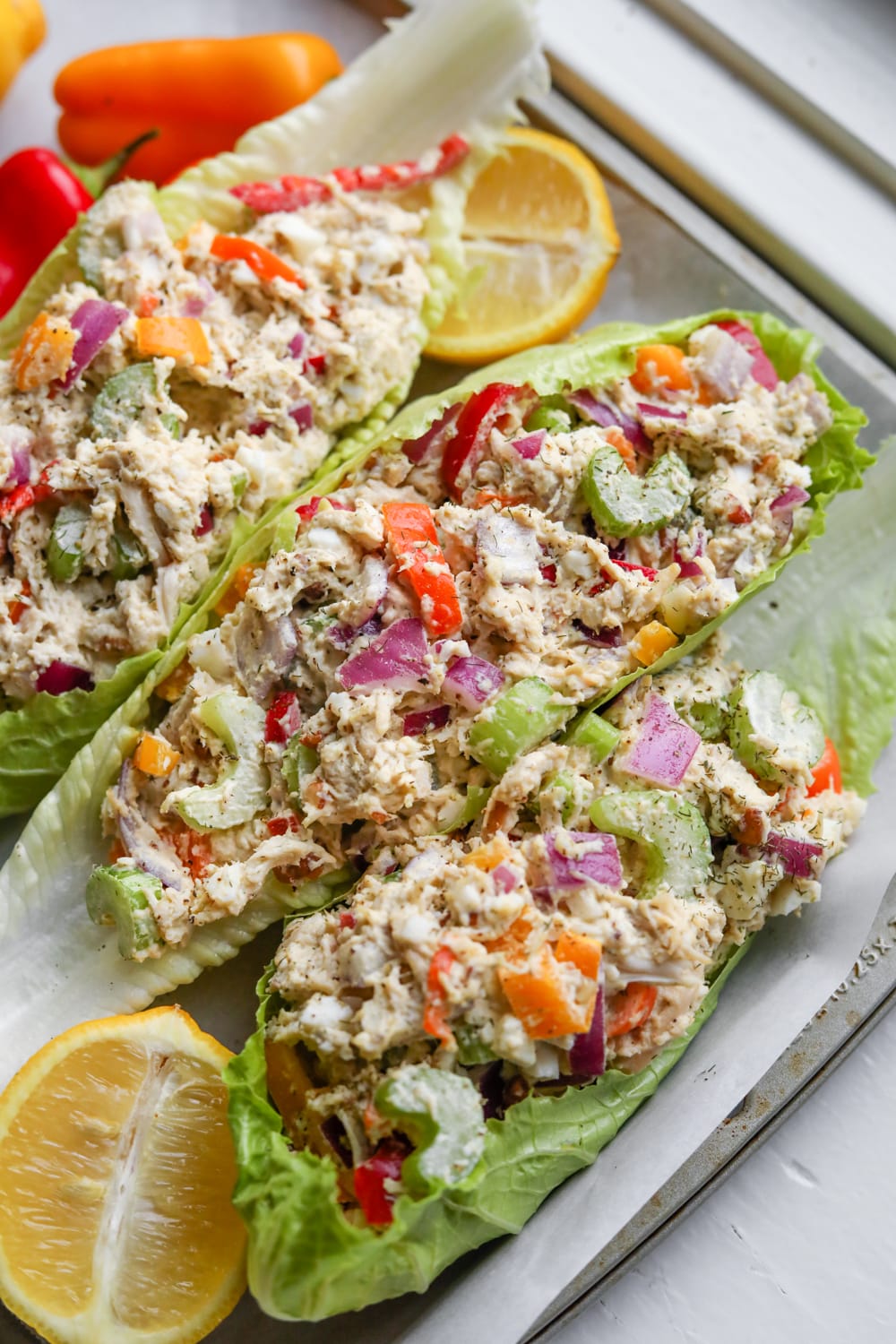 Keto Chicken Salad Dressing
Now, let's talk about making the dressing for this keto chicken salad.
We'll be making a super quick and easy creamy salad dressing for today's recipe.
So, to make this tangy keto dressing you'll need some...
You should mix all of these ingredients with a reasonable amount of salt and pepper, though you can adjust the amount as necessary.
It's always a good idea to use a little salt and pepper at first then taste the resulting mixture before adding more.
After all, you can always put another pitch of either seasoning in but you can't very easily take salt or pepper out!
At last, the keto chicken salad is complete…mostly! Take the chopped fresh dill you prepared earlier and garnish the salad as you like. Or, just mix it into the salad dressing.
The choice is yours!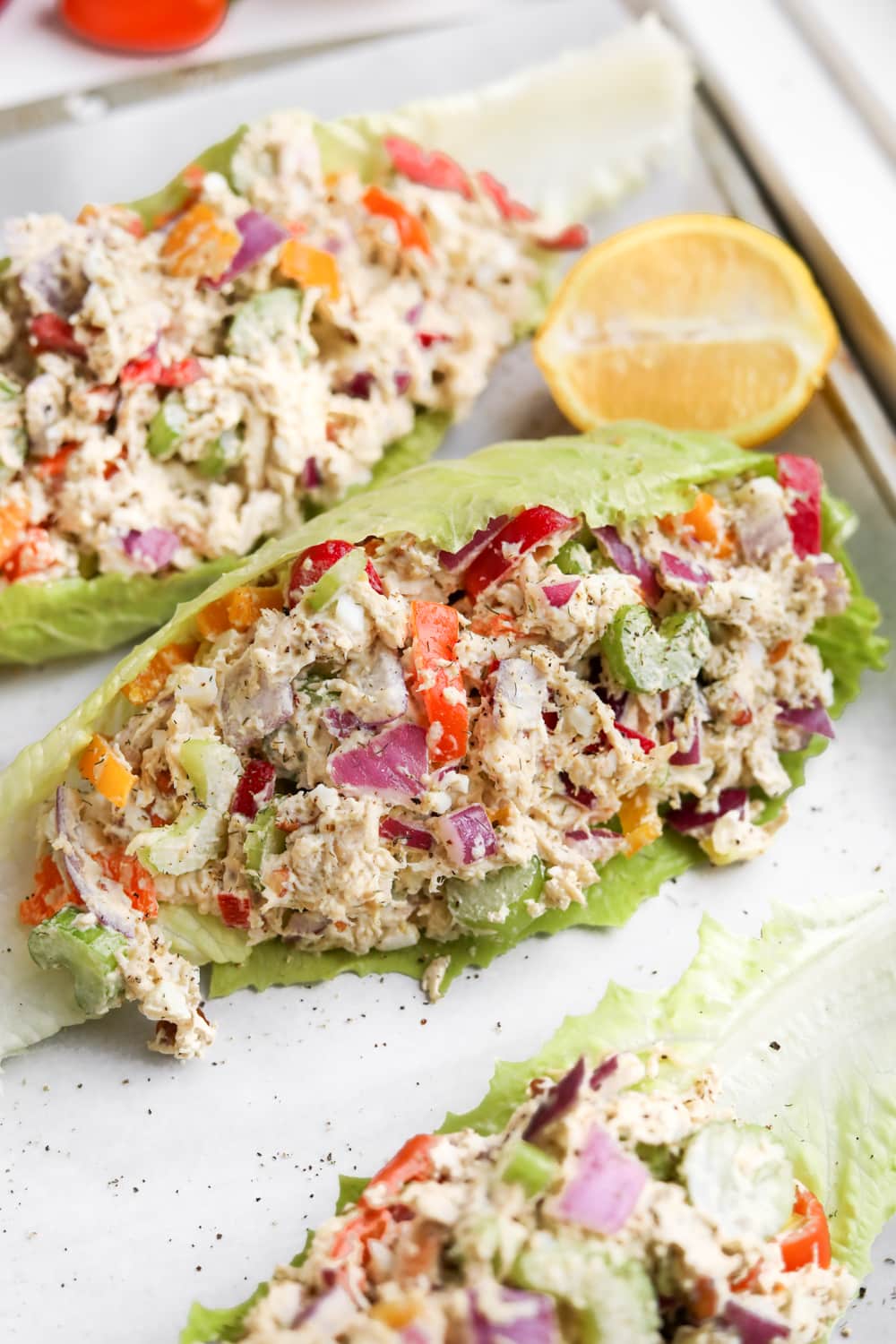 How To Make This Keto Chicken Salad Recipe For Lunch
Again, one of the best things about this recipe is how fast you can put it together.
It's just such an easy keto chicken salad recipe to make. And that's why I love using the rotisserie chicken to make it too.
Because, well, sometimes I'm quite lazy, and don't feel like cooking chicken to make the salad with.
And, as I said, I find myself making it multiple times a week. So, sometimes it's nice to pay for the convenience of having the chicken pre-cooked.
Anyways, as I alluded to earlier, this low carb chicken salad takes just minutes to make provided you prepared all the ingredients beforehand.
So that's what I like to do with the ingredients - and recommend doing - since it makes making lunch so much easier. I even like to premake the dressing and keep some stored in my fridge so I have it when I need it.
That said, I like to store all the separate ingredients in different Tupperware containers, then combine them into a larger lunch bowl as necessary.
The only thing you'll want to consider is adding the lemon juice right before preparing the salad for added freshness.
It may not taste quite the same if you throw lemon juice on there the night before eating.
So if you plan on taking this keto salad with you to work or school, just make sure to add a lemon wedge or two to your lunch bag.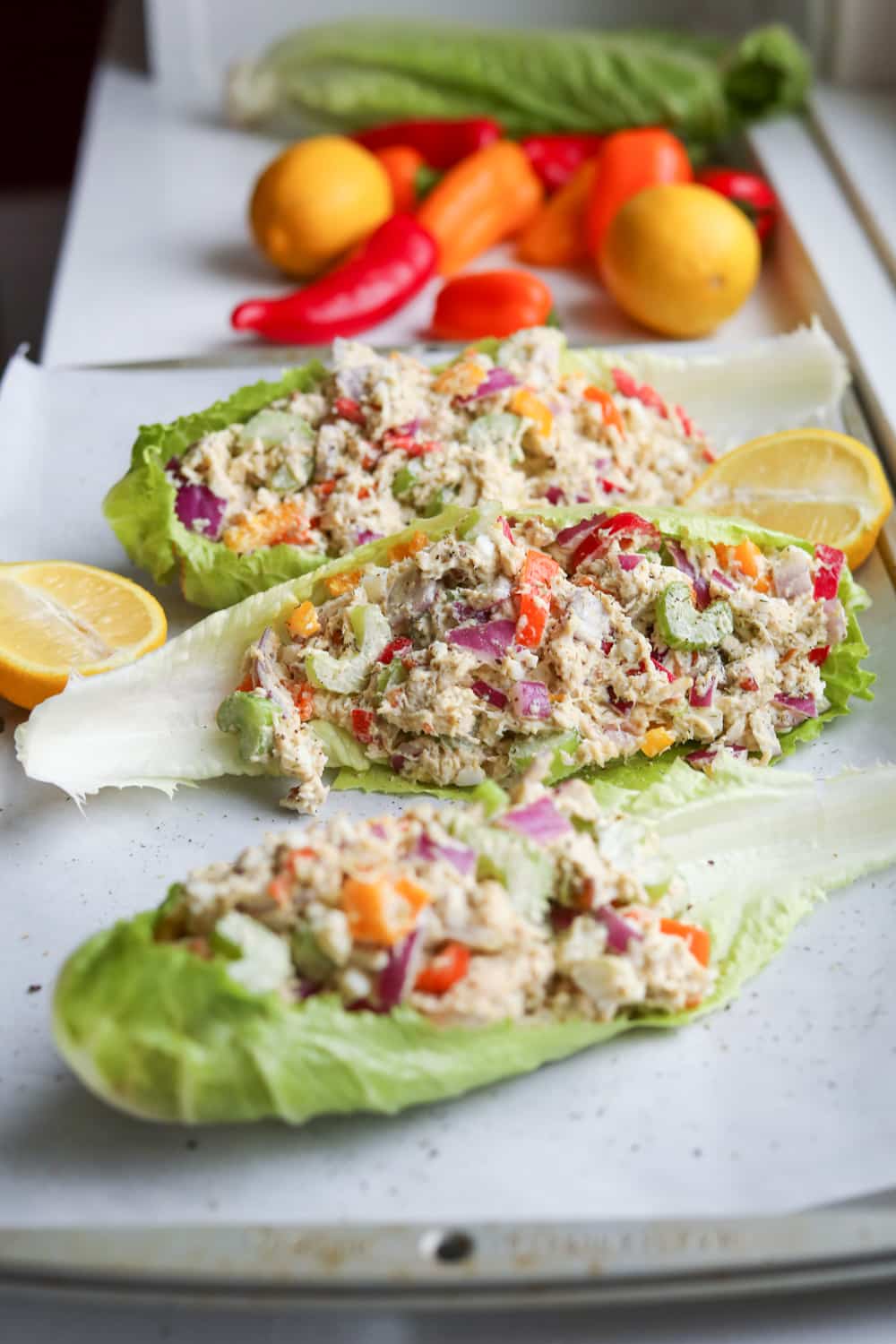 Chicken Salad Lettuce Wraps
Oh, and as you might have noticed from the photos this keto chicken salad makes some bomb lettuce wraps!
All you need to do is scoop about half a cup of the salad into a leaf of lettuce, and boom, you've got a delicious lettuce wrap.
That said if you decide to make lettuce wraps with this keto chicken salad, add the salad to the lettuce right before eating it. If you try to make the lettuce wraps in advance - and, say, pack them for lunch - the lettuce will get soggy. So, pack your lettuce separately, and assemble the wraps on the spot!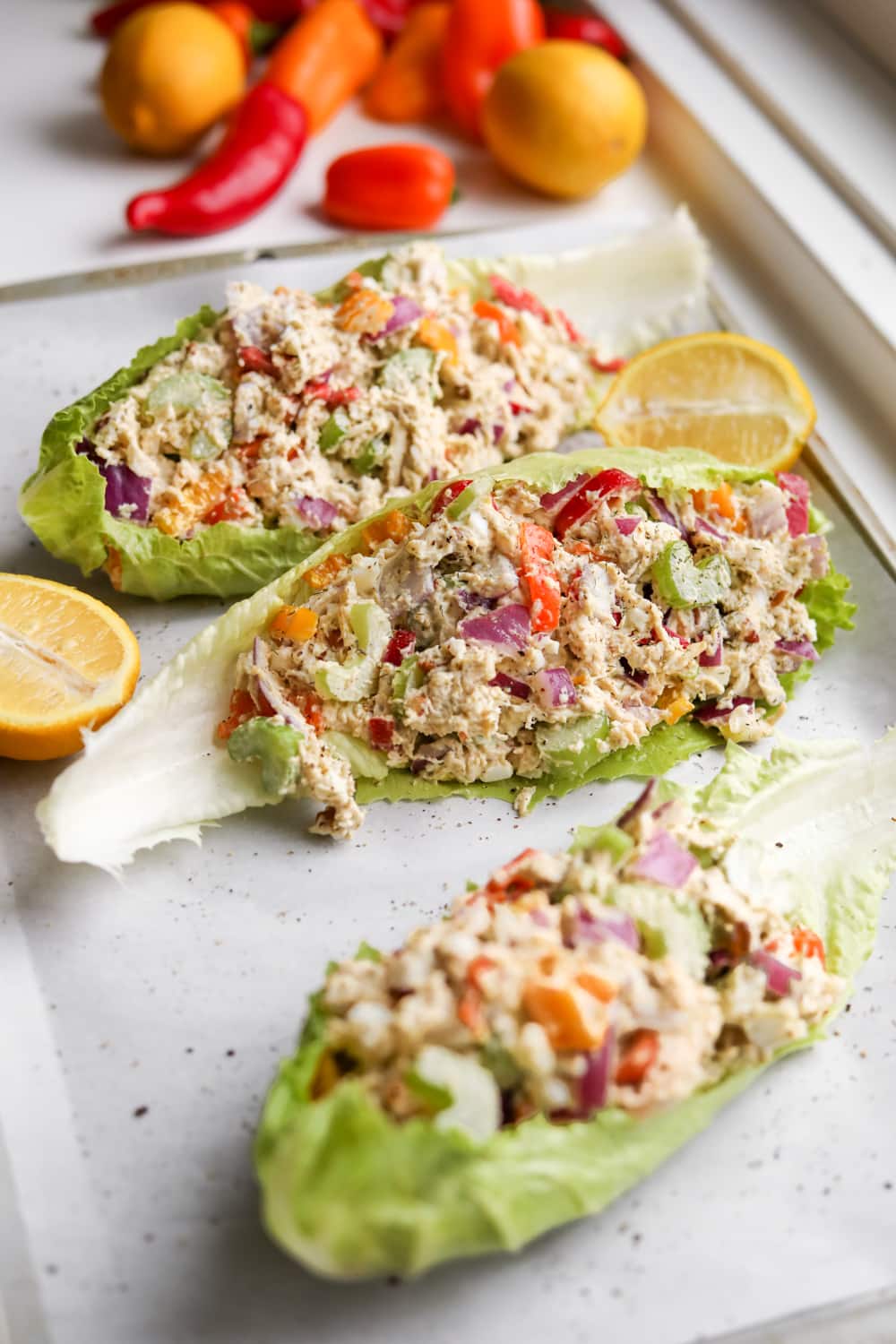 Meal Prepping The Salad
Meal prepping this keto salad is super easy too.
What I like to do is just mix the salad all together in one large bowl, and then split it up equally between 5 meal prep containers.
By the way, a food scale really comes in handy here. And it's not only the best way to ensure each meal prep container has an equal amount of keto chicken salad in it, but also that the calories & macros for each one are correct as well.
And, again, you'll want to just pack a lemon slice, or two with your containers and add the juice right before eating it. Also, the same goes for the lettuce - make sure to pack that on the side if you want to make lettuce wraps out of it.
Also, just so you know the recipe makes 5 large servings, so it makes enough for a whole week's worth of lunches.
How awesome is that?!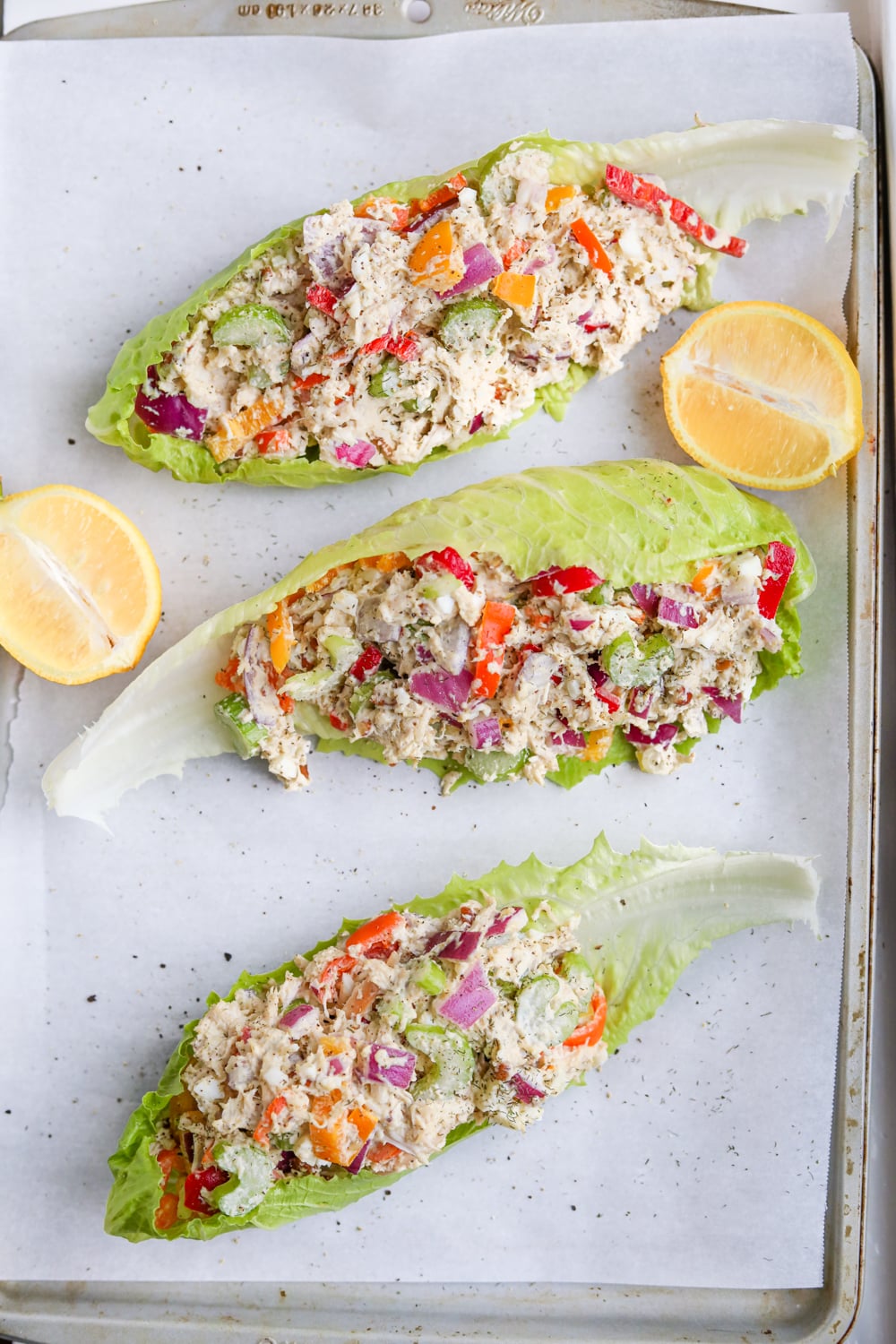 Calories and Macros On This Chicken Salad For Keto
Ok, so let's talk calories and macros!
As I just mentioned, the recipe makes 5 large servings and each serving has...
315 Calories

25g Fat

2g Carbs

1g Fiber

1 NET CARB

22 g protein
If you ask me, are some pretty great macros for a lunchtime meal, or anytime meal really.
Other Keto Lunch Ideas
If you liked today's keto chicken salad recipe, you might like some of these other low carb lunch recipes featured on the blog.
Also, these air fryer chicken wings make a great keto lunch, dinner, or snack idea!
Print
Keto Chicken Salad | The BEST, Easy, Low Carb Chicken Salad Recipe For Keto
This is the BEST easy to make low carb Keto Chicken Salad Recipe! It's creamy, tangy and absolutely delicious. Plus, it makes a great quick and simple keto lunch idea, and it's perfect for meal prep too!
Author:
Prep Time:

15 Minutes

Cook Time:

0 Minutes

Total Time:

15 minutes

Yield:

5 Large Cups

Category:

Lunch / Meal Prep

Method:

One bowl

Cuisine:

Keto Low Carb
3 cups (350g) cooked and shredded chicken breast - get it from rotisserie chickens or cook your own
1 Rib of celery (about 50g) sliced into "U" shaped pieces
2 Hard-boiled eggs, chopped
¼ cup (28g) Chopped pecans
½ Diced red onion (80g)
½ cup (120g) mayonnaise
1 Tbsp (15g) Dijon mustard
½ tbsp (10g) fresh lemon juice
1 Tsp (5g) rice vinegar
1 Tsp fresh dill
salt and pepper to taste
Optional:
3 Diced multi-colored mini peppers (85g)
Instructions
Shred 2 medium sized chicken breasts, and add it to a medium-sized bowl.
Next chop the celery, eggs, and pecans, and add them to the bowl as well.
Now, cut and dice the onion into tiny pieces, and add it to the bowl.
Then, to that bowl add the mayo, mustard, vinegar, dill, salt and pepper. *If eating that day add the lemon juice as well. If not, add some fresh lemon juice to the salad right before serving.
Mix all of the ingredients until they're well combined.
Once combined, chill for an hour - if the chicken is hot - or serve immediately if it's cold.
Store in a sealed contained in the fridge for up to 5 days.
*NOTE: If making lettuce wraps, DO NOT PRE-MAKE them. You'll want to make them, and serve immediately. Otherwise they'll get soggy. And nobody likes a soggy lettuce wrap.
Meal Preping The Chicken Salad:
Equally distribute the chicken salad between 5 meal prep containers.
Add a lemon wedge to each container, and add the juice right before eating.
If making lettuce wraps, keep the lettuce separate from the salad, and make the wraps "on-the-spot".
Nutrition
Serving Size:

1 Large Cup

Calories:

315

Fat:

25

Carbohydrates:

2

Fiber:

1

Protein:

22
Keywords: Keto chicken salad, healthy chicken salad, chicken salad, low carb chicken salad, how to make chicken salad, chicken salad keto, keto chicken salad recipe