These keto churros are perfectly crispy on the outside, soft & tender on the inside, and are filled with cinnamon sugar deliciousness. Plus, each one of these keto churros has just 2.5 NET CARBS! So, if you're looking for one of the best low carb dessert recipes you can make, look no further!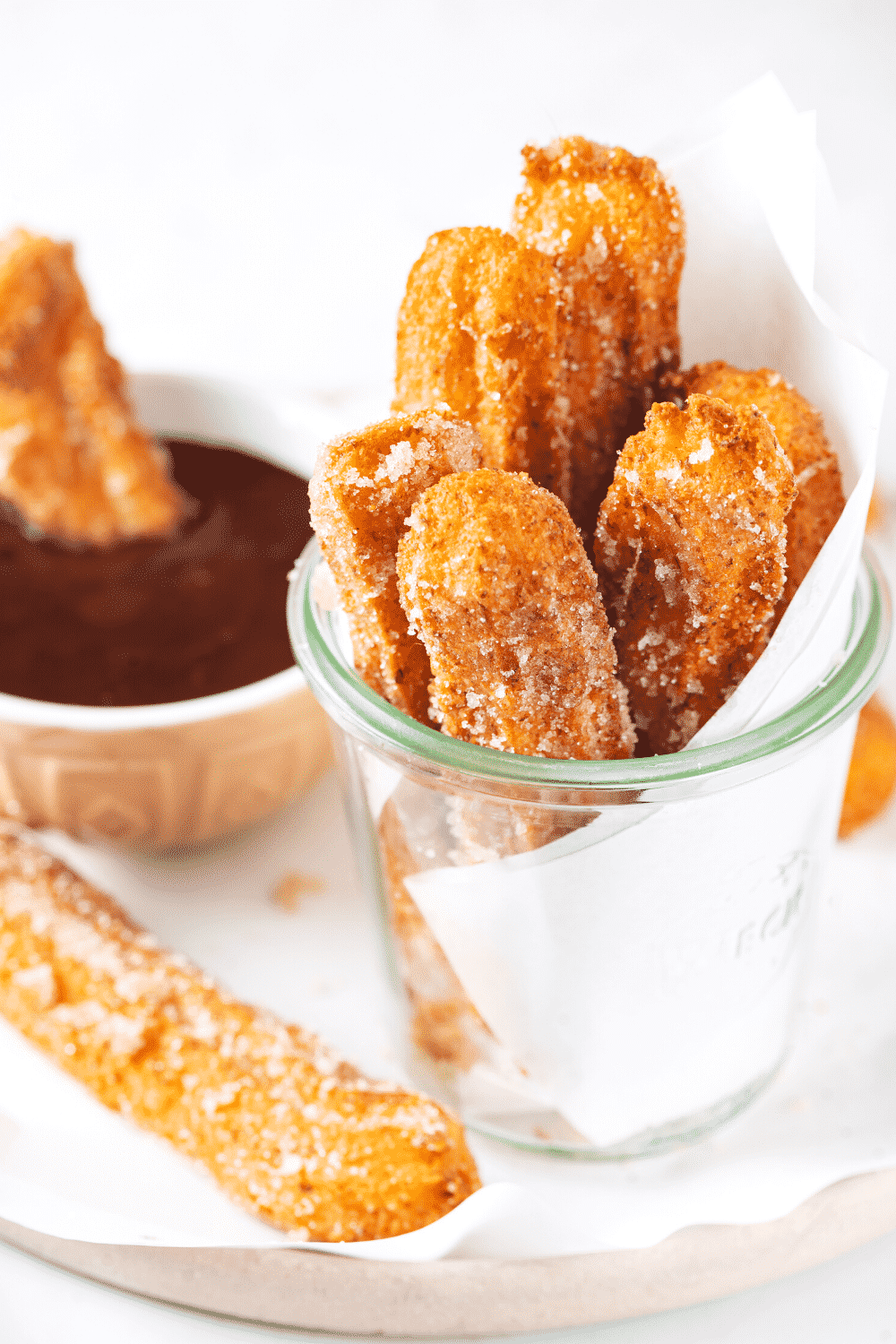 THE BEST KETO CHURROS
Have you been dreaming about being able to make churros keto-friendly? Well, I have, and this recipe is seriously a dream come true!
Churros are a dessert that isn't very common in the United States - that is unless you're at a fair or a Disney park. And, to be honest, I've tried a few homemade low carb churro recipes, but nothing comes close to this one.
These churros turn out super crispy - but not overdone - fluffy on the inside - but not too soft - and they have the ideal balance between cinnamon and sugar for their iconic coating.
Plus, each serving of these low carb churros comes out to only 2.5 NET CARBS!
And trust me, it's hard to stop eating these once you get a taste of them...so, it's more than a good thing that they're that low in carbs.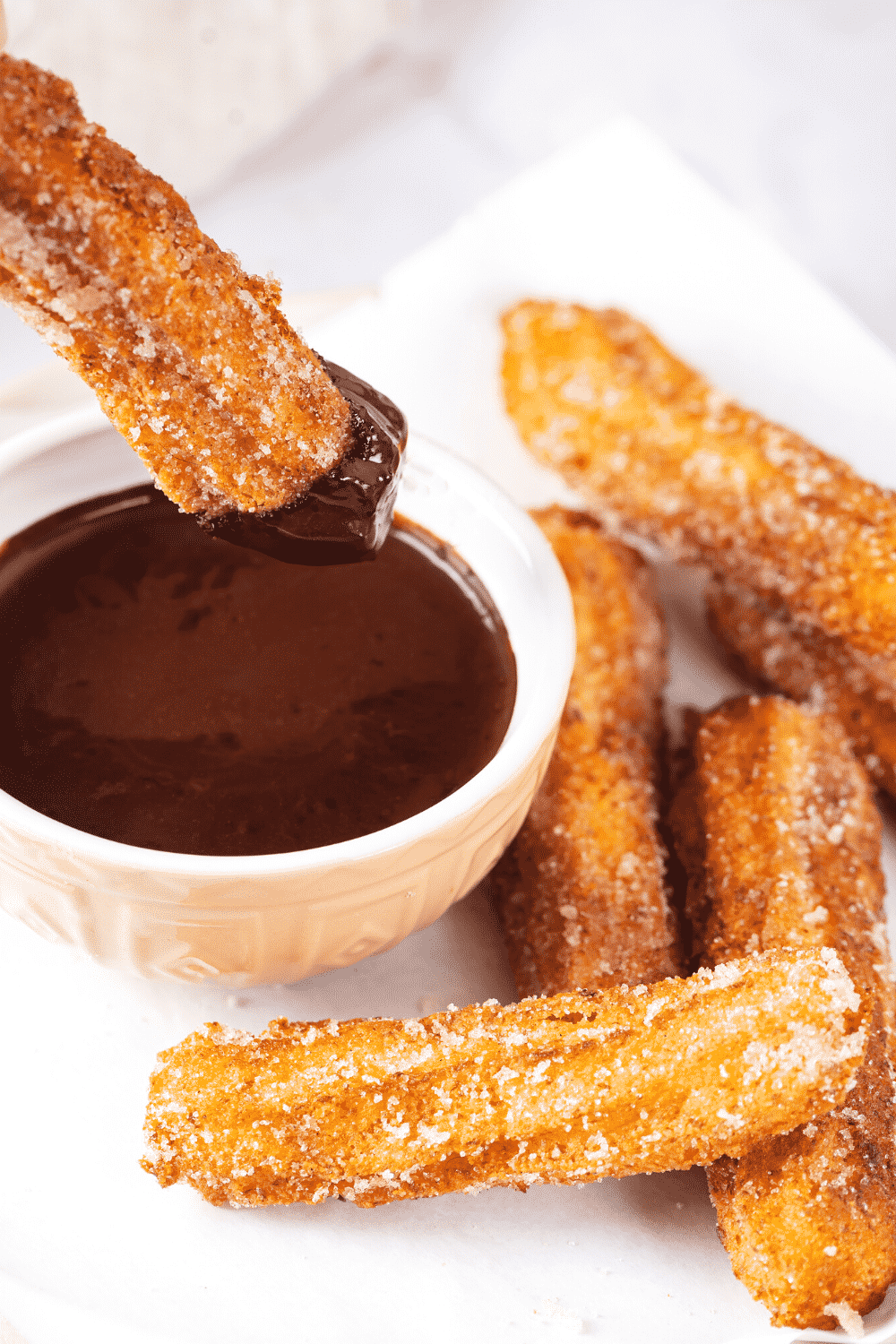 INGREDIENTS YOU'LL NEED
So, along with being easy to make, these keto churros only require a few common keto ingredients.
Here is everything you'll need to make the churros:
1 tablespoon psyllium husk
1 tablespoon coconut flour
1 cup almond flour
2 tablespoon granular Swerve
1 teaspoon guar gum
5 tablespoon butter
1 cup water
1 teaspoon vanilla extract
1 egg, cold from the fridge
Oil for frying
And for coating them:
2 Tbsp. granular Swerve
1 teaspoon cinnamon
So hopefully, you have a majority of these ingredients in your pantry and fridge and can get baking.
But if you don't, make sure to pick up everything you need. You can also put a lot of these ingredients to good use by making these soft and fluffy keto cinnamon rolls, these keto chocolate chip cookies, or this low carb cheesecake recipe!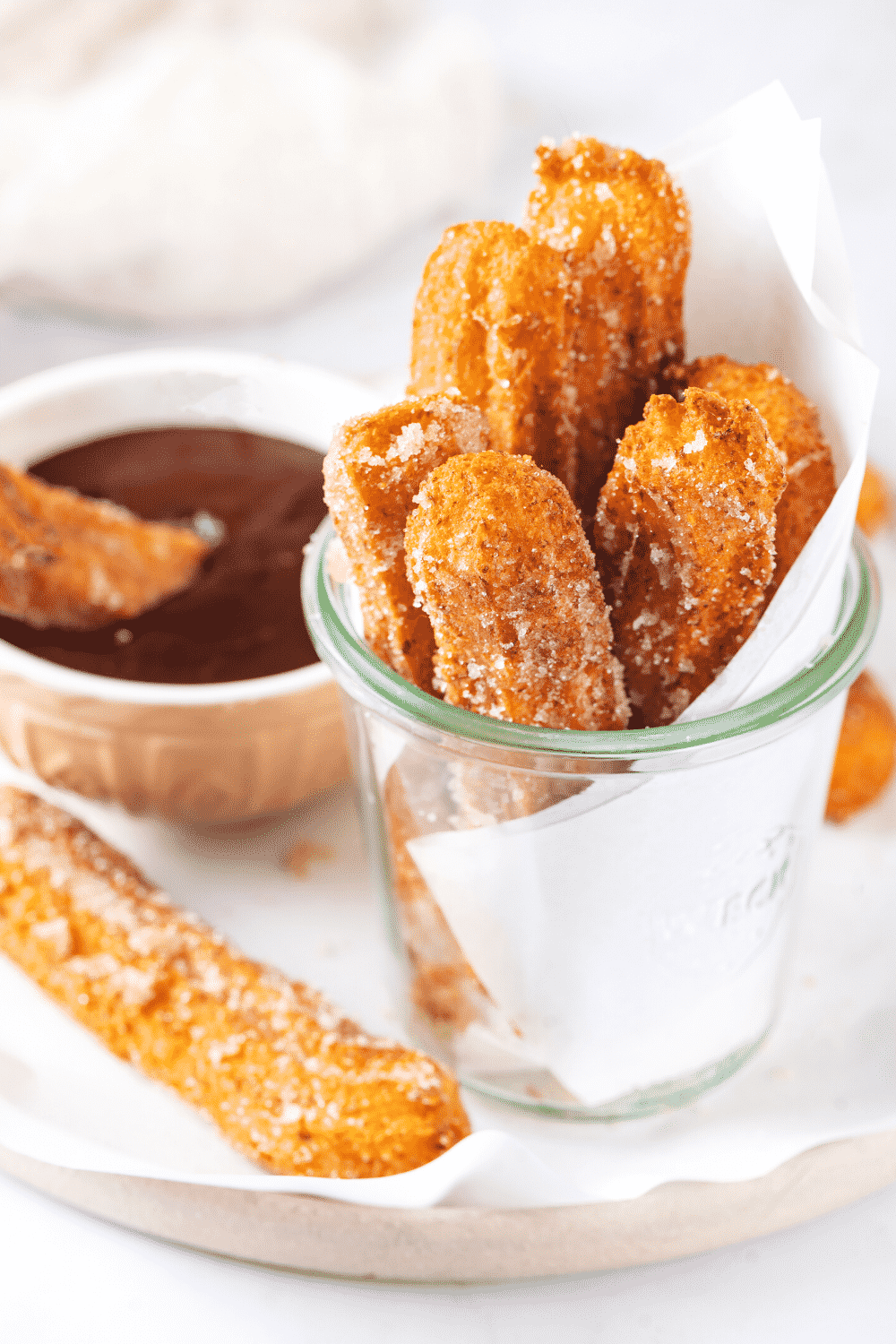 FLOURS TO USE
Now, the combination of almond flour and coconut flour is what makes the texture of these low carb churros almost spot on to regular churros.
Having said that though, you do not want to substitute almond flour for more coconut flour - or vice-versa.
Since coconut flour is more absorbent than almond flour, using more of it will make your churros too dry and crumbly, and not using enough of it will make the churros too liquidy.
So, the only substitution I recommend doing is possibly subbing the almond flour for either walnut flour or sunflower seed flour.
Both of these flours can be used as an equal substitute for almond flour and will work well in this recipe.
SWEETENING YOUR CHURROS
Ok, so, to make these sugar-free churros, you may have noticed that we will be using Granular Swerve instead of sugar.
And, by using it, we'll be able to sweeten the churros up without adding any calories, carbs, or sugars.
However, another option that you have is to use Lakanto's Monkfruit Sweetener. This sweetener is basically the same as Swerve, and it will add the ideal amount of sweetness to these keto churros in a completely sugar-free and carb-free way.
Also, allulose will work well for these churros too. Just make sure you use a little more allulose than the recipe recommends since it isn't as sweet as the other sweeteners I used/recommended.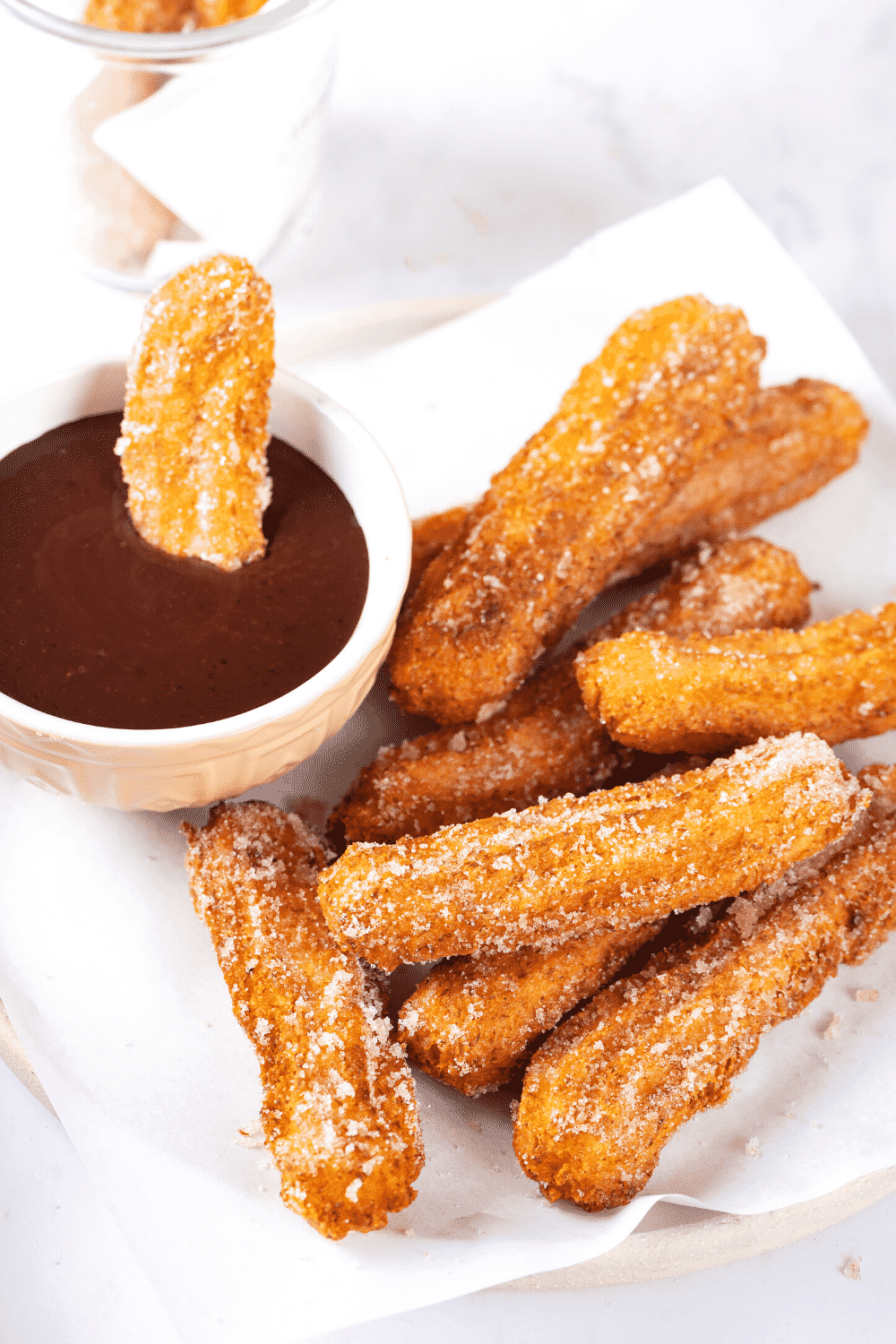 HOW TO MAKE KETO CHURROS
Ok, so our ingredients are all covered, now let's get to the fun part!
Making these churros is pretty easy and will only take you about 30 minutes.
Before we begin though, just make sure you have a piping bag with a rounded star tip - it will give these churros their classic shape.
Now get everything you need together, and let's turn churros keto!
STEP 1: PREPARING THE DOUGH
Ok, so the first thing you will do is mix all of your dry ingredients - the psyllium husk, coconut & almond flour, granular swerve, and guar gum - in a large bowl.
Then, add your butter and water to a saucepan and bring them to a boil over medium heat.
Now, once the water and butter are boiling, you'll want to remove the saucepan from the heat and add the dry ingredient mixture into the pot.
Then, quickly stir the ingredients together in the pot to make a smooth dough - I used a wooden spoon to do this.
Next, place the saucepan back over the heat, and cook the dough for about 2 minutes while continually stirring.
After the 2 minutes is up, set the pot aside and let the dough cool for about 10 minutes.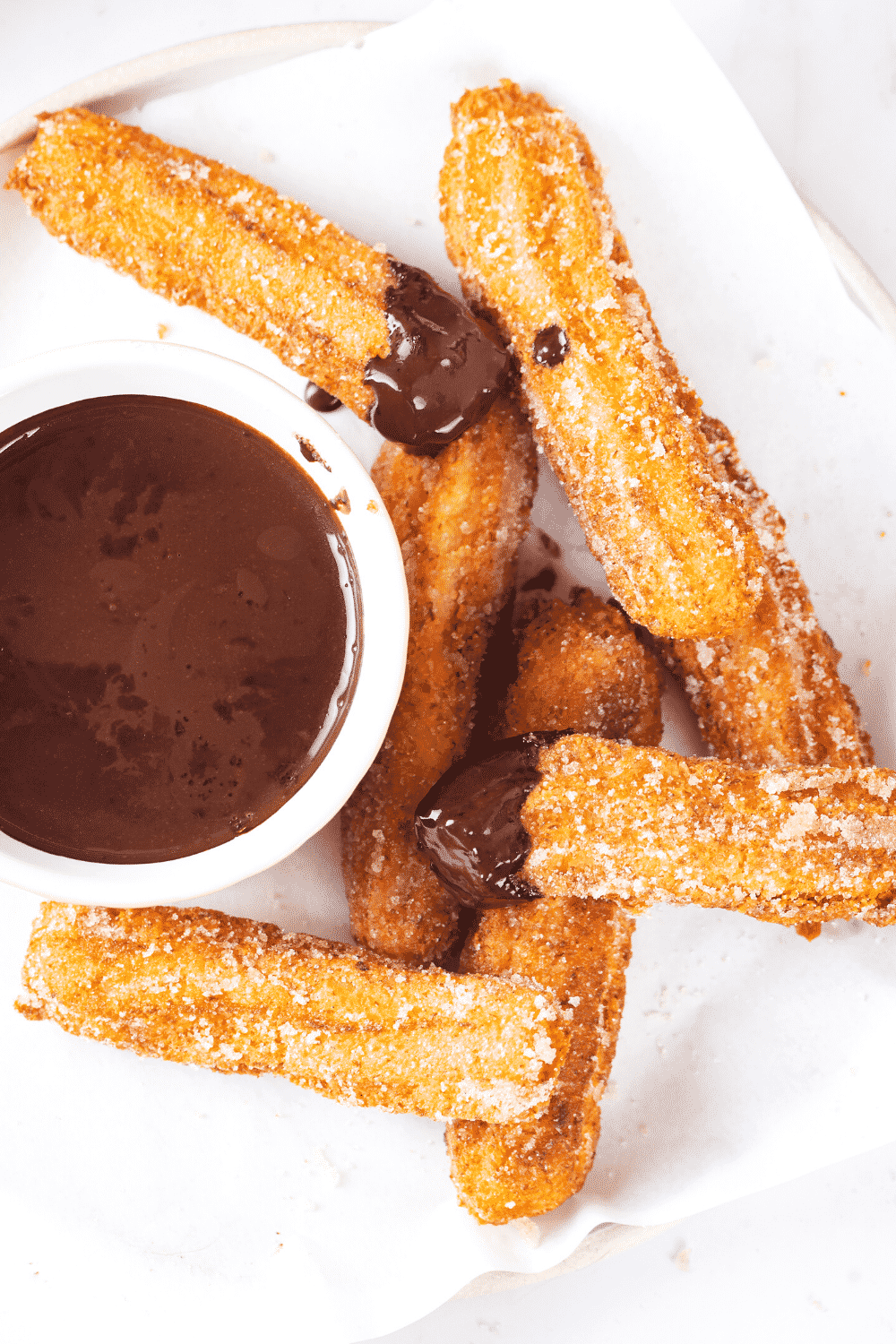 STEP 2: COMPLETING AND FRYING THE DOUGH
After the dough has cooled, add your egg and vanilla extract to the pot.
Then mix these ingredients with the dough until they are fully incorporated and the dough is smooth. And you can do this with a hand mixer, but a wooden spoon will work just as well - it will just take a little more time to mix.
Now, after you have a nice smooth dough, you'll want to fill a pot with oil about 2 inches high, and then heat the oil over medium heat for about 4 minutes. Then, while the oil is heating, you can transfer the dough to your piping bag. Now, once the oil is ready, pipe about 5-inch long churros and cut the end with a knife.
Fry the churros for about 2 minutes on each side until golden brown, then remove them with a slotted spoon and place them on a plate lined with a paper towel.
STEP 3: COMPLETING YOUR CHURROS
Once the churros are fried to perfection, combine your granular swerve and cinnamon in a bowl.
Then, pour the mixture onto a plate, and individually roll the warm churros in the cinnamon-sugar until they're thoroughly coated in it.
And that's it!
Now all that's left to do is serve your cinnamon-sugar coated churros warm, and enjoy!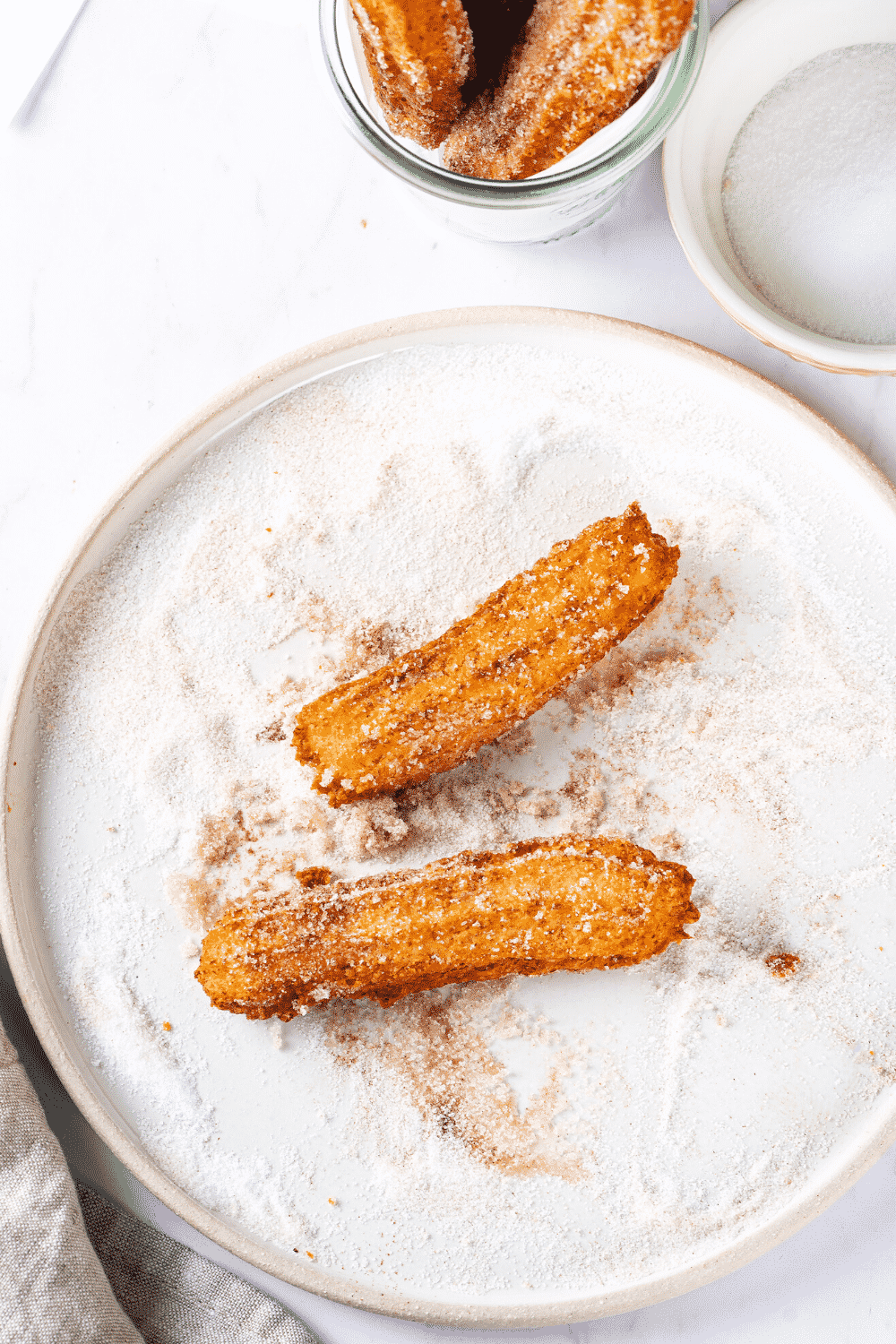 STORING & REHEATING THESE KETO CHURROS
There is nothing better than a hot and fresh churro, and these are definitely the best right after you make them.
But if everyone doesn't gobble up all 4 servings of these churros in one sitting, they are still delicious leftover. You can store your churros in an airtight container and keep them at room temperature for up to 2 days.
And if you want a warm leftover churro, just pop it in the microwave for a few seconds.
Now, if you want to keep these churros for even longer, you can keep them in the freezer in an airtight container or freezer-safe bag for up to 3 months.
Then to reheat, just put them in the oven at 350°F (177°C) until they reach your desired temperature.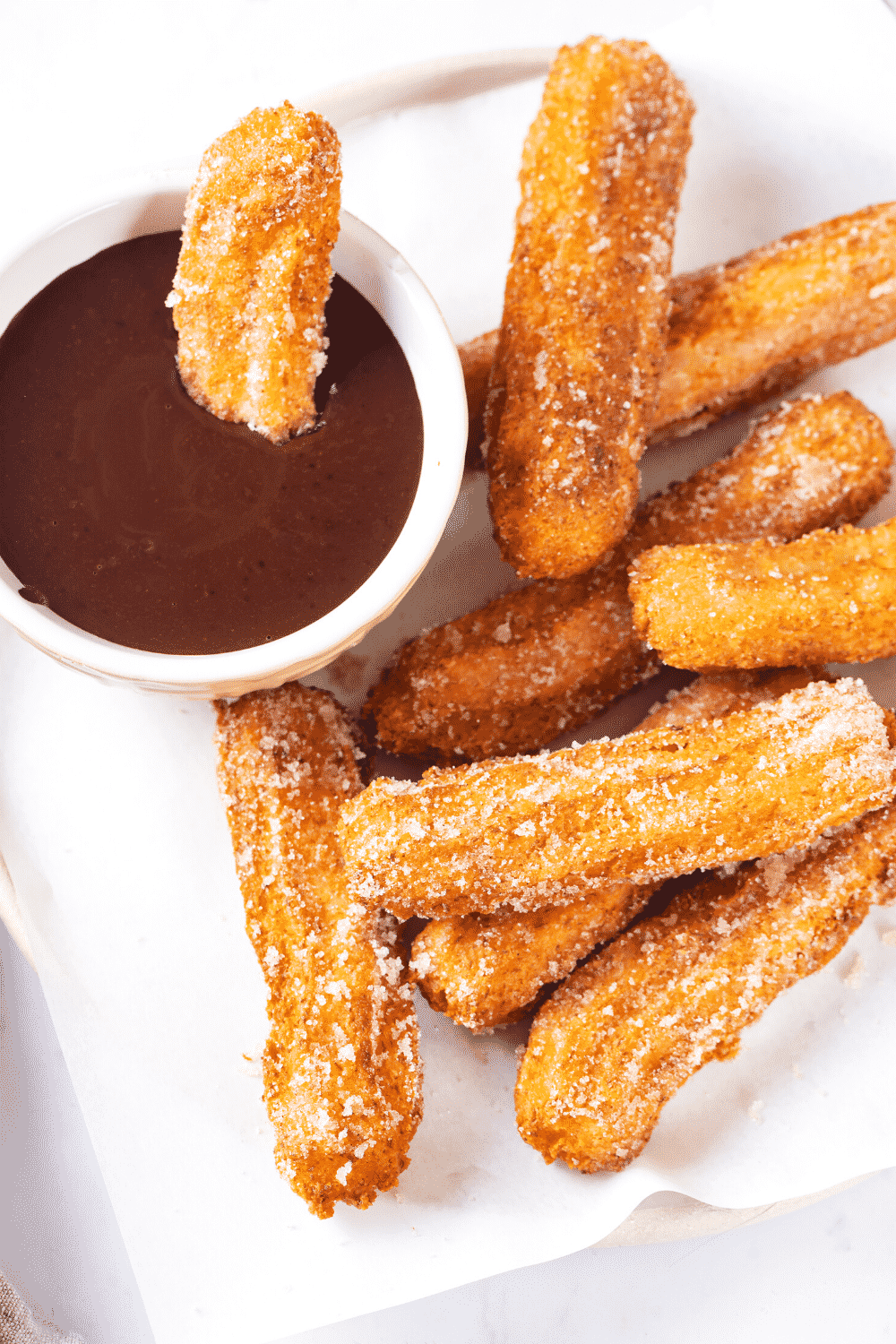 NUTRITIONAL INFORMATION
With all of the reasons to love this recipe, the top one might be that each serving has only 2.5 NET CARBS.
So you could eat all 4 servings for only 10 NET CARBS total! How awesome is that?
As far as the rest of the macros go, each serving has:
325.5 Calories

30.25g Fat

7.5g Carbs

5g Fiber

2.5g NET CARBS

7.75g Protein
High fat, low carb, and moderate protein - now that's one ideal keto dessert.
These keto churros are so delicious that you have to share them with your family and friends. Everyone will love them, and I guarantee they won't believe that they're low carb and sugar-free!
Anyways, I hope you like this keto churros recipe as much as I do. After you make it, leave a comment and let me know what you think - I'd love to hear from you!
MORE CINNAMON KETO DESSERTS
If you're a cinnamon fan, I have a few more desserts that are filled with cinnamony goodness.
If you liked these churros, I think you'll like these:
Print
Keto Churros | Easy Keto Churros Recipe
These keto churros are perfectly crispy on the outside with a tender inside and an irresistible cinnamon sugar flavor. And each serving only has 2.5 NET CARBS! This keto churros recipe has quickly become one of my favorite keto desserts. 
Author:
Prep Time:

20 minutes

Cook Time:

10 minutes

Total Time:

30 minutes

Yield:

4 servings

Category:

Dessert

Method:

Stovetop

Cuisine:

Keto Low Carb
Instructions
Mix dry ingredients (psyllium husk, flours, granular swerve, guar gum) in a large bowl.

Add butter and water to a saucepan and bring to boil over medium heat.

Remove from heat and add the mixed dry ingredients to the saucepan. Stir quickly to make a smooth dough (I used a wooden spoon). Place back over the heat and cook for about 2 minutes, stirring constantly.

Set aside for 10 minutes to cool down a bit.

Once cooled add 1 egg and vanilla extract. Mix until completely incorporated and smooth (you can use a hand mixer or spoon, the spoon will just take more time).

Fill the pot you will use for frying with oil, about 2 inches deep. Heat the oil on medium heat for about 4 minutes.

Transfer dough to a piping bag with a rounded star tip. Pipe mixture into preheated oil, about 5-inch long, cut end with a knife.

Fry for about 2 minutes on each side until golden brown.

Remove churros with a slotted spoon to a paper towel-lined plate to absorb some oil.

Combine the granular swerve and cinnamon sugar in a bowl, then pour the mixture on to a plate.

Roll the warm churros in the cinnamon-sugar coating. Serve warm and enjoy!
Notes
The scale up function does not change the gram measurements.
Nutrition
Serving Size:

1 serving

Calories:

325.5

Fat:

30.25

Carbohydrates:

7.5

Fiber:

5

Protein:

7.75
Keywords: keto churros, keto churros recipe, low carb churros, low carb churros recipe, grain free churros, gluten free churros recipe, keto churros easy, how to make keto churros, recipe for keto churros, best keto churros, keto churros coconut flour, low carb cinnamon churros, grain free churro strips, how to make keto churros, keto friendly churros, sugar free churros recipe, gluten free sugar free churros, easy keto churros, keto low carb churros, churros keto