Rich, creamy, and perfectly sweetened, this toasted almond keto ice cream is to die for! And you don't even need an ice cream machine to make it. Oh, and the best part is this homemade keto ice cream has only 1 NET CARB per serving!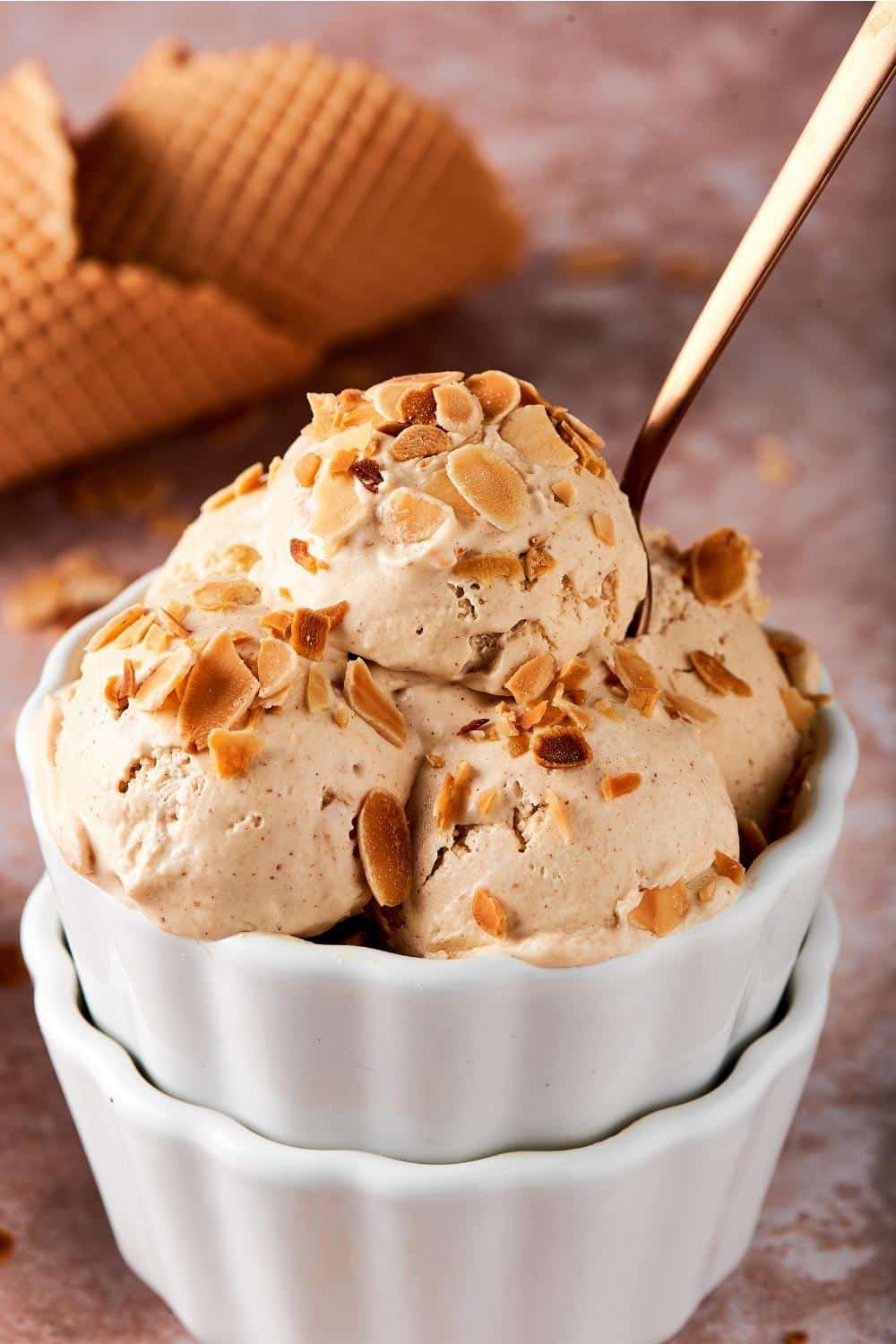 The Best Keto Ice Cream Recipe
Finding delicious ice cream you can eat on a keto diet can be a challenge, and making keto friendly ice cream at home can be even tougher since so many recipes call for using an ice cream machine.
So, if you've been craving easy no churn homemade keto ice cream that's sugar free, guilt-free, and actually tasty, you absolutely need to try this keto ice cream recipe.
It's velvety rich and scoopable ice cream with just the right amount of sweetness, and it tastes like a creamy cheesecake blended with toasted almonds. Honestly, it tastes like something you would get at a fancy ice cream shop!
Not to mention, it packs a ton of good fat for balancing out your macros. It's basically a keto fat bomb in ice cream form.
And again, this keto ice cream recipe is no-churn, so that means there's no ice cream machine needed. Just whip it up in the mixer, freeze overnight, and you'll have this delicious ice cream waiting for you the next day.
Oh, and did I mention you only need 7 ingredients to make this sugar free ice cream? There's basically nothing stopping you from making this keto ice cream ASAP.
By the way, I have a ton of other keto ice cream recipes you can try after this. This peanut butter ice cream, mint chocolate chip, and strawberry ice cream are some of my favorites. They also don't require an ice cream machine and are made in just a mason jar!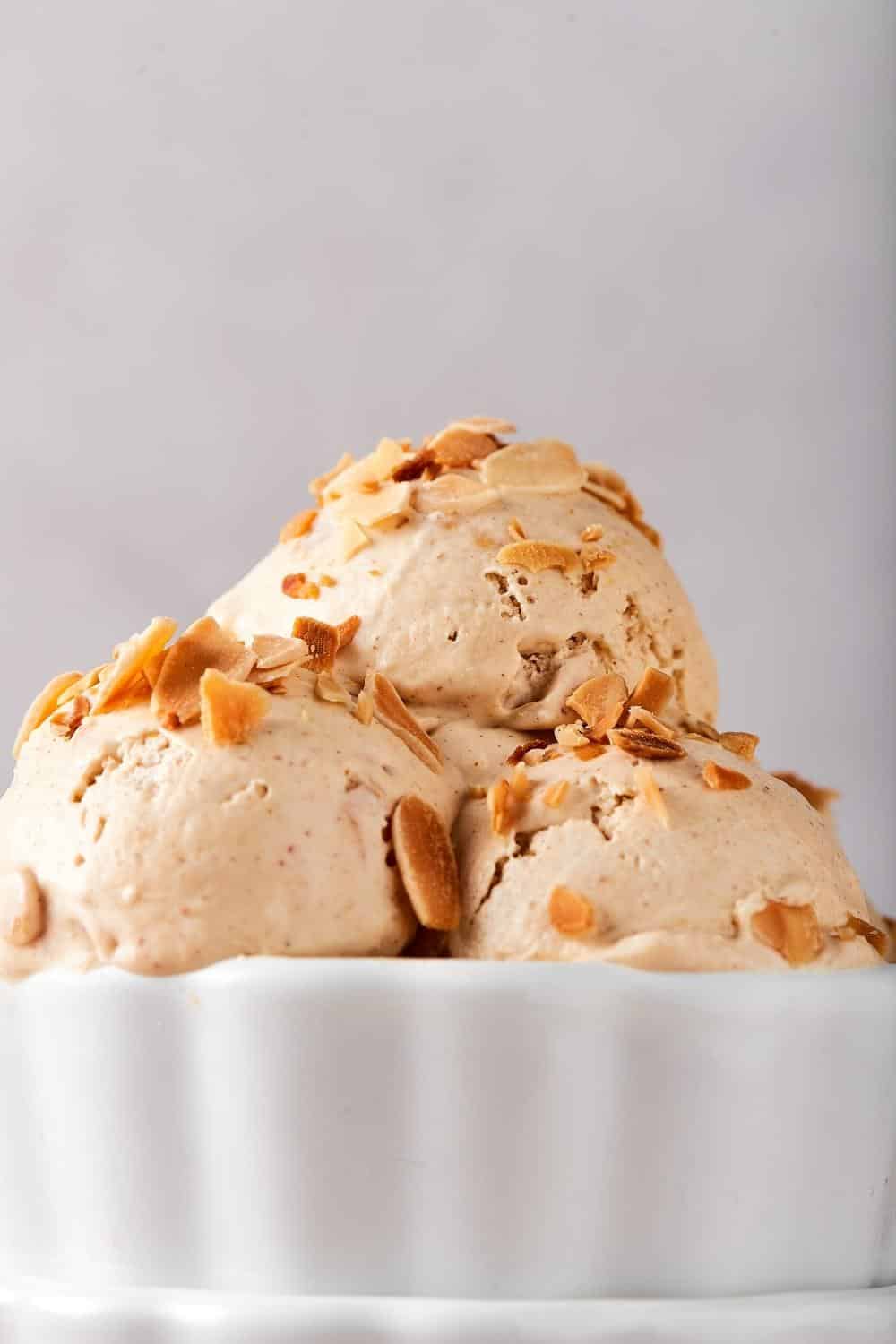 Ingredients
As I already mentioned, all you need to make this keto friendly ice cream are 7 ingredients.
And they're all common keto staples so you shouldn't have much trouble finding them online or at your local supermarket.
Now, here are the ingredients you'll need for the keto ice cream recipe:
1 cup coconut full fat milk

¾ cups heavy cream

About ¼ cup almond butter

3.5 oz. cream cheese

¼ cup erythritol

1 teaspoon Almond extract
Super simple stuff, right? All of these ingredients make regular vanilla ice cream with an elevated creaminess and delightful almond flavor.
Now, to make this a sugar free ice cream recipe, I used granulated erythritol as a sugar substitute. My go-to erythritol is Swerve, which has 0 carbs and 0 calories and tastes exactly like real sugar. You can also use an equal amount of Lakanto's monk fruit sweetener for the same results.
Also, make sure you're using sugar free natural almond butter for this recipe. Other almond butters can be high in sugar, so you'll want to check the nutrition label.
And speaking of almonds, this keto ice cream actually uses a lot of the same ingredients as my keto almond cake, so I highly recommend checking that out next! It even goes incredibly well with a scoop of this yummy ice cream on top.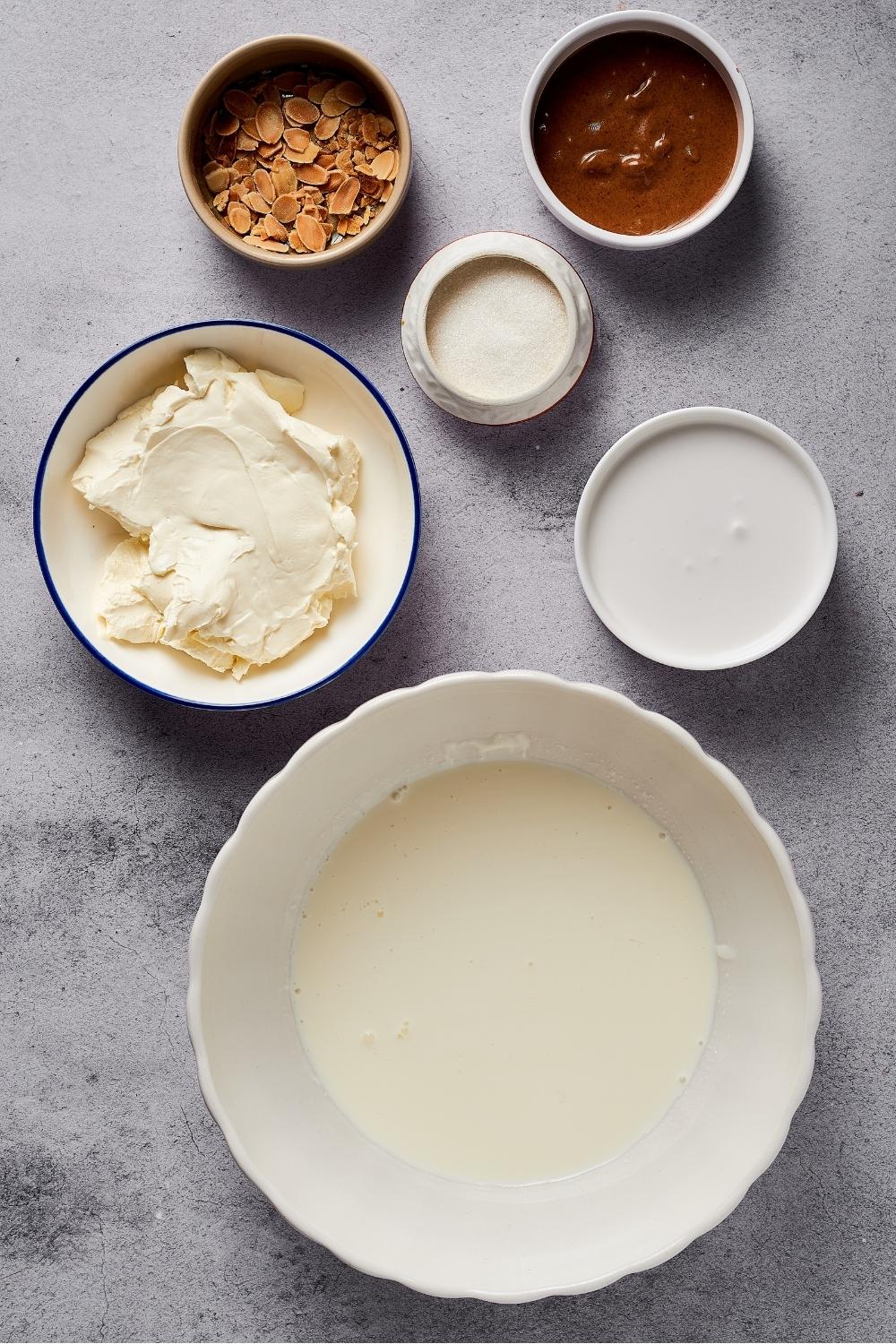 Flavor Variations for This Keto Ice Cream Recipe
Ok, so this keto ice cream recipe is toasted almond flavored, and it gets that flavor from the almond extract and almond butter.
And once you've made this keto ice cream base the first time, there's nothing stopping you from switching it up with other flavors.
Grocery stores these days carry a huge variety of nut and seed butter like classic peanut butter, cashew butter, and sunflower seed butter.
So you can swap the almond butter here for an equal amount of one of those kinds of nut butter, and then replace the almond extract with vanilla extract.
You'll have a whole new keto ice cream flavor without needing to use a different recipe for the ice cream base!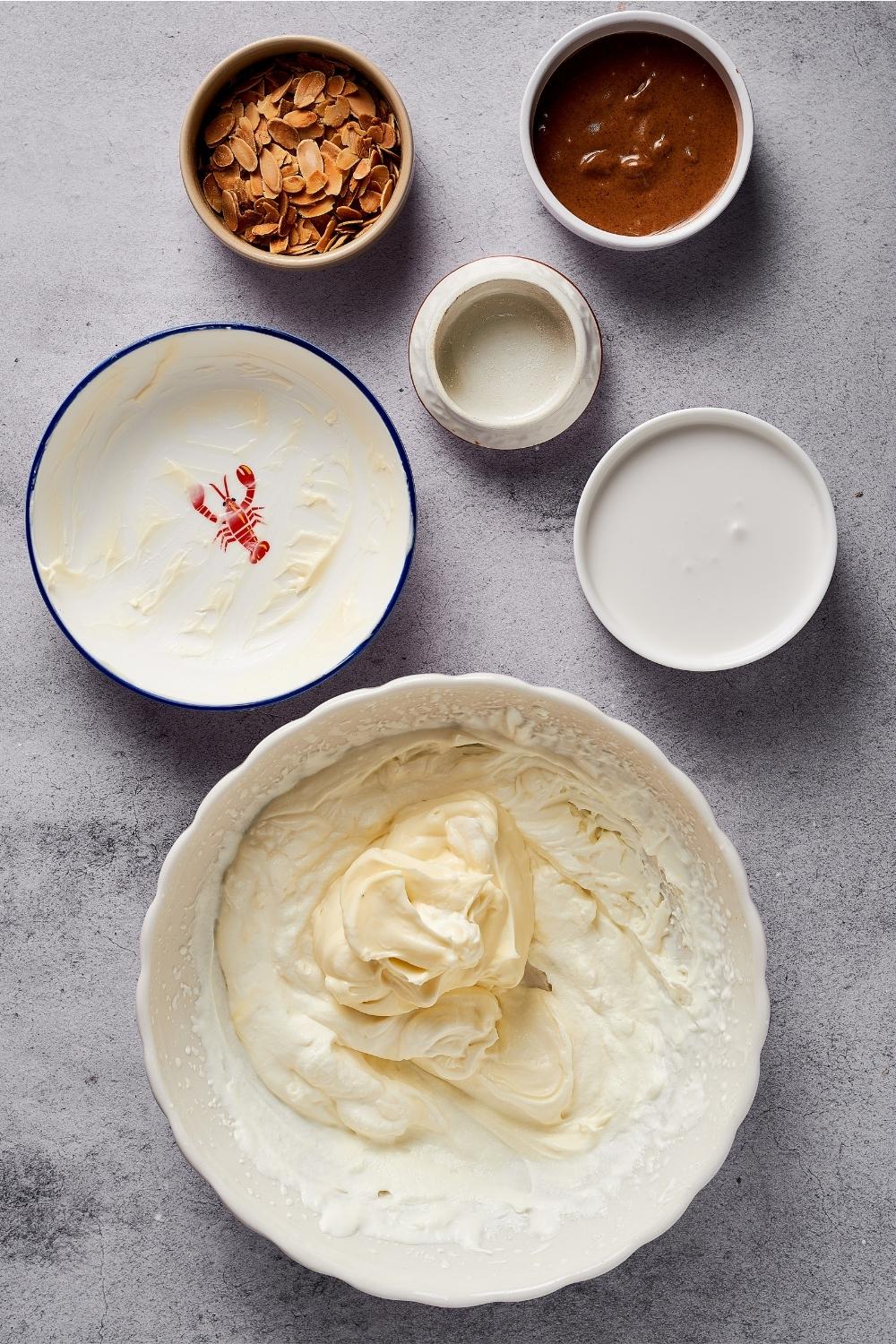 How to Make Keto Ice Cream
Now, this keto ice cream recipe really couldn't be simpler. And as you know by now, this is a no-churn recipe that doesn't require an ice cream machine, so all you need to do is mix it and set it in the freezer.
Keep in mind though that this keto ice cream has to be set overnight, so you'll want to make it a day before you plan to dig in.
With all that said, grab your ingredients and let's make keto ice cream!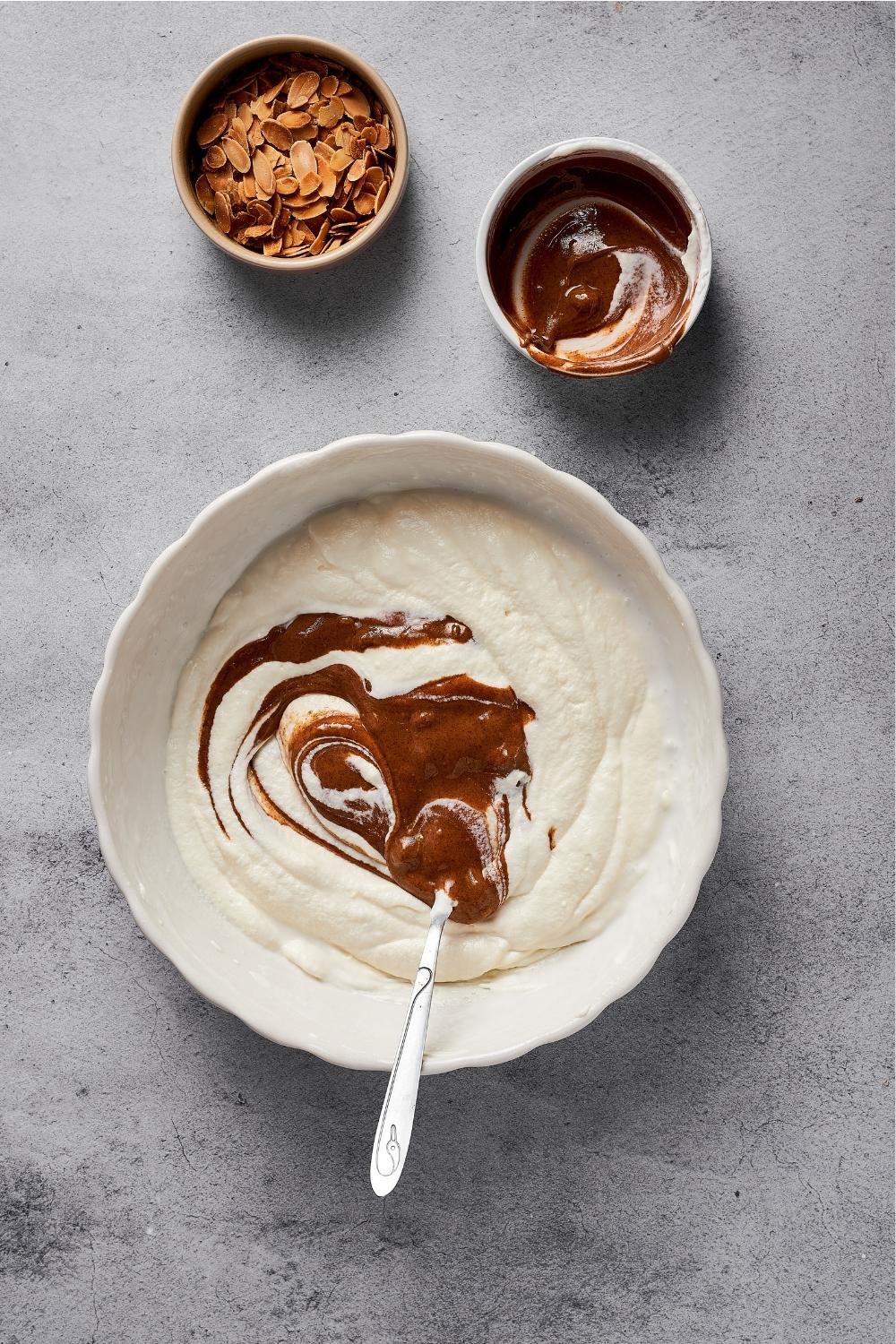 Step 1: Combine the Ingredients
First, pour the heavy cream into a mixing bowl and whisk it with a hand mixer or stand mixer until you get stiff peaks.
Then, in a separate bowl, whisk the cream cheese and eryhthritol together until well-combined. Be careful not to overwork the cream cheese as it might start to melt and dissolve the sugar.
Next, add the cream cheese and erythritol mixture to the whipped heavy cream.
To that, fold in the coconut milk followed by the almond butter and almond extract. Gently mix everything together until your ice cream is just combined.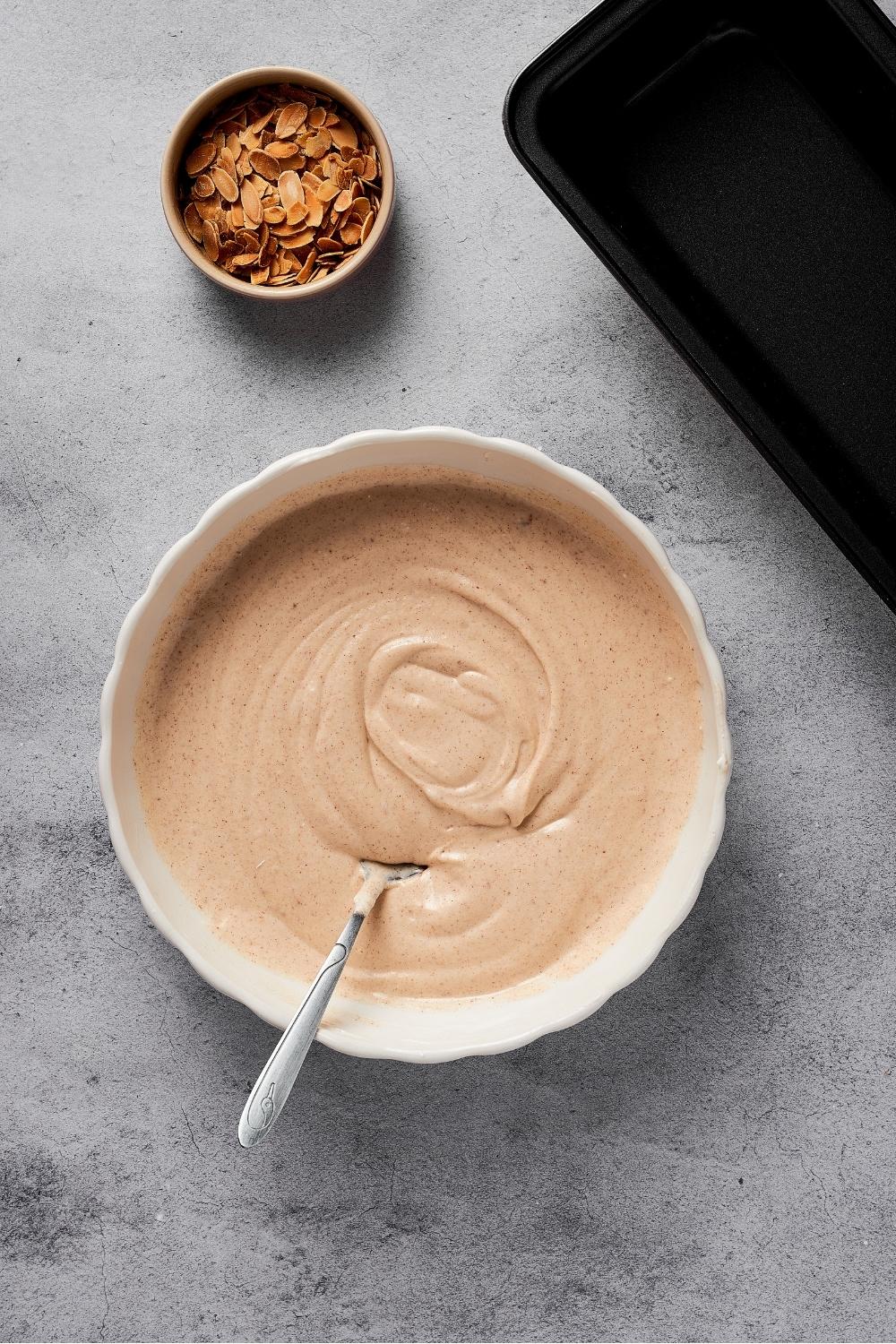 Step 2: Set the Ice Cream
And now all that's left to do is freeze the ice cream!
To do that, pour your keto ice cream into a mold and sprinkle the top with the toasted almonds.
You can use any silicone ice cream mold, but empty ice cream containers or loaf pans also work great.
Now let your keto ice cream set for at least 12 hours, then portion with an ice cream scoop and serve with your favorite toppings - I like drizzling on this homemade keto caramel sauce on top. Enjoy!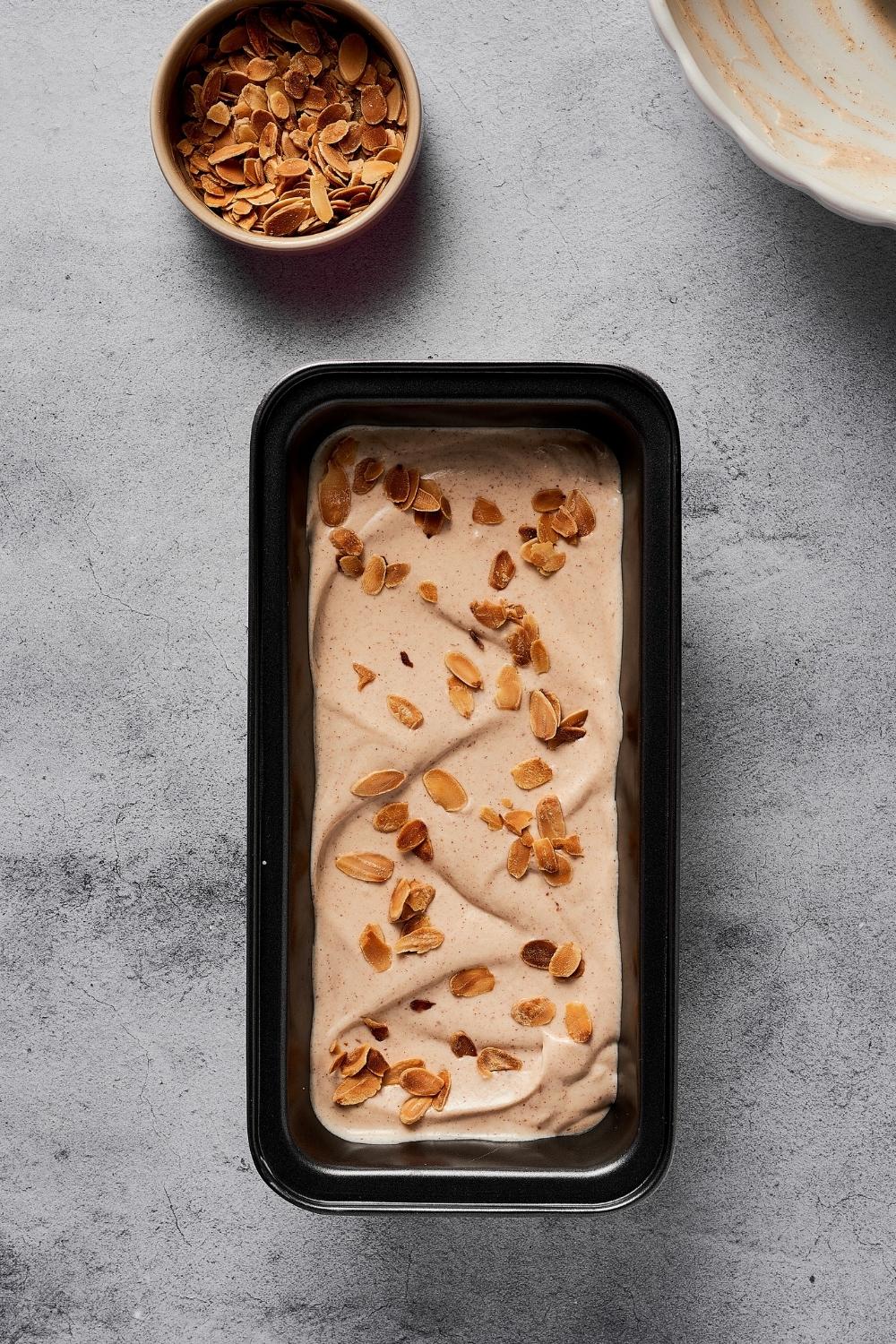 Storing Your Keto Ice Cream
So, this keto ice cream recipe will make about 6 servings, so you should have plenty to enjoy throughout the week. And storing this homemade keto ice cream is just like storing any regular ice cream.
You can store your toasted almond ice cream in an airtight container in the freezer for up to 6 months.
Although, I doubt it'll last that long! It's always gone in a couple of days (or hours) in the Duff household. If you want to have enough on hand for a few weeks, I highly recommend doubling, tripling, or even quadrupling the recipe.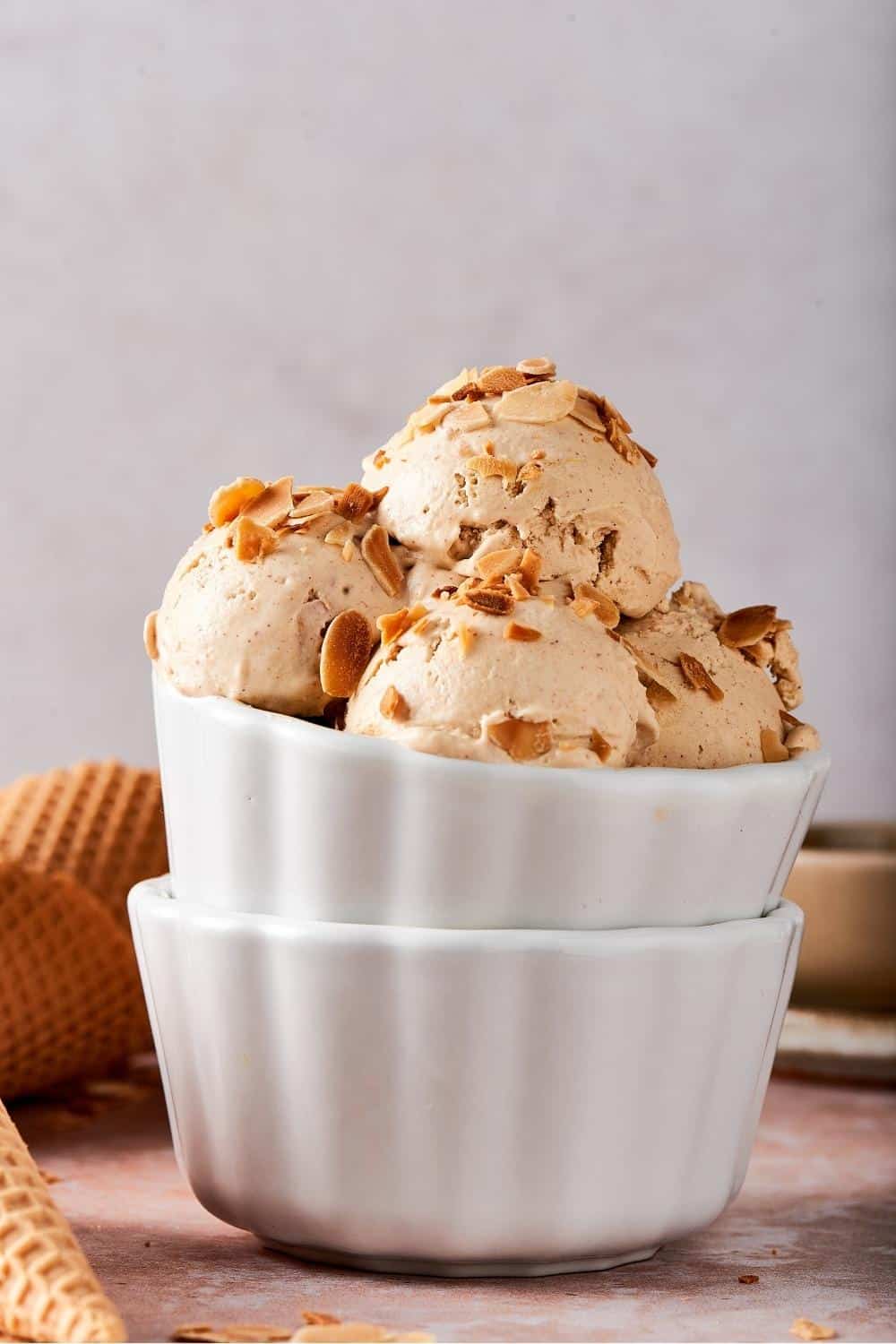 Wrapping It Up
And that's how to make keto ice cream with only 1 NET CARB per serving!
Honestly, this recipe couldn't get any easier. All you need is a little mixing and some wait time for ice cream parlor quality toasted almond ice cream that's decadent, keto friendly, and sugar free all at once!
Plus, it's so good that no one can tell - or care - that it's keto. It's just really good homemade ice cream.
So, I hope you enjoy this keto ice cream recipe as much as my family and I do! If you make it, be sure to let me know how it went in the comments below.
And for more recipes, check out my Youtube channel and Instagram page.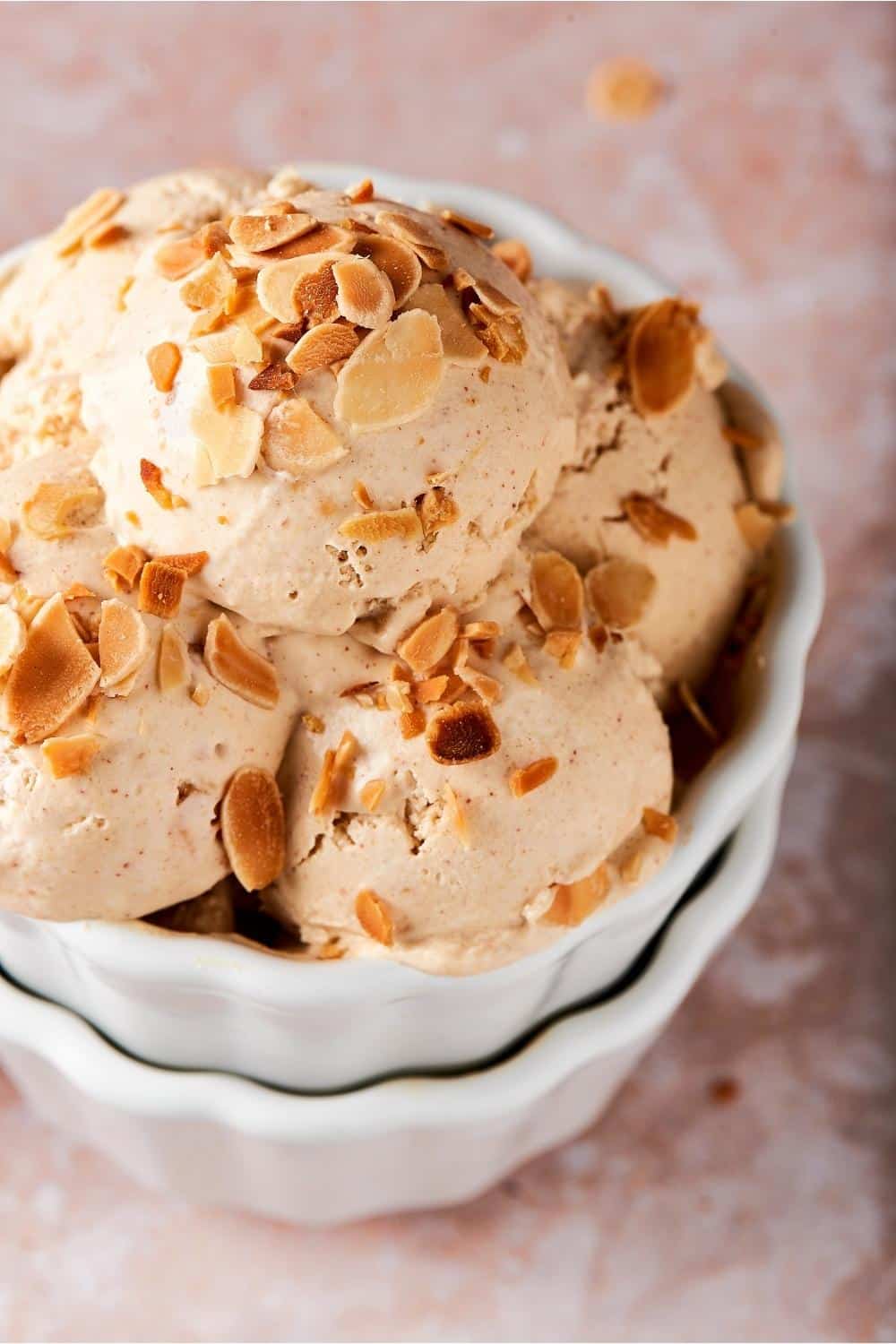 More Keto Ice Cream Recipes
As I mentioned earlier, I have a ton of keto ice cream flavors you can try next. Don't forget to save these for when your next craving hits!
Print
Keto Ice Cream Recipe | No Ice Cream Machine Needed
Rich, creamy, and perfectly sweetened, this toasted almond keto ice cream is to die for! And you don't even need an ice cream machine to make it. But the best part is this homemade keto ice cream has only 1 NET CARB per serving!
Author:
Prep Time:

5 minutes

Cook Time:

0 minutes

Total Time:

5 minutes

Yield:

6

servings

1

x
Category:

Dessert

Method:

Mixing

Cuisine:

Keto Low carb
Instructions
Whisk heavy cream in a mixing bowl.

Separately whisk the cream cheese with the sugar, then add it in a a mixing bowl with heavy cream.

Combine, then add coconut milk. Finally add the almond butter.

Pour into a mold, sprinkle with toasted almonds and leave in the freezer overnight. 
Nutrition
Serving Size:

1 serving

Calories:

225

Fat:

22

Carbohydrates:

2.8

Fiber:

1.6

Protein:

2.6
Keywords: Keto ice cream recipe, Keto ice cream, Almond ice cream, Toasted almond ice cream, Low carb ice cream, low carb ice cream recipe, Keto friendly ice cream, keto friendly ice cream recipe, Best keto ice cream, best keto ice cream recipe, no sugar ice cream, Sugar free ice cream recipe, sugar free ice cream, keto low carb ice cream, how to make keto ice cream, ice cream keto, coconut milk ice cream, coconut milk ice cream recipe, how to make low carb ice cream, no churn ice cream