These almond flour pancakes are perfectly soft and fluffy with a delicious flavor. They are so easy to make, and these delicious pancakes have just over 1 net carb! But you'd never know it since these pancakes with almond flour taste just like traditional pancakes.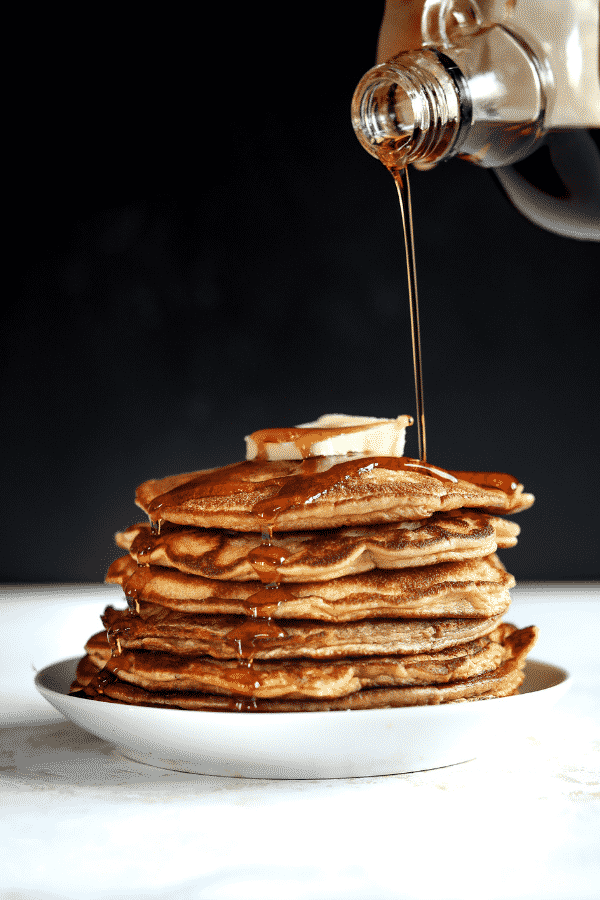 The Best Almond Flour Pancakes
Pancakes are probably my favorite breakfast food. I mean, I'm even the kind of person who eats pancakes for dinner. And that's just not a once in a while kind of thing, that's like, a-lot-of-the-time kind of thing.
But unfortunately, regular pancakes are typically high in carbs and filled with other unnecessary ingredients. So I had to create this almond flour pancakes recipe!
And I know I'm biased, but I think these are the best almond flour pancakes ever created. They're straight fire. These easy almond flour pancakes are wonderfully soft and fluffy, with a slightly crisp surface and delicious flavor.
Typically almond flour pancakes are dry, but these fluffy almond flour pancakes are soft, moist, and just so good.
But the best part is this is a gluten free recipe that is also super low carb and keto friendly. And when I say super low carb, I mean just over 1 NET CARB per pancake!
Now, since I love pancakes so much, I have a bunch of pancake recipes on the blog like these keto pancakes, banana pancakes, and cream cheese pancakes. So you'll want to check out those next!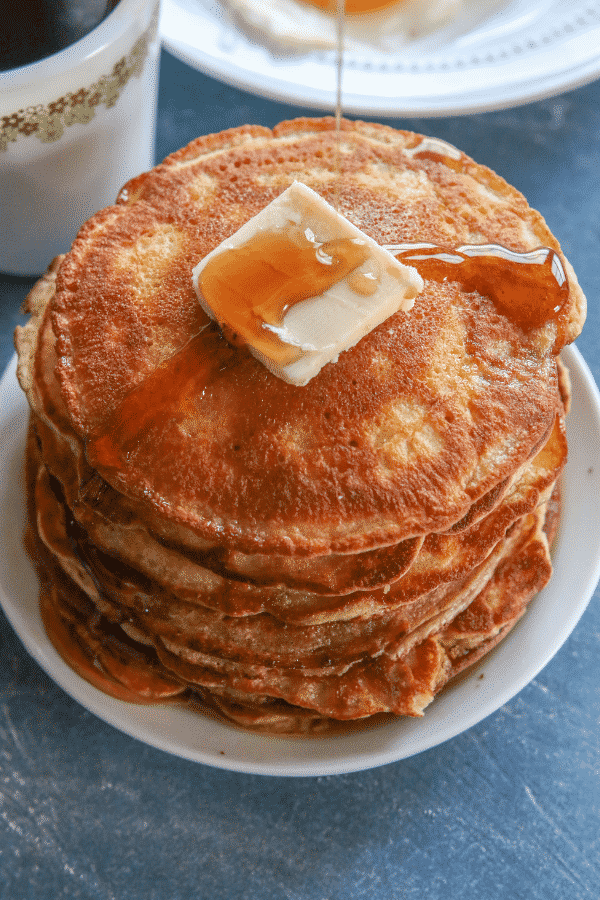 Ingredients
Another thing I love about this almond flour pancake recipe is it uses super simple ingredients to make the almond flour pancake batter.
It even uses some ingredients that are in typical pancake batter!
Check out everything you'll need:
⅔ Cup Blanched Almond Flour
1 Tsp Baking Powder
½ Tsp Cinnamon
½ tablespoon Confectioners Erythritol
4 Tbsps Full-Fat Sour Cream
1 Tsp Vanilla Extract
1 Tbsps Sugar Free Maple Syrup
2 Eggs
See, pretty simple. And you can use many of these same ingredients to make my low carb waffles, so you'll want to check those out next!
Now, I love topping my almond flour pancakes with a slab of butter and some pure maple syrup. And to keep this recipe low carb and sugar free, I highly suggest making my 0 carb maple syrup recipe.
But you could also add sugar free chocolate chips to the pancake batter, or top these almond flour pancakes with fresh fruit for a healthy start to your day! Or you can put almond butter on top for the ultimate almond pancakes.
How to make Almond flour pancakes
Now, as I mentioned, these almond flour pancakes are super easy to make!
Seriously, even if you've never made pancakes before, you'll find them to be simple.
So let's not waste any more time and make this almond flour pancake recipe!
Step 1: Making The Pancake Batter
To make the pancake batter, add the eggs, sour cream, maple syrup, and vanilla extract to a bowl or blender.
Then add the almond flour, baking powder, cinnamon, and confectioners erythritol.
Now blend or mix the ingredients for a minute or so until everything combines. To make fluffier and thicker pancakes, you'll want to blend the ingredients in a blender until you have a smooth batter consistency.
Step 2: Cooking The Pancakes
Now that you have a pancake batter, heat a non-stick skillet over medium-low heat and coat the surface with baking spray.
Then pour about ¼ cup of pancake batter to the skillet and cook for a few minutes until bubbles start to form on the top.
Once they do, flip the pancake and cook on the other side for about 1-2 minutes or until the almond flour pancakes darken.
Cook about 4 more pancakes with the remaining batter the same as above, and when they're all done, top with maple syrup or whatever you want, and enjoy!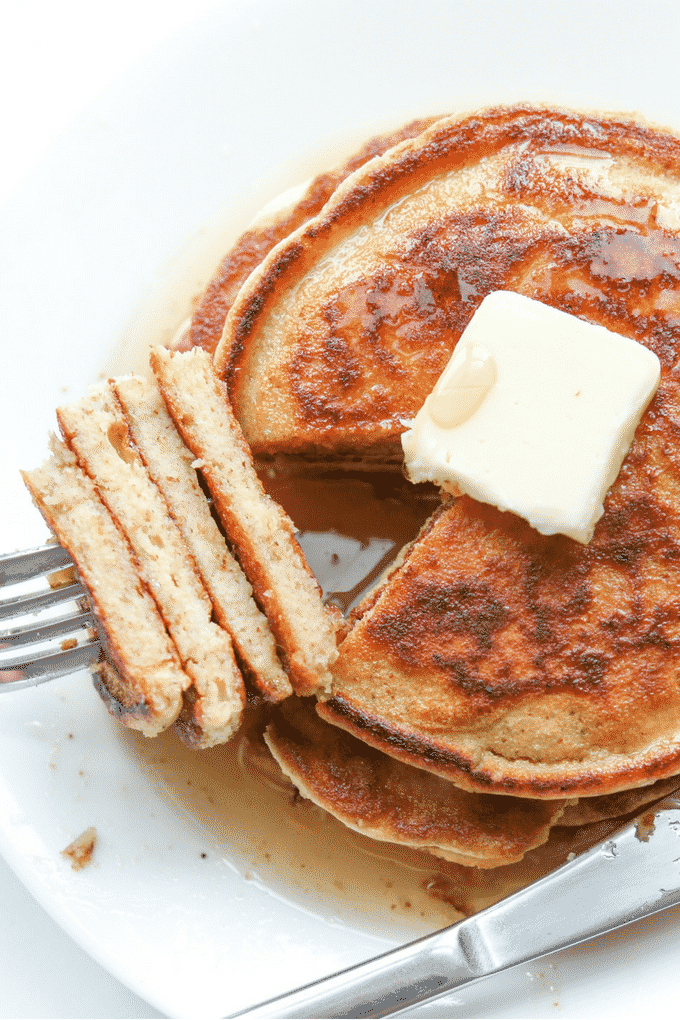 How To Store Pancakes
So, as I just mentioned, this recipe will make 4 pancakes. And if you have any leftover, they're actually really tasty the next few days.
You can either wrap the pancakes in plastic wrap or aluminum foil and store in the fridge for about a week.
And if you want, you can transfer the leftover pancakes to a freezer-safe bag or airtight container and freeze them for about 3 months.
Then to reheat, either place in the microwave for a few seconds until warm or in the toaster oven.
Wrapping It All Up
That is how to make almond flour pancakes!
This is one of the most delicious recipes you can make for a healthy breakfast that is low carb and gluten free.
If you like it, leave a comment below and let me know what you think! And for more recipes, make sure to check out my Youtube channel.
More Almond Flour Recipes
If you want to give some more almond flour recipes like this one a try, I have a ton on the blog that I think you'll like!
Give one of these a try next:
Print
Almond Flour Pancakes | Keto, Low Carb, & Gluten Free
Almond Flour Keto Pancakes! These pancakes are THE BEST - they're fluffy, they're easy to make, and they have just 1.5g NET CARBS each! This low carb pancake recipe doesn't taste low carb one bit, and they make the perfect keto breakfast!
Author:
Prep Time:

5 min

Cook Time:

5min

Total Time:

10 minutes

Yield:

4 Pancakes

Category:

Breakfast
Instructions
Add all the ingredient to your blender (start with the liquid ingredients).
Blend your pancakes for several minutes - this will help whip the eggs up and help make your pancakes more fluffy.
Heat a non-stick skillet at medium-low heat, coat it with baking spray, and add your pancake batter.
*NOTE: It's up to you how large you make your pancakes, but this recipe will make 4 "normal" sized pancakes.
Once bubbles start to form on the top of the batter flip the pancake, and cook the other side for 1-2 minutes.
Notes
*NOTE: The macros do NOT include erythritol. Erythritol is a 0 carb sugar substitute that has 0 CALORIES, and thus SHOULD NOT be tracked as carbs.
Nutrition
Serving Size:

1 Pancake

Calories:

175

Fat:

14.5

Carbohydrates:

3.5

Fiber:

2

Protein:

6
Keywords: Keto Pancakes, low carb pancakes, almond flour pancakes, Keto almond flour pancakes, pancakes for keto, pancakes keto, how to make keto pancakes, how to make low carb pancakes