These keto magic cookies are one of the best keto cookie recipes you can make! They are chocolatey, chewy, and nutty, and they have the perfect amount of crunch too. And even better than that is the fact that each one of these keto magic cookies has just 1.5g NET CARBS!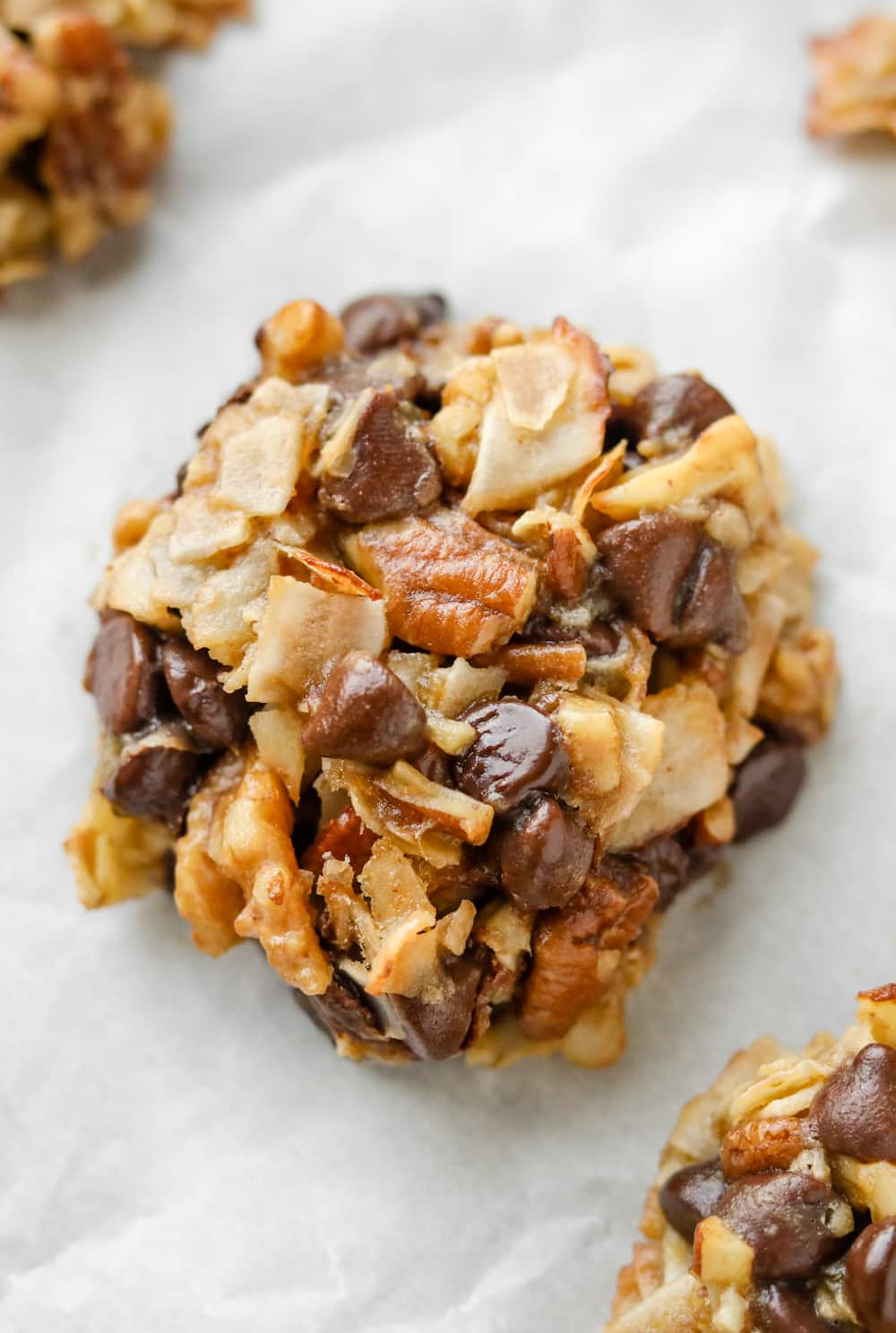 The Best Keto Magic Cookies
If you haven't heard about magic cookies before, then you're in for a treat!
They go by several names like seven layer bars or Hello Dolly Bars.
They're essentially a combination of several different delicious ingredients that are layered together and baked until golden brown.
The result is a sweet and insanely flavorful cookie that is guaranteed to turn out perfect.
Seriously, these low carb cookies are so EASY to make and are highly addicting.
And if you're anything like me, and LOVE chocolate, these cookies will be right up your alley.
When these magic cookies bake, the chocolate melts between the rest of the ingredients, giving you an ooey-gooey, chocolatey, and perfectly sweetened cookie.
Oh, and did I mention that each one of them has JUST 1.5g NET CARBS?!
And, aside from chilling, it takes only 20 minutes from start to finish to make these keto cookies!
Also, these keto magic cookies are pretty much a cross between an energy bar and a cookie, making for an ideal on-the-go snack, delicious keto dessert, or even a quick breakfast.
By now, I know you're dying to make these cookies, so let's dive into the ingredients and see what makes the magic happen.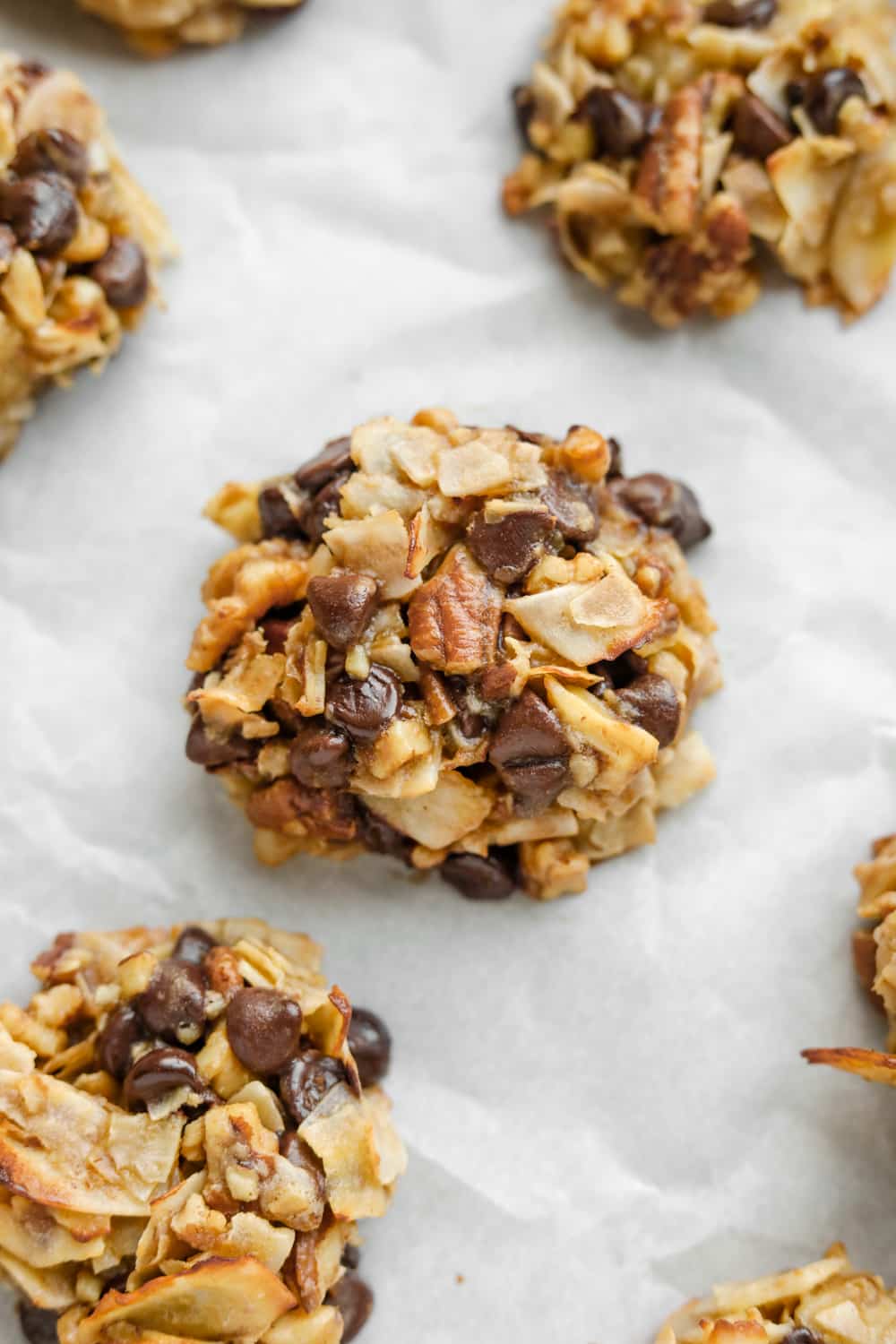 Keto Magic Cookies Ingredients
The "magic" in these cookies is all about the ingredients.
Everything in these cookies blends together so well and gives you a flavor like you've never tasted before.
I'm talking sweet, salty, and buttery!
Ok, I've said enough, here's what you'll need to make these cookies:
Pretty common keto pantry/fridge ingredients, right?!
By the way, a lot of the same ingredients are used to make my sugar free macaroons recipe. So, if you've got some leftover ingredients, you might want to try and make those next!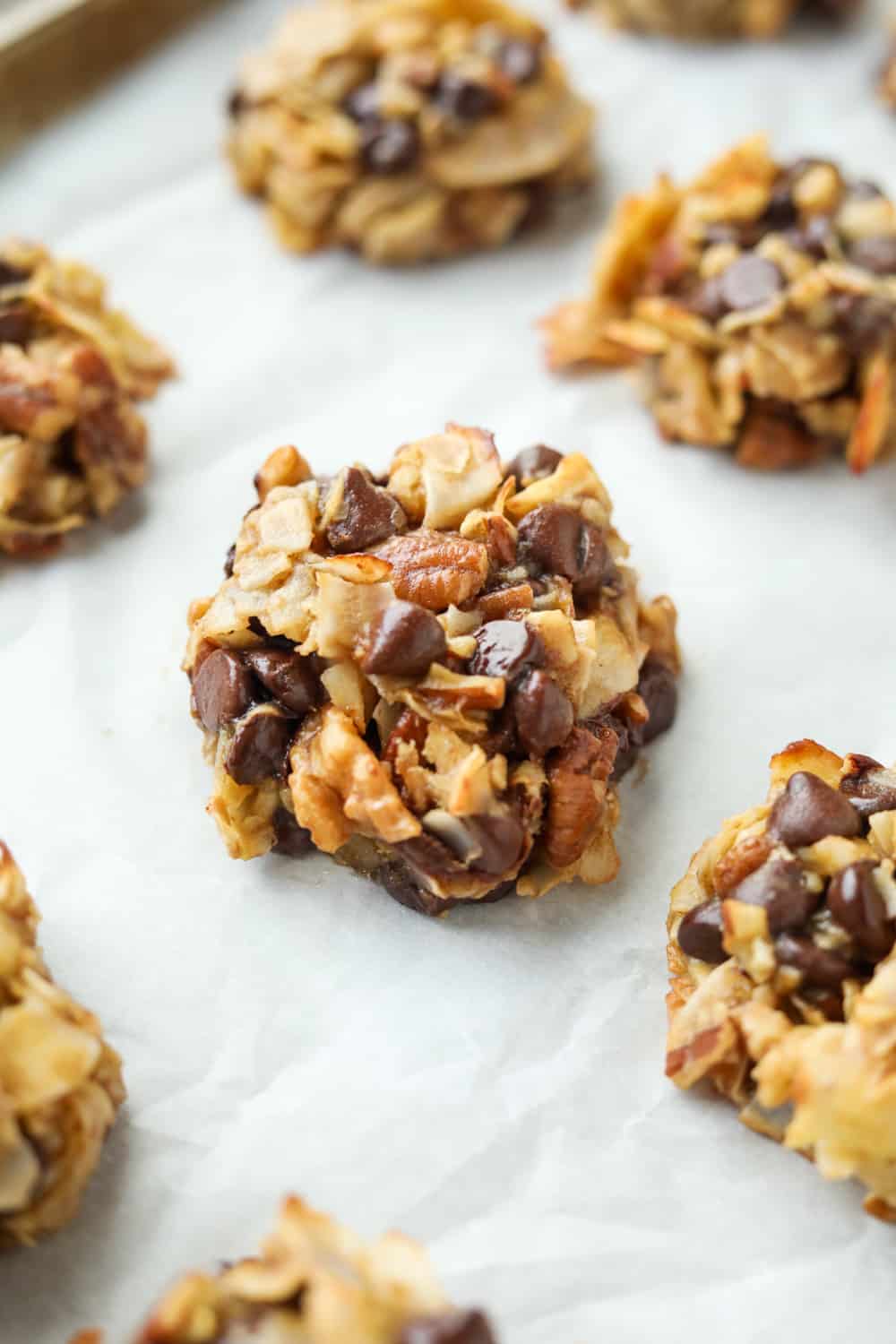 Side Note on Nuts
Pecans and walnuts are great for these cookies because they have the lowest carb count of any nut and are super high in fat too - making them PERFECT for Keto.
They also both have a smooth and buttery flavor, making these cookies even more delicious.
That said, although nuts are naturally high in fat, not every nut is good for keto. There are actually a few nuts that can bring your carb count up too high if eaten in high amounts and could possibly kick you out of ketosis.
So be careful if you're thinking about subbing those out.
And, if you want to know the best nuts to eat on keto - and which one's would be good substitutes for these cookies - check out this article I did on the 15 best keto nuts and seeds and the 3 worst for keto.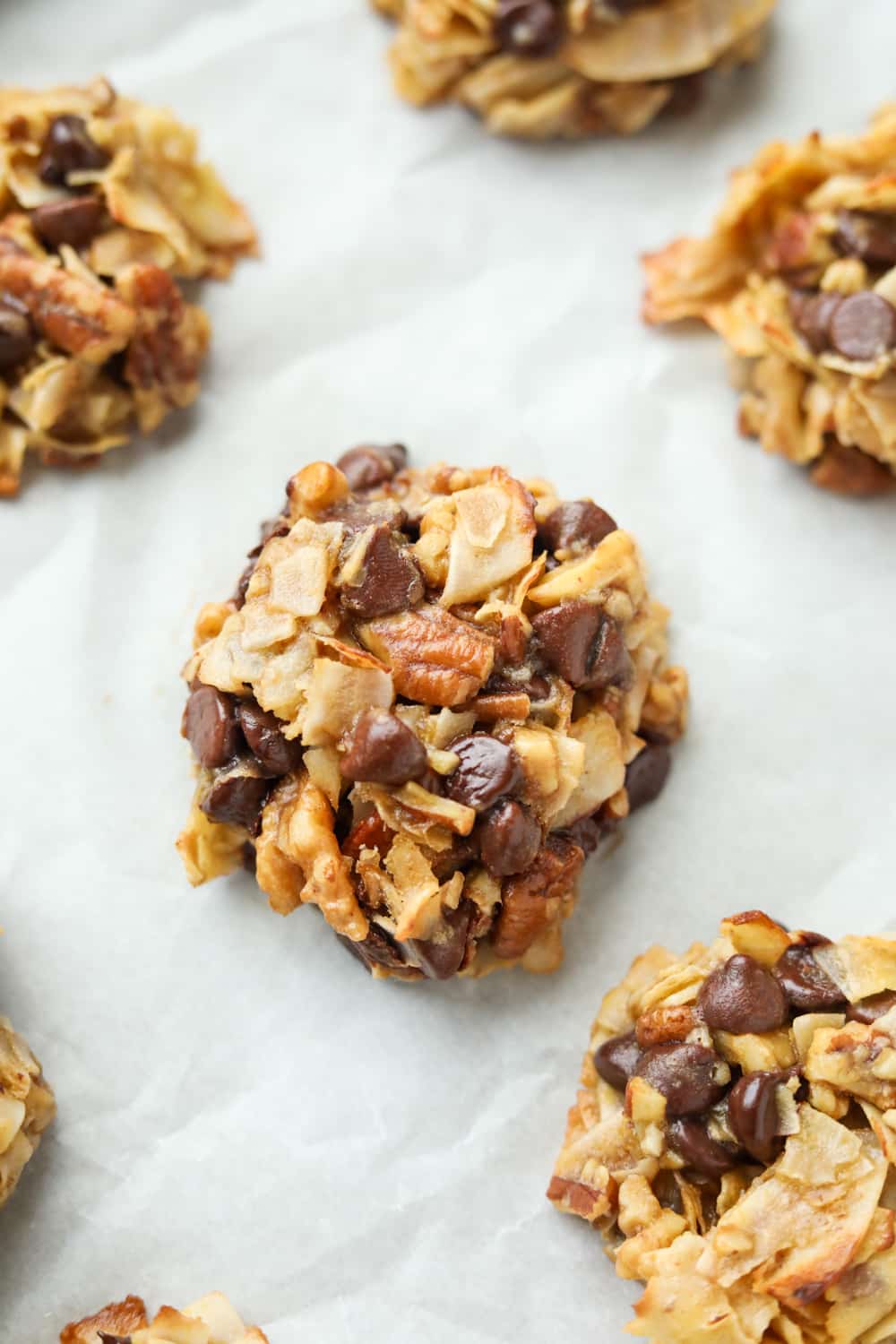 LOW CARB KETO CHOCOLATE CHIPS
Now, as I mentioned earlier, we will be using some keto-friendly chocolate chips to make our low carb magic cookies.
And if you've made one of my recipes before, then you know my go-to chocolate chips are these Semi-Sweetened Baking Chips from Lily's. But, today we'll also be using some salted caramel keto chocolate chips along with those semi-sweetened ones.
Using this combination of chocolate chips adds a little bit more variety in every bite, and the saltiness from the caramel mixes so well with the sweetness of the chocolate, that it just takes these keto cookies to the next level!
Oh, and these chocolate chips are perfect for so many other recipes like my 1 minute double chocolate chip keto cookies, keto mason jar mint chocolate chip ice cream, 59 calorie chocolate chip cookies, and this easy keto chocolate lava mug cake.
Having said that, if you can't find Lily's Chocolate Chips, ChocZero's Sugar-Free Keto Chocolate Chips work great as well.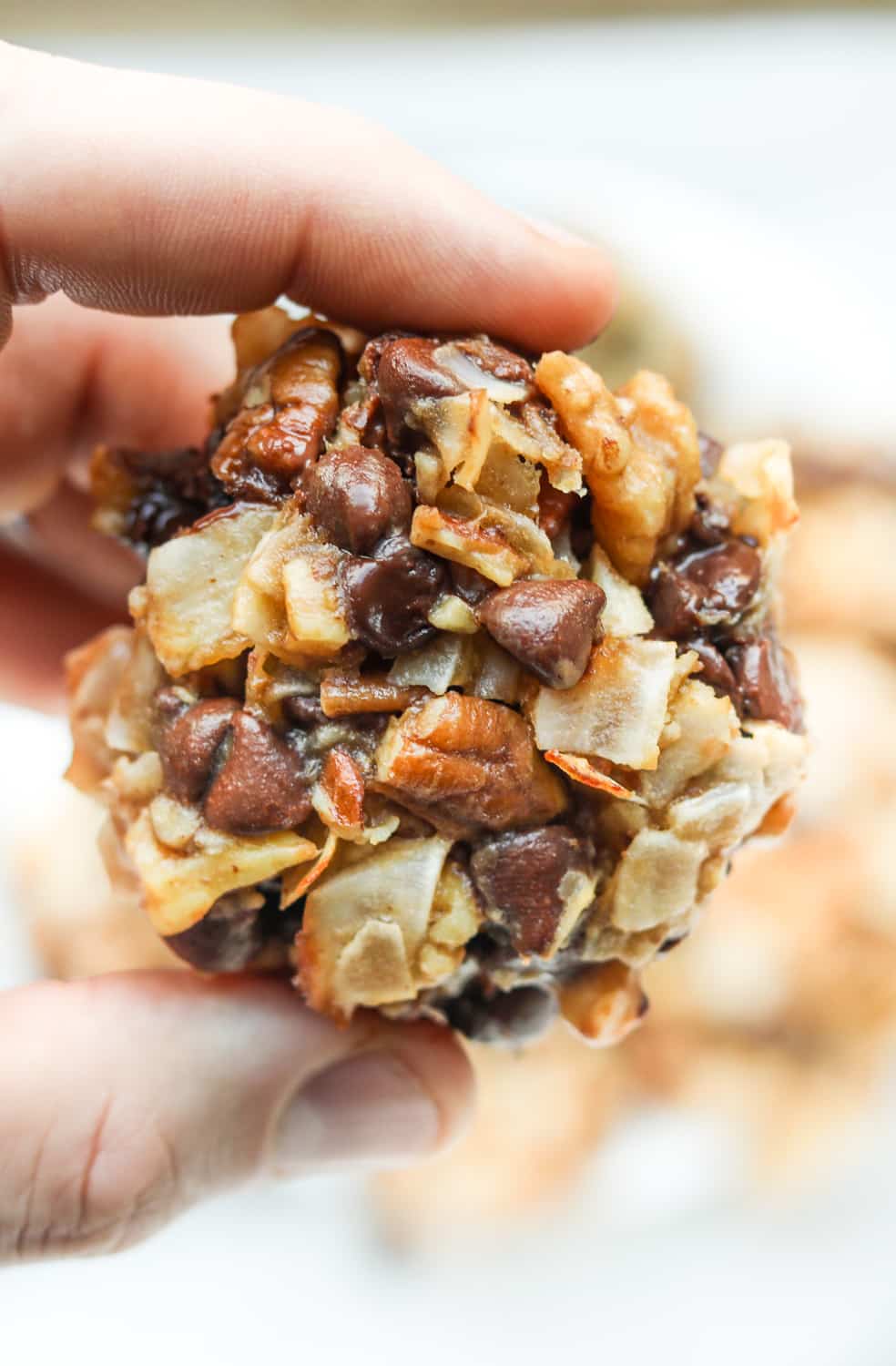 How To Sweeten Your Keto Magic Cookies
So, we'll be using Confectioners Swerve to add a little extra sweetness to these sugar-free cookies.
And I love Confectioners Swerve because it has 0 calories and 0 carbs while also having a 1:1 sweetness ratio compared to regular sugar.
But, if you don't have Confectioners Swerve, another great option is monk fruit sweetener. And, as far as monk fruit sweeteners go, I recommend using Lakanto's Confectioners. It's just as sweet as sugar and can be substituted on a one-on-one basis it.
Ok, now that we have everything we need, let's get baking and make some keto magic.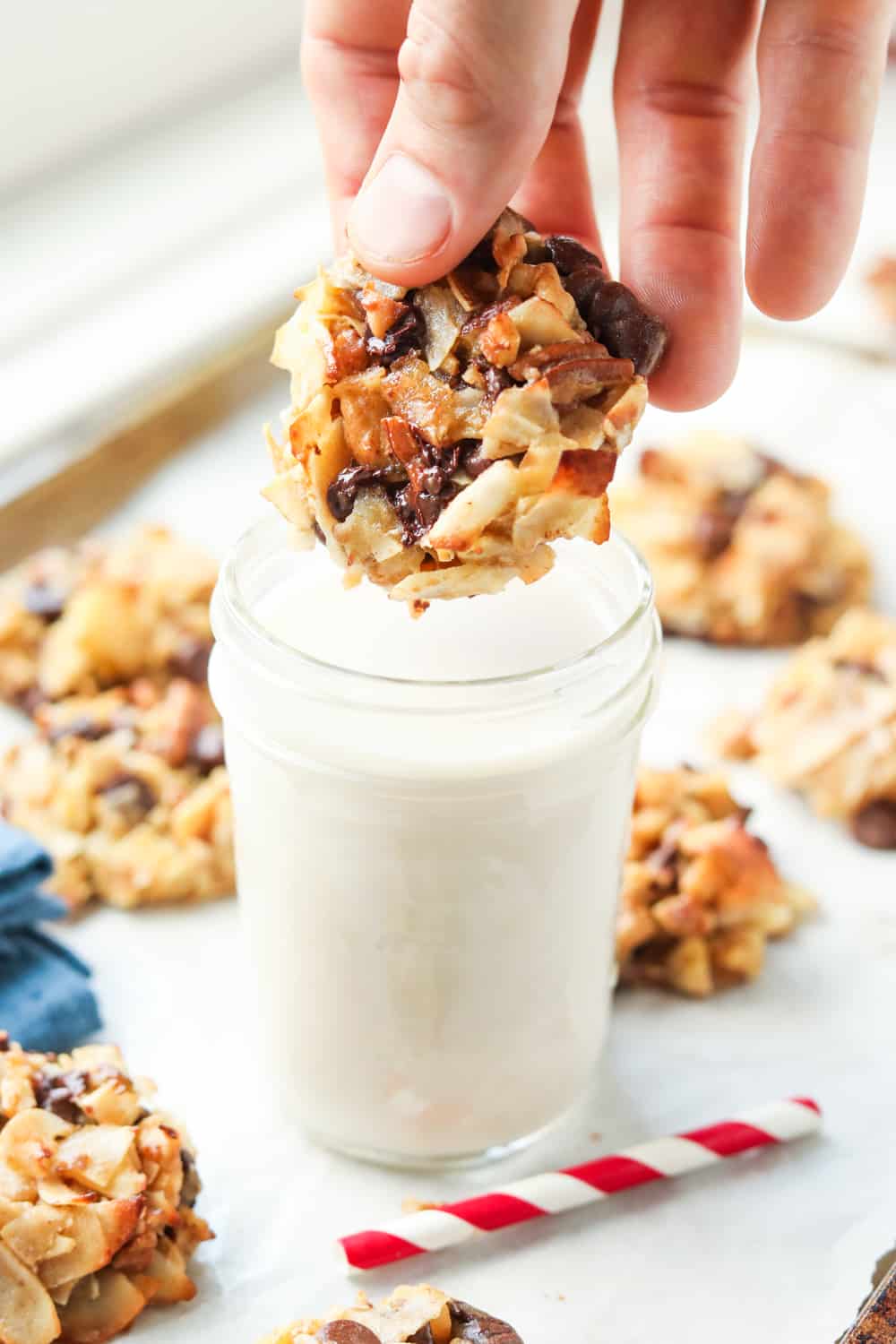 How to Make Keto Magic Cookies
As I mentioned before, these cookies are super easy to make!
And what's great about them is each bite has a different flavor and is a whole new experience.
Plus, making them takes just 20 minutes and yields 12 chewy, chocolatey, nutty flavor bombs!
Step 1: Start With the Wet Ingredients
So, the first thing you'll want to do is preheat your oven to 350 °F (176°C).
Then, you'll want to separately melt your butter and coconut oil in the microwave for about 15-30 seconds depending on your microwave wattage.
Lastly, in this step, you'll want to use a whisk to combine your egg yolks, coconut oil, and butter in a medium-sized bowl, and set it aside.
Step 2: Mixing It Up
Now, you'll want to start incorporating the dry ingredients.
So, in the same bowl, add the Confectioners Swerve, followed by the coconut flakes, pecans, walnuts, and chocolate chips.
Then, using a rubber spatula, gently combine all of the ingredients until everything is well incorporated.
Now, once that's taken care of, let the batter set in the fridge for about 30-45 minutes. This will allow the dough to stiffen up, making it easier to shape for baking.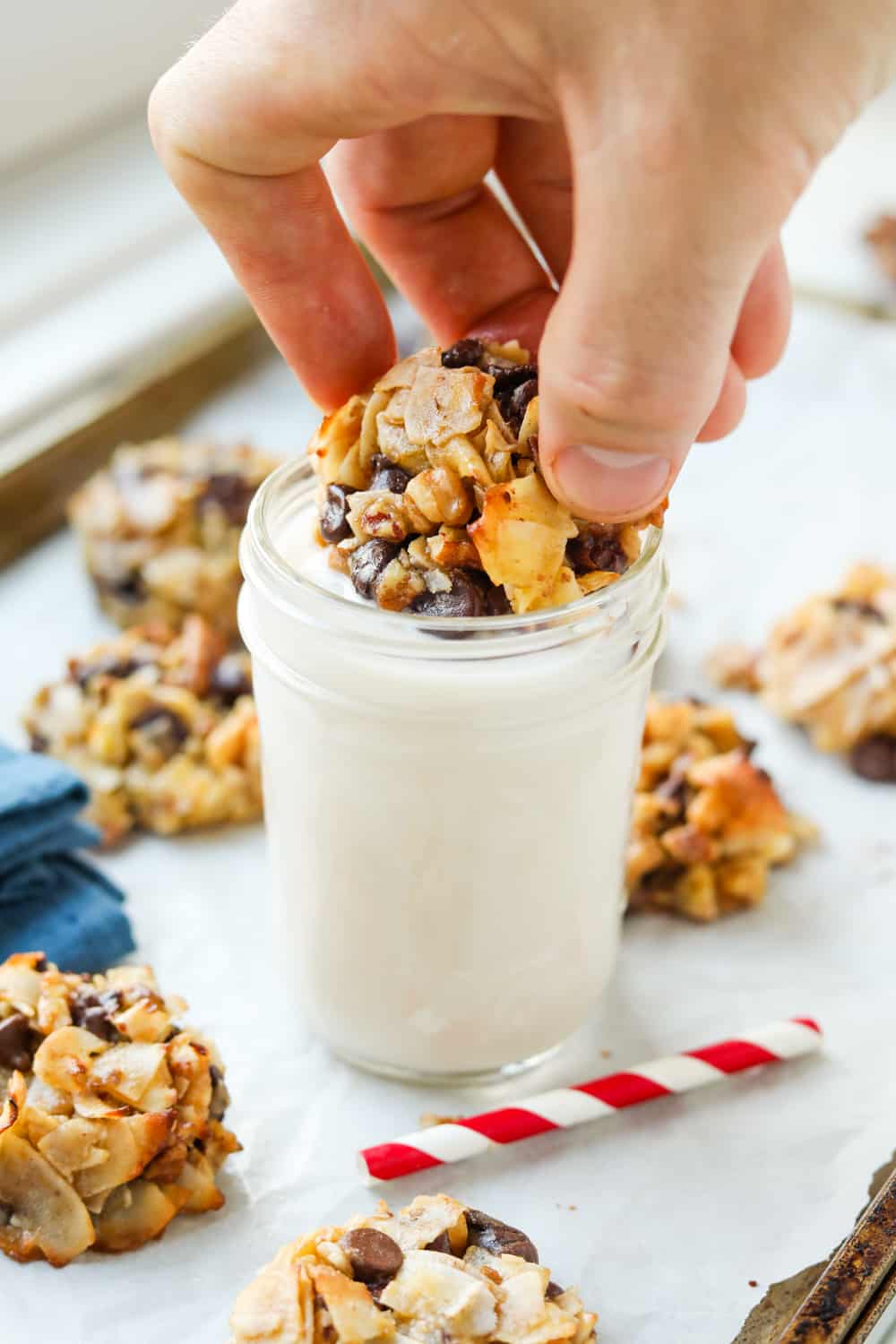 Step 3: Baking and Cooling
You'll want to start this step by lining a baking sheet with parchment paper.
Then, once your dough is set, use a cookie scooper – or a spoon if you don't have one – to make 12 individual dough balls.
Now, when you've added those dough balls to your baking sheet, you'll want to flatten them with the bottom of a spoon, and bake for 8-10 minutes at 350 °F (176°C). You'll know they're done when they start to turn golden brown.
So, at this point, you can set them aside to cool and then transfer the cookies to a plate when they're set.
Ta-da, just like magic, these flavor-filled keto cookies are ready to be eaten!
How to Store and Reheat Keto Magic Cookies
So, you can store your keto magic cookies in an airtight container at room temperature for up to 4 days.
But, if you want them to last even longer, you can store them in the refrigerator for about a week.
Freezing the magic cookies
You can also store these cookies in the freezer.
If you do, they'll stay good for up to 3 months.
Also, freezing them will ensure you always have a quick keto snack, breakfast, or dessert on hand. And the best part is you can enjoy them frozen or reheated.
That said, if you want to reheat the cookies, the best way to do so is pop them in the oven at 350 °F (176°C) for about 3-5 minutes.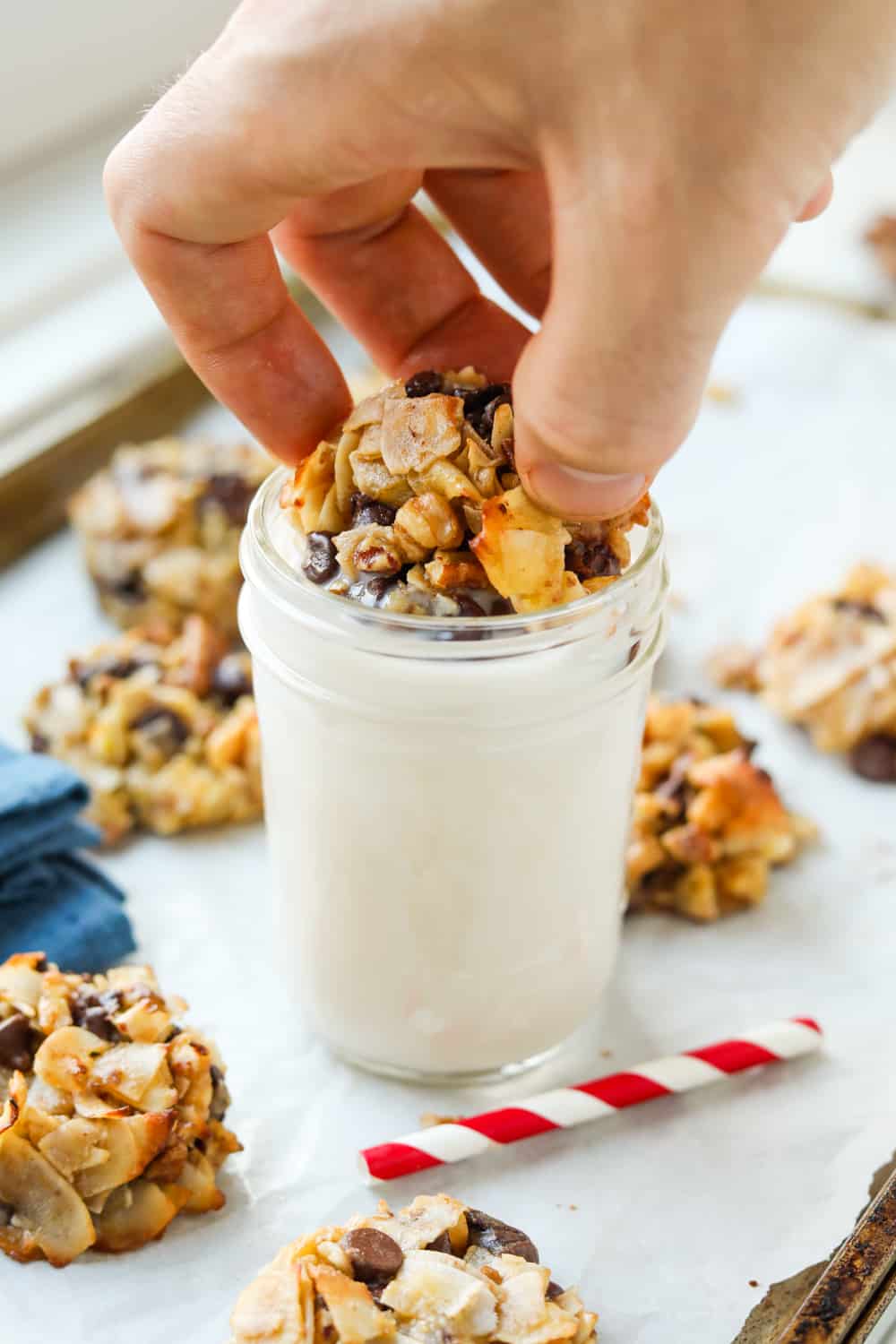 Nutrition For Keto Magic Cookies
These magic cookies are the ultimate keto cookie.
They are low in carbs, high in fat, and moderate in protein.
Having said that, the full nutritional info on these cookies is as follows:
200 Calories

19.5g Fat

5g Carbs

3.5g Fiber

1.5g NET CARBS

5g Protein
Seriously, you can't beat 1.5 NET CARBS per cookie. Can you?!
Anyway, I hope you enjoy this recipe as much as I do!
As always, if you try these cookies, let me know what you think about them in the comments below.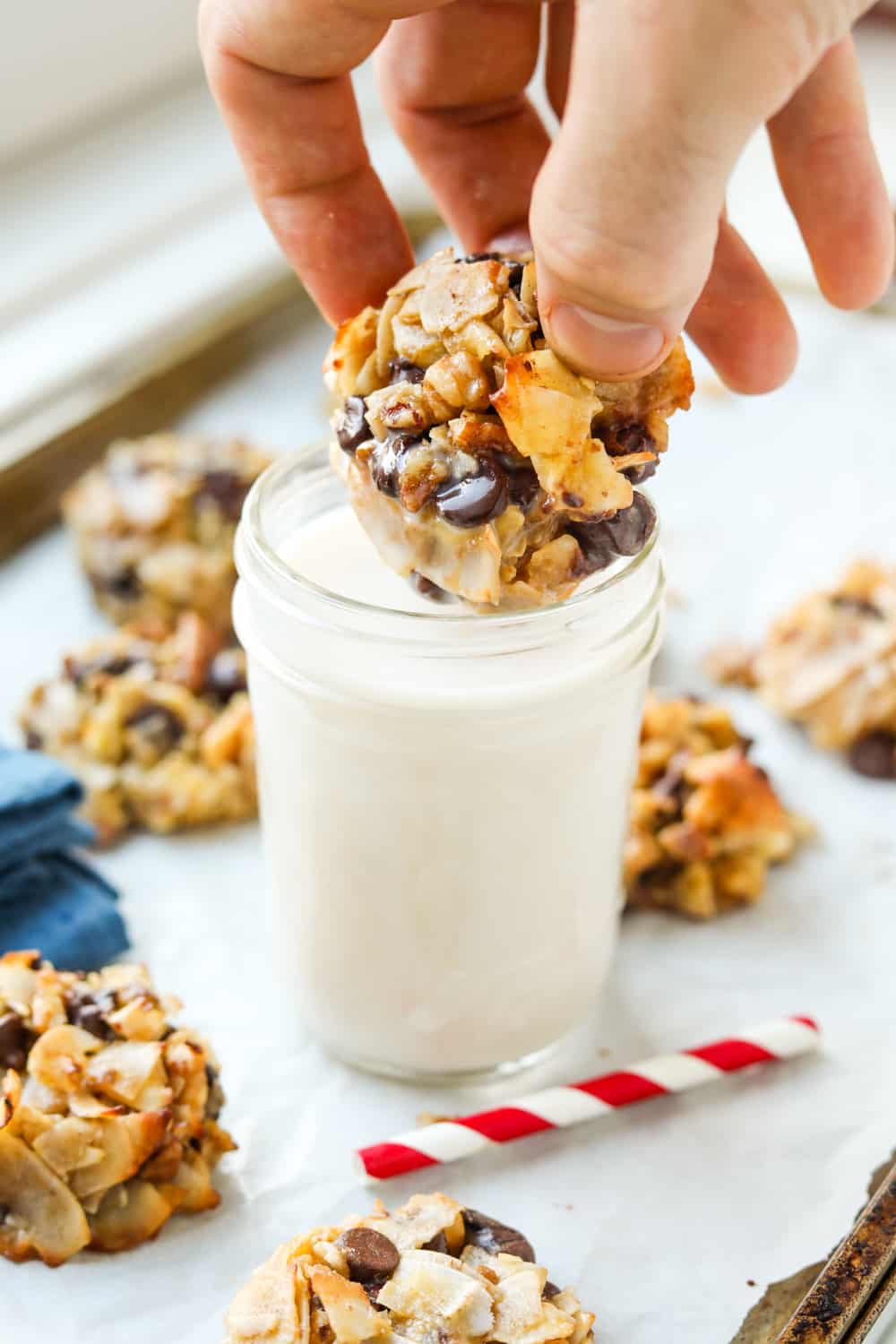 More Low Carb Desserts
Oh, by the way, if you're looking for more keto recipes to satisfy your sweet tooth, there are a ton of easy and delicious low carb recipes on my blog for you to try.
For a little variety, here are some of my suggestions:
And of course, if you really can't get enough of these keto dessert ideas, you'll definitely want to check out my Ultimate Low Carb Keto Cookbook – Sweet Edition. It has over 100 easy recipes that come together in just minutes. And they're all pretty darn good, if I do say so myself.
Print
Keto Magic Cookies | The Best Easy Keto Magic Cookies
These keto magic cookies are the easiest keto cookies you can make. They are chocolatey, chewy, and nutty with the perfect amount of crunch. What makes them even better is that each keto cookie has just 1.5g NET CARBS! 
Author:
Prep Time:

10 minutes

Cook Time:

10 minutes

Total Time:

20 minutes

Yield:

12 cookies

Category:

Cookies

Method:

Oven

Cuisine:

Keto Low carb
Instructions
Preheat oven to 350 °F (176°C).

Add your egg yolks, melted butter, and melted coconut oil to a medium-sized bowl. Whisk together until egg yolks have combined evenly with the other ingredients.

Add the rest of your ingredients and use a rubber spatula to gently mix everything until well-combined.

Place the batter in the refrigerator for 30-45 minutes to let it set.

Once the dough is set, use a cookie scooper or tablespoon to make 12 balls of cookie dough. Arrange them evenly on a baking sheet lined with parchment paper.

Bake for 8-10 minutes at 350 °F (176°C), until golden brown.

Once they're done baking, set them aside to cool.

Enjoy some keto magic!
Nutrition
Serving Size:

1 Cookie

Calories:

200

Fat:

19.5

Carbohydrates:

5

Fiber:

3.5

Protein:

5
Keywords: Keto magic cookies, low carb magic cookies, keto cookies, low carb cookies, magic cookies keto, magic cookies low carb, recipe for keto magic cookies, how to make keto magic cookies, magic cookies, keto hello dollies, low carb hello dollies, keto energy bars, keto dessert, hello dollies, keto dessert recipe, low carb dessert recipe, magic cookie bars, layered keto cookies, keto cookies with nuts, gluten-free cookies