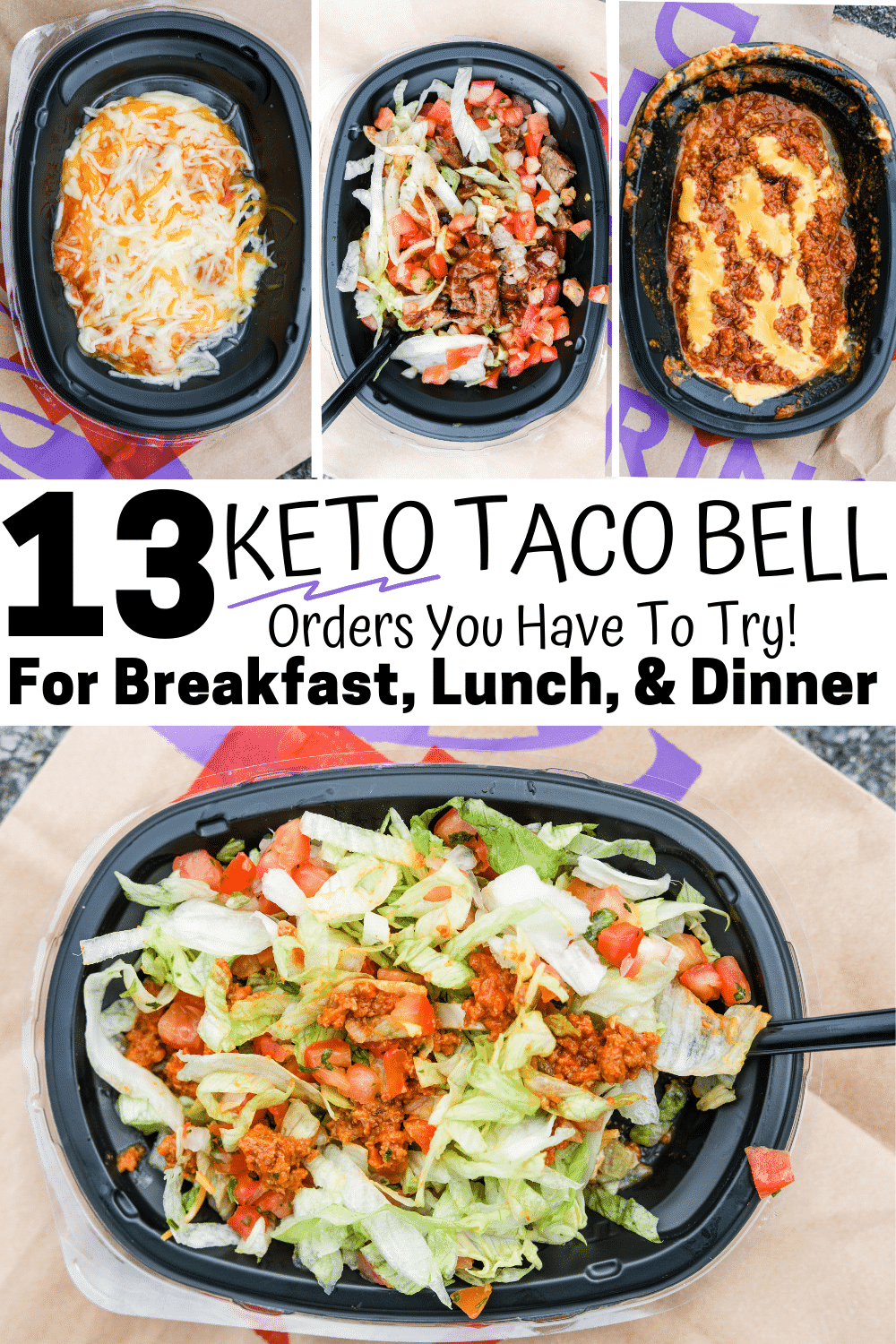 There are surprisingly a lot of keto Taco Bell menu items! So, I've compiled a full breakdown of the best low carb options you'll find there. In fact, I'll show you how to order keto at Taco Bell for breakfast, lunch, and even dinner! And just FYI, all these keto Taco Bell menu items come out to less than 5g net carbs.

Keto Taco Bell Menu Items
While I love coming up with awesome new keto recipes for you guys, I also know that sometimes we just don't have time - or aren't in the mood - to cook low carb recipes.
So I thought I'd switch it up a little by trying out all the low carb keto options available at Taco Bell!
And it turns out; there are a ton.
That said, today we'll be reviewing each keto menu item on its carb count, flavor, and value.
By the way, I made a video about ordering keto at Taco Bell on my Youtube channel so you can check that out too.
Keto Friendly Sauces and Cheese at Taco Bell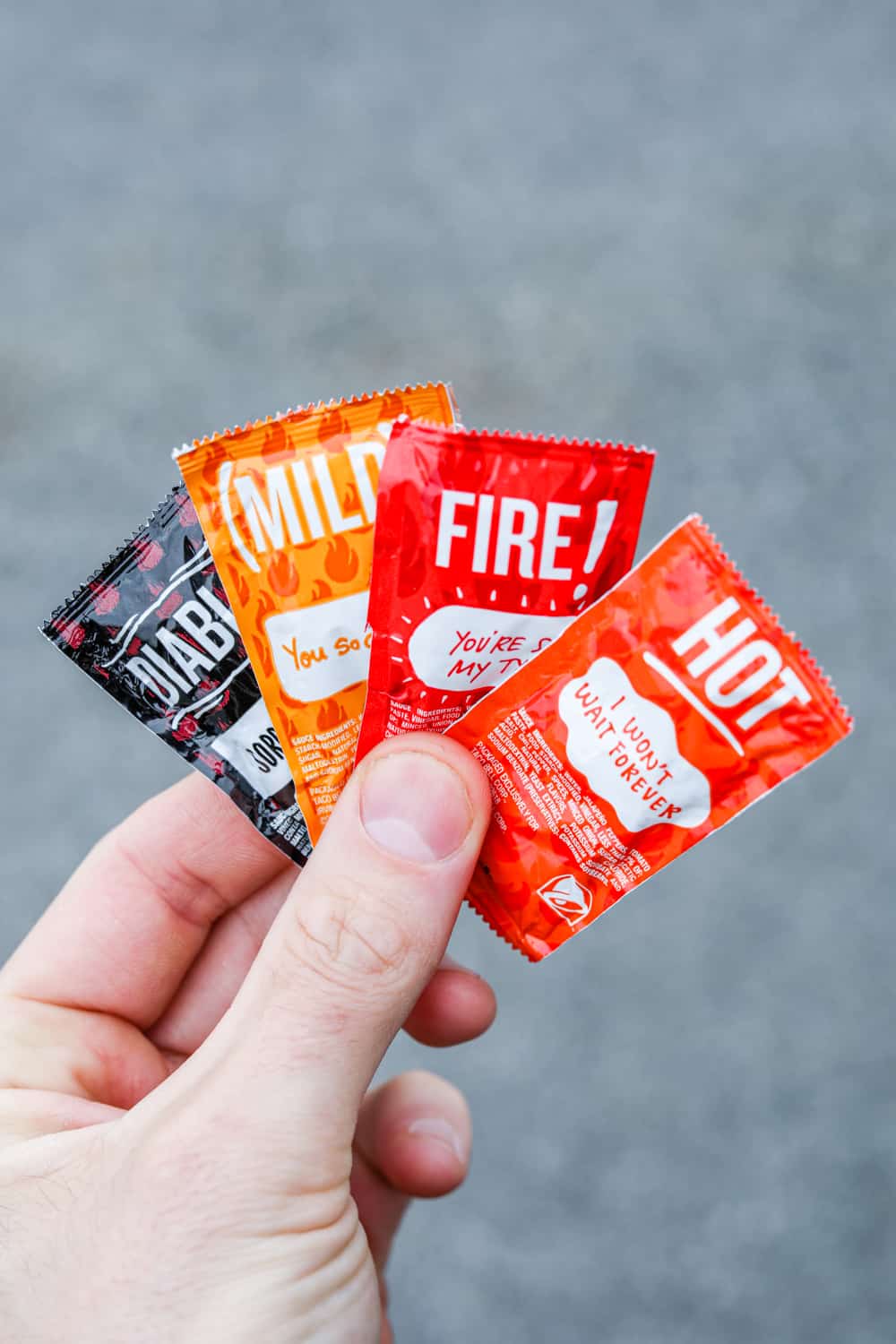 These are a lot of sauces on the Taco Bell menu that can some additional flavor to your keto order.
And, believe it or not, most of the sauces at Taco Bell are keto-friendly!
That said, let's go over some of the best low carb sauces on the menu.
Keto Taco Bell Signature Sauces:
Creamy Chipotle – 0 Carbs
Spicy Ranch – 1 Net carb
Creamy Jalapeno – 1 Net carb
Avocado Ranch – 1 Net carb
Keto Taco Bell Salsa And Sauces:
Mexican pizza - 1 Net Carb

Nacho Cheese Sauce

Red Sauce
Keto Taco Bell Hot Sauces:
Hot Sauce – 1 carb

Mild Sauce – 1 carb

Fire Sauce – 1 carb

Salsa Sauce – 1 carb

Diablo Sauce – 0 carbs (this one's spicy AF)
Now, as far as shredded cheeses go, you can get the cheddar and the three cheese options – these only have 1 net carb per serving.
Keto Breakfast Options on the Taco Bell Menu
Ok, now that we've covered the condiments, let's talk about what you can order from the breakfast menu.
Cheesy Toasted Breakfast Burrito
The first keto breakfast option at Taco Bell is the cheesy toasted breakfast burrito. It comes with sausage crumbles or bacon, egg, and nacho cheese sauce.
And all you have to do to make it keto is order it with no tortilla shell. Ordering it this way will make this cheesy option come out to just 3 net carbs!
If you want to make it even lower in carbs, you can ask for no cheese sauce and make my 0 net carb cheese sauce instead.
By the way, I love pairing this keto breakfast order with some keto yogurt. I usually eat the yogurt almost like a dessert after I have the burrito, and it totally hits the spot every time! You get a little savory followed by a little sweet, gah it's good.
Grande Toasted Breakfast Burrito
Another keto Taco Bell option for breakfast is the grande toasted breakfast burrito. It comes with sausage crumbles or bacon, a three cheese blend, egg, and tomatoes.
When you order it, just ask for no tortilla shell and no potatoes.
Ordering it without the shell and potatoes will make this breakfast option come out to just 2 net carbs!
Oh, and if you're looking for some other keto breakfast ideas check out this list of healthy cereal options. There's a bunch of keto cereals on it!
Grande Toasted Breakfast Burrito With Steak
The last Taco Bell keto breakfast option is the same as the one above, but it comes with steak.
So make sure to order it with no tortilla shell and no potatoes.
Then it will come with steak, a three cheese blend, egg, and tomatoes, all for 3 net carbs! And if you want to save a carb, ask for no tomatoes too.
Taco Bell Keto Dollar Menu
So if you're on a budget, there are some awesome keto options I found on the dollar menu that will not disappoint!
The Chicken Chipotle Melt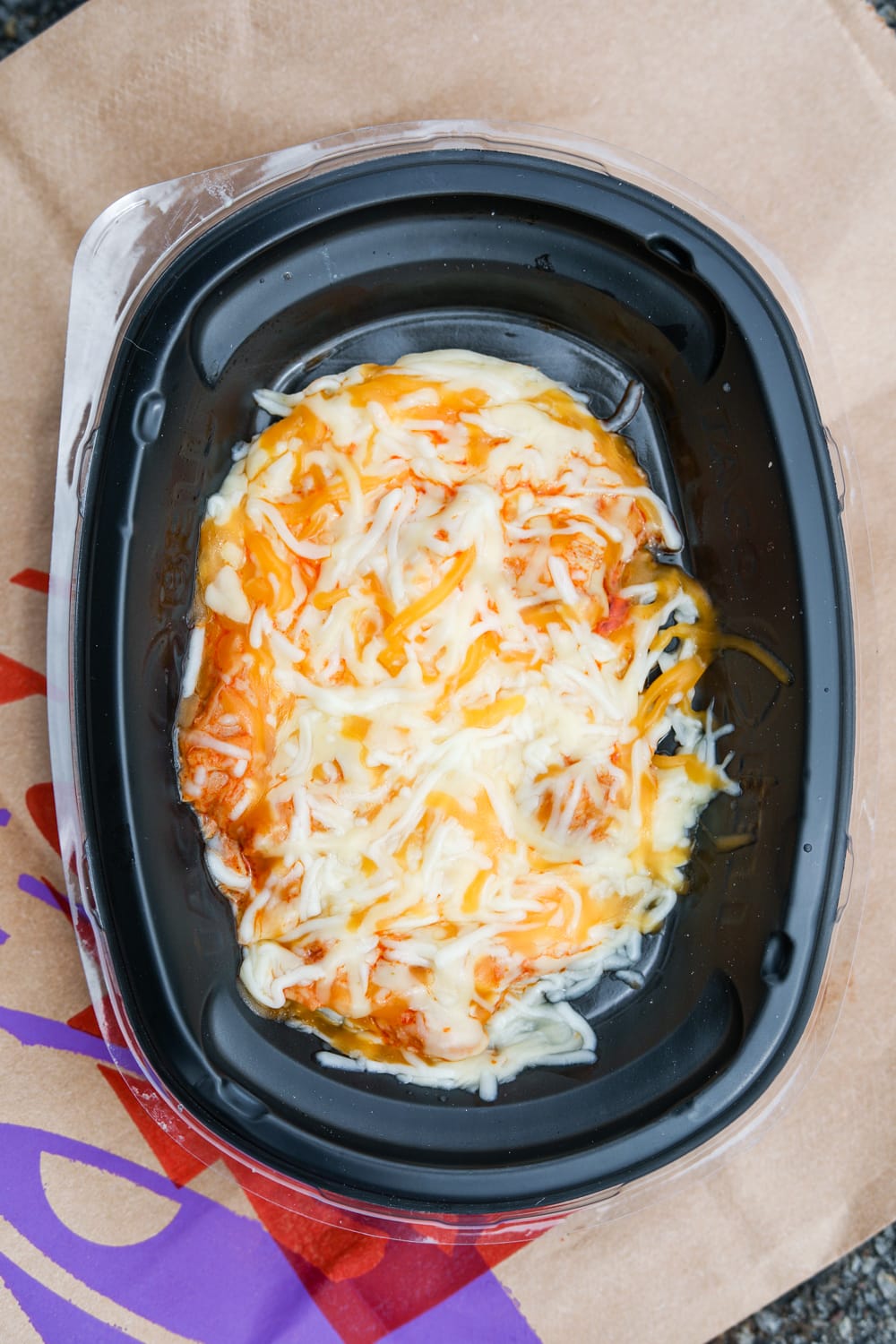 The first one I want to talk about is the Chicken Chipotle Melt.
You'll, of course, want to order this without the tortilla.
So basically, what you end up with is a good portion of chicken & cheese, and a tiny bit of sauce.
What I loved about this was that nice smoky flavor that's in the chicken. It pairs super well with the richness from the cheese.
And at just $1, and less than 1 net carb per serving, you can probably get two or three of these for a whole keto lunch!
The Beef Burrito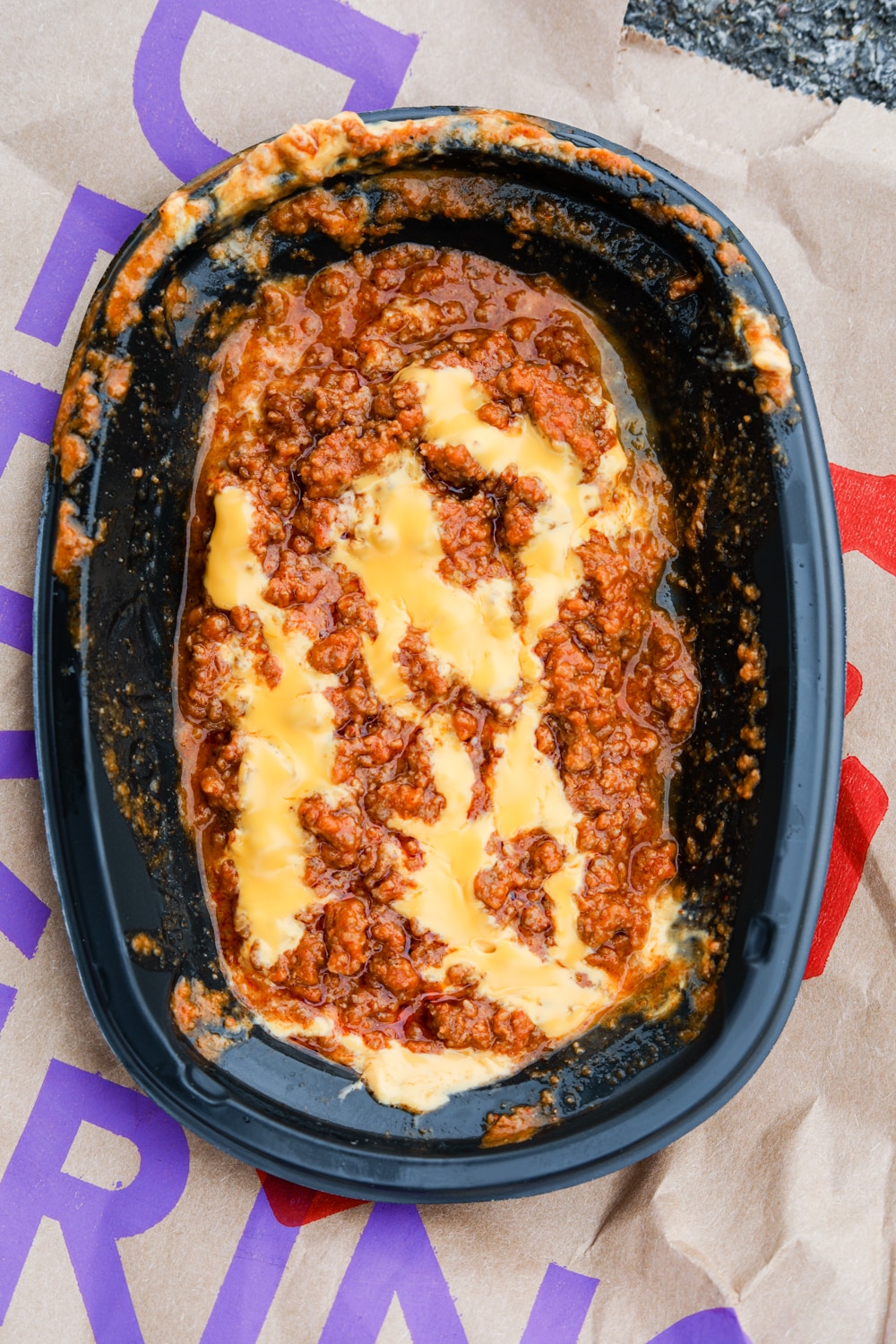 Honestly, this one was incredibly satisfying!
The ground beef is well seasoned, and the cheese sauce is lovely too.
You can, of course, get this for $1, and it comes out to 3 net carbs per serving.
Oh, and when you order this, make sure to ask for no tortilla, no jalapeño sauce, and no rice!
KETO TACO BELL CHICKEN OPTIONS
Now let's get into the chicken options!
I tried a lot of pretty awesome low carb keto-friendly chicken menu items at Taco Bell.
Here's what I got...
Chicken Burrito Supreme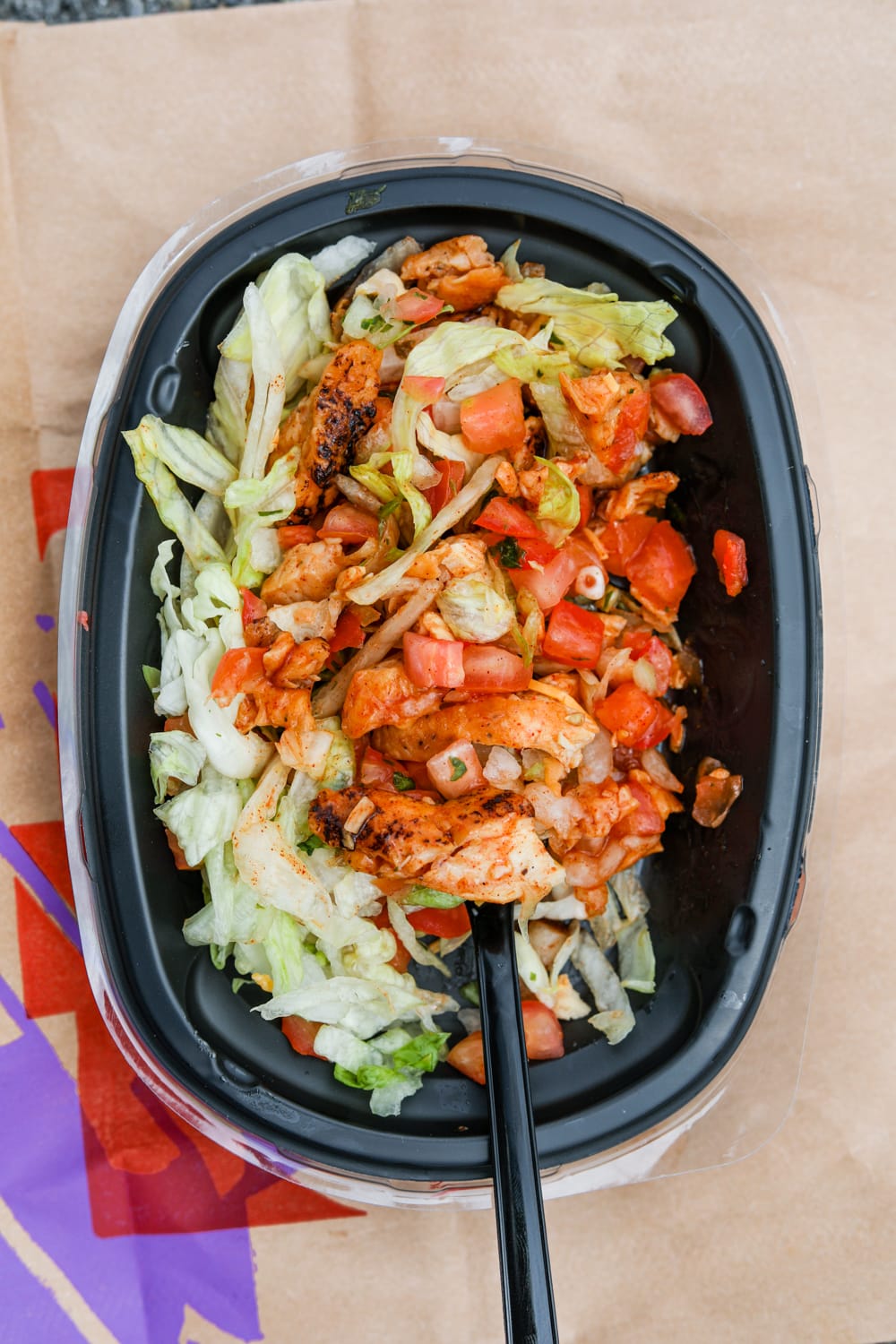 First up is the Chicken Burrito Supreme with no tortilla and no beans.
I got this one for $4.50, and it has a total of 4 net carbs.
Like I've said, this doesn't have any tortilla or beans, so it essentially becomes kind of a chicken burrito bowl.
How excellent does that sound?!
The chicken is tender, juicy, and nicely charred. Also, you get a pretty good portion of it per order and it goes well with the red sauce.
I definitely recommend this for a quick keto lunch under 5 dollars!
Supreme Chicken Soft Taco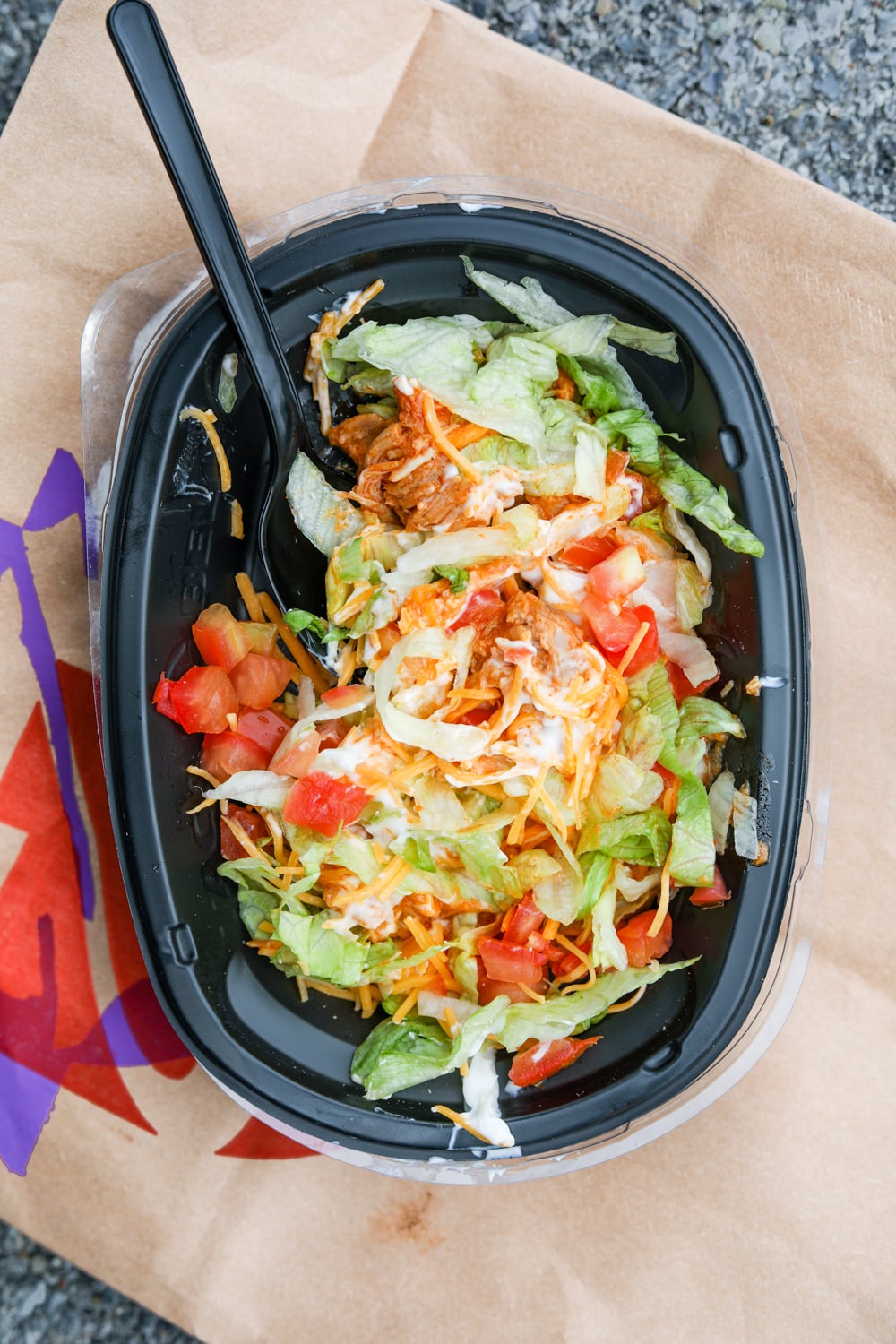 Next up is the Soft Taco Supreme Chicken!
Except you'll be ordering it without the soft taco, so it's more like a supreme chicken, lol.
So, this costs $2.89 and has 4 net carbs.
To be a hundred percent honest with you, I prefer the steak taco in terms of value. I just feel like you don't get as much chicken for the same price.
But more on the steak taco in a bit!
That said, the Supreme Chicken Soft Taco is a decent keto Taco Bell option. Especially if you like chicken.
Fresco Chicken Taco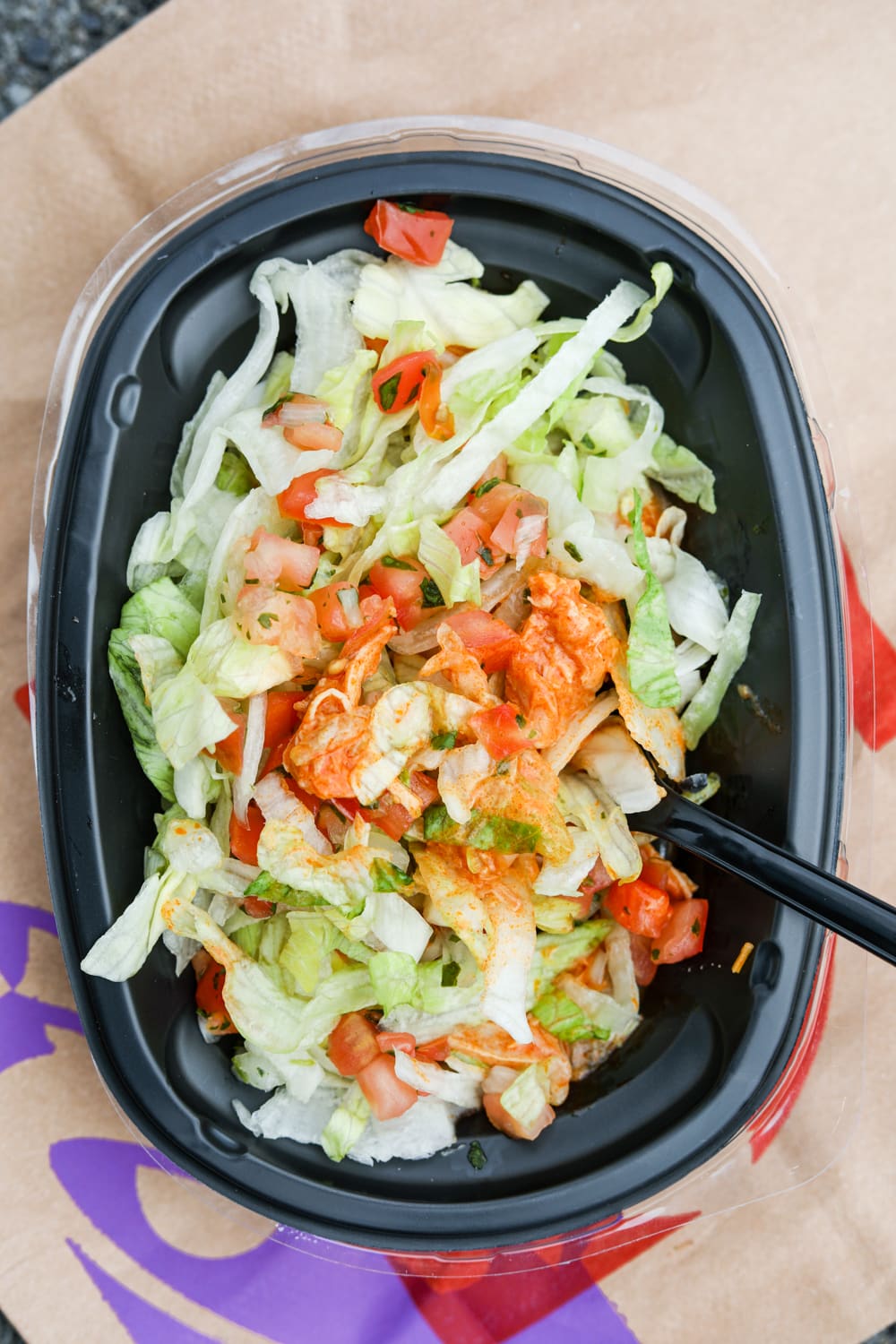 When you order without the tortilla, the fresco chicken bowl only has 2 net carbs.
Not to mention, this keto Taco Bell menu item costs just $2.39!
And, right off the bat, you'll notice this option has a bigger portion of chicken than the soft taco supreme.
I love how the big chunks of chicken & delicious sauce pair together in this taco bowl. That said, for the best tasting Fresco Chicken add some Fire Sauce to it.
It's what I like to do, and it turns out pretty great.
As a side note, the Fire Sauce isn't as hot as the Diablo Sauce and it's got a lot more flavor though it does add 1 net carb – just something you might want to consider when picking out a hot sauce!
Grilled Chicken Power Bowl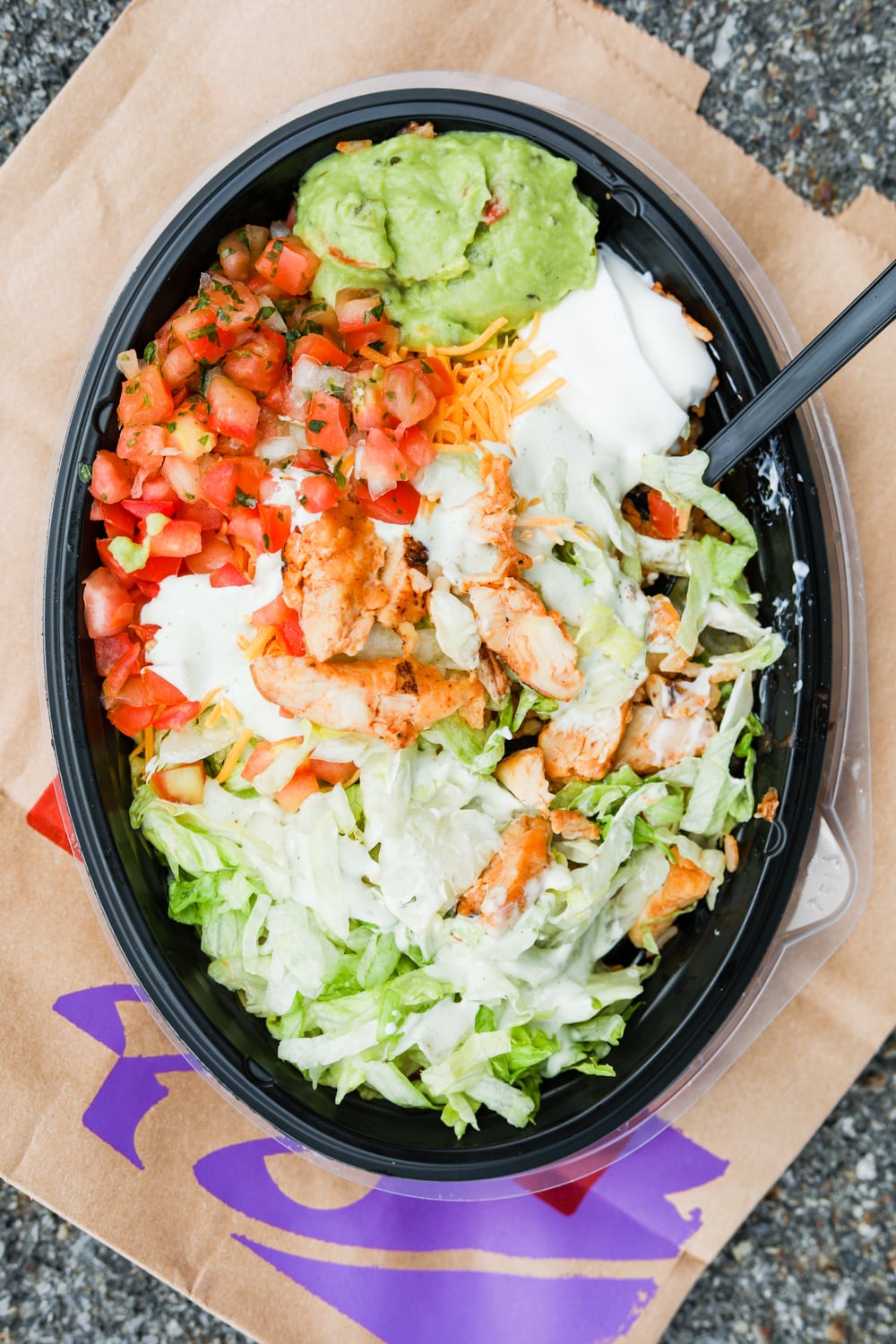 This Grilled Chicken Power Bowl is definitely one of the best values for your money at Taco Bell!
It's got guacamole, pico de gallo, tons of tender chicken, sour cream, avocado ranch dressing, and lots of low carb lettuce.
The whole thing is just 5 net carbs and only comes out to $5.19 – a fantastic price when you compare it to something similar at Chipotle.
Oh, and this was practically double the size of the other containers.
Also, it's incredibly filling, so you could probably make two meals out of one order. I mean, it was a ton of food for me, and I'm a BIG GUY!
Of course, you'll want to get this with no rice and no beans.
And, for some added flavor, add some hot sauce!
KETO TACO BELL BEEF OPTIONS
Of course, no Taco Bell keto menu list would be complete without beef!
And there are a few really solid options to choose from.
So let's jump into them!
Steak Burrito Supreme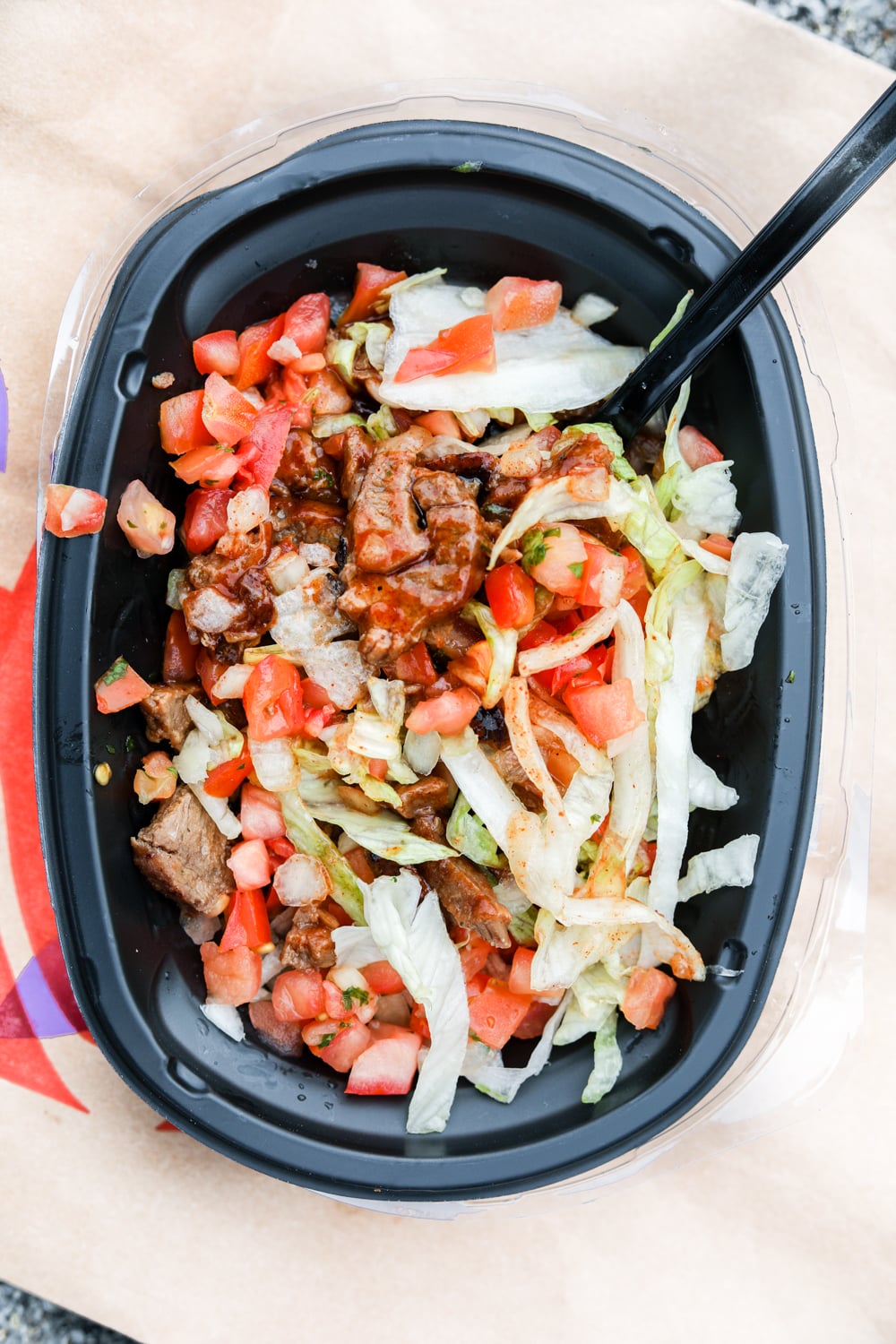 The pro-tip for this menu item is to get it with no tortilla and no beans – so you get a little steak salad bowl instead.
Ordering the Steak Burrito Supreme this way comes out to $4.50 – so just under $5 – and it's got 5 net carbs.
Just like the chicken burrito bowl, I totally enjoyed this.
The steak is juicy & tender and goes well with the red sauce and vegetables!
I highly recommend it if you like steak.
Grilled Steak Taco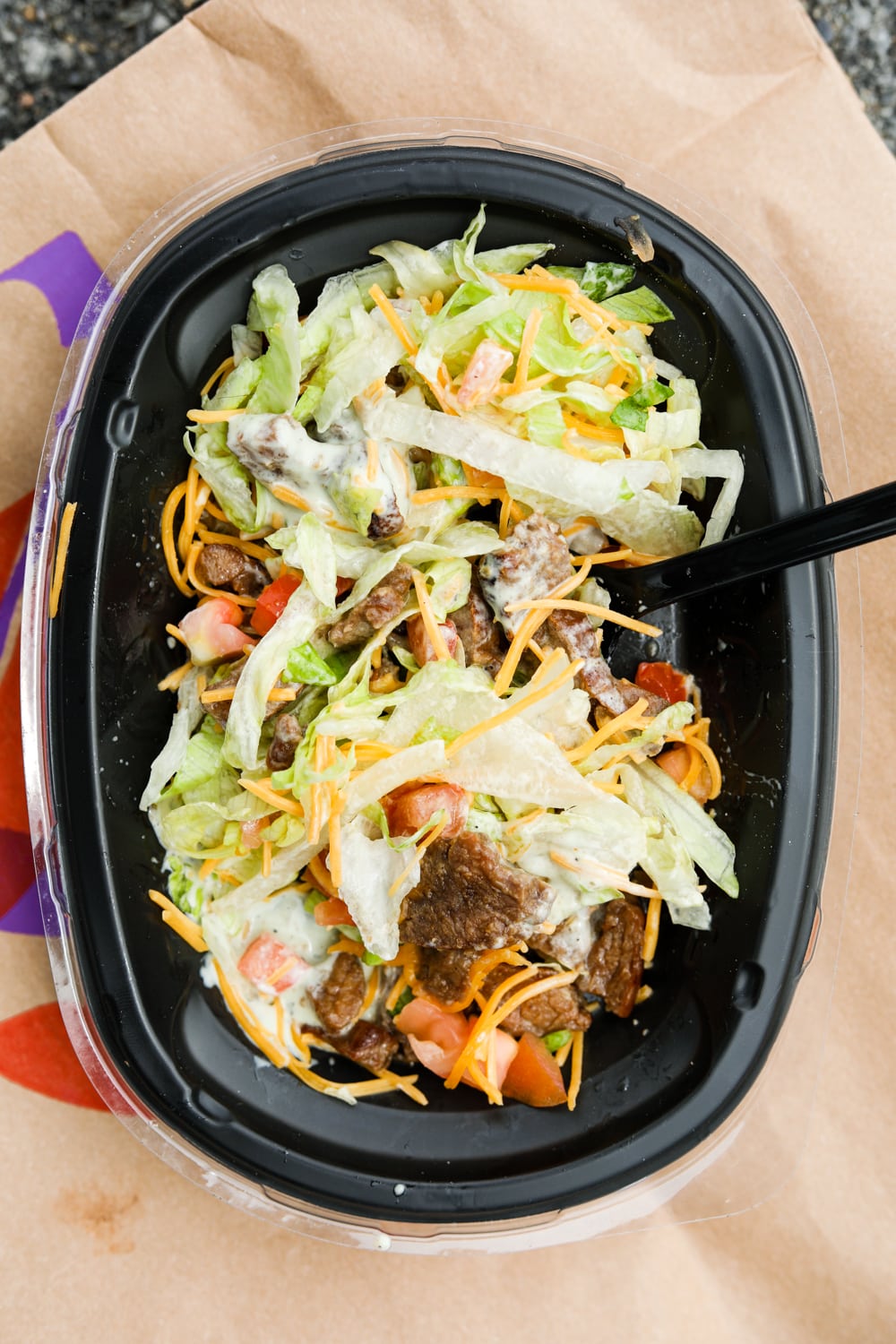 When you order the Grilled Steak Taco without the tortilla, it's only about 3 net carbs.
Not to mention, it costs just $2.89!
Honestly, compared to the steak burrito supreme, this has about the same amount of steak!
So, I think you get more "bang-for-your-buck" with this option.
Plus, it's a little more flavorful!
At least I think so.
I just love the combination of the charred steak and the cheese on this one.
Seriously, this grilled steak taco is one of my favorites from this taste test!
And, honestly, every keto Taco Bell order should have a grilled steak taco as part of the order.
It's a menu item not to be missed.
You can thank me later.
Fresco Beef Taco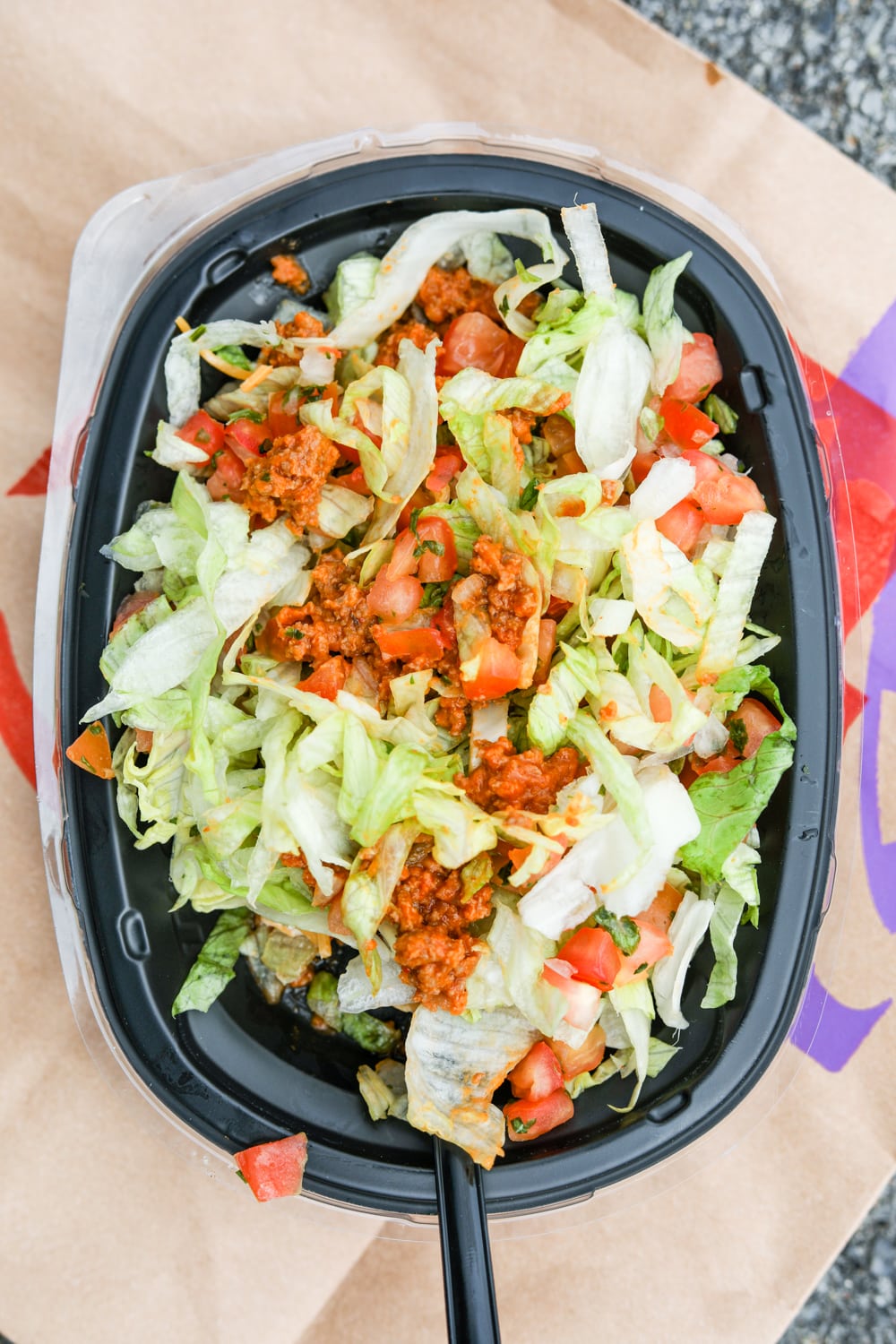 Okay, so we've talked about the Fresco Chicken Taco – now let's talk about the beef version!
As always, get this without the tortilla.
It costs $1.89, so it's cheaper than the chicken option! And the whole thing is just 2 net carbs.
But if you want my opinion, I'd go with the fresco chicken over this one in terms of taste.
Also, I recommend adding some of the Taco Bell Hot Sauce to give the fresco beef some more flavor. On its own, it's just not flav
So the main takeaway here is that the Taco Bell Hot Sauce can probably make any keto menu item super delicious.
Things to Avoid When Ordering Low Carb & Keto at Taco Bell
Ok, so we went over a ton of stuff to get at Taco Bell if you're trying to keep things low carb and keto.
However, I also want to quickly go over a few menu items you'll want to avoid.
These are going to be the most carb-heavy foods on the menu. So make sure you have these removed from anything - and everything - you order at Taco Bell.
Okay, so the first items to avoid at Taco Bell are, of course, the flour tortilla and taco shells. Of course, they do come with a lot of the menu items at Taco Ball, so just ask them to remove that from your order. They'll happily do so!
Next, you'll want to pass on the sweet chili sauce – each serving has 8 net carbs. Yeah, definitely not keto-friendly.
You'll also want to stay away from the potato bites and the red strips that you'll sometimes see them put on tacos and burritos.
And of course, order everything with no beans and no rice.
Now, if you really want to get the full Taco Bell experience keep reading for some of my go-to recipe substitutions.
Substitutions for Taco Bell Menu Items
As I said, I have a few recipes that can help you replace some of the high-carb foods from the Taco Bell menu!
First and most importantly, I have a fantastic keto tortillas recipe you can use as a low carb replacement for the tortillas and taco shells. They pair incredibly well with this keto taco casserole recipe.
Second, in place of extra cheese sauce, you can also make a batch of this super quick and easy keto cheese sauce. It would go amazing with most of the keto Taco Bell menu items. And you can dip these keto tortilla chips in the cheese sauce!
And lastly, instead of regular rice, you can try subbing in some cauliflower rice for the burrito options and the Grilled Chicken Power Bowl.
And that's it!
I hope you found some excellent low-carb menu items from Taco Bell that you can incorporate in your keto diet journey.
And don't forget to sound off in the comments if you've tried any of these keto taco bell options! I'd love to hear your take.
KETO FAST FOOD LISTS
If you found this list helpful and are looking for how to order keto fast food at more places, I have a bunch of other lists that I think you'll like!
Check out these keto fast food options: