Don't let your chocolate cravings go unanswered. From chocolate bars to chocolate truffles and more, these are all the best low calorie chocolate options you can buy, with under 170 calories per serving!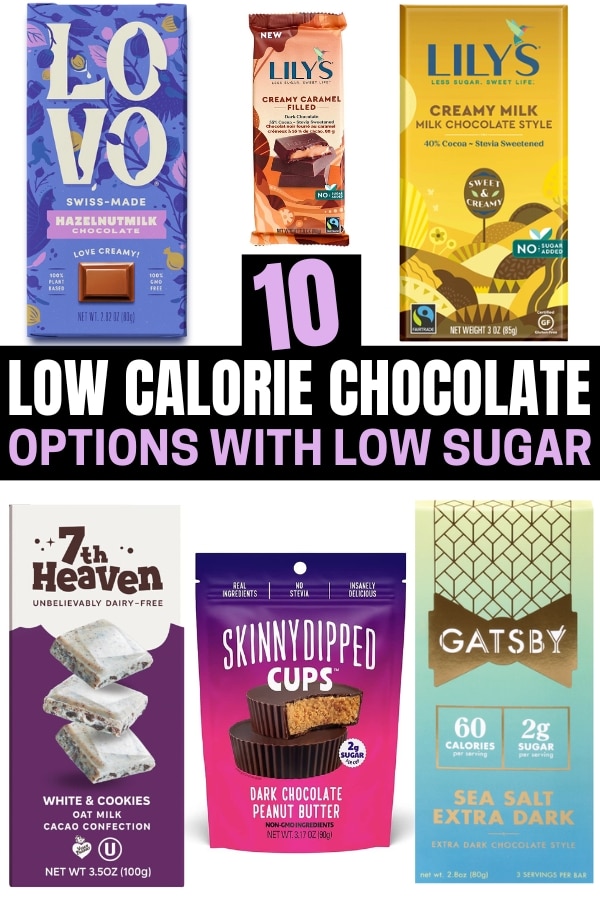 The Best Low Calorie Chocolate Bars and More
Watching your calorie intake doesn't have to mean giving up on the things you love most in life. Especially chocolate!
I'm absolutely obsessed with chocolate but don't love all of the sugar and calories that typically come along with it. Luckily, I've found plenty of fantastic options that are lower in sugar and calories, made with better ingredients, and are equally delicious.
This low calorie chocolate guide has something for all the chocolate lovers, with options including peanut butter cups, cookies and cream bars, and candy-coated chocolate. And, of course, chocolate bars ranging from extra dark to white chocolate.
So, let's not waste another second and jump right into the list!
1. Gatsby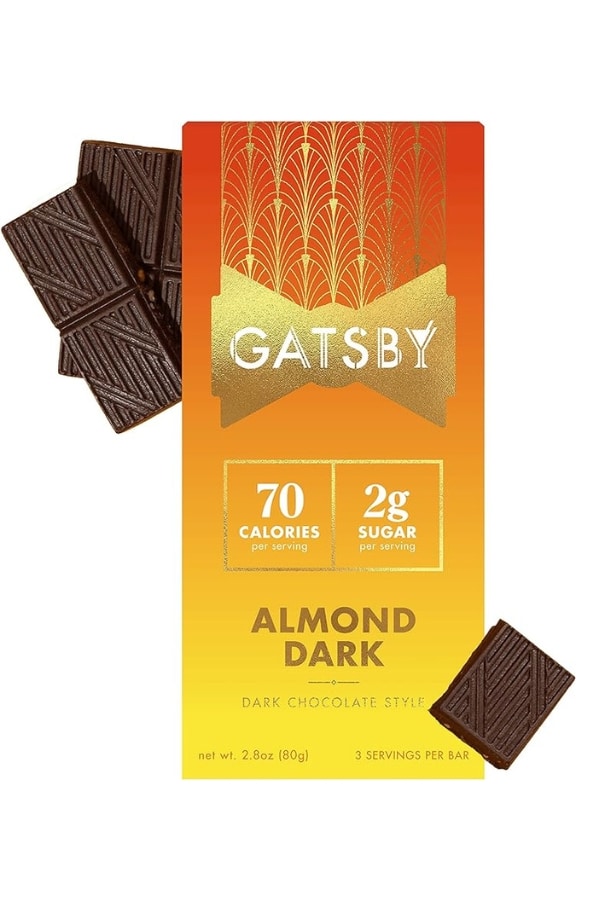 Serving size:

⅓ bar (26g)

Calories:

70

Sugar:

2g
You may have heard of Gatsby from Shark Tank. It's one of the newer low calorie chocolate bar options on the market, and it's delicious! They come in 4 different flavors, with the lowest calorie options being their fudge brownie and sea salt extra dark chocolates.
Also, if you're a fan of low calorie ice cream, you might be glad to know this brand was founded by the co-founder of Halo Top!
2. Highkey Chocolate Pearls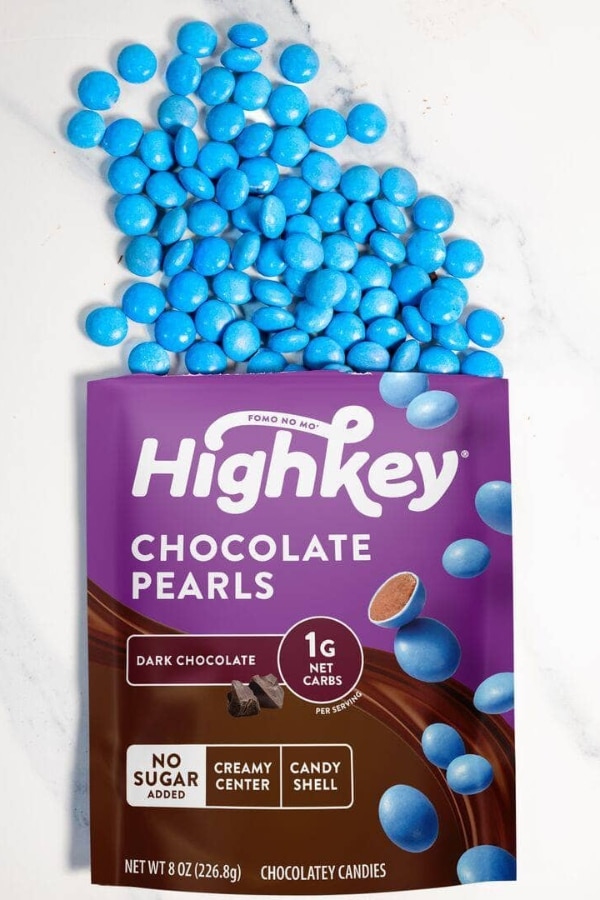 Serving size:

33 pieces (30g)

Calories:

70

Sugar:

0

g
These fudgy dark chocolate bites with a crispy candy shell coating bring all the nostalgia of M&Ms but with fewer calories, less sugar, and better ingredients. They're sweetened with a mix of erythritol, oligofructose, and stevia for a candy-like sweetness without the high sugar content. Plus, the colorful outer shell is made with spirulina instead of artificial colors.
These chocolate pearls are great for snacking, in a trail mix, added to baked goods, or served over ice cream and frozen yogurt!
3. Skinny Dipped Cups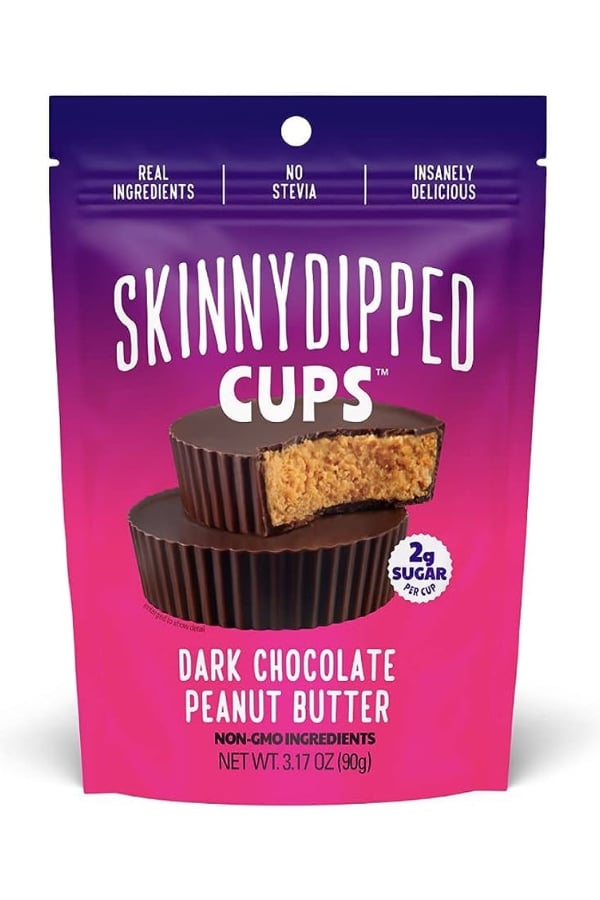 Serving size:

1 cup (15g)

Calories:

70

Sugar:

2g
These chocolate-coated peanut butter cups are reminiscent of Reese's peanut butter cups but with almost half the calories per serving! They're packed with rich peanut butter filling, sweetened with allulose and organic maple sugar, and covered with a creamy chocolate shell that's so satisfying.
You can get these PB cups come in three different flavors, including dark chocolate peanut butter, caramel peanut paradise, and milk chocolate peanut butter.
4. Lily's Original Chocolate Bars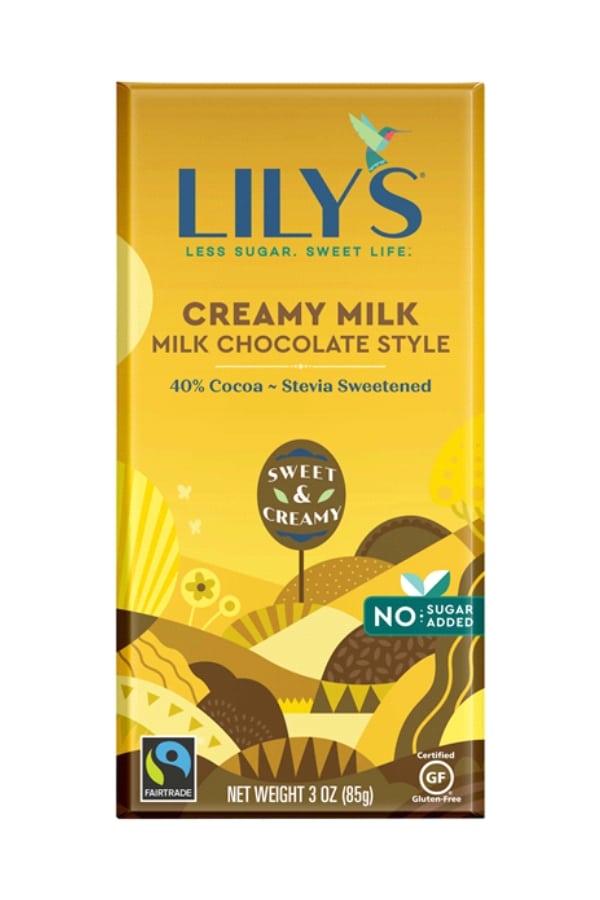 Serving size:

30g

Calories:

130

Sugar:

0g
Lily's offers plenty of low calorie treats for any chocolate craving, from baking chips to healthy chocolate snacks. I love using their chocolate chips in things like my low calorie chocolate chip cookies. And they make some of the best chocolate bar options, too!
They're sweetened with stevia, with options ranging from white chocolate to extra dark chocolate, in plenty of interesting flavors to choose from. Their whole lineup is basically every chocolate lover's dream.
5. Lily's Creamy Caramel Filled Dark Chocolate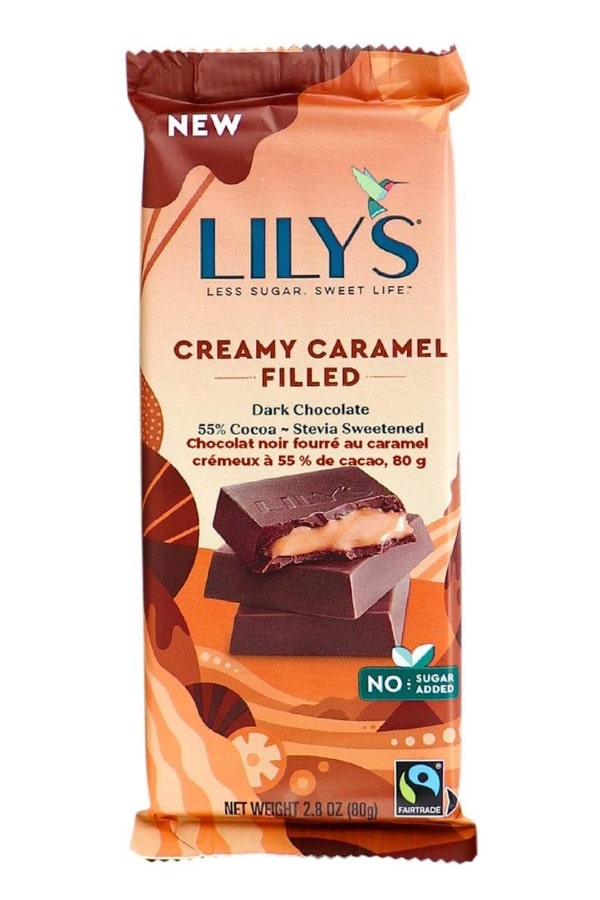 Serving size:

30g

Calories:

130

Sugar:

<1g
Another great low cal chocolate from Lily's is their caramel-filled dark chocolate. It's the perfect balance of snappy bittersweet dark chocolate with a silky and sweet caramel-flavored center.
It gets its richness from cocoa butter and sunflower butter and has a melty and tender texture that feels really indulgent. Best of all, it comes at just a fraction of the usual calories and sugar count.
6. ChocZero Signature Squares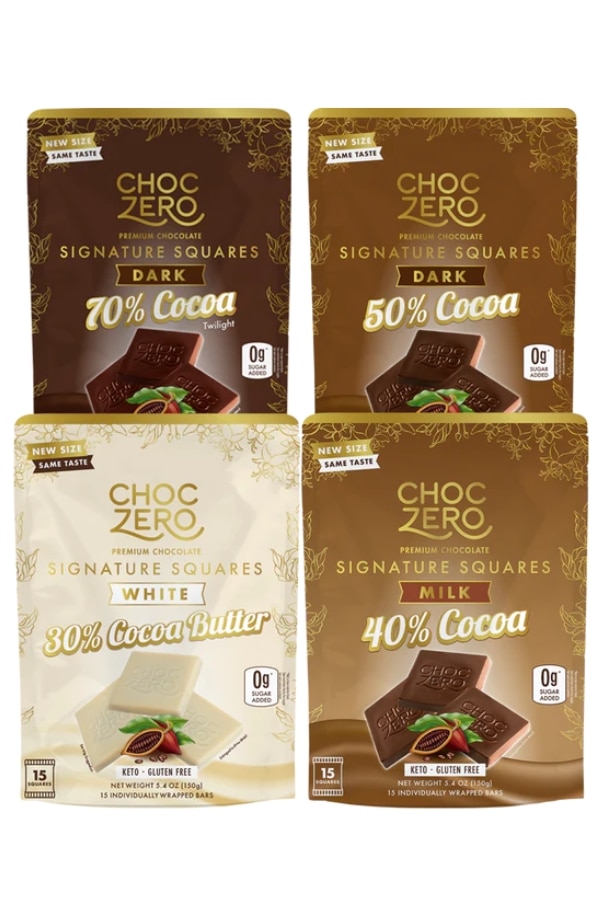 Serving size:

3 pieces (30g)

Calories:

150

Sugar:

1g
These ChocZero chocolate squares make the best after-dinner dessert or midday snack. They come individually wrapped, so they're perfect for portion control and are made with monk fruit extract for a nice balance of sweetness with fewer calories.
You can get them in dark chocolate, milk chocolate, and white chocolate, as well as flavored and filled chocolate options.
7. Super Major Oat Milk Salted Caramel Crunch Chocolate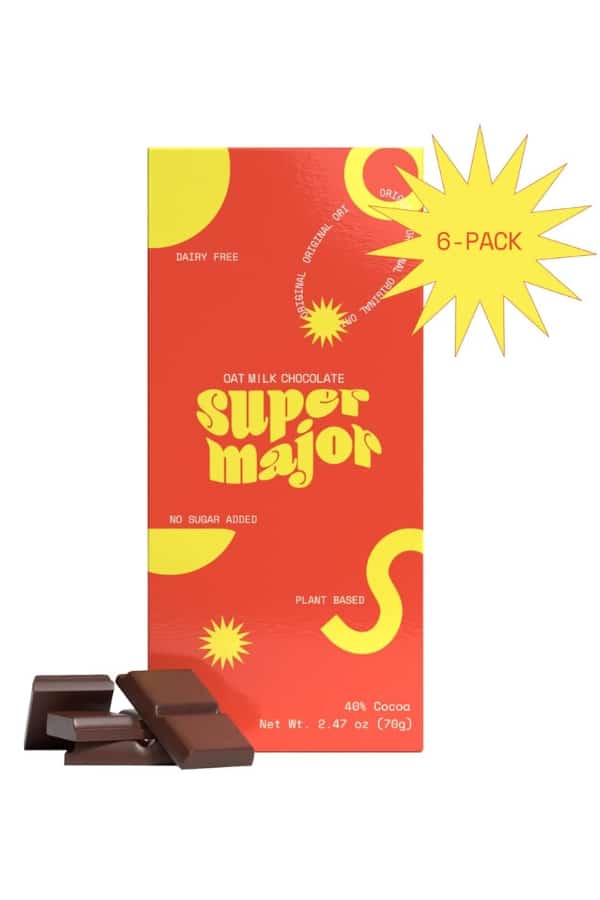 Serving size:

½ bar (35g)

Calories:

150

Sugar:

<1g
Crunchy, creamy, and chocolatey all at once, this Super Major chocolate bar is the ultimate answer to any chocolate cravings. Made with oat milk and cocoa plus crunchy oat flour caramel pieces, it reminds me of a Crunch bar - which is one of my favorites - but with clean ingredients and a fraction of the calories. It's also vegan-friendly, gluten-free, and naturally sweetened with stevia.
8. 7th Heaven White & Cookies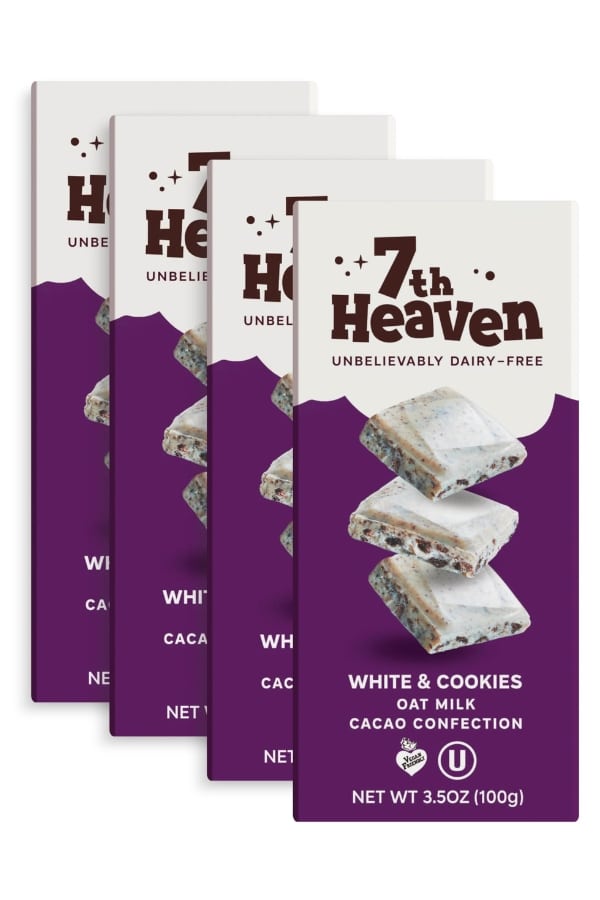 Serving size:

6 squares (33g)

Calories:

160

Sugar:

13g
If you love cookies and cream chocolate bars, this 7th Heaven oat milk white chocolate with bits of chocolate cookies will be right up your alley. The balance of creamy cocoa butter and oat milk base plus the crunchy cocoa powder cookie bits is so, so good, and it's hard to believe a serving has just 160 calories!
9. Lovo Hazelnut Milk Chocolate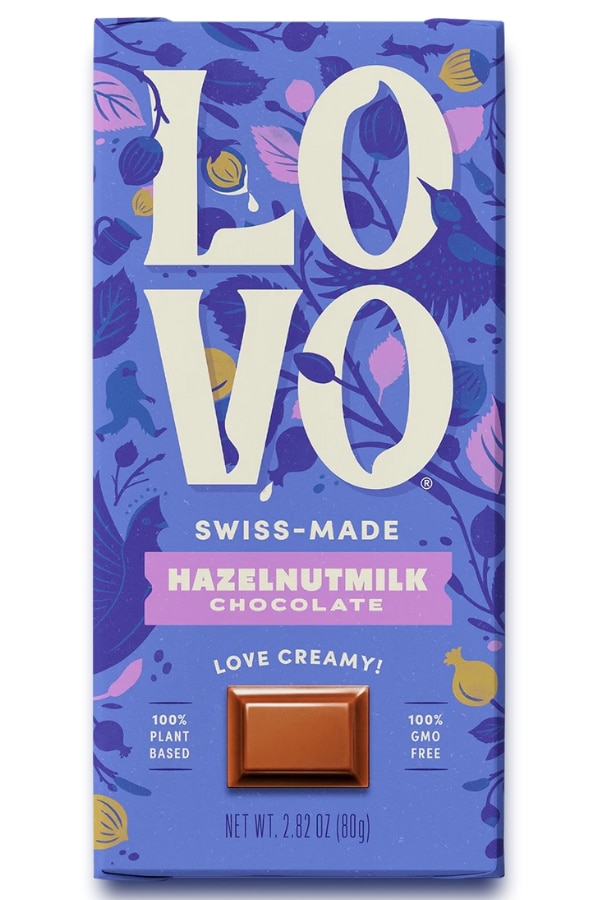 Serving size:

9 pieces (30g)

Calories:

160

Sugar:

16g
This plant-based chocolate bar from Switzerland has the rich and creamy taste of milk chocolate with a touch of hazelnut flavor that's almost reminiscent of Nutella spread. It's great for snacking and makes incredible chocolate chunk brownies too. I love adding the squares to my low calorie brownies.
10. Lakanto Chocolate Truffles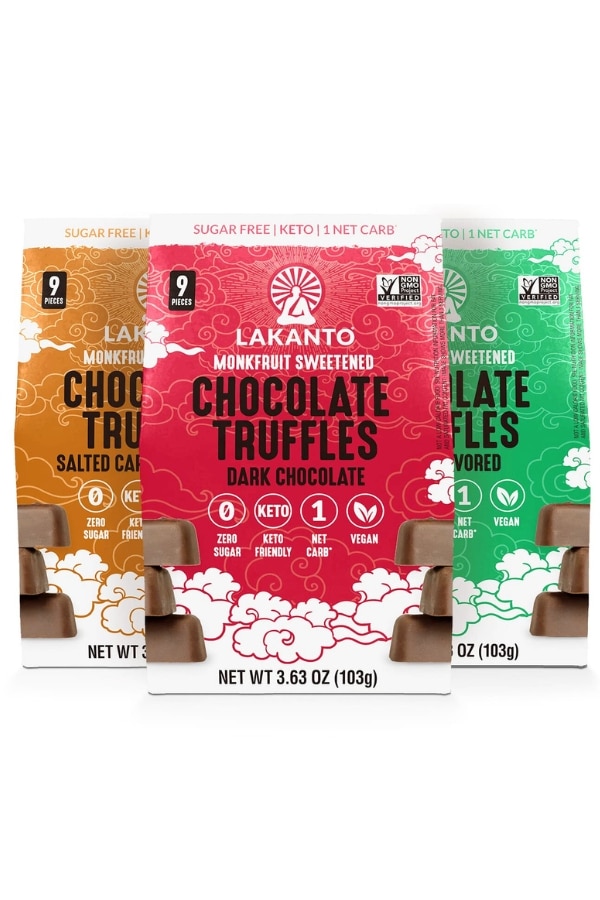 Serving size:

3 pieces (34g)

Calories:

170

Sugar:

0g
These Lakanto chocolate truffles are a guilt-free sweet treat that tastes so indulgent. These bite-sized chocolates are made with chocolate liquor sweetened with monk fruit extract and have no added sugar or dairy. Plus, they're individually wrapped to keep portion control in check, which I love cause I could eat a whole box of these.
You can get them in three different flavors that are all low in calories, including mint, salted caramel, and original dark chocolate.
More Low Calorie Lists You'll Love