This low calorie pasta sauce list has it all! Whether you're craving tangy marinara sauce, cheesy alfredo, or savory basil pesto, this list has all the best healthy pasta sauces you buy with under 80 calories per serving!
The Best Low Calorie Pasta Sauces
A good pasta sauce doesn't have to come with a boatload of calories, and you don't have to sacrifice time, convenience, or flavor either.
These store-bought healthy pasta sauces are so delicious and naturally low in calories, too. From rich tomato sauce to creamy alfredo, all of the options have less than 80 calories per serving, with most of them having under 60 calories!
These jarred pasta sauces are a game-changer for quick and easy dinners when you just don't have the time to whip something up from scratch. Toss in your favorite pasta, spread it over lasagna sheets, or simmer it in a saucepan with some meatballs. You can even use it as a dipping sauce for this fried eggplant or these baked chicken tenders. The possibilities are endless!
So, without further ado, let's jump right into this list of the best low calorie pasta sauces to buy!
Lowest Calorie Pasta Sauce Options
1. 365 by Whole Foods Organic Fat-Free Marinara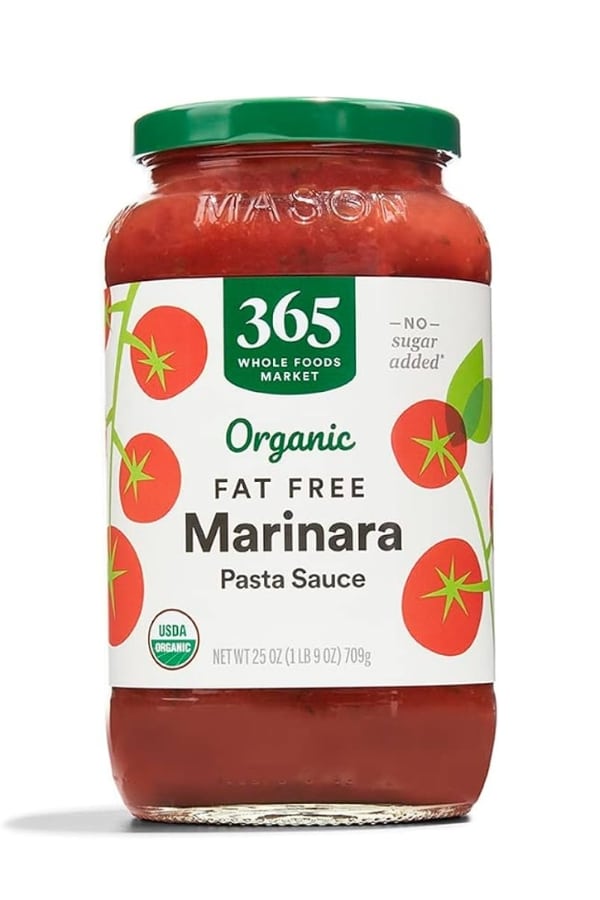 Nutritional Info for ½ cup (118g):
40 Calories
0g Fat
8g Carbs
4g Sugar
2g Fiber
2g Protein
You'd never believe this marinara is the lowest calorie pasta sauce from how delicious it tastes! A generous half cup serving of this tomato sauce has just 40 calories but tastes every bit as luxurious as a pasta dish you'd get at a restaurant. It's made with a simple combination of organic tomatoes, garlic puree, and herbs, leaving you plenty of room to customize the flavor to your liking or enjoy it as is.
2. Classico Roasted Garlic Alfredo Sauce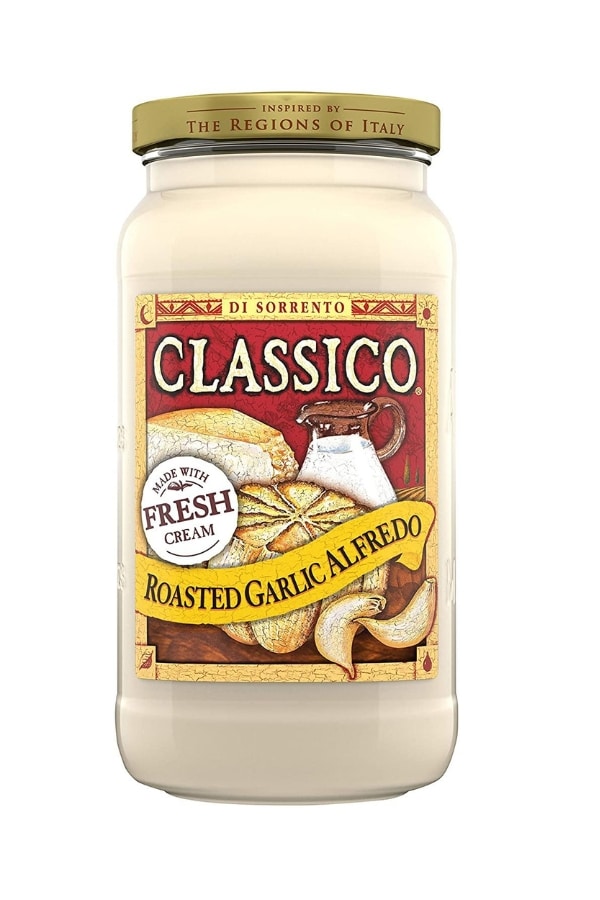 Nutritional Info for ¼ cup (60g):
45 Calories
3.5g Fat
3g Carbs
<1g Sugar
0g Fiber
1g Protein
Alfredo sauce is probably one of the richest pasta sauces you can have, which makes this incredible low-fat alfredo sauce a dream come true. It has all the flavor of your favorite pasta alfredo, packed with velvety cream, parmesan cheese, butter, and roasted garlic, and comes out to just 45 calories per serving or only 90 calories for a half cup. Serve it with some grilled chicken, vegetables, and herbs, and you've got a 5-star pasta recipe made in minutes.
3. Organico Bello Organic Spicy Marinara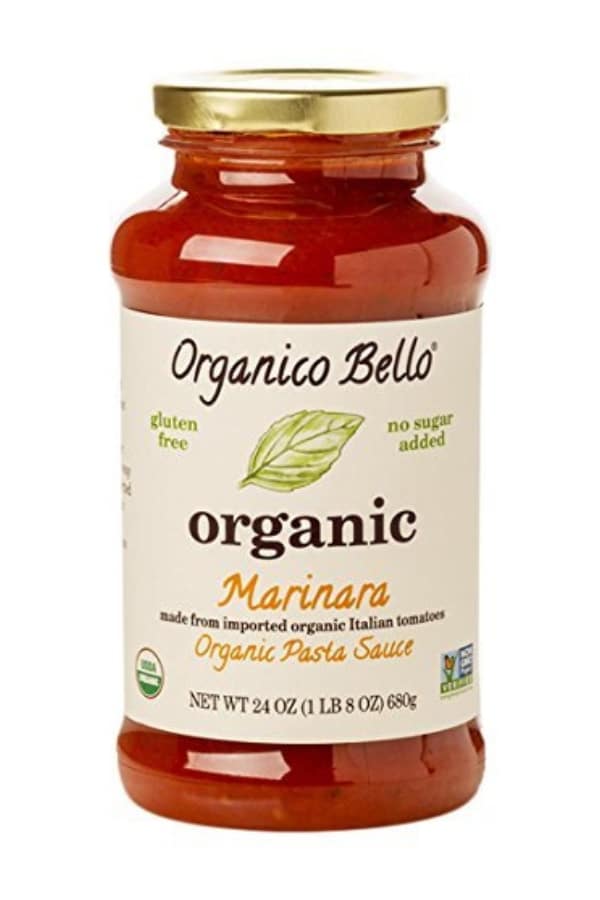 Nutritional Info for ½ cup (113g):
45 Calories
1g Fat
7g Carbs
5g Sugar
2g Fiber
1g Protein
If you like your marinara with a kick of heat, this spicy tomato sauce will be right up your alley. It has the thick and chunky texture of fresh handmade marinara and is bursting with savory flavor from clean ingredients and organic Italian tomatoes. For a non-spicy version, it also comes in classic marinara and tomato basil options.
4. Primal Kitchen Tomato Basil Marinara Sauce with Avocado Oil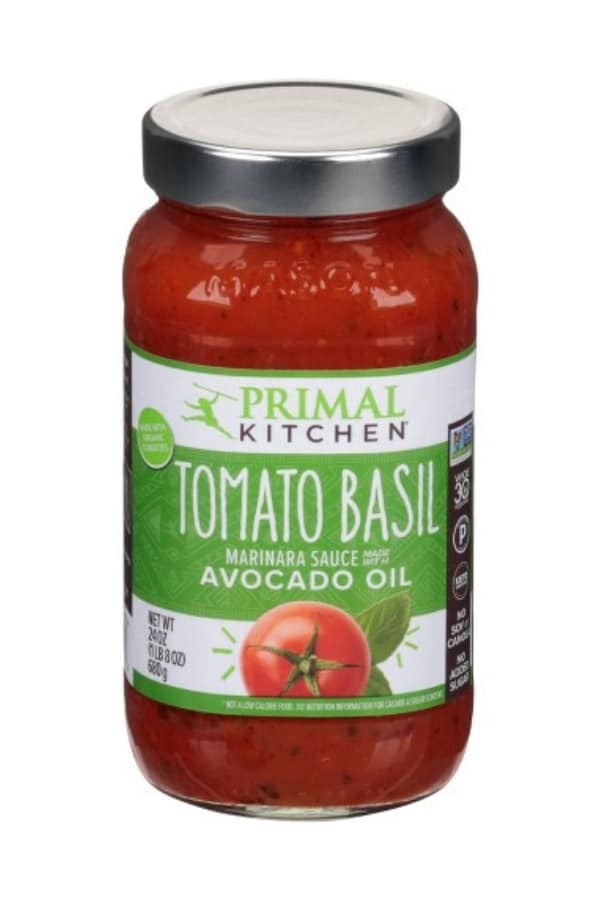 Nutritional Info for ½ cup (125g):
50 Calories
2g Fat
8g Carbs
5g Sugar
1g Fiber
1g Protein
You can use this delicious marinara sauce on anything from pasta dishes to pizzas and sandwiches. The combination of avocado oil, fresh basil, and aromatics gives it a homemade flavor that's warm and comforting. And at just 50 calories for half a cup, you don't have to think twice about going in for seconds!
5. Delicious & Sons Tomato & Porcini Mushroom Sauce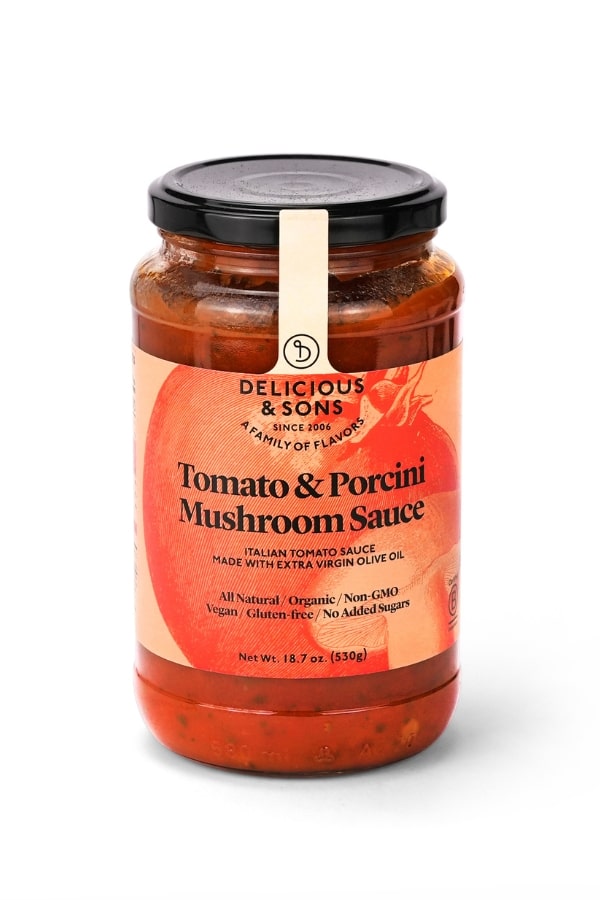 Nutritional Info for ½ cup (110g):
50 Calories
3g Fat
3g Carbs
3g Sugar
1g Fiber
2g Protein
Delicious & Sons definitely lives up to their name with this hearty mushroom tomato sauce. It has a meaty savory flavor with chunks of tender minced mushrooms and tart tomatoes balanced with high-quality extra virgin olive oil. It tastes like a plant-based bolognese sauce, with all the umami goodness and just a fraction of the calorie count.
6. Cucina Antica Alfredo Sauce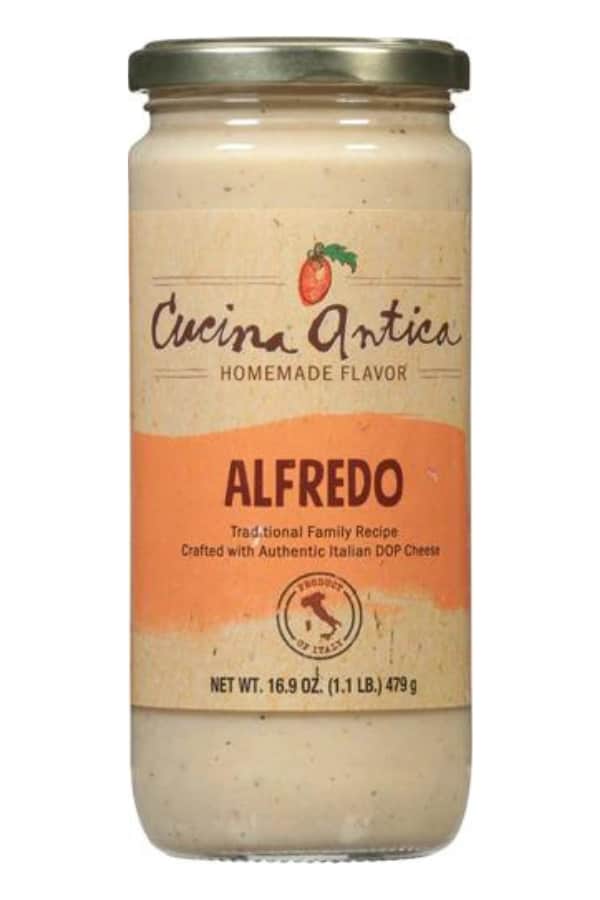 Nutritional Info for ¼ cup (60g):
50 Calories
3g Fat
4g Carbs
1g Sugar
0g Fiber
2g Protein
Another must-try if you love creamy pasta sauces, this naturally low calorie Alfredo sauce is rich, smooth, and unbelievably cheesy, made with a blend of ricotta, pecorino romano, and grana padano cheeses. You'll also want to keep an eye out for their tomatoey Rosa Alfredo and decadent Truffle Alfredo sauces, which are similarly low in calories with great ingredients.
7. Yo Mama's Marinara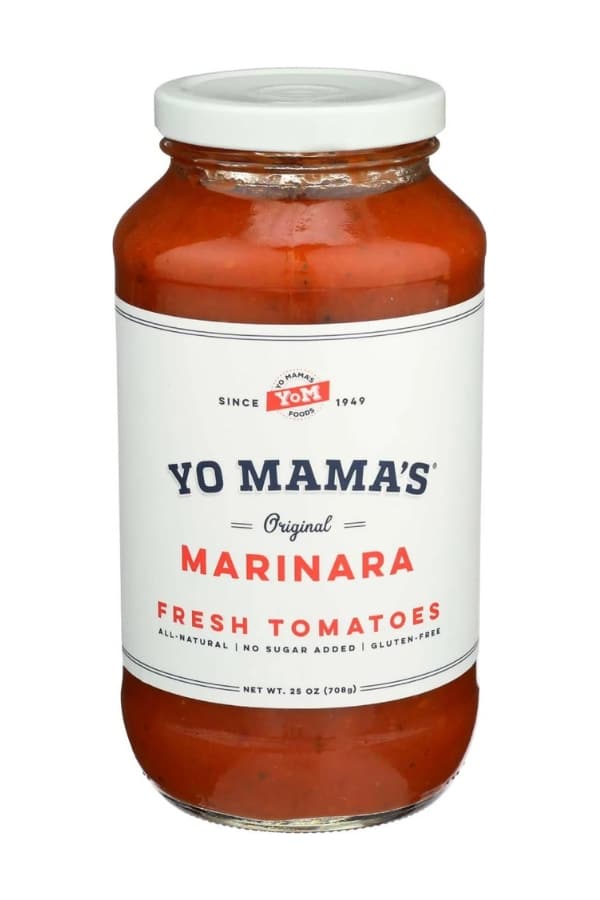 Nutritional Info for ½ cup (118g):
60 Calories
4.5g Fat
5g Carbs
2g Sugar
1g Fiber
1g Protein
You can serve this roasted garlic marinara sauce to anyone, and they'd never believe it was storebought. This garlicky marinara is made in small batches with fresh, simple ingredients you'd use in any at-home pasta sauce recipe, and that quality definitely shows up in the taste! It also comes in Rose Wine, Tomato Basil, Burgundy Wine, Chianti Wine, and Vodka versions with only 60-70 calories per generous serving, so you have plenty of great options to choose from.
8. Sonoma Gourmet Butternut Squash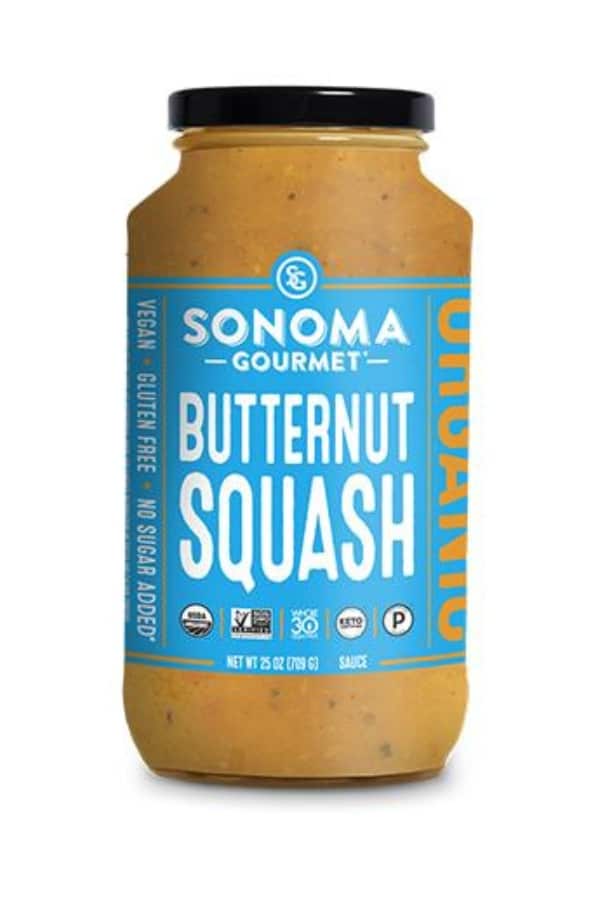 Nutritional Info for ½ cup (125g):
60 Calories
2.5g Fat
9g Carbs
3g Sugar
3g Fiber
1g Protein
If you're looking for something a little different than the usual tomato or alfredo pasta sauce, you'll want to check out this organic butternut squash sauce. Made with a blend of nutty butternut squash, vegetables, and spices, it's like a creamier version of marinara sauce with a wonderfully thick, smooth consistency and balanced savory flavor that's incredible on pasta, proteins, and more.
9. Due Cellucci Arrabbiata Spicy Sauce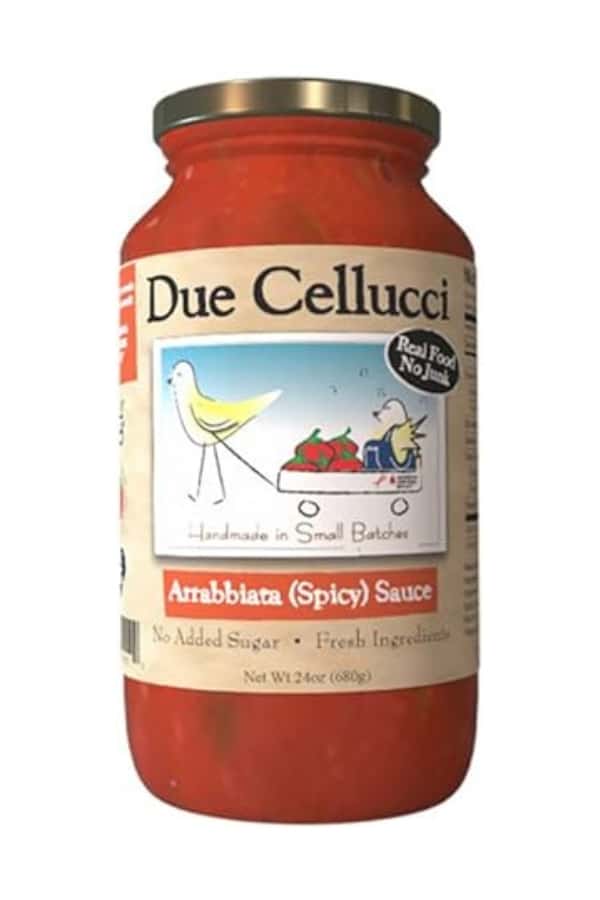 Nutritional Info for ½ cup:
60 Calories
7g Fat
1g Carbs
0g Sugar
0g Fiber
0g Protein
This fiery arrabbiata sauce is tangy, savory, and herbaceous, with just the right amount of spice from fresh chili peppers and red pepper flakes. It's handmade in small batches with San Marzano tomatoes and quality extra virgin olive oil for a flavor that's amazing straight out of the jar. It's fantastic tossed with pasta, as a base for pizza, or even enjoyed straight up as a dip. If you aren't a fan of the heat, you can also try their tomato basil sauce or traditional sauce.
10. Lucini Organic Savory Golden Tomato Sauce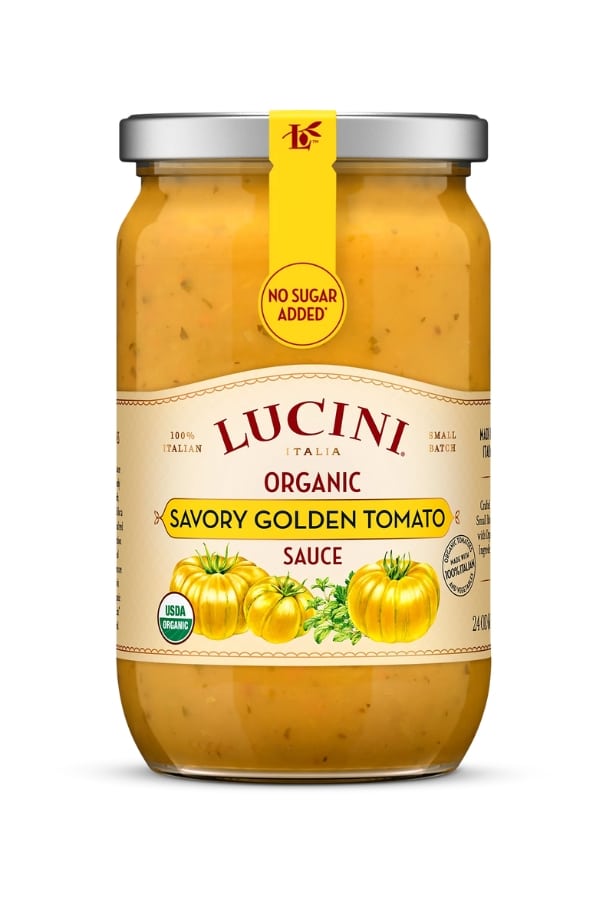 Nutritional Info for ½ cup (125g):
60 Calories
2.5g Fat
8g Carbs
5g Sugar
3g Fiber
2g Protein
A twist on the traditional tomato sauce, this vibrant golden sauce is made with yellow tomatoes, onions, carrots, and herbs for a sunny hue and garden-fresh flavor that's less acidic than red tomato sauce. It's a tasty way to switch up your usual spaghetti, lasagna, or pizza without sacrificing the flavor that makes these comfort food favorites so great.
Lucini also makes a variety of other naturally low calorie tomato sauces worth trying, including their oil-free Tuscan tomato marinara, roasted garlic sauce, and sensitive pasta sauce with no garlic and onions.
11. Whole Foods Market Pesto Alfredo Premium Pasta Sauce
Nutritional Info for ¼ cup (60g):
80 Calories
7g Fat
4g Carbs
0g Sugar
1g Fiber
<1g Protein
You don't have to choose between cheesy pasta alfredo or refreshing basil pesto with this flavorful sauce. It's a tasty blend featuring everything you love about the two famous pasta sauces - the fragrant and nutty flavor of pesto and the creamy cheesiness of Alfredo sauce. Best of all, it has just 80 calories per serving!
More Low Calorie Lists