Take all the guesswork out of ordering low calorie at Panda Express with this healthy guide. Whether you're looking for healthy meals, appetizers, or sides that you can order at Panda Express, you'll find something you're looking for here. Oh, and best of all, everything on this list has less than 300 calories!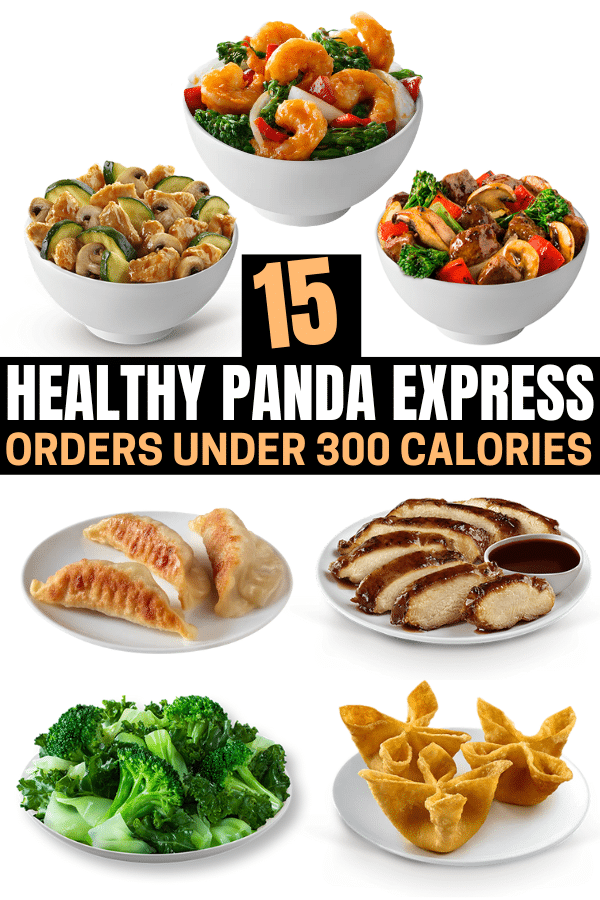 The Best Low Calorie Panda Express Menu Items
Eating healthy at Panda Express is a lot easier than you'd think! This Chinese-American chain has a huge range of healthy options that feature fresh veggies, lean proteins, and light yet flavorful sauces.
In fact, Panda Express even has a "Wok Smart" category on its menus for orders that have 300 calories or less and also at least 8g of protein! And there's a ton to choose from on it.
Sounds pretty awesome, right?!
By the way, all the nutritional information for these healthy Panda Express orders was derived from Panda Expresses' nutrition page, so feel free to check that out for even more info.
Healthy Options at Panda Express
1. Super Greens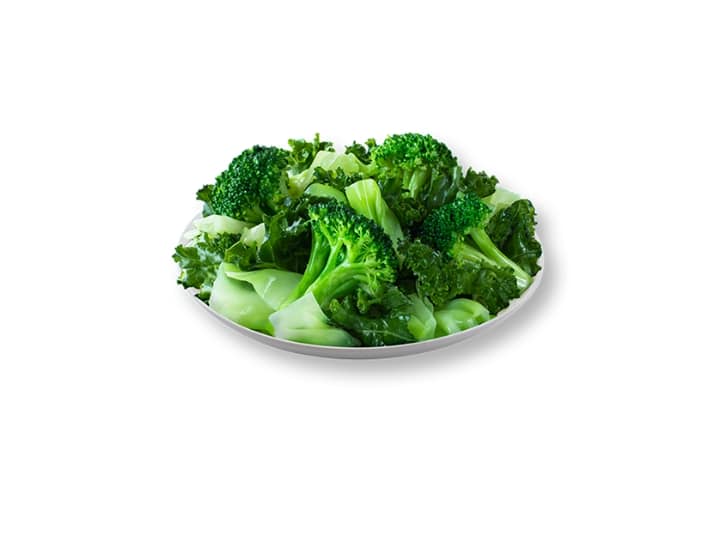 Nutritional Info:
90 Calories
3g Fat
10g Carbs
6g Protein
Kicking off our list of healthy orders are the Super Greens at Panda Express. They're the healthiest side dish you can order at PE, and they only have 90 calories a serving.
If you're trying to build a more filling low calorie meal at Panda Express you'll want to skip the chow mein and fried rice and opt for this side dish instead. This healthy and tasty combination of broccoli, kale, and cabbage in a light garlic sauce has less than a third of the calories as an order of brown rice does, and it also packs a good amount of fiber and nutrients, too!
2.
Sizzling Shrimp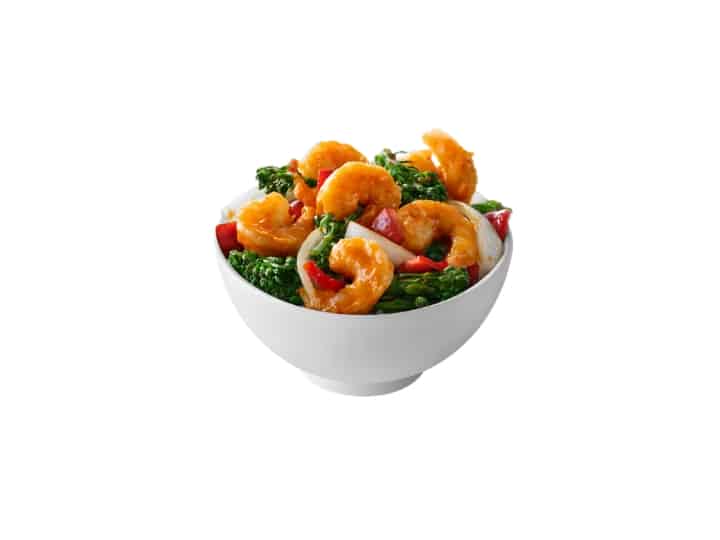 Nutritional Info:
100 Calories
3g Fat
8g Carbs
9g Protein
The Sizzling Shrimp is another healthy option Panda Express has. It combines juicy shrimp with baby broccoli and a sweet and spicy sauce, all for just 100 calories!
For what it's worth, I like to get 3-4 orders of it when I go just to make it more of a meal and also so I can get a good amount of protein in too.
3. Hot and Sour Soup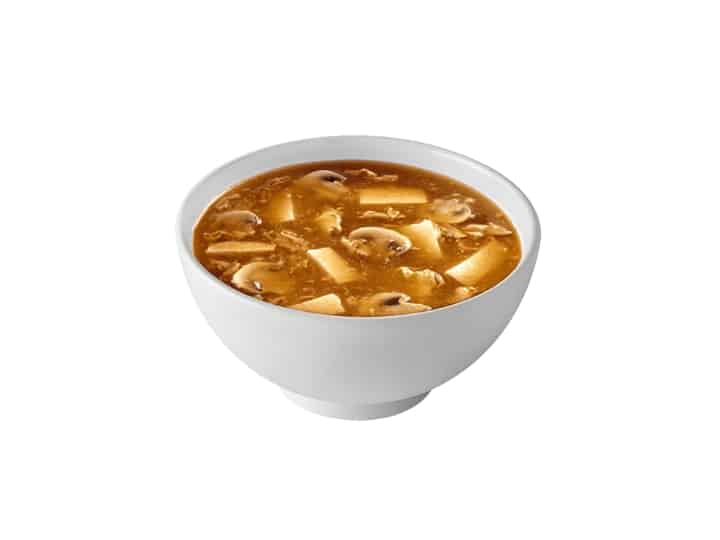 Nutritional Info:
120 Calories
5g Fat
14g Carbs
7g Protein
The hot and sour soup is just the thing to warm you up from the inside out. It's made with tofu, mushrooms, and bamboo shoots swimming in a spicy-tangy chicken broth. It's definitely a go-to during the chilly winter months and has just 120 calories for a cup or 170 calories for a bowl.
4. Broccoli Beef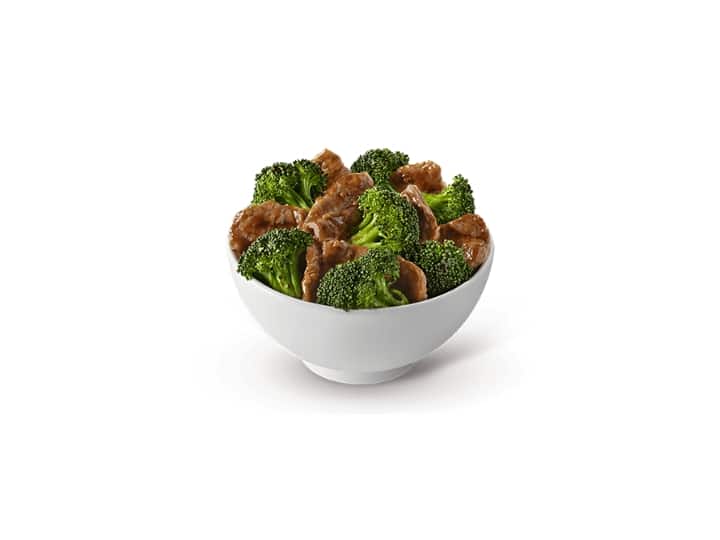 Nutritional Info:
150 Calories
7g Fat
13g Carbs
9g Protein
One of the healthiest options at Panda Express is their Broccoli Beef. It features tender beef, crisp broccoli, and a rich ginger soy sauce that's mouthwateringly good. The broccoli beef is also surprisingly low in calories - it has just 150 calories for the whole thing.
Honestly, I like this meal so much that I created my own version of Panda Expresses broccoli and beef. So, if you feel like making it at home, I definitely suggest giving that recipe a try!
5. Chicken Potstickers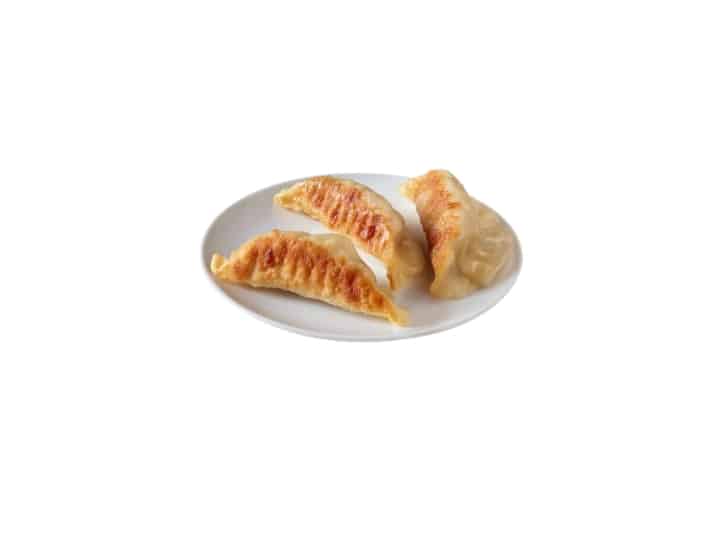 Nutritional Info:
160 Calories
6g Fat
20g Carbs
6g Protein
To start off your meal on the right foot, choose a low calorie appetizer like these Chicken Potstickers. They're made with juicy chicken, fresh vegetables, and tender wonton wrappers. Plus, they're pan-fried instead of deep-fried, cutting down massively on the calories and saturated fat content too.
Three chicken potstickers have just 160 calories total - that's fewer calories than one chicken egg roll has!
6. String Bean Chicken Breast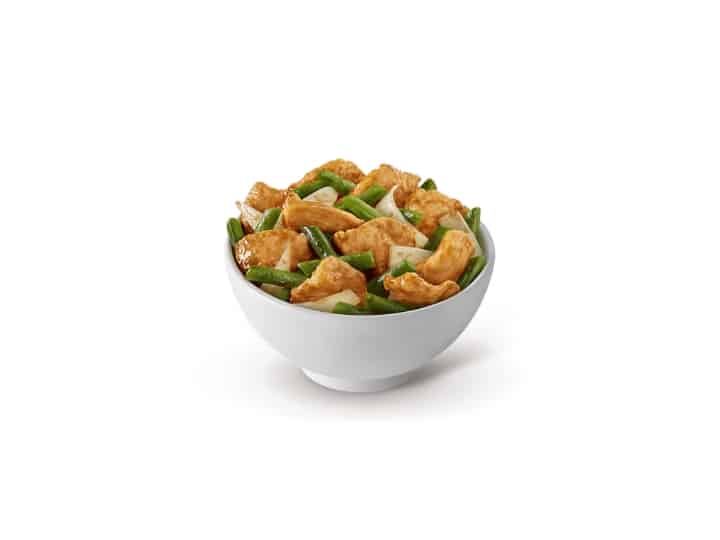 Nutritional Info:
170 Calories
7g Fat
13g Carbs
15g Protein
The String Bean Chicken Breast is another one of my favorite healthy entrees on the Panda Express menu. It's flavorful and hearty, and it has a good balance of protein and fiber. Plus, it has just 170 calories per serving!
Also, as you can probably guess from the name, it's got slices of chicken breast, string beans, and onions all coated in an umami-packed ginger soy sauce. It's so, so good!
7. Mushroom Chicken
Nutritional Info:
170 Calories
9g Fat
11g Carbs
12g Protein
For something lighter but still jam-packed with umami goodness, you can't go wrong with the Mushroom Chicken. It's made with slices of chicken, button mushrooms, and tender zucchini tossed in a delicious light ginger soy sauce. Best of all, it has just 170 calories a serving.
8. Black Pepper Angus Steak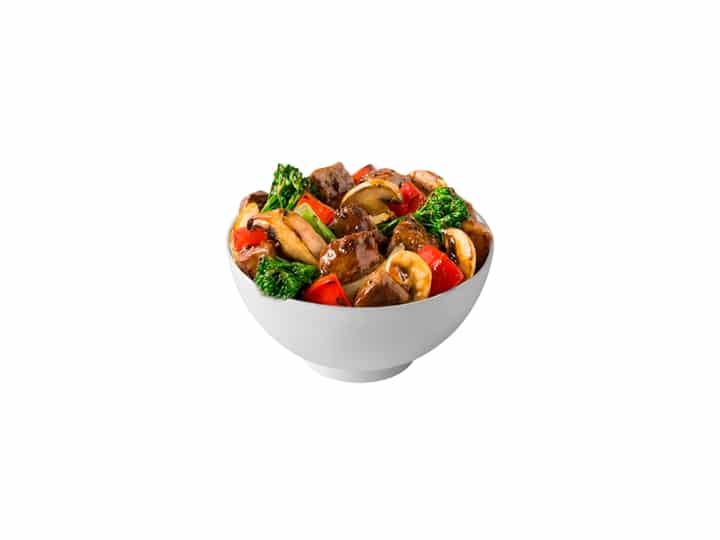 Nutritional Info:
180 Calories
7g Fat
10g Carbs
19g Protein
The Black Pepper Angus Steak is one of the newest additions to the Panda Express menu, and it's already cemented a reputation as one of their absolute must-try menu items.
This healthy option has chunks of Angus steak that are seared in a wok with green beans, onions, red bell peppers, and mushrooms. Then, all of that deliciousness gets covered in an ultra-flavorful black pepper sauce.
It's got just the right balance of meat and vegetables, and it's also one of their highest protein offerings at 19 grams of protein per serving.
9. Wok-Fired Shrimp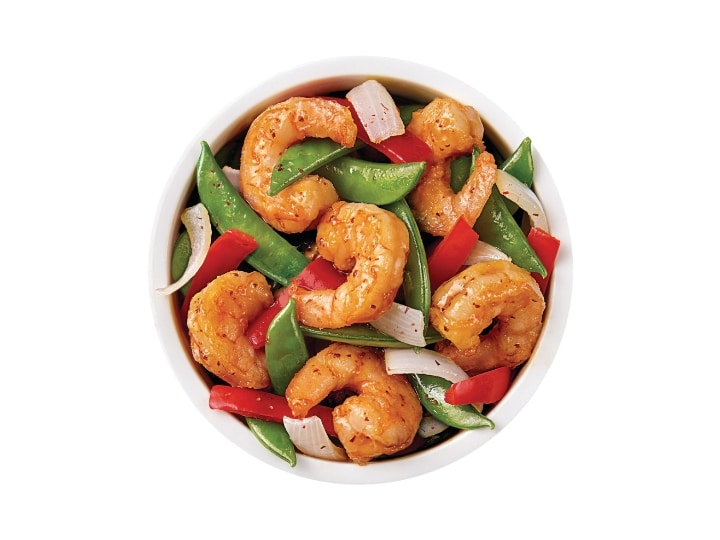 Nutritional Info:
190 Calories
5g Fat
19g Carbs
17g Protein
The Wok-Fired Shrimp from Panda Express is another healthy low calorie entree option. The shrimp is cooked in a sweet and savory sauce alongside red bell peppers, yellow onions, and sugar snap peas, and the entire dish comes in at under 200 calories.
Now, just so you know, the Wok-Fired Shrimp isn't always available on their menu, so be sure to grab it when you see it!
10. Cream Cheese Rangoon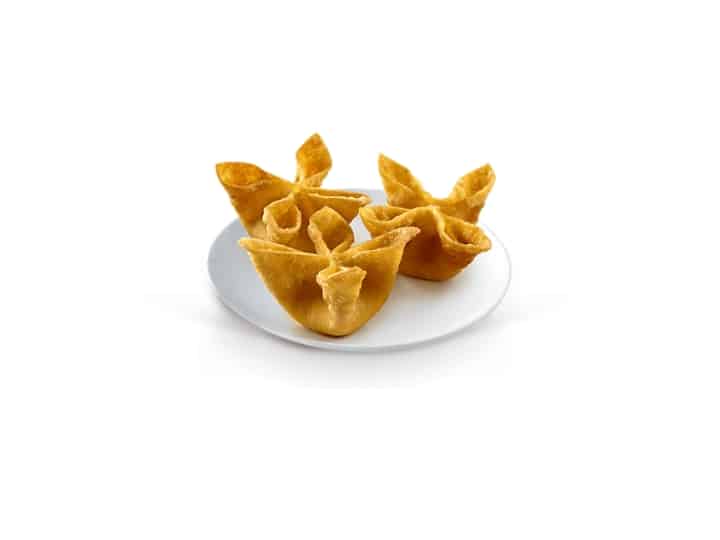 Nutritional Info:
190 Calories
7g Fat
24g Carbs
5g Protein
If you're really craving something crunchy and deep-fried at Panda Express, the Cream Cheese Rangoon is a great option that isn't too high in calories.
For 190 calories, you get three super crunchy cream cheese filled wonton wrappers, and you even get a sweet and sour sauce for dipping them in too!
11. Potato Chicken
Nutritional Info:
190 Calories
10g Fat
18g Carbs
8g Protein
Potato Chicken isn't available in all the Panda Express branches, but it's well worth picking up if you find it in your area. This combination of chicken, potatoes, and carrots is deliciously hearty yet light and has just 190 calories per serving.
12. Crispy Shrimp
Nutritional Info:
260 Calories
13g Fat
26g Carbs
9g Protein
If you're a fan of the Honey Walnut Shrimp at Panda Express but aren't a fan of the high calorie count, the Crispy Shrimp is a delicious alternative. Three pieces of these crunchy shrimps have 100 calories less than an order of honey walnut shrimp, and they're just as deliciosu!
13. Black Pepper Chicken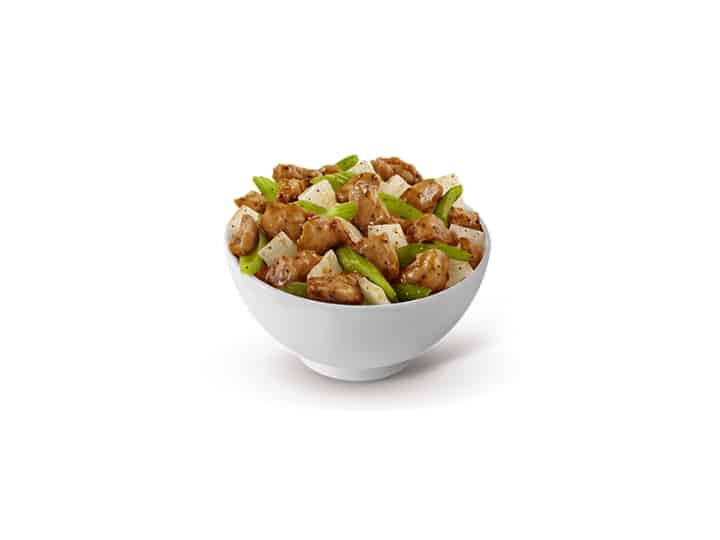 Nutritional Info:
280 Calories
19g Fat
15g Carbs
13g Protein
The Black Pepper Chicken stir-fry has the same mouthwatering flavors as the Black Pepper Angus Steak, but it's made with juicy, tender chicken instead. The chicken is sauteed in a thick, tangy, and slightly spicy black pepper sauce, along with some celery and onions. Best of all though, each serving has just 280 calories!
14. Kung Pao Chicken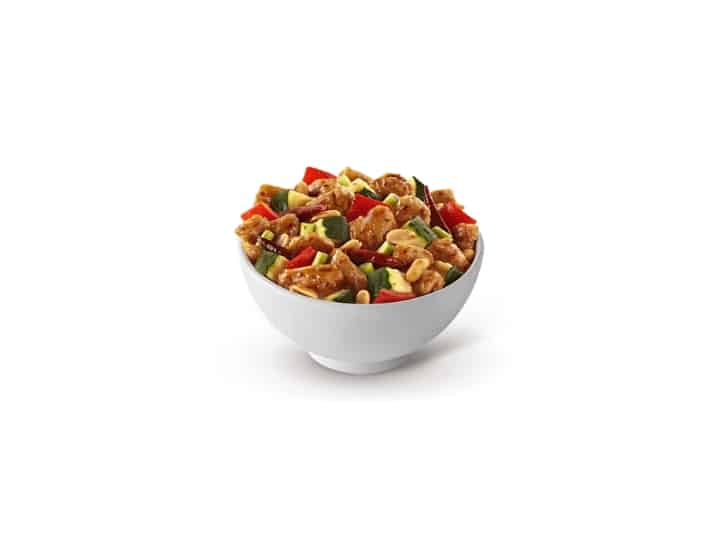 Nutritional Info:
290 Calories
19g Fat
14g Carbs
16g Protein
Panda Expresses Kung Pao Chicken has a sweet, savory, and spicy flavor. It combines succulent chicken, crunchy peanuts, crisp vegetables, and chili peppers with a savory sauce that'll keep you coming back for more bite after bite.
It's reminiscent of their popular Orange Chicken, but it's a bit spicier. Also, unlike the Orange Chicken, the Kung Pao Chicken has less than 300 calories a serving.
15. Grilled Teriyaki Chicken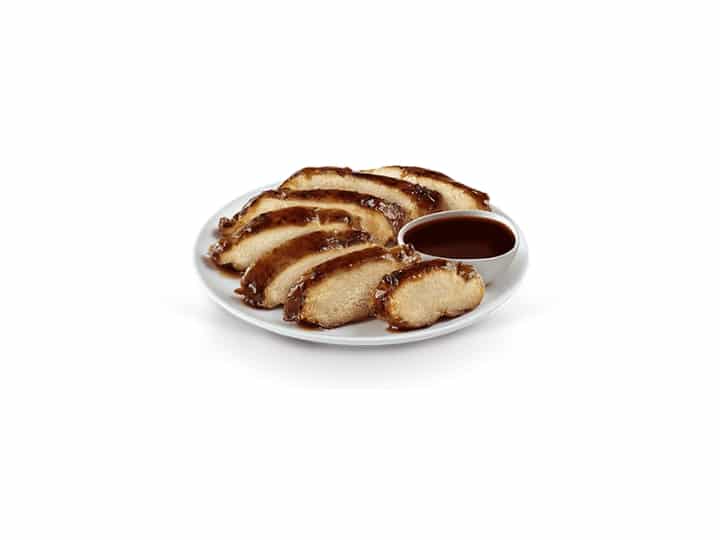 Nutritional Info:
300 Calories
13g Fat
8g Carbs
36g Protein
Though the Grilled Teriyaki Chicken comes out to 300 calories, I thought it was worth putting on the list since it's still a delicious low calorie option that's also high in protein.
This super juicy grilled chicken entree is coated in a sweet and savory teriyaki sauce, then it's hand-sliced to order for maximum flavor.
Besides tasting fantastic, it's also the most protein-packed option on the Panda Express menu, with over 35 grams of protein per order!
Wrapping It Up
Well, those are all the healthiest orders at Panda Express right now!
As you can see, Panda Express has a wide variety of high-protein veggie-packed meals that have far fewer calories than most fast food chains. It's easily one of my favorite fast casual spots to order takeout from when I want something quick, healthy, and low in calories.
Anyway, I hope this list helps you out the next time you're trying to order something healthy at Panda Express.
As always, if you give anything a try, leave a comment below and let me know how it goes.
More Healthy Low Calorie Fast Food Lists
If you want even more healthy low calorie fast food recommendations, I have a ton of other helpful lists on the blog!
Here are some reader favorites:
Also, don't forget to give my YouTube, Instagram, and TikTok pages a look if you haven't already. I post new healthy and delicious recipes on them all the time!