These baked chicken legs are deliciously tender and juicy, and they're coated in the most addictive sweet and spicy Asian-style sauce that'll have you licking your plate clean. Best of all, you can prep these chicken drumsticks in just 15 minutes! Then, all you have to do is pop them in the oven and dig into 'em 30 minutes later.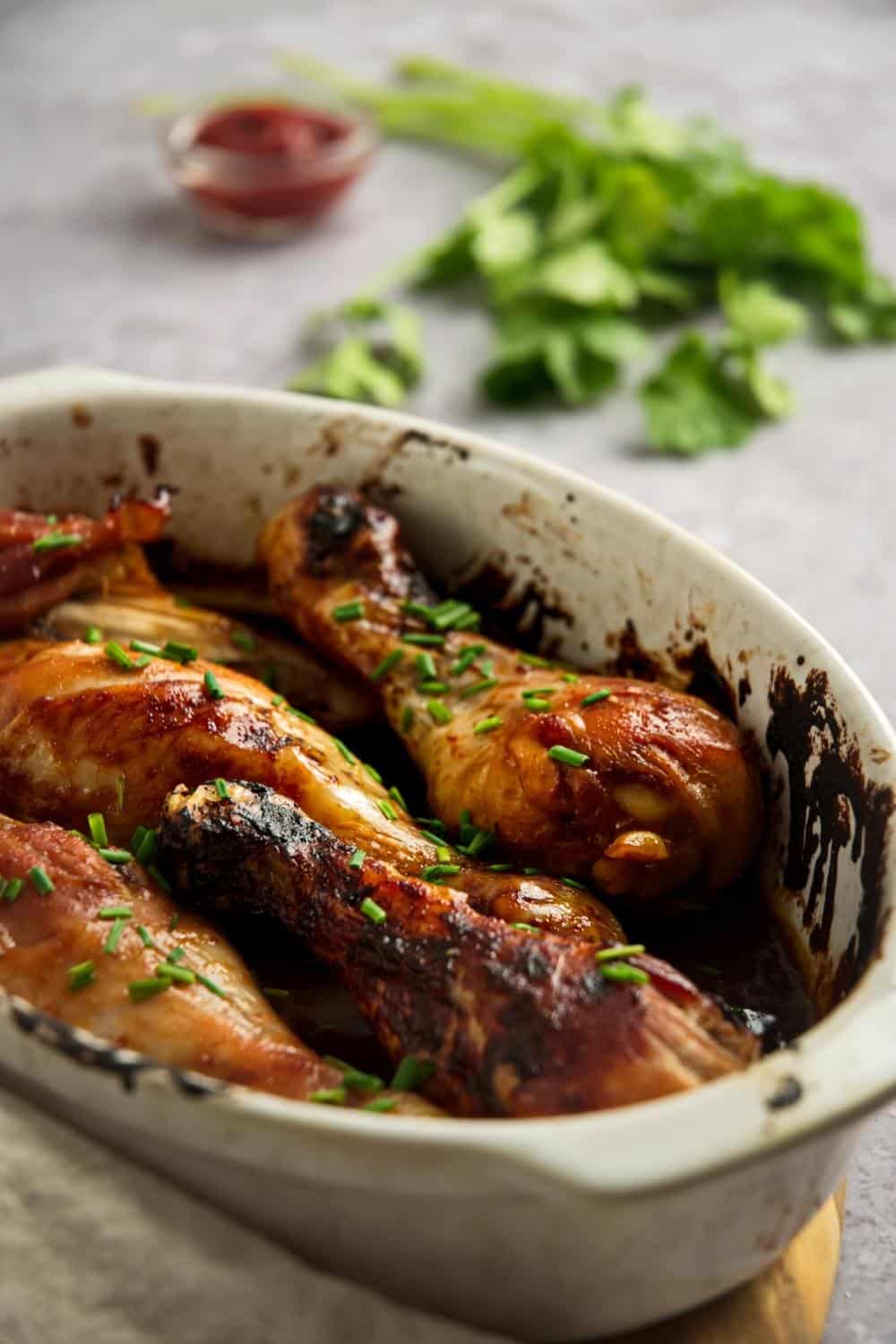 The Best Baked Chicken Legs
Whether it's a regular weeknight dinner or a game day feast, these easy baked chicken legs are my ultimate go-to recipe when I want to make everyone at the table happy.
Seriously, these chicken drumsticks are absolutely addictive! They're perfectly cooked and juicy with crispy skin and sticky glaze that's sweet and savory and has just the right amount of heat and tang to keep you coming back for more.
What I love most about these crispy chicken drumsticks, though, is that it requires so little prep and cleanup. The chicken legs are prepped in just 15 minutes, and it takes just 30 minutes to cook chicken legs perfectly every time.
Oh, and if you're looking for a tasty side dish to serve with these baked chicken drumsticks, I highly recommend this cauliflower rice, low carb coleslaw, or this sauteed eggplant.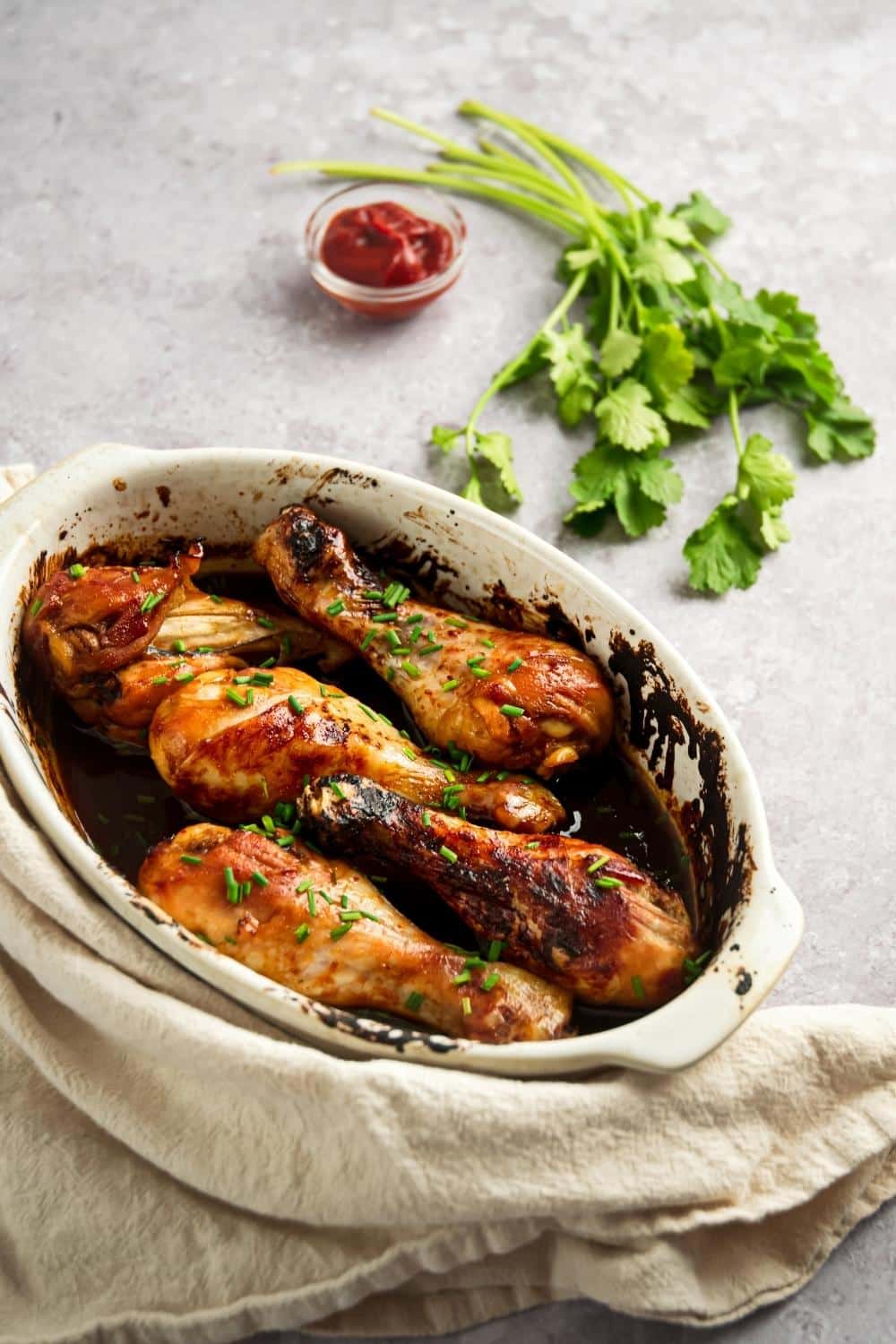 Ingredients
Another thing to love about this crispy baked chicken legs recipe is that it's made with mostly pantry staples and easy-to-find ingredients.
And anything you don't already have should be readily available at your nearest Asian grocery store or the Asian section of your supermarket.
Now, here's what you'll need to make these oven baked chicken legs:
2 tbsp. Soy Sauce
2 tbsp. Honey (or liquid allulose)
2 tbsp. Brown Sugar (or brown swerve)
2 tbsp. Rice Vinegar
2 tbsp. Kimchee Base Sauce (or Sriracha)
6 Chicken Legs, skin on
Salt and Pepper
1 tbsp. Green Onions, sliced.
Pretty simple, right? All of these ingredients combine to make the perfect oven roasted chicken legs. But with that said, there are a few tweaks you can make to this easy recipe, and it'll turn out just as delicious!
Ingredient Substitutions
Now, as you may have noticed, I listed a few substitution ideas for some of the ingredients posted above. If you can't find a kimchi base, you can use Sriracha in its place. It won't have the exact same flavor profile, but will be equally delicious and addicting.
Another great substitute would be gochujang sauce, if you can find it. The flavors are much closer to the kimchi base, but it is a lot spicier, so you may want to use about half the recommended amount.
Oh, and if you want to keep these crispy baked chicken legs sugar free, you can use brown swerve instead of brown sugar and liquid allulose instead of honey. Both of these substitutions will work perfectly to keep these baked chicken legs low carb.
By the way, I use a lot of these same ingredients for my shrimp stir fry recipe, so you should definitely check that out next!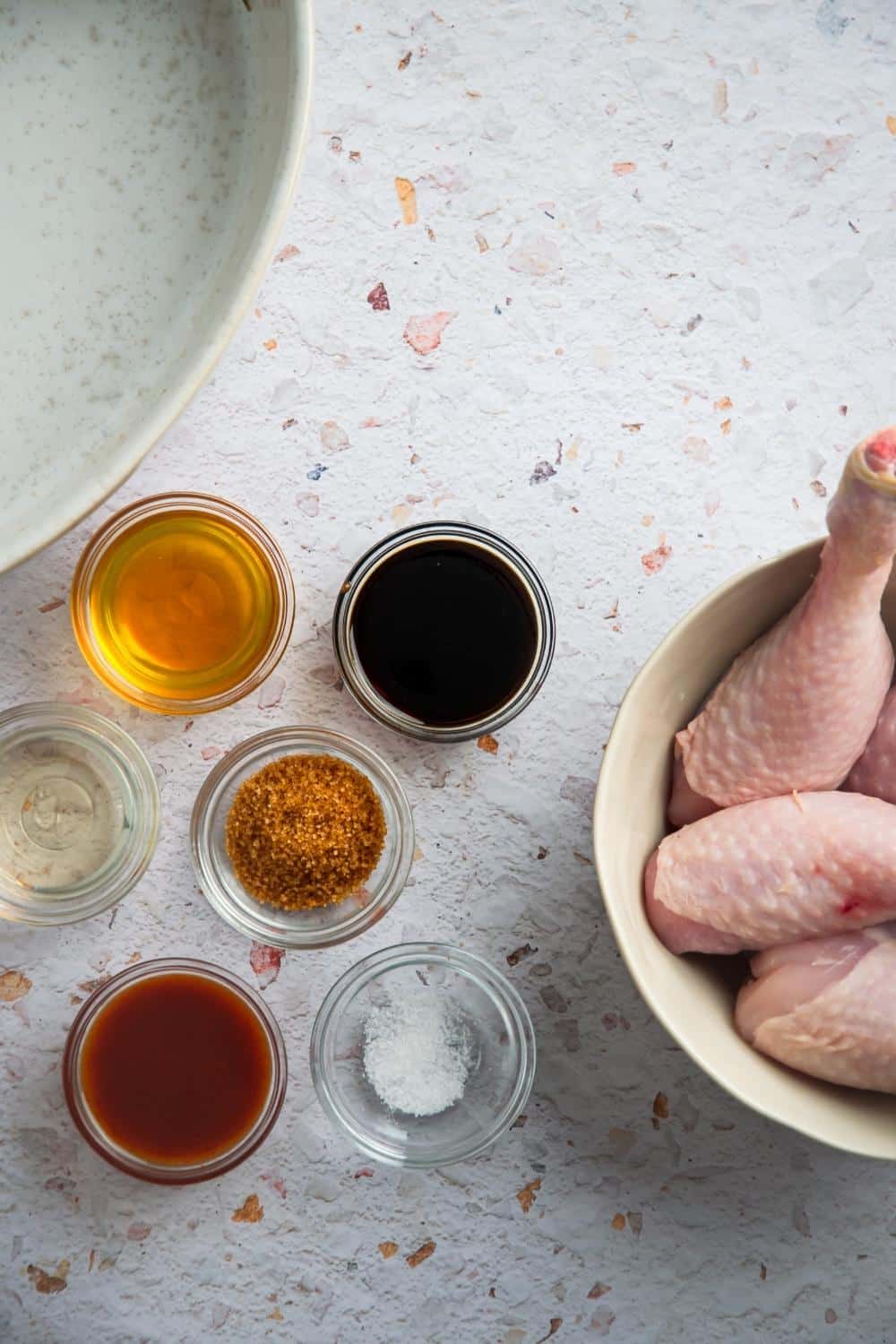 How to Make Baked Chicken Legs
Ok, so now that you're all caught up on the ingredients you'll need to make this baked chicken drumsticks recipe, let's get into the steps.
As I mentioned earlier, these baked chicken drumsticks are quick and effortless.
You'll only need about 10 minutes of prep, then just pop your chicken legs in the oven and let 'em cook!
All told, these sticky chicken drumsticks should be ready in about 45 minutes from start to finish.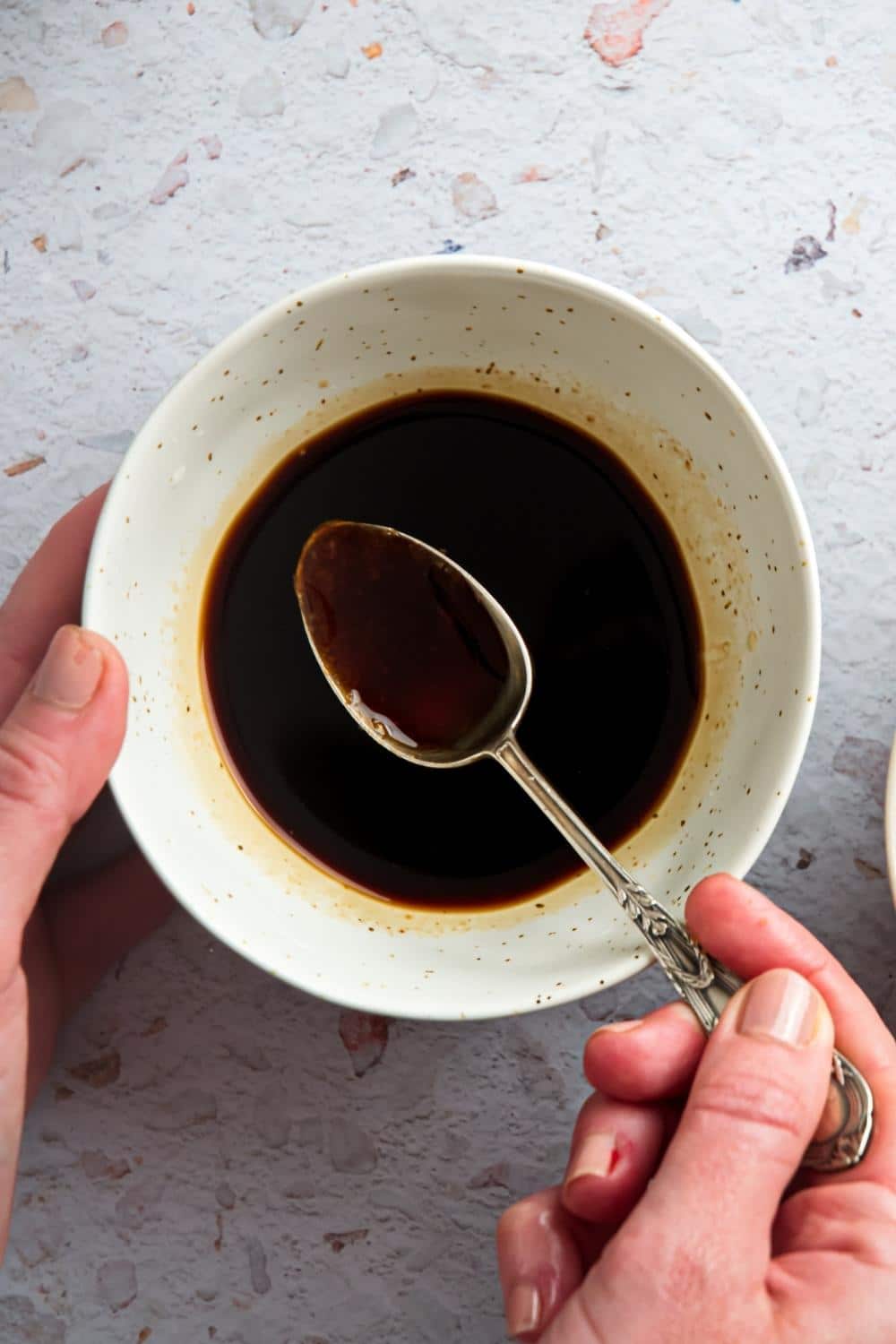 Step 1: Preparing the Chicken Legs
First, preheat your oven to 350ºF (175ºC).
Next, pat the chicken dry with a paper towel to get rid of any excess moisture.
Season the chicken drumsticks with salt and pepper, but don't go too crazy since we'll already be getting a lot of salt and spice from the glaze.
Then, take out a small bowl and combine the soy sauce, honey, brown sugar, rice vinegar, and your kimchee base or sriracha.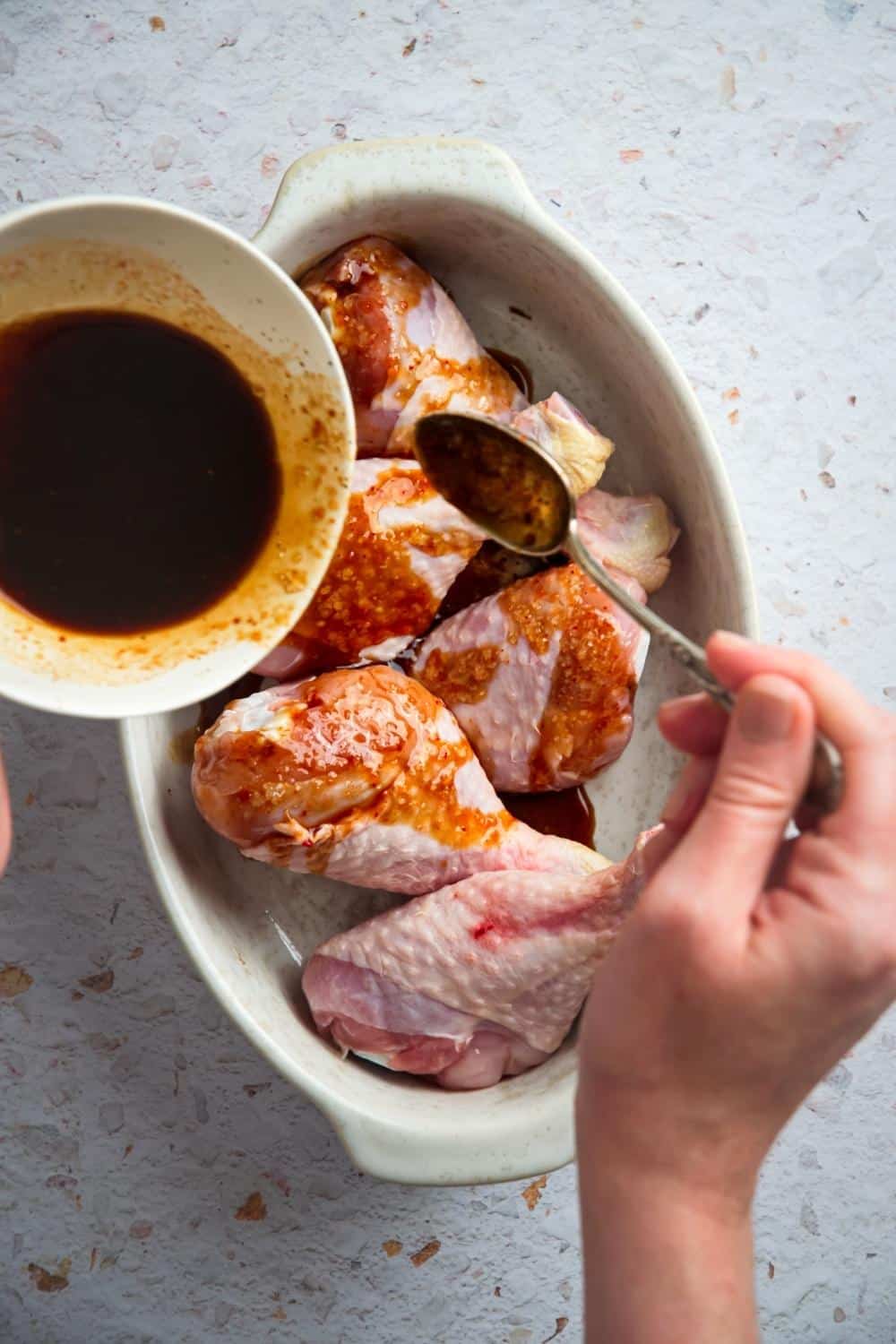 Step 2: Bake and Serve
Now, arrange your chicken legs in a single layer on the baking dish. And if you want easier cleanup, you can also line the baking dish with parchment paper beforehand.
Next, drizzle the prepared sauce over the chicken drumsticks and gently toss them - or flip them - with tongs to coat evenly. Then, slide them into your preheated oven and bake the chicken legs for 30-35 minutes until they're golden, sticky, and have perfectly crispy skin.
Oh, and if you want to make extra sure that the chicken legs are done, you can poke a meat thermometer at the thickest part of the chicken leg and check that the cooked chicken's internal temperature reaches 165 ºF (74ºC).
Finally, take your baked drumsticks out of the oven and garnish them with chopped green onions.
Serve the cooked chicken drumsticks with your favorite side dish, and enjoy!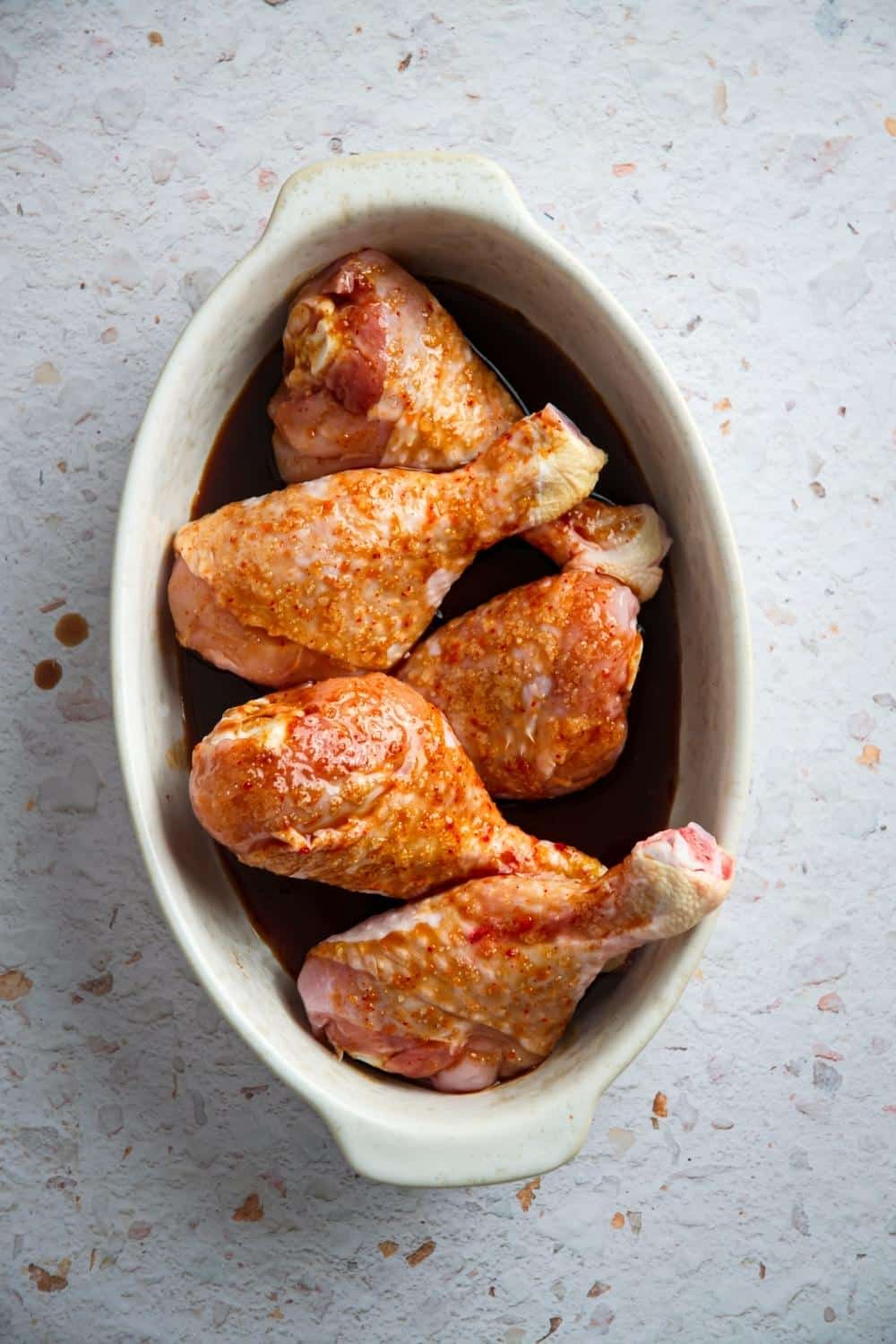 How to Store Baked Chicken Legs
This recipe for oven baked chicken legs recipe makes enough for 6 servings and can easily be doubled or tripled for a bigger (or hungrier) group.
And one of my favorite things about this recipe is that the leftover baked chicken drumsticks are actually just as good as when they're freshly made!
It's pretty hard to overcook chicken legs, so you can reheat them without worrying that they'll get dried out.
Oh, and just so you know, these crispy chicken drumsticks can last up to 4 days in an airtight container in the refrigerator or up to 4 months in a freezer bag in the freezer.
How To Reheat Chicken Legs
These chicken legs are actually really tasty cold, but you can definitely reheat them if you want!
To reheat your chicken legs just place them in an oven preheated to 350ºF (175ºC) for 12 minutes or in the air fryer at 325ºF (160ºC) for around 10 minutes.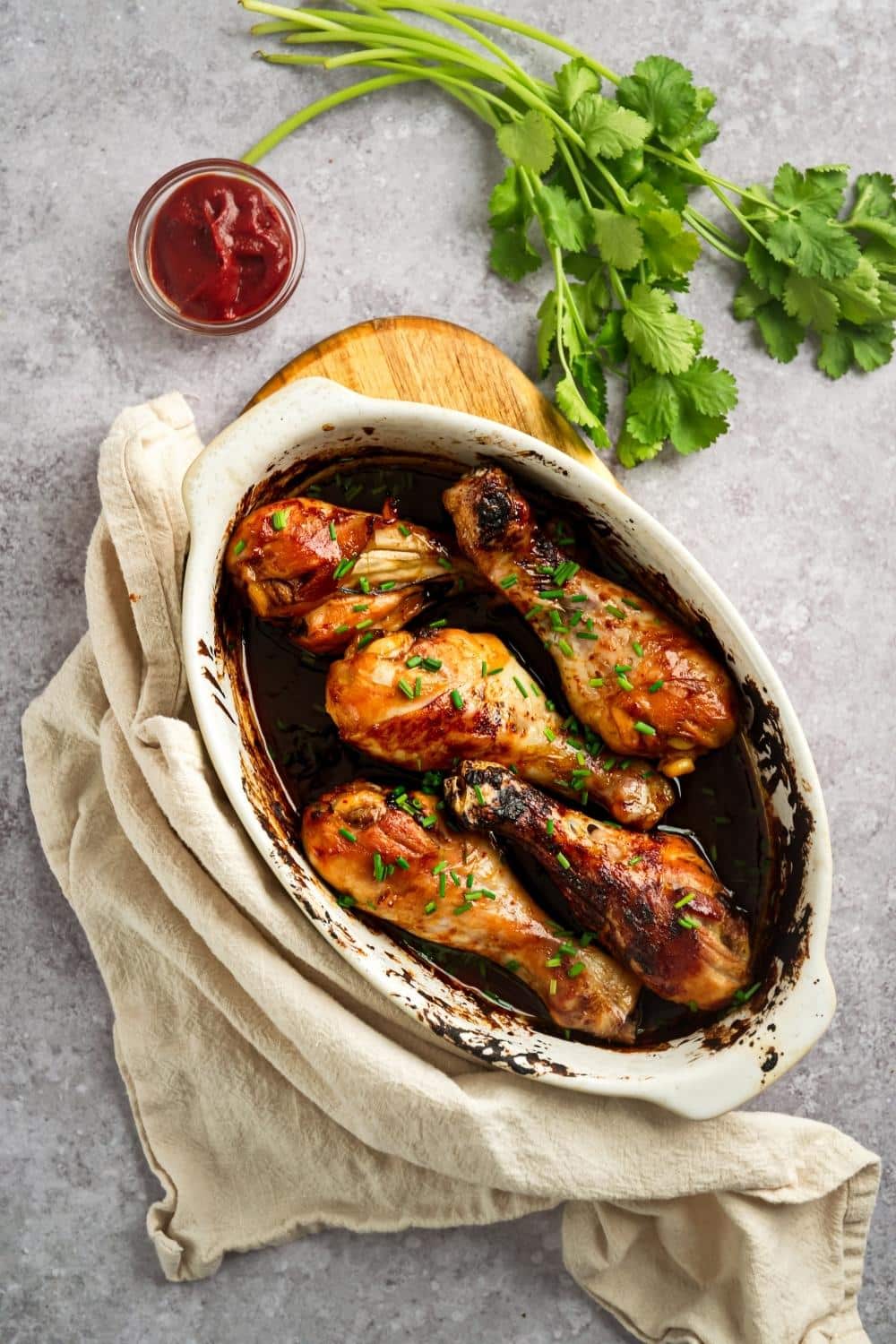 FAQs About These Baked Chicken Legs
Is it better to bake chicken legs at 350 or 400?
It all comes down to your recipe and how crispy you want your chicken legs to get.
This chicken drumsticks recipe has a sweet and sticky glaze, so 350ºF is the perfect temperature to get the chicken cooked without burning the sugar in the sauce.
For baked chicken recipes without sauce, 400ºF is a good temperature to get the outside of the chicken crispy while keeping the inside juicy.
You can also bake chicken at 400ºF and then add the sauce after, but the flavors in the sauce don't develop as much and the sauce won't cling to the chicken well.
For both cases, you'll want to bake your chicken legs until you reach an internal temperature of at least 165ºF.
How long does it take to bake chicken legs at 400?
You can bake chicken legs in about 25-30 minutes at 400ºF. If you're starting from frozen, this could take 75-85 minutes (an hour and 15 minutes or more).
Take note that these are just guidelines. The amount of time you need to bake chicken legs at 400 could vary depending on the size of your chicken drumsticks, how many you're cooking at once, and how cold they are when you start baking them.
Basically, your goal here is to bake until the chicken reaches an internal temperature of at least 165ºF .
How long should I bake chicken legs in the oven?
For this baked chicken legs recipe, baking at 350ºF for 30-35 minutes is enough to cook the chicken and the sauce perfectly.
If the temperature is too high - or the cook-time is too long - the sugar in the glaze could burn.
Other baked drumsticks recipes recommend a temperature of 425ºF for 40 - 45 minutes to get the chicken extra-crispy.
With that said, the general rule is the lower the temperature you use, the less crispy your chicken legs will be.
Again, the most important thing to remember when cooking chicken is to get it to an internal temperature of at least 165ºF.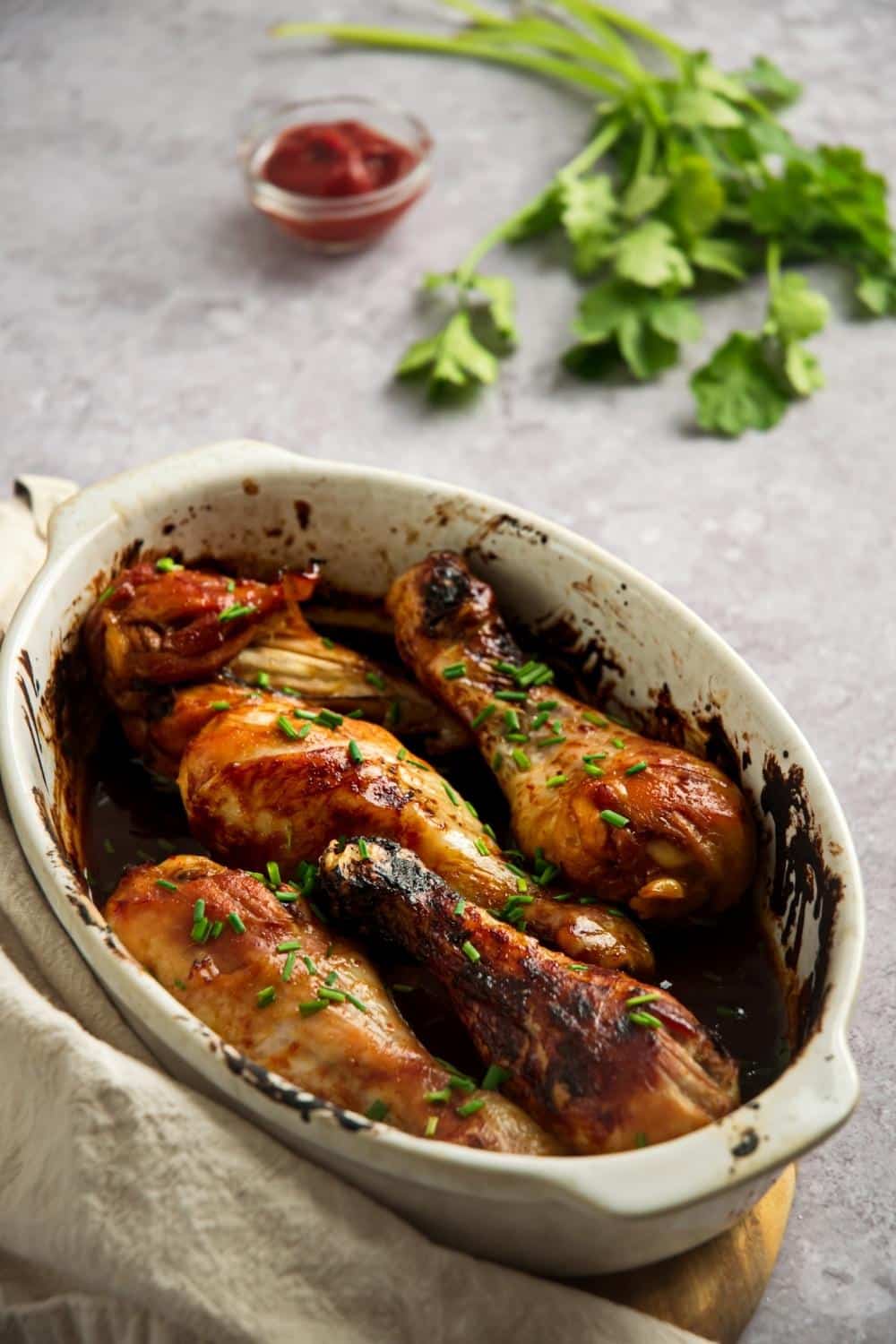 Wrapping It Up
Well, that's how to make baked chicken legs in the oven!
These savory, sweet, and spicy glazed chicken legs have the most addictive crispy skin, and they're just as popular at the dinner table as they are on game day.
It's my ultimate no-fail easy chicken dinner recipe. And, honestly, my family begs me to make it every week.
Anyway, I hope you enjoy making these crispy chicken drumsticks as much as I/we do.
If you make it, leave a comment below and let me know how it went! I'd love to hear from you.
And, as always, be sure to check out my YouTube and Instagram for even more delicious recipes just like this one.
More Chicken Recipes
If you want to try some more easy chicken recipes, I have a ton on the blog that you can make!
Check out all of these recipes:
Print
Baked Chicken Legs
These baked chicken legs are deliciously tender and juicy, coated in the most addictive sweet and spicy Asian-style sauce that'll have you licking your plate clean. You can prep your chicken drumsticks in 15 minutes, pop them in the oven, and dig into these mouthwatering baked chicken legs in just 30 minutes!
Author:
Prep Time:

5 minutes

Cook Time:

30 minutes

Total Time:

45 minutes

Yield:

6 drumsticks

Category:

Dinner

Method:

Oven
Instructions
Preheat the oven to 350ºF (180°C).

Season the chicken legs with salt and pepper.

Mix the soy sauce, honey, brown sugar, rice vinegar, kimchee base or sriracha in a bowl.

Place the chicken legs in a baking dish and top with the sauces.

Bake for 30-35 minutes.

Serve with green onions.
Nutrition
Serving Size:

1 drumstick

Calories:

277

Fat:

10

Carbohydrates:

1

Protein:

23
Keywords: Baked chicken legs, Oven baked chicken legs, Baked chicken legs recipes, baked chicken legs recipe in oven, baked chicken legs recipe easy, baked chicken legs recipe soy sauce, best baked chicken legs recipe, baked chicken recipe, chicken recipe ideas,