These grilled chicken legs are a must-try recipe for grilling season. They're super juicy, have the most deliciously crispy roasted skin, and are coated in an addictive smoky dry rub that you simply won't be able to get enough of. Not to mention, these grilled chicken thighs are super quick and easy to make too. Just 30 minutes is all you need to make 'em.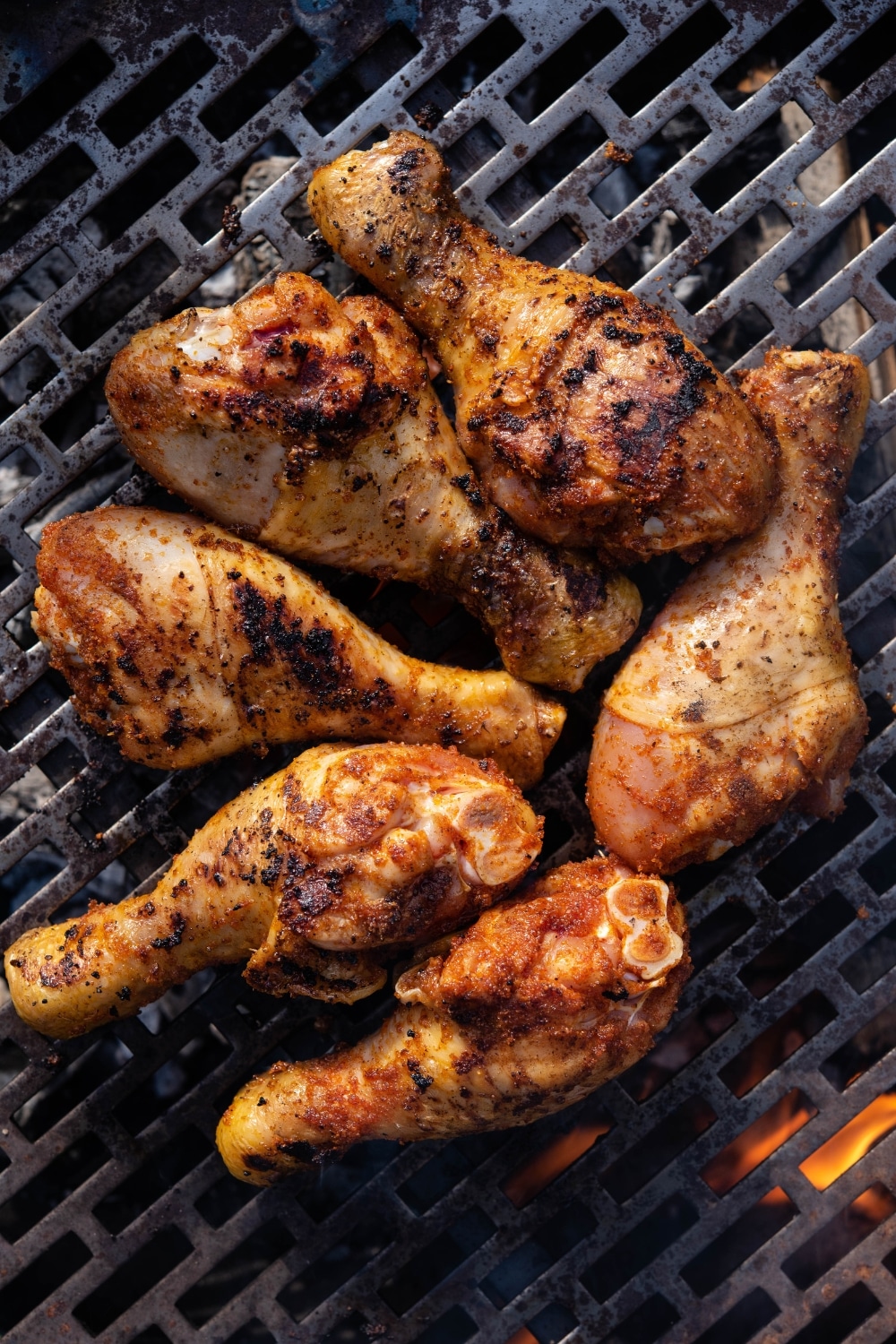 The Best Grilled Chicken Legs
Grilling season is here, and these grilled chicken drumsticks have been my go-to thing to make.
The chicken legs are coated in a savory, smoky, and slightly spicy dry rub that'll have you licking your fingers clean. Not to mention, these chicken legs come out super juicy with the crispiest skin ever.
Plus, another thing I love about this recipe - besides how delicious it is - is how easy it is to make. All you have to do is coat the chicken legs in the seasoning, then pop them on the grill and let the grill do all the hard lifting from there.
Honestly, this recipe is so easy and so good that it's quickly become one of my all-time favorite chicken recipes to make period. I mean, it's practically effortless to whip up but the results in stunning grilled chicken that never fails to impress! Truly it's right up there with my ever-popular air fryer chicken breast recipe.
By the way, while these grilled chicken drumsticks are cooking on the grill, you can whip up some quick and easy sides to go along with them, like this healthy egg salad or this low carb coleslaw.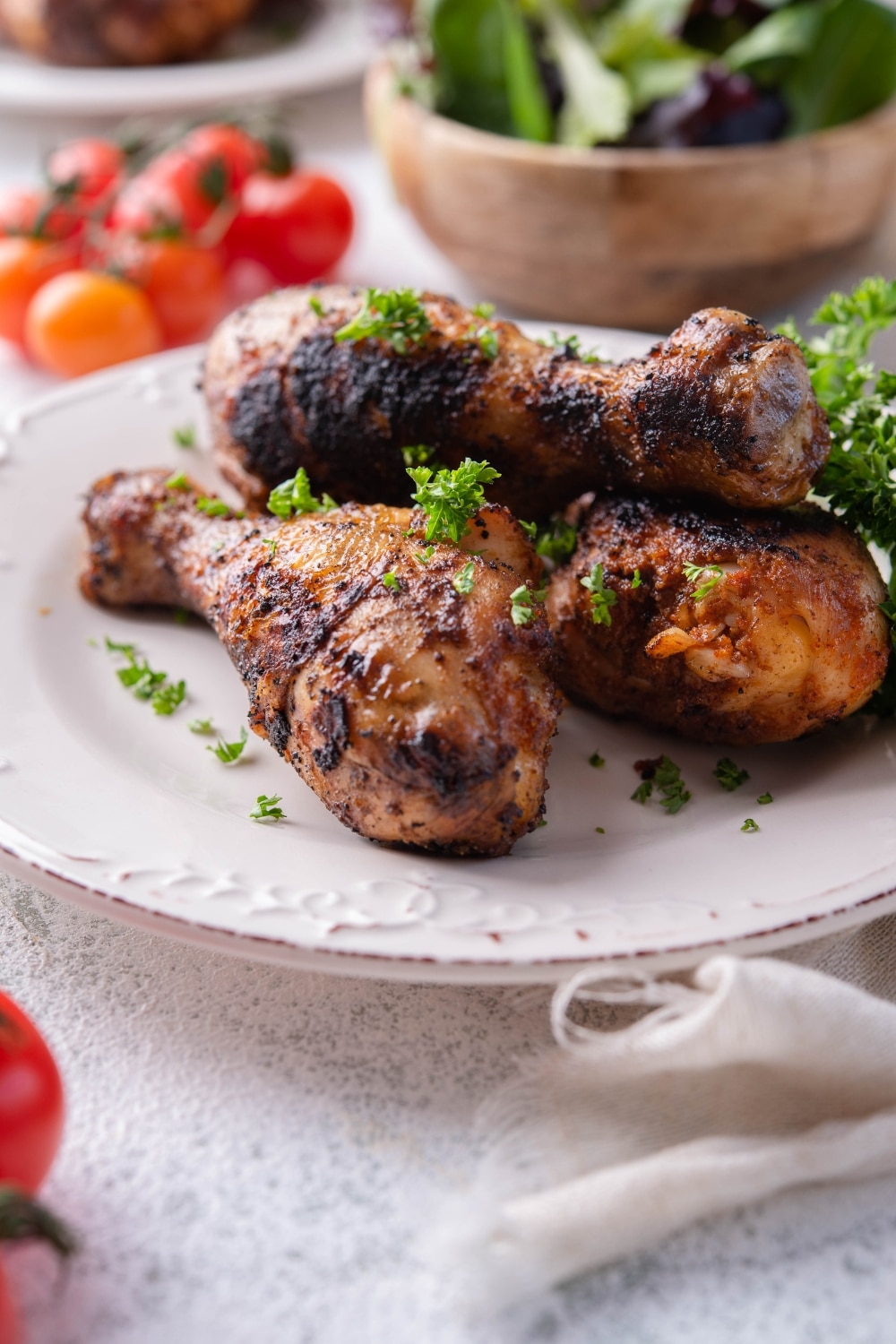 Why You'll Love This Recipe
A winning combination. The homemade spice rub in this recipe takes pantry staple ingredients and creates a flavor that's restaurant-worthy!
It only requires 5 minutes of prep. Just mix the seasoning ingredients, coat the chicken legs in it, and you're ready to grill!
Easy to grill. Even if you're new to grilling, you'll nail this recipe. All you have to do is flip the chicken every 5 minutes, and the grill takes care of the rest.
The chicken cooks perfectly. Grilling chicken legs with this recipe is the best way to keep the chicken super juicy and tender while crisping up the skin.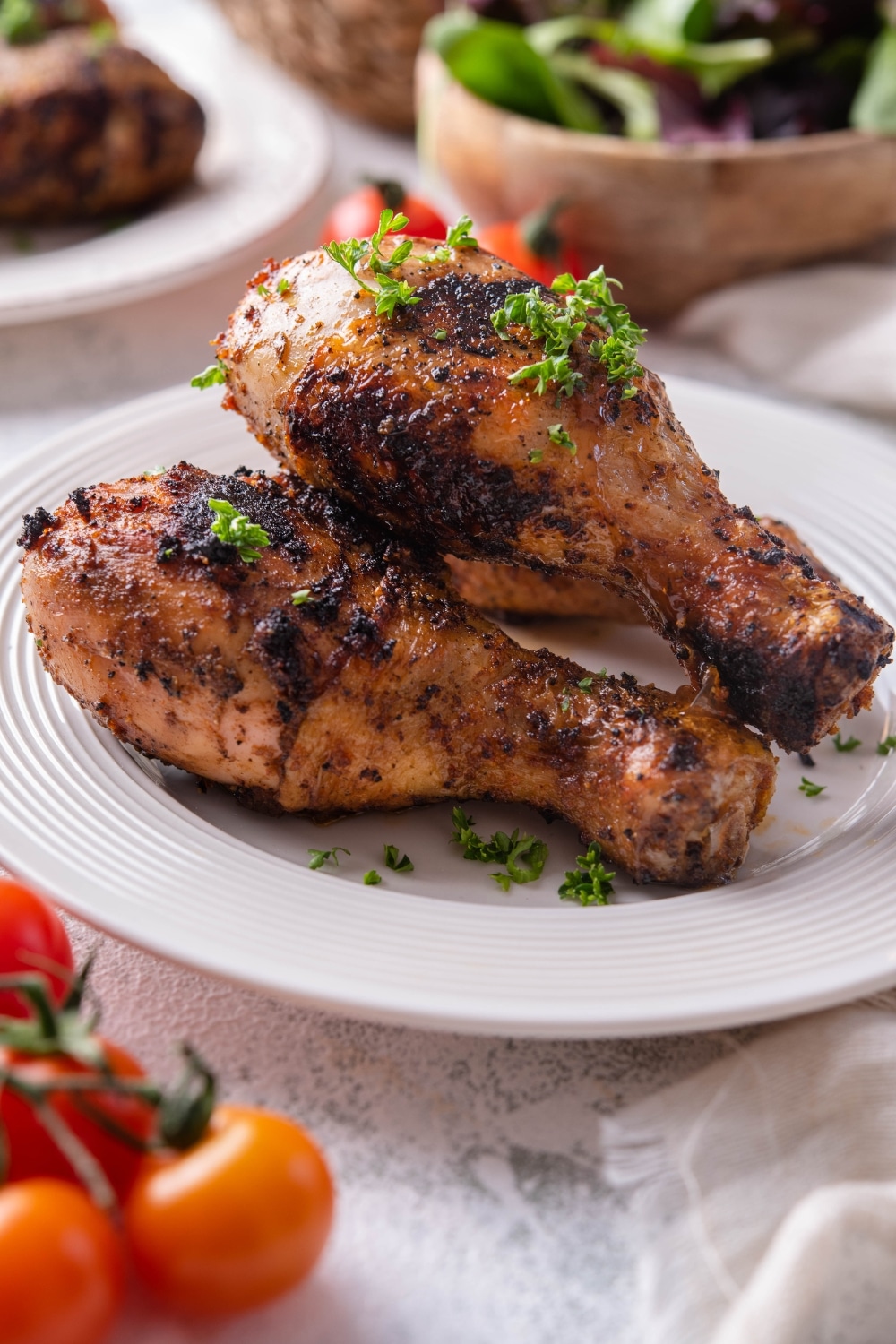 Ingredients
Another of my favorite things about these grilled chicken drumsticks is how simple the ingredients are. They're basically all pantry staples, so there's a good chance you'll have all of them on hand already!
Anyway, here's what you'll need to make this grilled chicken drumsticks recipe:
6 chicken legs, skin-on, bone-in

1 ½ tablespoon olive oil

1 teaspoon garlic powder

½ teaspoon onion powder

½ teaspoon smoked paprika

¼ teaspoon cayenne pepper

Salt and pepper, to taste
Oh, and if you have these ingredients, then you have almost everything you need to make these air fryer chicken thighs next!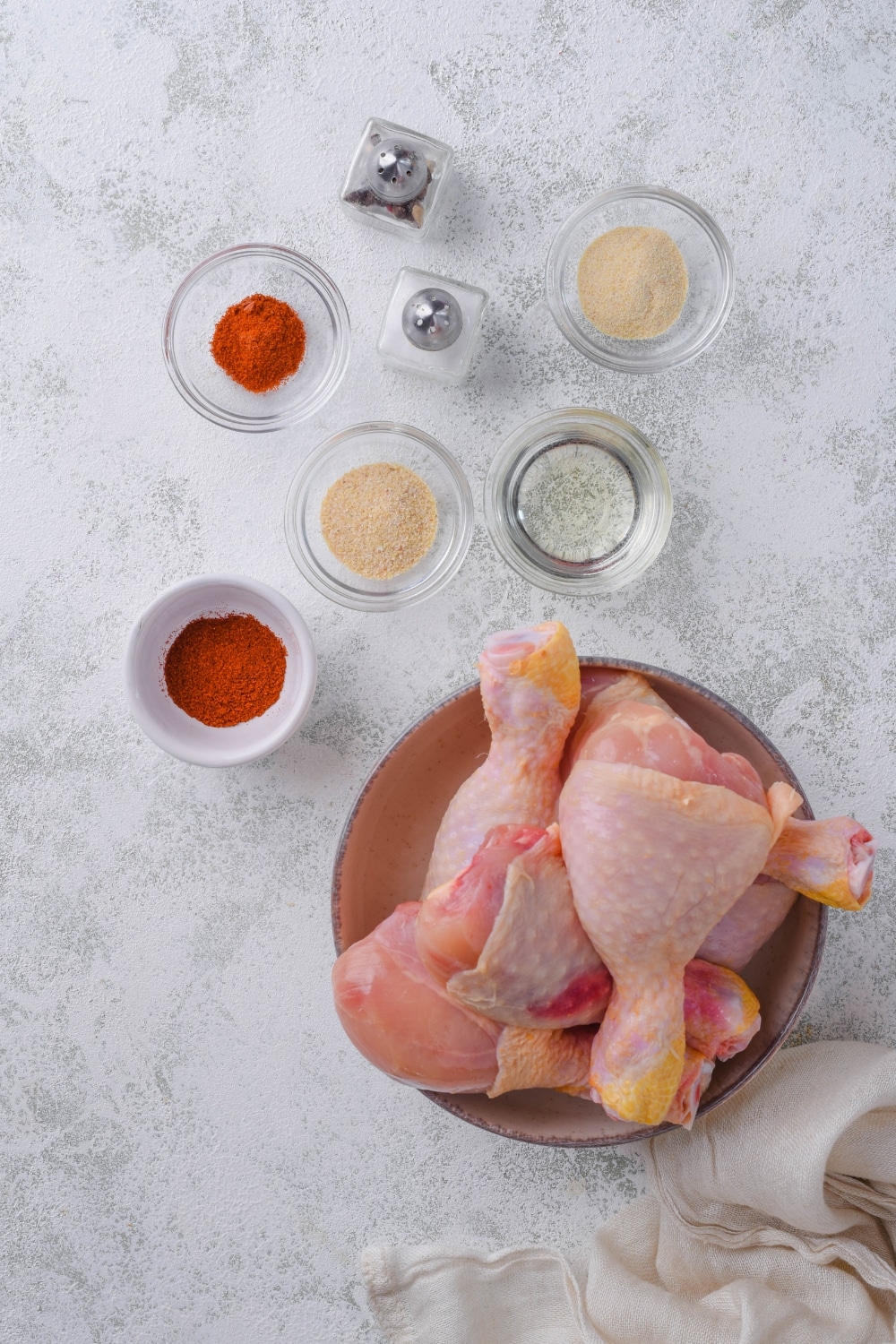 How To Make Grilled Chicken Legs
1. Make the dry rub. Add the garlic powder, onion powder, smoked paprika, cayenne pepper, and salt and pepper to a bowl and mix everything together.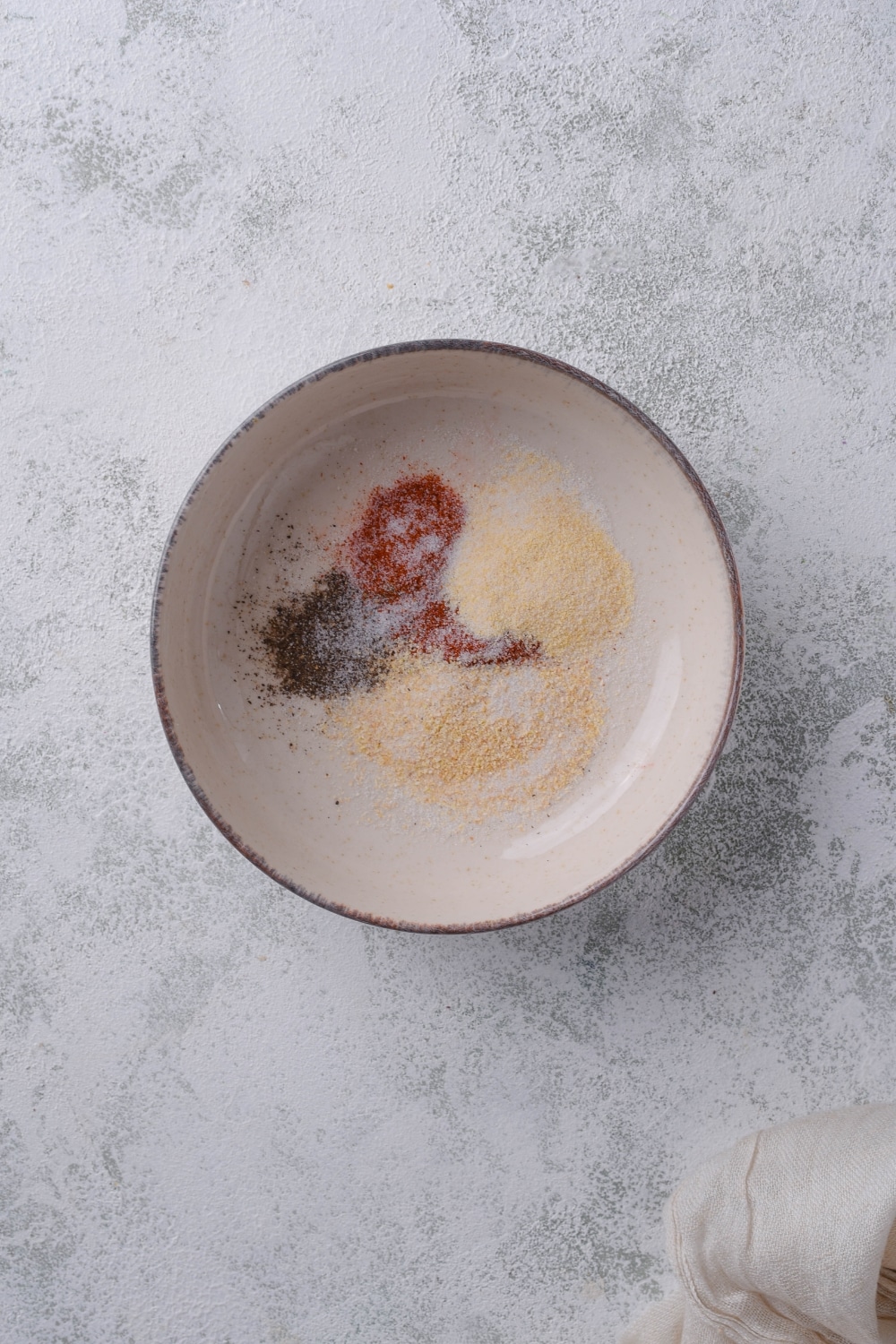 2. Prep the chicken. Pat the chicken drumsticks dry with paper towels, then brush the chicken legs on all sides with olive oil. Sprinkle the spices over the chicken and rub them into the outer skin of the legs.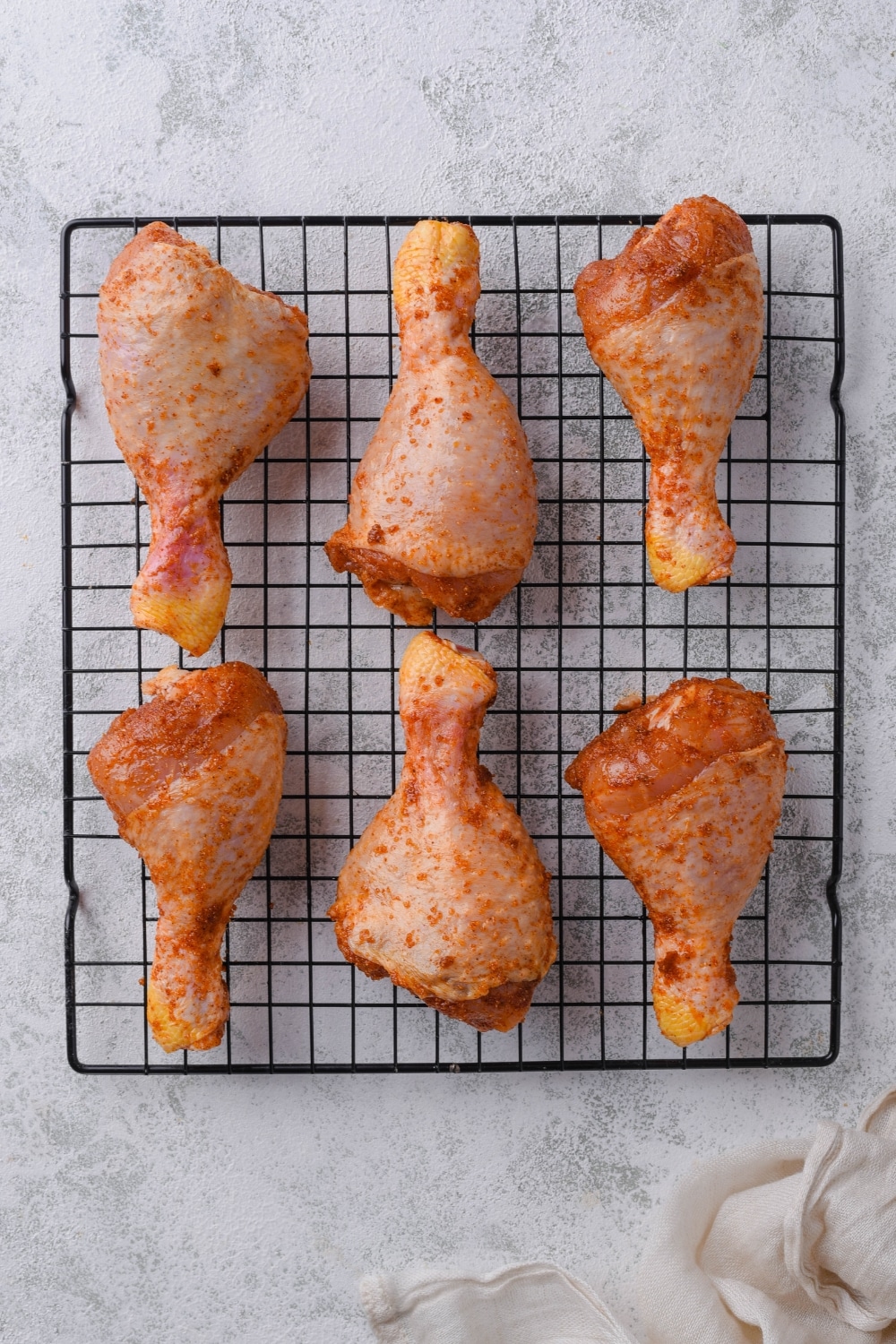 3. Cook the chicken. Preheat your gas grill, charcoal grill, or grill pan. Once it's hot, place the chicken on it and cook for 25-30 minutes. Turn the chicken every 5 minutes until it's cooked through and the internal temperature reaches about 185°F when checked with a meat thermometer.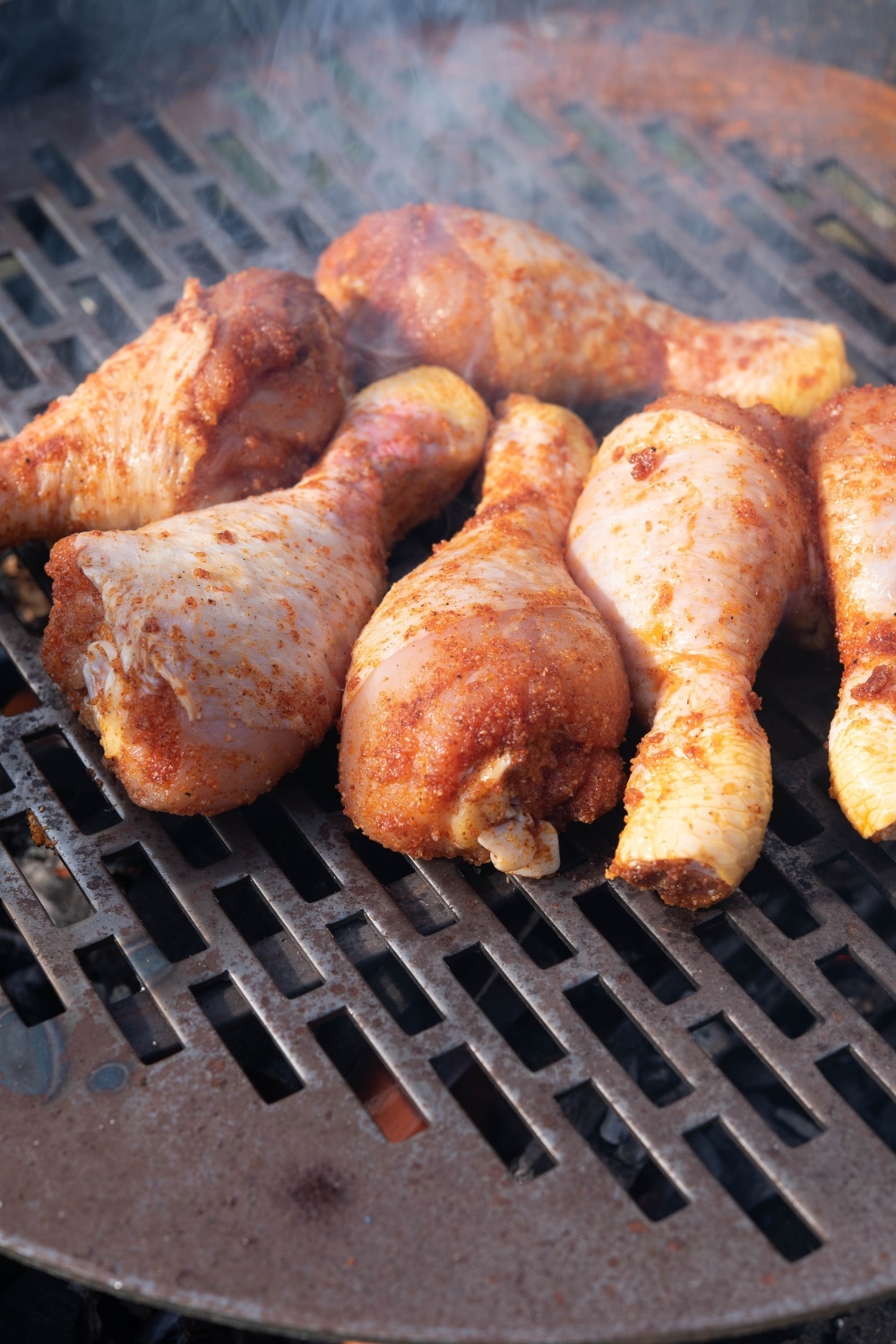 4. Serve the grilled chicken legs. You'll want to serve the chicken hot off the grill with any sides that you want.
Enjoy!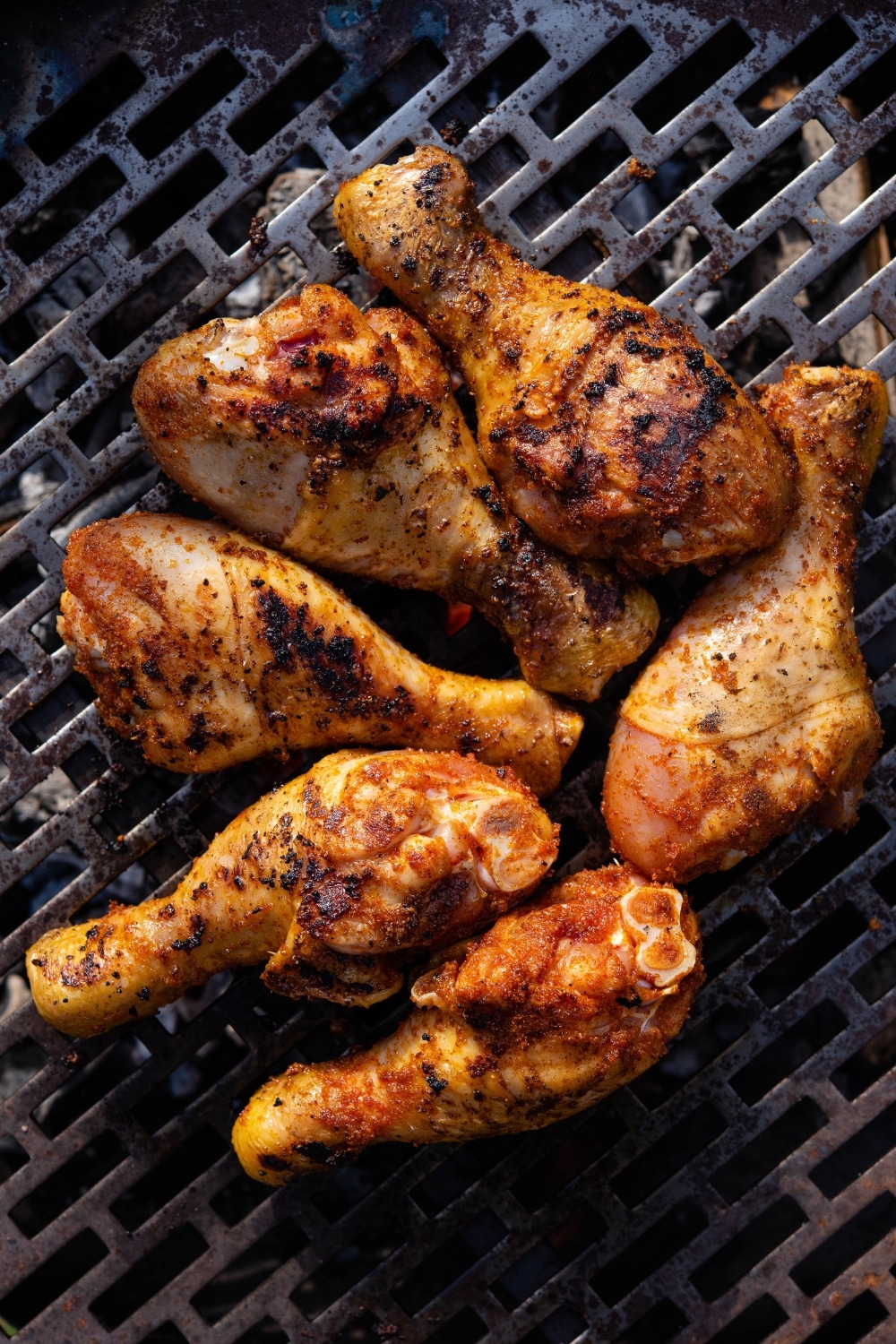 Tips To Make The Best Recipe
Coat the chicken with the dry rub on all sides and under the skin for the best flavor. Not everyone eats the skin on the chicken, so rubbing it under the skin will give the chicken meat and skin a delicious flavor.
Preheat the grill to around 400°F and let the chicken come up to room temperature while it heats.
Grease the grill grates with oil or nonstick cooking spray so the chicken skin doesn't stick to 'em.
Flip the chicken every 5 minutes so that every side of your drumsticks has a chance to touch the grill and develop a nice crispy skin.
Cook the chicken until it reaches an internal temperature of 185°F for the juiciest chicken that'll fall off the bone.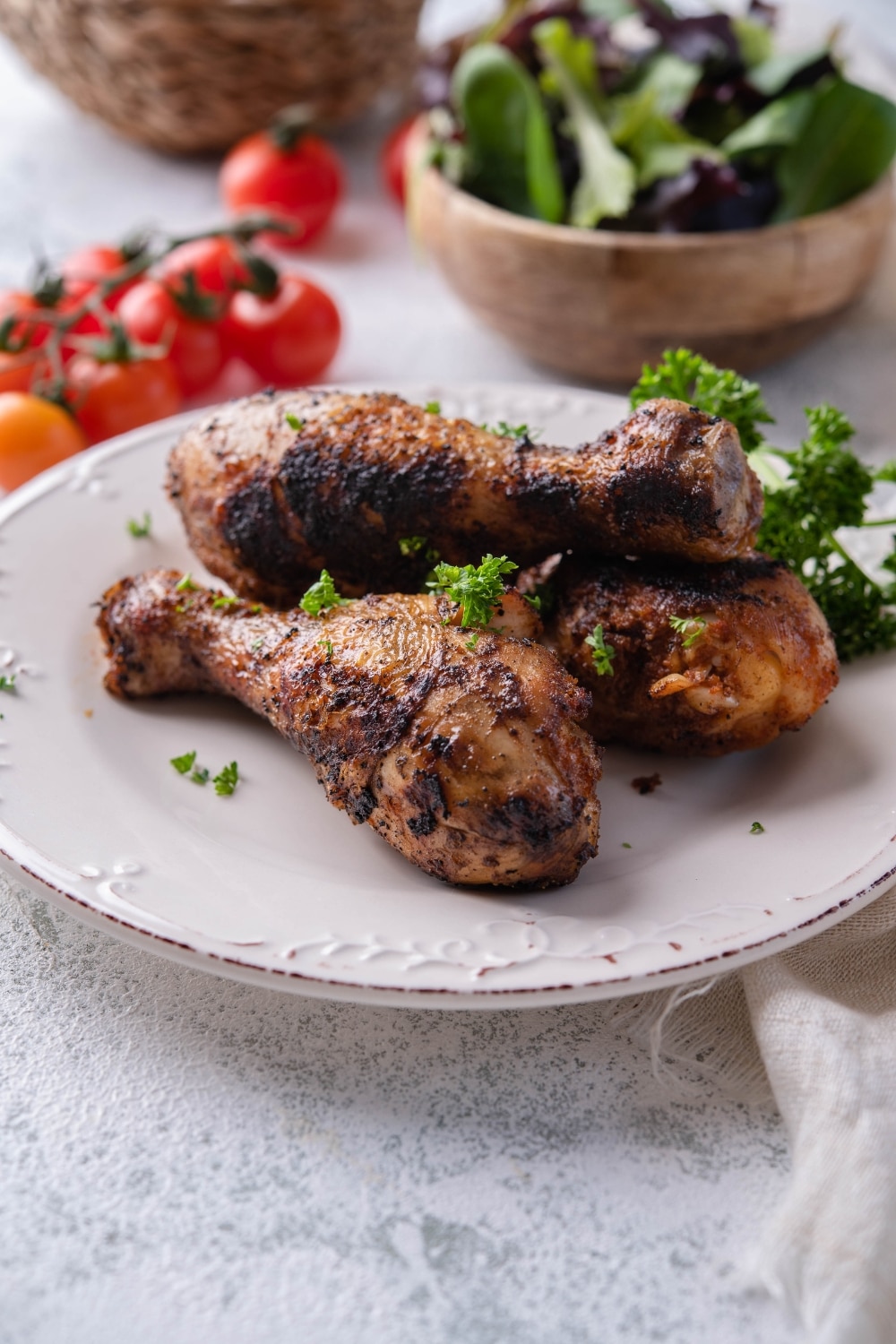 What To Serve With Grilled Chicken Legs
Grilling season isn't the same without delicious sides! Here are a few of my favorite things to serve with grilled chicken legs: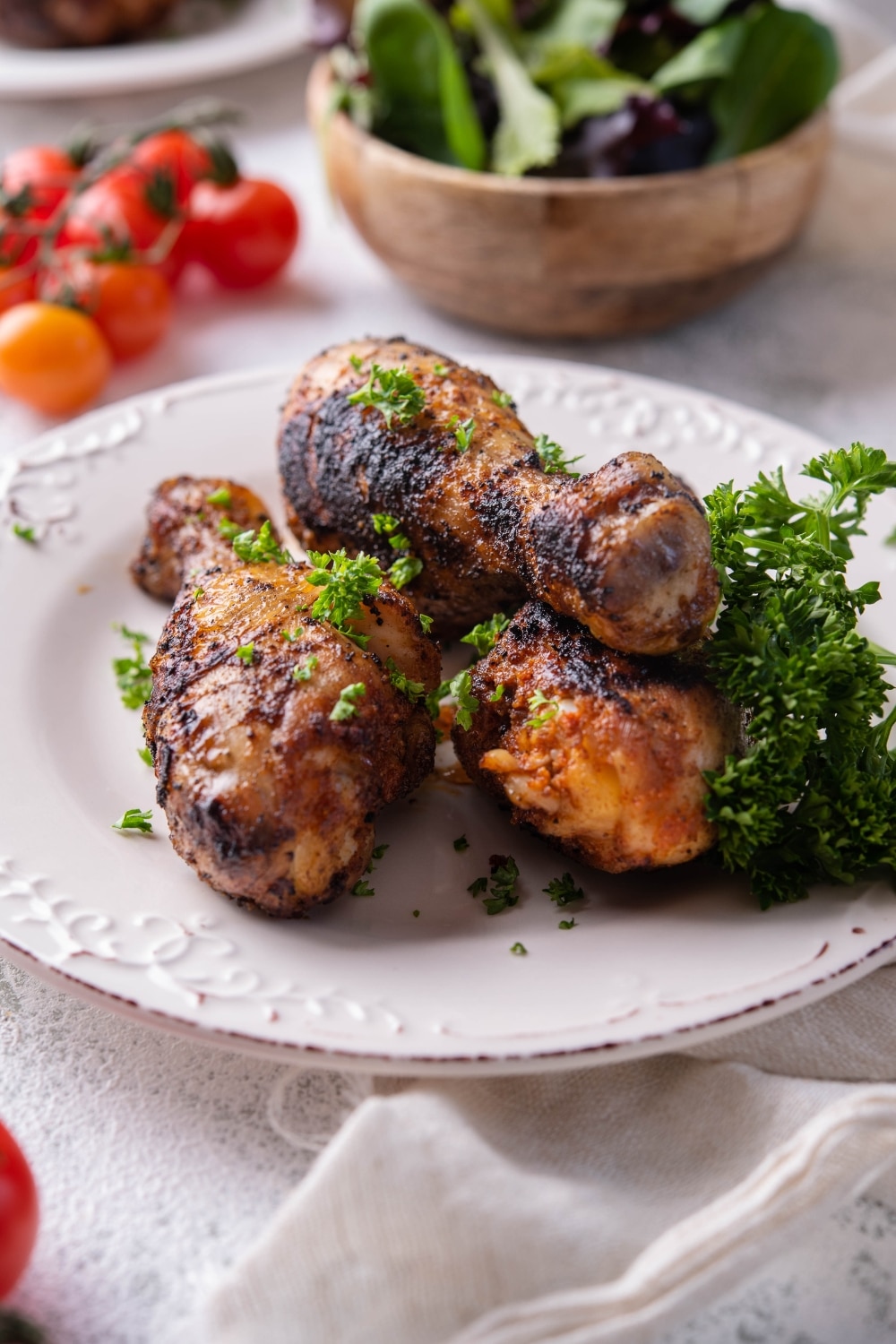 How To Store Grilled Chicken Legs
In the fridge: Put the cooked grilled chicken legs in an airtight container, and they'll last in the fridge for about 4 days.
In the freezer: The chicken legs will last for up to 4 months in the freezer in a freezer-safe bag or airtight container.
Reheating: Wrap the chicken drumsticks in tin foil and bake them at 325°F in the oven for about 10 minutes or until they're warmed through.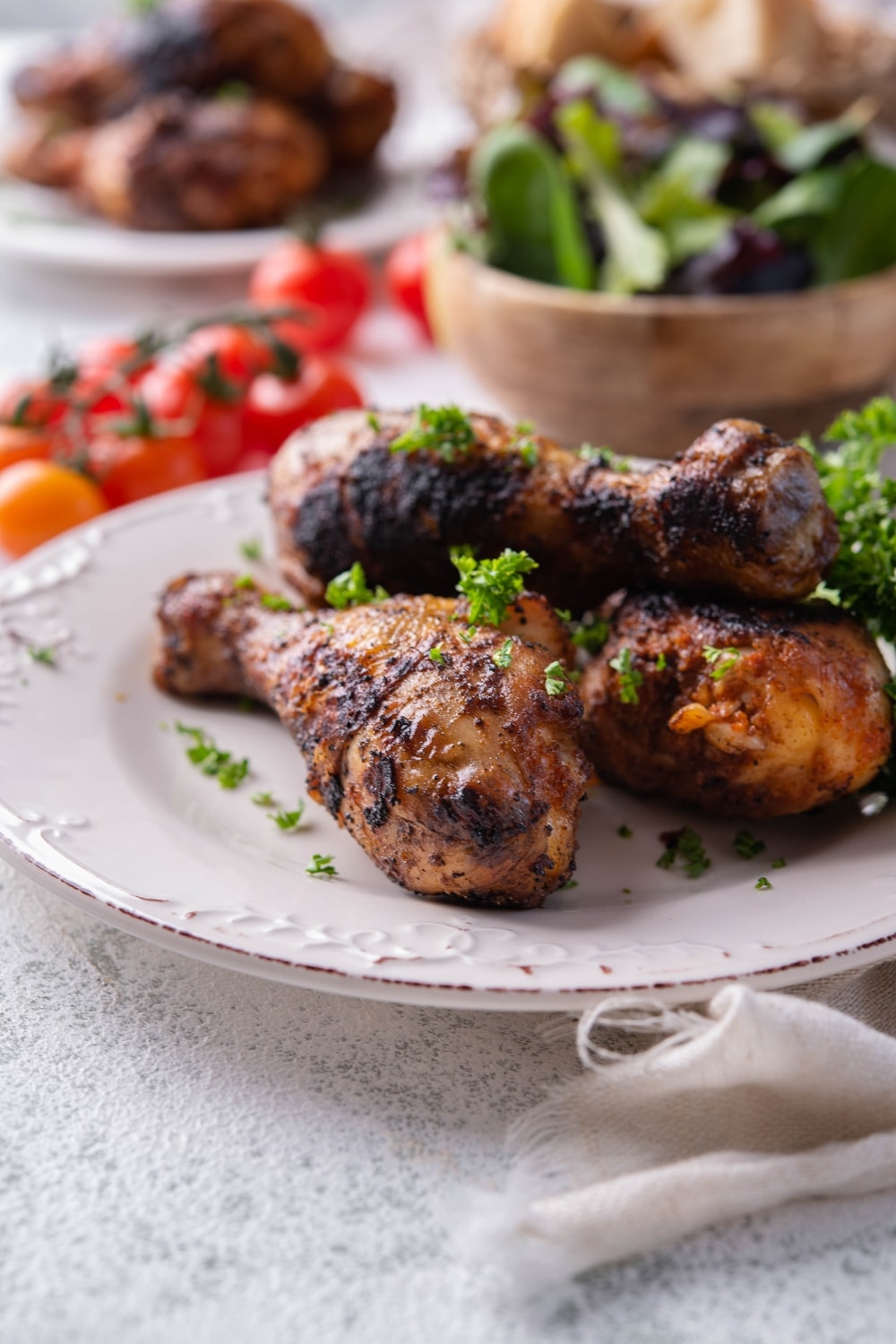 FAQs About This Grilled Chicken Legs Recipe
How long does it take to grill chicken legs on the grill?
It will take about 25-30 minutes to grill chicken legs and get them to 175°F. Just make sure you turn the legs around every 5 minutes so they can cook evenly.
How do you keep chicken legs moist on the grill?
For the juiciest chicken legs, make sure to coat them in oil before grilling 'em. Also, don't cook them at too high of a temperature - about 400°F is the perfect temp if you're looking for crispy chicken legs that'll still be moist.
Do you leave the lid open or closed when grilling chicken drumsticks?
You'll want to leave the grill closed when grilling chicken drumsticks and only open it periodically when you are flipping the chicken.
More Chicken Recipes
Print
Grilled Chicken Legs (Drumsticks)
These grilled chicken drumsticks are a must-try recipe for grilling season. They're super juicy with crispy roasted skin and are coated in the most delicious smoky dry rub. And it's easy to make them turn out perfect every time!
Author:
Prep Time:

5 minutes

Cook Time:

25 minutes

Total Time:

30 minutes

Yield:

6 servings

Category:

Dinner

Method:

Grill

Cuisine:

Chicken
Instructions
Combine spices in a bowl. 

Brush the chicken legs with olive oil. Sprinkle the spices over the chicken and gently rub them into the chicken, including under the skin.

Preheat your charcoal grill or gas grill. 

Place the chicken onto the griddle and cook for 25-30 minutes, turning every 5 minutes or until the chicken is cooked through and the temperature reaches 185°F. 

Serve chicken warm with salad, potatoes, or roasted veggies.
Nutrition
Serving Size:

1 serving

Calories:

181

Fat:

10

Protein:

22
Keywords: grilled chicken legs, grilled chicken drumsticks, grilled chicken legs recipe, how to make grilled chicken legs, how to make grilled chicken drumsticks, best grilled chicken legs, how to grill chicken legs, how to grill chicken drumsticks, crispy chicken legs,