This Keto Egg salad is one of the tastiest low carb side dishes you can make. It's creamy, tangy, and full of flavor! Plus, there's even avocado & bacon in it. That said, if you're looking for the best keto egg salad recipe, you've come to the right place.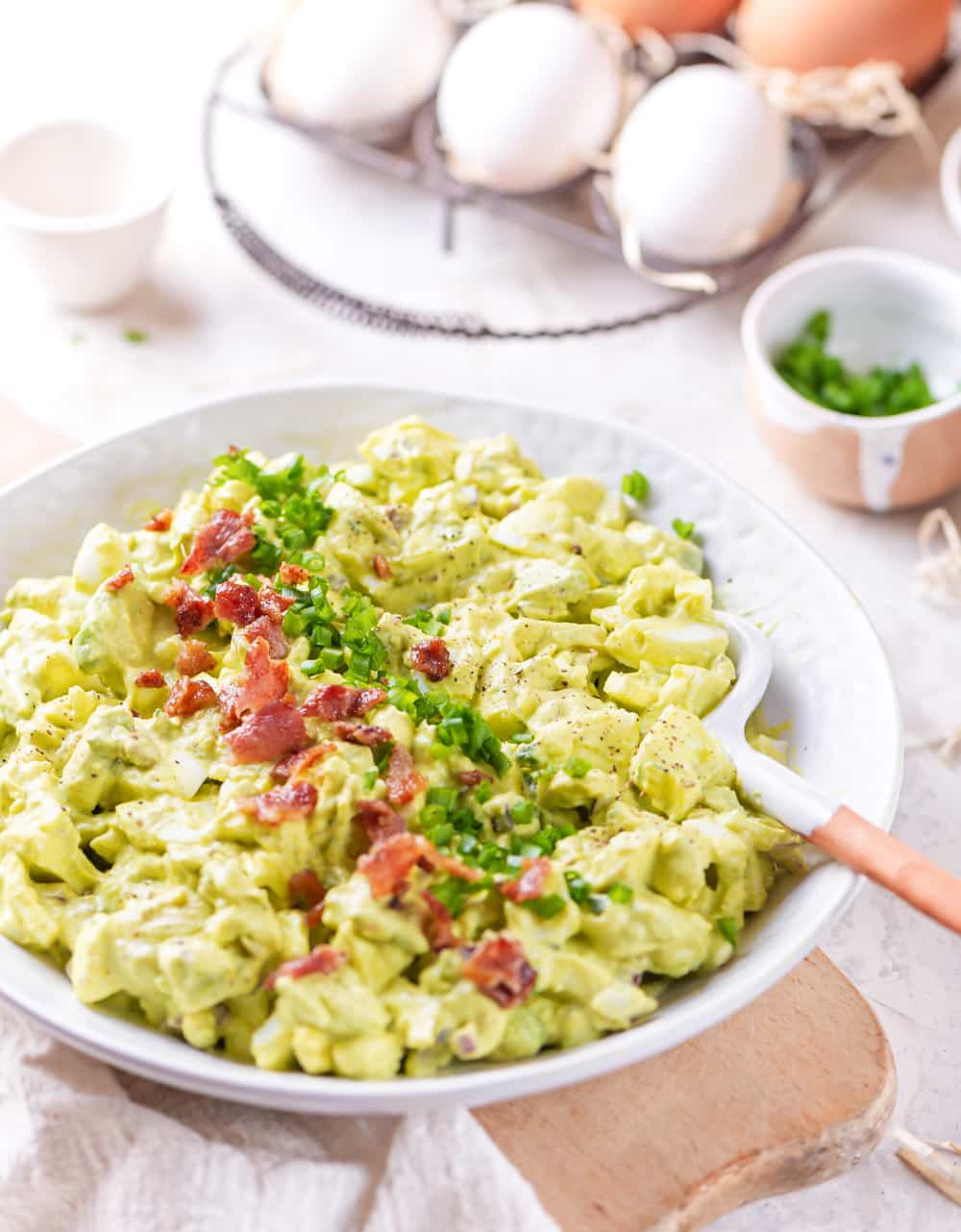 The Best Low Carb Keto Egg Salad
Egg salad is a standard summertime "get together" side dish!
Unfortunately, not all egg salads are low carb egg salads. That said, today's recipe is not only low carb, but it's also delicious.
In fact, it's so good even the non-keto peeps in your family will love it too.
So next time you go on a picnic, or venture to a friend's house for a weekend barbeque, remember you've got this recipe in your arsenal.
EVERYONE seems to love this stuff.
At-least everyone I know.
I especially like to serve it with my keto crackers or on some of my keto bread.
Honestly, though, it's delectable enough to eat with a fork straight out of a bowl. Yeah, it's that kind of good.
Continue reading to learn how to make low carb egg salad that the whole family will enjoy.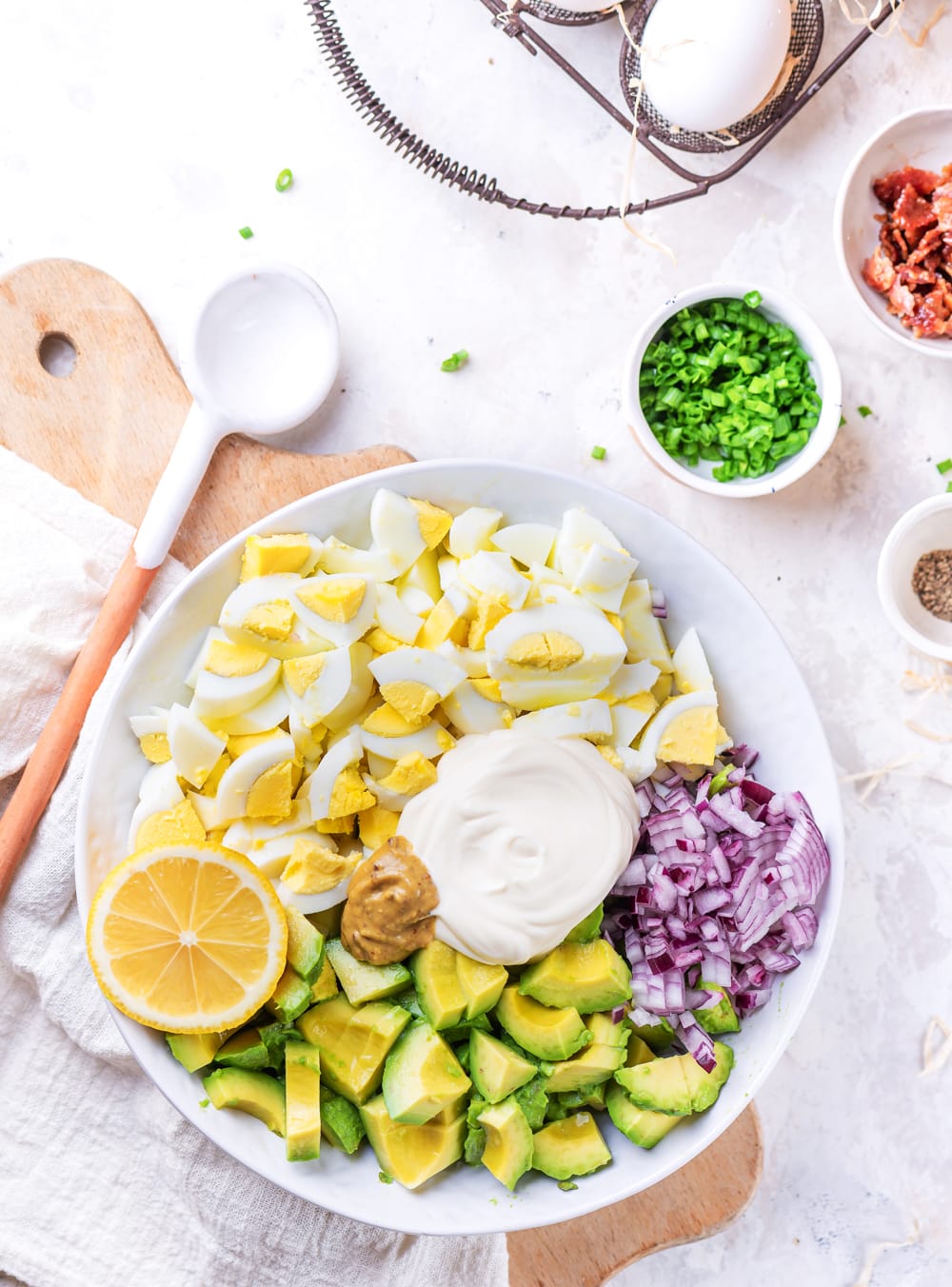 Ingredients for Low Carb Egg Salad
Since eggs are the main ingredient in this recipe, it's relatively cheap to make!
And, actually, besides eggs, there are not too many other ingredients you'll need to make this salad.
All you'll need for this keto egg salad is...
6 Hard-boiled eggs

1 Medium avocado (230g)

¼ Red onion (30g), finely chopped

¼ Lemon (5g), juiced

1 Teaspoon (5g) Keto Dijon mustard
⅓ Cup (75g) keto mayonnaise

Salt and pepper to get the perfect taste you desire

Crumbled bacon

Chopped chives
Pretty standard keto ingredients, right?!
Oh, by the way, I use a lot of the same ingredients to make my keto cobb salad. So, if you've got some leftover ingredients after making this egg salad recipe put them to good use by making that recipe next!
How to Make the Best Keto Egg Salad
If you've never made egg salad before, don't fret!
This is a simple recipe to follow that even the most novice of chefs can create.
Not to mention, from start to finish, it will only take you about 25 minutes (30 tops) to make this entire recipe.
Preparing the Eggs
As you may have guessed, the backbone of a delicious egg salad recipe is, well, the eggs!
Luckily eggs are pretty easy to cook, and this recipe calls for hard-boiled eggs.
To start, add the six eggs into a saucepan and add enough water to cover the eggs entirely.
You'll want to use a medium-sized saucepan so that the eggs have a bit more room to ensure a complete boil rather than being jumbled together into a tiny pan.
Using high heat, bring the water in the pan to a boil and turn the heat off.
Let the eggs rest in hot water for 15 minutes after the heat is turned off.
After 15 minutes, carefully remove the eggs from the hot water and peel off their shells.
You'll want to be careful when peeling the shells that you don't leave any remnants. Easy to miss, these small pieces of the shell will add a crunchy surprise to your egg salad that you may not enjoy!
Once the eggs are entirely peeled, chop them up into small chunks, yolk and all.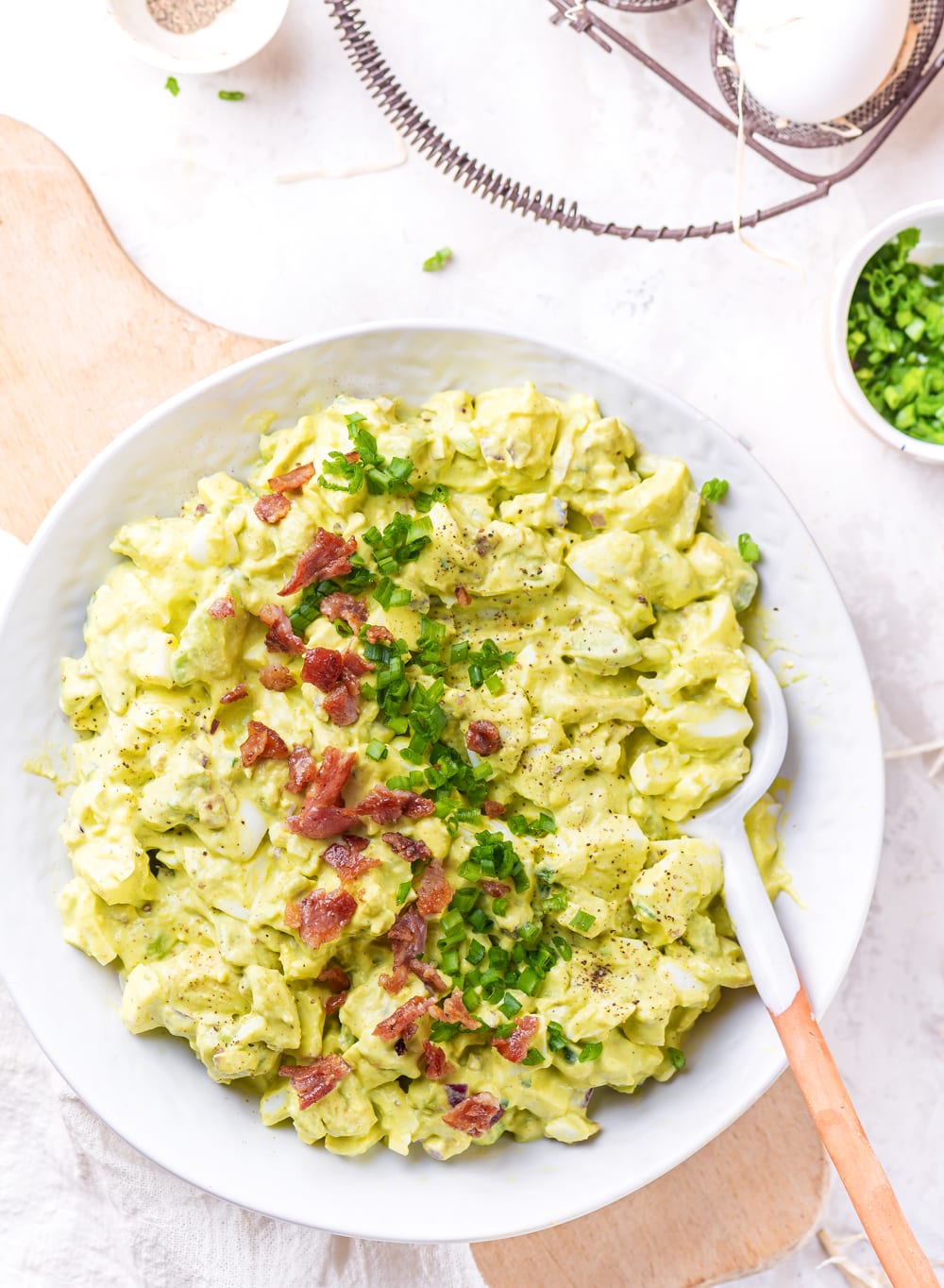 Combining the Ingredients
After the eggs are ready to go, chop up the avocado - roughly the same size that you chopped the eggs.
If your avocado is a bit too soft to cut up, you can mash it instead, and it'll still work perfectly.
Sprinkle the lemon juice over the avocado to add flavor.
Now, combine the eggs, avocado, mustard, and mayonnaise into a sufficiently sized mixing bowl and mix it up.
You'll want to stir it enough to evenly combine all the ingredients without mashing the pieces of egg.
Finally, add in a pinch of salt and pepper, and finish mixing it all up.
Preparing to Serve
At this point, you've done all the hard work.
Now it's as simple as putting the mixture in the refrigerator to chill.
You'll want to leave it in the fridge for at least an hour to make sure everything is at the right temperature.
Once it's chilled, add the crumbled bacon and chopped chives to garnish it off.
And that's it!
Now it's ready to serve.
Nutritional Info for Keto Egg Salad
Ok, so here's how every serving of this keto egg salad breaks down.
367 Calories

33g Fat

7.5g Carbs

6g Fiber

1.5g NET CARBS

10.5g Protein
As you can see from the nutritional information above, this egg salad is low in carbs and great for anyone looking for a healthy option or following a keto diet.
And, if you're following the keto diet, then you've got to love the fact that this egg salad has just 1.5 NET CARBS per serving.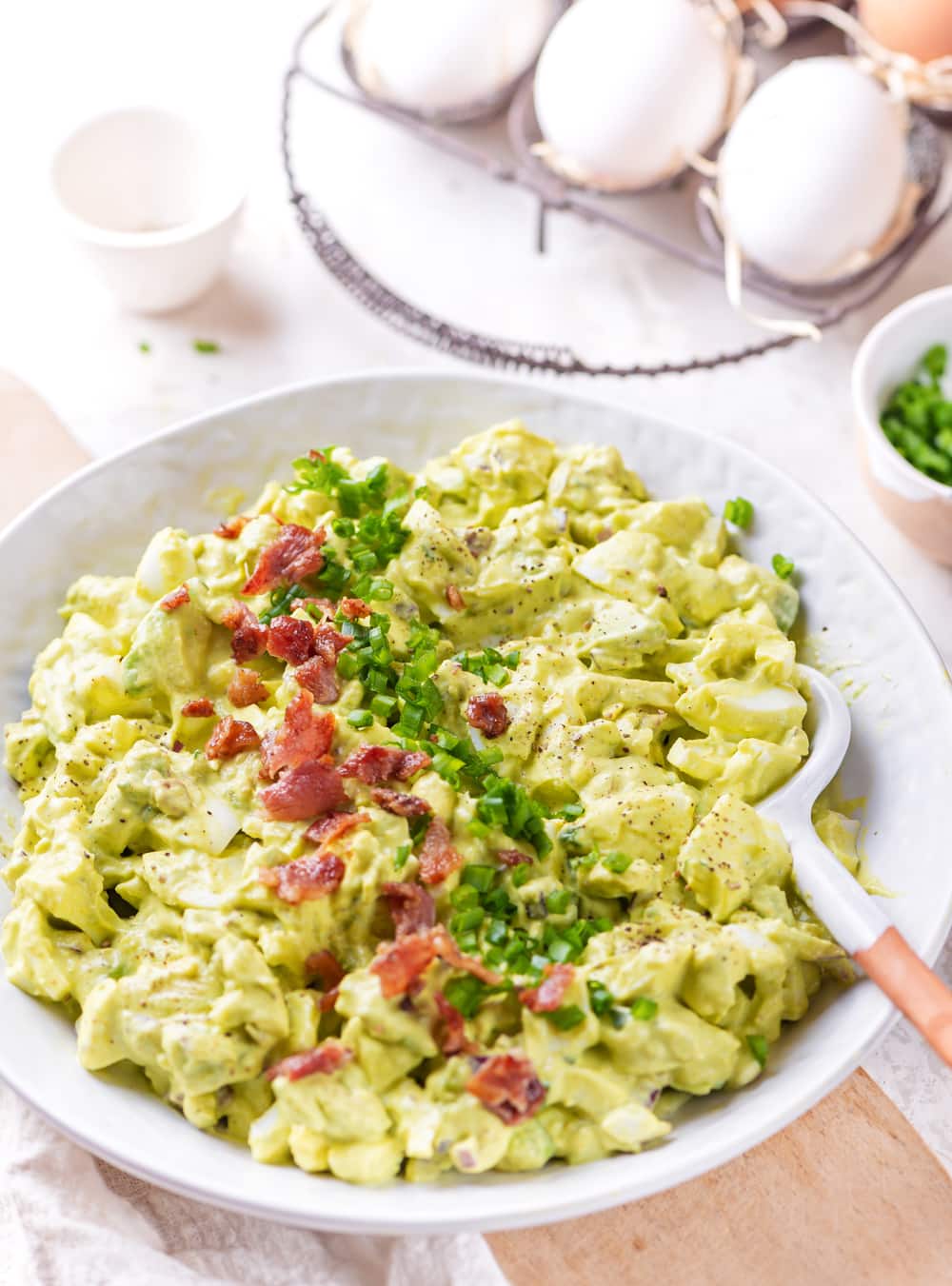 Storing The Keto Egg Salad
Now, if you don't end up eating the entire batch at once, as will more than likely typically be the case outside of a weekend barbeque or family dinner, you can always store it to enjoy for the next few days.
The easiest way to keep the egg salad fresh is to cover the serving bowl with cling wrap, or to transfer any that you didn't eat into a plastic container, and pop it in the fridge.
The most important thing to keep in mind about storing egg salad is to make sure it has a cover on it so that it doesn't dry out.
Egg salad will typically stay nice and fresh for a couple of days, making it easy to grab a quick snack or throw some in your lunch bag on the way out the door.
With how easy it is to make with this recipe, don't worry about its short shelf life - you can make more next week in no time!
No matter how you plan on enjoying it, let us know what you think about this easy to make keto-friendly egg salad recipe in the comments!
It's one of our favorites, and we hope you like it just as much!
Other Keto Side Dishes To Try
Print
Keto Egg Salad Recipe | The Best Low Carb Egg Salad You Can Make
This Keto Egg salad is one of the tastiest low carb side dishes you can make. It's creamy, tangy, and full of flavor! Plus, there's even avocado & bacon in it. That said, if you're looking for the best keto egg salad recipe, you've come to the right place.
Author:
Prep Time:

5

Cook Time:

15

Total Time:

20 minutes

Yield:

4 Cups

Category:

Side Dish

Method:

Stove Top

Cuisine:

Keto Low Carb
6 Fresh large eggs
1 Medium avocado (230g)
¼ Red onion (30g), finely chopped
¼ Lemon (5g), juiced
1 Teaspoon (5g) Keto Dijon mustard
⅓ Cup (75g) keto mayonnaise
Salt and pepper to get the perfect taste you desire
Optional Topping:
Crumbled bacon
Chopped chives
Instructions
Cover the eggs with water in a saucepan.

Bring to a boil, turn the heat off and rest in hot water for 15 minutes

.

Peel the shells and chop the eggs into small pieces.

Cut avocado roughly the same size as eggs, and sprinkle with lemon juice - alternatively you can

mash avocado if it's too soft for cutting.

Now, in medium bowl mix eggs, avocado, mustard and mayonnaise.

Add salt and pepper to taste, and stir one last time.

Chill for at least 1 hour.

Before serving, top with

crumbled bacon and chives
Nutrition
Serving Size:

1 Cup

Calories:

367

Fat:

33

Carbohydrates:

7.5

Fiber:

6

Protein:

10.5
Keywords: Egg salad, Keto egg salad, Egg salad keto, low carb egg salad, keto egg salad recipe, best keto egg salad, egg salad recipe keto, egg salad recipe low carb