This keto sushi recipe is easy, simple, and tasty. It's made with soft and fluffy cauliflower rice for a low carb alternative to carb-heavy sushi rice, and it tastes just as delicious as the real thing. So, you can consider all your sushi cravings on the keto diet solved with this recipe!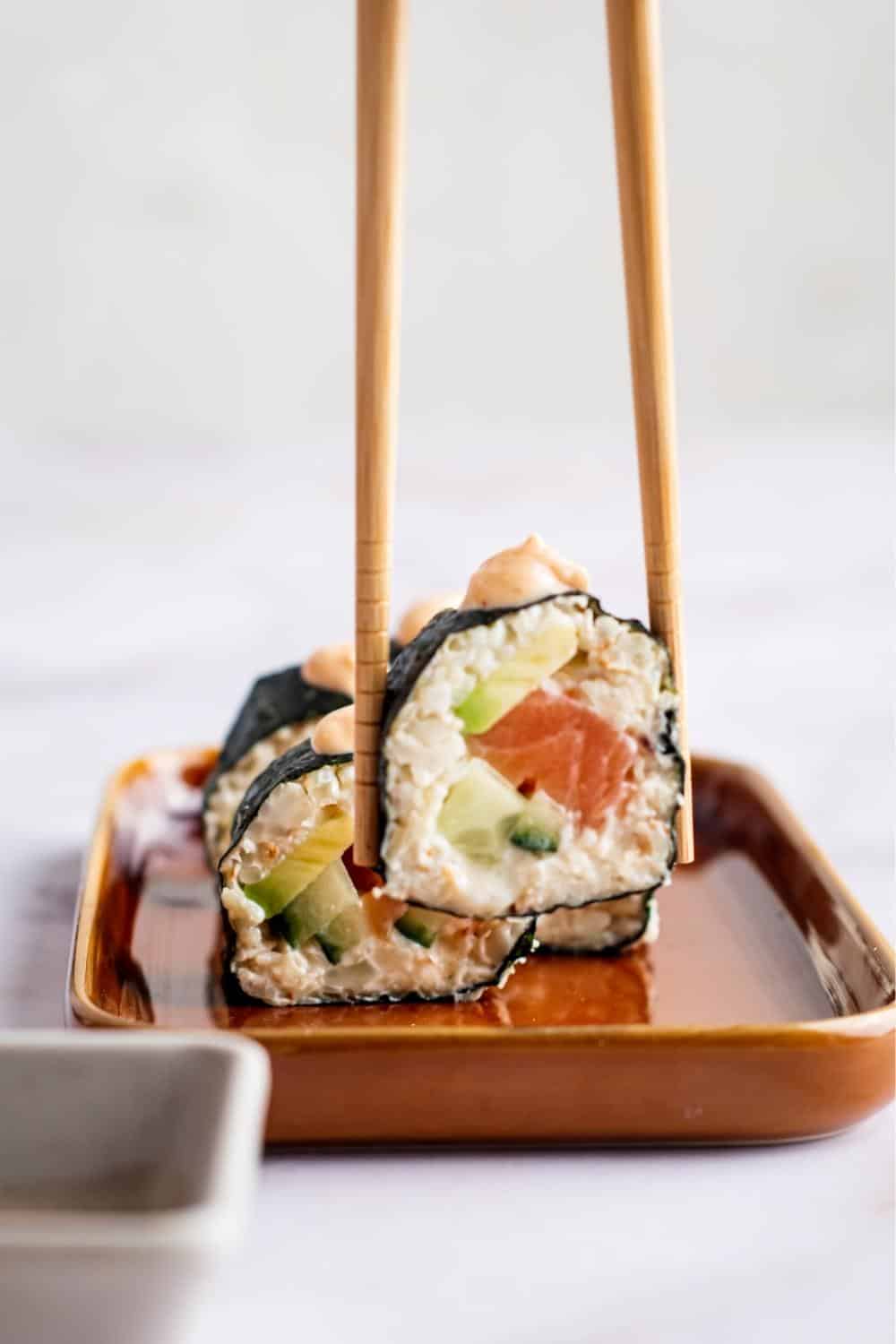 THE BEST KETO SUSHI
If you thought you had to say goodbye to your favorite sushi rolls while you're on a low carb diet, think again! This keto sushi rolls recipe is the easy and tasty low carb alternative you've been looking for.
Seriously, these keto sushi rolls taste incredible and you'd never believe each one has just 3 NET CARBS!
Now, as I mentioned in the intro, the secret to these delicious keto sushi rolls is in the cauliflower sushi rice. The riced cauliflower is perfectly seasoned and combined with cream cheese to make low carb sushi rolls that look - and taste - just like regular sushi rolls.
Honestly, this keto sushi reminds me a lot of the cream cheese sushi rolls you can get at pretty much any - and every - sushi restaurant. It has the same fluffy sushi rice texture, cream cheese, fresh salmon, savory nori sheets, refreshing avocado, cucumber, and even a drizzle of some addictively spicy mayo.
Best of all, this cauliflower rice sushi is made with simple ingredients you can find anywhere and is ready in just 40 minutes - and you can cut that time by half if you have premade cauliflower rice.
Honestly, my family and I love these rolls just as much as - maybe even more - than the real thing.
But, don't take my word for it, try this keto sushi recipe yourself and find out!
By the way, for more easy keto recipes that'll satisfy all your takeout cravings, try this keto chicken stir fry and this keto pizza next!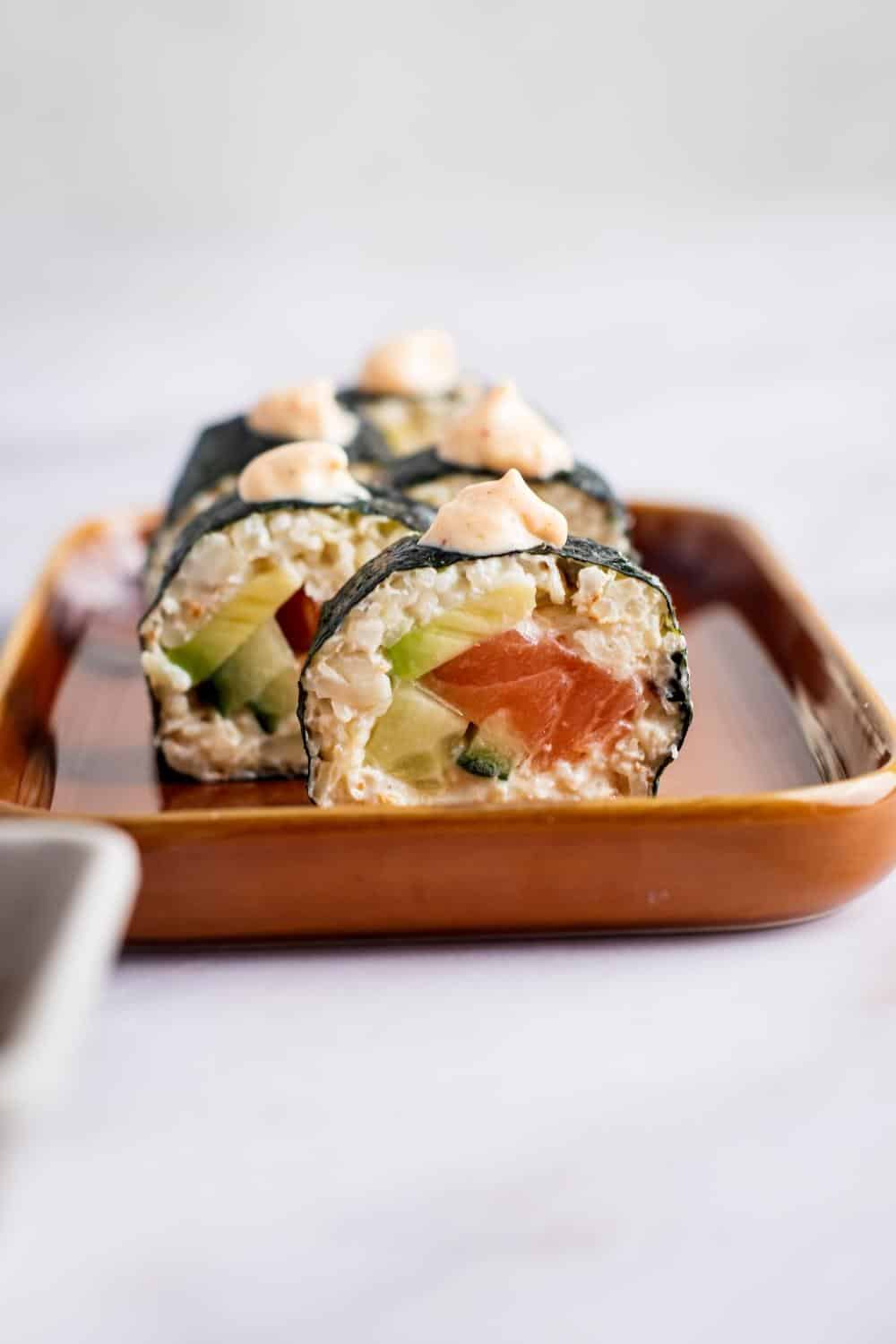 Ingredients
So, the ingredient list for this keto sushi recipe is incredibly simple. In fact, you probably have most- if not all - of these things at your house already.
Here's everything you'll need for these keto sushi rolls:
½ Cauliflower Head (or use around 400g pre-riced cauliflower)
1 tsp. Olive OIl
1 tsp. Salt
3 tbsp. Cream Cheese
1 tbsp. Rice Vinegar
1 tsp. Confectioners Sweetener
And to finish up the rolls:
2 Big Nori Sheets
1 Salmon Filet, sliced
¼ Avocado, sliced
¼ Cucumber, sliced
1 tbsp. Mayo
1 tsp. Sriracha Sauce
As I mentioned above, you can actually make these keto sushi rolls even quicker if you buy - and use - pre-made cauliflower rice.
However, you can always make my keto cauliflower rice recipe. And it's actually pretty darn easy to make so definitely give it a go if you can't find the pre-riced stuff.
As for the confectioner sweetener, I recommend powdered Monkfruit or Confectioners Swerve, but any sugar free option will work just as well.
Oh, and for the other half of your cauliflower head, you can make these buttery cauliflower mashed potatoes with it!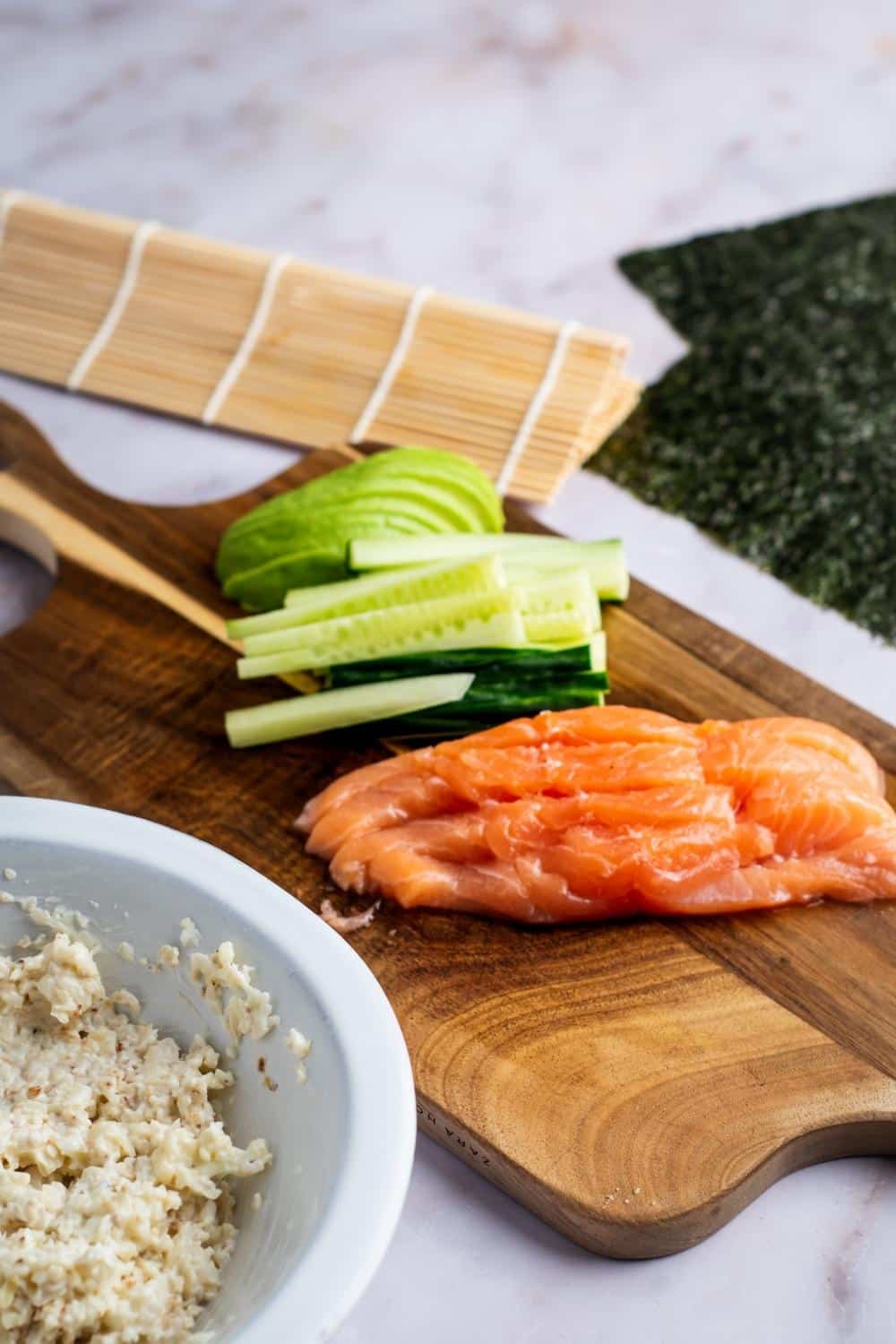 Modifying Your Keto Sushi Rolls
This keto sushi recipe is one of my favorites to make for friends and family who love sushi but not all the carbs.
It's incredibly customizable and you can make a keto version of practically any traditional sushi roll!
All you have to do is make the cauliflower sushi rice as usual and then swap out the fillings.
Here's a quick look at some of the other keto sushi rolls you could make:
Keto spicy tuna toll- m

inced raw tuna mixed with a teaspoon of sriracha, plus cucumber and avocado slices

Keto Philadelphia roll - s

moked salmon and cucumber inside with sesame seeds on the outside.

Keto California roll - I

mitation crab, avocado, and cucumber

Keto cucumber roll - C

ucumber and sesame seeds to serve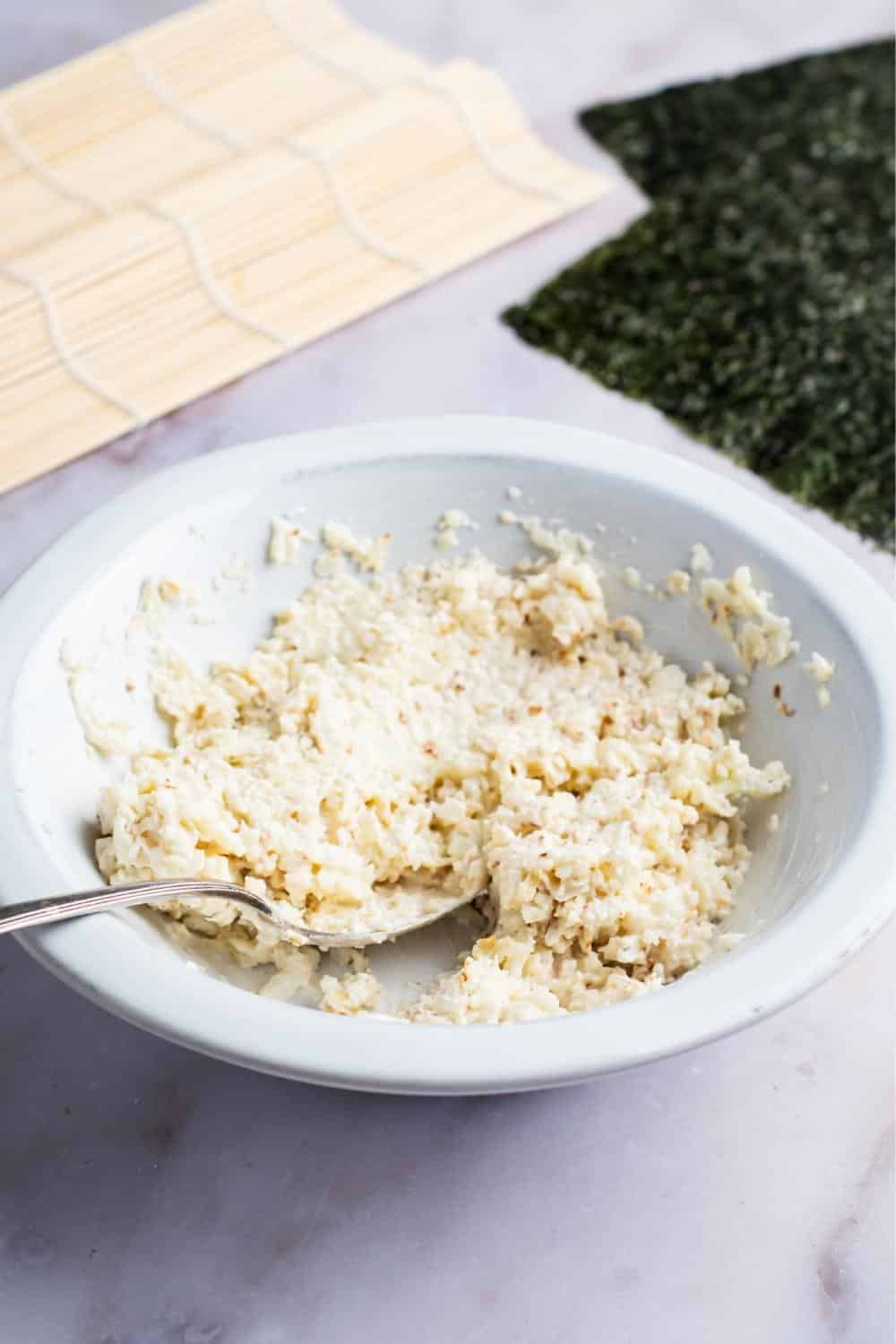 How To Make Keto Sushi Rolls
Making keto sushi rolls is so easy, you'll be amazed it took you this long to give it a try.
In just 40 minutes, you'll have 2 generous servings worth of delicious low carb sushi that's keto diet approved.
Now, let's get rolling!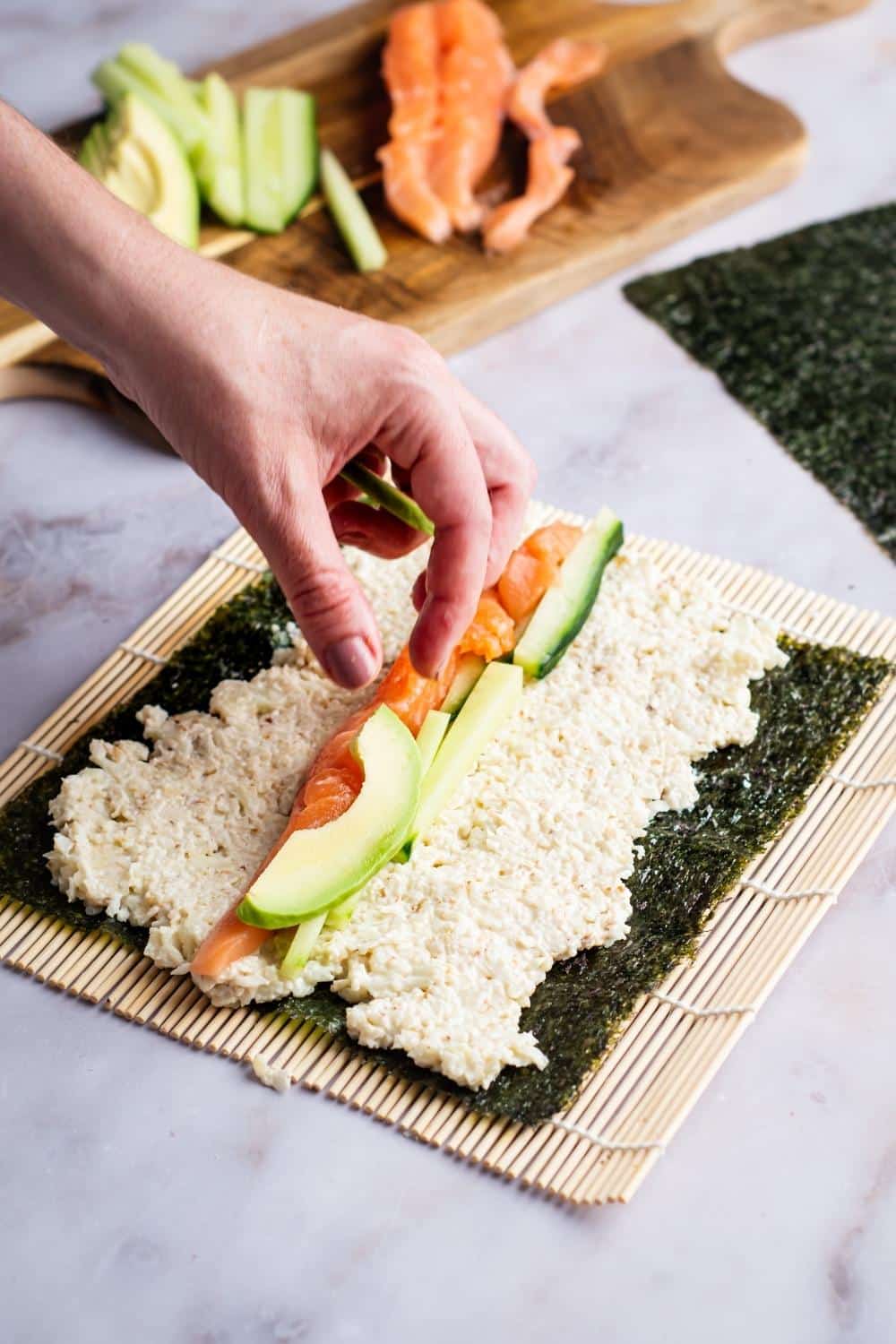 Step 1: Make the Cauliflower Sushi Rice
First, grate the cauliflower to get a rice-like consistency. And you can use a box grater on the half head of cauliflower to get it to that consistency, or you can chop it into florets and pulse it in the food processor until it looks like rice.
Then, when you've got that looking good, you'll want to take out a non-stick skillet and heat it over medium heat. Add the olive oil and riced cauliflower, then season with the salt and cook for 15 minutes - or until the cauliflower has softened.
By the way, don't forget to stir every now and then to prevent the bottom from burning. You want the cauliflower rice to be tender, not crispy.
Now, transfer the cauliflower to a bowl and combine it with the cream cheese, rice vinegar, and keto sweetener.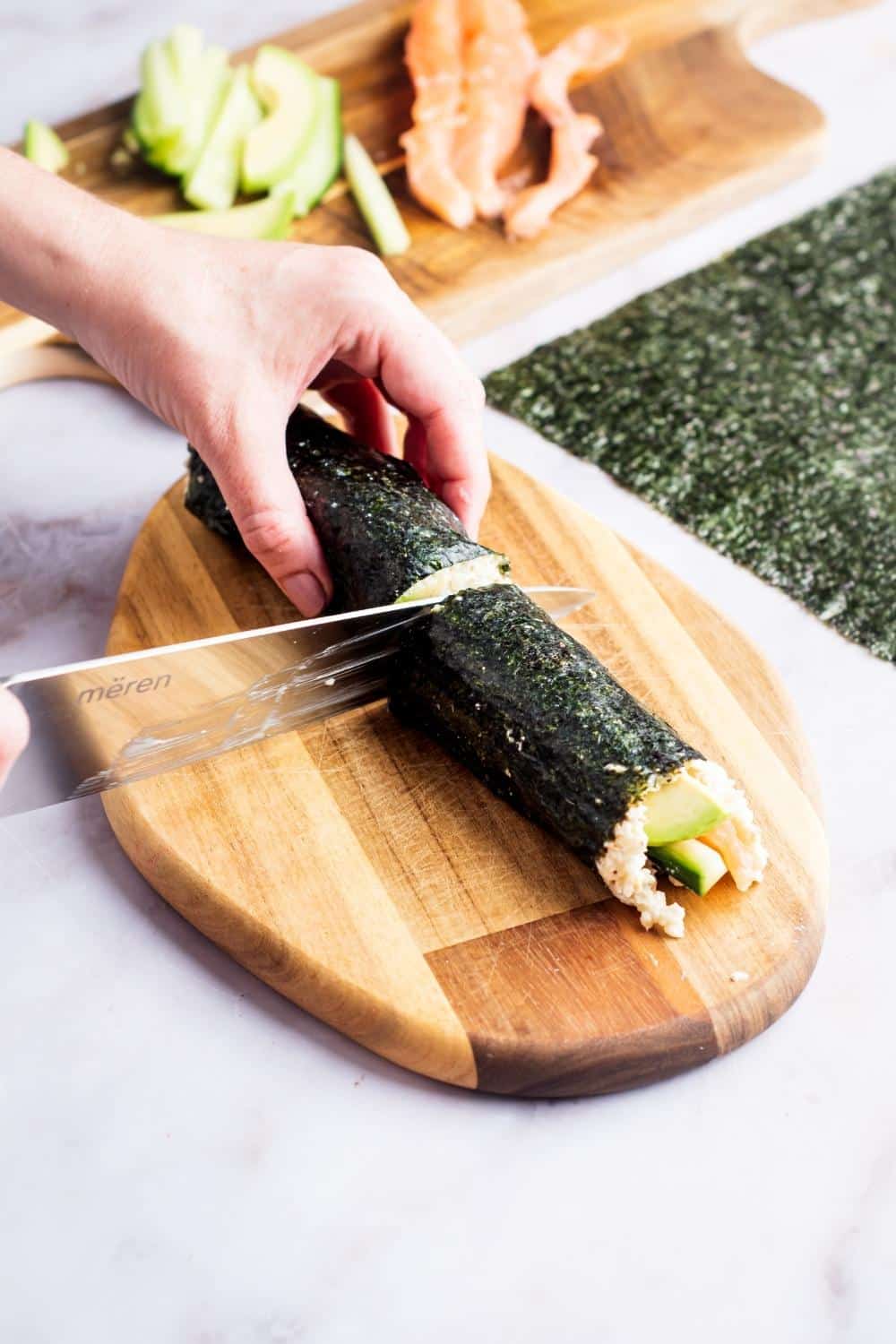 Step 2: Build the Keto Sushi Rolls
Next, place your nori sheet on a sushi mat and spread half of the cauliflower rice mixture on top. I recommend using a bamboo mat lined with saran wrap to make it easier to clean.
Also, you'll want to leave an inch of space on the bottom of the nori sheet and 1 ½ inches on the top so the sushi roll doesn't become overstuffed and hard to roll up.
Now, arrange half the salmon, avocado, and cucumber horizontally across the center. Then, tightly roll up the sushi, and lightly press down.
Once your sushi is rolled up, use a sharp knife to cut into 6-8 pieces, cleaning the knife with a wet cloth between each cut to prevent sticking.
With that done, set the keto sushi rolls aside and repeat the process for the second batch of sushi.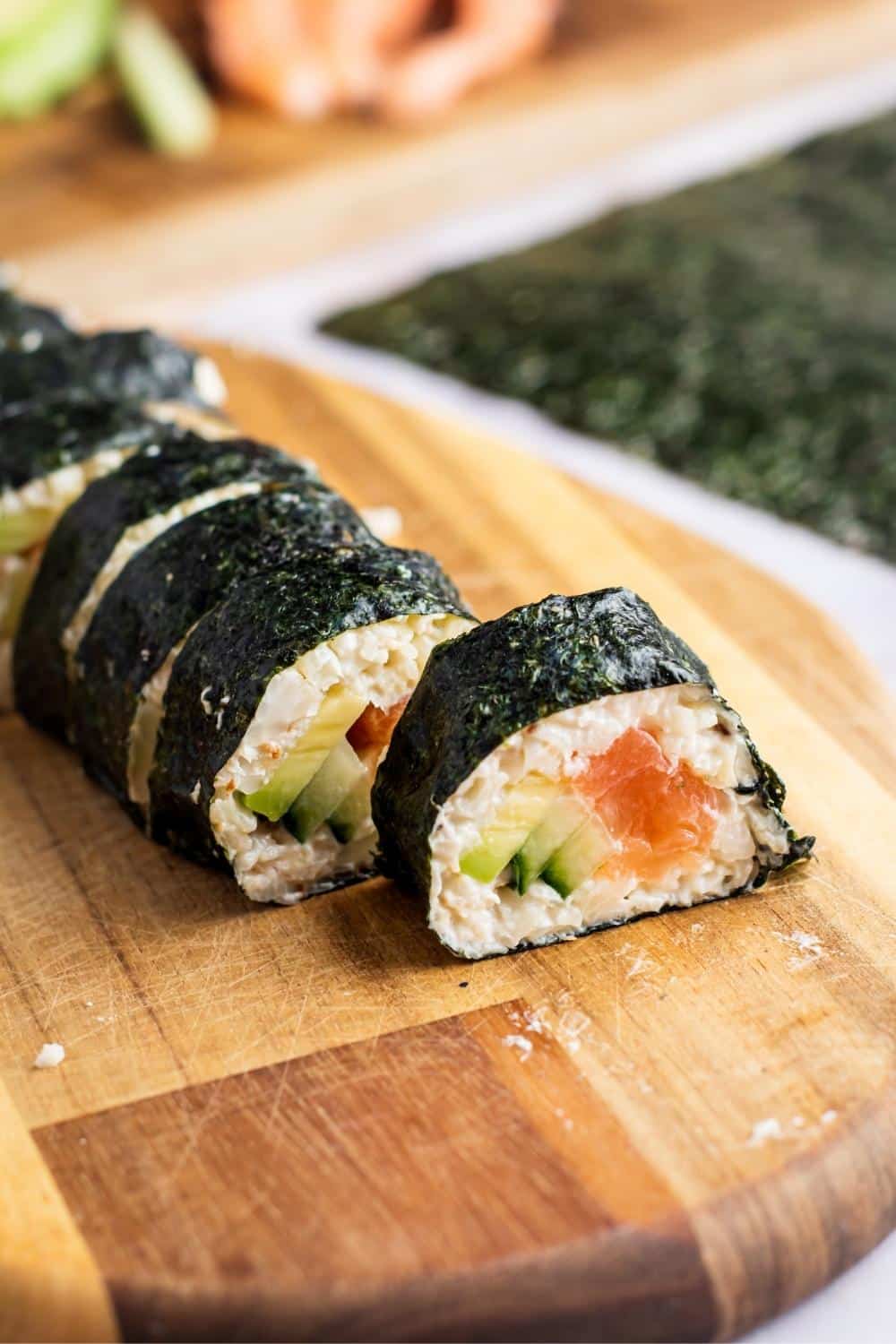 Step 3: Finish with Sriracha Mayo
Finally, combine the mayo and sriracha sauce in a bowl until well mixed.
Top each roll with a little bit of sauce - or drizzle it over the row of rolls - and do the same for the other roll.
And there you have it!
For the true sushi restaurant experience, you can serve it with a little soy sauce, some wasabi, and pickled ginger on the side. Enjoy!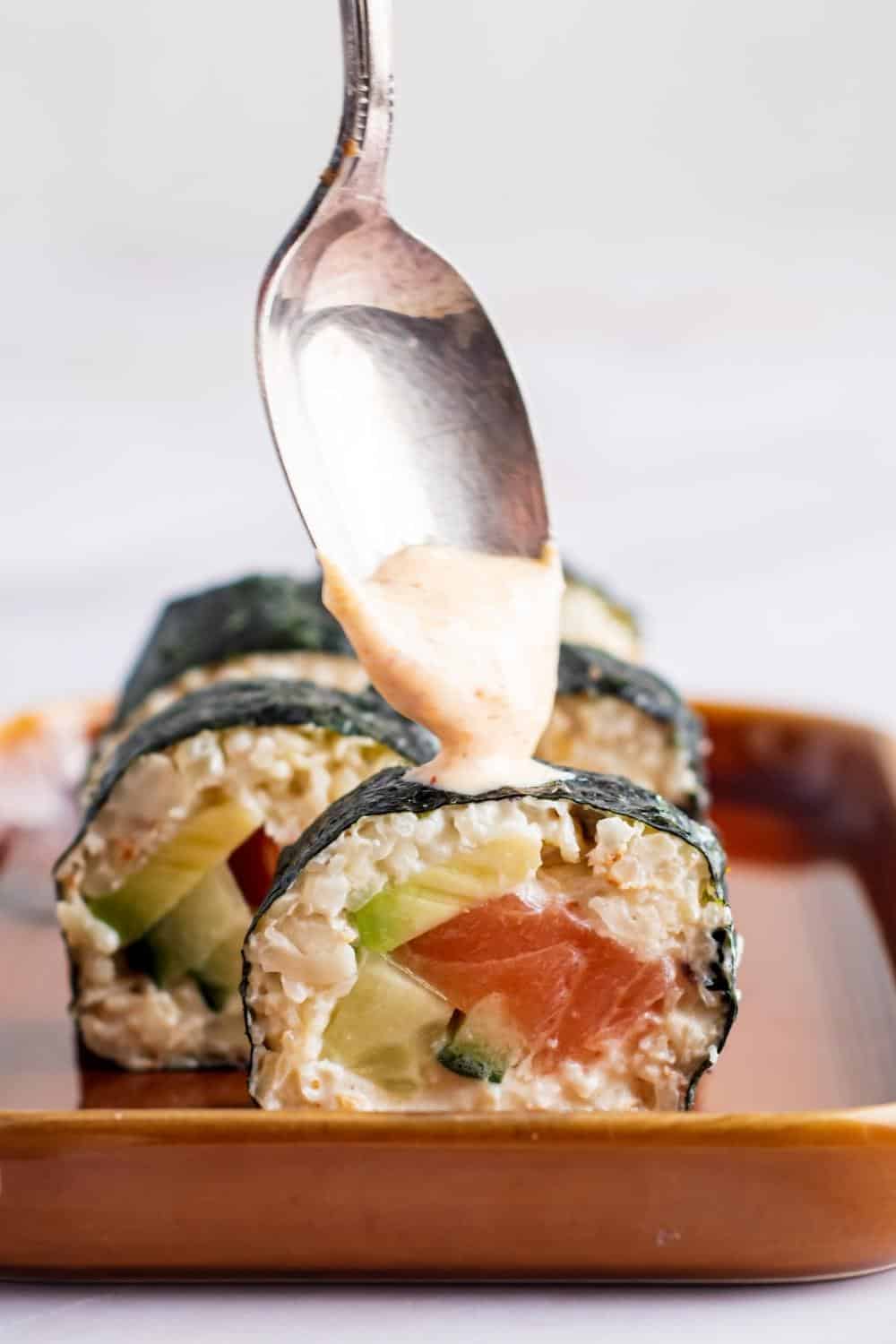 Storing Your Keto Sushi Rolls
The great thing about this keto sushi is that you don't have to reheat it, so it makes for great leftovers and an easy-packed lunch for work or school. And this keto friendly recipe will make 2 sushi rolls, so if you're making it for yourself, you might have one leftover.
Or you can make extra batches of these keto rolls and keep all of the leftovers in an airtight container. Then they'll last in the fridge for up to 2 days.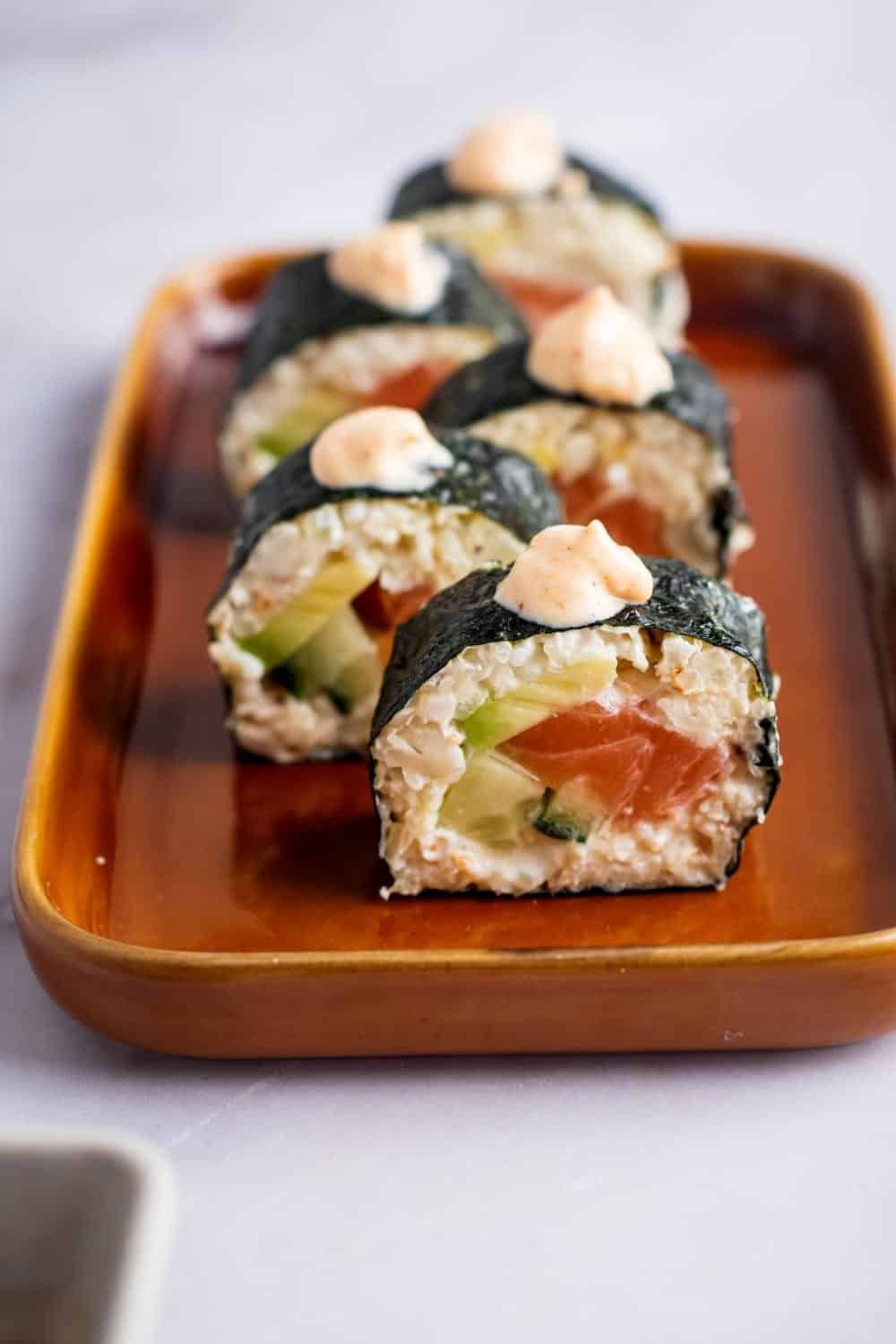 Wrapping It Up
Well, that is how to make sushi keto friendly! This recipe uses fresh, wholesome ingredients to create legit sushi rolls that only have 3 NET CARBS each!
Seriously, after you've made this keto sushi roll recipe once, I'm positive you'll come back to it again and again. It's just so simple and yummy, and you can recreate a keto friendly version of almost any sushi you're craving with this recipe!
Anyway, I hope you enjoy this keto sushi as much as I do.
If you make it, be sure to leave a comment below and let me know what you think!
And as always, check out my Youtube channel and Instagram page for more easy and healthy recipes like this one.
More Keto Recipes
If you're looking for some more keto dinner recipes, I have a ton on the blog that I think you'll like just as much!
Give one of these a try next:
Print
Keto Sushi
This keto sushi recipe is easy, simple, and tasty. It's made with soft and fluffy cauliflower rice for a low carb alternative to carb-heavy sushi rice, and it tastes just as delicious as the real thing. So, you can consider all your sushi cravings on the keto diet solved with this recipe!
Author:
Prep Time:

15 minutes

Cook Time:

15 minutes

Total Time:

30 minutes

Yield:

2 sushi rolls

Category:

Dinner

Method:

Stovetop

Cuisine:

Keto Low carb
Instructions
Grate the cauliflower so you get a rice texture.

Heat a non-stick skillet to medium and add olive oil and cauliflower. Season with salt and cook for 15 minutes (or until the cauliflower is soft).

Remove from the skillet and add the cream cheese, rice vinegar and sweetener.

Place the nori sheet over a sushi mat and add the cauliflower rice - leave 1 inch on the bottom of the tray and 1 ½ inches on the top.

Arrange salmon, avocado and cucumber, roll and press.

Cut with a sharp knife, cleaning it with a wet cloth between each cut.

Combine mayo and sriracha sauce and top each roll with the sauce. Repeat with the other roll.
Nutrition
Serving Size:

1 sushi roll

Calories:

160

Fat:

8

Carbohydrates:

6

Fiber:

3

Protein:

15
Keywords: keto sushi, keto sushi recipe, keto friendly sushi, keto friendly sushi recipe, low carb sushi, low carb sushi recipe, how to make keto sushi, how to make sushi keto, sushi keto friendly, cauliflower rice sushi, low carb sushi recipes, keto sushi rolls,