This grilled halibut is coated in the most flavorful savory spice rub and it turns out perfectly flakey every single time. Plus, it's so, so quick and easy to make. In fact, all you need is just about a handful of simple ingredients and 20 minutes to make it.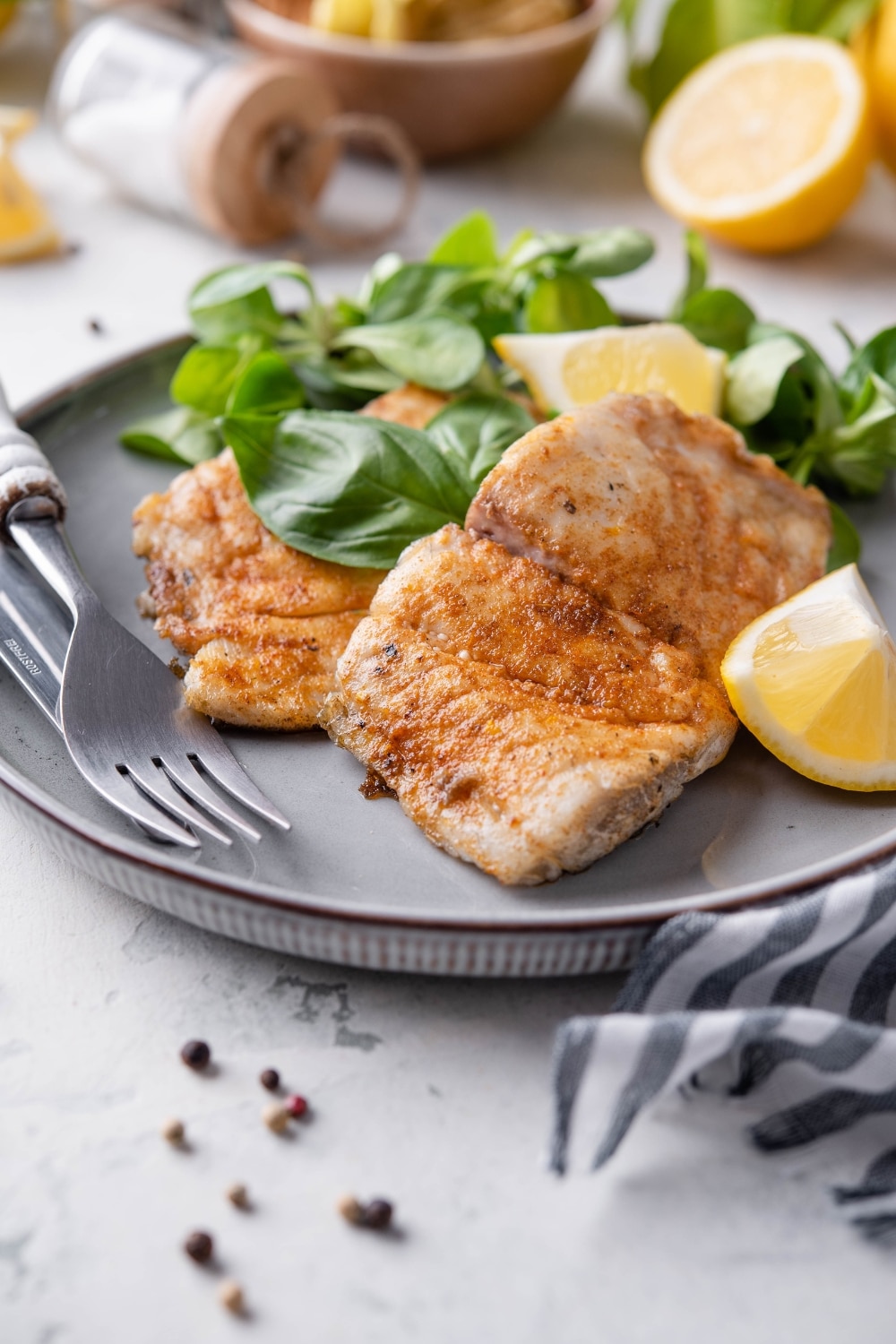 The Best Grilled Halibut
If you've never tried grilling halibut before, you're missing out!
I think grilled halibut is the best way to get that tender and flakey texture on the inside with a little crispiness on the outside. And the delicious combination of savory spices in this recipe gives it an addictive flavor that'll have you hooked from the first bite you take of it.
Along with tasting amazing, halibut also has a ton of health benefits, like being packed with micronutrients, high-quality protein, and heart-healthy omega 3's. So, not only does it taste good, but it's good for you. And, again, it's a breeze to whip up - you hardly have to do anything to make it.
Honestly, there's just so much to love about this recipe, and I'm sure it'll be a crowd-pleaser at your next cookout. I know it always is at mine anyways.
By the way, this grilled halibut goes great with some sauteed asparagus, sauteed eggplant, grilled carrots and/or sauteed broccoli.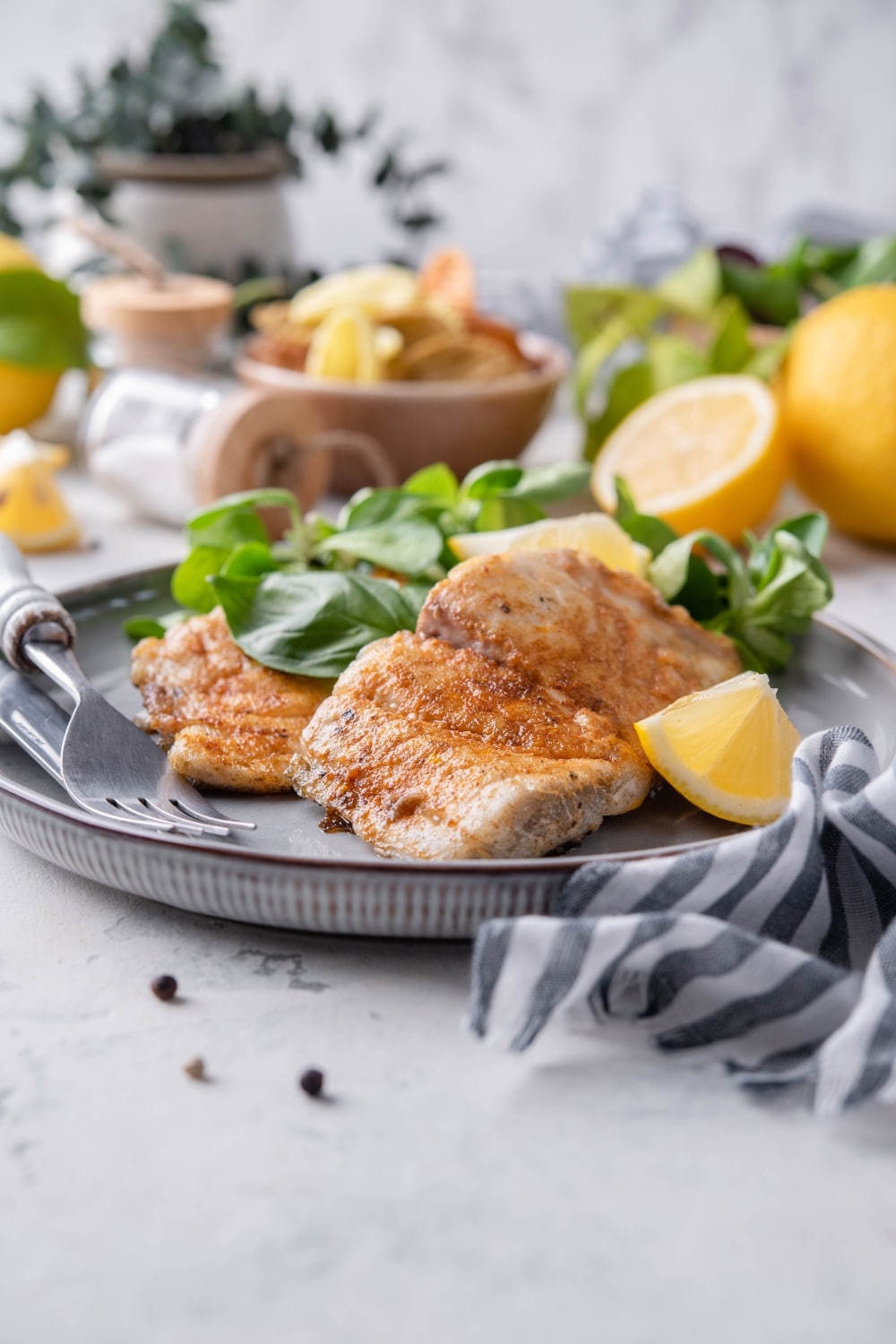 Why You'll Love This Recipe
It's quick and easy. This grilled halibut is ready and on the table in under 30 minutes, and it's simple enough for beginner grill cooks to make.
You can use an outdoor grill or a grill pan. You can make this grilled halibut on a charcoal grill, gas grill, or even a grill pan on the stovetop and get perfect results every time.
Customizable. There are many options to change the flavor of this mild fish, such as adding some soy sauce to the seasoning mix and garnishing it with fresh parsley.
It tastes like a 5-star meal. The ingredients for this grilled halibut recipe are basic, but the results always impress! It's delicious enough for a fancy dinner date yet easy enough to make on a busy weeknight.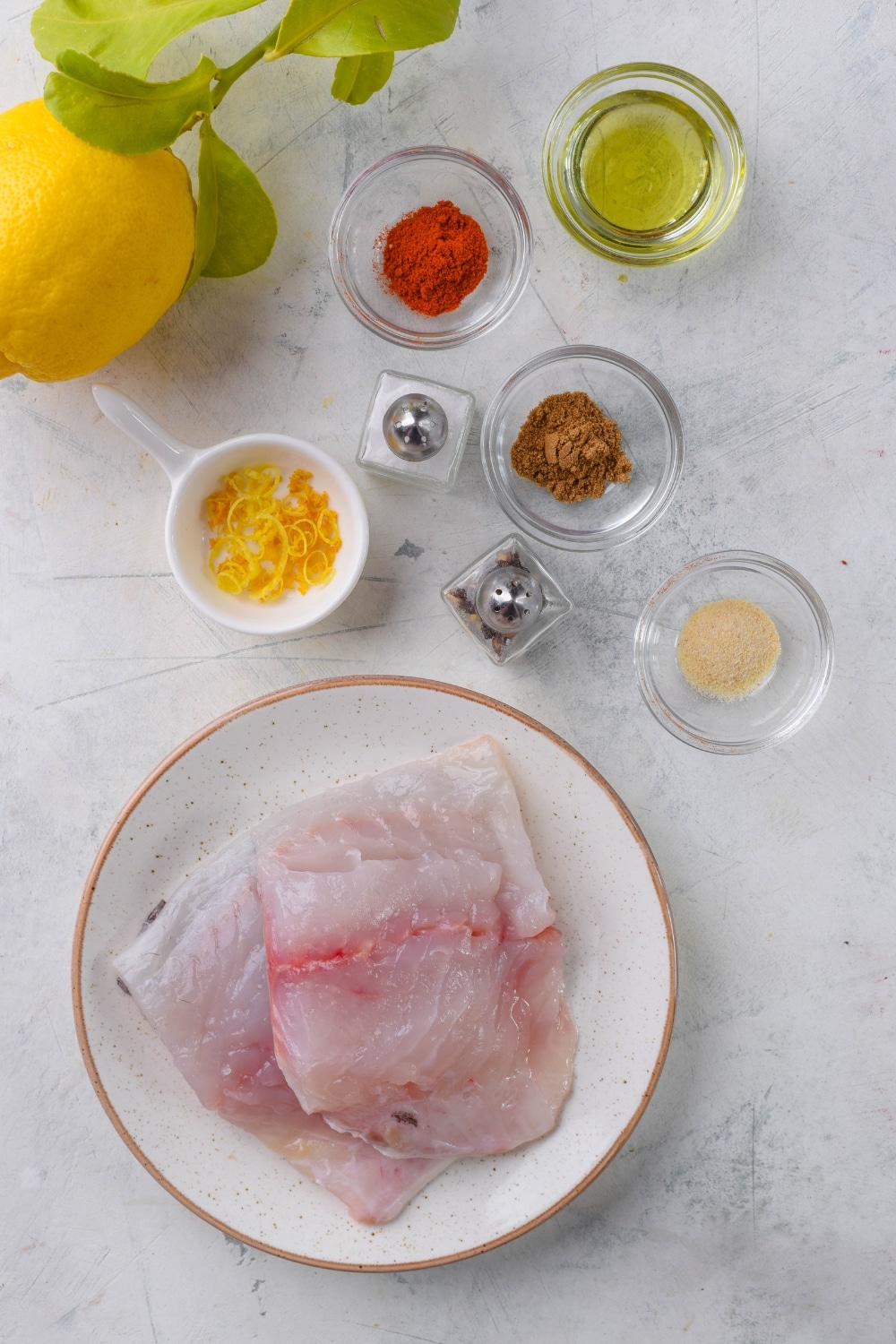 Ingredients
As I just mentioned, you only need a few basic ingredients to make this grilled halibut recipe. Honestly, you might even have all of them at home already.
Anyway, here's what you'll need:
2 tablespoon olive oil

1 teaspoon garlic powder

1 teaspoon lemon zest

Salt and pepper, to taste

½ teaspoon cumin powder

½ teaspoon paprika powder

2 5oz. halibut fillets
By the way, if you want another way to cook this tasty white fish, definitely check out my pan-seared halibut recipe next!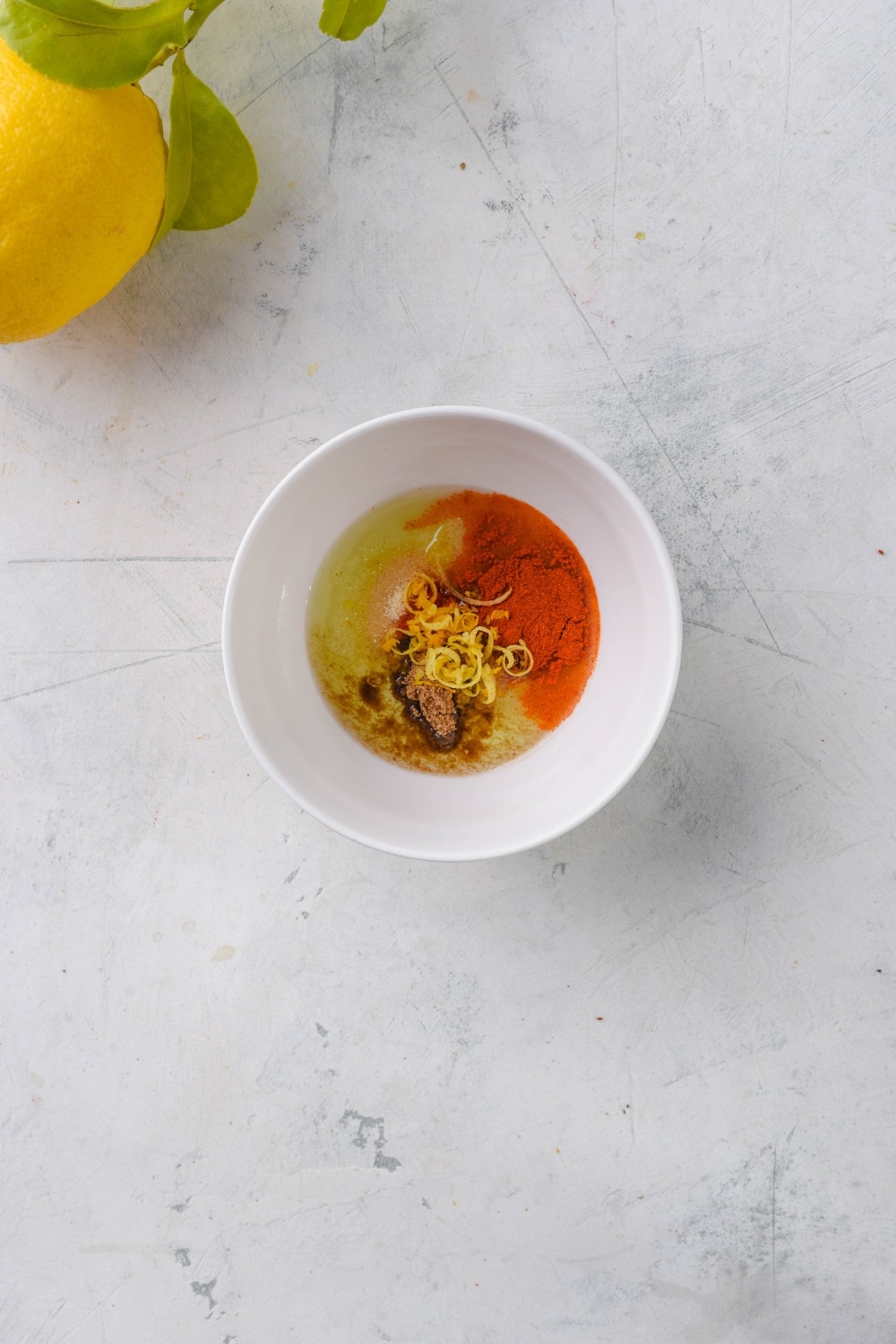 How To Cook Halibut On The Grill
1. Season the fish fillets. Take out a small bowl and combine the olive oil, garlic powder, lemon zest, cumin, paprika, a little bit of kosher salt, and freshly cracked black pepper in it. Then, mix everything to combine and brush the spice mixture evenly all over the halibut fillets.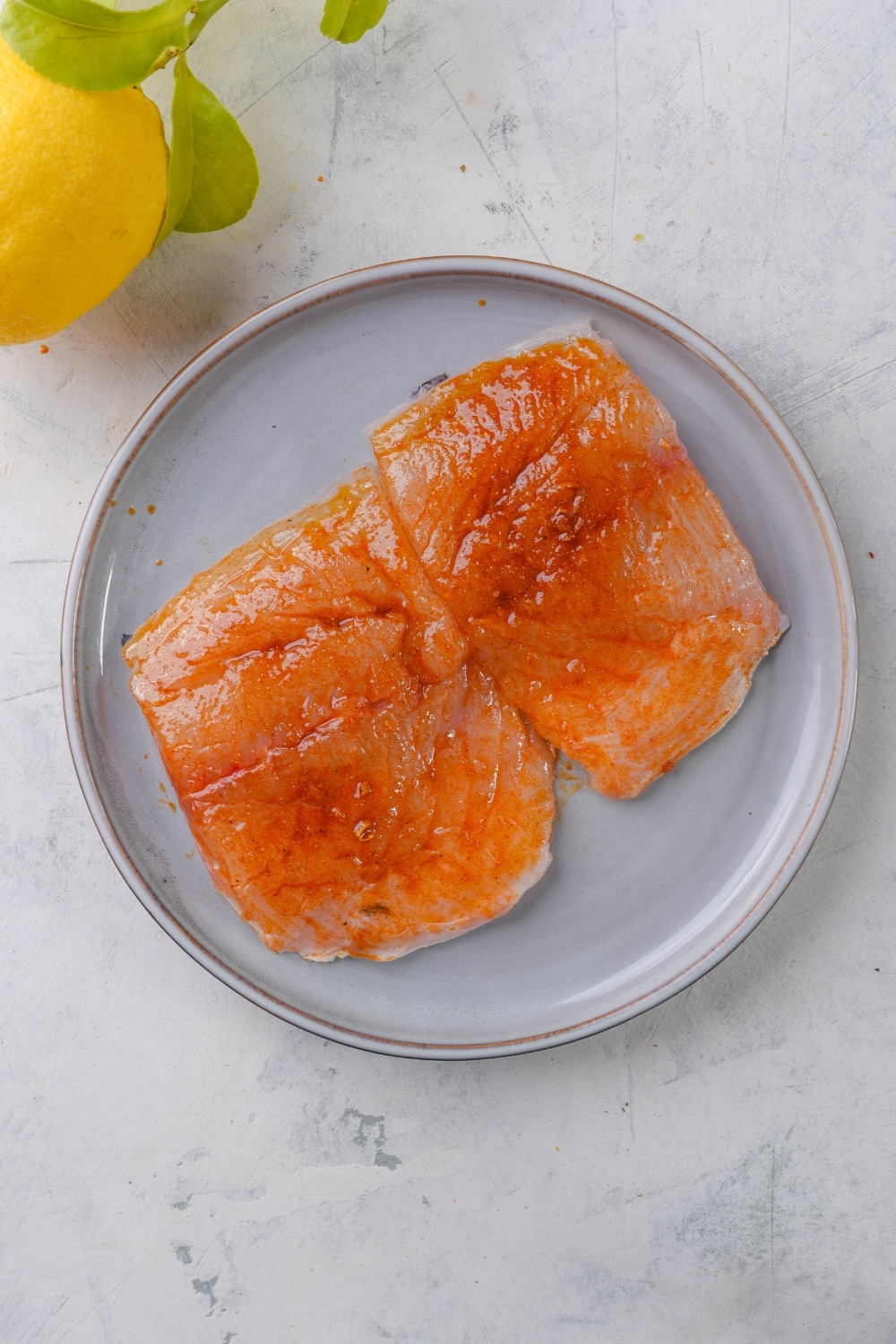 2. Grill the halibut. Preheat your outdoor grill and lightly oil the grill grates. Or, you can oil your grill pan and bring it to medium heat on the stove.
Once your cook surface is hot, place the seasoned halibut fillets skin side down and cook them for about 6-7 minutes per side - or until the fish is cooked through.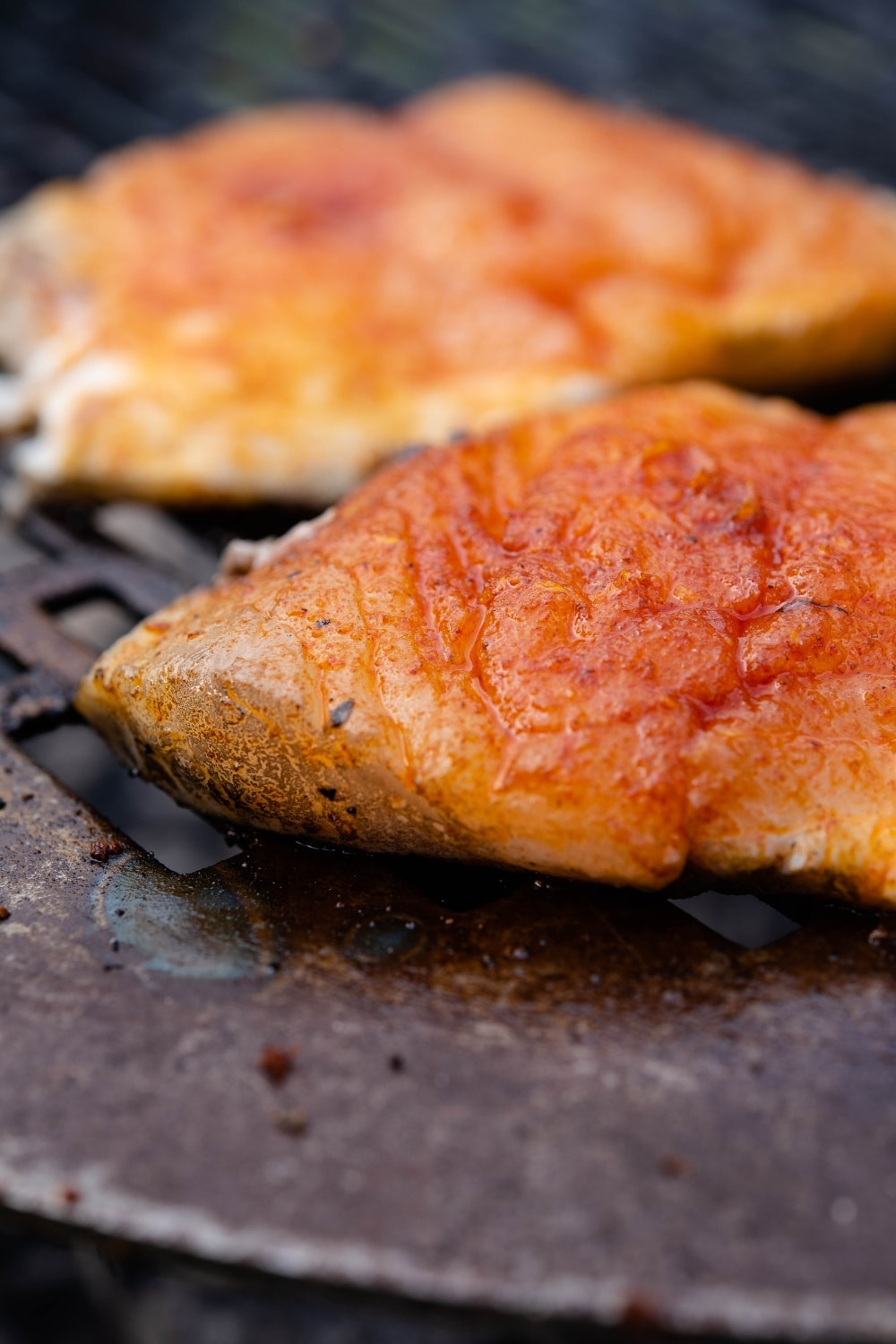 3. Serve. Transfer your grilled halibut filets to a plate and garnish them with lemon wedges. Enjoy!
Tips To Make the Best Recipe
Pat the halibut fillets dry with a paper towel before brushing on the seasoning. This will help the spices adhere better to the fish.
Bring your halibut to room temperature before cooking it. It'll end up with the best texture and cook evenly if you do.
Always oil your grill grates or grill pan before adding the fish to prevent it from sticking.
Preheat your grill to medium-high heat, around 400°F. At this temperature, the seasoning won't burn, and the fish stays perfectly tender and flakey on the inside.
You'll know the halibut is done when it reaches an internal temperature of at least 135°F.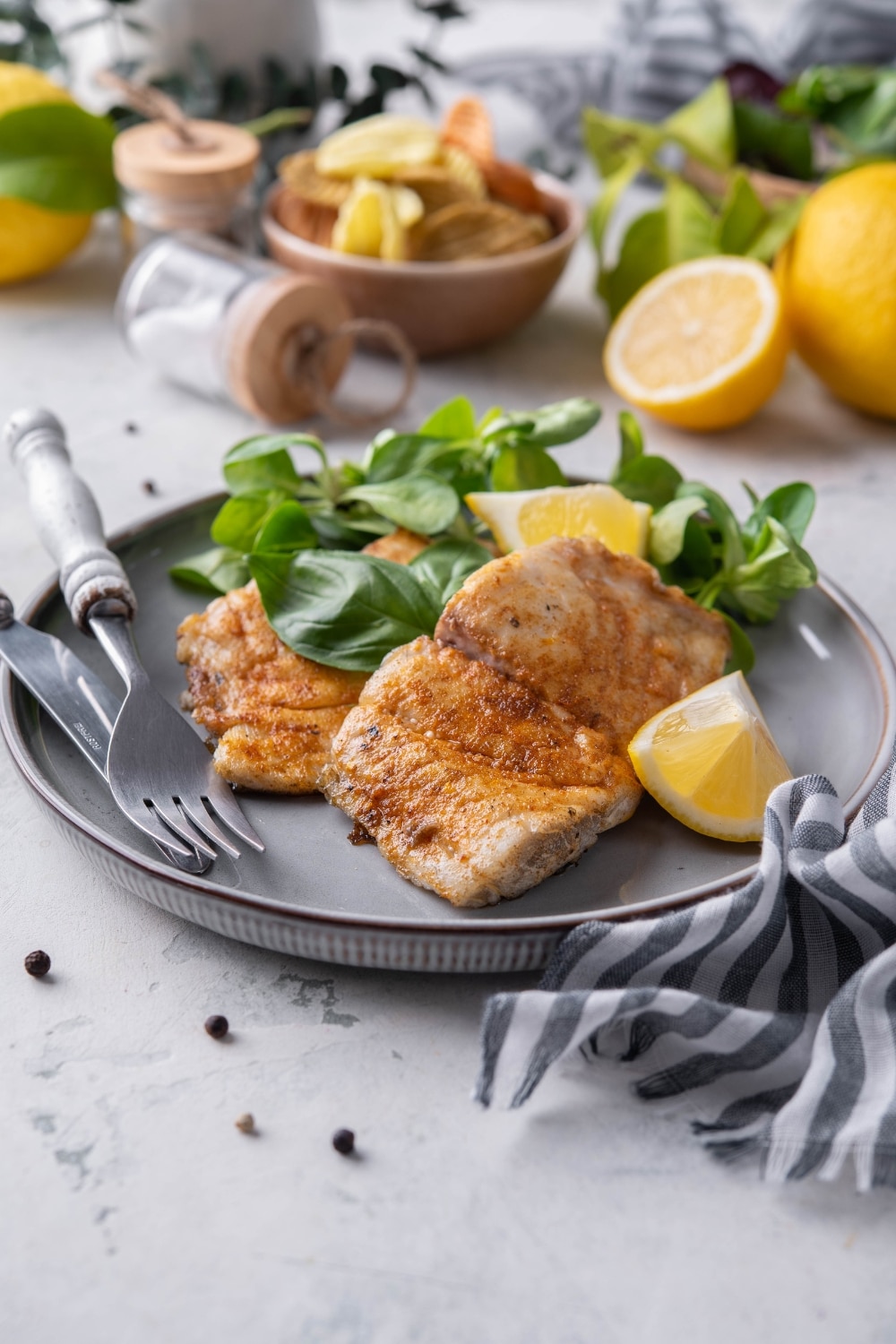 What To Serve With Halibut
The flavor of the halibut is really versatile, and it goes well with a variety of sides. Here are some healthy side dish ideas to get you started: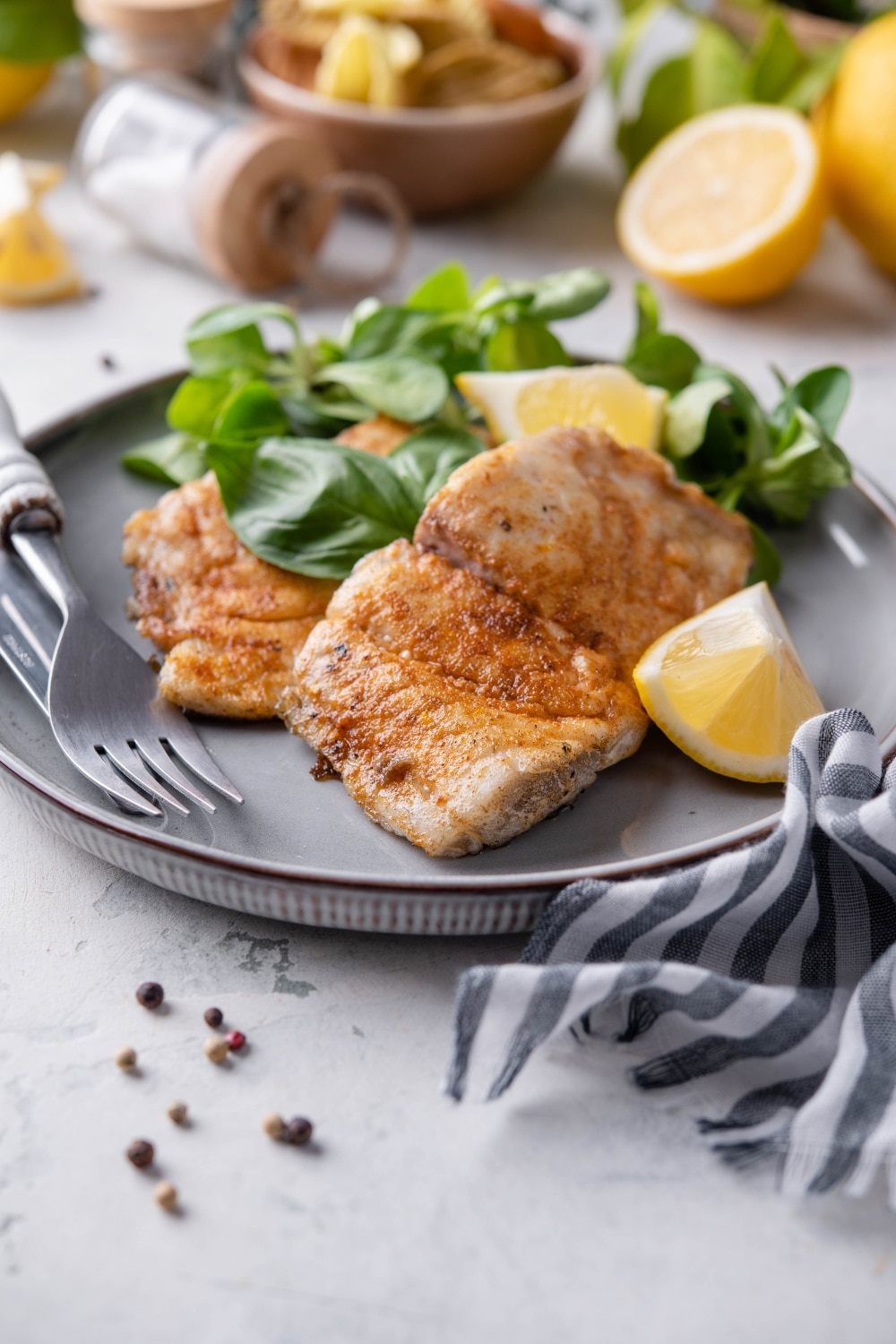 How To Store Grilled Halibut
In the fridge: Store the cooked halibut in an airtight container, and it'll last in the fridge for about 4 days.
In the freezer: Transfer the fish to a freezer-safe bag or container, and you can store it in the freezer for about 3 months.
Reheating: Place the fillets on a baking sheet with a wire rack on top and cover with foil. Reheat it in the oven at 275°F for around 15 minutes or until warmed through. For frozen halibut, let it thaw in the fridge or just add more reheating time.
FAQs About This Grilled Halibut Recipe
Does halibut grill well?
Yes, halibut is excellent for grilling. The meat is perfectly firm and thick enough to stay intact on the grill but still flakes easily when fully cooked with a slightly crisp exterior.
What are the best cooking methods for halibut?
Pan-frying, baking, and grilling are all excellent ways to cook halibut. Fresh halibut fillets or halibut steaks are especially delicious grilled.
Does halibut fall apart on the grill?
If you cook your halibut at the right temperature for the right amount of time, it won't fall apart on the grill even when flipped. Make sure to use fillets that are at least an inch thick and cook them at medium-high heat for around 6-7 minutes per side.
How do you grill halibut without it sticking?
Oil your grill grates or grill pan before adding your halibut to prevent sticking. You can also brush oil on the fish and then sprinkle the seasonings on top for even better results.
More Recipes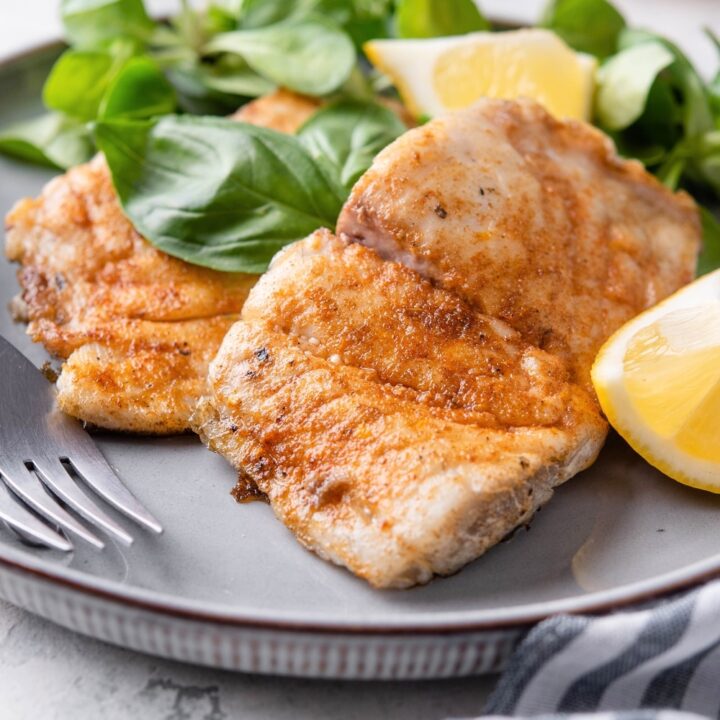 Grilled Halibut
This grilled halibut is perfectly flakey with the most flavorful savory spice rub. It's truly one of the most delicious grilled fish recipes, and you'll love how easy it is to make!
Instructions
Combine olive oil, garlic powder, lemon zest, cumin powder, and paprika in a bowl.

Brush the halibut fillets on all sides with the prepared mixture.

Preheat the charcoal grill and oil your cooking grate.

Grill the halibut for 6-7 minutes per side.

Serve warm with lemon slices.
Nutrition Information:
Serving Size:

1 serving
Amount Per Serving:
Calories:

247
Total Fat:

13g
Saturated Fat:

0g
Trans Fat:

0g
Unsaturated Fat:

0g
Cholesterol:

0mg
Sodium:

0mg
Carbohydrates:

0g
Fiber:

0g
Sugar:

0g
Protein:

29g