These keto shortbread cookies are buttery, wonderfully sweet, and slightly crispy. Every bite just melts in your mouth, and you won't believe they are low carb. And each one of these keto cookies has just about 1 NET CARB!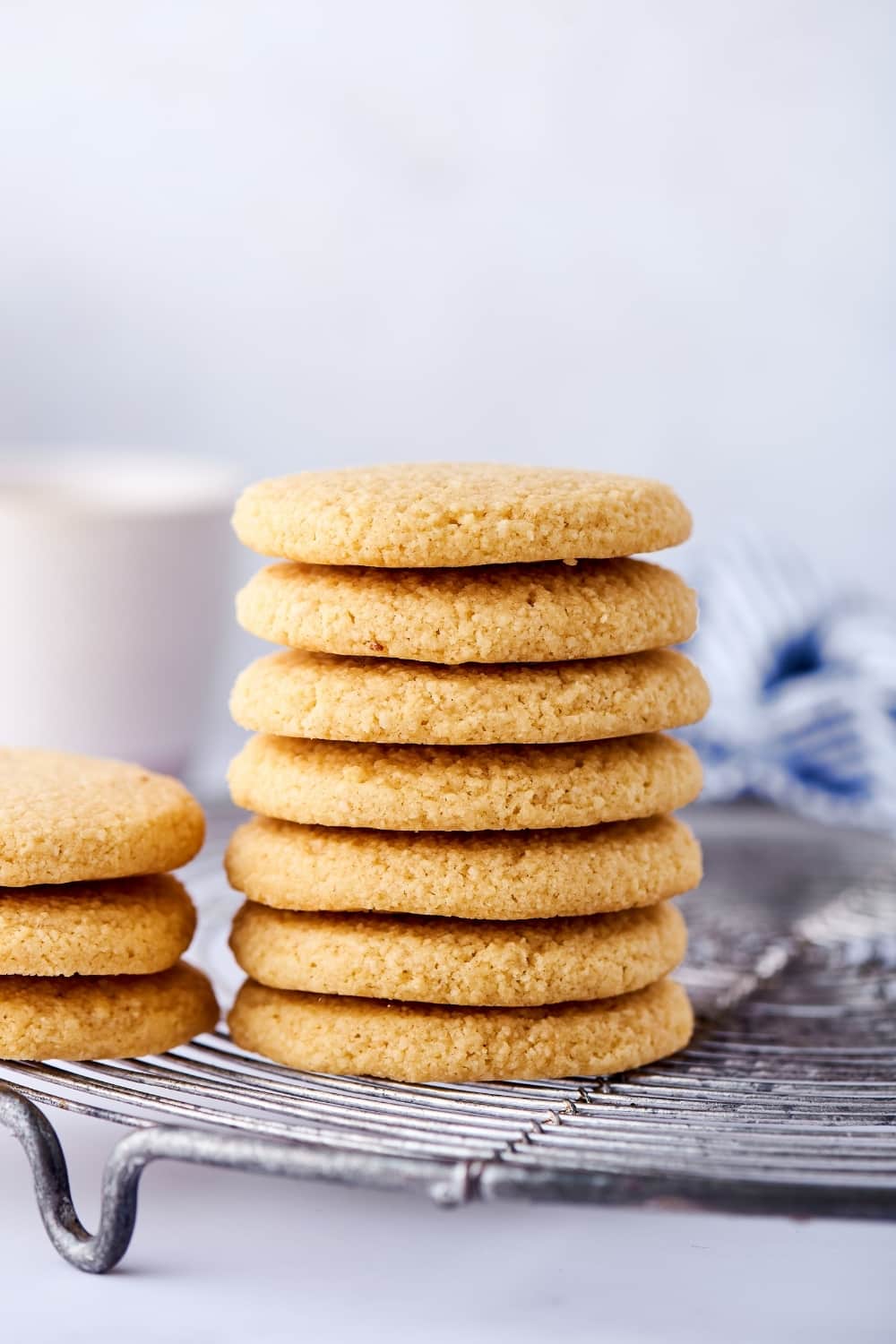 THE BEST KETO SHORTBREAD COOKIES
As a lot of you know, I've made a ton of keto cookies in my day, and these shortbread ones are one of my favorites.
Not only is this recipe incredibly easy to make, but it takes under 20 minutes total, and the cookies turn out delicious.
And these no sugar shortbread cookies are like no other cookie. They have a sweet buttery flavor, a crispy yet soft texture, and a melt in your mouth finish that is just so incredibly tasty.
Best of all though is the fact that no one can ever tell that they're healthy shortbread cookies. Seriously, every time I make them, I have to convince whoever eats them that these are low carb shortbread cookies with just 1 NET CARB!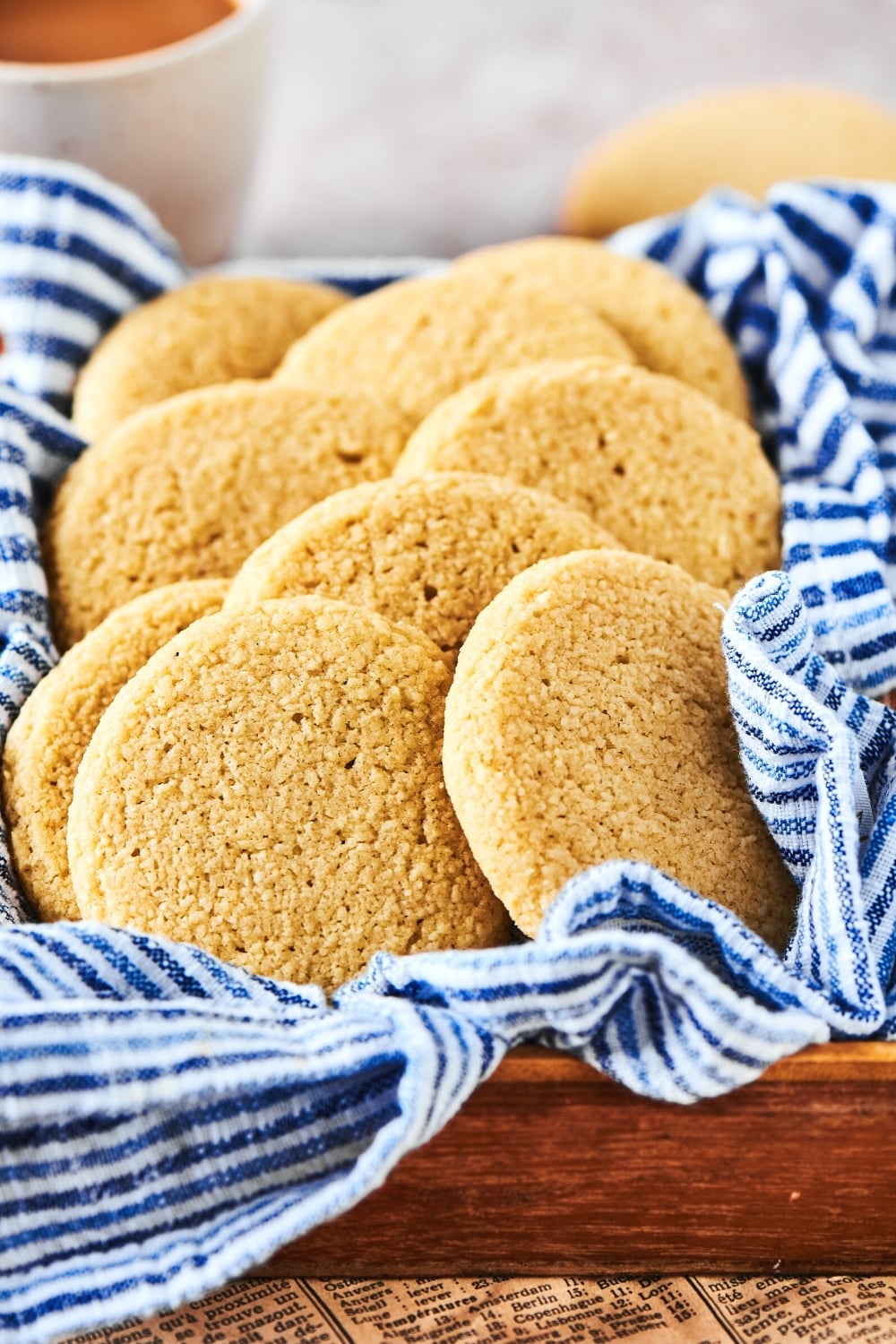 INGREDIENTS
Now, other than being delicious, another thing that I love about this keto shortbread cookie recipe is that you only need 6 ingredients.
And they are the most common keto baking ingredients, so you probably have everything you need to make them.
Here's what you'll need for this keto shortbread cookies recipe:
2 Cups Blanched Almond Flour
½ Cup Confectioners Erythritol
½ teaspoon Baking Soda
1 Large Egg
½ Cup Melted Butter
1 Tsp Pure Vanilla Extract
Now, if you don't have a few of these ingredients, make sure you run to the store and stock up on them.
You can use pretty much all of these ingredients to make some of my most popular recipes, like this Keto Banana Bread and this Keto Cheesecake.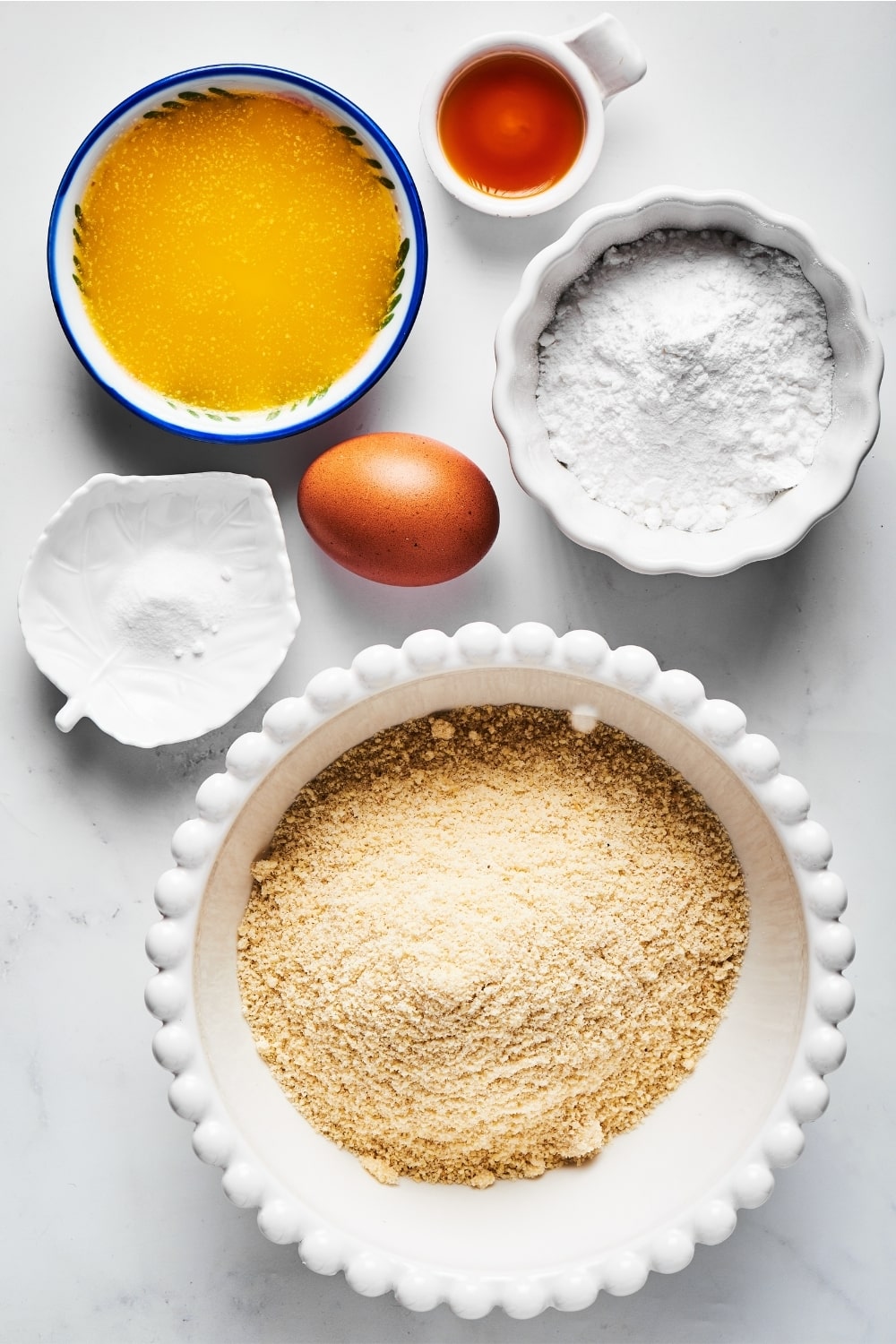 GLUTEN FREE KETO FLOURS TO USE
Ok, so as I'm sure you know, shortbread cookies are not traditionally low in carbs - or gluten free for that matter.
So, one way we'll keep the carbs as low as possible in these cookies is by making almond flour shortbread cookies instead of using white/wheat flour. And almond flour is also how we'll be making these gluten free shortbread cookies too
But, if you want to replace almond flour, you can use an equal amount of walnut flour, pecan flour, or sunflower seed flour, and the gluten free shortbread cookies will turn out just as delicious.
With that said, DO NOT use coconut flour in place of almond flour. Coconut flour is a highly absorbent flour that will make these original almond flour shortbread cookies way too dry, and they'll crumble in your hands.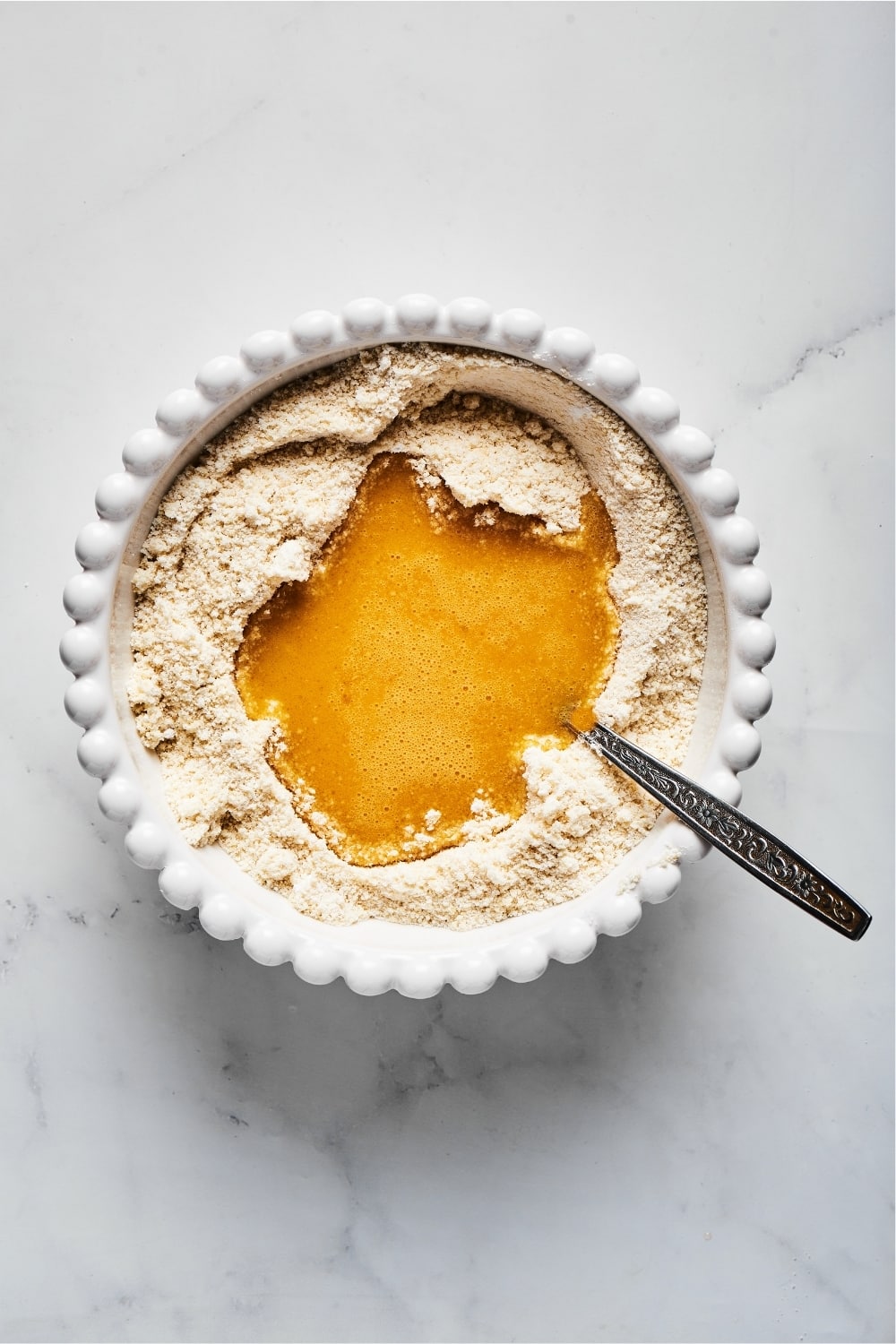 SWEETENERS TO USE FOR SUGAR FREE COOKIES
Another thing "normal" shortbread cookies have is sugar, and that's something we'll want to avoid using when making a keto recipe.
So, instead of using sugar, we'll use Confectioners Swerve to make these sugar free shortbread keto cookies.
And, if you don't know, Confectioners Swerve is a 0 calorie, sugar free sweetener that is just as sweet as regular sugar.
Now, another sweetener that you can use is Lakanto's Powdered Monk Fruit Sweetener. This monk fruit sweetener is essentially the same thing as Swerve and will work just as well to make these basic keto shortbread cookies.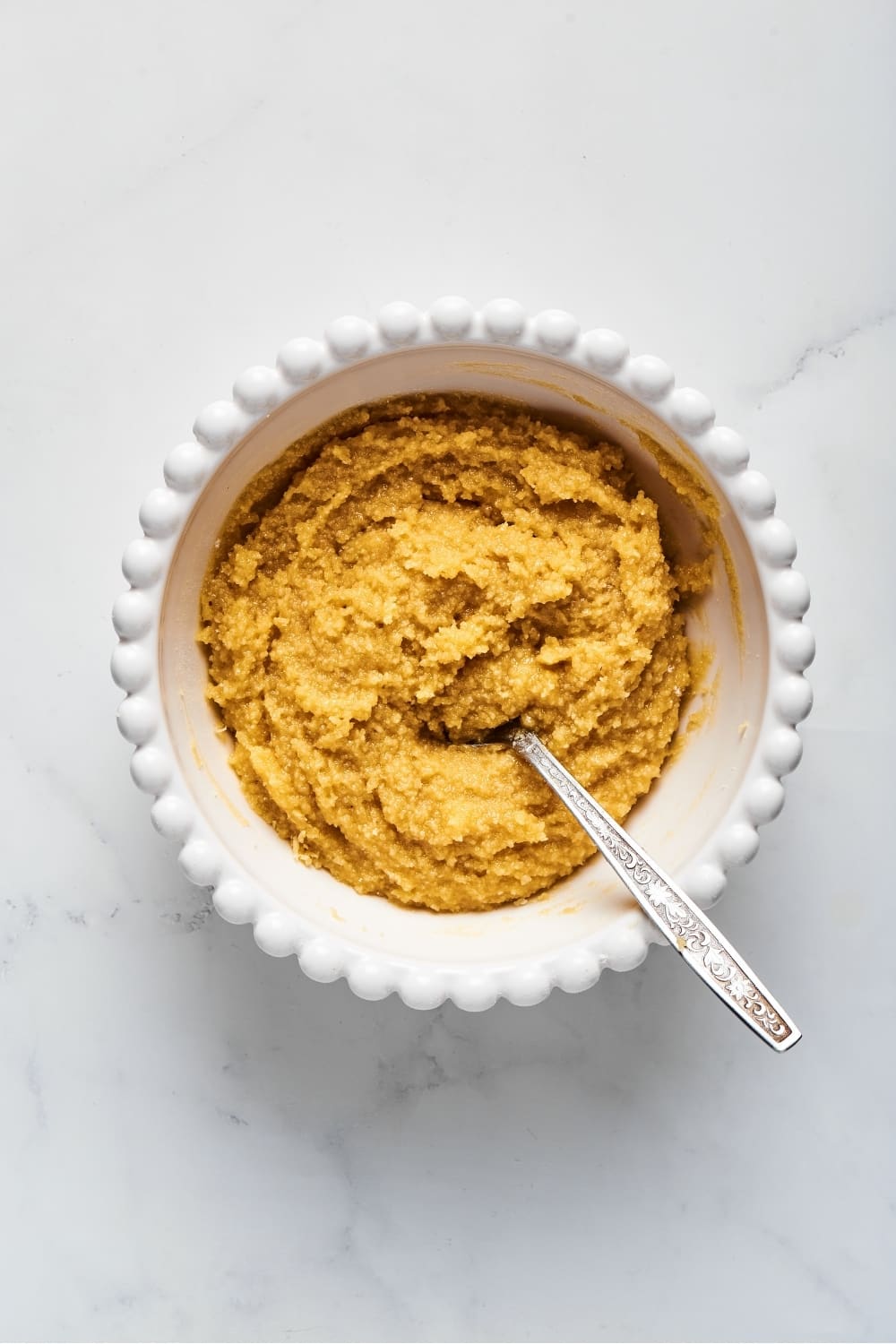 HOW TO MAKE KETO SHORTBREAD COOKIES
As I mentioned earlier, making these low carb shortbread cookies could not be any easier!
All you have to do is mix the ingredients, scoop the dough into cookies, and let them bake to perfection in the oven.
So if you're ready for some deliciousness, let's get into the recipe for almond flour shortbread cookies!
STEP 1: MAKING THE COOKIE DOUGH
First things first, preheat the oven to 300 degrees Fahrenheit (150°C).
Then, take out a large bowl, add the egg, melted butter, and vanilla extract, and mix them until they combine. By the way, you can add a little lemon zest to make lemon shortbread cookies.
Anyway, next add in the almond flour, the confectioners Swerve - or monk fruit, - and baking soda, and mix everything until a cookie dough batter forms.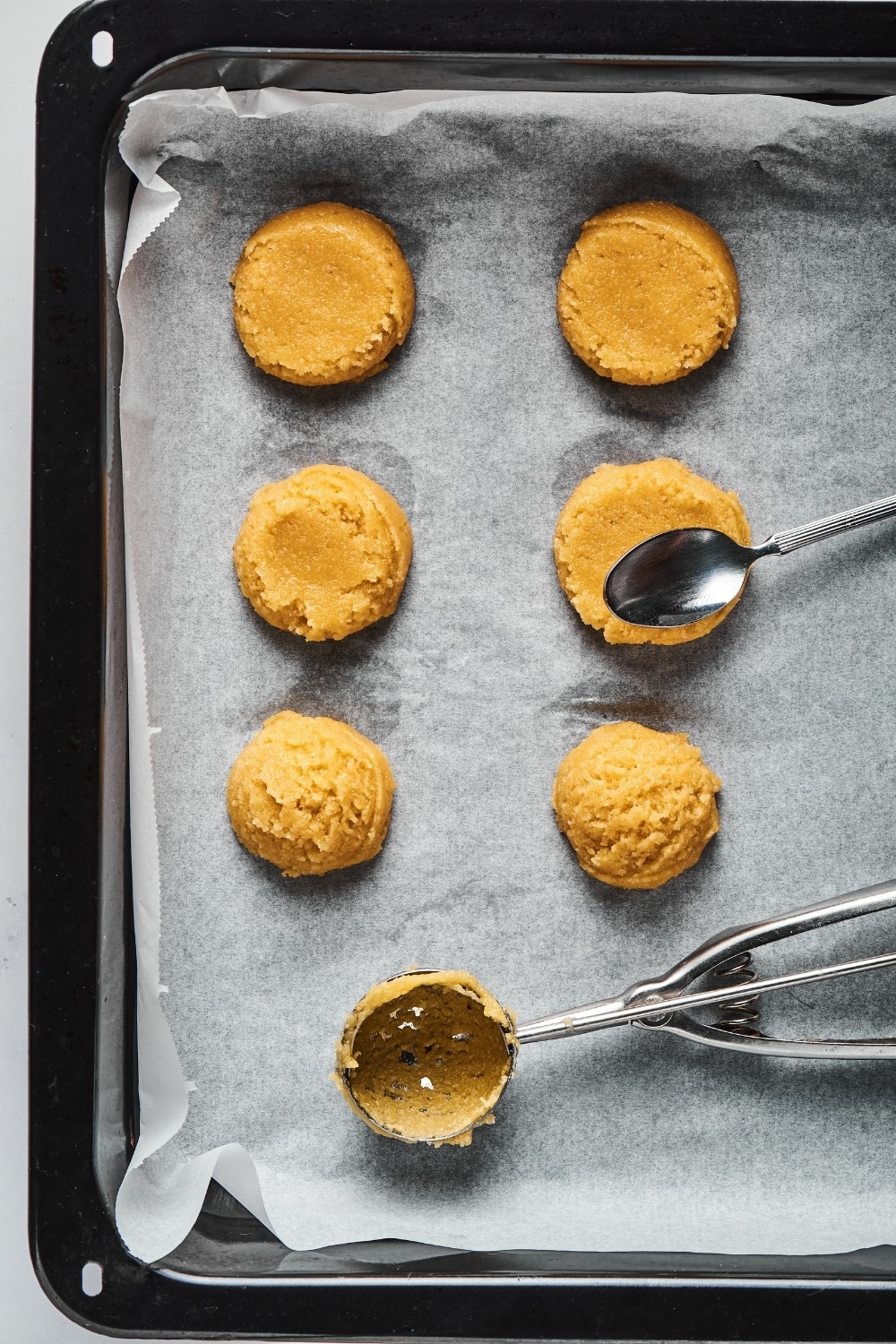 STEP 2: BAKING THE COOKIES
So, once a batter forms, line a baking sheet with parchment paper and use a cookie scooper to scoop out and form 18 cookies.
Then, evenly place the cookies on the parchment lined cookie sheet and use the bottom of a spoon to flatten each cookie.
Next, bake the low carb shortbread cookies for about 12 minutes, or until the tops are slightly golden brown.
Finally, let them cool for a few minutes and enjoy!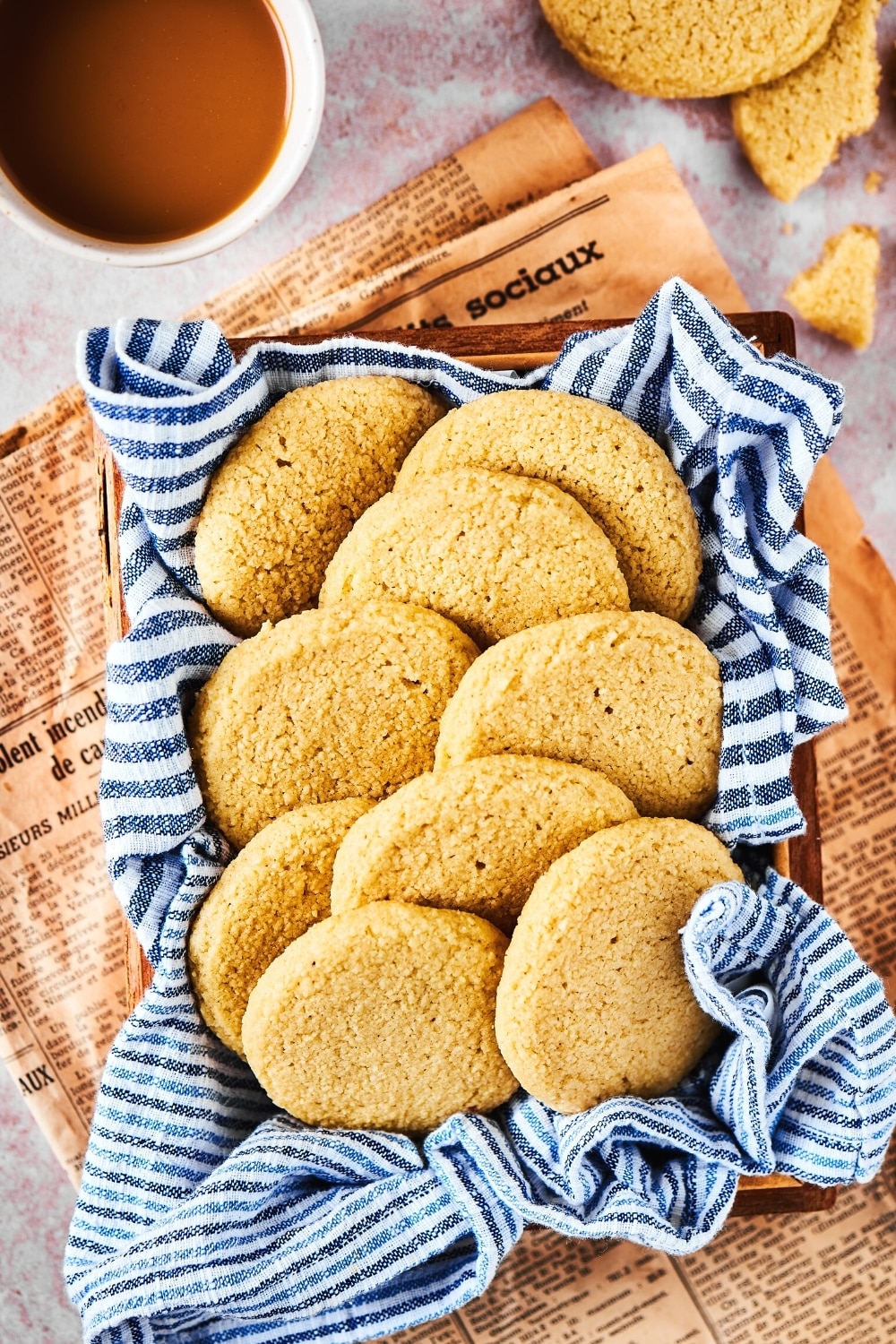 How To Store Keto Cookies
So, this recipe for keto shortbread cookies will make about 18 cookies. And since it makes so many, this recipe is perfect for a holiday get-together or celebration.
Plus, if you want more, you can easily double or triple this recipe!
And don't worry about having leftover cookies - they store super well and are an absolute treat to look forward to for the next few days.
Just transfer any cookies you don't finish to an airtight container, and they'll last at room temperature for 7 days.
Oh, and if you want to keep the almond flour shortbread cookies for even longer, you can put the airtight container filled with cookies in the freezer for up to 3 months!
Then, either pop the keto shortbread cookies in the microwave for a few seconds or just let them thaw on your kitchen counter.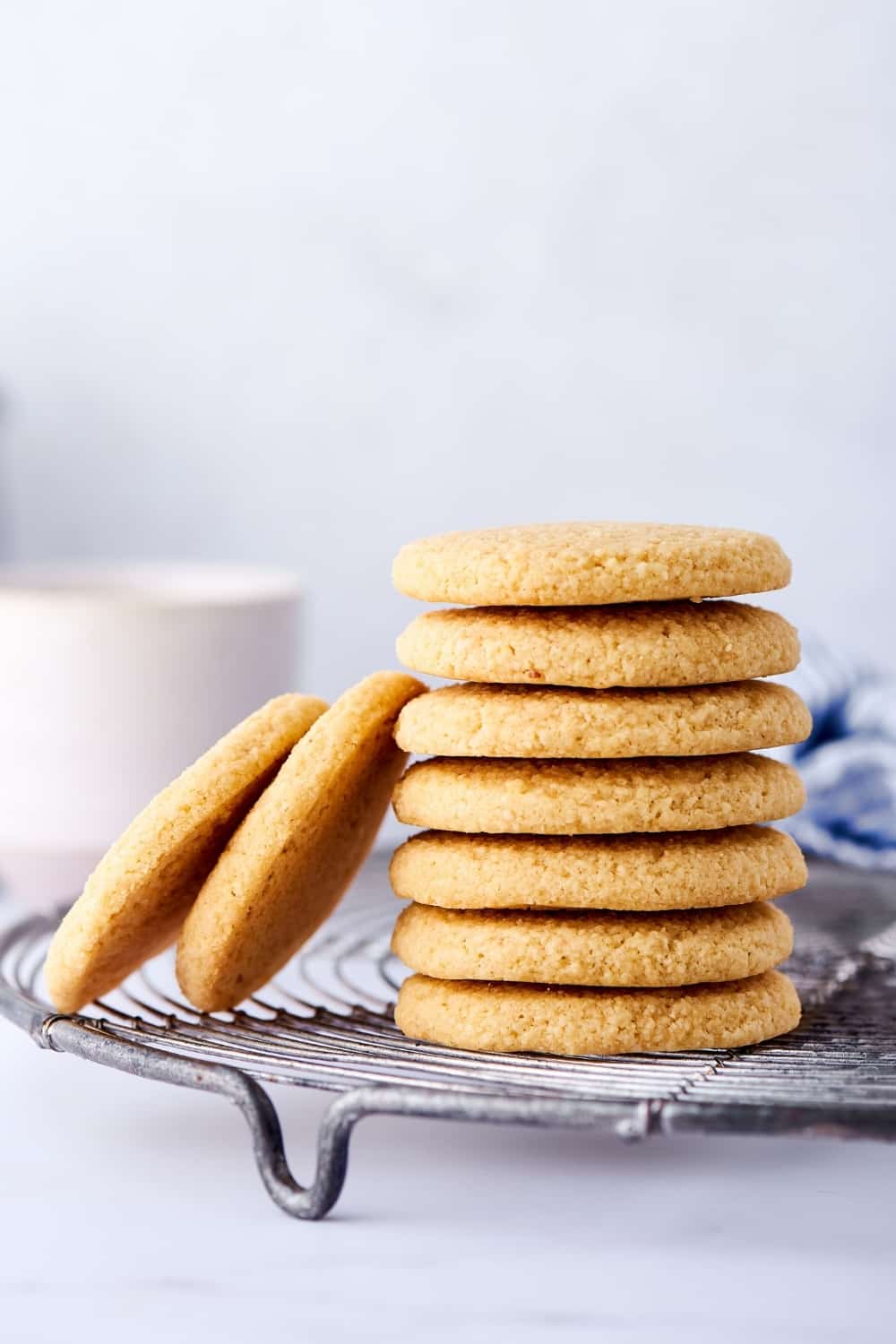 WRAPPING IT ALL UP
Well, that is how to make keto shortbread cookies that taste anything but low carb!
They're easily one of my favorite sugar free cookie recipes to make, and I have a feeling they might become one of your favorite keto cookies, whether you follow a keto diet or not.
Anyway, if you make these buttery keto shortbread cookies, make sure to leave a comment below, and let me know what you think! I'd love to hear how they turn out for you. Oh, and for more recipes, make sure to check out my Youtube channel and Instagram page.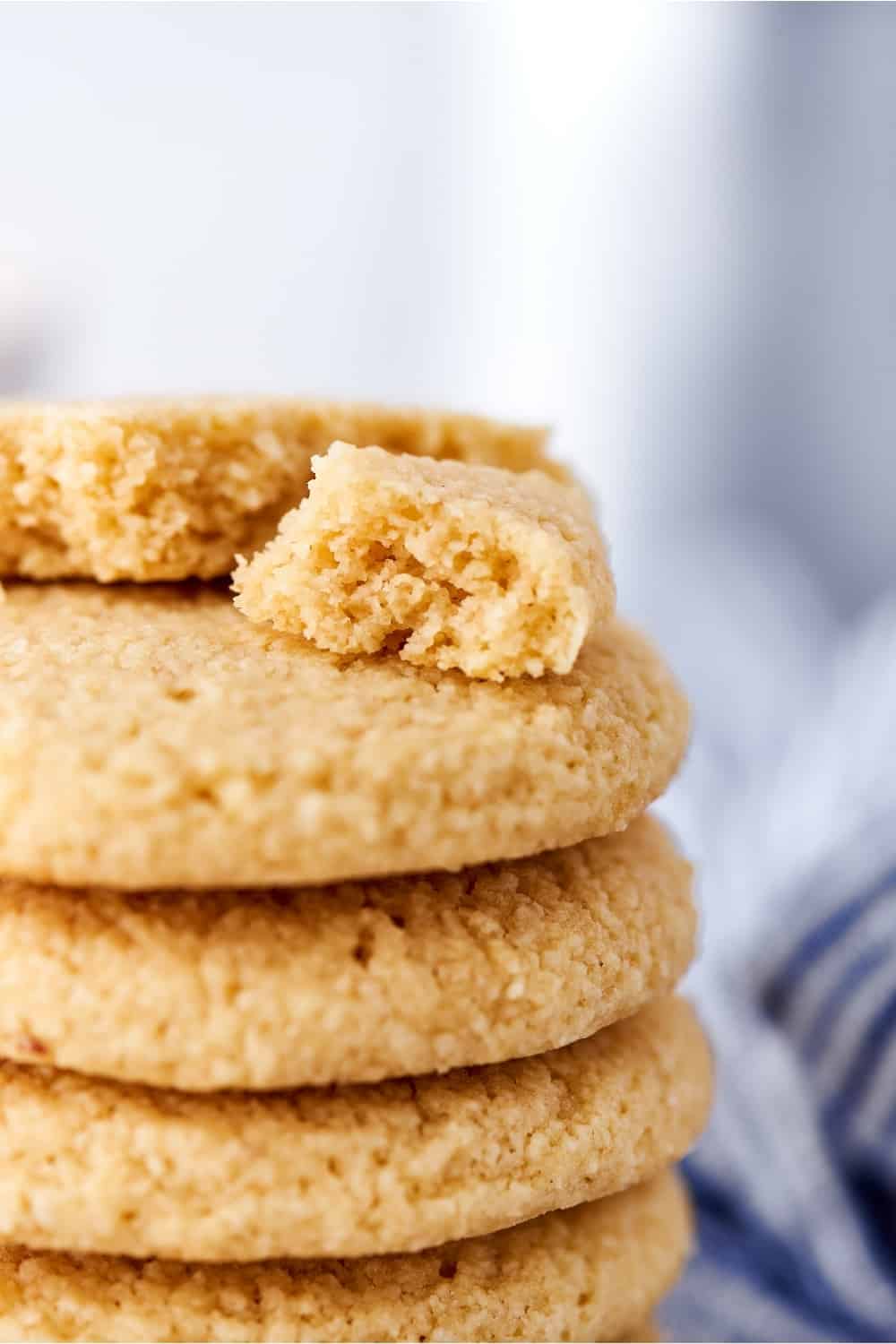 KETO COOKIE RECIPES
If you like eating cookies for dessert - or breakfast - as much as I do, then I have a ton of other keto cookie recipes on the blog that I think you'll enjoy!
Try making one of these next:
Print
Keto Shortbread Cookies | Low Carb, Gluten Free, & Sugar Free
Low Carb Keto Shortbread Cookies! This buttery shortbread cookie recipe is so easy to make. These cookies are made with almond flour - and just 5 other ingredients - and they're only 1.5g NET CARBS a piece.
Author:
Prep Time:

10

Cook Time:

12

Total Time:

22 minutes

Yield:

18 Cookies

Category:

Breakfast
Instructions
Pre-heat your oven to 300°F (150°C).

While the oven is preheating, add all of the wet ingredients into a large bowl and mix them until combined.

Now, add in the dry ingredients, and mix until combined, and a batter has formed.

Once a batter forms, put parchment paper on a baking sheet, and then use a cookie scoop to form 18 cookies on the sheet.

When you've added the balls of cookie dough to the sheet, use the bottom of a spoon to flatten them on the baking sheet.

Bake the cookies for about 12 minutes or until

the tops are golden brown.
Notes
The scale up function does not change the gram measurements.
Nutrition
Serving Size:

1 Cookie

Calories:

113

Fat:

11

Carbohydrates:

2.5

Fiber:

1

Protein:

2.5
Keywords: keto shortbread cookies, best low carb shortbread cookie recipe, keto shortbread cookies with almond flour, keto shortbread cookies with monk fruit, shortbread cookies for keto, keto shortbread cookies recipe, keto shortbread cookie recipe, sugar free shortbread cookies, keto cookies, keto cookies recipe, keto cookies recipes, low carb cookies, low carb shortbread cookies, low carb shortbread cookie,