If you're eating fruit, you might as well get some extra protein in! This list has all the best fruits high in protein, including tropical fruits, citrus fruits, and berries. See which fruits to add to your grocery list and if your favorite ones made the cut!
The Best Fruits High In Protein
Everyone knows that fruits are an important part of any healthy diet, but what you might not know is that they can also add some protein to your day! While they aren't the most protein-dense food out there, fruits are a great option for diversifying your protein sources and are packed with additional health benefits that help form a balanced, satisfying, and energizing meal or snack.
Eating more of these high-protein fruits as a mid-day snack, in a smoothie, or with breakfast is an easy and tasty way to sneak in a little more protein plus healthy carbs, fiber, and nutrients your body needs.
So if you've ever wondered how much protein is in your fruit and which fruits can maximize your daily protein intake, check out this list below!
Top High Protein Fruits To Eat
1. Guava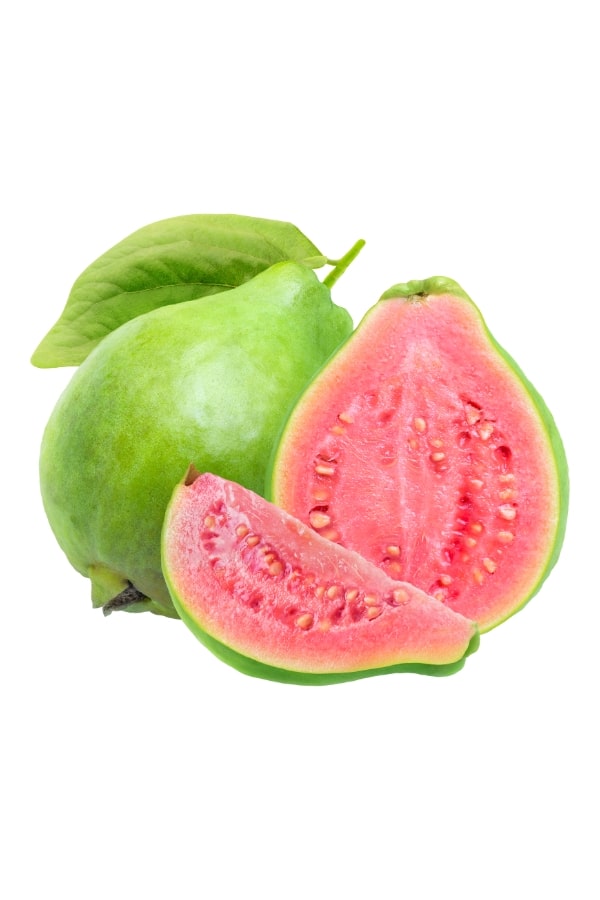 Nutritional Info for 100g:
68 Calories
1g Fat
14g Carbs
9g Sugar
5g Fiber
2.6g Protein
This delicious tropical fruit packs 2.6 grams of protein per serving, or about 5% of the daily recommended intake for protein! In addition to being one of the best sources of protein out of any fruit, guava is also one of the highest in vitamin C, packing more than 4 times as much as oranges. It's great on its own, baked into pastries or blended into smoothies. The entire guava is edible, including the seeds and the skin, so you can eat the whole guava for the most health benefits.
2. Passion Fruit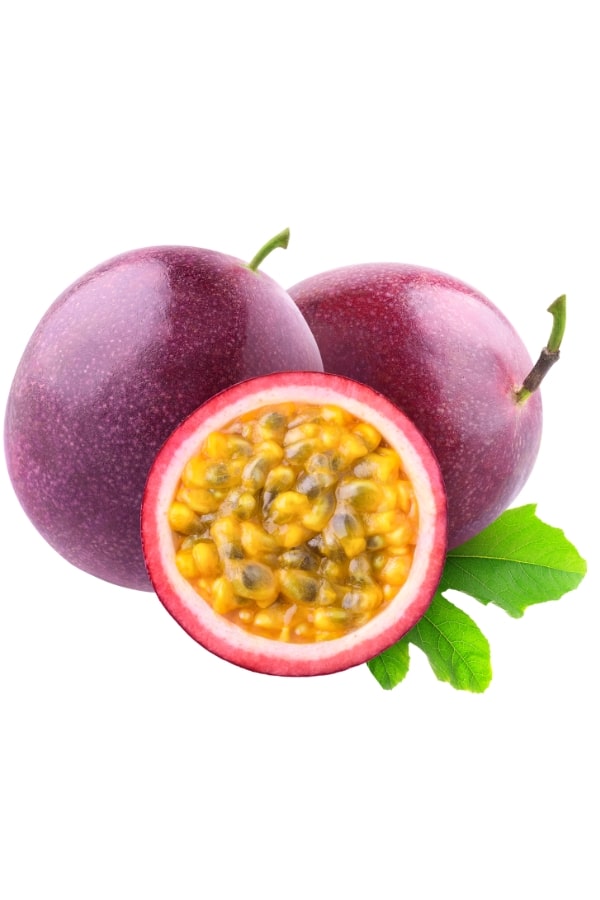 Nutritional Info for 100g:
97 Calories
0.7g Fat
23g Carbs
11g Sugar
10g Fiber
2.2g Protein
Vibrant and sweet passion fruit is another excellent source of plant-based protein. With over 2 grams in around one cup serving, this protein-rich fruit is a satisfying addition to smoothies, breakfast bowls, and even salad dressings. The passion fruit pulp is also incredibly high in fiber!
3. Avocado
Nutritional Info for 100g:
160 Calories
14.7g Fat
8.5g Carbs
0.7g Sugar
6.7g Fiber
2g Protein
Add some sliced avocado to your salads, sandwiches, and these breakfast burritos. This buttery green fruit is packed with healthy fats complemented with some beneficial protein that work hand in hand to make your meal more filling. Avocados are also one of the most complete sources of essential amino acids out of any fruit, with all nine essential amino acids.
4. Jackfruit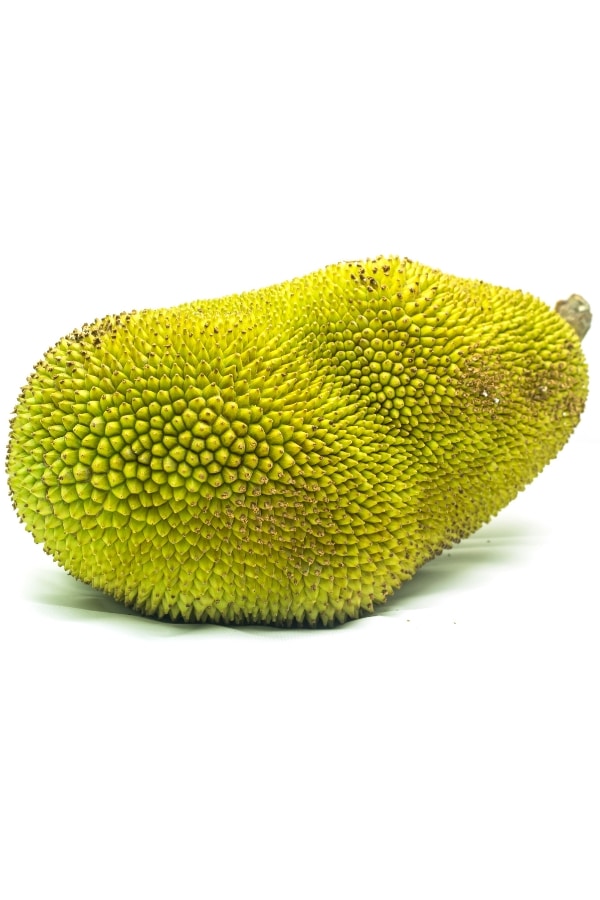 Nutritional Info for 100g:
95 Calories
0.6g Fat
23.3g Carbs
19.1g Sugar
1.5g Fiber
1.7g Protein
Ripe jackfruit is a tasty treat on its own or in smoothies, but its unripe version is even more popular. Young jackfruit is a versatile favorite for plant-based savory recipes thanks to its mild flavor and shreddable texture that's similar to pulled pork. Double down and pair your savory jack fruit recipes with a high protein bread for a protein-packed meal.
5. Apricot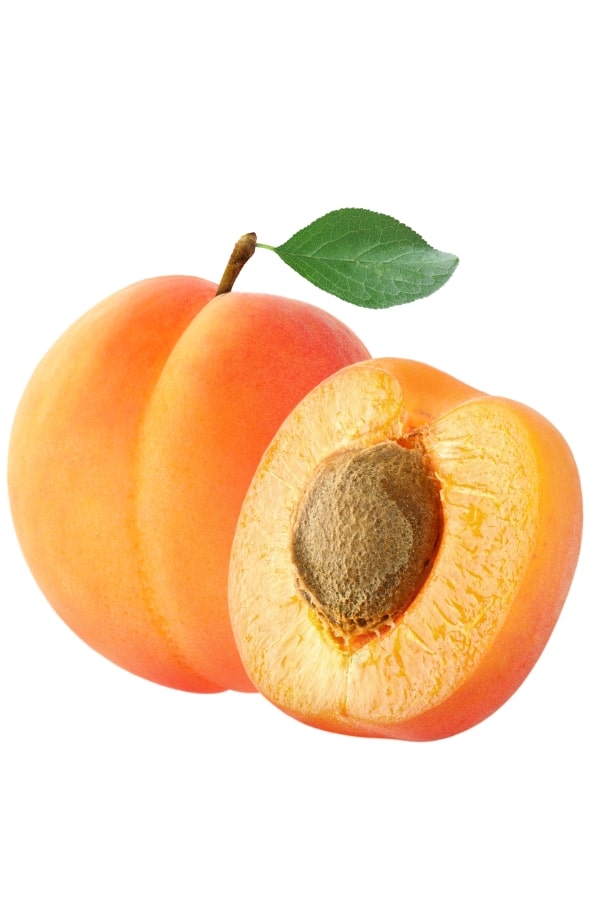 Nutritional Info for 100g:
48 Calories
0.4g Fat
11g Carbs
9g Sugar
2g Fiber
1.4g Protein
On top of having a good amount of protein, apricots are packed with essential nutrients and antioxidants that can promote eye health, skin health, and gut health. There's an endless variety of options for adding more of this protein-rich fruit into your diet, including stirring it into your morning yogurt, baking it into desserts, or adding it to a salad.
6. Blackberries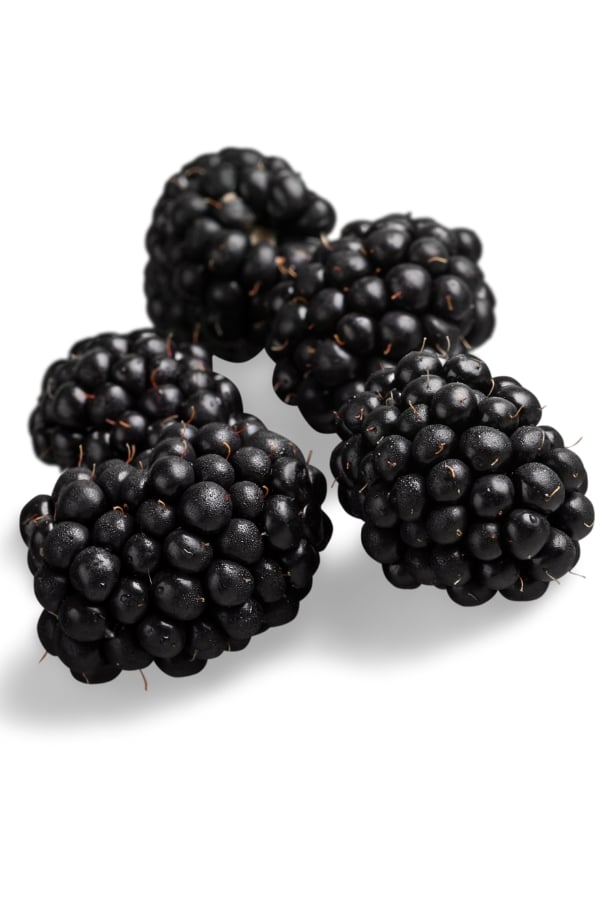 Nutritional Info for 100g:
43 Calories
0.5g Fat
10g Carbs
4.9g Sugar
5g Fiber
1.4g Protein
A serving of fresh blackberries alongside your breakfast, snack, or dessert can make your meal more satisfying. Personally, I love eating blackberries with one of these high protein yogurts and low sugar granola for a super-filling breakfast. Now, not only do blackberries have more protein than most fruits, but they're also ranked high in satiety compared to other fruits. They're also high in vitamins, with a cup containing half the daily recommended dose of vitamin C and over a third of vitamin K.
7. Raspberries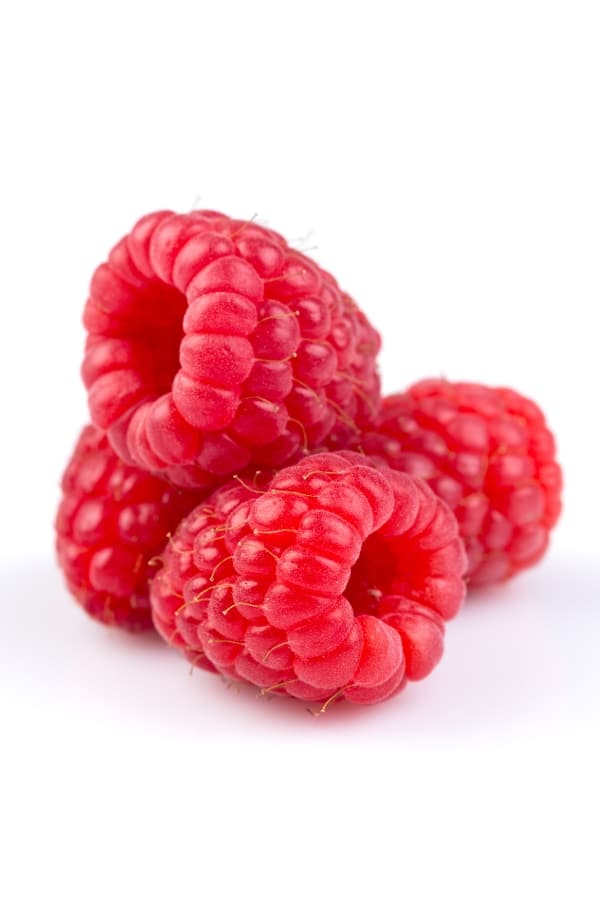 Nutritional Info for 100g:
53 Calories
0.7g Fat
12g Carbs
4.4g Sugar
7g Fiber
1.2g Protein
Another berry high in protein, raspberries contains about 1.2 grams of protein for every 100 gram serving. If you're cutting back on sugar, this berry is also one of the best fruits to add to your diet, as it's significantly lower in sugar than other fruits while still having a delicately sweet flavor. Use them in place of blueberries in these high protein muffins, or enjoy them over my overnight oats for weight loss.
8. Kiwi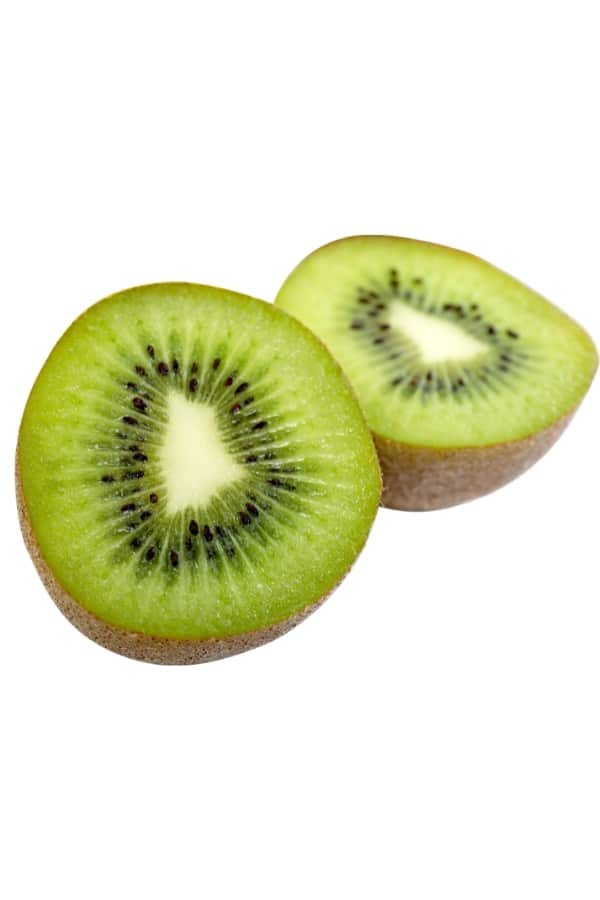 Nutritional Info for 100g:
61 Calories
0.5g Fat
15g Carbs
9g Sugar
3g Fiber
1.1g Protein
While it may seem strange, the whole kiwi fruit is totally edible, including the skin! In fact, the skin contains a lot of the antioxidant, fiber, and folate content of the fruit. If you aren't a fan of the fuzz, you can scrub it off with a vegetable brush or opt for yellow kiwis, which have a smoother fuzz-free surface.
9. Banana
Nutritional Info for 100g:
89 Calories
0.3g Fat
23g Carbs
12g Sugar
2.6g Fiber
1.1g Protein
Now, the most common question I've come across regarding fruit and protein is, do bananas have protein? Well, the answer is yes! I love using them in things like my banana protein shake or eating in a low sugar yogurt. To get the most out of this high protein fruit, eat some slices with one of these healthy peanut butters for even more protein content. Then finish it off with a glass of high protein milk for an extra protein boost.
10. Nectarine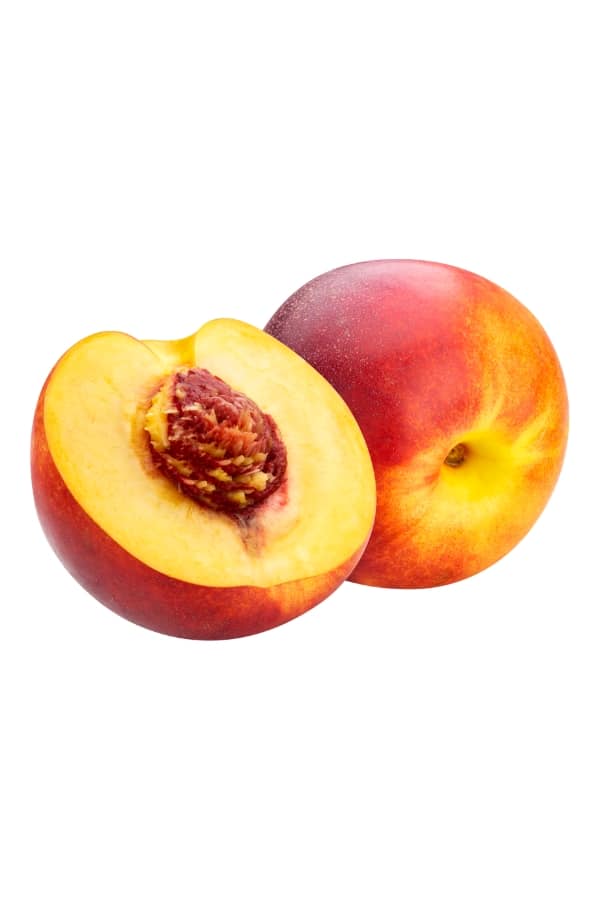 Nutritional Info for 100g:
44 Calories
0.3g Fat
11g Carbs
8g Sugar
1.7g Fiber
1.1g Protein
Nectarines have over a gram of protein per serving, and their close relative, peaches, aren't too far behind with 0.9 grams. Something I love about this summer fruit is that it's one of the lowest in calories on this list, so it's a good addition to summer salads and drinks if you're trying to lose weight.
11. Cherries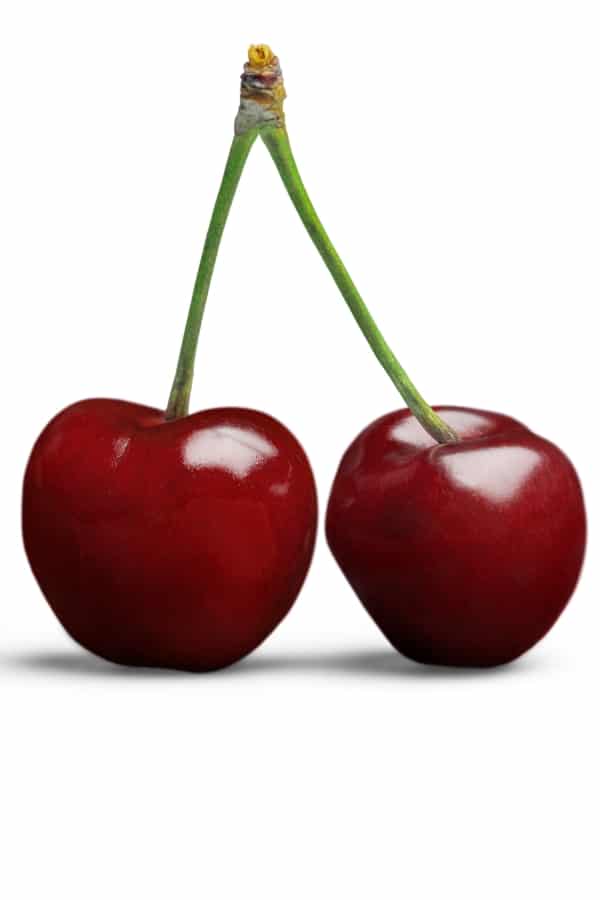 Nutritional Info for 100g:
50 Calories
0.3g Fat
12g Carbs
8g Sugar
1.6g Fiber
1g Protein
Around a cup of cherries, whether sweet or tart, contains a gram of protein. Cherries are also an excellent natural source of melatonin, a hormone that promotes longer and higher quality sleep. That's why drinking tart cherry juice is common before bed!
12. Orange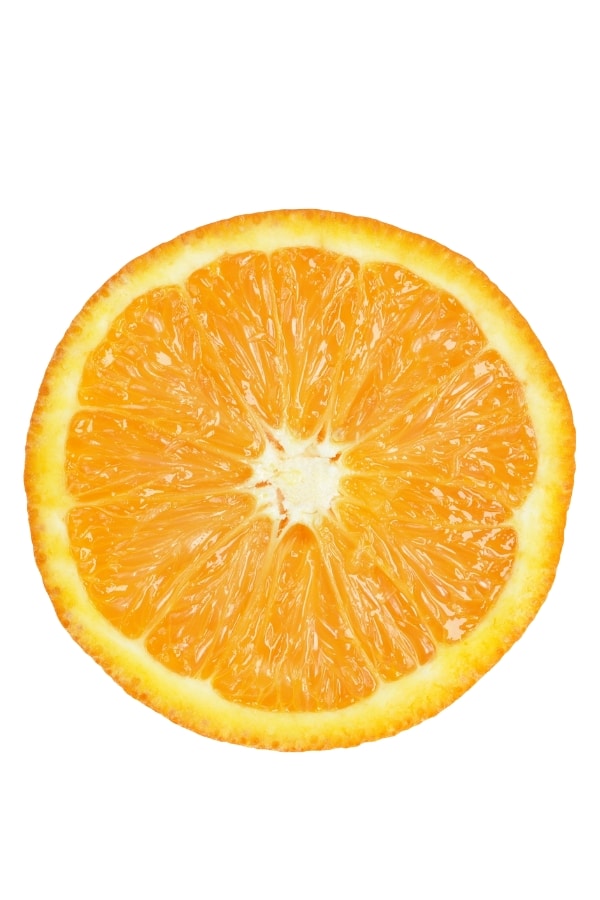 Nutritional Info for 100g:
47 Calories
0.1g Fat
12g Carbs
9g Sugar
2.4g Fiber
0.9g Protein
This classic citrus fruit has just under a gram of protein, but it's pretty low in calories, so feel free to have a few slices! I like to make freshly pressed orange juice.
More High Protein Lists To Check Out