If you're looking for the best low calorie beer to drink you've come to the right place! Each beer has around 100 calories or less. And no matter what kind of beer you like to enjoy you're almost guaranteed to find it on this list - from light lagers, to ales, to IPAs and more, there's a beer for you here.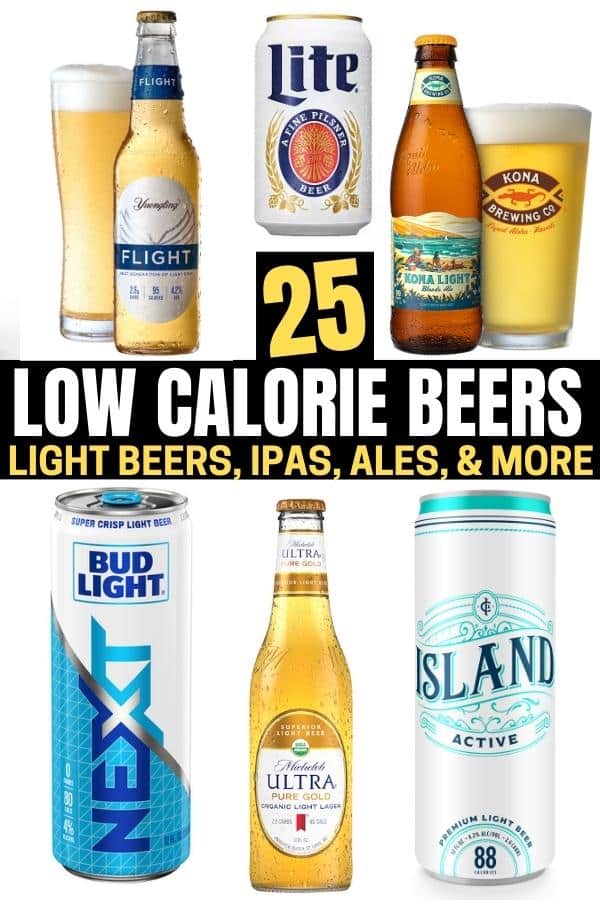 The Best Low Calorie Beer List
You don't have to give up beer completely if you're following a low calorie diet!
And this list is proof of that.
This guide has the best low calorie beer options for every preference. Whether you like your beer fruity, hoppy, or malty (or all of the above) you'll find something here.
Plus, as I already mentioned, almost all of them have under 100 calories!
Anyway, let's not waste any more time, let's jump right into it.
Low Calorie Beer Options To Buy
1. Budweiser Select 55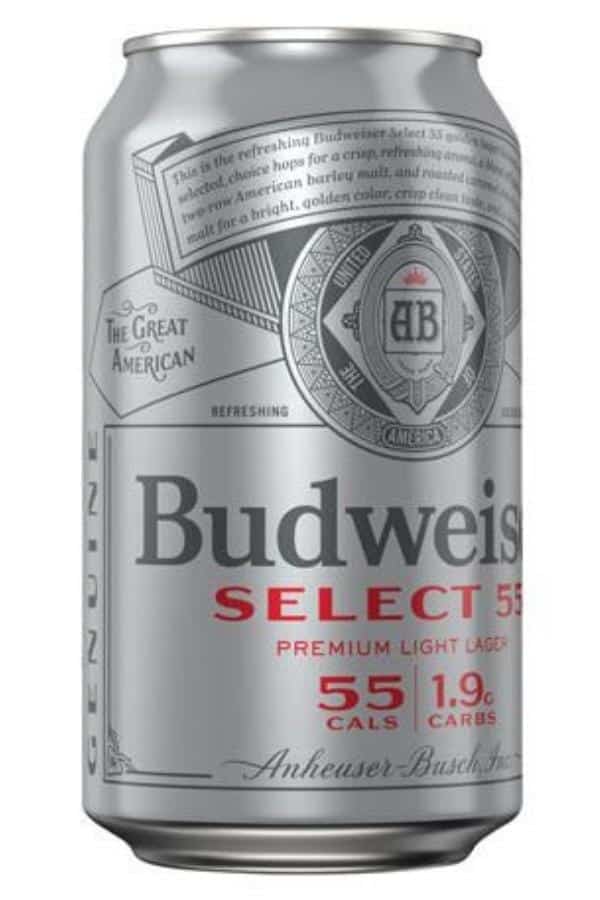 Nutritional Info:
55 Calories

1.9g Carbs

2.4% ABV
Budweiser Select 55 is the lowest calorie beer you can find. It's is an incredibly light beer in terms of flavor and alcohol content, so it may not be the best choice for true beer lovers.
With that said, this is a solid pick for drinking games or any event where you want to drink a lot of beer. You can get your fill without packing on the calories or getting drunk too quickly!
Also, for what it's worth, my favorite thing to pair with this low calorie beer are these air fryer chicken wings!
2. Beck's Premier Light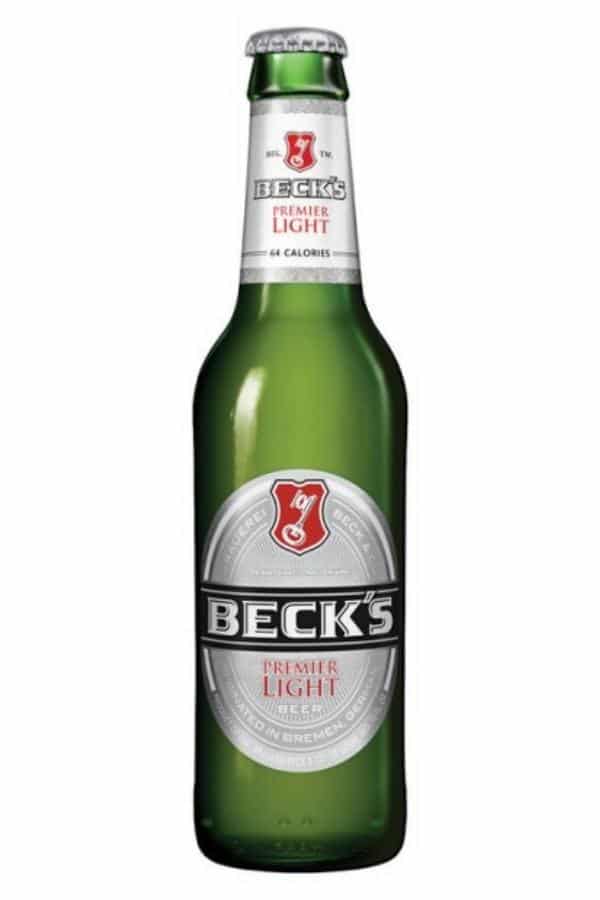 Nutritional Info:
64 Calories

3.9g Carbs

2.3% ABV
Light beers generally don't have a lot of flavor. But, Brauerei Beck & Co. has managed to retain much more taste and body than other brews with Beck's Premier Light.
With that said, compared to other beers on this list, this does have the lowest ABV. So you'll want to buy this light beer for its richer taste and low calorie content rather than its alcohol content.
3. Miller 64
Nutritional Info:
64 Calories

2g Carbs

2.8% ABV
Thids low calorie beer is another great pick if you're prioritizing volume and price point.
Miller 64 is an ultra light beer with just 64 calories and very low alcohol content, so you can throw back more than a couple of bottles while watching the football game. And you can enjoy it with this low calorie pizza for the best gameday experience!
4. Bud Light Next Beer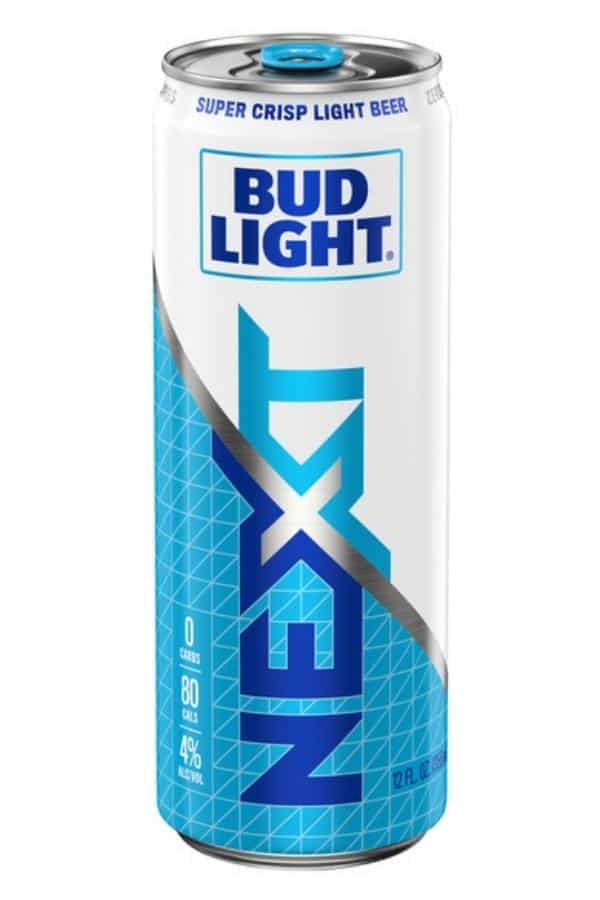 Nutritional Info:
80 Calories

0g Carbs

4% ABV
This is the first low calorie beer to be released that has 0 carbs - atleast it is here in the US - so it's by far the best choice if you're following a low carb or keto diet. And I actually reviewed this beer in a video on my Youtube channel since it's the US's first zero carb alcoholic beer.
Now, it's worth noting that Bud Light Next is super light in terms of beer flavor so it probably won't be your favorite if you're an avid beer drinker. But, if you want to enjoy everything a beer has to offer without any carbs, it's perfect!
5. Yuengling Flight
Nutritional Info:
85 Calories

2.6g Carbs

3.8% ABV
Though much lighter in flavor than regular beer, this Yuengling light lager has more to offer compared to other macro brews in the same category. It has a sweet flavor with a moderate body and a crisp finish that'll keep you coming back for more.
One of my favorite things to pair with this low calorie beer is this low calorie pizza recipe! Especially if it's a Sunday and the Bill's are playing.
6. Michelob Ultra Pure Gold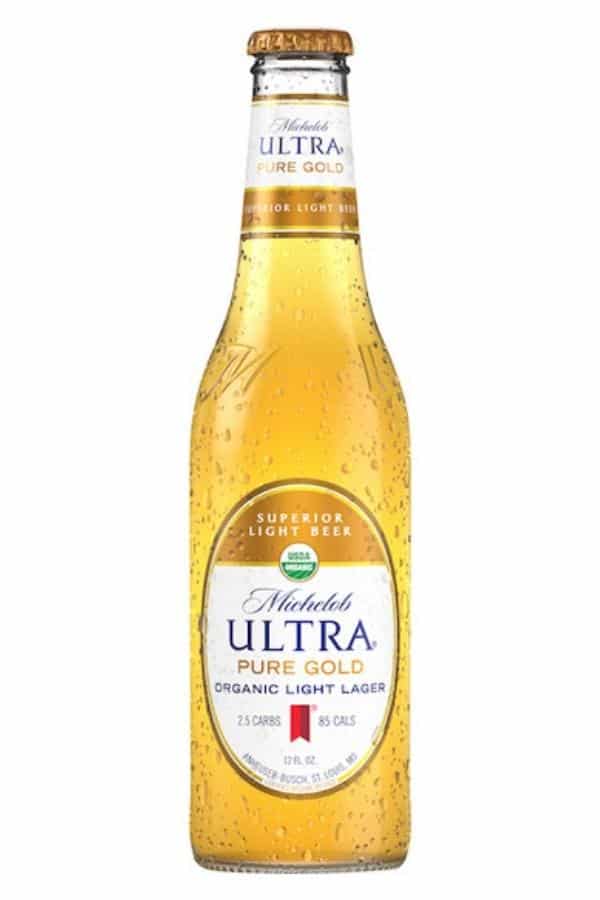 Nutritional Info:
85 Calories

2.5g Carbs

3.8% ABV
Michelob Ultra is popular within the low calorie community for its hoppy taste and low calorie count, and Pure Gold is its slightly better counterpart.
Pure Gold is made the same way as the Ultra, but with all organic ingredients and a lower calorie count at 85 calories to Ultra's 95.
Also, for what it's worth, this beer goes incredibly well with practically anything from this low calorie Chick Fil A list. So you can enjoy a few when eating your favorite meal from Chick-Fil-A and keep the meal low calorie.
7. New Holland Lightpoint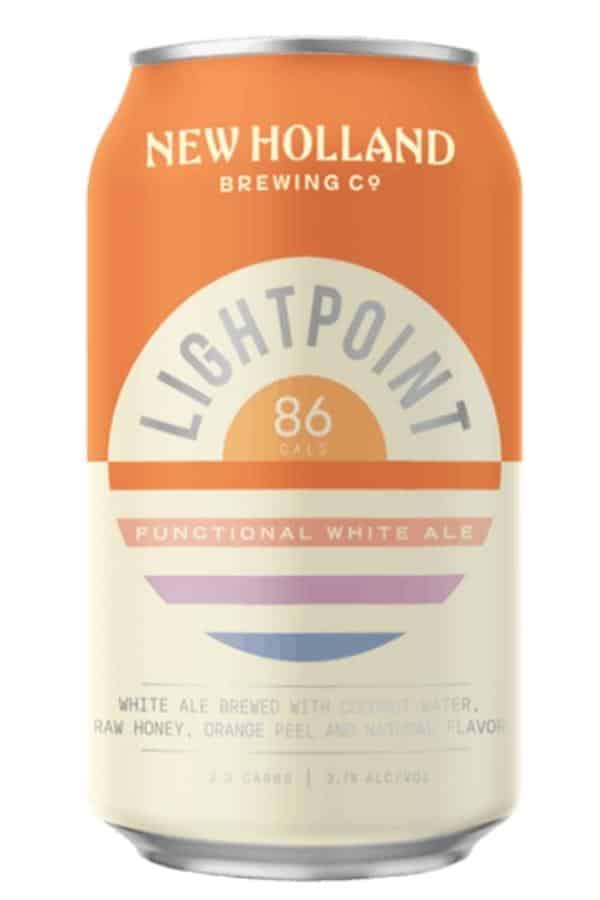 Nutritional Info:
86 Calories

2.3g Carbs

3.7% ABV
A unique twist on a traditional American blonde ale, Lighptoint is made with coconut water, raw honey, and orange peel. The result is a sparkly orange-forward drink that's almost like a cross between champagne and beer.
It might not be the best pick if you prefer the classic taste of regular beer, but it's fantastic if you're looking for an easy to drink option.
By the way, since every can of this blonde ale only has 86 calories, you can pair it with any of these low calorie Subway orders and your entire meal will be under 400 calories!
8. Island Active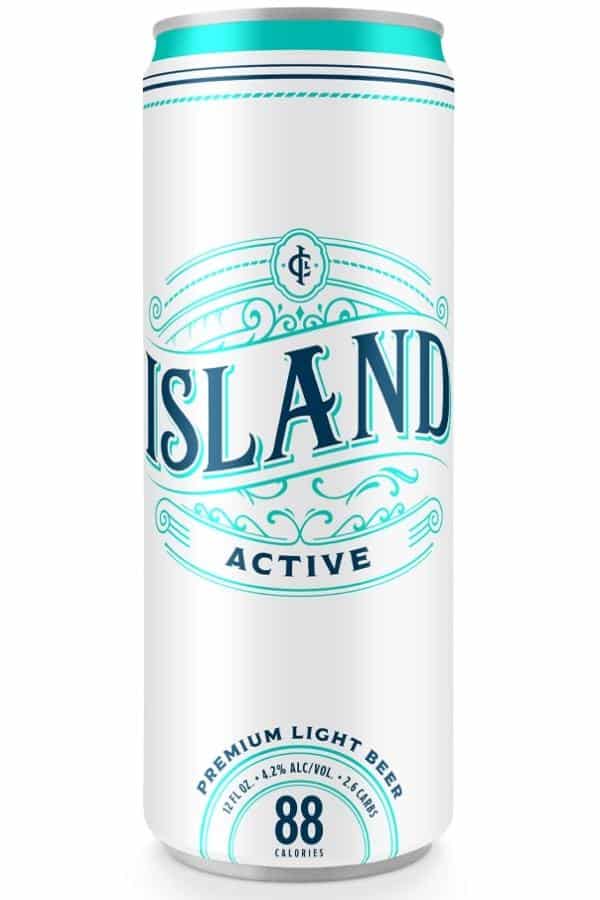 Nutritional Info:
88 Calories

2.6g Carbs

4.2% ABV
Island Brands USA is a relatively new brewing company but has already gotten a lot of attention for its American-made clean beers.
Island Active beer comes in regular and naturally flavored lime, mango, and watermelon flavors. It's a fantastic choice if you like light beers with a bit of fruity flavor. And to balance out the sweet flavors, it goes great with this savory, creamy garlic butter salmon.
9. Corona Premier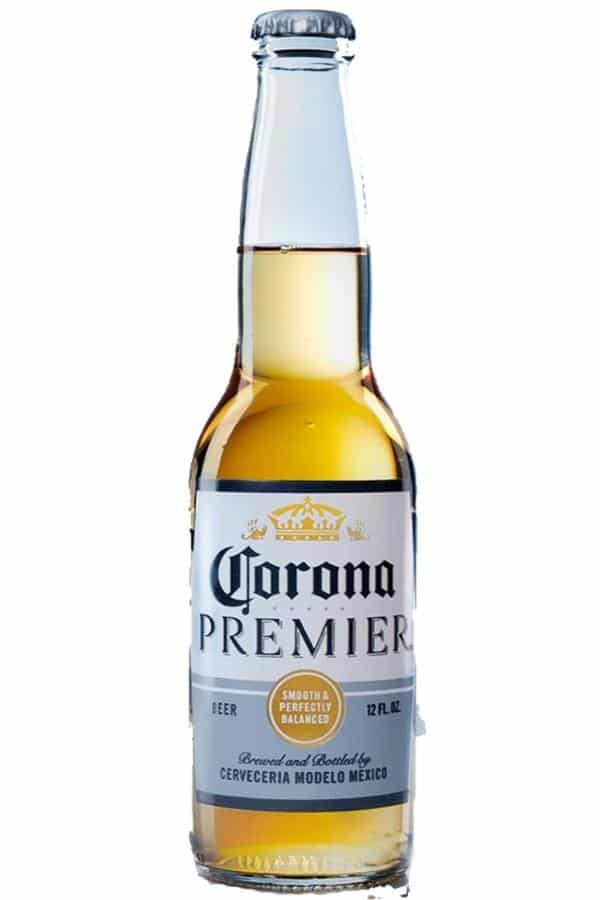 Nutritional Info:
90 Calories

2g Carbs

4% ABV
Corona Premier is the lightest offering from the Mexican lager brand, beating out Corona Light by 9 calories. It has the signature Corona sweetness and hoppy taste, though it's much milder.
And, of course, this tastes best in the summer, served ice cold with a squeeze of lime.
By the way, if you're looking for a tasty main dish to pair this low calorie beer with, these grilled chicken thighs go great with it.
10. Heineken Light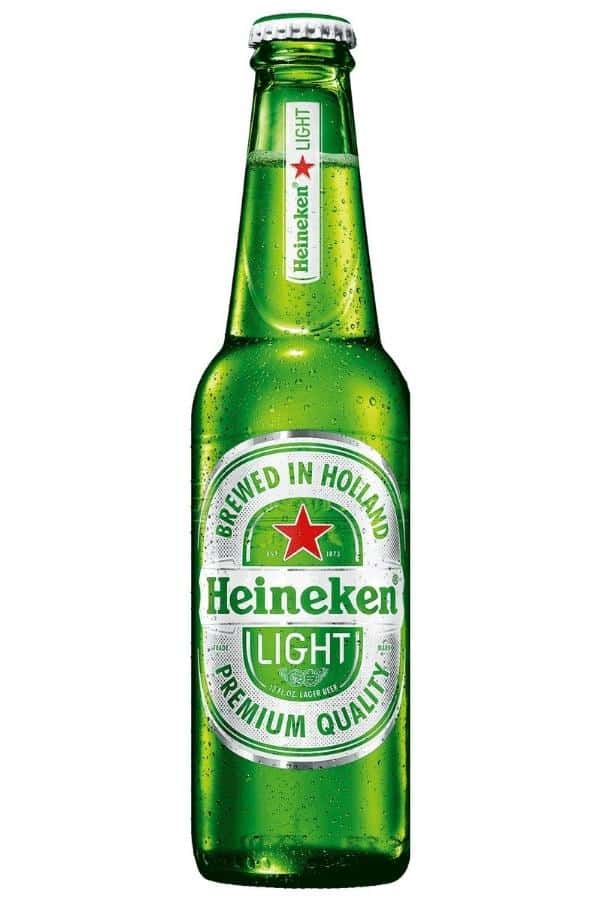 Nutritional Info:
90 Calories

6g Carbs

3.3% ABV
If you miss the taste of Heineken - and you're following a low calorie diet - you'll definitely want to check out their light lager.
Heineken Light has the same flavor as the classic lager, but it's got a milder and cleaner taste to the pallet. Plus, it you'll save yourself 50 calories by choosing the light version over the "normal" one.
I suggest enjoying this classic with a classic meal like this air fryer chicken breast.
11. Amstel Light
Nutritional Info:
95 Calories

5g Carbs

3.5% ABV
If you're not a fan of the bitter taste in beers - but aren't into the flavored options either - Amstel Light might just be what you're looking for.
This light lager from the Netherlands has a slightly sweet honey bread flavor with a semi-dry finish for a barely-there bitterness. Best of all, each bottle has under 100 calories.
Also, for what it's worth, this beer goes great with practically anything - except breakfast stuff of course - on this low calorie Burger King list.
12. Summit Triumphant Session IPA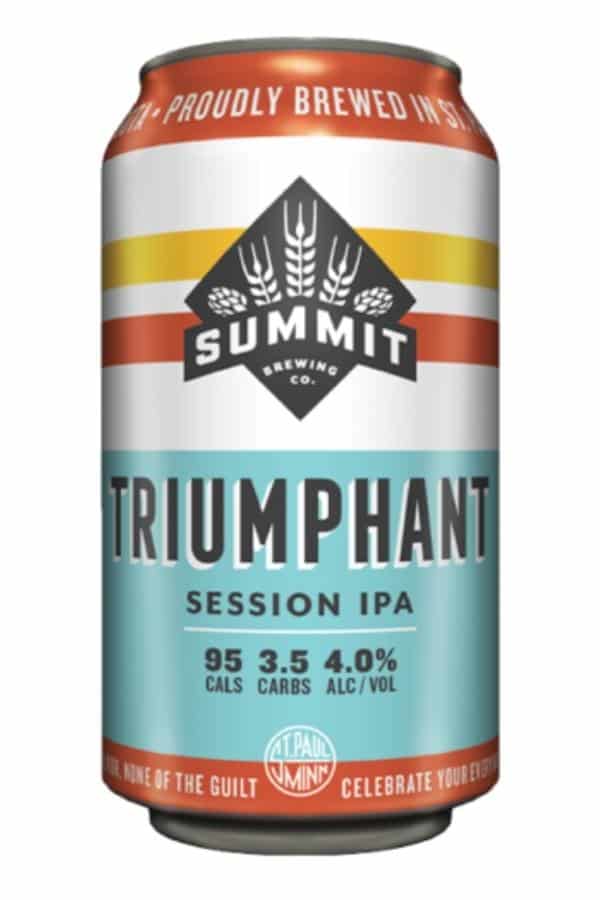 Nutritional Info:
95 Calories

3.5g Carbs

4.5% ABV
For a low calorie beer that'll make you feel like you're on vacation, this American IPA is well worth a try. Summit's Triumphant beer is rich in tropical fruit flavor and floral notes from pineapple, grapefruit, and apricot without overpowering its light malt and bitterness too much.
This low calorie beer not only tastes great, but it also packs one of the highest ABV percentages on the list. And, of course, best of all is the fact that each can has under 100 calories.
13. Dogfish Head Slightly Mighty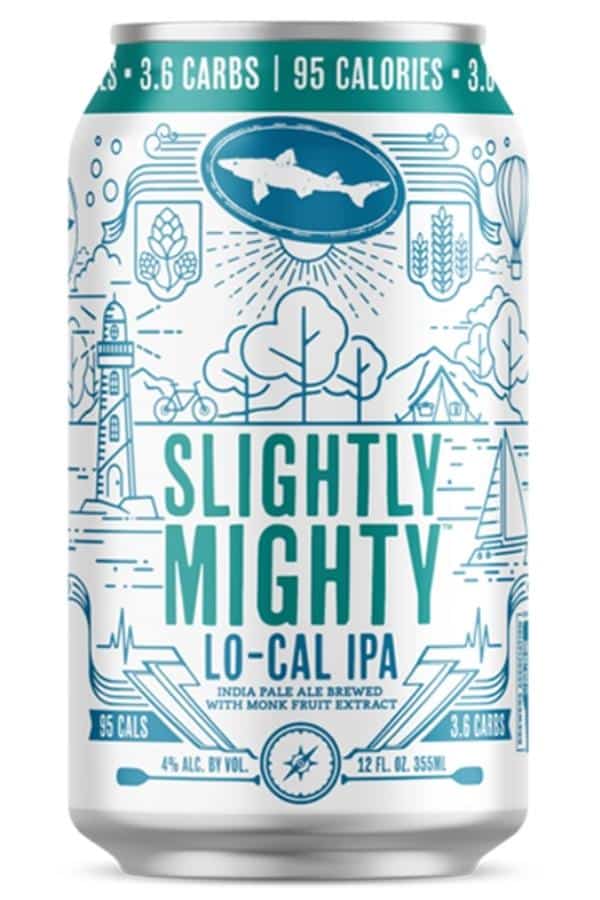 Nutritional Info:
95 Calories

3.6g Carbs

4% ABV
One of the most popular low calorie IPAs you can find is a beer called Slightly Mighty. And it's a light beer you should definitely try at least once!
It's sweetened with monk fruit for a well balanced, highly drinkable beer with grassy hops, zesty citrus notes, and a bready malt finish.
Also, for what it's worth, monk fruit is a zero calorie sweetener that I use to make a bunch of my low calorie desserts like these low calorie chocolate chip cookies and low calorie brownies.
14. Sufferfest Repeat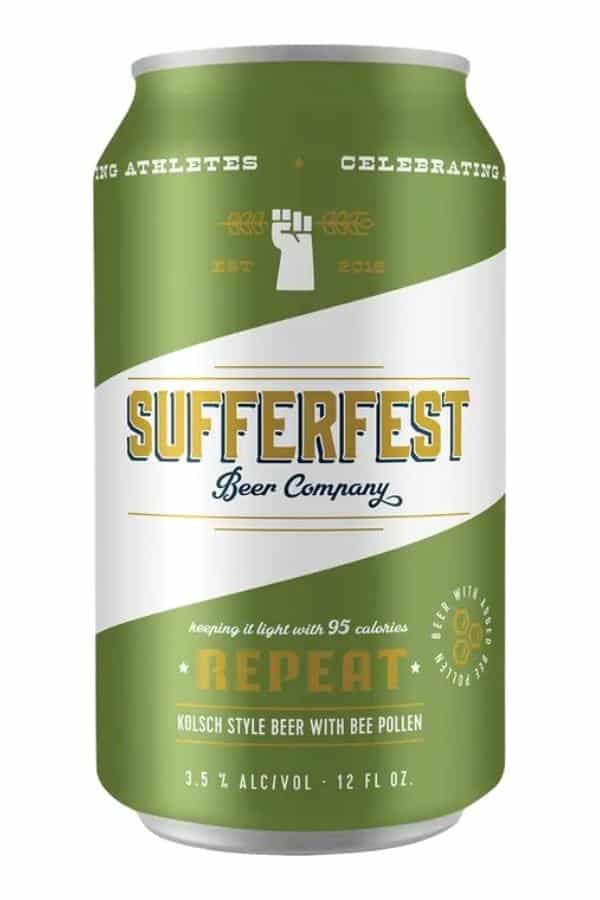 Nutritional Info:
95 Calories

5g Carbs

4.2% ABV
Kölsch beers undergo a unique fermentation process that brings out some natural fruity and malty flavors more intense than a regular lager. And if you want to give this trending beer style a try, I highly recommend Sufferfest. It has all the deliciousness of a Kölsch beer, boosted with the citrusy-floral scent of added bee pollen.
Also, this happens to be one of my wife's favorite Kölsch beers!
15. Blue Moon LightSky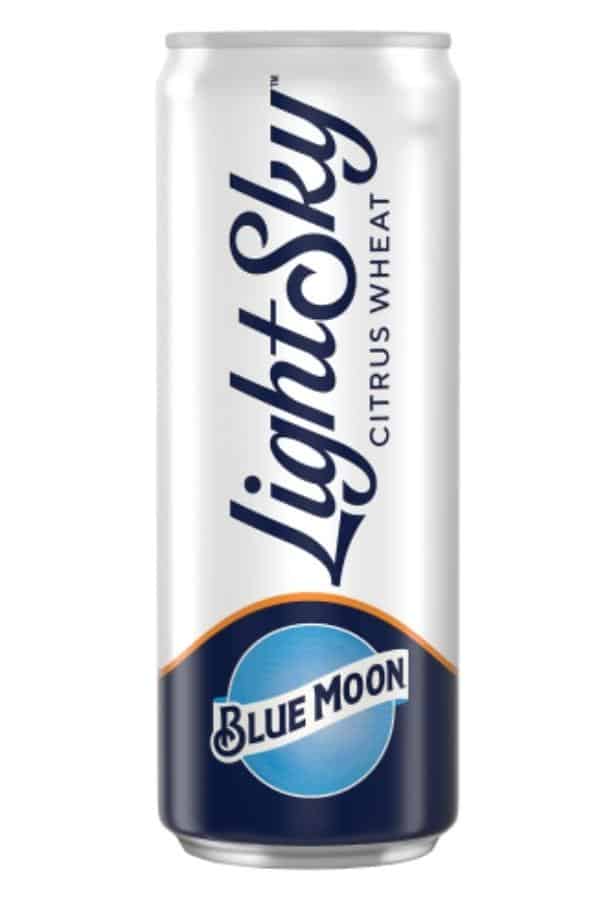 Nutritional Info:
95 Calories

3.6g Carbs

4% ABV
This highly carbonated, deeply citrusy beer tastes almost like an orange seltzer, which might be a hit or miss depending on your taste buds. It's brewed with real tangerine peels and Azacca hops, which add to the fruitiness of the beer even more.
Again, this is a really fantastic choice if you aren't into drinks with a strong beer taste.
16. Firestone Walker Flyjack IPA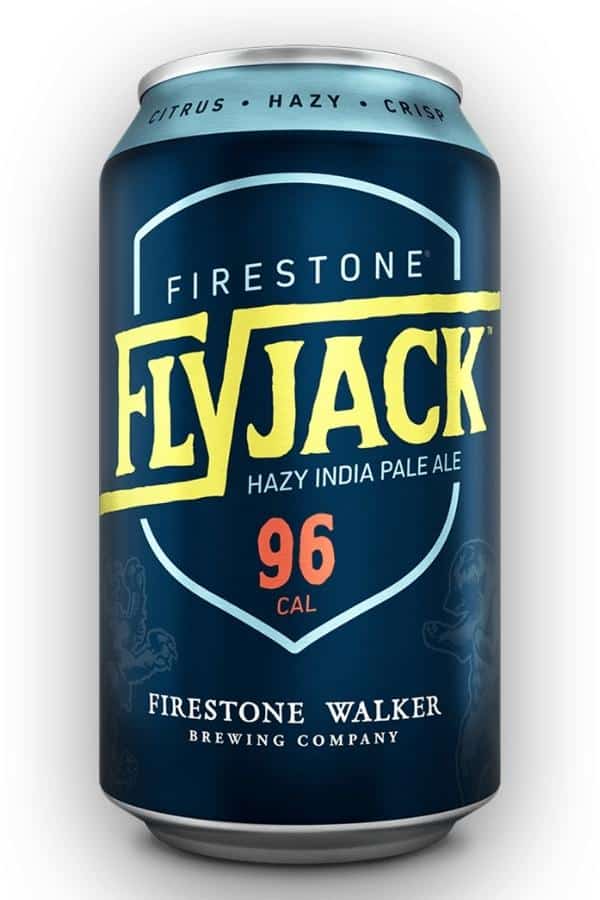 Nutritional Info:
96 Calories

5g Carbs

4% ABV
This hazy IPA boasts hefty notes of malt and hops and the flavor to prove it.
Flyjack has a complex yet mild flavor profile that's grassy, slightly sweet, and lemony with hints of pine. It's a truly easy drinking beer that you can bring to any occasion.
17. Miller Lite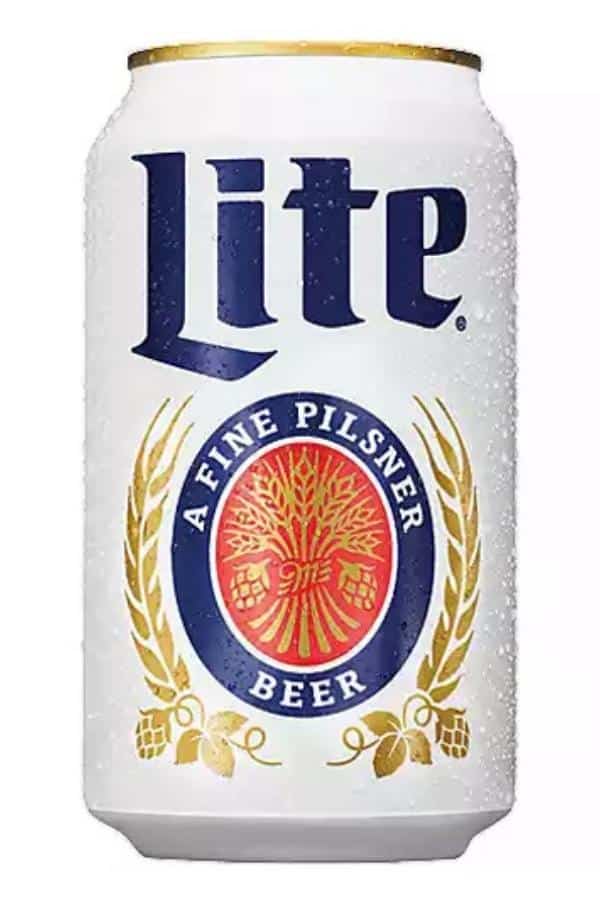 Nutritional Info:
96 Calories

3.2g Carbs

4.2% ABV
Miller Lite is one of the most popular beers out there. It's highly affordable and tastes incredible ice cold, making it a dependable staple for drinking games and social gatherings.
It's a little higher in calories than Miller 64, but it makes up for it with a better flavor profile.
When I want to enjoy a beer with a dinner like these air fryer pork chops, I go with a classic Miller Lite.
18. Anderson Valley Black Rice Ale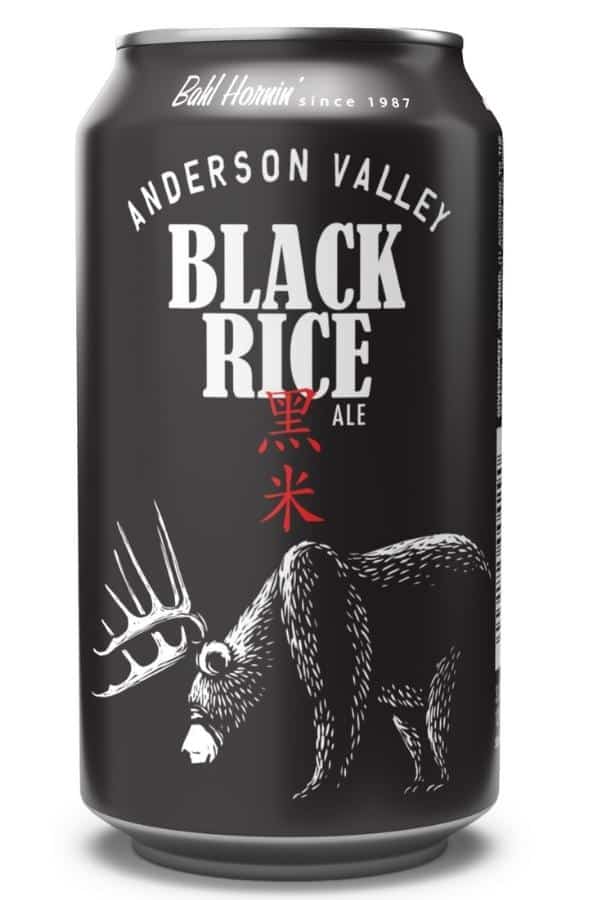 Nutritional Info:
97 Calories

8g Carbs

3.8% ABV
It can be incredibly hard to find a brown ale that's low in calories since the toasted flavor of darker brews is hard to recreate in a low calorie beer.
But, Anderson Valley managed to create a pretty delicious low calorie beer with black rice. It's lighter and thinner than traditional brown ales but makes up for it with the rich flavor of roasted malt, coffee, and chocolate that you simply can't find in other low calorie beers.
It's kind of similar to a Guinness, so, if you like that, I think you'll enjoy this low calorie beer option as well.
19. Goose Island So-Lo IPA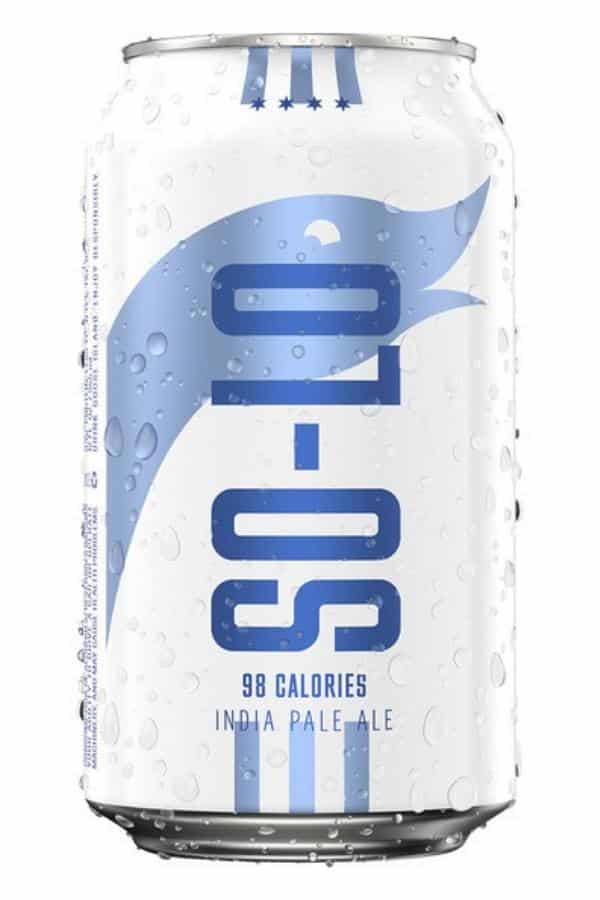 Nutritional Info:
98 Calories

9g Carbs

3% ABV
So-lo manages to capture the feel of a higher ABV beer despite only having 3%. It has a nice golden color with a rich, slightly citrusy flavor with grassy hops.
You get the bolder flavor of a traditional IPA without all of the calories.
20. Lagunitas Daytime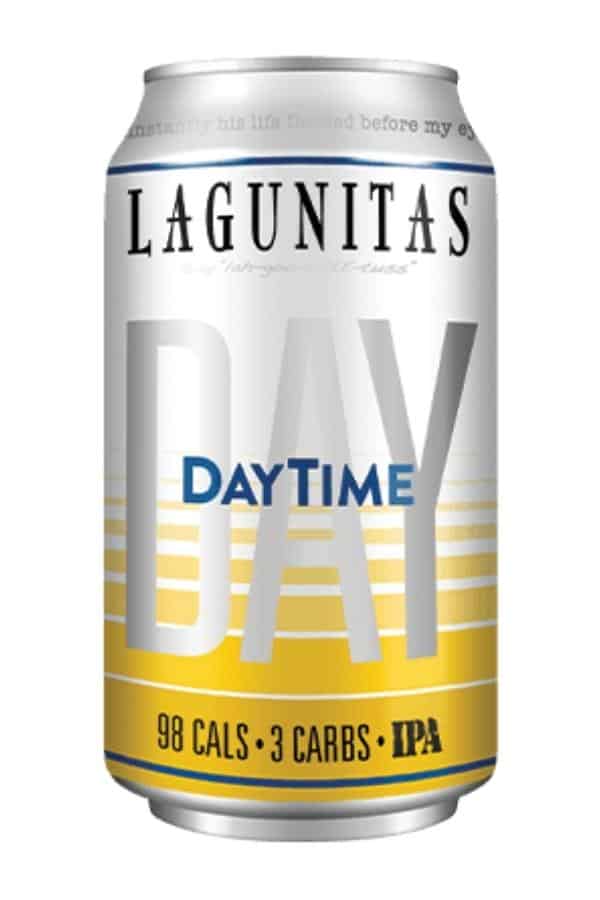 Nutritional Info:
98 Calories

3g Carbs

4% ABV
Another summer favorite. This session IPA has a refreshing citrusy flavor that complements the grassy taste of the hops perfectly without overpowering it.
If you like your light beers with a hint of lemon or lime, this is one to look out for. I love pairing it with this carne picada.
21. Deschutes Da Shootz! Pilsner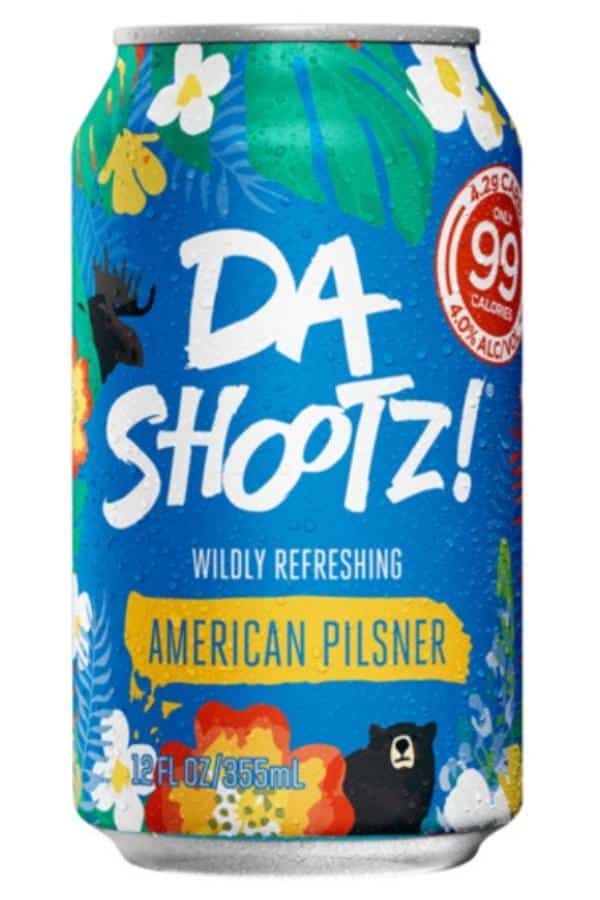 Nutritional Info:
99 Calories

4.2g Carbs

4% ABV
Pilsner's have more of a hoppy kick than regular light lagers, making this an awesome option if you love that flavor in beer.
It's slightly sweet and citrusy with strong carbonation, so this is a great beer to reach for in the summer.
Honestly, it goes great with anything from this low calorie snack list.
22. Shiner Ruby Redbird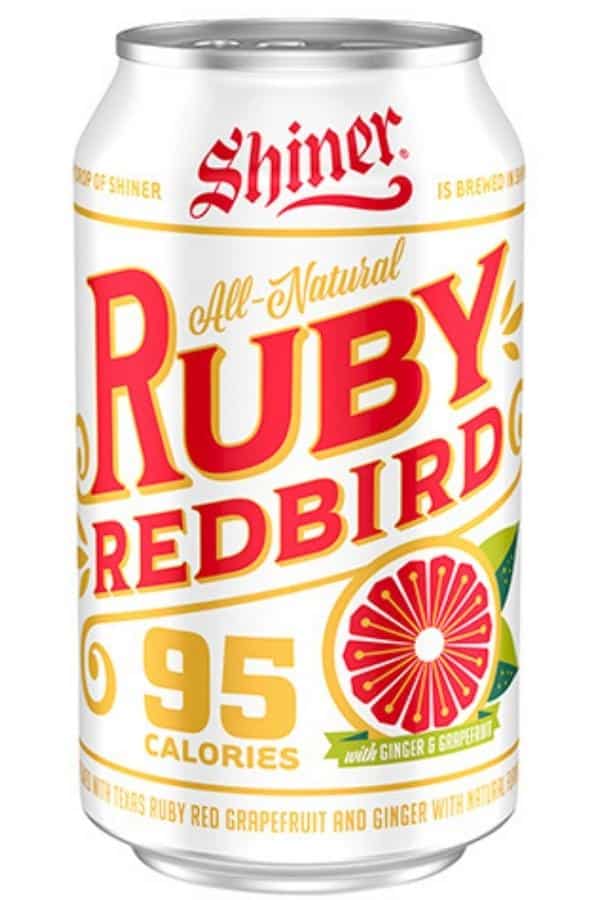 Nutritional Info:
99 Calories

3.8g Carbs

4.2% ABV
If you prefer flavored beers that mask the bitter taste of the beer itself, this fruit and field beer from Spoetzl brewery is a must-try.
It gets its refreshing taste from grapefruit and ginger, complemented with a slightly sweet maltiness and very light bitterness.
Spoetzel also makes a low calorie light lager, Shiner Light Blonde, that's another great choice if you're looking for something more neutral.
23. Omission Ultimate Light Golden Ale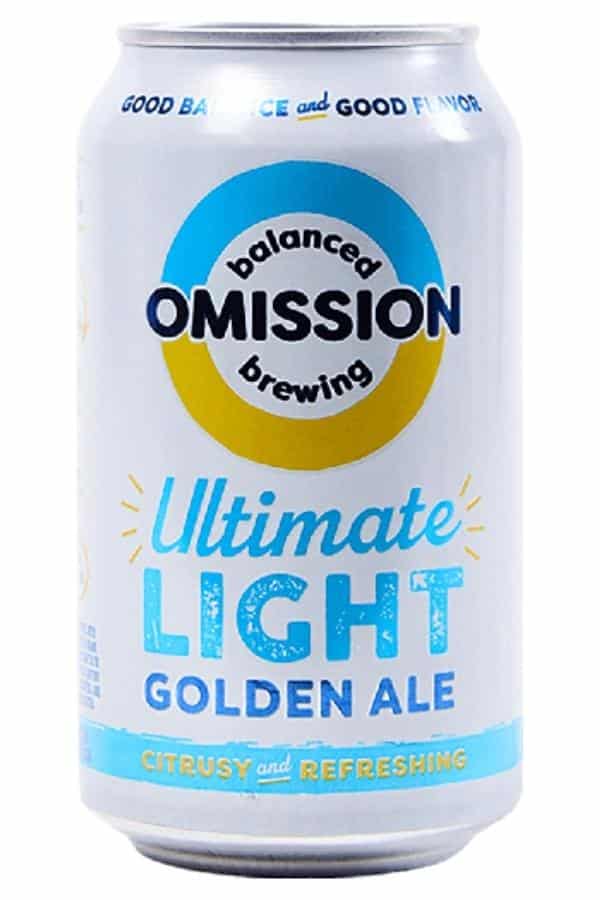 Nutritional Info:
99 Calories

5g Carbs

4.2% ABV
This light golden ale has herbal hops with hints of toasty malt and citrus to balance it out. Overall, Omission Ultimate Light doesn't try to do too much or too little. It's just a simple, classic light beer with a crisp taste.
So if you can't decide what low calorie beer to get, go for this perfectly balanced one.
24. Kona Light Blonde Ale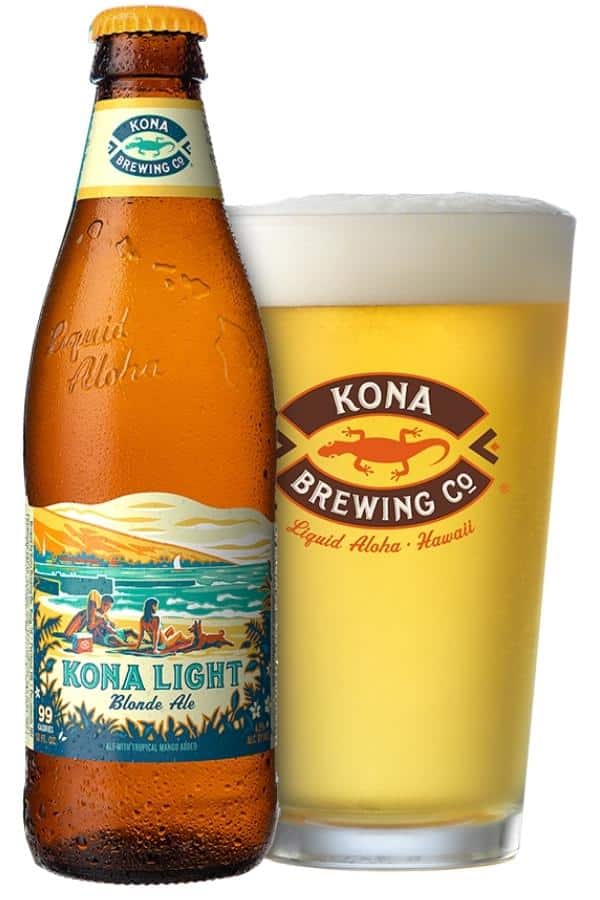 Nutritional Info:
99 Calories

4g Carbs

4.2% ABV
A taste of Hawaii in a bottle, this crisp blonde ale has a sweet mango scent with a light, smooth texture and crisp finish.
Unlike other similar beers, the fruit flavor is mild and doesn't overpower the flavor of the beer too much. In my opinion, that makes this an awesome choice if you want a classic light beer with just a touch of fruitiness.
25. Odell Good Behavior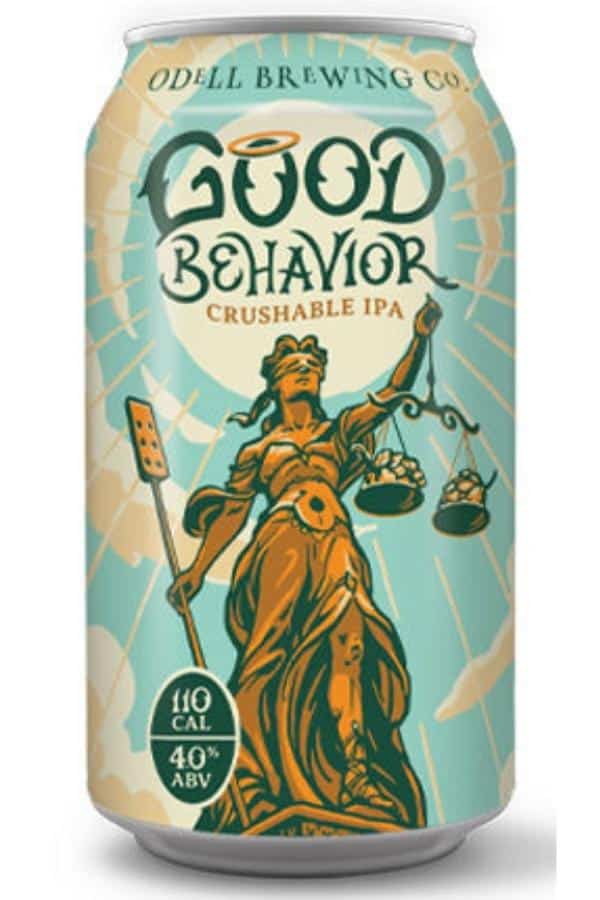 Nutritional Info:
110 Calories

7g Carbs

4% ABV
Finishing off our list of low calorie beer options is this one by Odell brewing company.
Good Behavior is a truly crushable IPA, and I definitely agree. It's easy to drink with the perfect balance of grassy hops, citrus fruit, and sweet malt. Crisp and slightly fizzy with more body than most light beers, it's well worth picking up on your next beer run.
Low Calorie Beer FAQ's
What's The Lowest Calorie Beer?
The lowest calorie beer on the market right now is Bud Select 55. Each 12-ounce can/bottle of the beer has just 55 calories. This makes it far and away the beer with the lowest calories as the next closest low calorie beers - Beck's light and Miller 64 - have 64 calories.
Which Beer Is The Healthiest?
While everyone has a different definition of what "healthy" is, most nutritionists consider the beers that contain the lowest amount of calories and lowest alcohol by volume (ABV) to be the healthiest beers you can drink. In terms of specific beers, Bud Select 55, Beck's Light, and Miller 64 are 3 really healthy options you can go with.
Is there a 2% alcohol By Volume Beer?
Yes, Middle Brow Beer Company actually has a delicious 2% alcohol by volume beer called "By Day". It's super light and refreshing and it's the perfect mid-day beer to go with when you have work to get back to after lunch.
Wrapping It All Up
Well, I hope this list gave you some ideas for what low calorie beer to pick up on your next grocery trip!
A lot of these options happen to be featured in my low carb beers list, so you may want to check that out if you're following a keto diet.

Also, if you need a little encouragement to enjoy one of these beers there was actually a study done recently that shows the hops in beer can actually prevent inflammation! Who would've guessed?!
Anyway, as alway, if you give one of these low calorie beer choices a try, leave a comment below and let me know which one you enjoyed.
Oh, and for even more low calorie alcoholic beverages check out my lists of the best low calorie drinks and low calorie wines. They're incredibly thorough guides on the best adult beverages to drink while keeping the calories as low as possible.
More Low Calorie Lists
If you want to check out some more low calorie lists, I have a ton on the blog that I think you'll find helpful!
Check all of these out: