If you've been looking for the best keto lunch ideas, these recipes are just that and so much more. All of these low carb lunch recipes are quick, easy, and delicious! And what's even better than that, is the fact that the majority of these keto lunch recipes have less than 3 NET CARBS.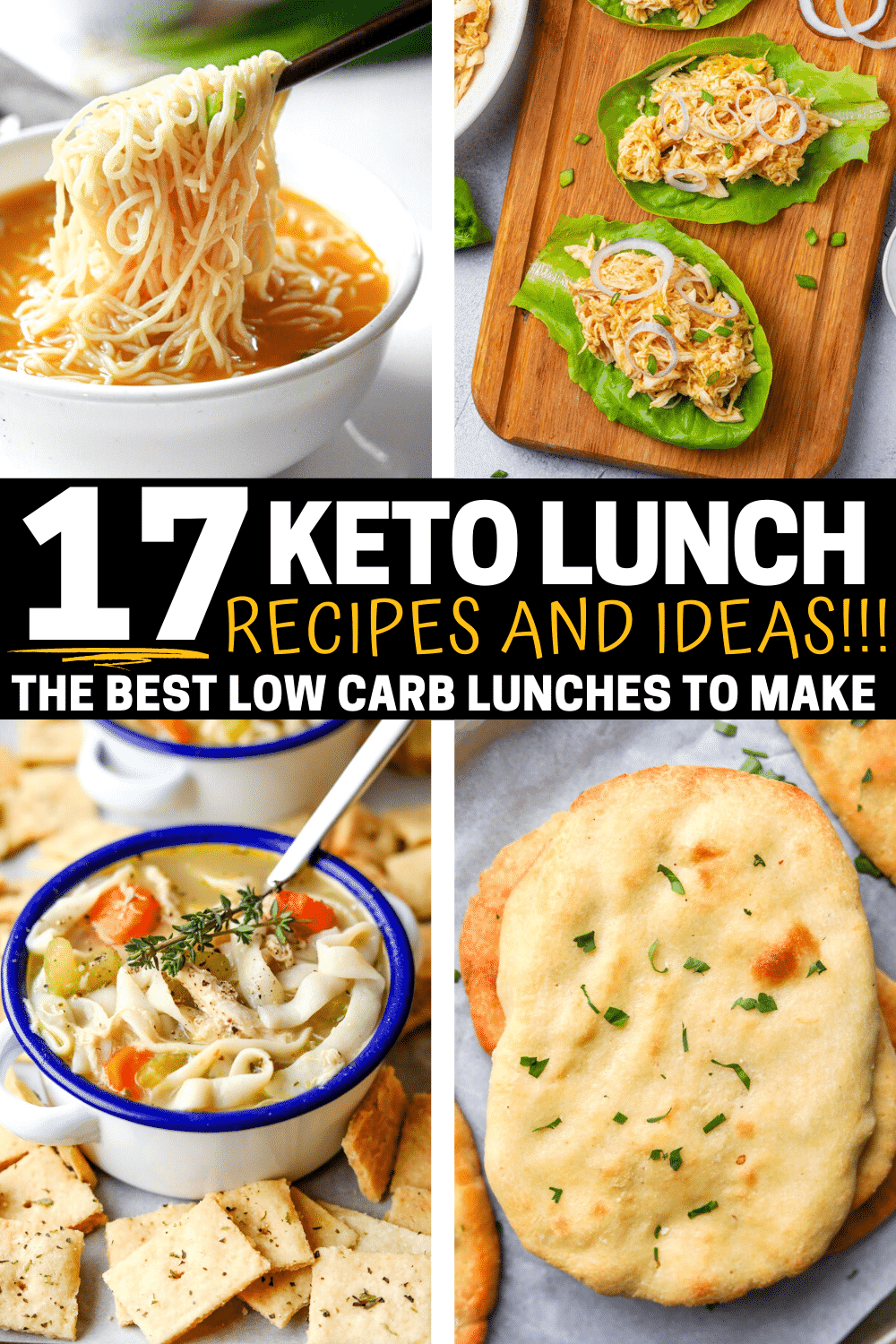 THE BEST KETO LUNCH
Trying to figure out what to eat for a keto lunch can be tough if you aren't equipped with the right recipes.
But all that struggle and frustration ends today. This list has some of the most practical and easy keto lunch ideas and recipes for every situation.
Whether you need some keto lunch ideas for work, for school, for meal prep, or just for when you're at home, these recipes have you covered.
So without further adieu, let's get into the best keto lunch recipes you'll find on the interwebs!
KETO SOUPS
Now I don't know about you, but soups have lunch written all over them.
I mean, is there anything better than a warm, comforting bowl of soup in the middle of a hectic day? I sure can't think of anything, and after you try one of these soups, you won't be able to either.
Plus, these soup recipes are delicious reheated, making them all perfect for keto lunch meal prep.
Check out some of my favorite keto soup recipes to make for a keto lunch.
First up is the most classic soup of all time - chicken noodle soup.
And I bet you thought you would have to leave out the noodles to make this chicken soup keto. Well, you don't - this keto chicken noodle soup has only 2g net carbs per cup, and there are noodles in it!
Check out the full recipe here and see how this all-time classic soup gets made keto friendly.
While we're on the topic of classic soup recipes, next we have this keto tomato soup.
Now, the tomato soup that you'd buy in the store definitely isn't keto because of all the added sugars. But, this recipe uses fresh tomatoes to create the broth, bringing each cup out to only 3g net carbs.
And this nostalgic soup is perfect for enjoying at home - and if you have kids - they'll love eating this soup for lunch too.
So, if this sounds like a keto lunch that is right up your alley, here is the full recipe.
Oh, and you can't have tomato soup without grilled cheese. For one of the best combos ever made, check out how to make a keto grilled cheese sandwich.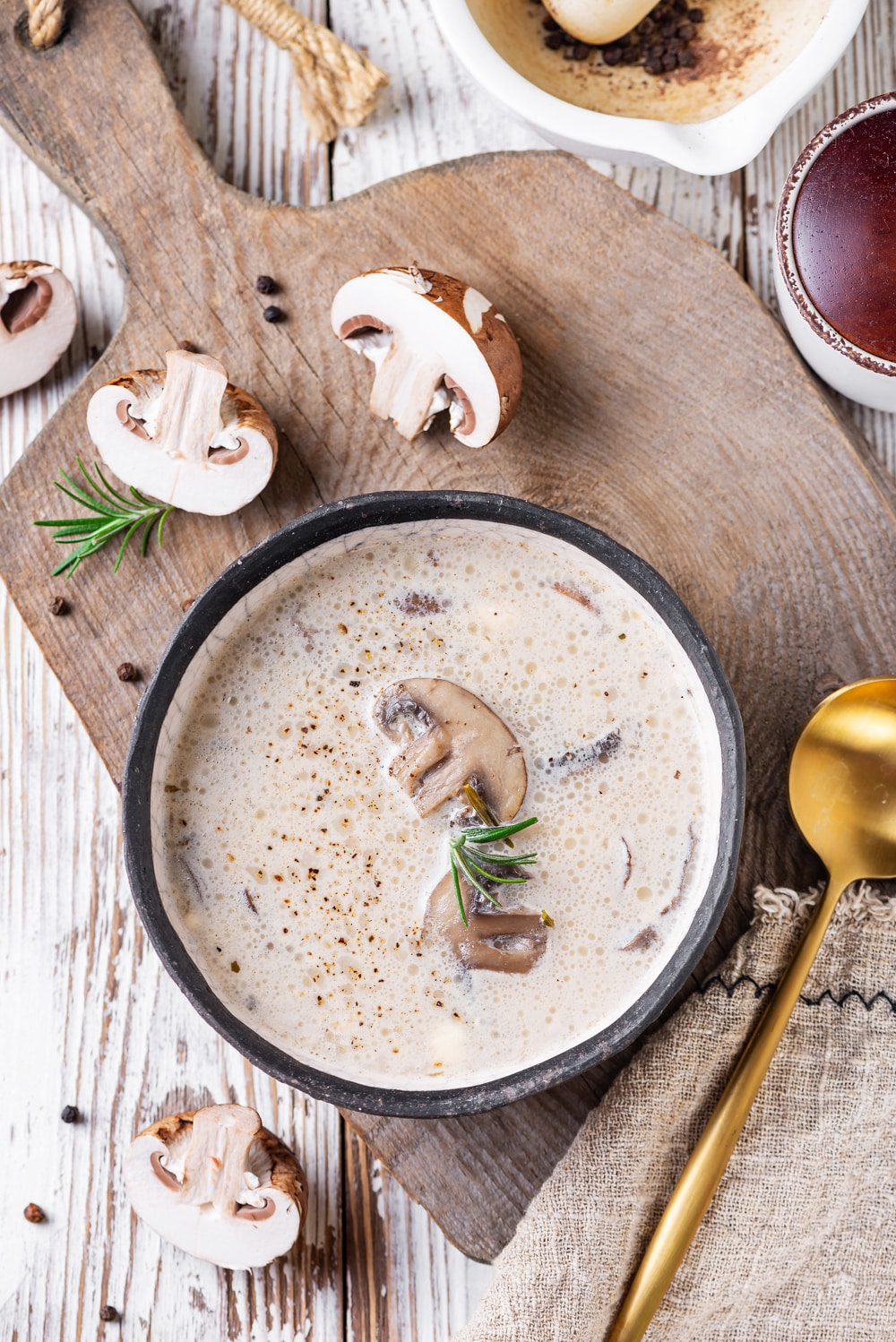 If you need a quick keto lunch, this keto cream of mushroom soup is ideal. It literally only takes 15 minutes total to make, and this rich and creamy low carb soup has only 4g net carbs per cup!
So if you want a comforting soup and are in a rush, here is how to make this recipe.
Speaking of rich and creamy soups, this keto broccoli cheddar soup is just that. And it has a deliciously cheesy flavor too.
Also, this keto broccoli cheese soup is about as easy as making soup gets, and each cup has only 4.5 net carbs.
Click here for the full recipe.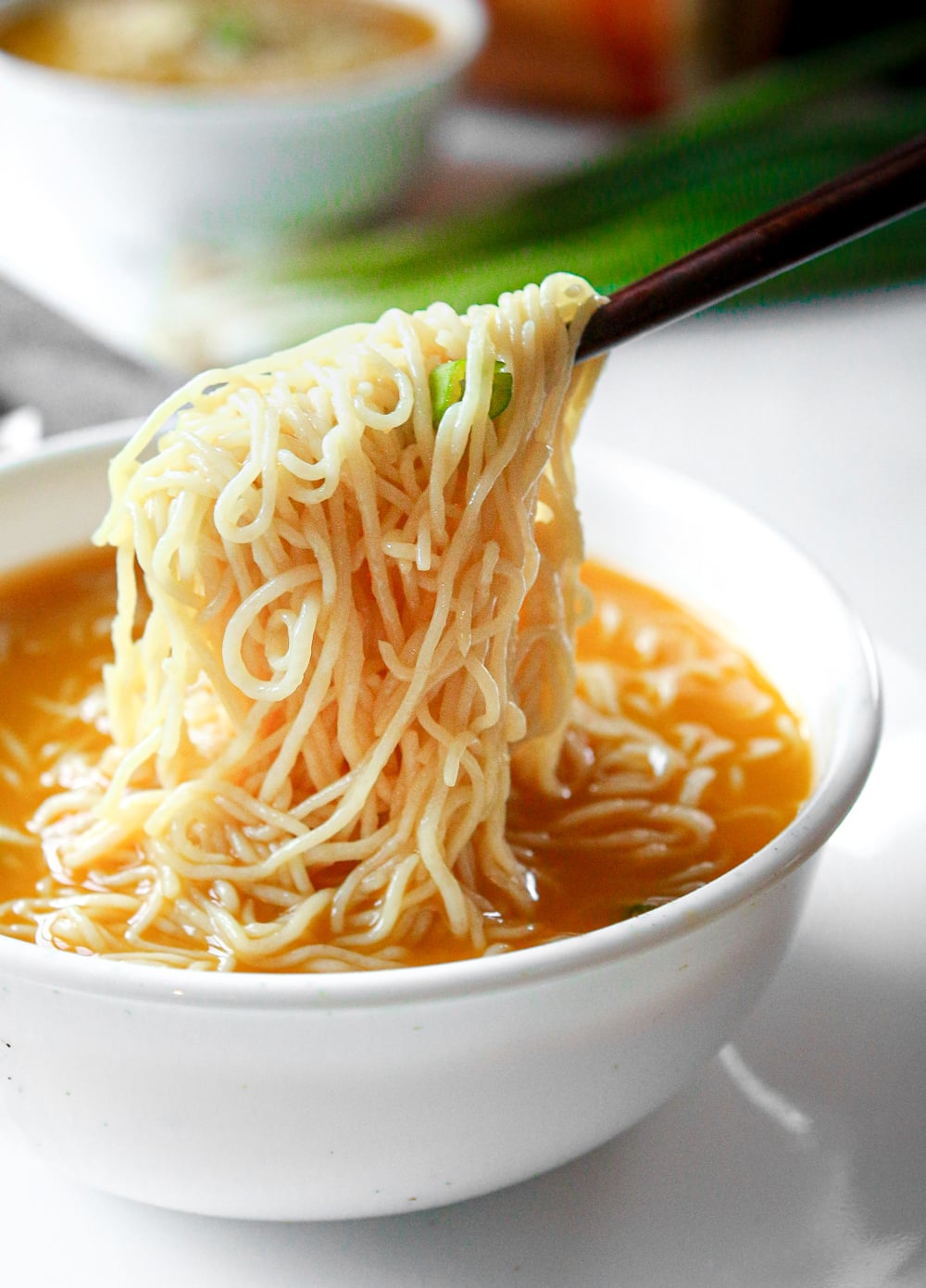 The last soup in our keto soups section is this keto ramen soup. This is another keto soup that only takes about 15 minutes to make. And it's honestly almost as easy as making ramen straight out of the package.
But instead of being loaded with carbs, this low carb ramen has just 1.5g net carbs per serving!
That said, if you want to learn how to make this low carb keto ramen recipe, just click here.
KETO SALADS
The next section on our keto lunch ideas list is some keto salad options.
If you're not in the mood for a warm bowl of soup, these cold keto salads are an excellent change of pace.
And the best part about them is they all have under 1.5g NET CARBS per serving.
Oh, and they're also delicious leftover, giving you another keto meal prep option.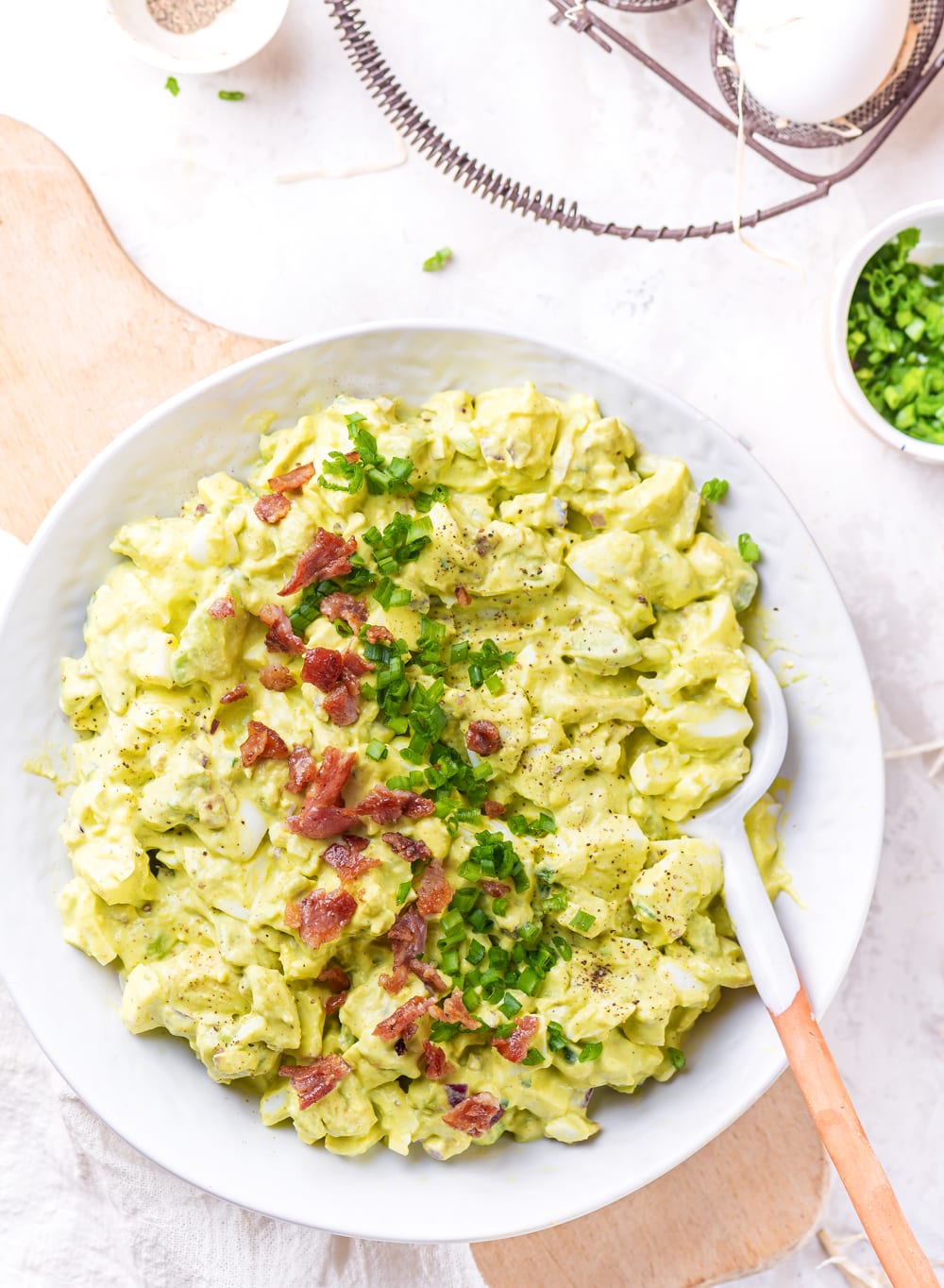 The first salad on our list is keto egg salad. And this isn't just any keto egg salad recipe - this recipe is creamy, tangy, and filled with avocado and bacon.
And it only has 1.5g net carbs per serving along with being high in fat and moderate in protein. So, it's got the perfect macro ratios for keto.
Just click here for full recipe.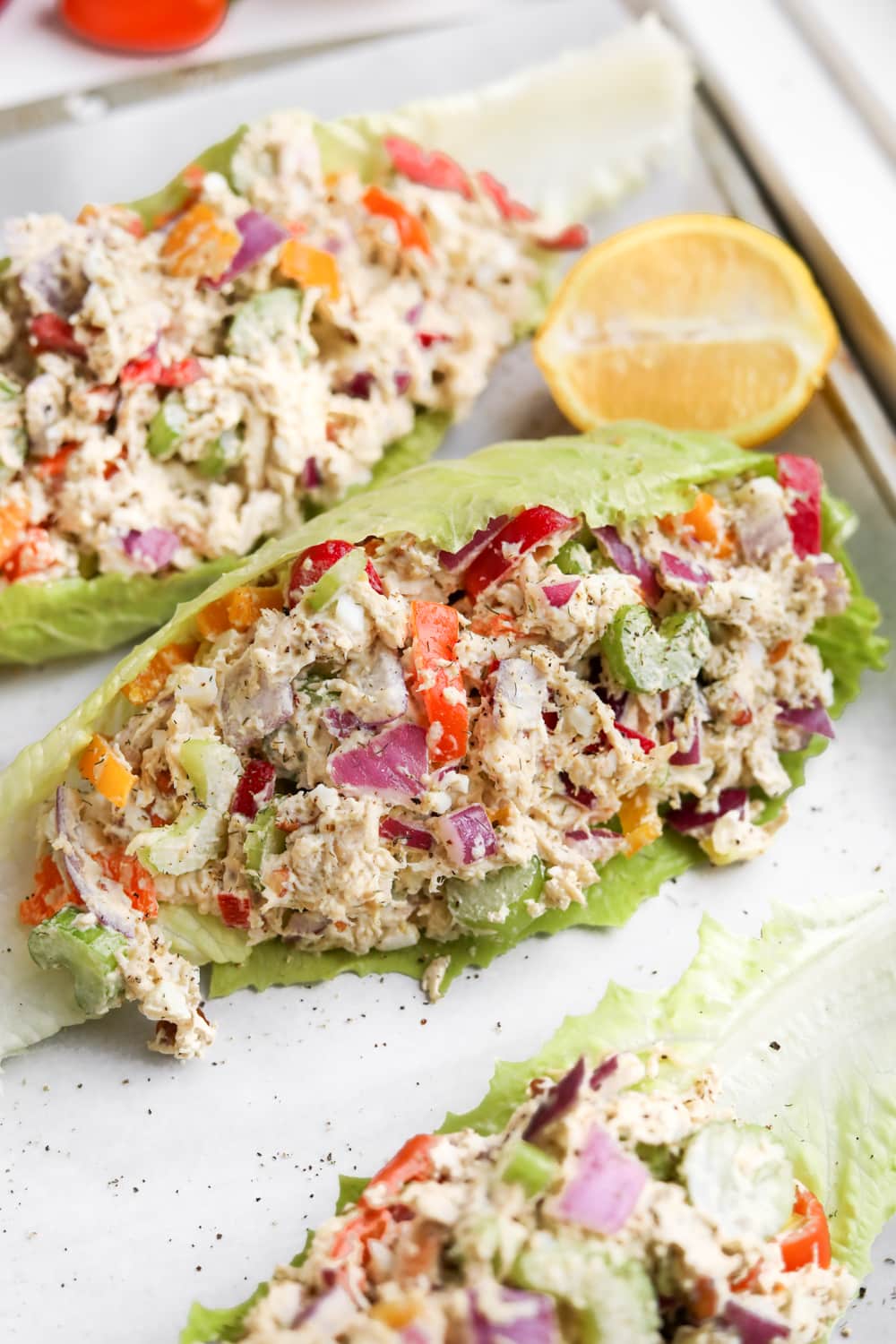 Next up, we have a keto chicken salad recipe. This is also super easy to make and only takes 15 minutes!
And since this keto chicken salad actually tastes better the days after you make it, it is one of the best keto lunch meal prep ideas on this list.
Not to mention, this recipe has only 1 net carb per serving!
Check out how to make it here.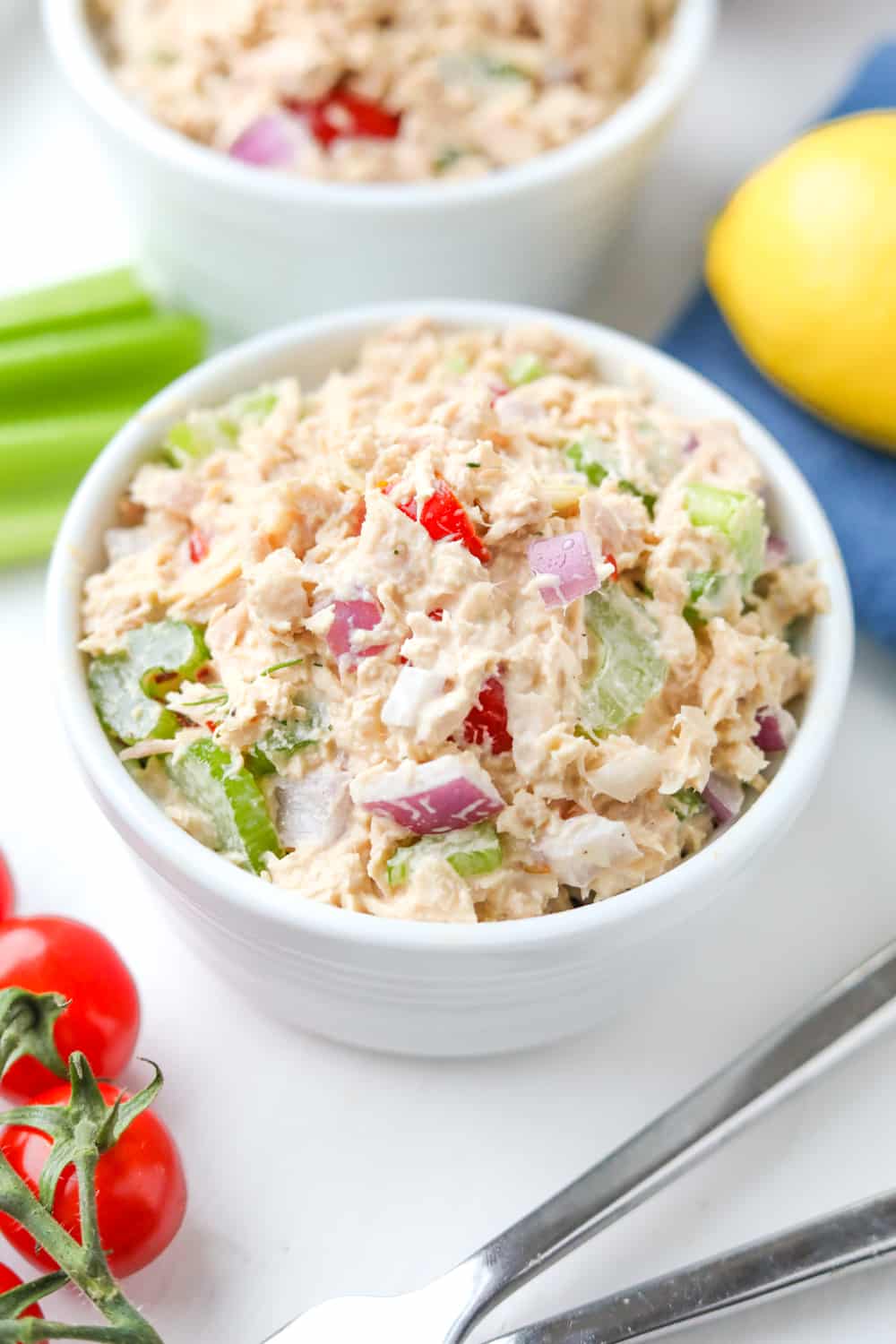 Our last keto salad recipe is this keto tuna salad.
And this is one of the quickest low carb lunch recipes you can make since it only takes 10 minutes to whip up!
Plus, it's creamy, flavorful, and refreshing, and each serving has just 1.5 net carbs.
Personally, I love using this recipe to make a keto tuna fish sandwich with - on some keto bread of course.
Click here for the full recipe.
EASY Instant pot CHICKEN
One of my favorite things to have on the side with a keto soup or salad - or turn into my full meal - are these keto chicken recipes.
I love putting the chicken on a lettuce wrap or some other things that we'll talk about in a little bit.
Each one is super easy, takes about 20 minutes to make, and yields enough chicken for the entire week! And since these recipes make that much chicken, they are excellent to make for meal prep - and lunch!
By the way, all of these are instant pot shredded chicken recipes, but you have the option of making them in a crockpot or on the stovetop too.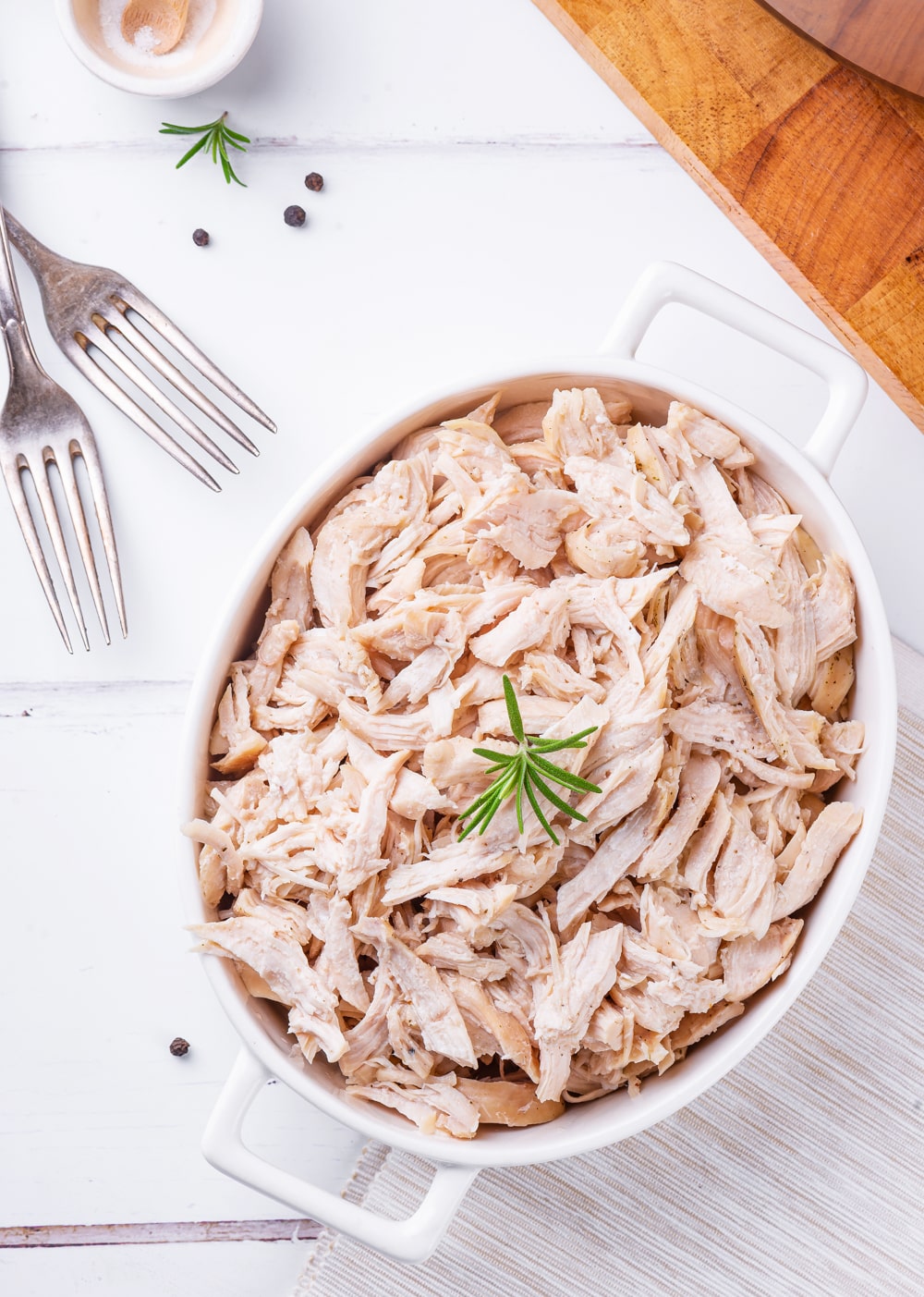 The first recipe is tender and flavorful shredded chicken. You'll only need four ingredients to make this recipe and can use either chicken breast or thighs.
All of the ingredients are carb free, so this chicken has 0 net carbs.
This shredded chicken is perfect for making a sandwich with or just eating alone with one of your favorite dipping sauces.
Having said that, you can check out the entire recipe here.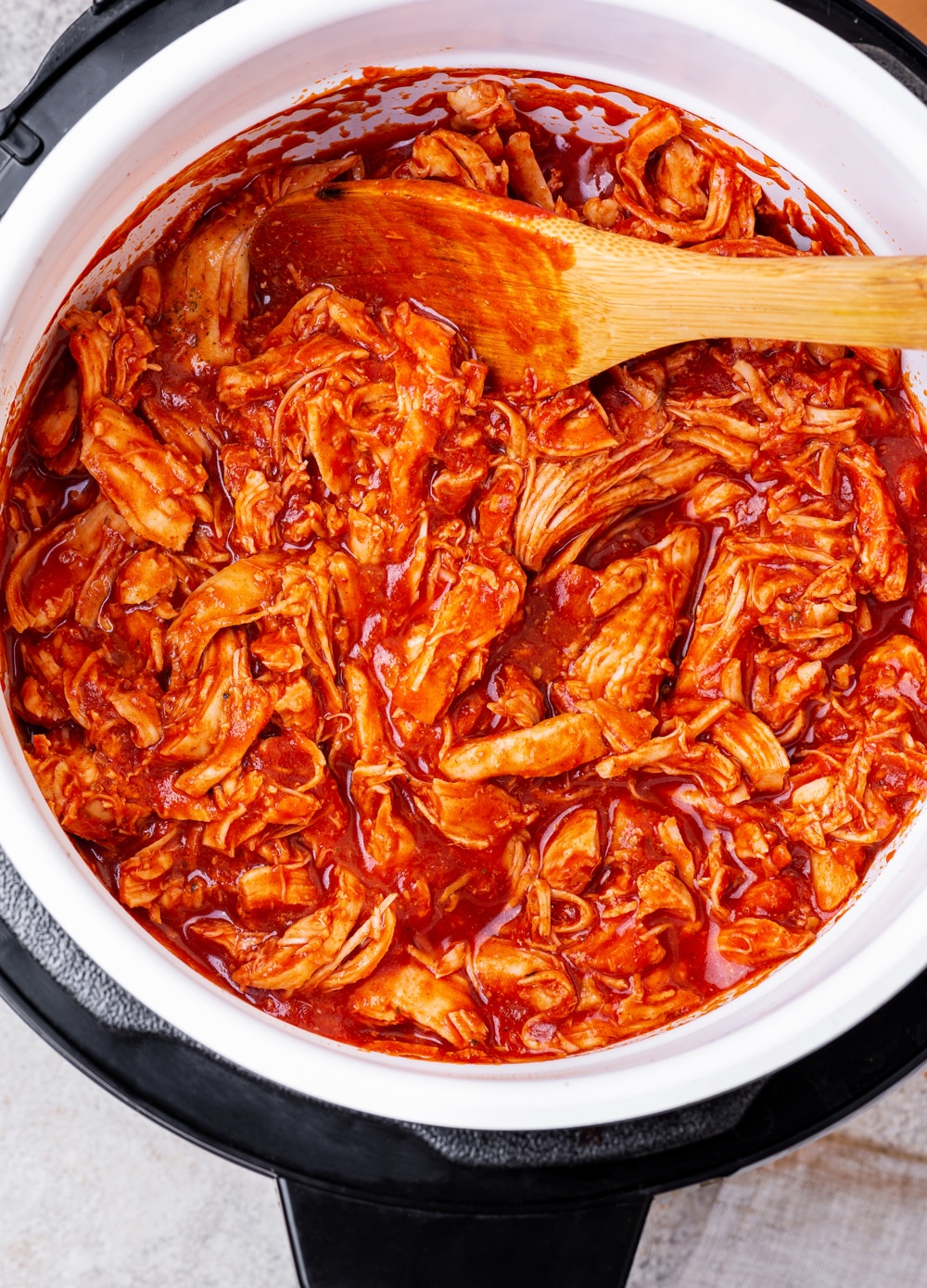 The next chicken recipe is my favorite, instant pot BBQ chicken.
This shredded chicken is smothered in sweet and smokey keto friendly BBQ sauce.
And since the BBQ sauce I use is sugar free, each serving of this chicken has only 3 net carbs! I love pairing this BBQ chicken with my keto coleslaw recipe for a summer lunch feel.
Just click here for the full recipe.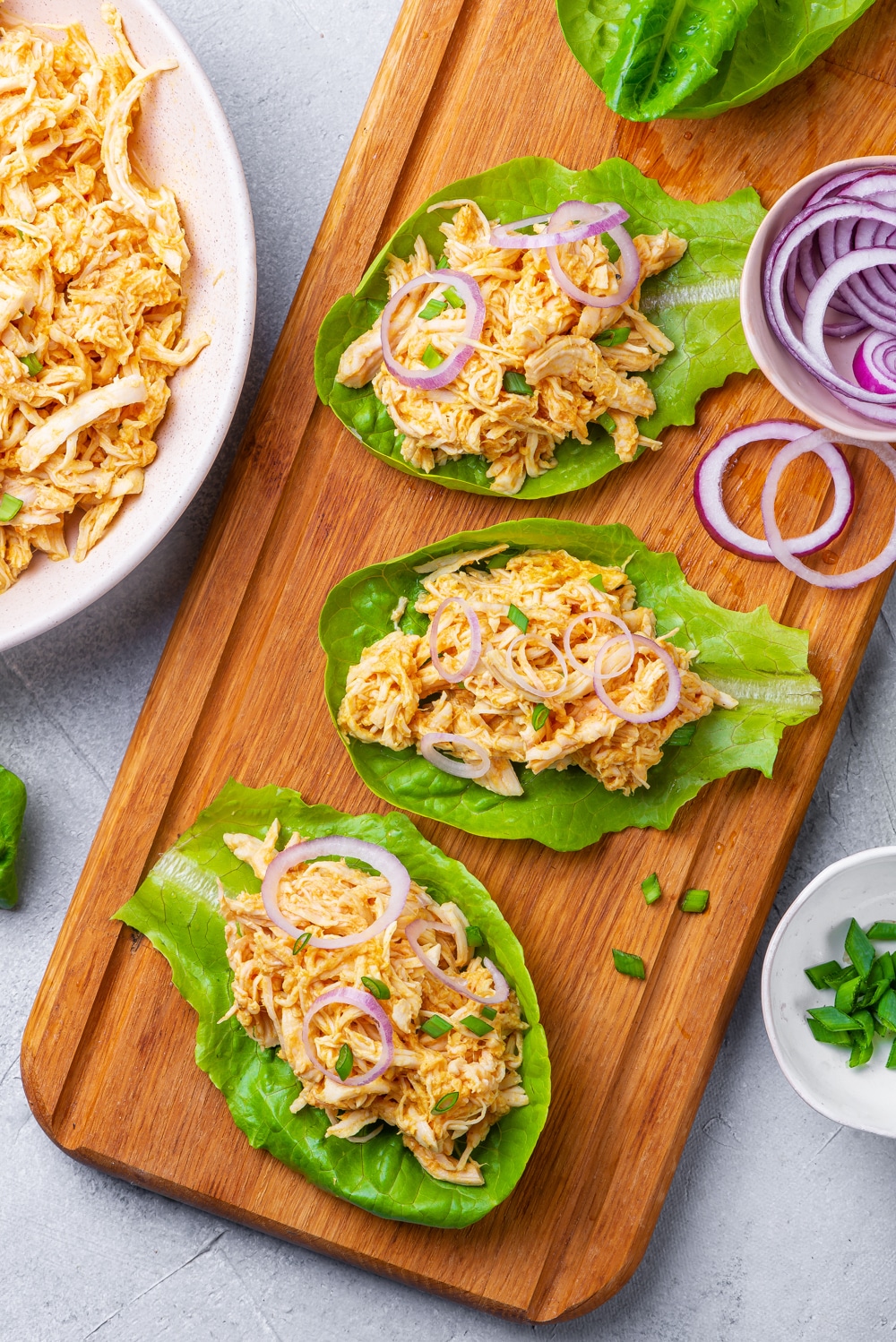 The last shredded chicken recipe on our keto lunch ideas list is this instant pot buffalo chicken recipe.
If you like chicken with a little kick, this recipe is for you - it is so rich, so buttery, and so spicy. And when you taste this stuff you won't believe that there are only three ingredients in this chicken.
Not to mention, it's totally carb free!
Oh, and since I'm a Buffalo native, you know this buffalo chicken has got to be the best you've ever had.
Here is the full recipe with all the details you need to make the best instant pot buffalo chicken.
KETO LUNCH ADDITIONS
Ok, so we have some keto soup recipes, a few keto salads, and some keto chicken. But what is lunch without some convenient and versatile keto sides and pairings?
And all these recipes are the perfect match for the recipes above and will complete your keto lunch.
So, let's get into them.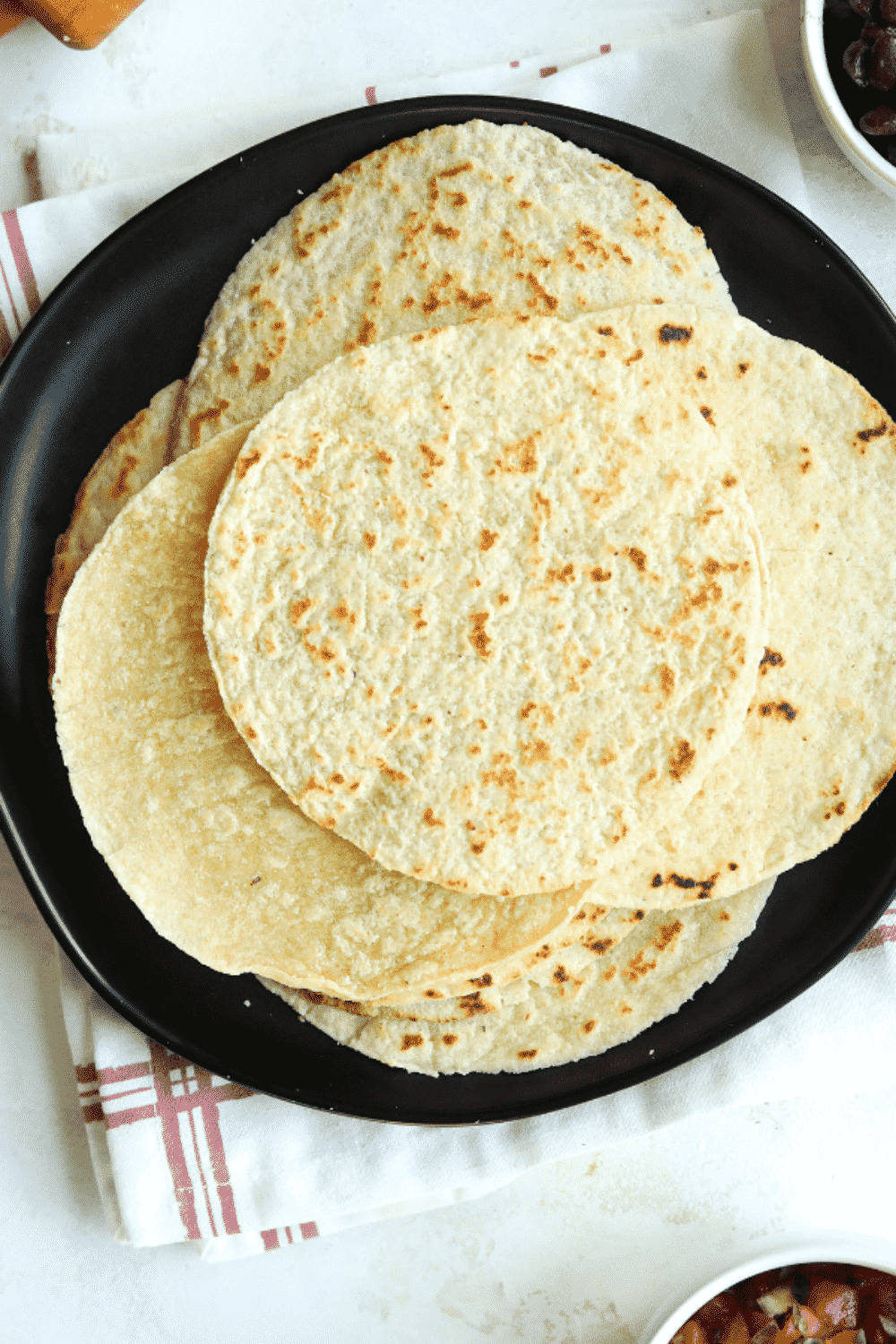 Since we just talked about the shredded chicken, I figured we'd start with my favorite thing to eat them with, keto tortillas.
This keto tortilla recipe creates tortilla shells that are identical to authentic Mexican tortillas but with only 6 ingredients and just over 1 net carb each.
Fill these tortillas with some shredded chicken and top them off with your favorite ingredients, and you've got yourself irresistible keto tacos for lunch.
Just click here to see how to make this keto tortilla recipe.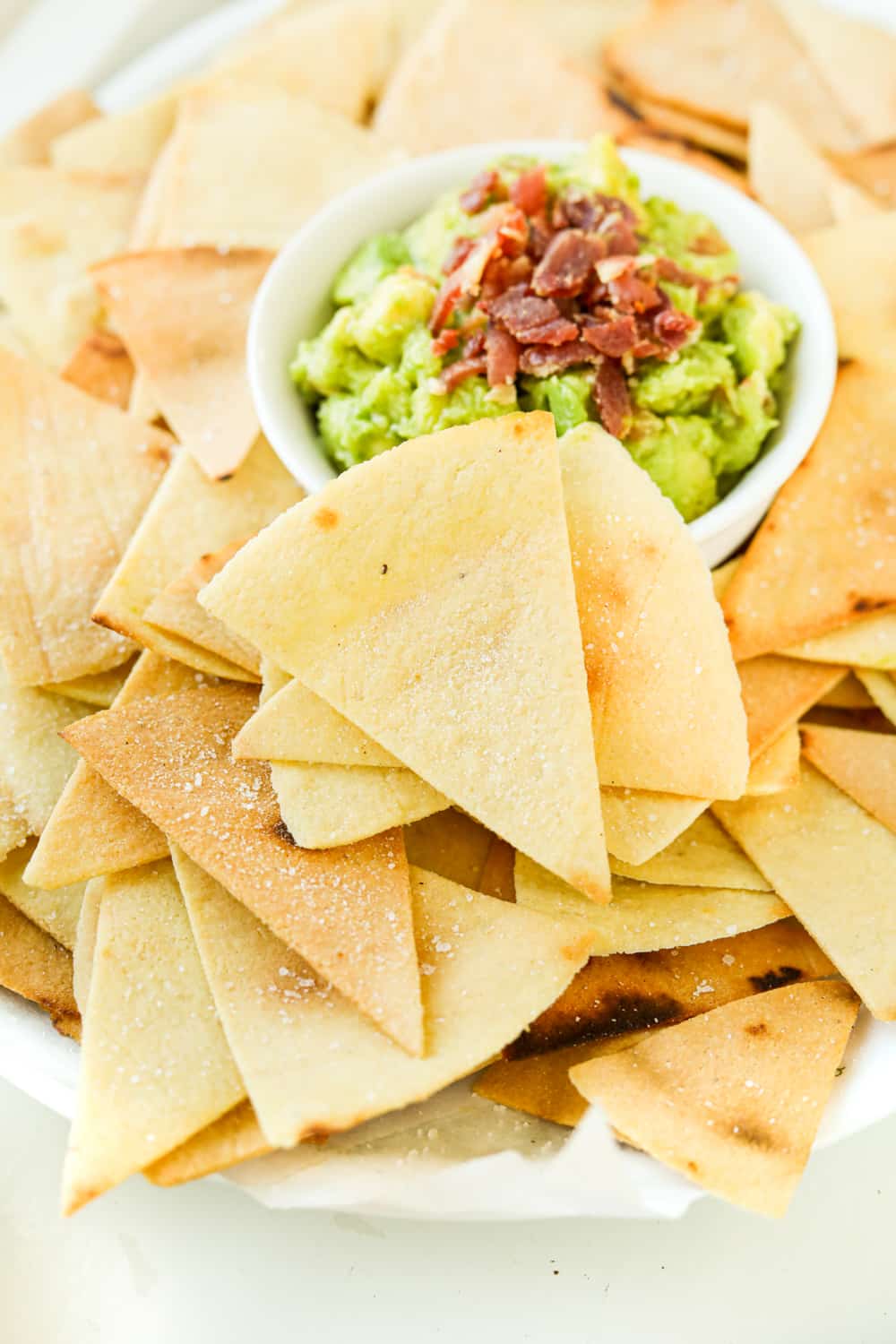 What goes the best with keto tortillas? Keto tortilla chips, of course.
If I'm enjoying a keto lunch at home, these keto tortilla chips are one of my favorite sides to make.
I love that they only take 10 minutes to make and that every 10 chips has just 1 net carb.
Not to mention, this recipe uses the exact ingredients as the keto tortillas, so it's super convenient to make both recipes!
Check out those ingredients and the recipe details here.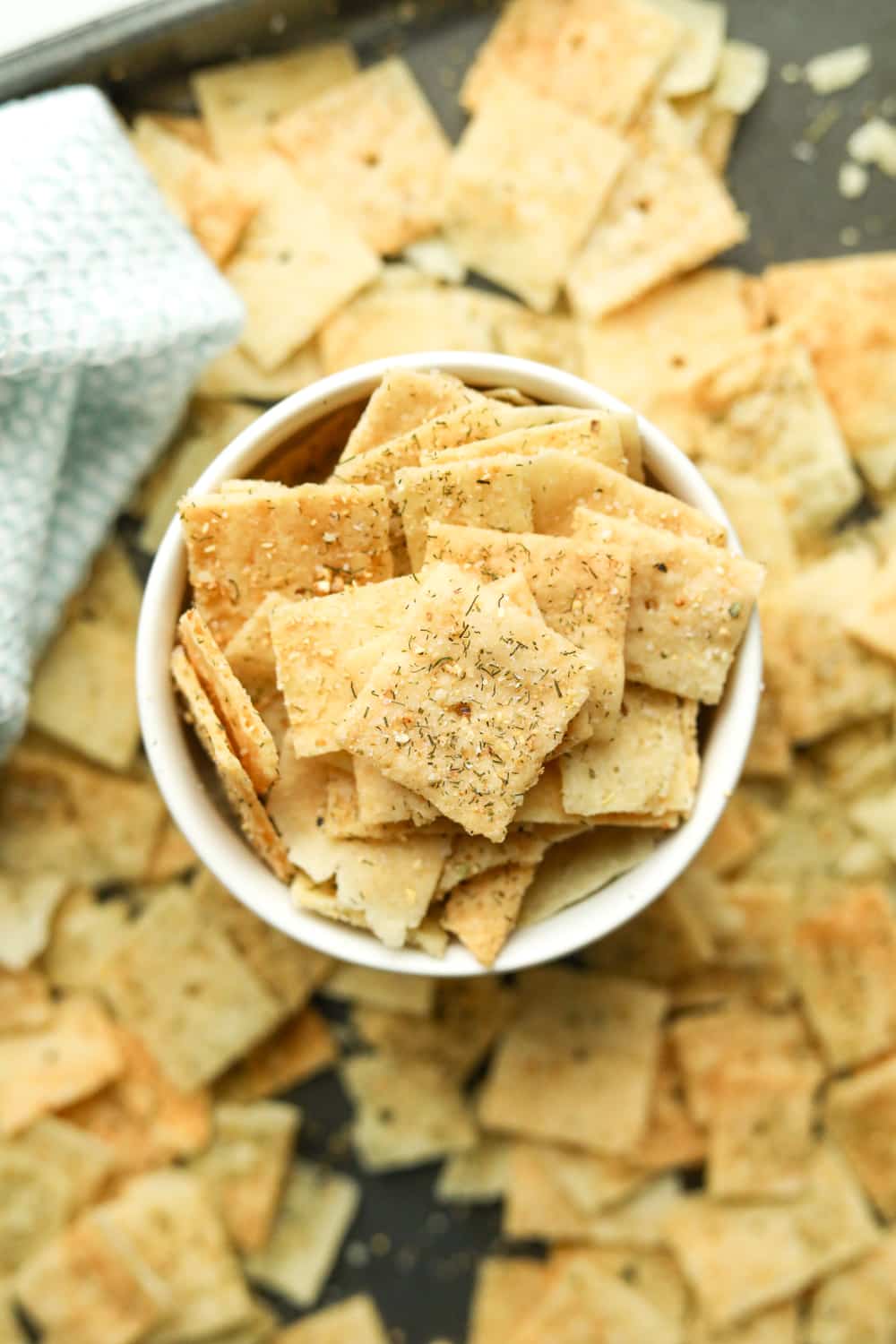 Now, if I'm eating one of the keto soups on this list, I like to add in a little crunch. And these easy low carb keto crackers are perfect for just that.
You'll only need 2 ingredients and just 2 minutes to make almost 100 crackers! And all 100 of them have only 4 net carbs. Pretty crazy right?
Here is the full recipe for some keto crackers.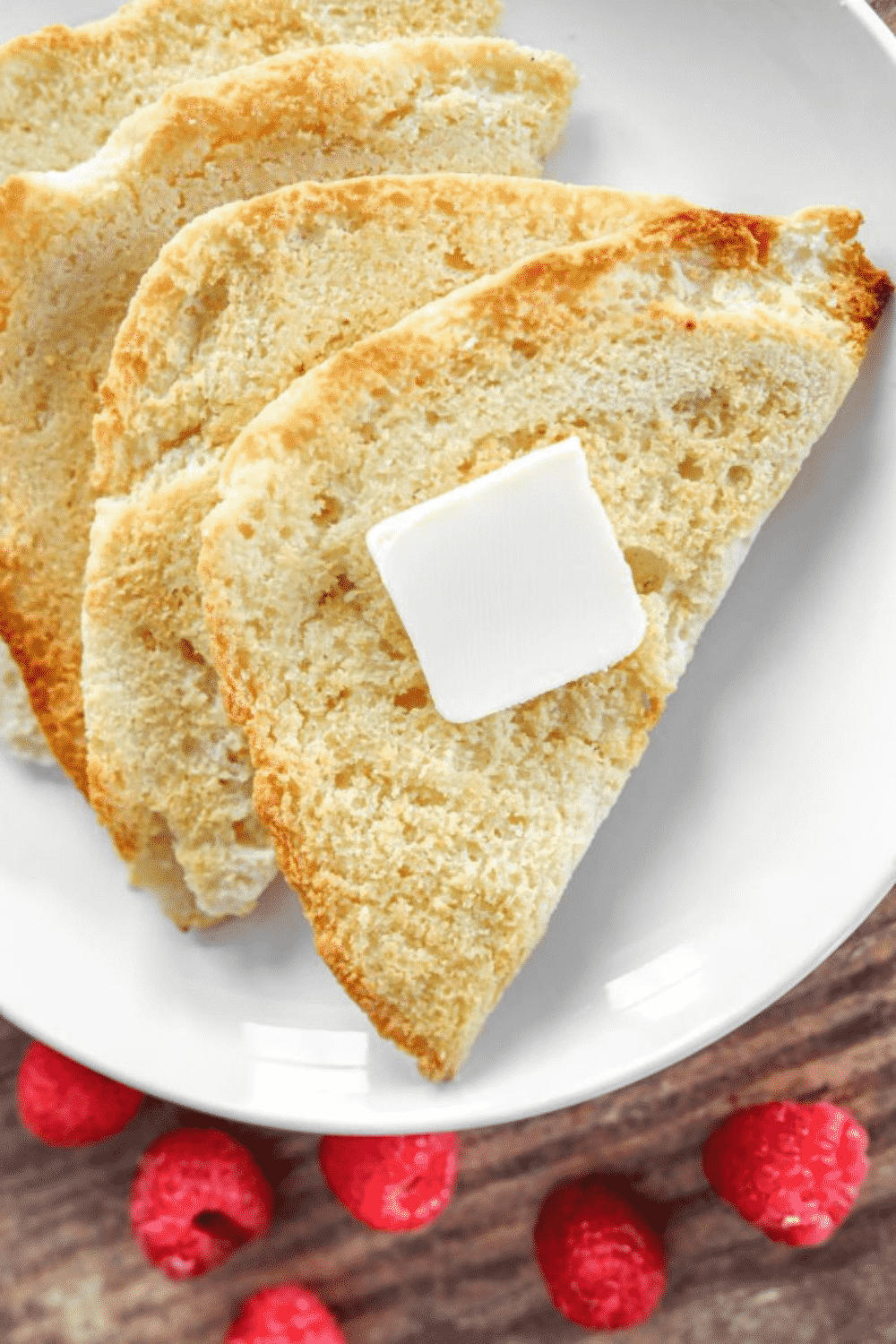 What can you eat the tuna salad, egg salad, and chicken salad on? Well, I suggest making a sandwich with this 2-minute keto bread.
You could also put one of the shredded chickens on this bread to make another delicious sandwich.
And this bread is perfect for dipping in the keto soups too.
Plus, the whole recipe only takes 5 minutes, and each slice has 1 net carb.
Check out the full keto bread recipe here.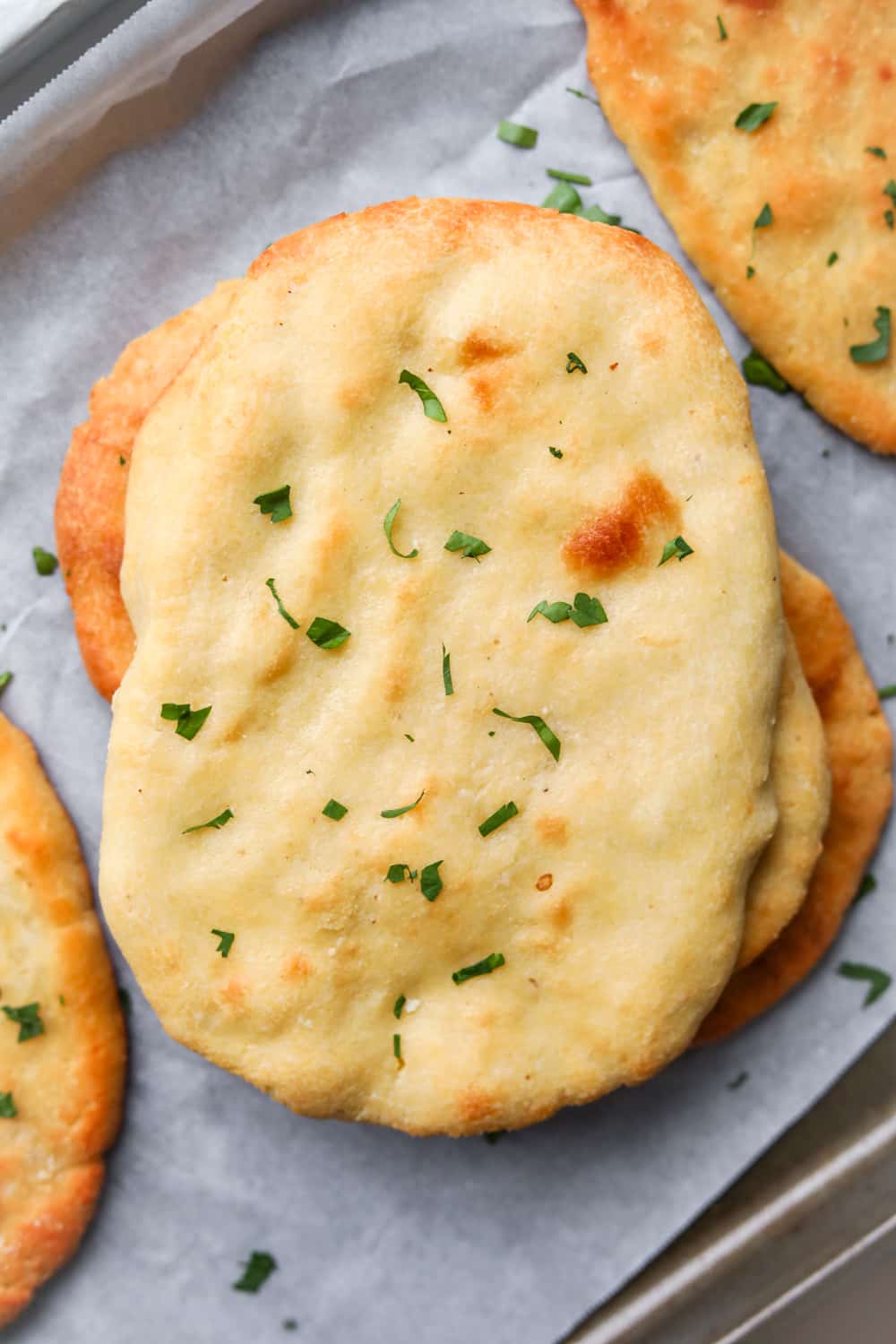 Finishing off our keto lunch list is this delicious keto naan bread - it is perfectly chewy, soft, and just downright delicious.
Of course, this low carb naan bread doesn't make for a meal on its own, but you can turn it into a keto pizza, or top it off with anything keto friendly - like the instant pot shredded chicken we talked about above
Or you can eat this naan bread as a side and dip it in this keto pizza dip or this keto cheese sauce.
Here are the details for my favorite keto bread recipe.
Wrapping it all up
And there you have it, keto lunch recipes and keto lunch ideas that will make the middle of the day your favorite part of the day.
And the great thing about these recipes is you can have a different keto lunch every week and never run out of new combinations.
Plus, these recipes also equip you with a meal for every lunch situation, whether you're at home, on the go, at school, or at work.
I hope you find these recipes as delicious and helpful as I do.
Make sure you check out the full recipes to see the ingredients, how to make them, and other important details!