If you've wondered how to cook turkey legs perfectly every single time, this recipe is for you! These oven roasted BBQ turkey legs are incredibly juicy and flavorful, and they have a caramelized crispy skin that's just so, so good. Not to mention, the best part about these mouthwatering results is that they're simple to achieve in just a few easy steps!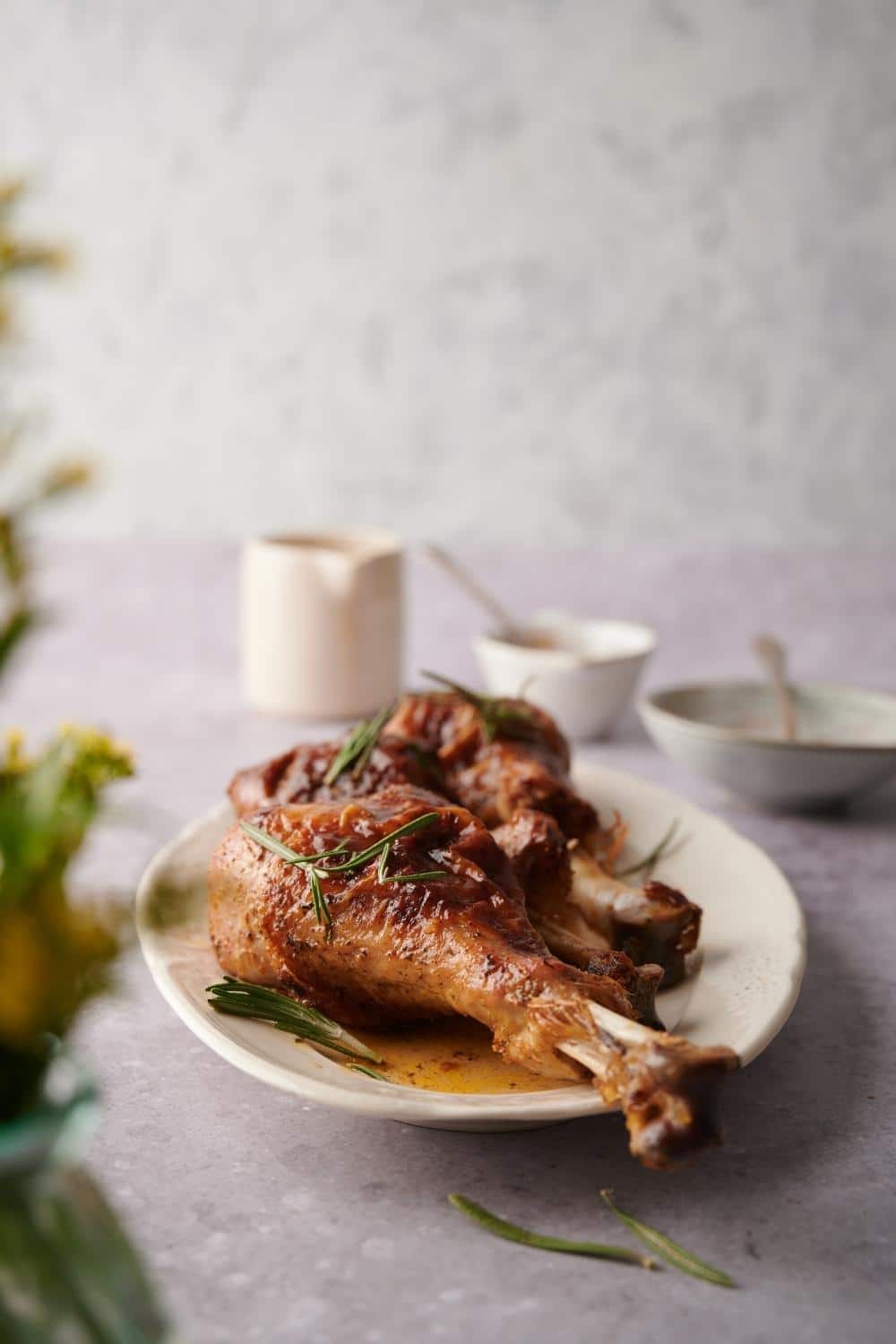 The Best Roasted Turkey Legs Recipe
When I say this is the best way to cook turkey legs, I'm not kidding. These roasted turkey legs are perfectly seasoned, they're incredibly juicy, and they have the crispiest golden brown skin that's coated in flavorful caramelized BBQ sauce.
Honestly, they're so good that anyone who tries them will be convinced you picked them up from the best BBQ spot in town.
Also, you won't believe how easy it is to make these roasted turkey legs. Seriously, this recipe is so simple that the turkey legs practically cook themselves!
You basically just have to prepare the turkey legs - which will take no more than 5 minutes - and then just let them roast in the oven. I'm not kidding, that's all it takes to roast turkey legs to perfection.
Also, since most of the time it takes to make them is hands-off cooking in the oven, you've got a ton of time to whip up some delicious sides to complete your meal. Speaking of sides, I love serving these roasted turkey legs with this homemade coleslaw recipe and these cauliflower mashed potatoes.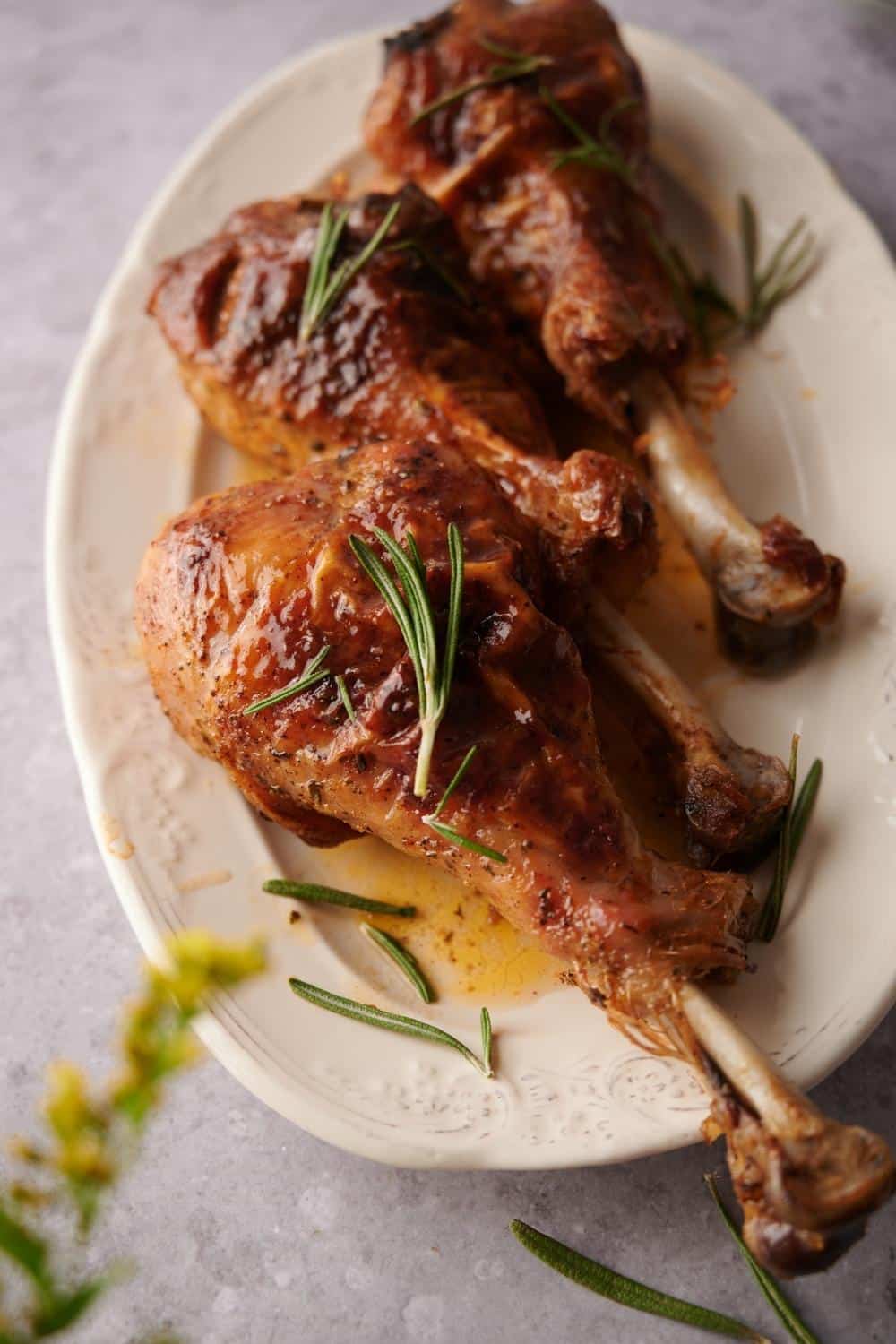 Ingredients
So, besides turkey legs, you only need a few simple spices and seasonings to make this tasty recipe. Also, pretty much all of 'em are pantry staples that you probably have at home already.
Anyway, here's everything you'll need to make these roasted turkey legs:
Yup, that's all you need!
Pretty simple stuff, right?
Now, just so you know, you can use any kind of BBQ sauce you want for this recipe. And if you want some BBQ sauce ideas, I have a list of the most delicious low calorie sauces with a few fantastic options on it.
Or, if you want to make your own healthy version from scratch, I also have a great healthy BBQ sauce recipe that packs all the sweet and tangy goodness of regular BBQ sauce, but it has less than 1 net carb a serving!
By the way, I used four large turkey legs for this recipe, but you can use smaller turkey legs if you want.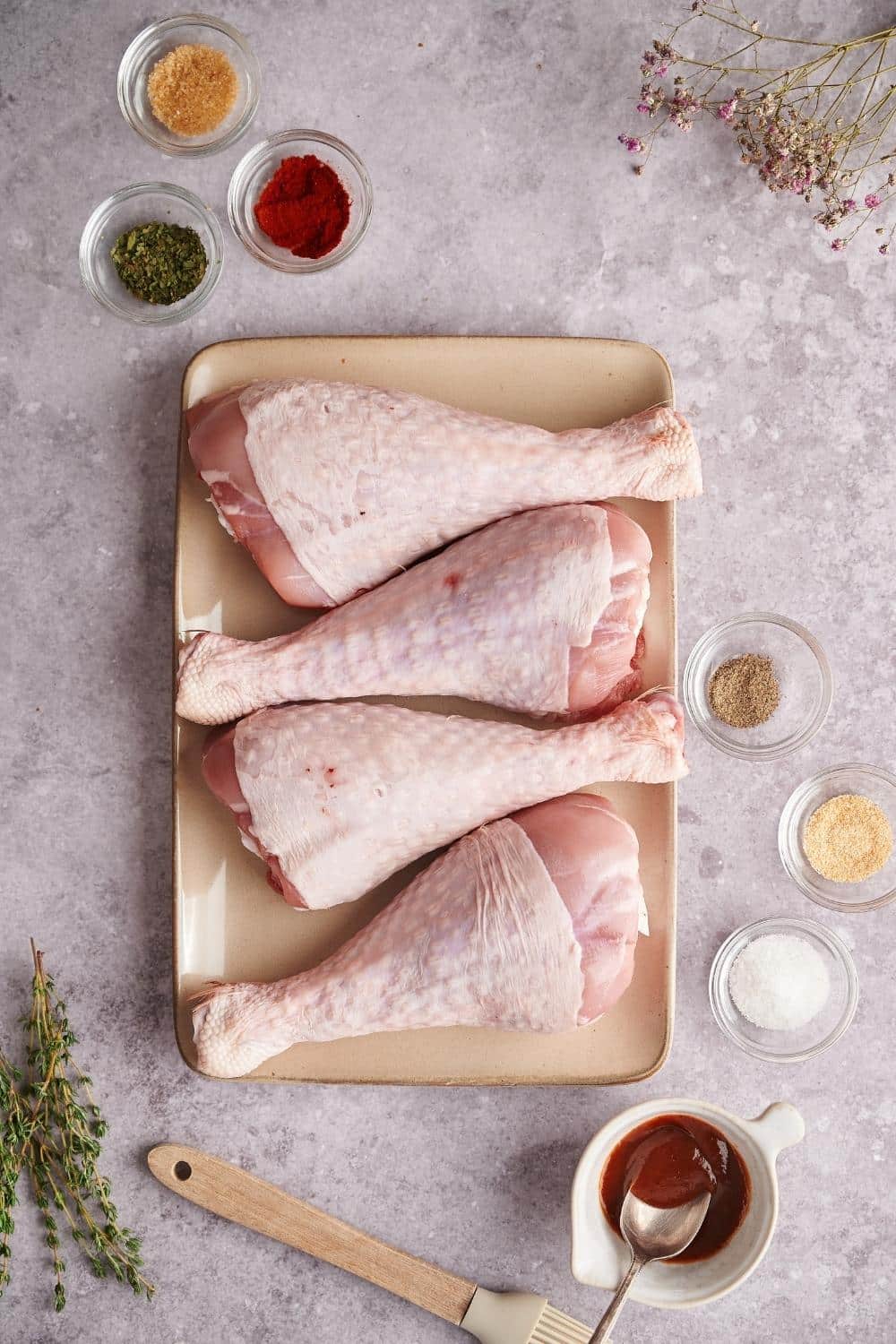 How to Cook Turkey Legs
Now, as I mentioned earlier, this baked turkey legs recipe is mostly hands-off cooking. After seasoning the turkey legs, all you have to do is pop them in the oven, give them a quick baste after an hour, and wait for 'em to finish cooking.
In total this recipe for turkey legs will take about 90 minutes, but the wait is well worth it for the mouthwateringly juicy meat and crispy skin!
Anyway, with all that said, let's dive into how to cook turkey legs in the oven.

Step 1: Season the Turkey Legs
First things first, preheat your oven to 350°F (180ºC) and then season the turkey legs.
So, for the seasoning, combine all the dry spices - the smoked paprika, garlic powder, dried oregano, onion powder, salt, pepper, and thyme - in a bowl. Then, give those spices a mix so they can combine.
Next, pat the turkey legs dry with paper towels and brush them all over with olive oil. Now, once those are well coated in the oil, you can sprinkle the spice mixture evenly over the turkey legs. And make sure to thoroughly coat every part of each turkey leg in it when you do.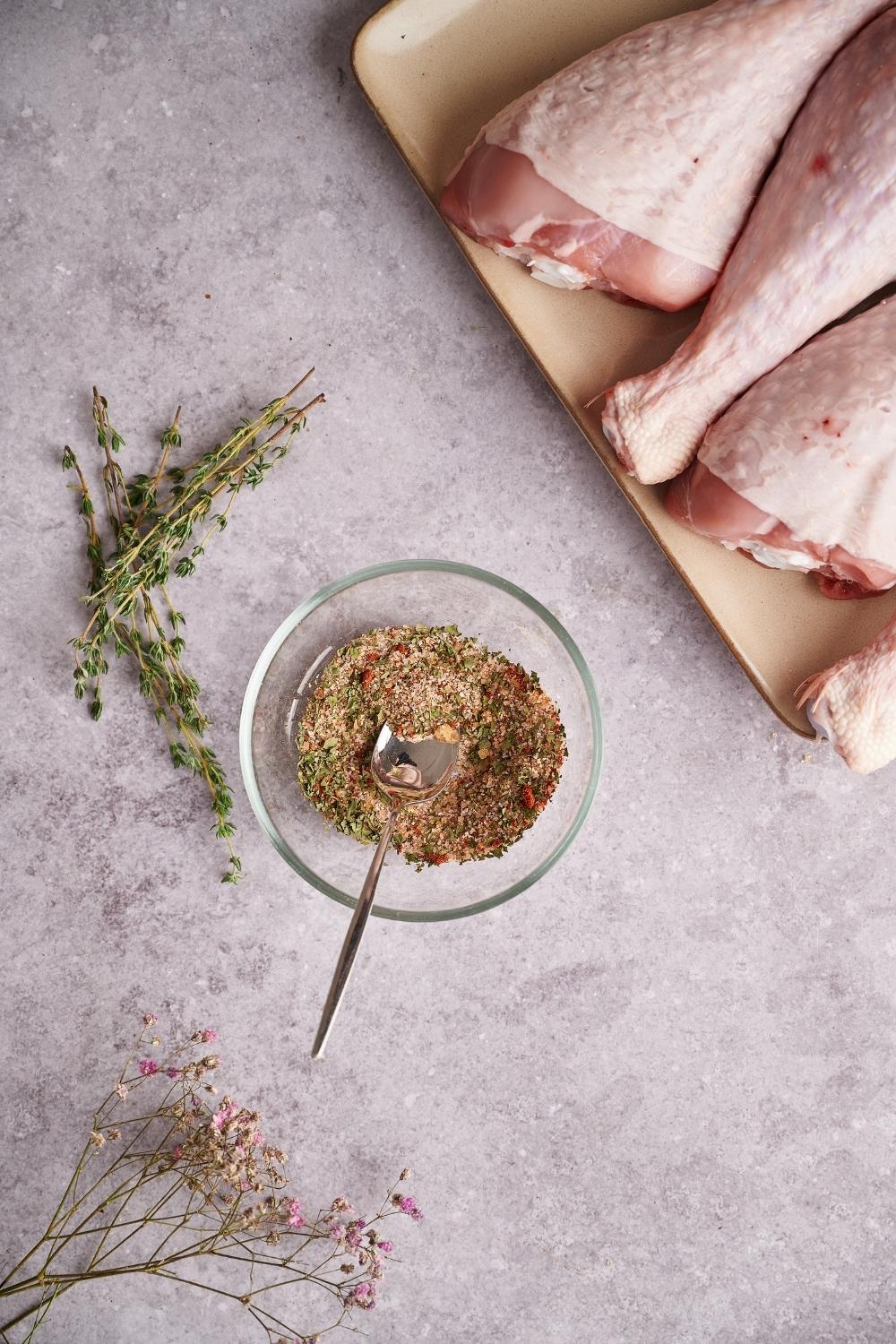 Step 2: Bake the Turkey Legs
Once the turkey legs are seasoned, place the turkey legs flat on a roasting tray. Or, if you don't have a roasting tray, you can just put the turkey legs on a wire rack on top of a baking sheet.
Anyway, now you can put the turkey legs in the preheated oven and bake them for around 1 hour or until the turkey legs are fully cooked. If you have a meat thermometer, you can poke the turkey leg at the thickest part, and it should have an internal temperature of 165°F (75ºC).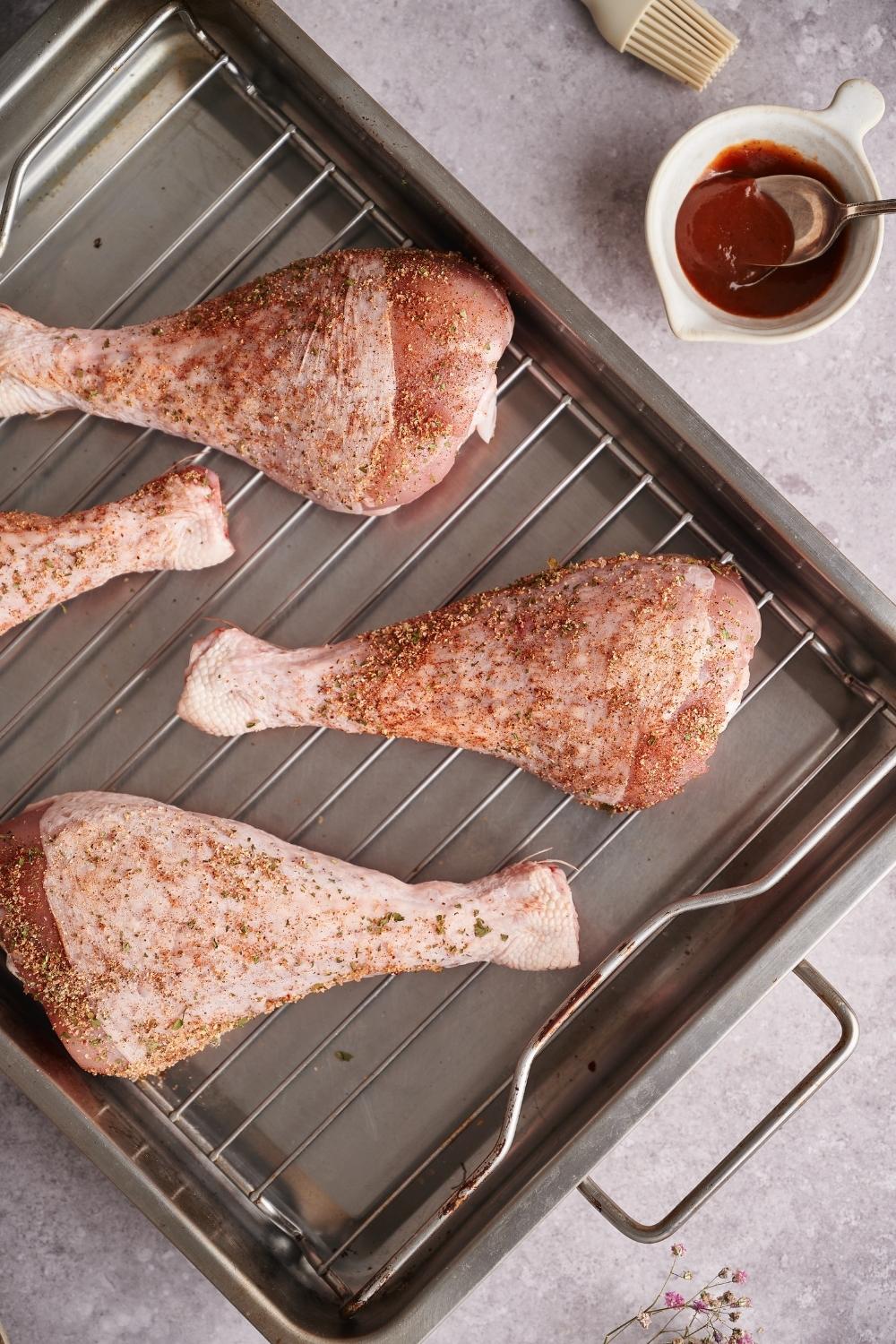 Step 3: Brush Turkey Legs
At this point, the roasted turkey legs should be cooked. So once they are, take them out of the oven and brush them all over with the BBQ sauce.
Once they're fully coated in the BBQ, put the turkey legs back in the oven and set the oven to broil at 500°F (260ºC). Now you can roast the turkey legs for 5-ish more minutes, or until the skin is caramelized and crispy.
Finally, transfer your roasted turkey legs to a plate and pour the cooking juices over them. Serve with your choice of sides and enjoy!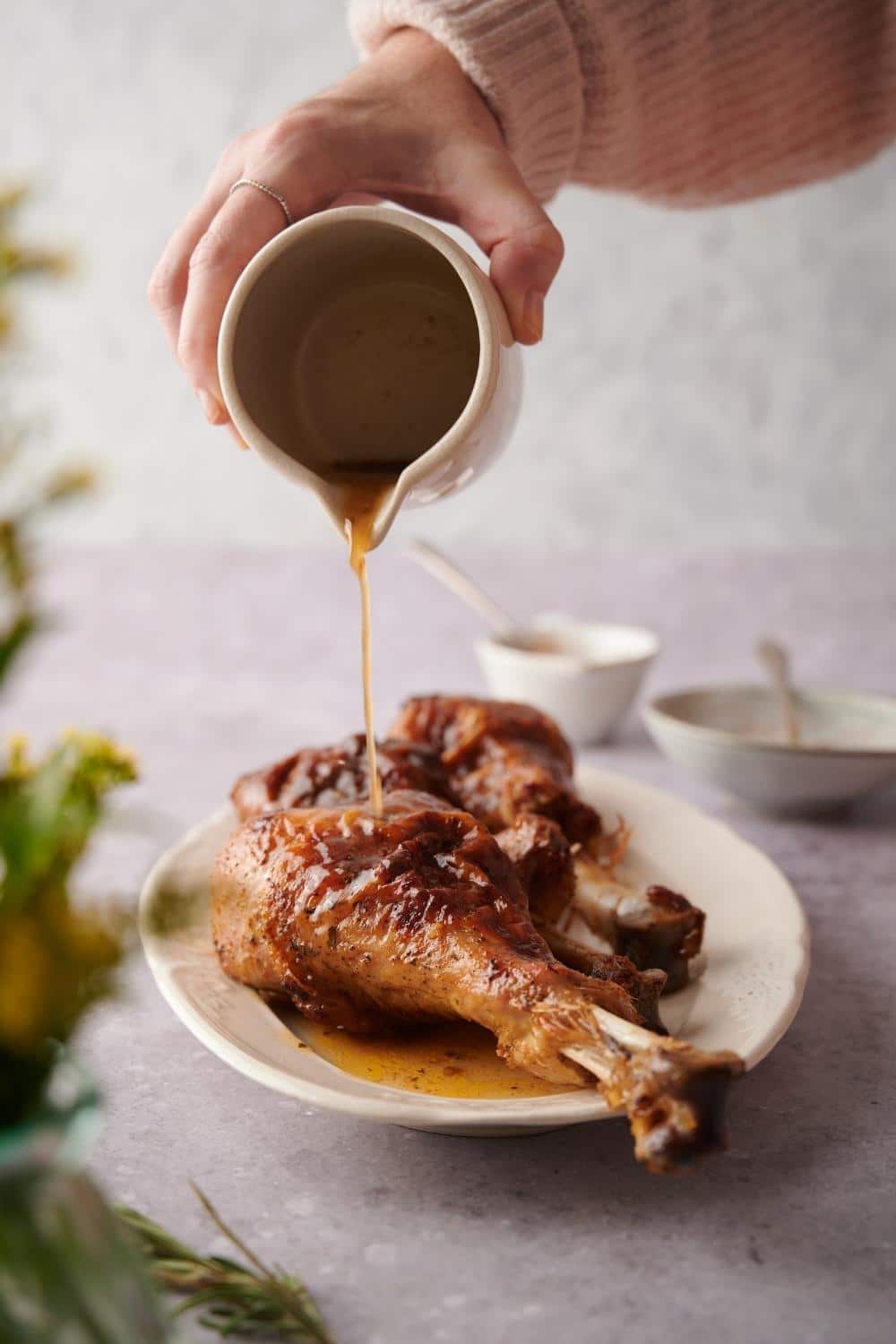 What to Serve with Roasted Turkey Legs
Again, these easy roasted turkey legs are great for both holiday gatherings and casual weeknight dinners. And although they're delicious on their own, they taste even better when paired with the right sides.
Here are my favorite healthy Thanksgiving side dishes to serve them with:
And here are more delicious and easy side dish ideas for regular dinners:
Those are just a few examples to get you started. These roast turkey legs are amazing with practically anything from mashed potatoes to salad to veggies and more. So, with that said, feel free to pair them with whatever you like!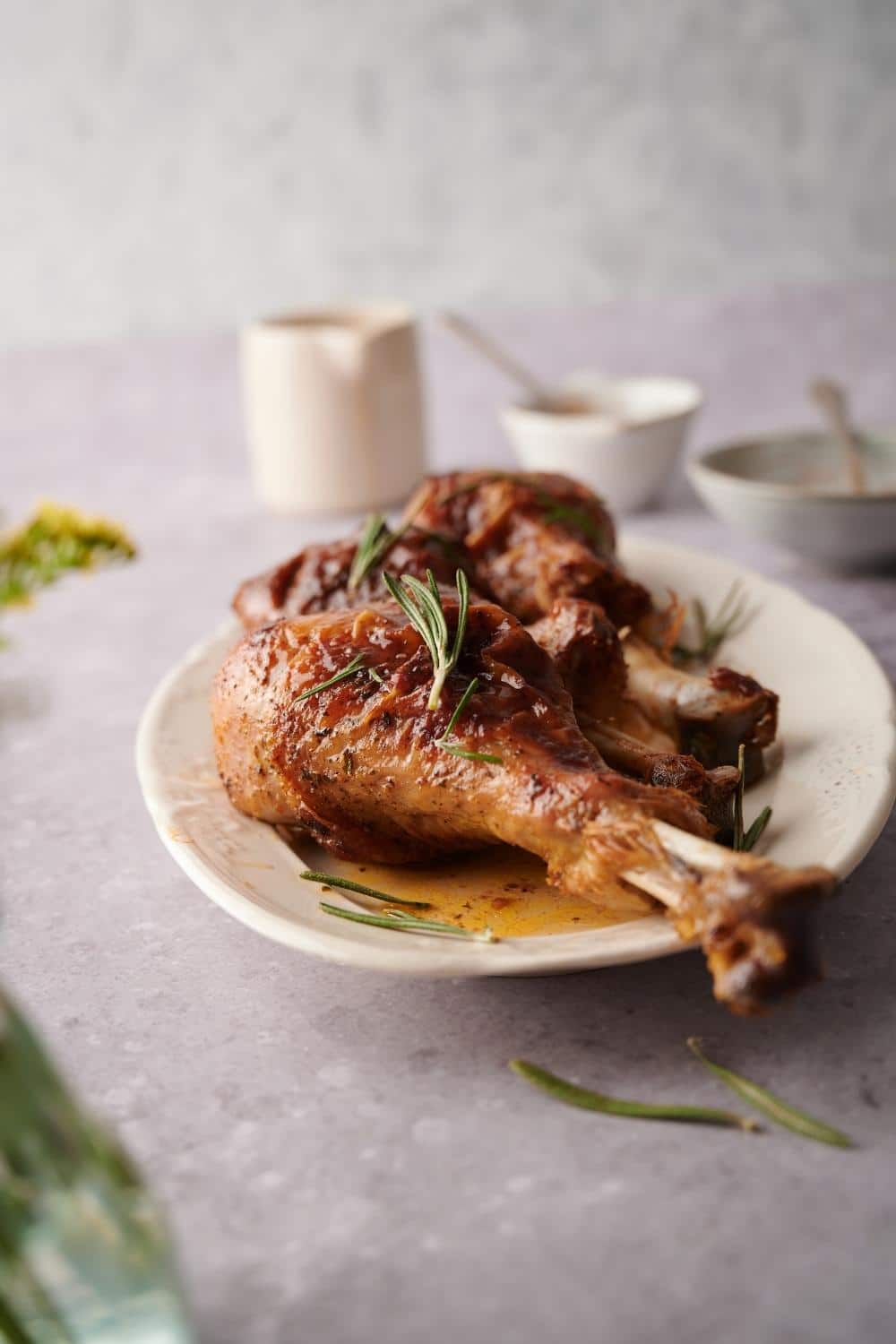 How to Stor Roasted Turkey Legs
Now, this recipe for roasted turkey legs will make 4 large legs. But, if you want, you can easily add more to the recipe, just adjust the amount of seasonings you use if you do.
Then, if you happen to have any leftovers, you can store the roasted turkey legs in an airtight container in the fridge for around 4 days.
However, if you want to keep them around for longer, just transfer them to a freezer bag with the excess air squeezed out, and freeze them for about 2 months.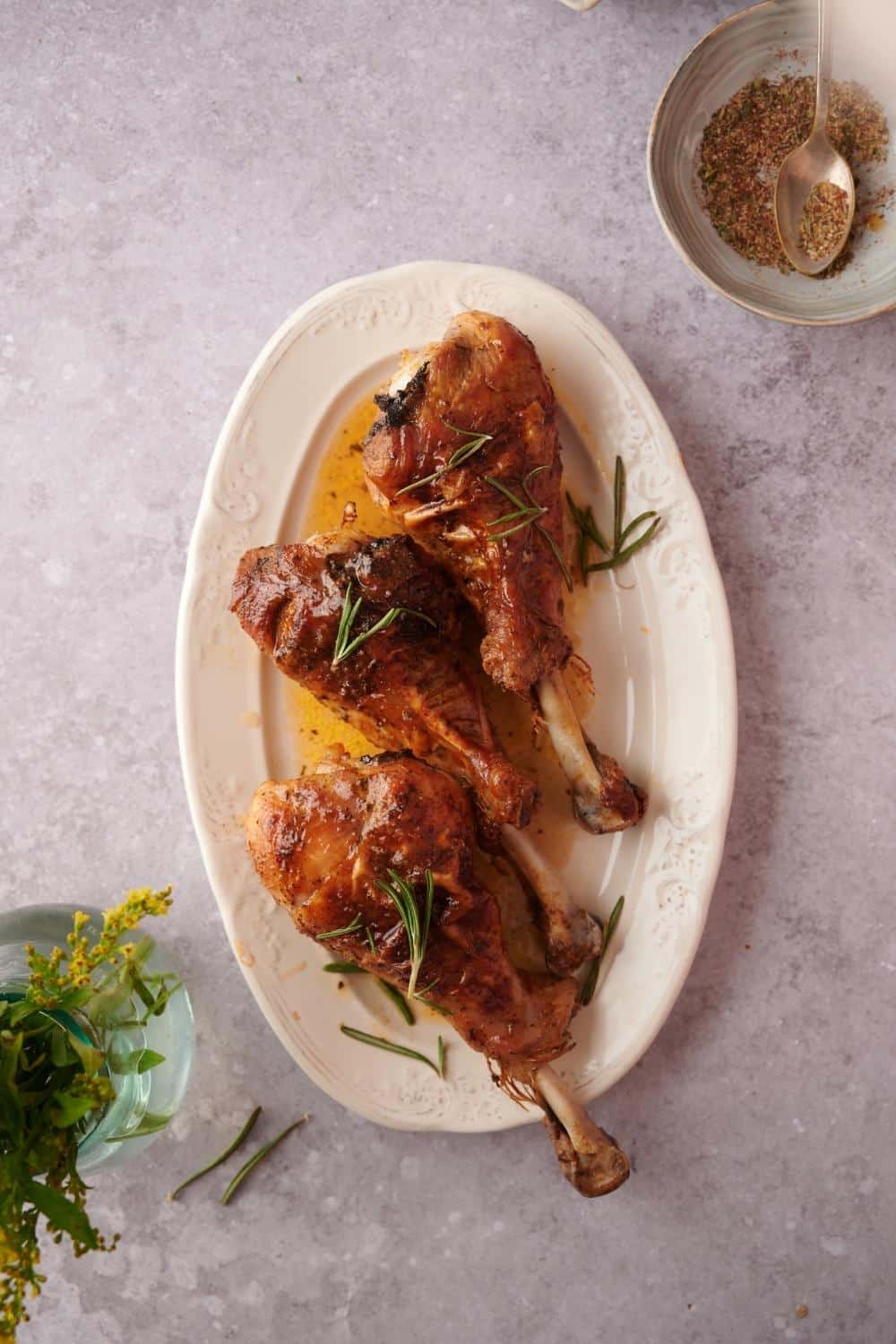 Reheating Turkey Legs
These leftover turkey legs are actually really tasty eaten cold. But, if you want to reheat them, you can do that too.
So, to reheat your turkey legs, just put them on a baking dish - with a little broth added to it - and cover it with tin foil. Then, bake the legs for about 20-30 minutes at 300°F (150ºC).
By the way, when the time is almost up, remove the cover for the last 3-5 minutes to crisp up the skin.
Oh, and if you're starting from frozen, make sure to thaw them in the fridge overnight first before reheating them.
Also, don't be afraid to get creative with your leftover turkey. Instead of eating them the same way as before, you can chop the turkey meat to make this quick turkey salad!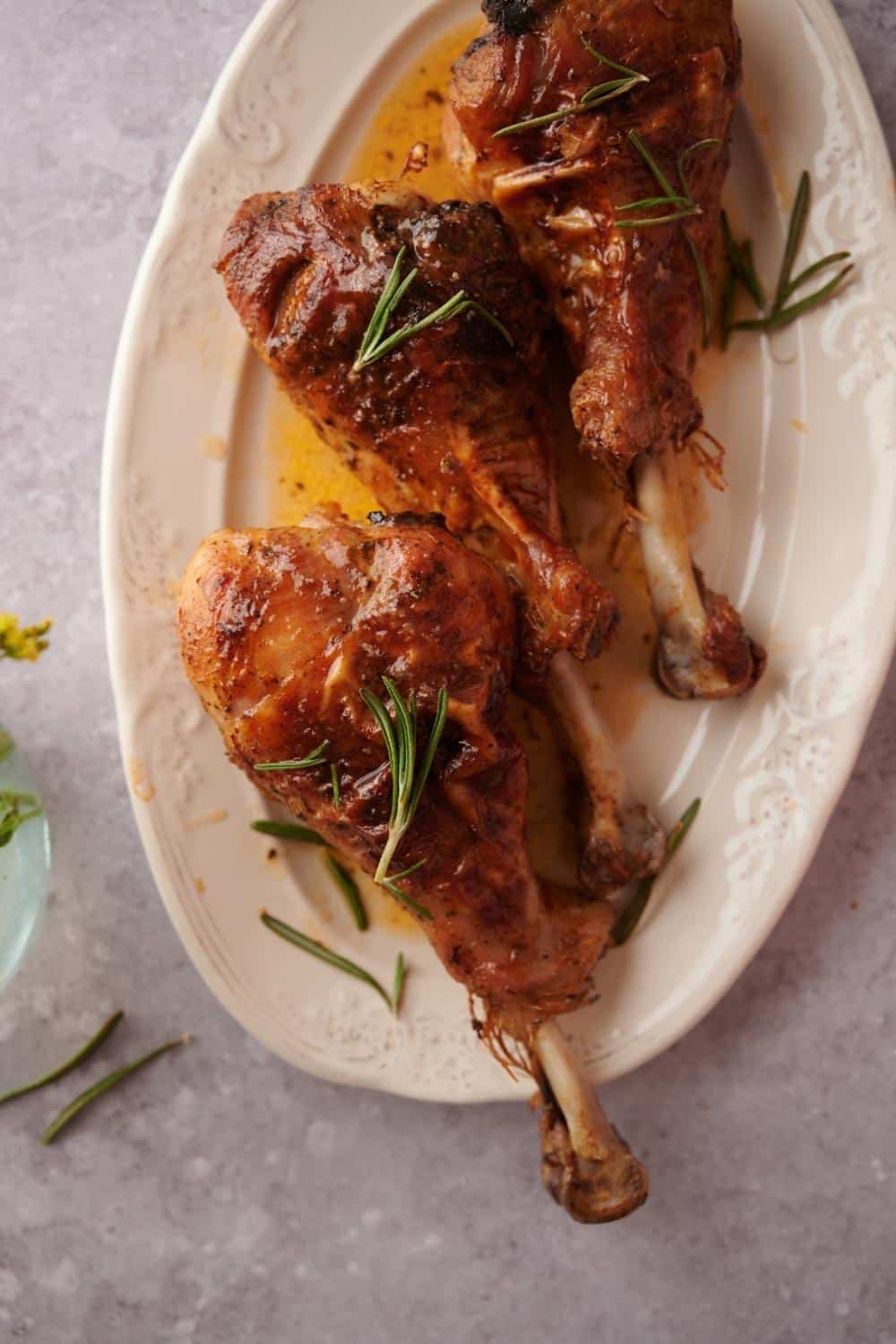 Wrapping it Up
So, that's how to make roasted turkey legs that turn out perfect every single time!
Once you've tried these effortlessly delicious, juicy, and crispy-skinned turkey legs, you'll want to enjoy this fall favorite all year round!
Seriously, these baked turkey legs are absolutely amazing. The crisp, flavorful skin, and succulent meat, all topped off with the glistening cooking juices, makes this a mouthwatering meal you won't soon forget!
Anyway, I hope you enjoy these BBQ turkey legs as much as I do. As always, if you try this recipe, be sure to leave a comment below and let me know what you think!
More Recipes
If you enjoyed this easy turkey legs recipe, I have a ton of other recipes just like it on the blog!
Give one of these easy dinner recipes a try next:
Oh, and as always, don't forget to checkout my Youtube channel, Instagram, and TikTok pages for more quick and tasty recipes just like this!
Print
How To Cook Turkey Legs Perfect Every Time | 10 Minutes to Prep
These oven roasted BBQ turkey legs are surprisingly simple to make, but result in the most mouthwatering, juicy, and flavorful turkey drumsticks with a caramelized crispy skin. You'll never want to make turkey legs any other way!
Author:
Prep Time:

10 minutes

Cook Time:

60 minutes

Total Time:

70 minutes

Yield:

4 servings

Category:

Dinner

Method:

Oven

Cuisine:

Turkey
Instructions
Preheat the oven to 350°F (180ºC).

Mix all the spices in a bowl.

Brush the turkey legs with olive oil and coat them with spices.

Place in a roasting tray with the rack on and bake for 1 hour or until fully done.

Remove from the oven and brush the turkey legs with BBQ sauce.

Bring the temperature to a broil - 500°F (260ºC) and continue baking for 5-ish more minutes - until caramelized and crispy.

Serve with cooking juices.
Nutrition
Serving Size:

1 serving

Calories:

175

Fat:

8

Carbohydrates:

3.75

Protein:

22
Keywords: turkey legs, oven roasted turkey legs, turkey legs recipe, how to cook turkey legs, oven roasted turkey legs recipe, roasted turkey legs, roasted turkey legs recipe, turkey drumsticks, how to cook turkey drumsticks, easy roasted turkey legs recipe, best turkey legs recipe